Crabapple Strawberry Tart
Do you have a crabapple tree and you just let the little apples fall to the ground or let the wildlife eat them all? I love our crabapple tree and every year make something delicious. This year I was into pies and tarts and made this Crabapple Strawberry Tart which was amazing.
Other years and again this year I have made Julie Van Rosendaal's gorgeous Crabapple Tarte Tartin with great success. My caramel is usually not as dark as hers gets but it is fabulous all the same and forms a little crunchy edge with some caramel that hardens a bit. It is very good I must say!!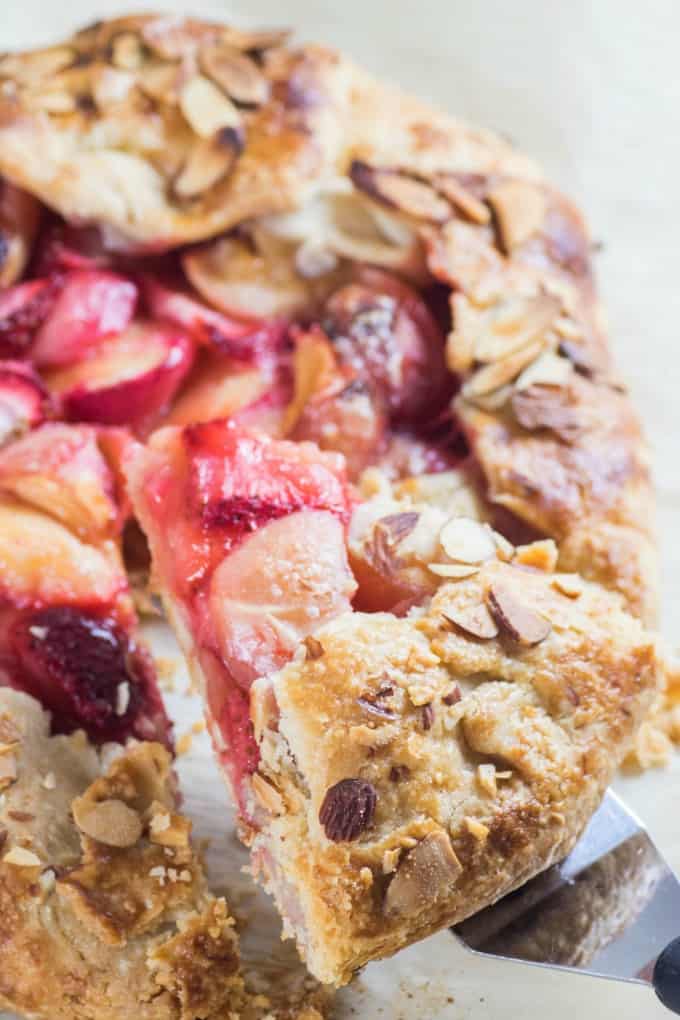 I love the rustic look of this tart. It is made with our pie pasty that we have made so many times like in the Classic Apple Pie recipe. It makes a perfect tart crust also.
Luscious sweet sliced strawberries are the perfect pairing to the slightly tart crabapples. If your crabapples are tarter than mine just adjust the sugar up.
What is a Crabapple?
Crabapples are a wild version of the domestic apple as we know it. The apples grow on a beautiful low growing umbrella-like tree that blooms white sweet smelling flowers in the early spring.
What does a crabapple look like? The ones that are in our yard are larger apples than I have seen and they are sweet and easily edible right off the tree. They are still way smaller though than any domestic apple.
What to do with Crabapples?
We enjoy these apples fresh as much as we do in baked goods. Besides making a tart or pie or Julie's tartin we have also made a pretty crabapple jelly and a crabapple butter with them too.
Crabapple trees come in many varieties. Some have small really bitter fruit that are almost unedible. They are good for making jelly with though as they are a pretty red color.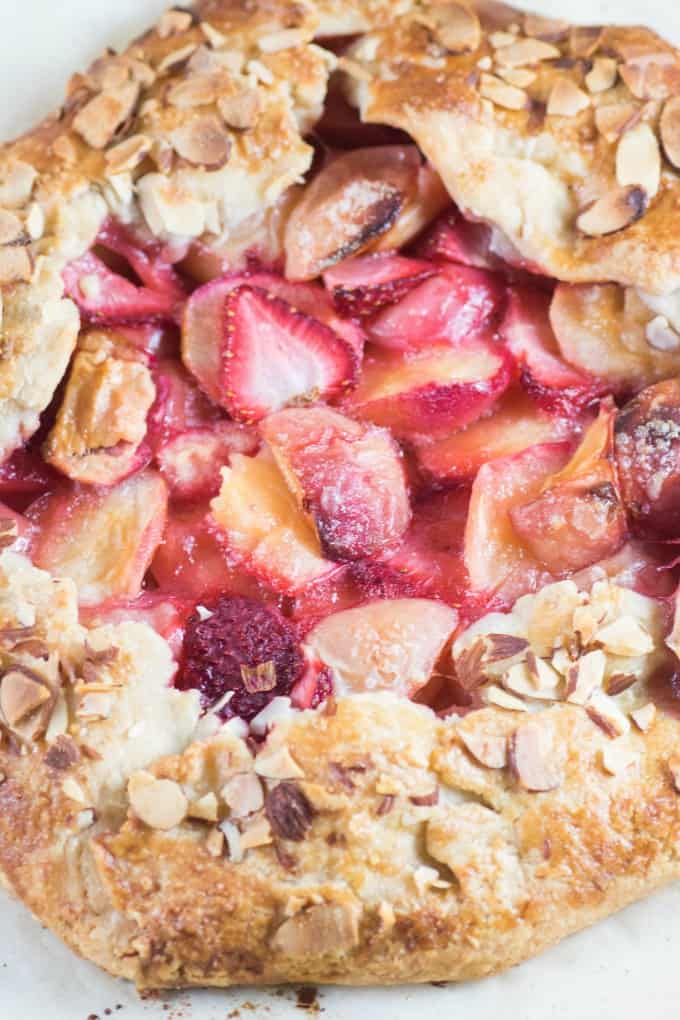 Trying to core crabapples can be tedious and frustrating so I just simply cut the four sides off of the apple when I used it in this recipe. It went very quickly that way.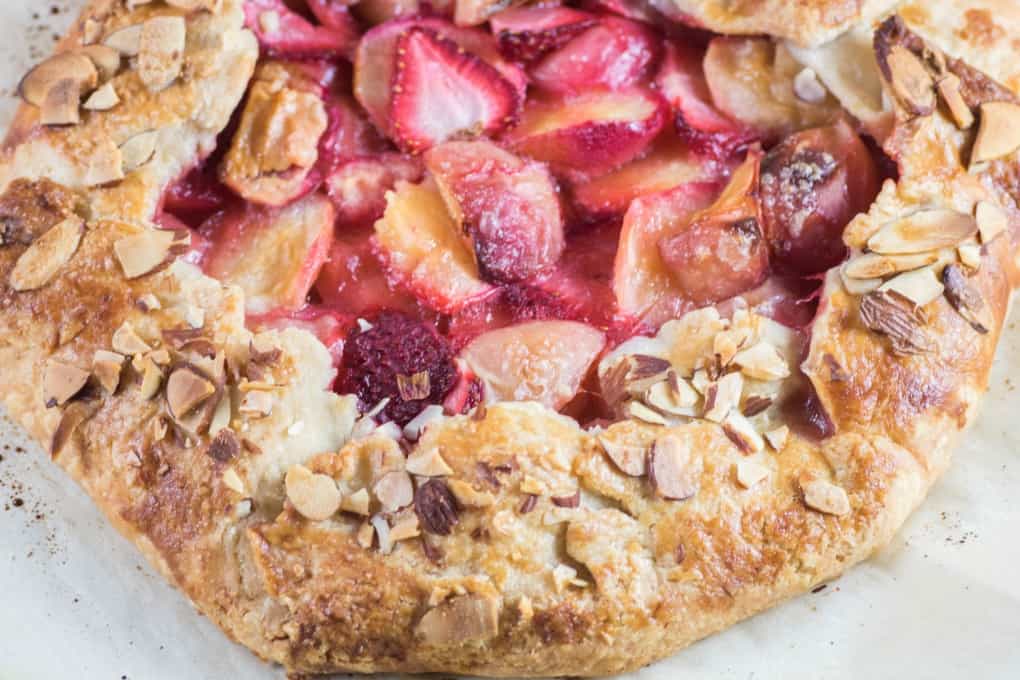 I loved adding on the slivered almonds onto the crust. It gave the tart a lovely nutty flavor. I also dusted the rim with a maple sugar that I have. The crust then turned a gorgeous golden brown.
The combination of the fuits and nuts were great together. I got the inspiration from the Fine Cooking magazine that had a Nectarine-Strawberry Sheet Pan Pie recipe that had the almonds also scattered around the edge.
Berry Sugar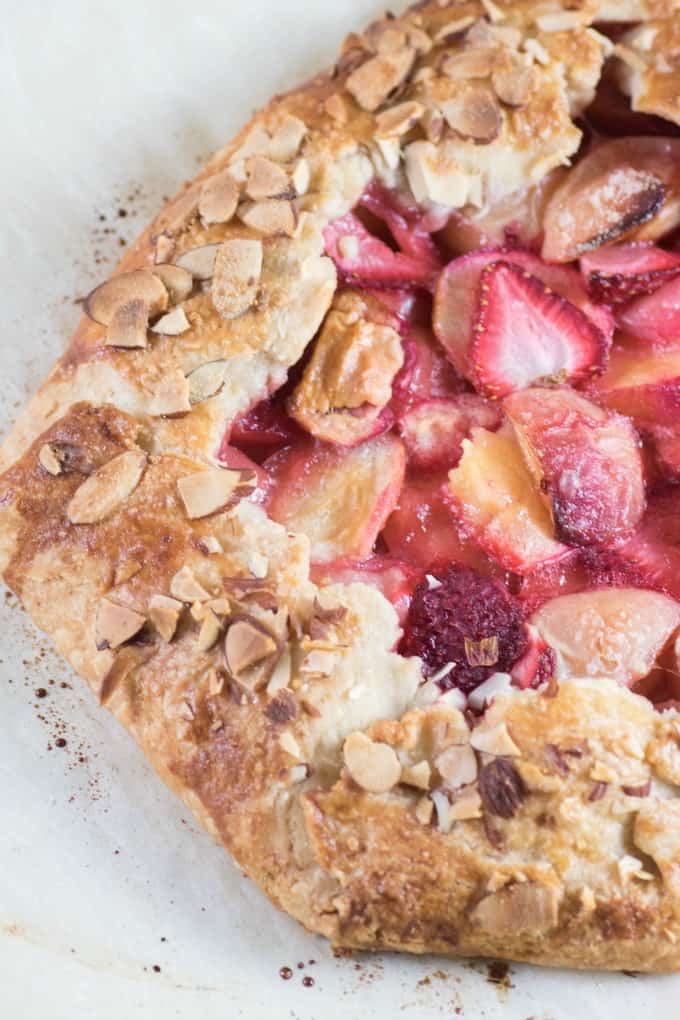 I only added in 1/2 cup of sugar but instead of regular granulated sugar I used berry sugar. We call it that here in Canada but you may see it as just extra-fine sugar, superfine, caster or castor sugar where you live.
It is not as common as granulated sugar or icing sugar and comes in smaller bags. I always have some of this in my pantry for serving up berries or when it is called for in a recipe.
Because it is so fine it can dissolve in warm or even cold water. If you are unable to locate on don't want to buy berry sugar you can sub in regular sugar but you may want to add a tablespoon or more.
Tart Crust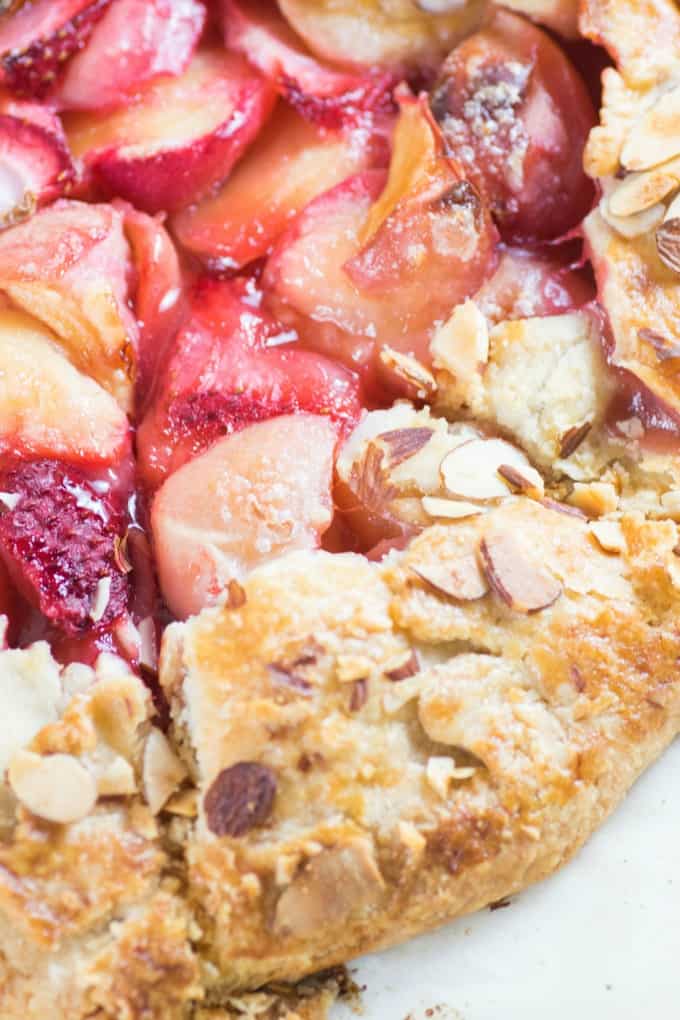 This tart is easy to make as you just roll out a rough circle. Nothing needs to be precise as you want it very rustic looking. With that said there is little skill needed but just to roll it out thinly enough.
The tart cut like a dream with the beautiful flaky pastry. We have changed our pastry up to incorporate butter in for more flavor and a better texture.
The recipe that I will give you will have enough to make two tarts. Want to only make one? That is fine, just wrap up the dough well in first plastic wrap and then foil. Mark on it what it is and the date and store it in the freezer. Just reduce the amount of filling by half then.
The pastry that you see here was from the freezer. Just let it thaw completely in the refrigerator before using.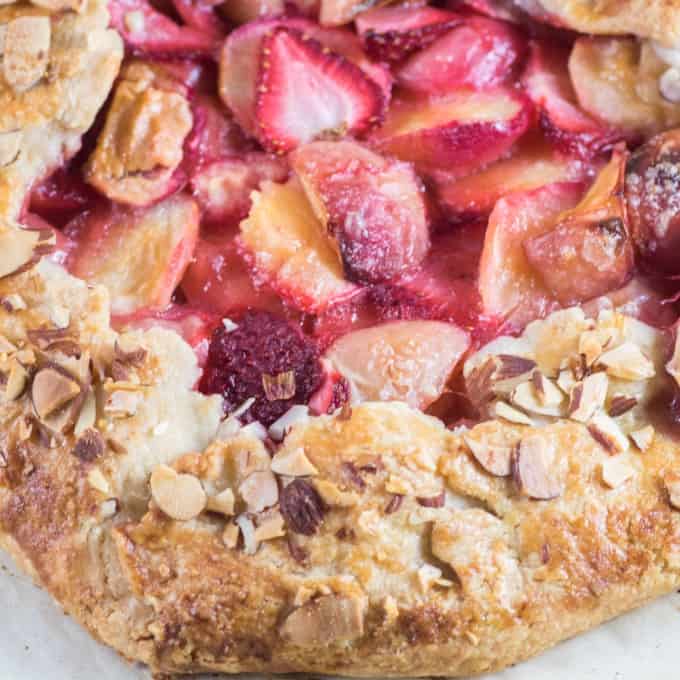 This recipe looks like you slaved away but it is actually pretty easy to make. You can also use a store bought pie crust if you don't want to make the dough yourself.
I have made this recipe with two store bought pie shells also. Just placing one on top of the other and again doing the pretty nuts and maple sugar on top.
If you don't have the maple sugar you can use regular granulated sugar or turbinado (light brown cane sugar) or demerara sugar (partially refined light brown cane sugar) too.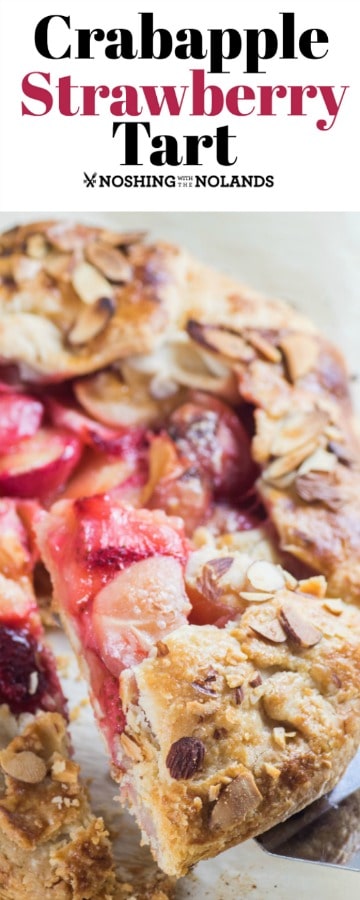 Crabapple Strawberry Tart Recipe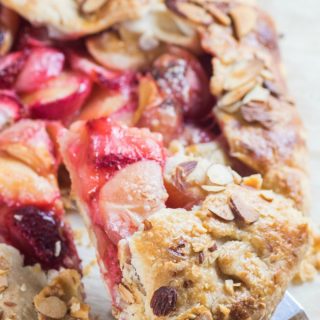 Crabapple Strawberry Tart
Yield: 2 tarts
Prep Time: 20 minutes
Cook Time: 35 minutes
Total Time: 55 minutes
Crabapples add just the right tartness to the sweet strawberries in this gorgeous rustic tart. The crust is sprinkled with almonds to give additional flavor and texture.
Ingredients
Pie Dough
¾ cup cubed very cold butter
3 cups all-purpose flour
½ tsp. salt
1 Tbsp. sugar
⅓ cup very cold lard
6-8 Tbsp. ice water
Filling
2 lbs. crabapples, sliced around the core into four slices
1 lb. strawberries, sliced
1/2 cup berry sugar, or slightly more granulated sugar or to taste
2 Tbsp. cornstarch
Topping
1 large egg
2 Tbsp. cream
1/3 cup sliced almonds
Maple sugar or turbinado or demerara
Instructions
Using a food processor add the flour, sugar and salt and pulse a few times. Add the butter and lard and continue to pulse until the dough is in pea sized shapes.
Don't over mix, maybe 8-12 times. Now with the machine running pour the water down the tube and continue to pulse until it forms a ball adding in more water if necessary up to the 8 Tbsp. mark. Remove dough and place on a floured surface and roll into a ball. Wrap with plastic wrap and refrigerate for 30 min.
Meanwhile prepare filling. Toss the crabapples and strawberries with the sugar and cornstarch. set aside. Preheat oven to 425F.
Divide the dough in half and roll each half into 10" round circles on parchment paper. Divide the fruit filling between the two tarts to within about 3" of the edge. Fold the pie dough over the edges in a free-form fashion.
Whisk the egg and cream together and brush the edge with the mixture. Sprinkle on the almonds pressing them in slightly. Sprinkle on the maple sugar. Carefully transfer to a baking sheet.
Bake for 35 min. or until center of the fruit is bubbling and the crust is golden brown.
Let cool for at least 15 min. before serving.