Cheesy Breakfast Home Fries
Disclosure: I was compensated for this post. All opinions and experiences are my own.
Do you love a great breakfast now and again? I mean a real bacon, egg, potato feast! We sure do here! Hash browns are easy to make but even easier are these Cheesy Breakfast Home Fries. The Little Potato Company's Fingerling potatoes are absolutely perfect for the task!
Their Fingerling varietals comes prewashed and already to go. No peeling is necessary either, thanks to the naturally thin-skinned Little Potatoes.
Their taste is full and sumptuous and really require little additions or seasonings. Including the salt and pepper this is a 6 ingredient dish and so very easy to accomplish.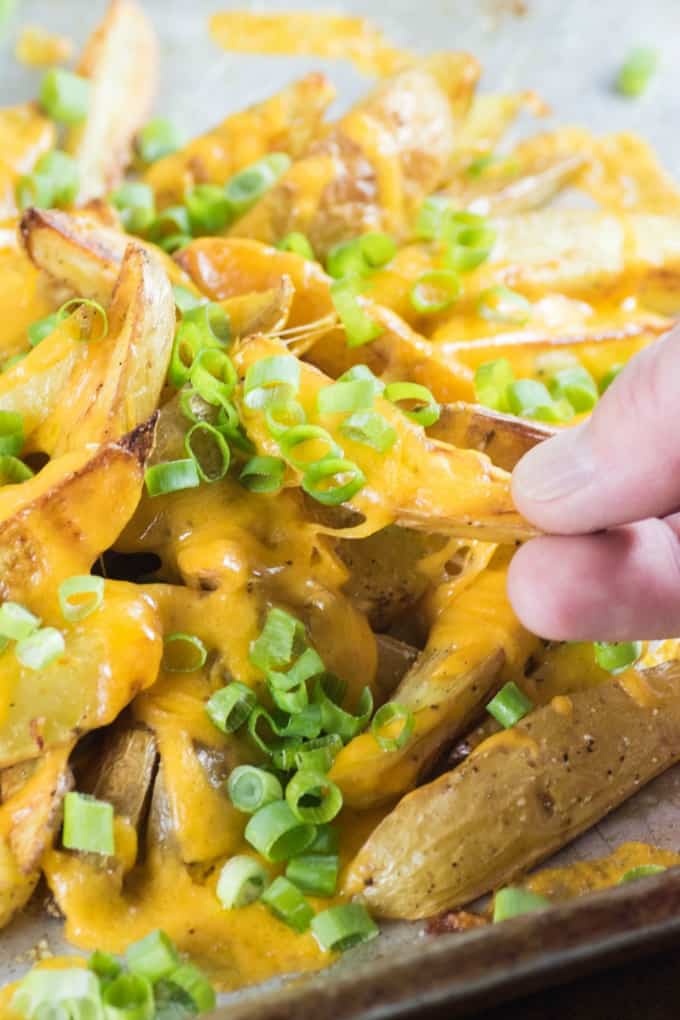 In that short time they bake, eggs, bacon and toast can be prepared and you are off to the races with the best breakfast ever.
Cheesy Breakfast Home Fries make the best side dish for breakfast. Kids will think these are the greatest thing ever to be served at breakfast.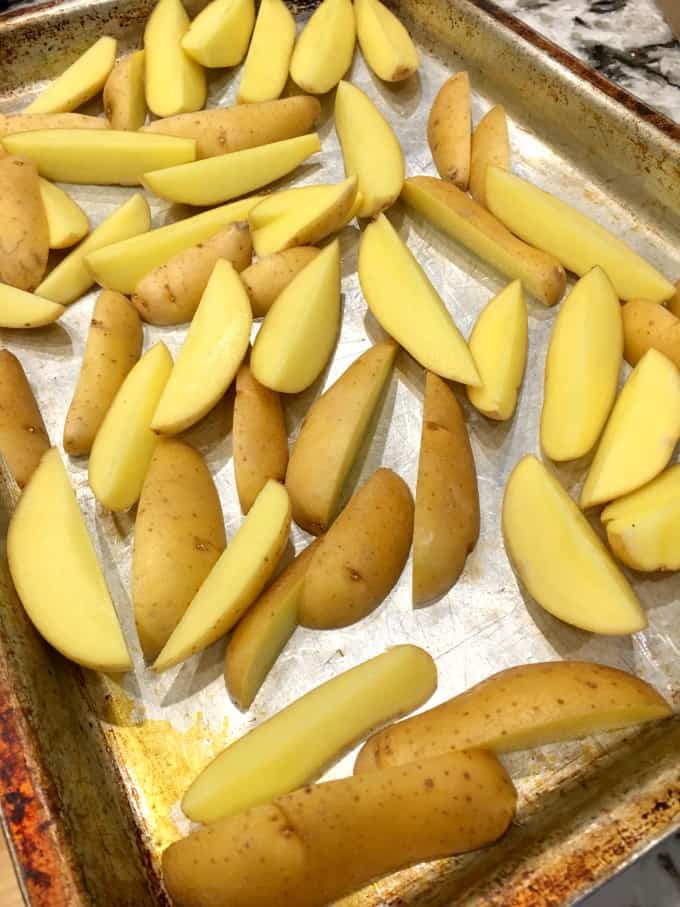 See how The Little Potato Company's Fingerlings are the perfect size for these home fries. They have delicate yellow skin and a warm yellow center. They maintain a nice bite so they are perfect for roasting.
How do you make home fries in the oven?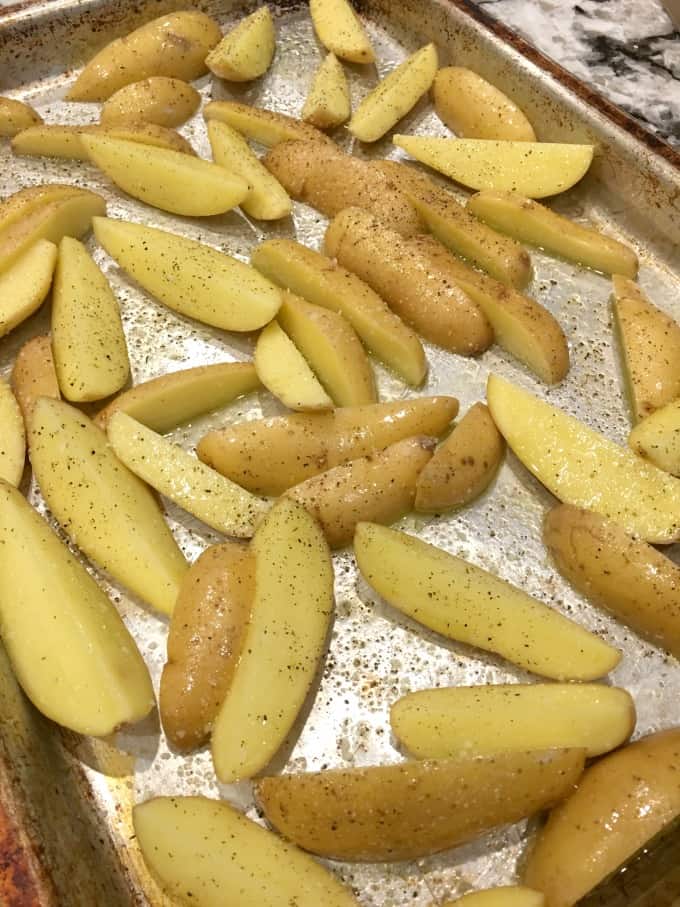 Just slice the Creamer potatoes, add the potatoes to a pan, drizzle with olive oil, salt and pepper and into the oven they go!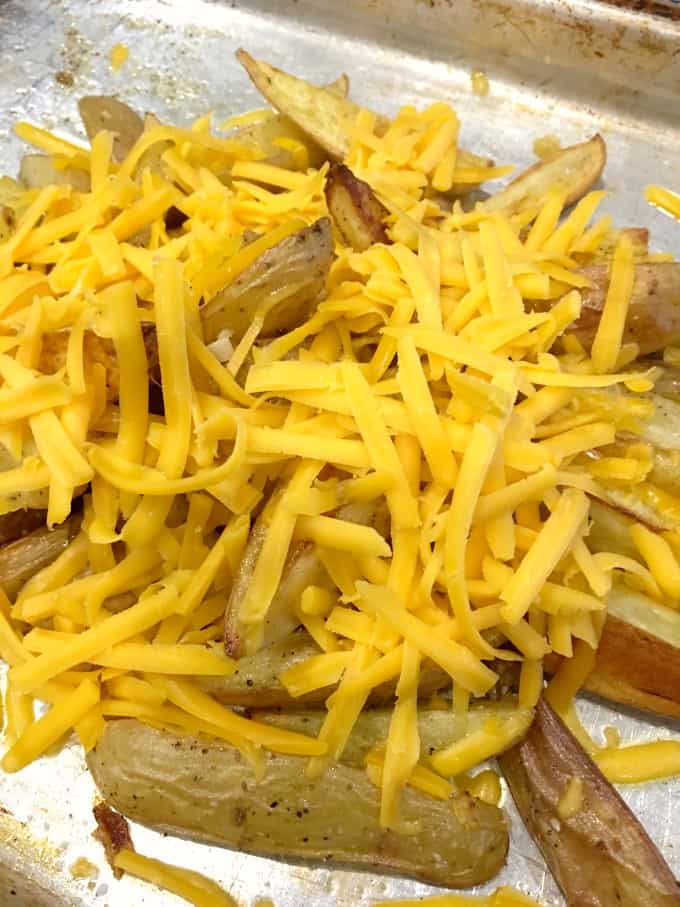 After one toss or two you cook the potatoes for 35-40 min. at 400F they will be golden brown and waiting for the cheddar!
You just need to mound up the potatoes into the center of the pan and sprinkle on the cheddar cheese. Two minutes more in the oven and a sprinkle of green onions and everyone will be diving in.
How do you make good home fries?
A few tips are to not flip the potatoes too soon in the baking time. Make sure they have roasted for at least 20 min. and are starting to brown on the one side first.
Always cook them in a single layer and use a good quality olive oil. I also like to use Kosher salt and fresh ground pepper for seasoning. It does make a difference than regular salt and pepper.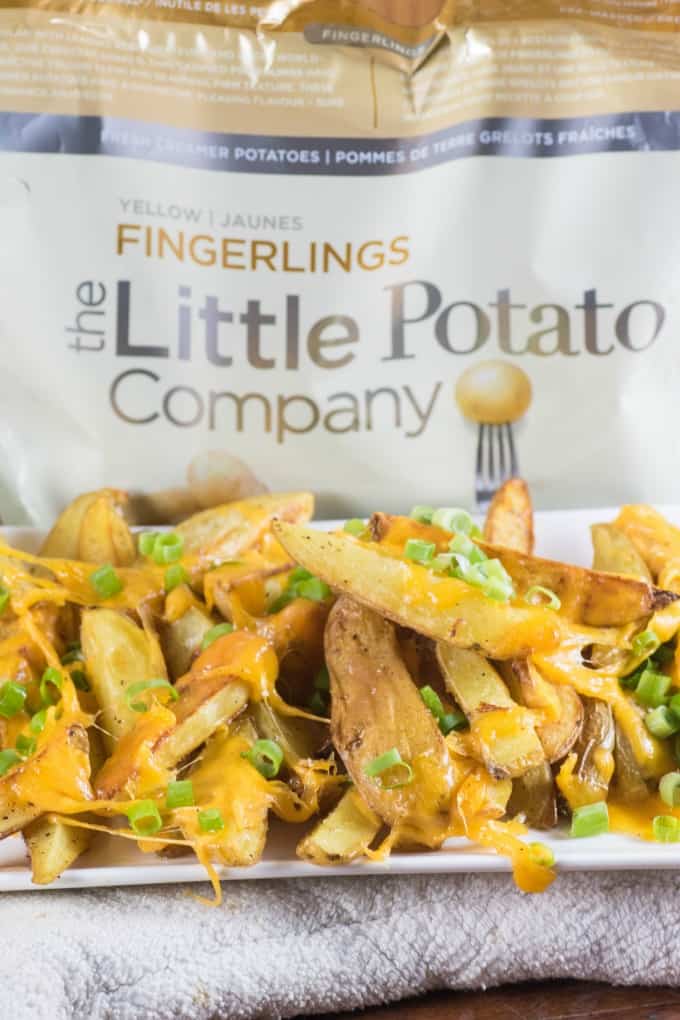 They feel like an indulgent treat but so much healthier baked than deep fried. Plus, Little Potato Company's Fingerling potatoes are a great source of fiber and vitamin C and they are naturally gluten free.
They are also a high source of potassium making them a great choice for breakfast or at anytime of the day.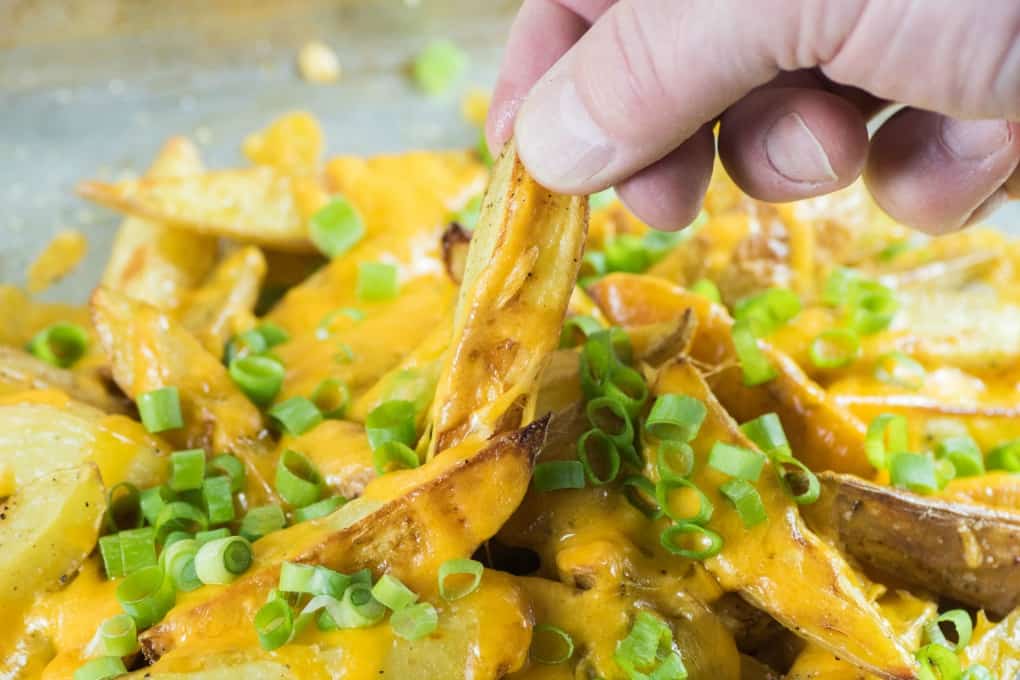 Do you like ketchup, sour cream? Sure, add those in for dipping. I think a lovely soft poached egg would make a great dip for these crispy home fries. Dunk, dunk, yum!! My tummy is growling thinking of these again.
Do You Have to Boil Potatoes Before Making Home Fries?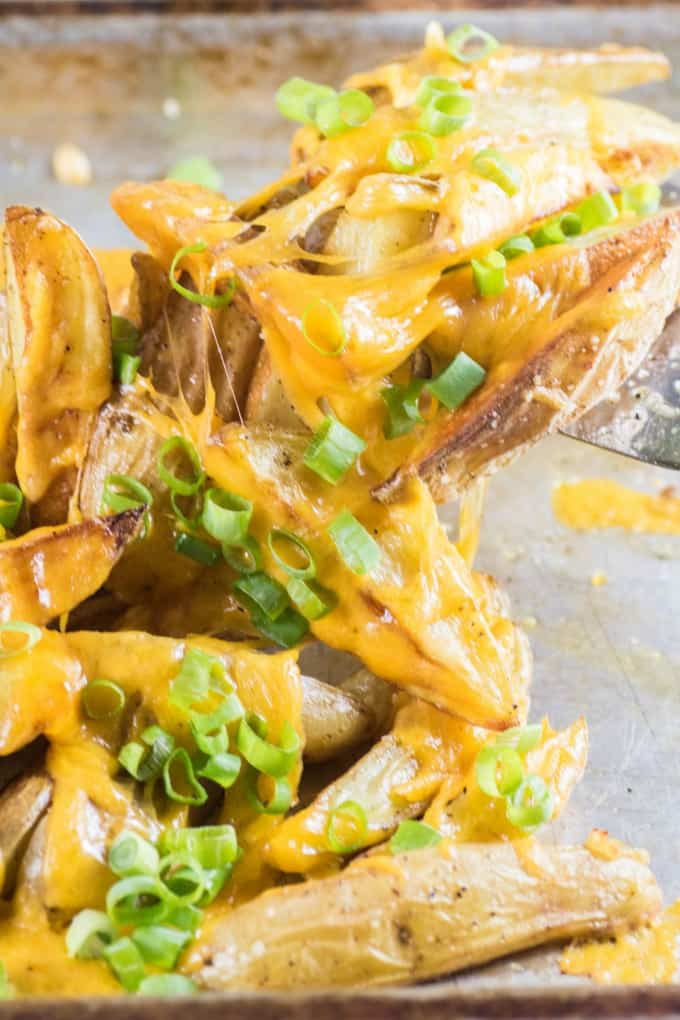 Sometimes asked, do you have to boil potatoes before making home fries? The answer is no if you use this simple method of roasting them in the oven.
Panfried home fries I would boil first and then slice but for me that works best with leftover boiled potatoes as then it is two steps and who has the time for that in the morning!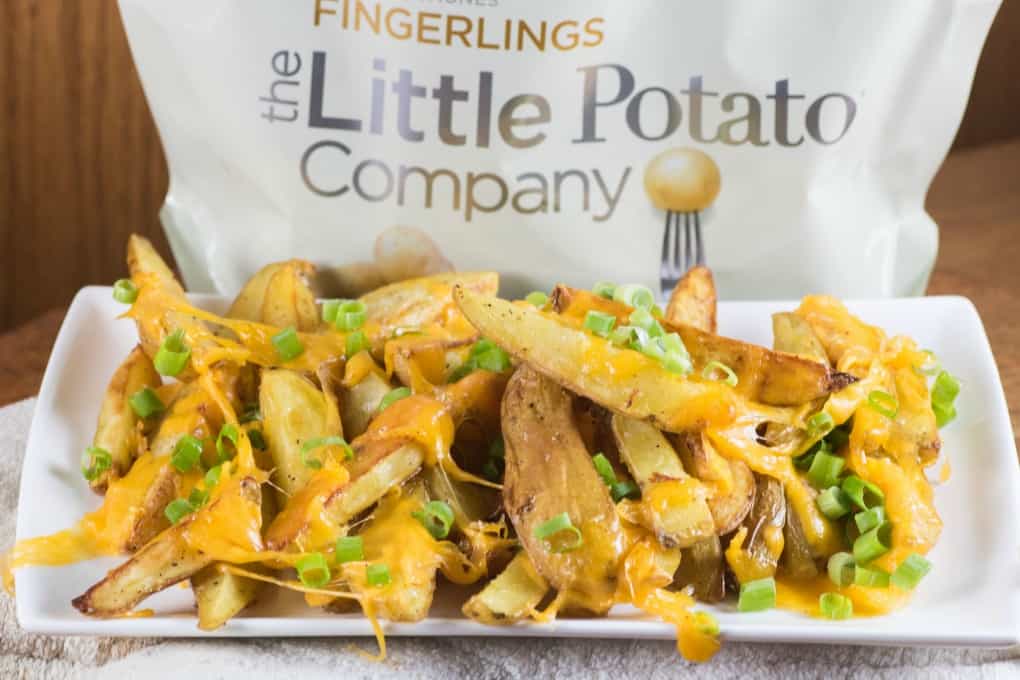 Simple, easy and delicious are sometimes the best recipes of all. A breakfast or brunch like this will carry you right through the day until dinner.
Plus gathering at the table to start a day is a great way to have the family unite. Memories are made around a family meal day or night!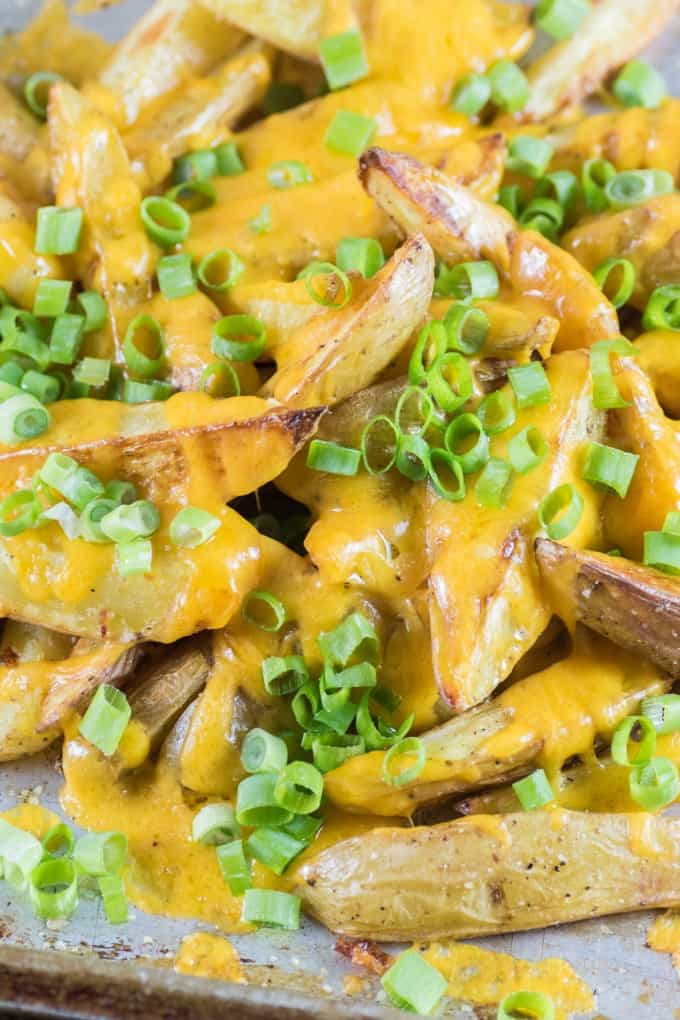 As a busy mom myself I love how easy all of the Creamer potatoes from The Little Potato Company are to use. Their convenient 1.5 lb. bags make my life very simple, as that is the perfect amount for us.
They also have 3.0 and 5.0 lb. bags available for some varietals. Plus, Microwave Ready trays and Oven/BBQ trays come with 1 lb. of Little Potatoes and a seasoning pack. Conveniently ready-to-go and are the ultimate for a quick and easy prep meal!
We've done lots of simple and magnificent meals using their Little Potatoes like Grilled Caprese Chicken Little Potato Foil Packs, Skillet Greek Potatoes, Grilled Little Potato Skins or the ever popular Baked Little Potato Casserole.
Home Fries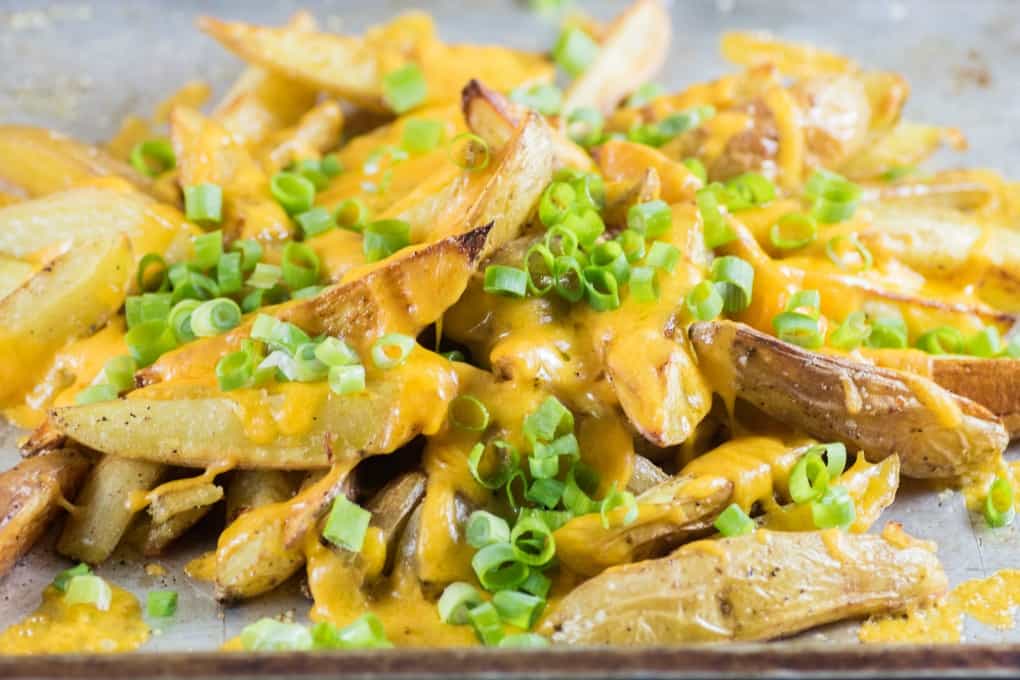 These are very much like steak fries that you get in a great restaurant but even better as they are homemade.
The recipe for baked crispy home fries could not be easier and we will be making them again and again as they were a great hit here!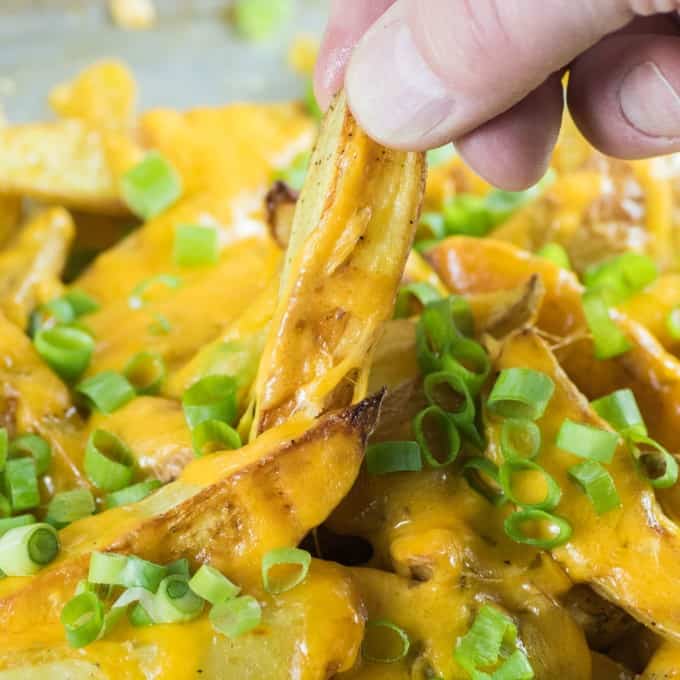 Whether you call them home fries, house fries, American fries, fried potatoes, bistro fries or hash browns these delicious baked fried potatoes will be your next favorite family meal.
These would also make a great dinner option and would be scrumptious with so many entrees or go back to the breakfast for dinner idea as we love to do that too.
With back to school upon us we are all starved for time and looking for convenient options and this is a quick and easy solution for many meals.
Hold the cheese? Well sure if you like, then you also have a great vegan option.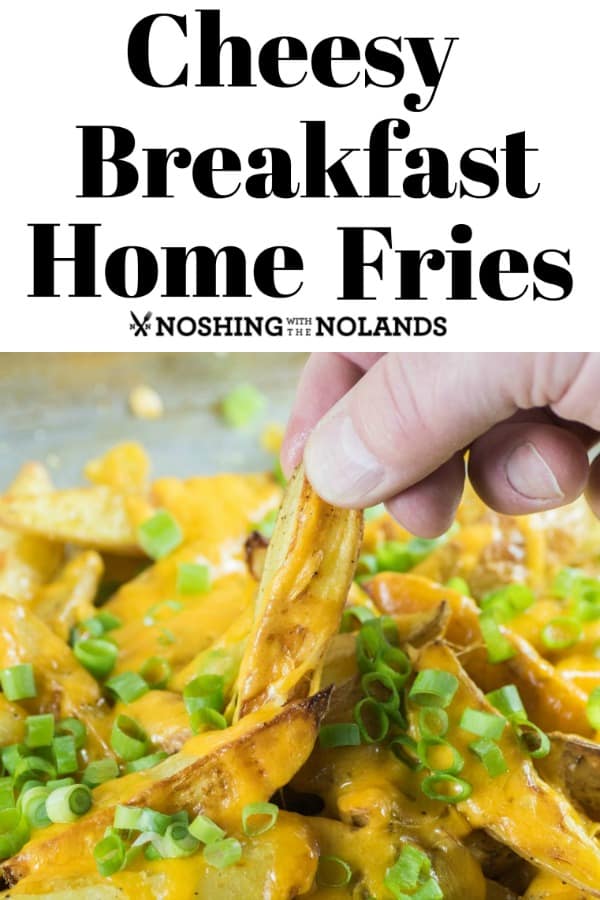 Cheesy Breakfast Home Fries Recipe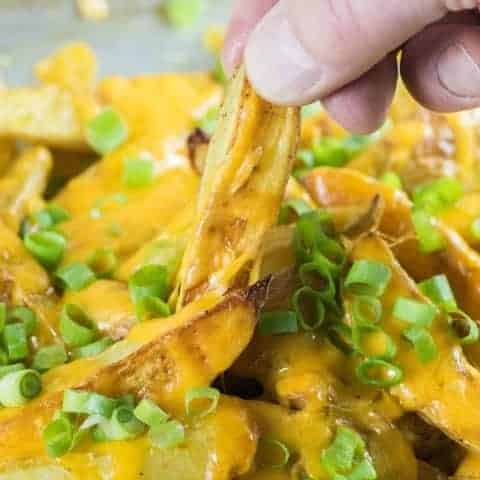 Cheesy Breakfast Home Fries
Yield: 4 servings
Prep Time: 5 minutes
Cook Time: 40 minutes
Total Time: 45 minutes
These Cheesy Breakfast Home Fries are super easy to make with Fingerling potatoes by The Little Potato Company. They are simply roasted in the oven to perfection and then cheddar cheese is added along with green onions. Perfect at anytime of the day!
Ingredients
1.5 lbs Fingerling potatoes by The Little Potato Company
2 1/2 Tbsp. olive oil
Kosher salt and fresh ground pepper
1 cup lightly packed cheddar cheese
2 green onions, chopped
Instructions
Preheat oven to 400F. Slice Little Potatoes into quarters and place on a rimmed baking sheet. Drizzle with olive oil, then season with Kosher salt and freshly ground pepper. Toss to coat evenly.
Bake in the oven for 35-40 min. tossing at the 20 min. mark or when starting to brown.
Mound up into the middle of the pan and sprinkle on the cheddar cheese. Return to the oven and bake for 2-3 min. until the cheese is melted.
Transfer to a serving platter and sprinkle on green onions. Serve immediately.
Nutrition Information:
Amount Per Serving:
Calories: 0