I adore Greek Potatoes but we haven't had them for a long time. Roasting them is great, but what if your oven is occupied with a roast, or you just don't want to turn it on to make a simple side dish of potatoes. I thought why not do them as Skillet Greek Potatoes!!
Easy, delicious and something that the whole family will love and ask for again and again. I made this dish with little potatoes, they are so easy to work with, I almost always have a bag or two or three on hand. The Little Potato Company potatoes, come prewashed so they are ready to go when you are.
They are small and so easy to work with. I just cut these ones in half and we were ready to roll them into the pan!!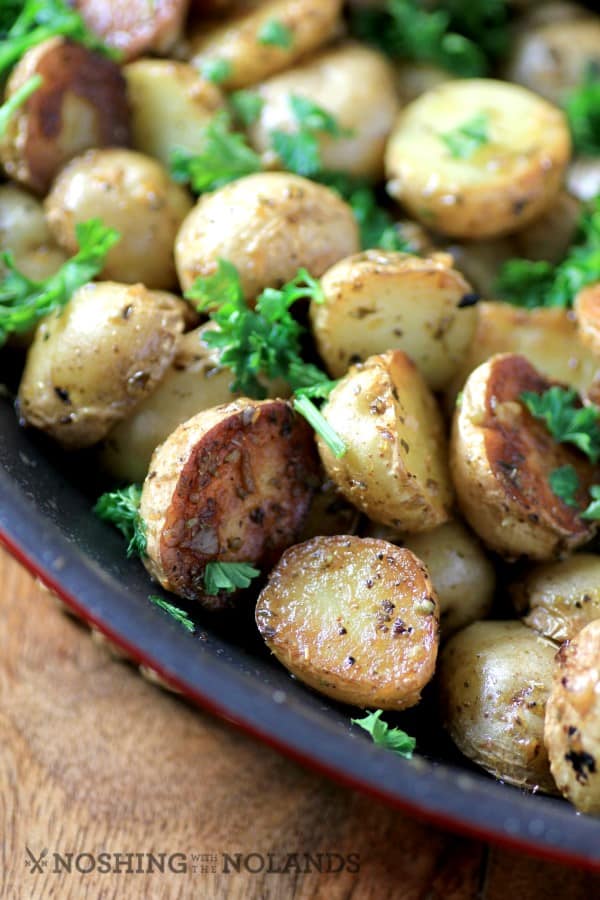 Lemony, garlicky, crispy deliciousness, these little potatoes transform into an amazing dish in no time. They would accompany so many proteins, like fish, chicken, lamb or beef. They are also a filling course on their own and served with a Greek salad would make a complete vegetarian meal.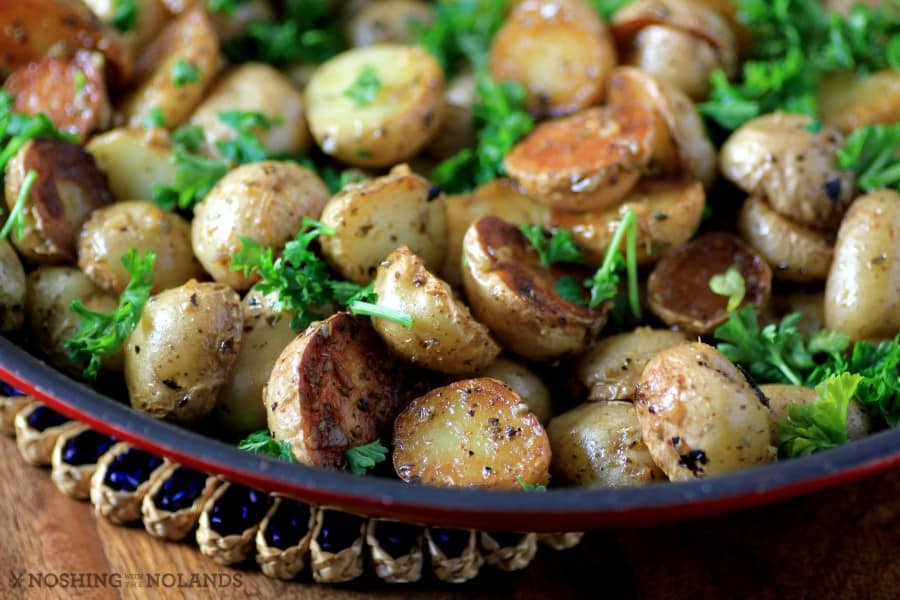 I made this dish with The Little Potato Company's Baby Boomers. They come conveniently in 1.5 lb. bags just the right amount for a family of 4. Baby boomers are light and fluffy on the inside, they have 12% of your needed daily fiber and 19% potassium, which is more potassium than bananas, broccoli or Brussel sprouts.
Baby Boomer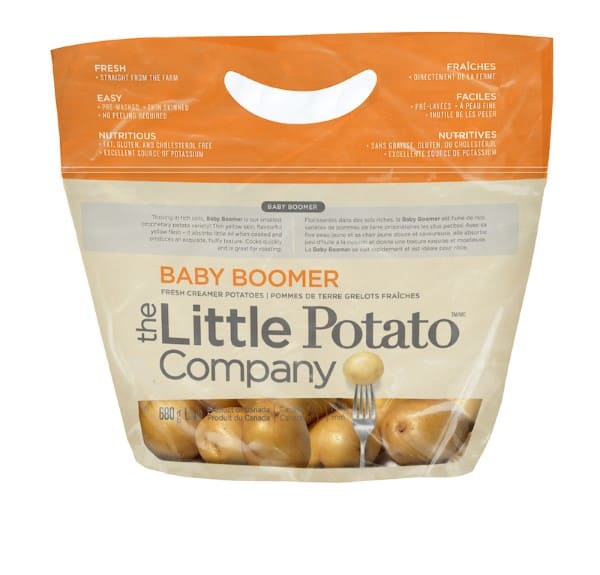 They also contain immune-boosting vitamin C and vitamin B6, which breaks down fats and proteins, makes melatonin for a good sleep and serotonin for a good mood. No wonder I am so happy eating these little potatoes!!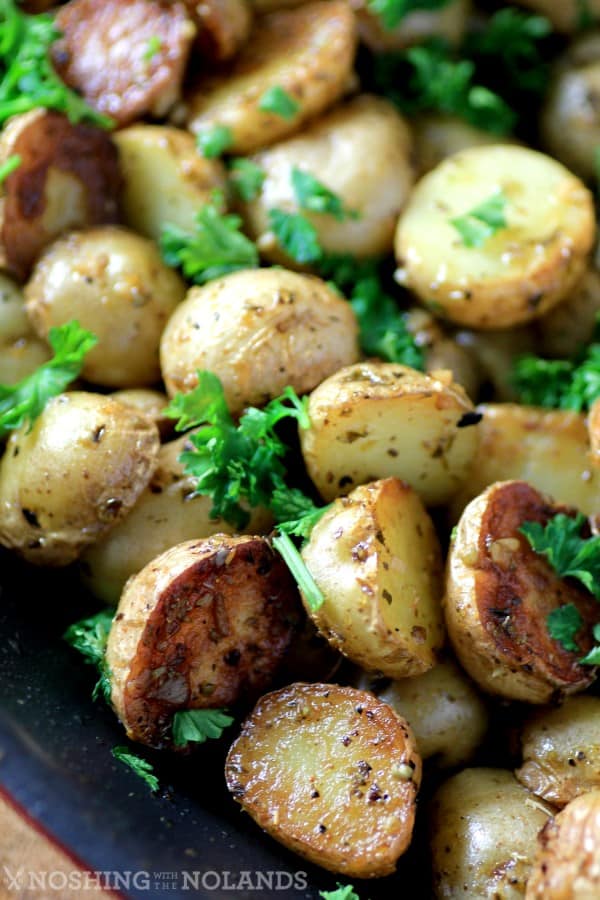 Little potatoes or also called Creamer potatoes, they cook up fast, no need to boil them. They also brown lovely in a little bit of oil. I gave these potatoes a little blast of freshness with some chopped parsley. Just what the recipe needed to be complete!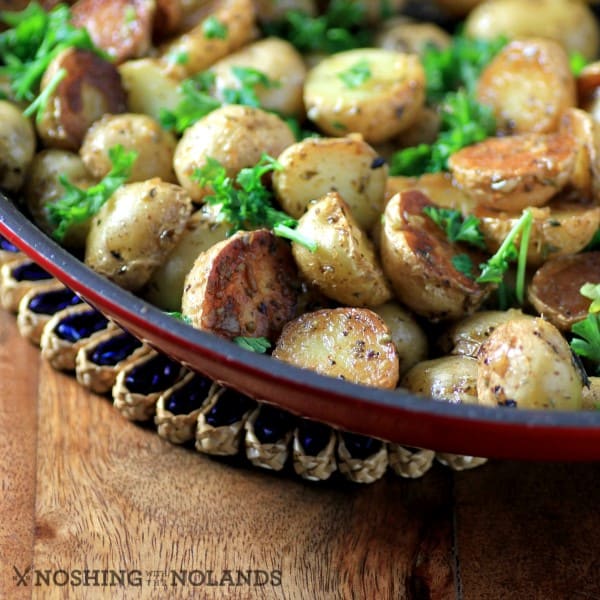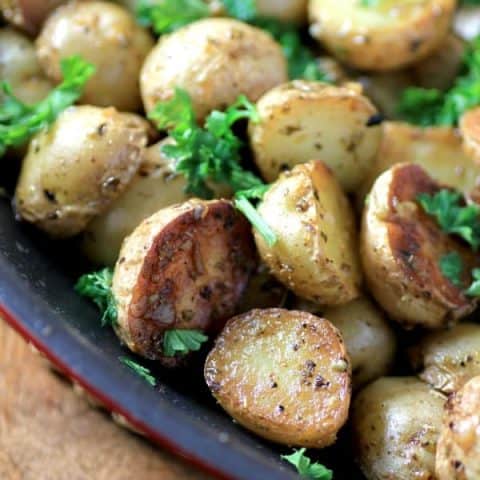 Skillet Greek Potatoes
Prep Time: 10 minutes
Cook Time: 15 minutes
Total Time: 25 minutes
Fast and simple Skillet Greek Potatoes leaves the oven off or lots of room for a big roast!! They are garlicky, lemony and perfectly done in no time!
Ingredients
1.5 lbs. Baby Boomer Little Potatoes
3 Tbsp. extra virgin olive oil, divided
2 Tbsp. lemon juice
1 tsp. lemon zest
1 Tbsp. dried oregano
3 tsp. minced garlic
Chopped fresh parsley
Instructions
Pour 2 Tbsp. olive oil into a non-stick skillet over medium high heat. Add the potatoes and brown, stirring often.
Meanwhile mix together the last Tbsp. of oil, with lemon juice, lemon zest, oregano and garlic. Set aside. When potatoes are almost tender and browned, turn heat down to low add this mixture. Stir, then cover and cook for 2-3 min. or until potatoes are tender.
Top with fresh parsley and serve.