I have been chosen as one of the Brand Ambassadors for The Little Potato Co. Well, we eat lots of these Creamer potatoes already so I was thrilled to be telling you all about them and to be sharing recipes with you. Today's recipe, Baked Little Potatoes Casserole, and many others are so easy with Little Potatoes as there is no need to peel them and they come pre-washed.
They are great boiled, baked, microwaved, roasted, and grilled (BBQ season is almost here and that makes me smile). Here are recipes for you to enjoy little potatoes with, Little Potatoes with Basil and Roasted Red Peppers or Creamer Potatoes en Papillote.
It is an excellent recipe that will serve you well for BBQ season or at any time of the year, just like the one I am going to show you today.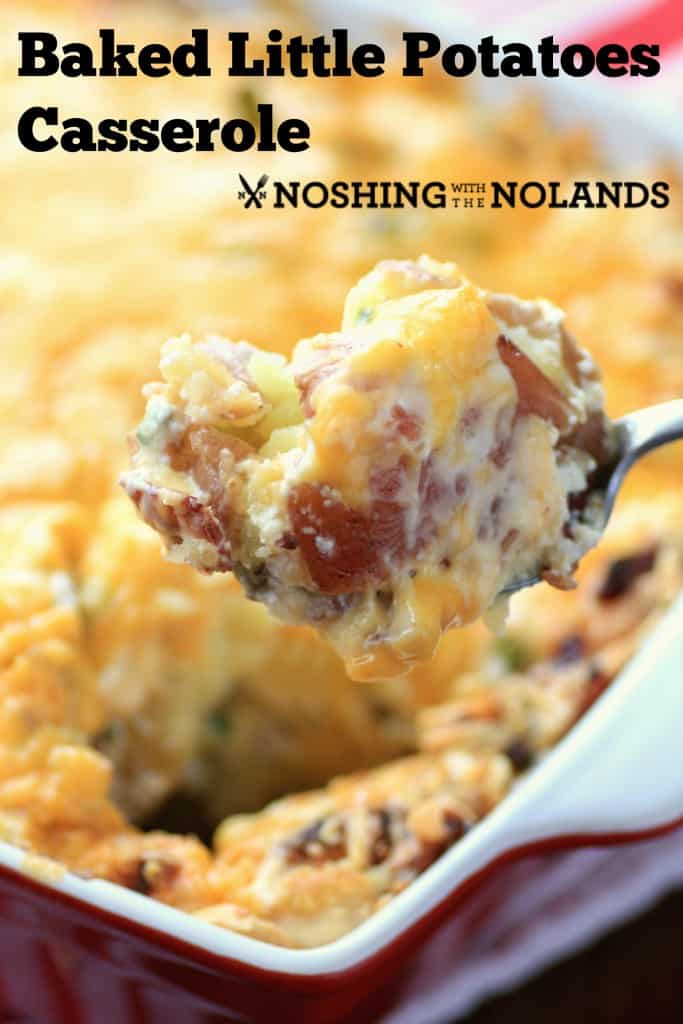 I came up with the idea for the casserole, thinking of a baked potato. This rich, delicious-looking casserole will go great for any night of the week as it is easy to assemble.
I cut down the fat a bit by using a light cheese and light sour cream in the body of the casserole and then topped it with regular cheddar cheese to get all that ooey-gooey goodness.
The lower fat cheese doesn't always melt as nicely as the regular for a topping.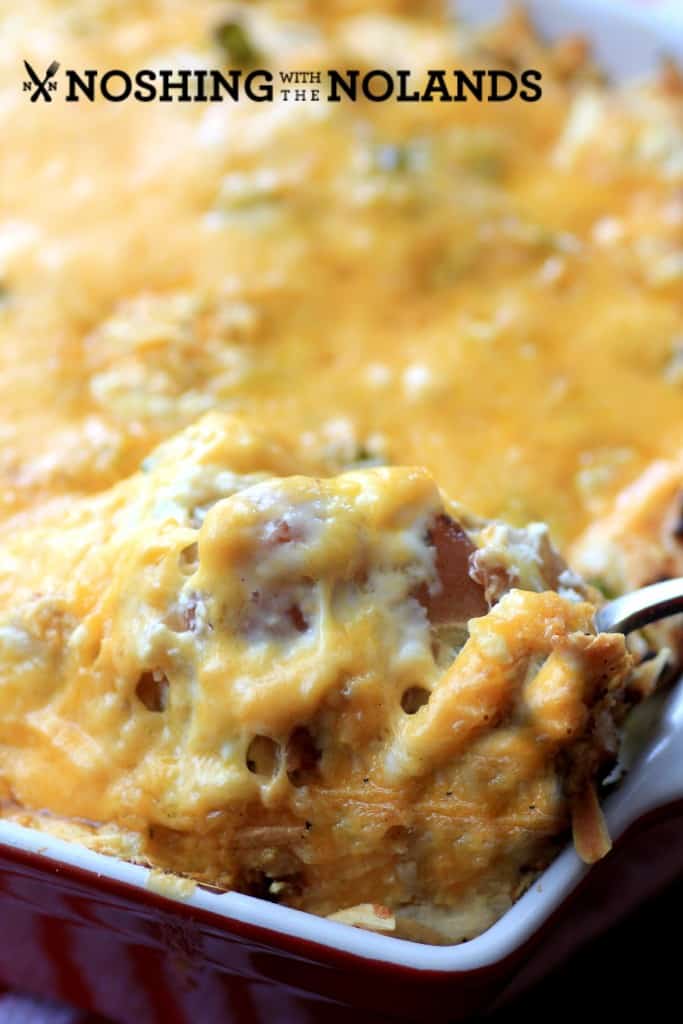 Did you know that Creamer potatoes are not baby potatoes or immature potatoes? They are not small potatoes or new potatoes. They are fully mature potatoes.
Check out the video on The Little Potato Company's front page. It will explain it all in a very informative and cute way, love their video.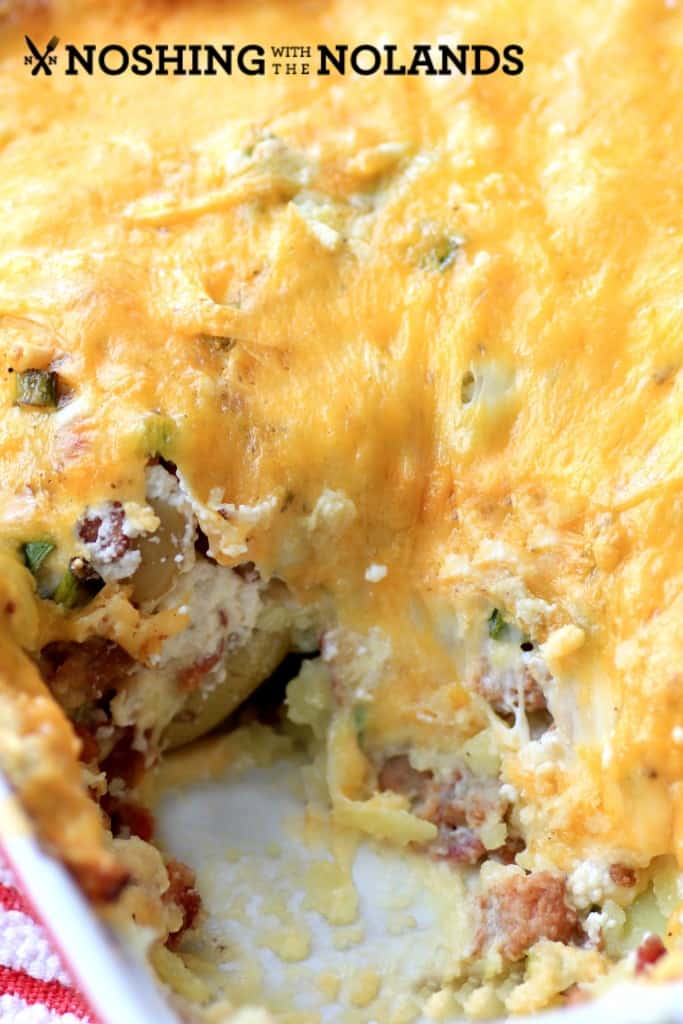 Yup, I started off in a big way with these cute little potatoes, I know you want to just dive right into that. I will pass you the big spoon.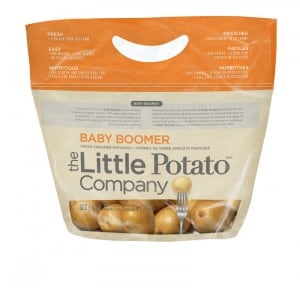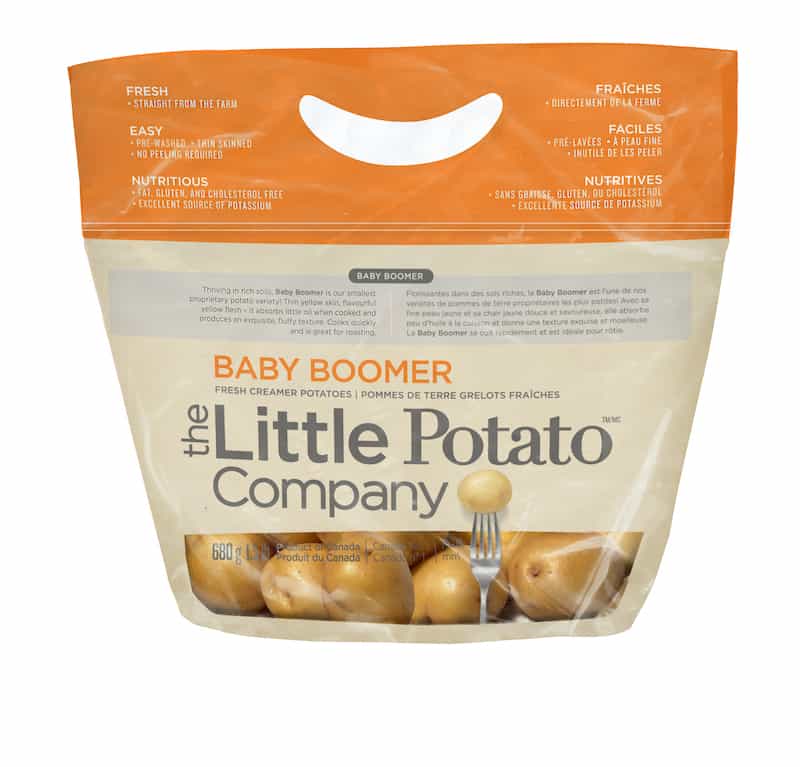 Did you know how nutritious Creamer potatoes are? They have more potassium per serving than a banana. They are cholesterol-free, fat-free, sodium-free, gluten-free, and provide 10% of your daily Vitamin C. Plus have 3 gms. of fiber per serving. That is a lot of nutrition packed into a perfect little package.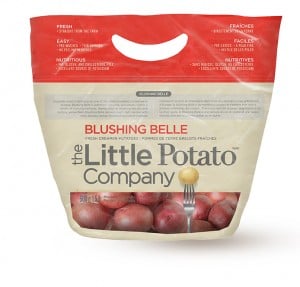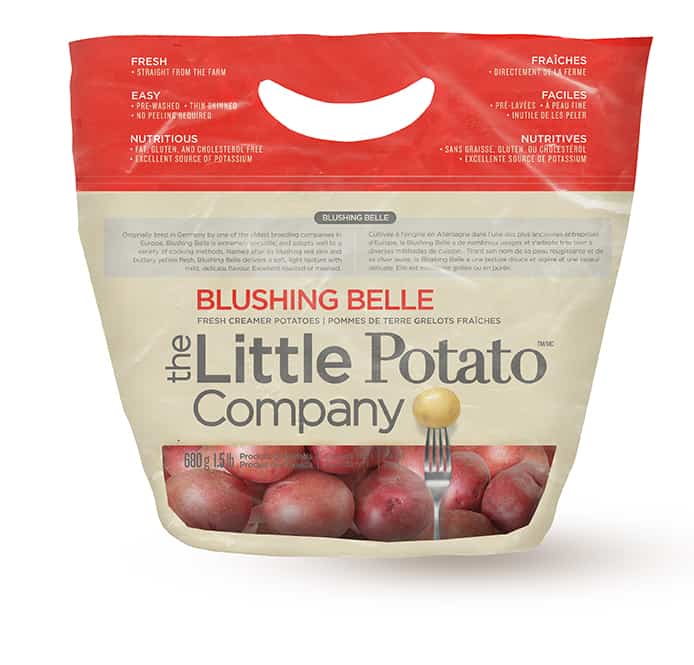 The Blushing Belles and Baby Boomers are the two varietals that I used for this recipe. They also have fingerlings and Somethings Blues that are seasonal and available now until the end of April. Plus a Terrific Trio which is a combination of three Creamer potatoes.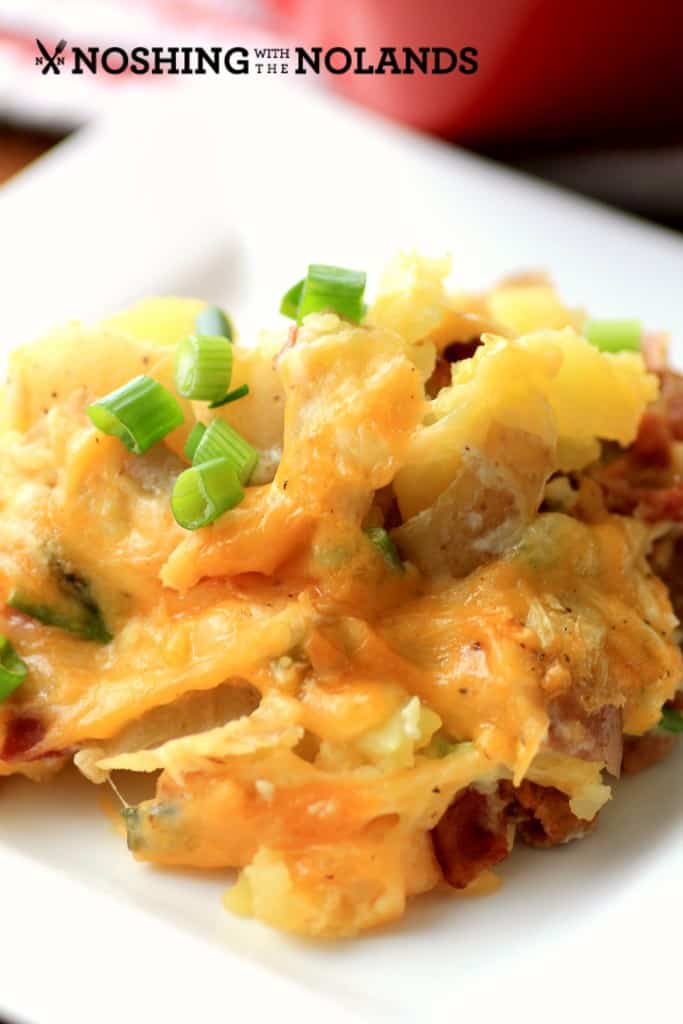 Enjoy Creamer potatoes now and all year long!!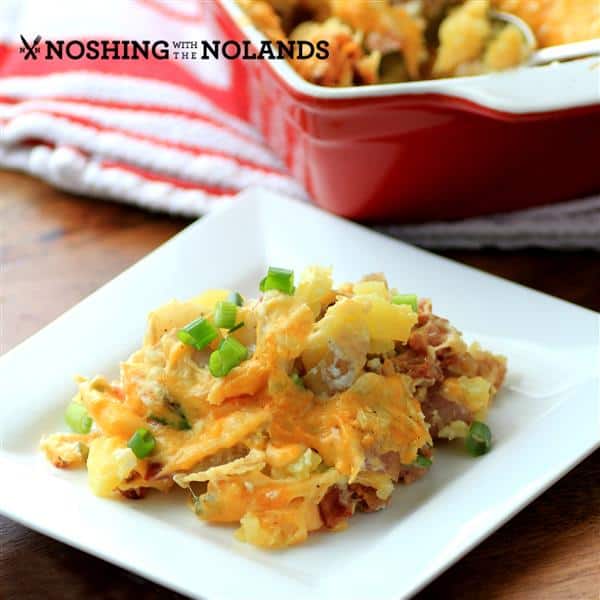 Baked Little Potato Casserole Recipe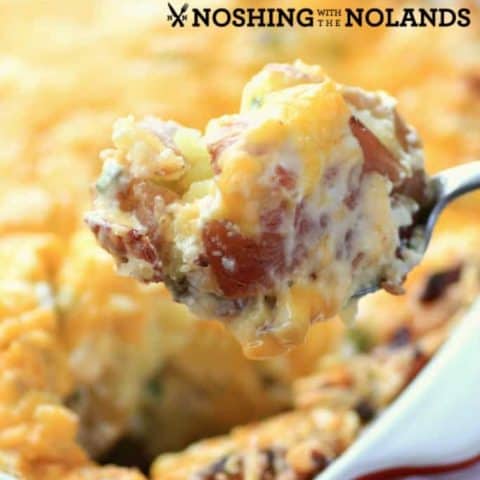 Baked Little Potatoes Casserole
Yield: 10-12 servings
Prep Time: 20 minutes
Cook Time: 50 minutes
Total Time: 1 hour 10 minutes
An easy and scrumptious Baked Little Potatoes Casserole made from the idea of a baked potato fully loaded.
Ingredients
1 lb. Little Potato Company Blushing Belles
1 lb. Little Potato Company Baby Boomers
1 cup light sour cream, divided
3 cups light grated mixed cheddar cheese, divided
1/2 cup regular grated cheddar cheese
6 green onions, chopped and divided, plus more for garnish if needed
375 gm. package bacon, cut into lardons and crisped
Fresh grating black pepper
Instructions
Boil the potatoes in a large pot of salted water until tender, about 15-20 min. depending on size. Drain and cool slightly.
Place the hot potatoes between a clean tea towel folded over and press down to smash lightly.
Place the potatoes in a 8x8" pan in a checker board pattern using half of the potatoes. Spread 1/2 cup of the light sour cream on top of the potatoes. Top with 1/2 of the bacon and 1/2 of the green onion. Sprinkle with 1 1/2 cups of light cheese. Repeat layers.
Add a fresh grating of black pepper. Bake at 350F for 25 min.
Top with the 1/2 cup of regular grated cheese and continue to bake until cheese is melted. You can place it under the broiler for the last few minutes to help the cheddar to melt.
Garnish with more fresh green onion if using and serve.
Nutrition Information:
Yield: 12
Serving Size: 1
Amount Per Serving:
Calories: 397
Total Fat: 26g
Saturated Fat: 12g
Trans Fat: 0g
Unsaturated Fat: 11g
Cholesterol: 73mg
Sodium: 779mg
Carbohydrates: 20g
Fiber: 2g
Sugar: 1g
Protein: 22g