I received potatoes from The Little Potato Company, uh ya thrilled!! I love little potatoes so much, they are completely versatile with endless possibilities for recipes. They can just be simply made, boiled and served with butter, salt and pepper, one of my favorites. I could eat an entire bowl of them just that way. You can amp 'em up by roasting them, smashing them, putting them in soups or stews, baked on their own or in a side dish. My mind races with all the ways I love little potatoes. I settled in on this scrumptious recipe of Little Potatoes with Basil and Roasted Red Peppers.
We probably eat little potatoes more than their larger cousins. We always have some on hand. They are a staple not only in the cold winter months but go so deliciously with a spring menu or right alongside any BBQ dinner in the summer, served hot or cold in salads!!
Today I have for you a scrumptious idea for serving them that is so very easy but is bursting with fresh robust flavors that make these little gems shine!! This recipe is perfectly suited for your Christmas table with all the festive colors. It will go great with turkey, chicken, ham and roast beef!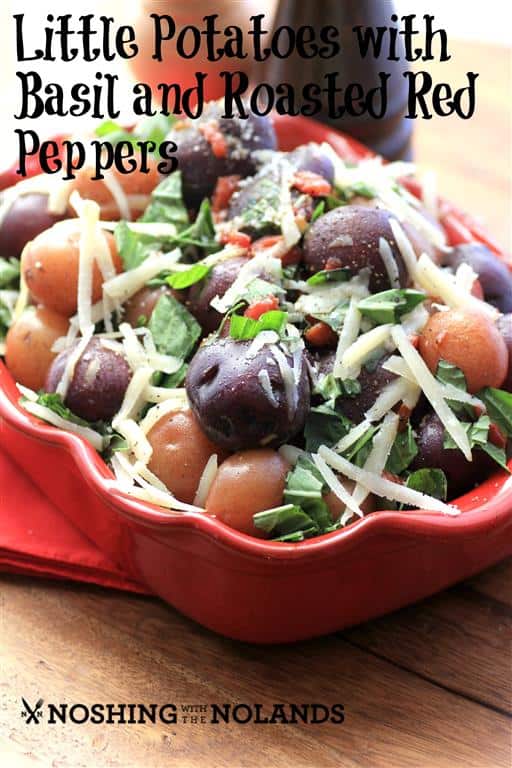 For this recipe I used two different kinds of potatoes. It adds so much more color to the dish!! I used The Little Potato Company's Something Blue potatoes that were originally bred in Chile by a father and son team. They have a bright blue/purple skin which adds some eye candy to your dish plus they taste delicious. The interior flesh is yellow with purple streaks. I also put in Blushing Belles, these potatoes were originally bred in Germany by one of the oldest breeding companies in Europe. They are extremely versatile and adapt to many dishes like this one. They have a blushing red skin and a buttery yellow flesh interior. They are gorgeous together.
Did you know that potatoes are fat, gluten and cholesterol free and they are an excellent source of potassium!! The Little Potato Company's potatoes are easy and ready to use as they are pre-washed and thin skinned so there is no peeling necessary.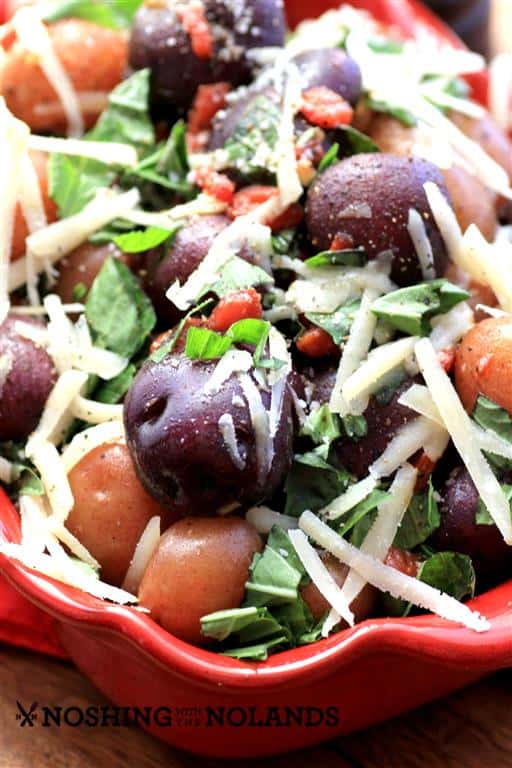 With these lovely potatoes I added a robust flavoring of balsamic reduction, Dijon mustard, garlic, olive oil, roasted red peppers, basil and Parmesan cheese. You and your company will be going back for more over the holidays with this recipe!!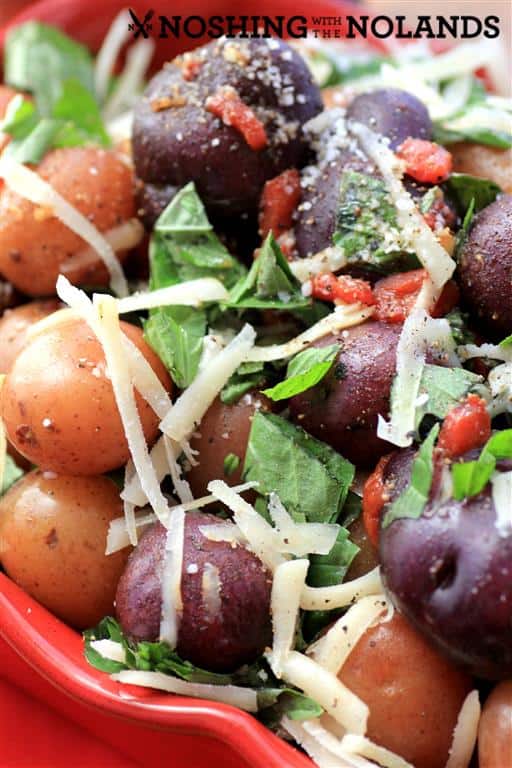 I will give you a spoon and you can just dive right in!!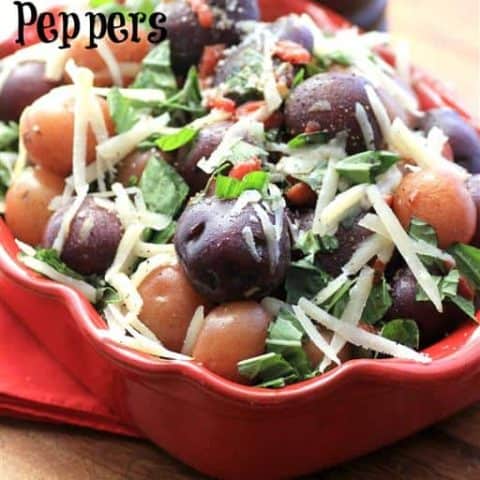 Little Potatoes with Basil and Roasted Red Peppers
Yield: 6-8 servings
Prep Time: 10 minutes
Cook Time: 15 minutes
Total Time: 25 minutes
A mixture of blue and red potatoes get dressed up with basil, roasted red peppers, Parmesan and more.
Ingredients
1 1/2 lbs. of The Little Potato Company Something Blue potatoes
1 1/2 lbs. of The Little Potato Company Blushing Belle potatoes
2 Tbsp. balsamic reduction
2 Tbsp. hot water
2 tsp. Dijon mustard
2 garlic cloves, minced
1/2 cup olive oil
1/2 cup roasted red peppers, diced
1/2 cup basil
Kosher salt and freshly ground black pepper
Parmesan, grated
Instructions
Boil potatoes in salted water until done, approx. 15 min.
Meanwhile mix together the balsamic and hot water, then whisk in the mustard, garlic, olive oil, and salt and pepper to taste. Stir in the red peppers.
When the potatoes are done, drain them. Chop the basil roughly and add 1/3 to the dressing. Toss the potatoes with the dressing. Serve in a bowl topped with the remaining basil, Kosher salt and freshly ground pepper and the Parmesan. Serve immediately.