This is the Best Ever Wedge Salad! With iceberg wedges, blue cheese, and crunchy bacon, it's classic steakhouse fare, but our recipe includes a secret ingredient that gives it an extra delicious burst of flavor. Pair this super simple wedge salad with your favorite burger or steak for a simple, tasty meal.
Looking for more easy salad recipes? Try our Best Chef Salad, Classic Greek Salad, or our Easy Caprese Salad. As the weather warms up, I crave a fresh salad almost every day!
What is a Wedge Salad?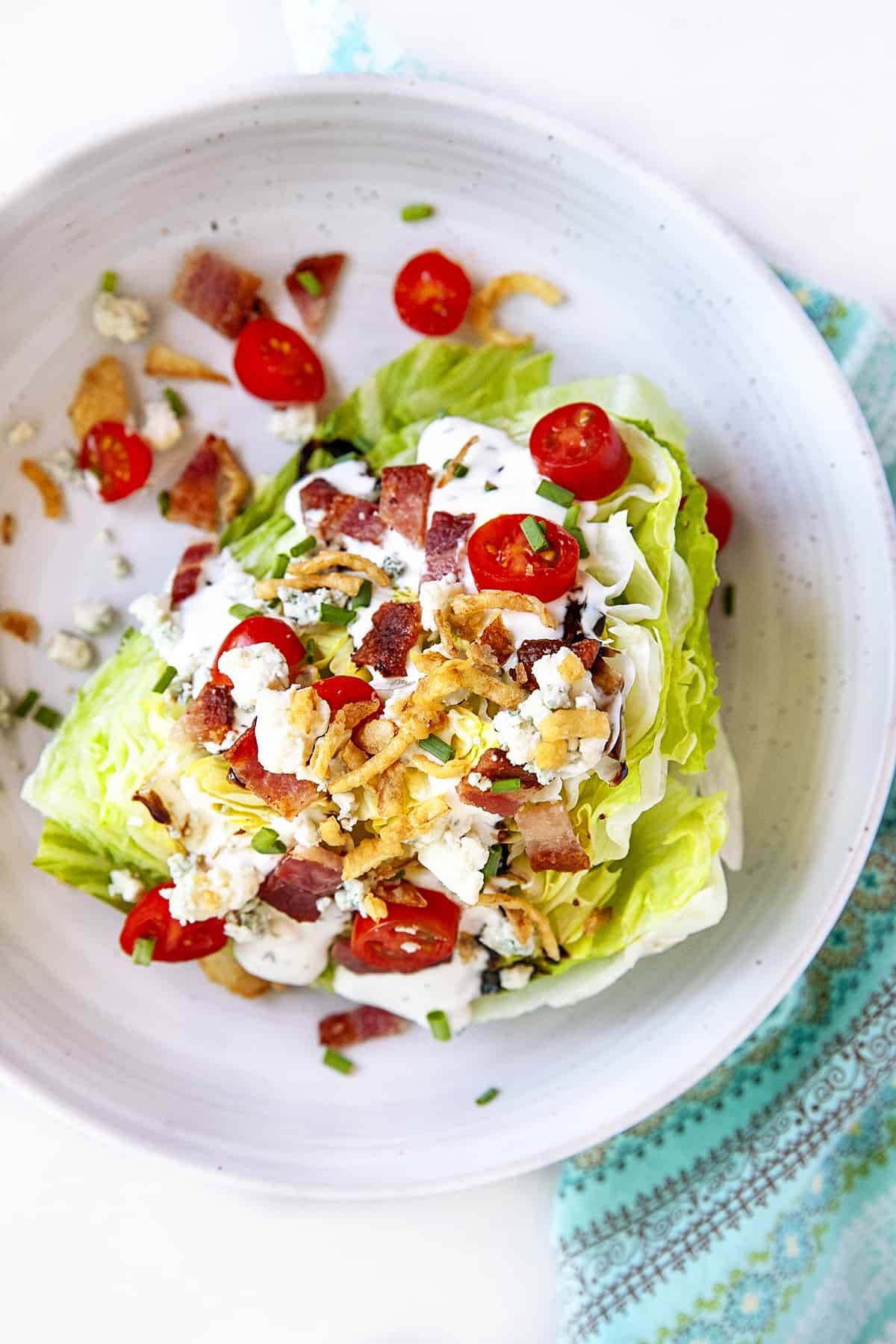 A Wedge Salad is a classic American Salad often served at restaurants (but it's easy and fun to make at home, too!). It's called a "Wedge Salad" because it is made from a wedge of crispy iceberg lettuce that isn't chopped but rather served as a whole wedge.
Because the lettuce leaves aren't separated or chopped like other salads, you eat a wedge salad with both a fork and a steak knife and cut chunks of the wedge off as you eat. This is likely why it's so often served at steakhouses!
It's a popular American Salad because it's simple, fresh, and the perfect combination of flavors and textures. It pairs well with steak, burgers, grilled fish, and barbecue chicken. You can even pair it with a thick slice of crusty bread and call it a light lunch!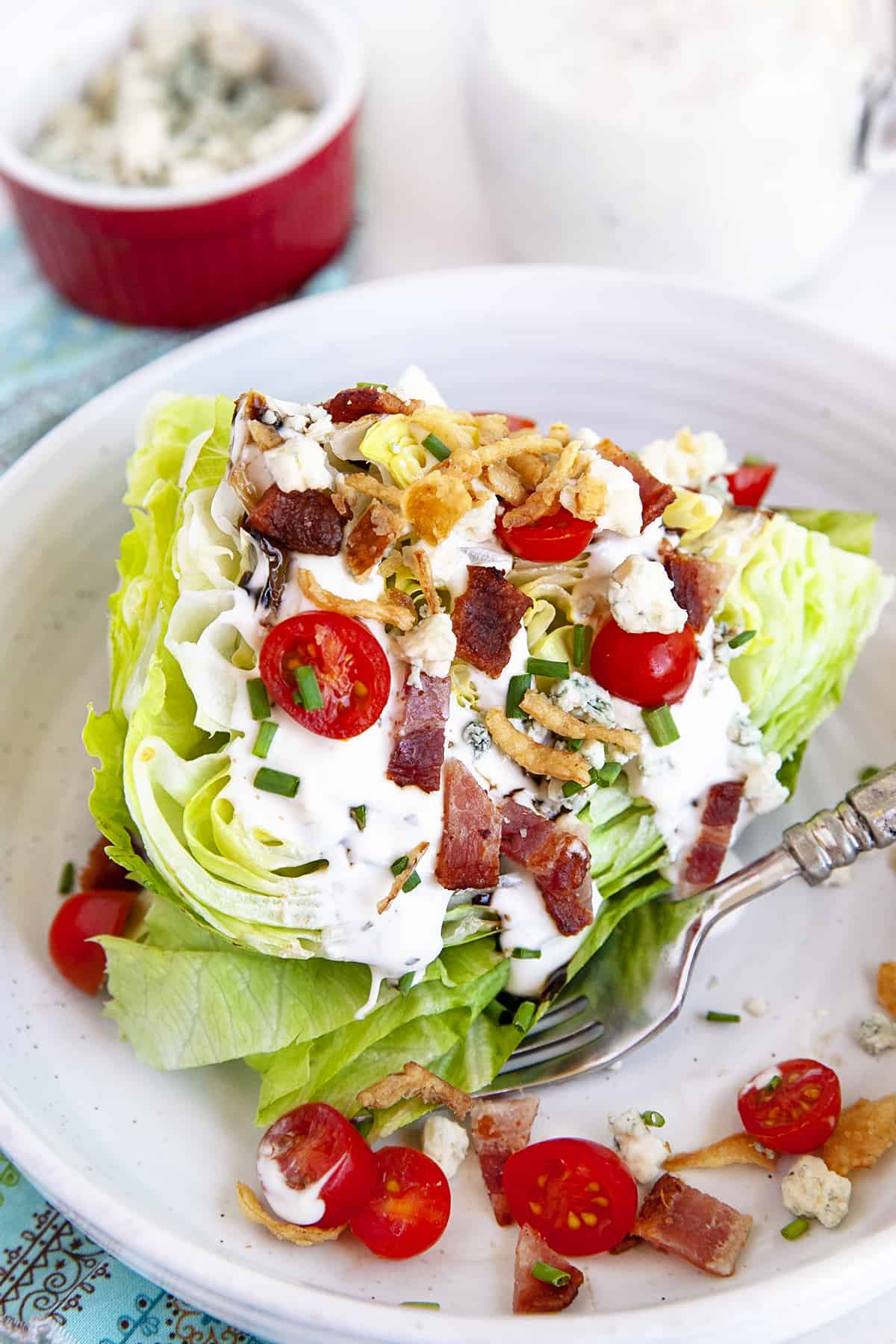 What is a Wedge Salad Made of?
Traditionally, the classic wedge salad is topped with bacon, blue cheese crumbles, and blue cheese dressing. Sliced cherry tomatoes and red onions are also common wedge salad topping ideas. But it's fun to play around with flavors and textures, which is what we've done with our Best Ever Wedge Salad.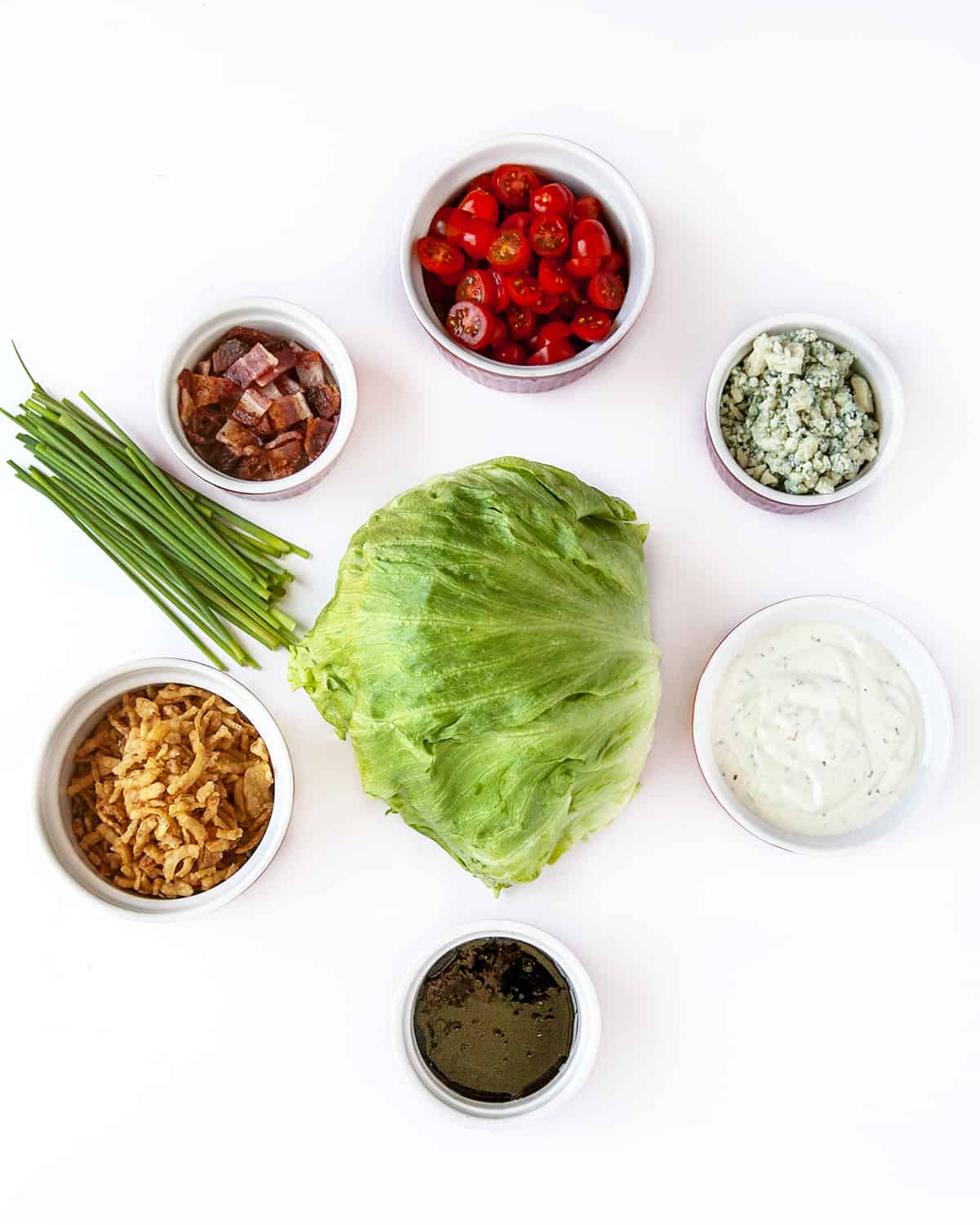 To make the best-ever wedge salad recipe, you'll only need a few simple ingredients that are easily found anywhere. Get good quality ingredients; this will make your salad memorable.
To make this side dish easy, have everything mise en place in small bowls so that assembly is easy.
Ingredients
Head of Iceberg Lettuce – Look for a medium to large head so that you can get four good-sized wedges of iceberg lettuce out of it.
Blue Cheese Dressing – If you prefer Ranch Dressing, that works here too. You can use your favorite bottled dressing or make it from scratch (try our Buttermilk Ranch Dressing recipe here). Or make a delicious homemade blue cheese dressing too.
Blue Cheese Crumbles – No matter what salad dressing you decide to use, the blue cheese crumbles add so much delicious flavor to the salad! Try just a little, even if you are not a fan of blue cheese. Also, shop for a milder blue like gorgonzola or a Danish Blue.
Cherry Tomatoes – Not only do these add a pop of color to the salad, but they're also sweet and delicious.
Bacon – Use thick-cut bacon slices and cook them until they are crispy and drain on paper towels.
Fried Onions – While you can use a thinly sliced red onion, I think the crispy fried onions are the perfect texture and flavor and make the salad a little bit more fun.
Chives – Sprinkle them on top for the best fresh flavor addition.
Balsamic Glaze – Last but not least, don't forget the SECRET INGREDIENT. The Balsamic Glaze, also known as a Balsamic Reduction, is what makes this wedge salad the best ever! All you need to make the glaze is Balsamic Vinegar and Brown Sugar (recipe below). This adds a sweet, tangy flavor that truly takes this wedge salad to the next level.
How to Make a Wedge Salad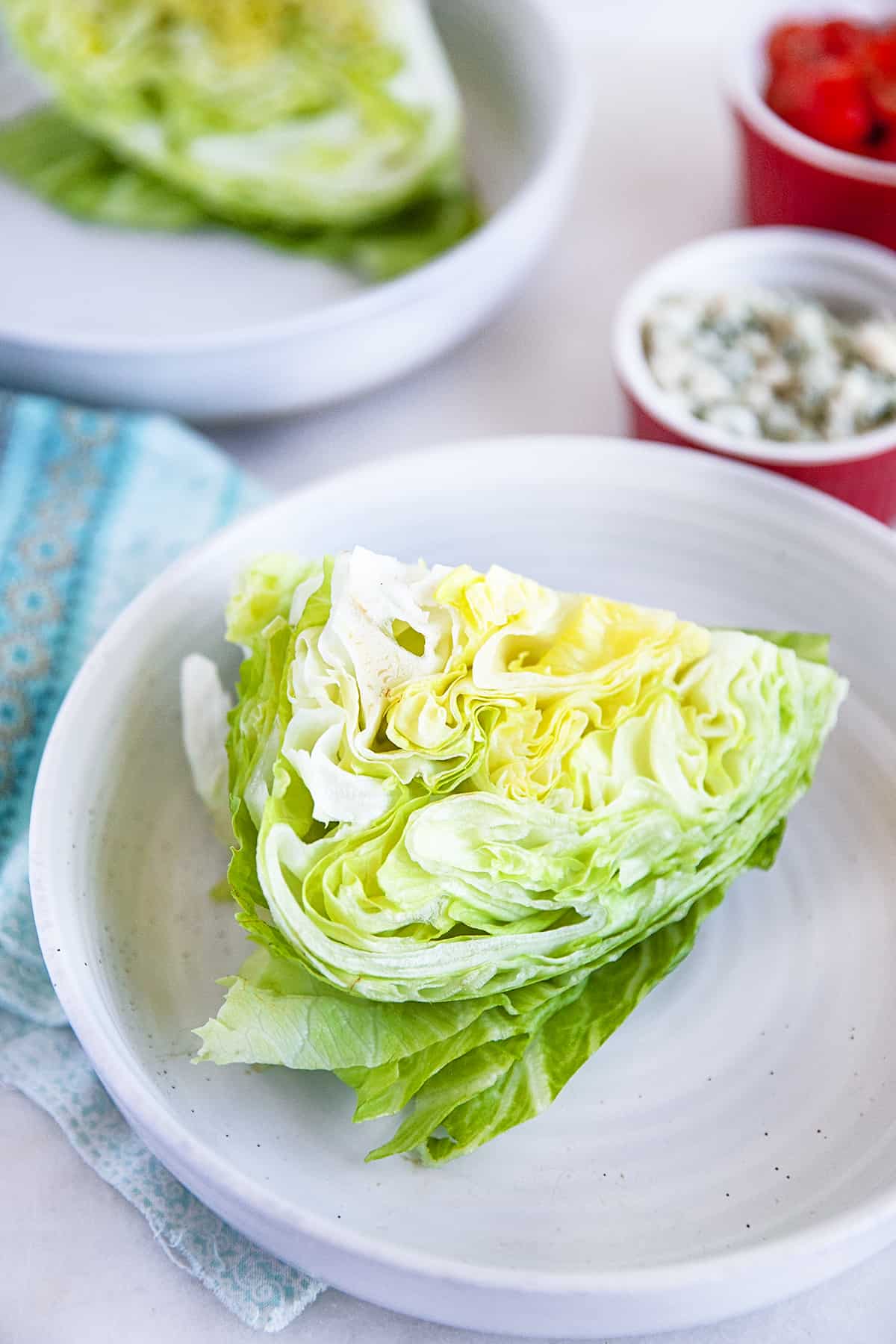 It's super easy to make your own Wedge Salads at home! Once you have the ingredients ready to go, you're just minutes away from a delicious salad.
To begin, discard the wilted outer leaves of the iceberg lettuce head, then cut off the stem. Cut the head in half, and then cut each half in half again, creating four wedges of lettuce as pictured above.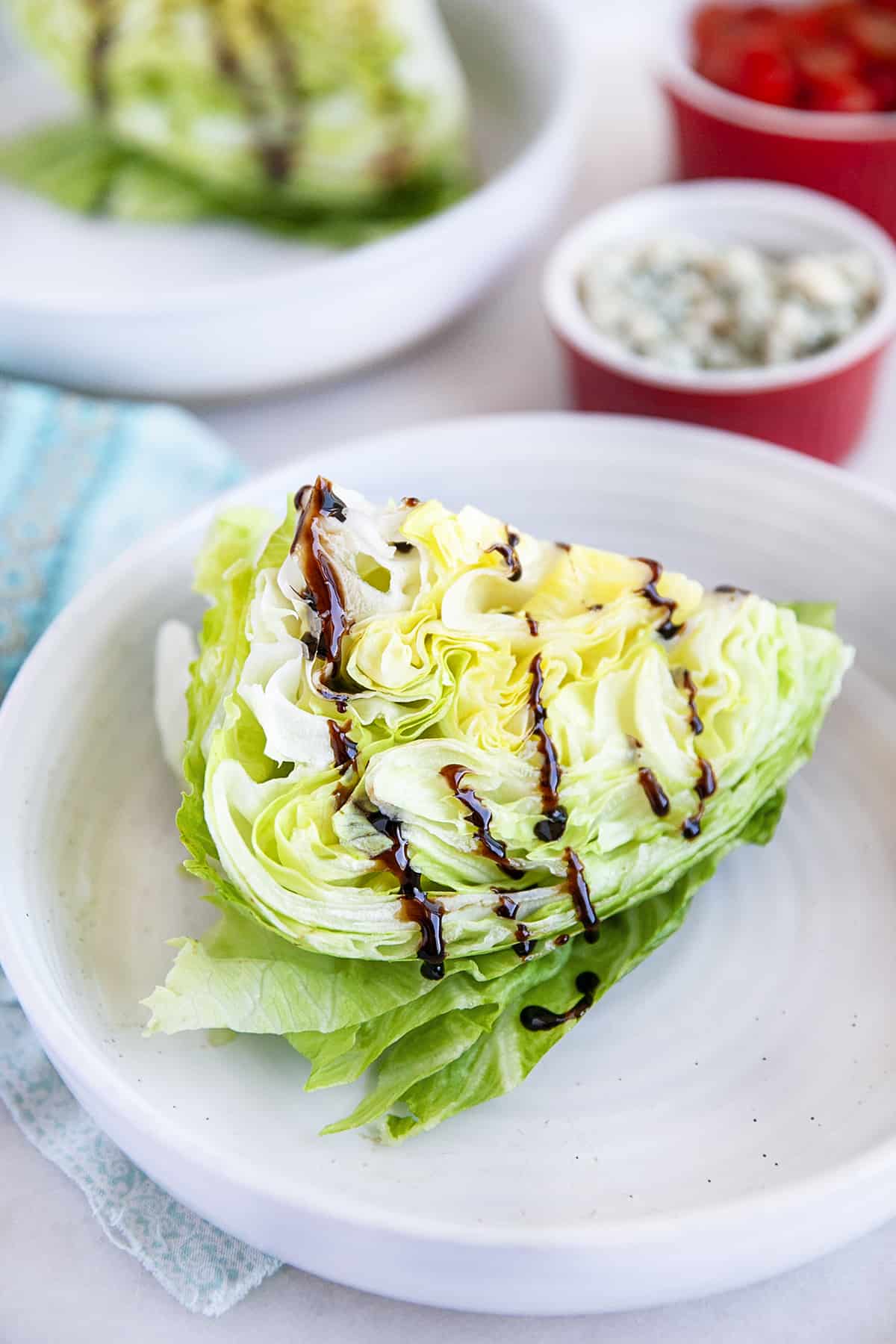 Drizzle each wedge of lettuce with the balsamic glaze.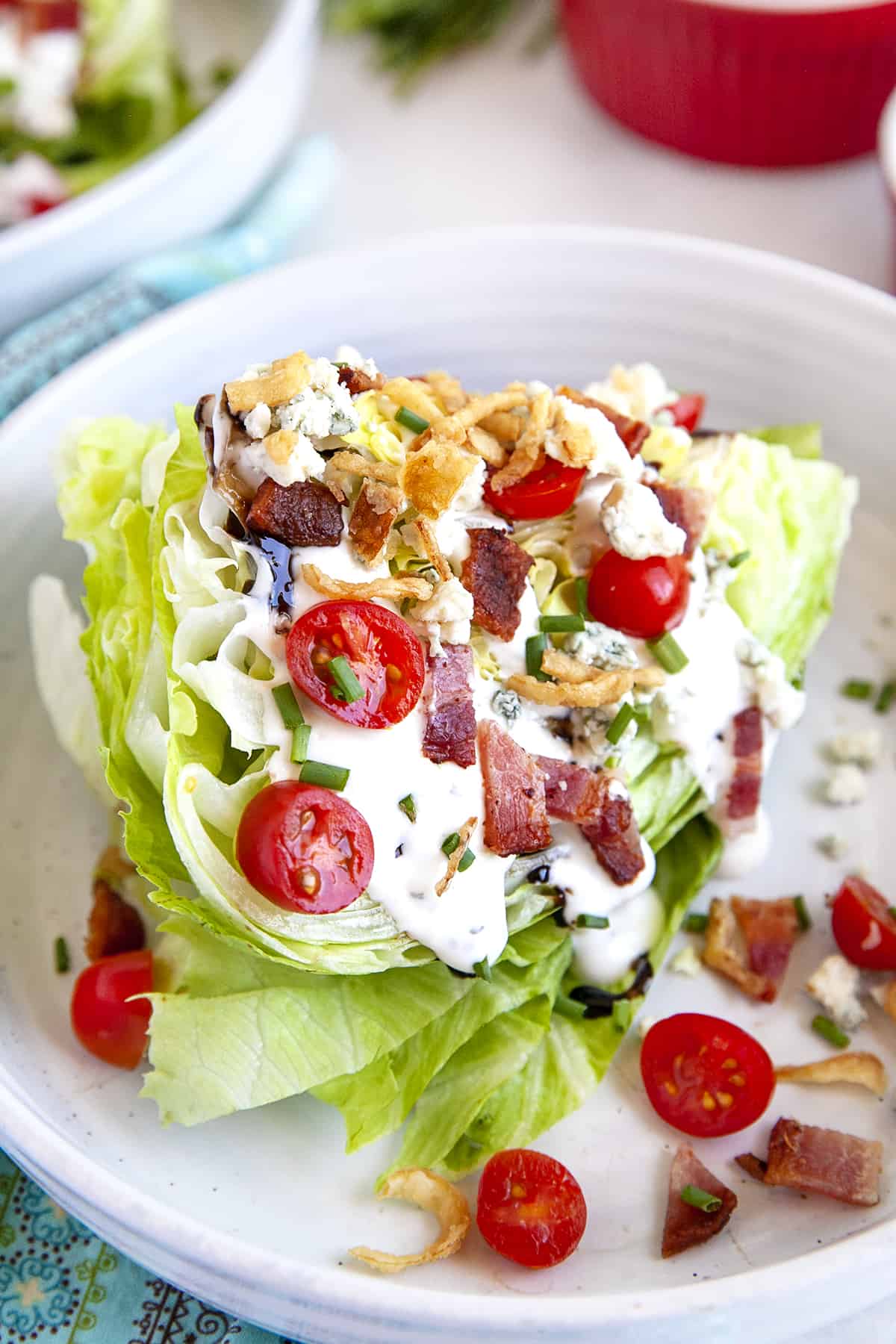 Then drizzle the creamy blue cheese dressing over the wedge. Top with the sliced cherry tomatoes, bacon pieces, blue cheese crumbles, fried onions, and chopped chives. If desired, you can add salt and pepper to taste.
This is a perfect salad to enjoy all year long, but especially in the summer when the cherry tomatoes are at their sweetest and a cool, refreshing wedge of salad just hits the spot! It's also the best side salad for grilling season.
Recipe Pro Tips!
Keep the ingredients to garnish the iceberg lettuce wedge small so that they adhere to the lettuce and dressing easily, or sprinkle down below.
Remove the outer leaves from the iceberg and use the fresher inside leaves.
Keep the core on the lettuce until after you slice them into wedges, as this will help hold the shape more. This is optional but does work well, too, if you are new to making this salad.
Keep the topping to a minimum; you can have something different with each bite. Plus, the ingredients that are used, like the bacon, blue cheese, and blue cheese dressing, are rich, so you don't need a ton to make this salad very enjoyable.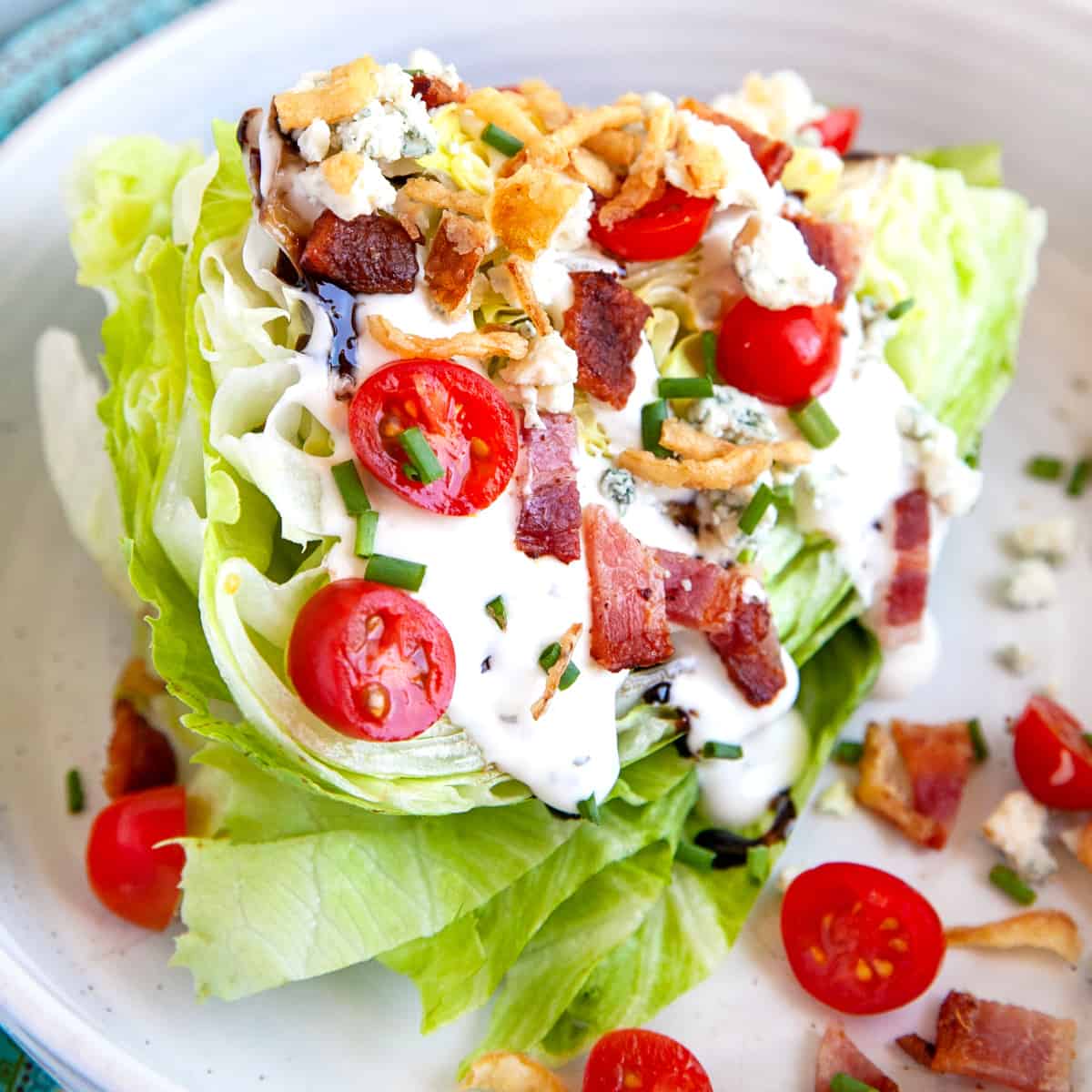 MORE SALAD RECIPES
Want more salads to enjoy? We have loads for you, your family, and your friends!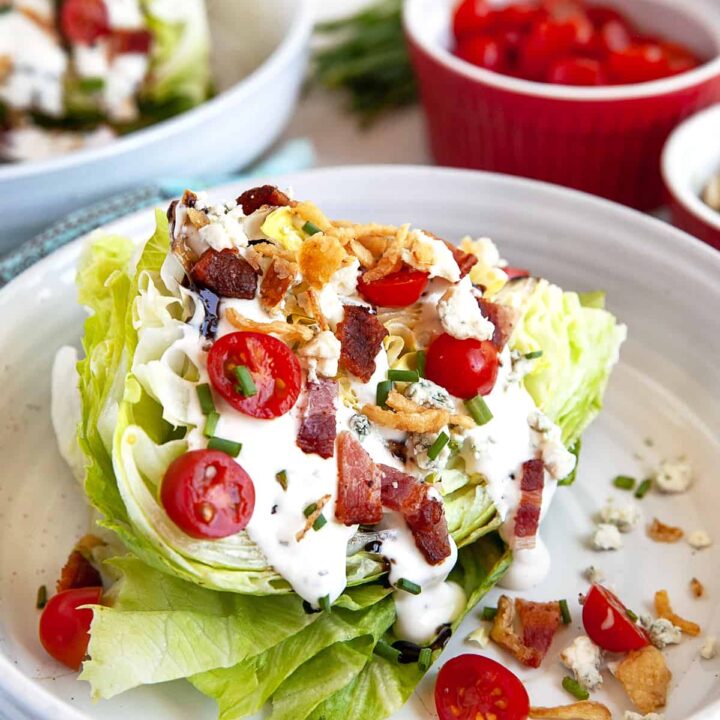 Best Ever Wedge Salad
Yield: 4 servings
Prep Time: 15 minutes
Cook Time: 15 minutes
Total Time: 30 minutes
This classic salad is made even better with our Best Ever Wedge Salad recipe. The usual suspects are all here, bacon, blue cheese, tomatoes, but we also add in crispy onions and a great splash of balsamic reduction too.
Ingredients
For the Balsamic Glaze
1 cup balsamic vinegar
1/4 cup brown sugar
For the Salad
1 medium to large head of iceberg lettuce
1 cup creamy blue cheese dressing
8 ounces of blue cheese crumbles
2 thick-cut slices of bacon
1 cup cherry tomatoes, sliced
1/2 cup fried onions
2 tablespoons finely chopped chives
Instructions
Make the Balsamic Glaze: in a small saucepan, whisk together the vinegar and the brown sugar. Bring to a simmer over medium-high heat. Once simmering, reduce heat to a low simmer. Simmer for 10 to 12 minutes or until the glaze begins to thicken and is reduced to half. Remove from heat and pour into a separate dish - it will continue to thicken as it cools.
Cook the bacon while the glaze is cooking until crispy. Drain on paper towels and set aside. Cut or crumble when cooled.
Remove any wilted outer leaves on the lettuce head. Cut off the stem. Cut the lettuce head in half and then cut each half in half again to create four wedges of lettuce.
Plate the lettuce wedges. Drizzle the balsamic glaze onto each of the lettuce wedges. Then drizzle the dressing over each wedge.
Top each lettuce wedge with the tomato slices, cooked bacon pieces, blue cheese crumbles, fried onions, and chopped chives. Add salt and pepper to taste. Serve immediately.
Notes
See the post for tips and tricks to make the best wedge salad.
Recommended Products
As an Amazon Associate and member of other affiliate programs, I earn from qualifying purchases.
Nutrition Information:
Yield: 4
Serving Size: 1
Amount Per Serving:
Calories: 680
Total Fat: 51g
Saturated Fat: 16g
Trans Fat: 1g
Unsaturated Fat: 32g
Cholesterol: 64mg
Sodium: 1212mg
Carbohydrates: 37g
Fiber: 3g
Sugar: 27g
Protein: 16g
Recipe calculation was provided by Nutritionix and is an estimation only. If you need nutritional calculations for medical reasons, please use a source that you trust.