The flavors of Greece in one simple and delicious Classic Greek Salad! Traditional Greek Salad consists of briny Kalamata Olives, creamy Feta Cheese Chunks, ripe peak season Tomatoes, and crunchy mild Cucumbers, topped with a simple Olive Oil Dressing. It's the ultimate summer salad recipe! Pair this with your favorite grilled meat or fish for a perfect summer meal.
What great summer BBQ can you pair with this salad? Try our BBQ Leg of Lamb or our delicious Lemon Greek Chicken Kabobs. But truly, this salad goes with pretty much anything.
Visiting Greece
I spent a summer abroad in Greece during college and fell in love with Greek Salad. It was served at nearly every restaurant I went to, and it quickly became my favorite lunch during my time traveling around Greece. To this day, I can't take a bite of Greek Salad without immediately conjuring up visions of the Greek Islands.
Luckily, it's a super simple salad to make at home! It's my favorite salad all summer long, and it makes a delicious light lunch or a perfect side dish with grilled chicken or fish. I love to make it for picnics and dinners on the patio all summer long.
What are the Ingredients of Classic Greek Salad?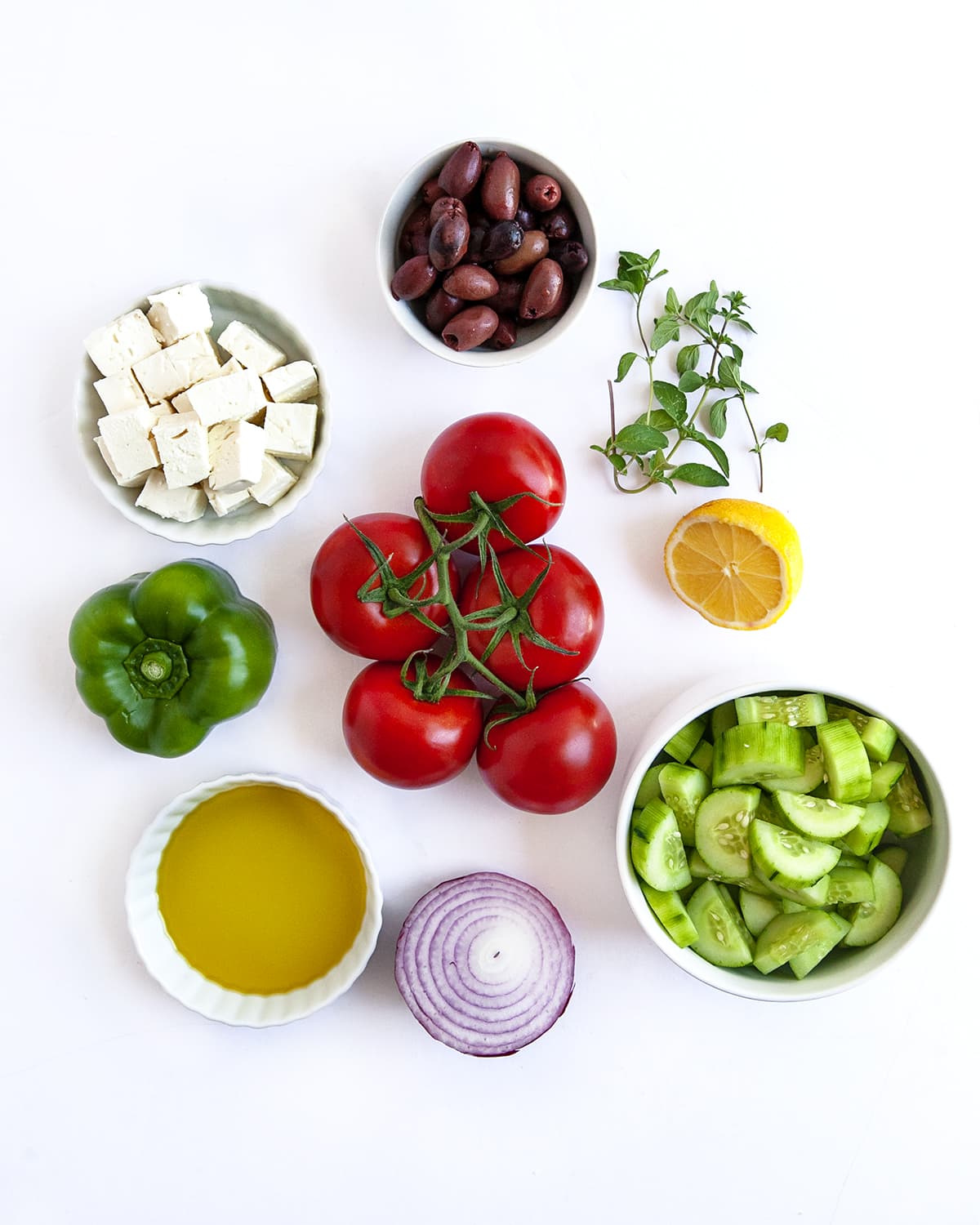 A lot of Greek Salads served outside of Greece will include lettuce or creamy dressings. However, traditional Greek Salad is so delicious because of its simplicity. When you use peak season ingredients, it is filled with both flavor and texture.
If you grow your own garden, this is an excellent recipe to show off your hard work. If you don't, this is a great dish to help you make the most of a farmers' market haul. Either way, it tastes like summer on a Greek Island, and you can't beat that!
Greek Salad Ingredients
Fresh Vine Ripened Tomatoes – Choose the best tomatoes you can find! Plum tomatoes, Roma tomatoes, and heirloom tomatoes taste amazing in this salad. Grape tomatoes and cherry tomatoes also work too.
Cucumber – Pick your favorite cucumbers. I like to use a Garden Cucumber, Persian Cucumber, or English Cucumber for this salad.
Green Bell Pepper – This adds a delicious crunch to the salad. However, in some places in Greece, they left out the bell pepper or replaced it with roasted red peppers.
Feta Cheese – Choose a block of Feta instead of crumbles, and cut it into large chunks. I am finding a creamier feta cheese in the market now, which is fantastic. Try a few to find your favorite.
Kalamata Olives – These are actually named after a city in southern Greece and are a staple in Greek Salads. They are salty and add incredible flavor to the dish. They're easy to find in most grocery stores in the same place you'd find black olives. Make sure to choose pitted olives! I find they are much better in the deli section than they are canned.
Red Onion – Thinly sliced red onion adds both crunch and flavor to the finished dish.
Greek Salad Dressing – A traditional Greek Salad uses only a simple dressing of high quality extra virgin Olive Oil, fresh lemon juice, red wine vinegar, fresh oregano (or dried oregano in a pinch), a pinch of garlic powder, and salt and pepper. This simple combo really makes the peak season vegetables shine!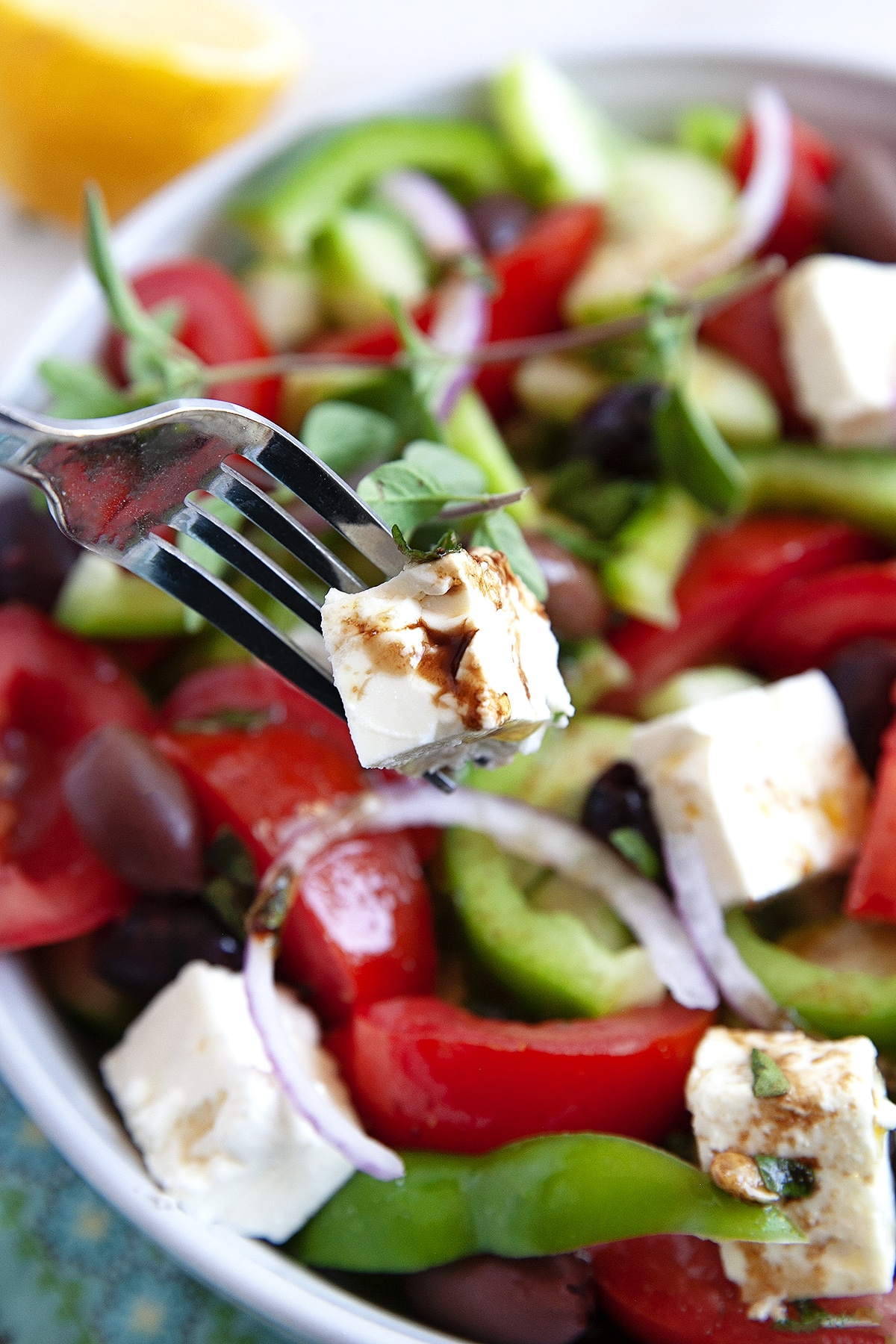 How to Make Classic Greek Salad
Lucky for you, a Greek Salad recipe is so easy to make! By the time summer ends, I've made an easy Greek Salad so many times that I can almost make it in my sleep. Its simplicity is part of what makes it such a great summer side dish.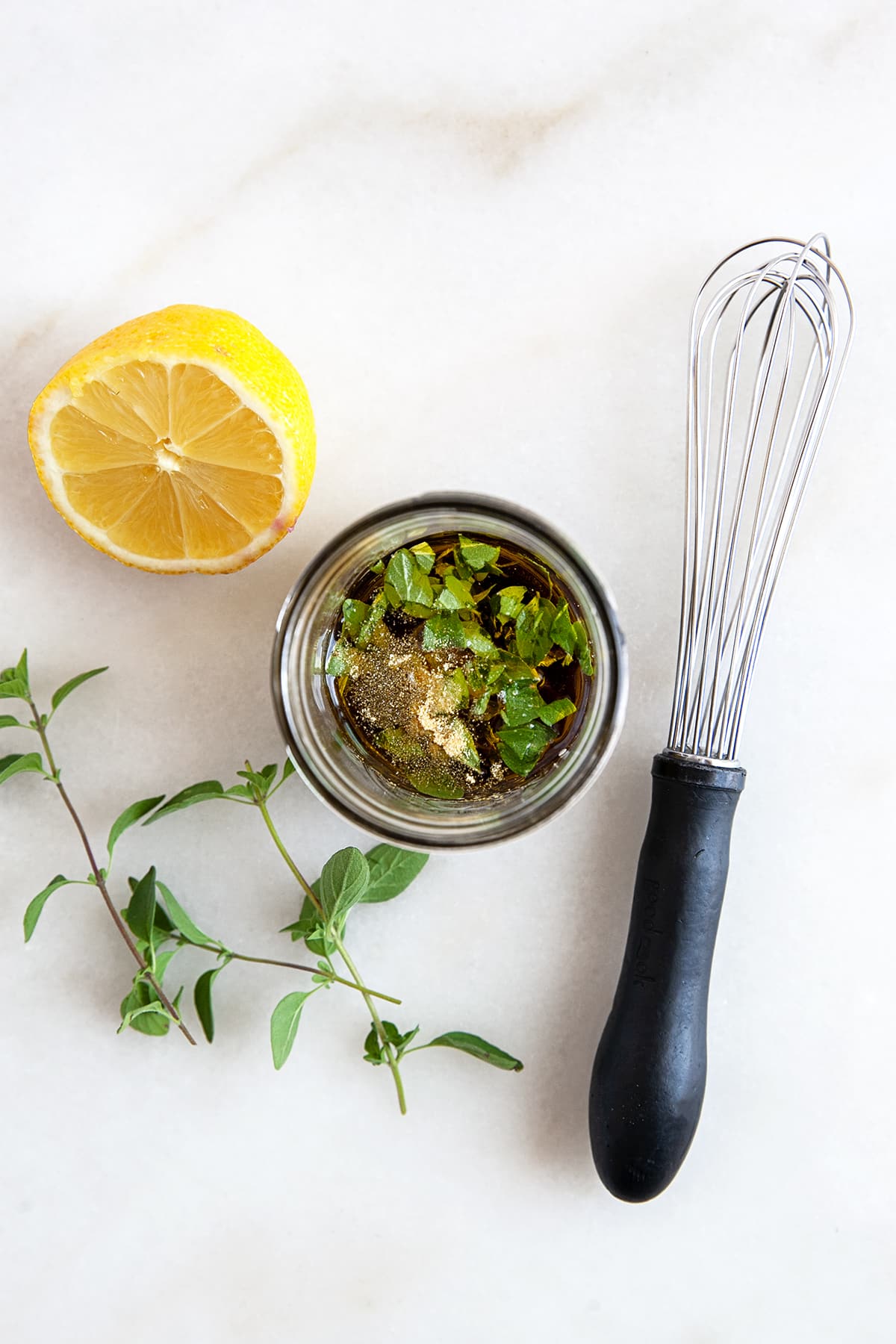 First, combine all of the ingredients for the dressing in a small jar and whisk together.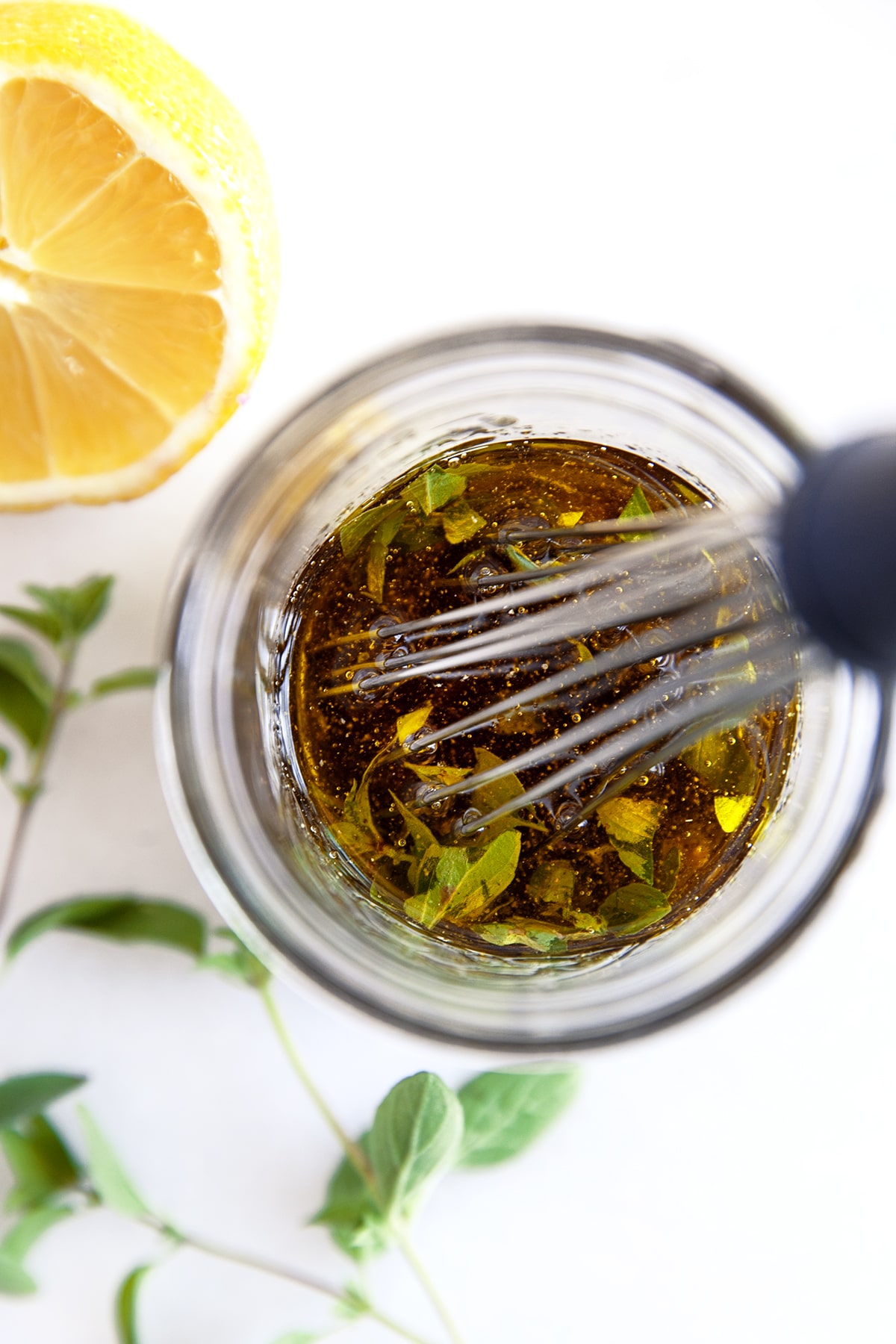 Next, you'll prepare the veggies for the salad. Core and seed the tomatoes and cut them into large wedges (if you are using grape or cherry tomatoes, you don't need to do anything at all to them – just add them in whole). Peel the cucumbers and slice them into half-moon shapes. Remove the stem and seeds from the bell pepper and cut it into chunks. Thinly slice half of the red onion.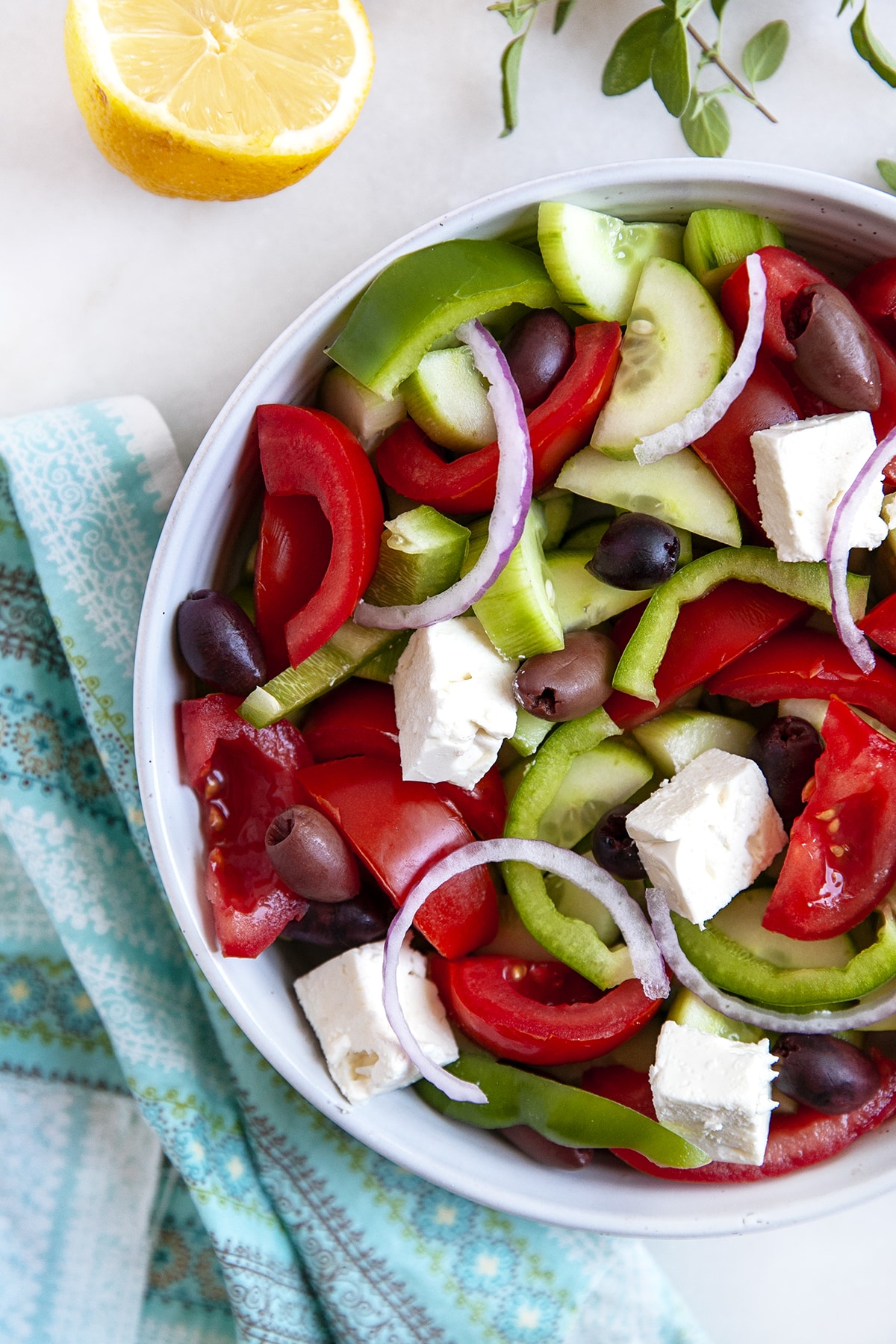 Place all of the prepared veggies and the olives into a shallow salad serving bowl. Add the dressing and toss to combine well. Sprinkle with feta chunks and serve immediately.
Now this is the summer salad of your dreams!!
Recipe Pro Tips!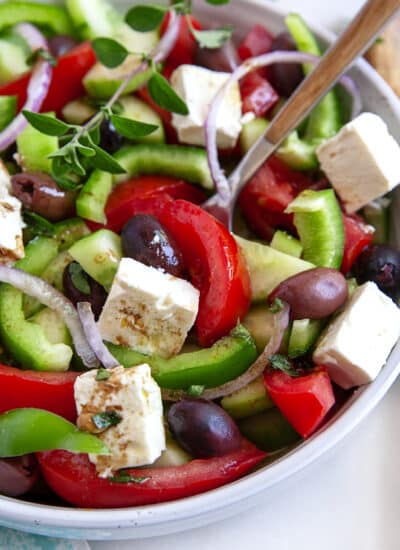 Because this recipe has only a few ingredients and is fresh, these ingredients need to be of top quality. Make sure your tomatoes are bright red and perfect, along with all the other veggies. Also, the best feta and black olives you can find and afford. Going the extra step will make the best salad.
Visit your farmers' market in the summer to get great produce and enjoy what summer has to offer.
If refrigerating the salad, then let it come close to room temperature before serving. Too cold of a salad will have less flavor.
Don't cut the vegetables too small for the salad; they are much better in large pieces.
Don't use crumbled feta but cubed feta for this salad.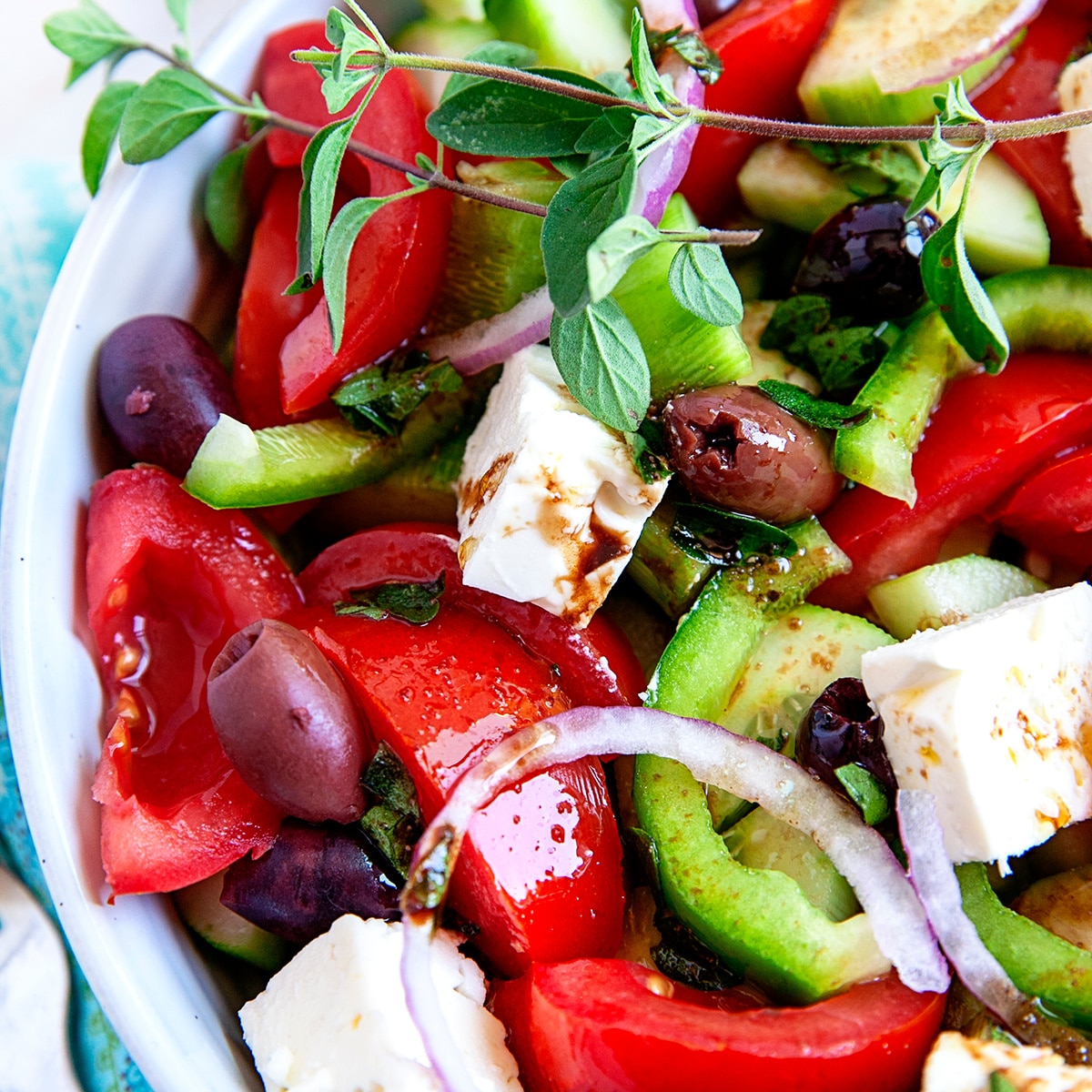 WANT MORE GREAT SUMMER SALADS?
We have loads of wonderful summer salads or everyday salads for you to enjoy; here are a few of our favorites.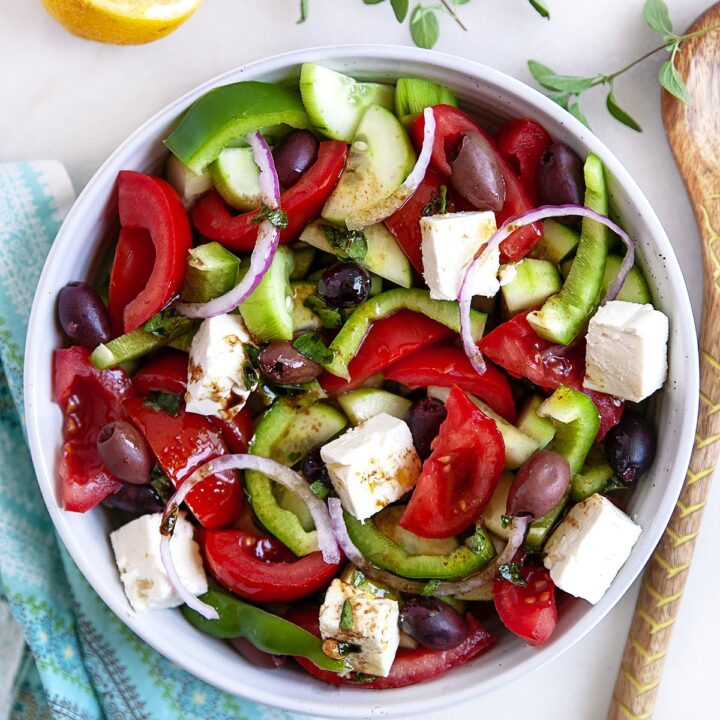 Classic Greek Salad
Yield: 6 to 8 servings
Prep Time: 15 minutes
Total Time: 15 minutes
The flavors of Greece in one simple and delicious salad! Briny Kalamata Olives, creamy Feta Cheese Chunks, ripe peak season Tomatoes, and crunchy mild Cucumbers. It's a perfect summer side dish.
Ingredients
2 cucumbers, peeled and halved lengthwise, cut into pieces
6 medium size ripe tomatoes, cored, seeded, and cut into wedges
1 medium or small green bell pepper, cored, seeded, and cut into chunks
Half of a small red onion, thinly sliced
1/2 heaping cup of pitted Kalamata olives
8 oz. wedge of feta cheese, cut into large chunks
Greek Salad Dressing
6 tablespoons extra virgin olive oil
1 1/2 tablespoons red wine vinegar
2 teaspoons fresh lemon juice
pinch of garlic powder
pinch of salt and pepper
1 tablespoon fresh oregano, chopped (or 1 teaspoon dried oregano)
Instructions
Whisk together all of the dressing ingredients in a small jar or cup.
Add the prepared cucumbers, tomatoes, bell pepper, onion, and olives to a large, shallow serving dish. Add the dressing and toss to combine. Sprinkle with feta chunks and serve immediately.
Nutrition Information:
Yield: 6
Serving Size: 1
Amount Per Serving:
Calories: 274
Total Fat: 24g
Saturated Fat: 8g
Trans Fat: 0g
Unsaturated Fat: 15g
Cholesterol: 34mg
Sodium: 435mg
Carbohydrates: 9g
Fiber: 2g
Sugar: 6g
Protein: 7g
Recipe calculation was provided by Nutritionix and is an estimation only. If you need nutritional calculations for medical reasons, please use a source that you trust.