This no-cook Homemade Pizza Sauce recipe is fast, easy, and simply delicious. It is perfect for all kinds of pizza, from a Margherita to meat lovers. Grab the ingredients for this recipe, some dough, and your favorite toppings, and you are off to make the best pizza around. If you want to make your own dough try our Bread Machine Pizza Dough.
What to serve with a pizza? Try our Garlic Knots, Classic Caesar Salad Recipe, or Bruschetta Caprese Recipe. Or if you want another Italian meal try our Instant Pot Spaghetti Sauce.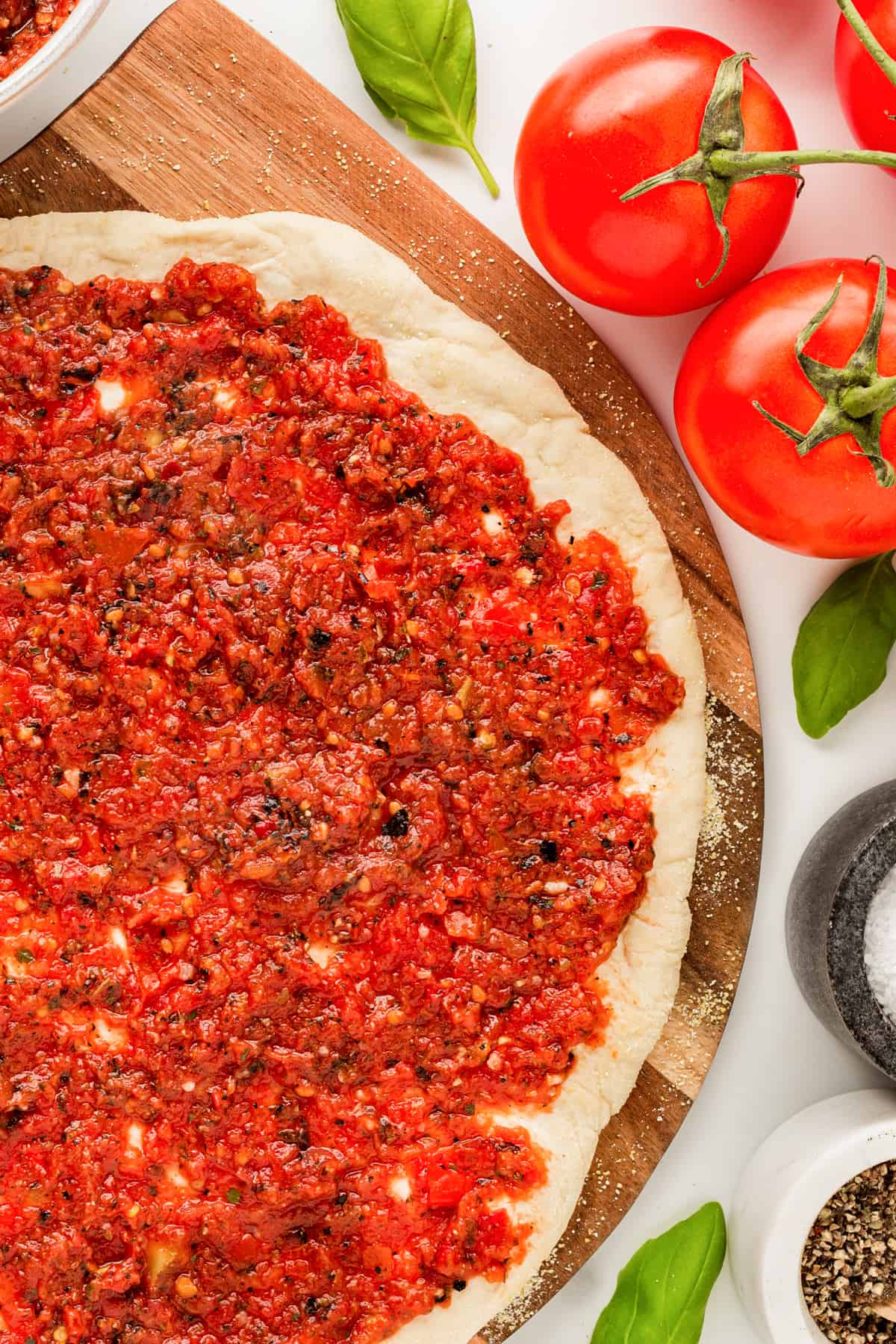 What Makes Pizza Sauce Taste Like Pizza Sauce?
Is pizza sauce the same as pasta sauce? Pizza sauce tends to be somewhat simpler in terms of ingredients and thicker also or at least ours is; you don't want a soggy crust. While both feature tomatoes in one form or another, a pizza sauce's add-ins are often limited to things like garlic, oregano, basil, and olive oil. Adding those ingredients together makes the pizza sauce what it is. The key for this whole recipe to be great is great ingredients. Let's read on!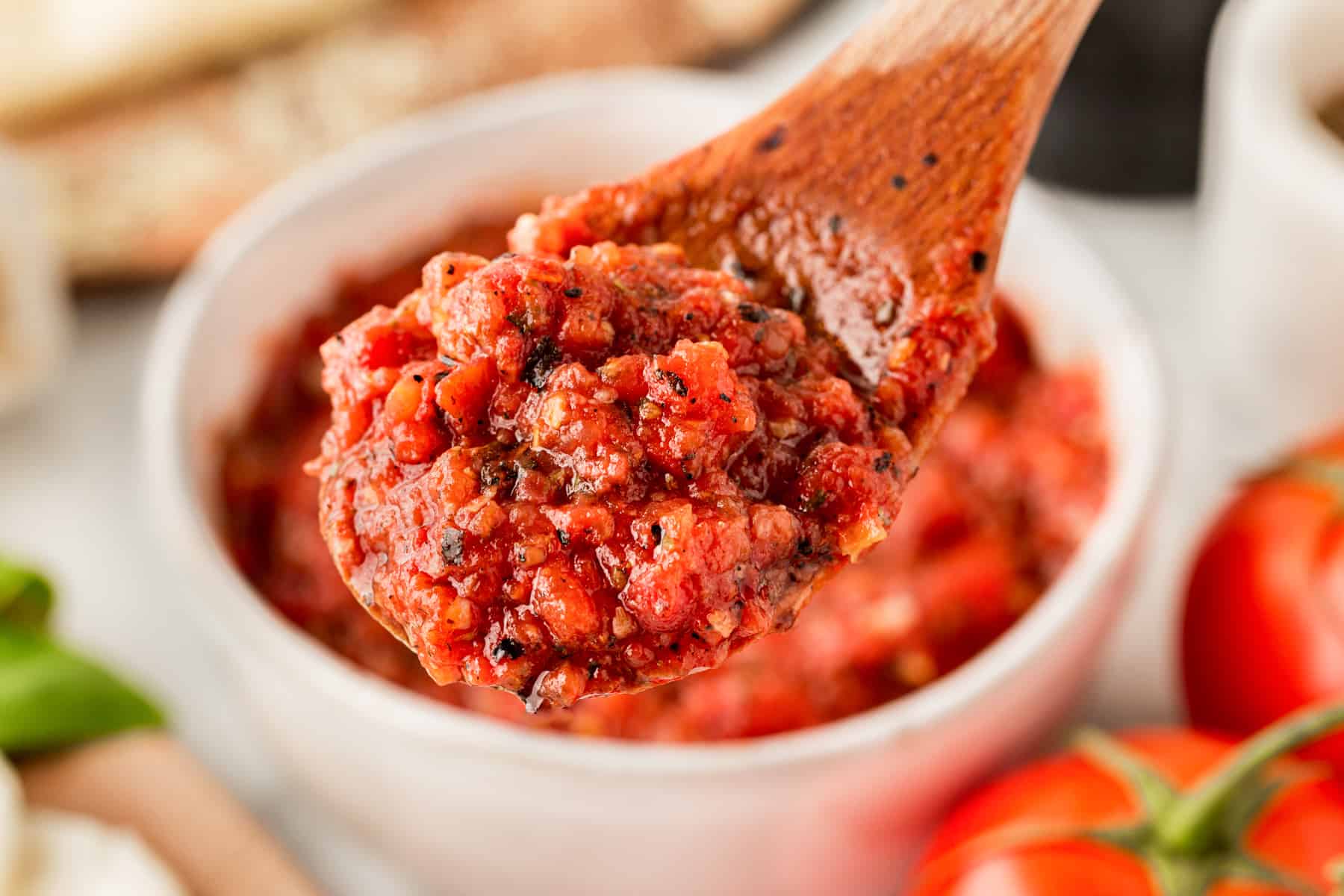 What is in Homemade Pizza Sauce?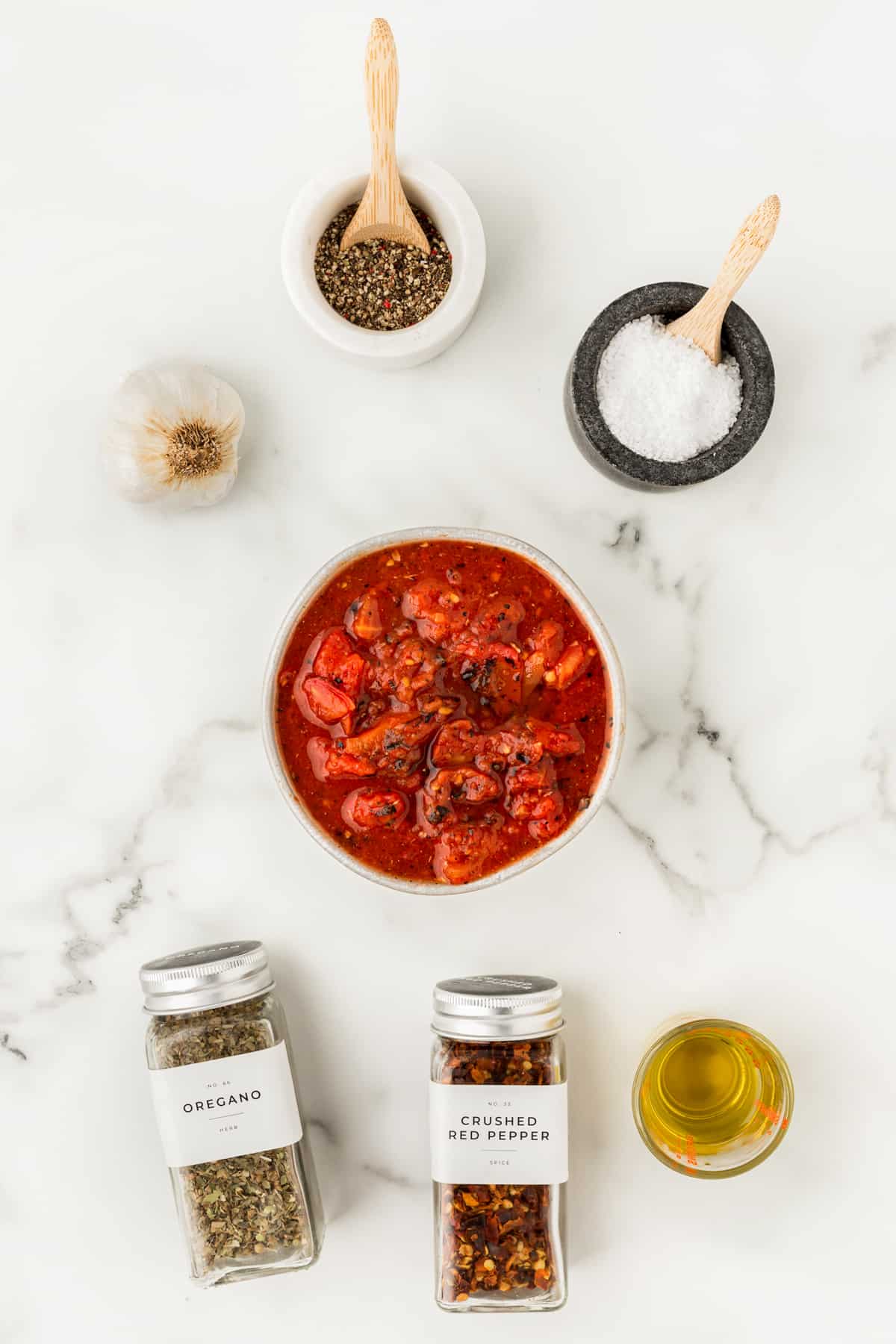 This Homemade Pizza Sauce recipe calls for super simple ingredients that you just may have on hand already. It is also a super easy recipe, as it doesn't even require any cooking!! Yes, a no-cook pizza sauce is so easy. If you buy fire-roasted tomatoes, they already have that cooked tomato flavor to them, but great San Marzanos work well too.
I love this sauce on a Margherita pizza, and I have to admit that it is probably my favorite pizza of all, but others in the family love creating their own pizza using this sauce, also.
Ingredients
Diced fire-roasted tomatoes or San Marzano tomatoes – Great tomatoes are going to give you great sauce. It is that simple. If you haven't used San Marzano or fire-roasted tomatoes before, see the write-up below.
Extra virgin olive oil – When you are using very few ingredients, you want them to be the best quality they can be. Finding good extra virgin olive oil is simple nowadays. Just look for it at your local grocery store for the best value.
Salt – I like to use a Kosher salt or sea salt, but you can also use table salt for this recipe. In addition to the salt, you can add a pinch of sugar. I like to use a small amount of sugar, up to a teaspoon of sugar at times if the tomatoes are acidic, but this is optional.
Fresh ground pepper – I always use freshly ground pepper. It is a flavor booster in almost any savory dish.
Dried oregano – I love oregano for a good punch of flavor, but you can use dried basil too, or a combination of both. Dried herbs work best for sauce. You can always finish your pizza with a fresh herb like basil, though.
Finely minced garlic – Fresh garlic flavor is best, but in a pinch, you can use already minced garlic in a jar, granulated garlic, or garlic powder.
Crushed hot red pepper flakes (optional) – I really don't find this ingredient optional, as just a little kick adds so much to this sauce. If you want it spicy, then add in as much as you like too.
How to Make Homemade Pizza Sauce
This easy homemade pizza sauce recipe could not be simpler, you will literally have it done in 5 minutes, and you will yield 2 cups from it. We find that is enough for 2-12 inch pizzas. Grab that food processor, and let's get started.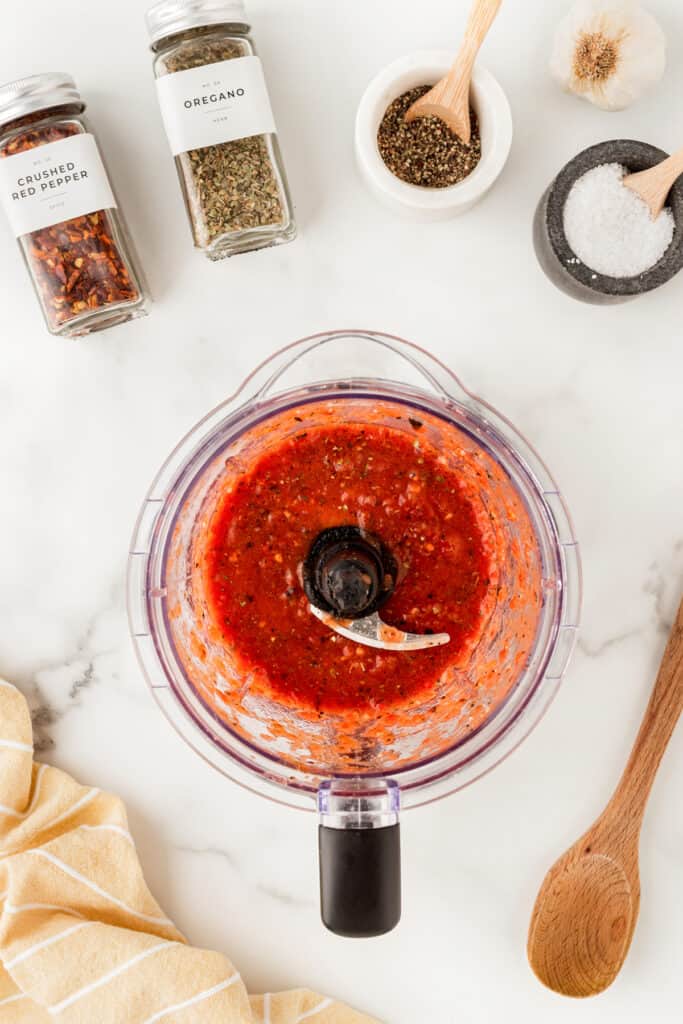 Place all the ingredients into a food processor.
Pulse the mixture until just combined; the tomatoes should still be slightly chunky.
Add the tomato mixture to a fine strainer or sieve and allow most of the liquid to drain.
Spread over your homemade pizza dough, add the toppings of your choice, bake, and enjoy!
What are San Marzano Tomatoes?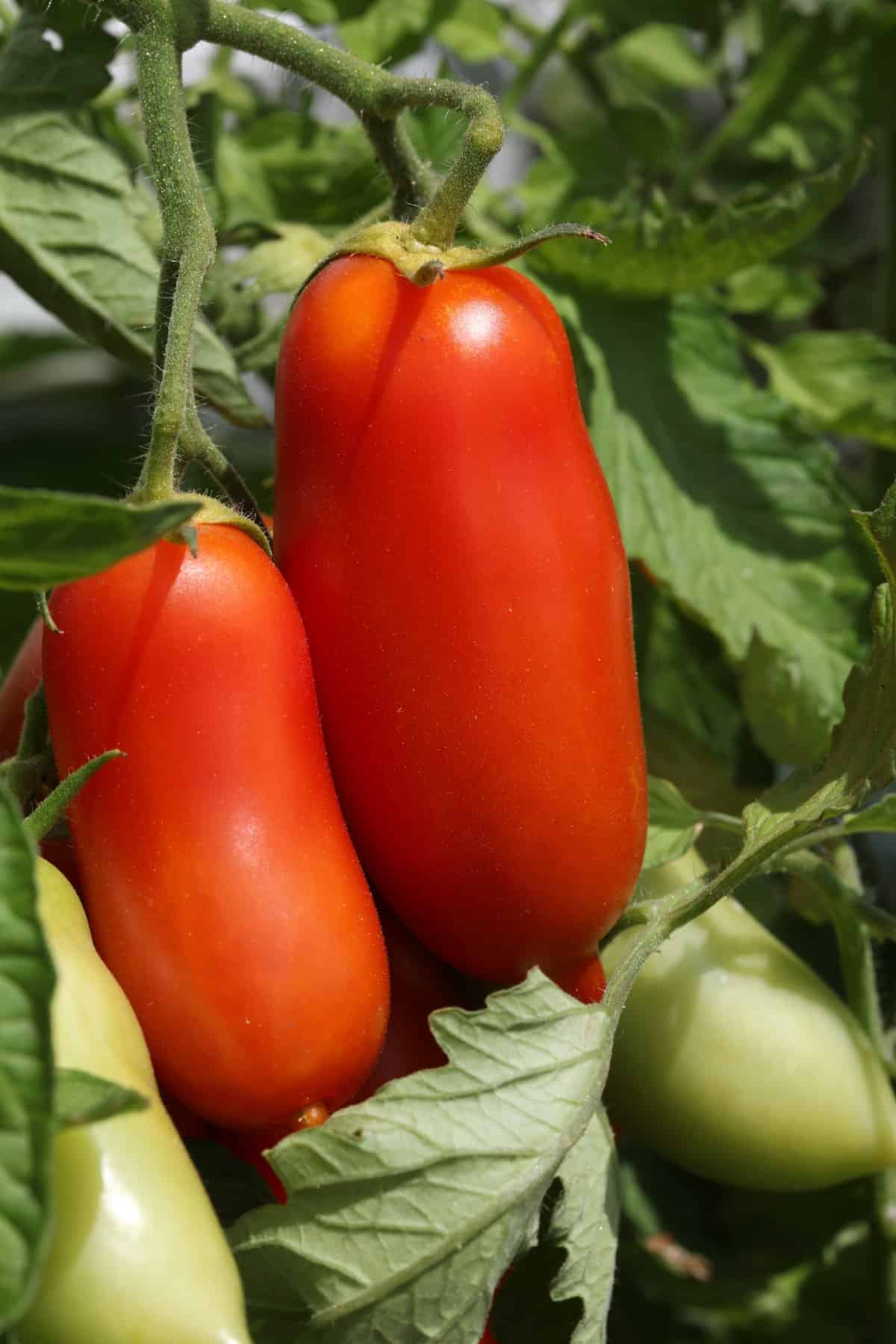 Are San Marzano tomatoes Roma tomatoes? San Marzano tomatoes are longer and thinner than the Roma and have a stronger, sweeter flavor.
Are San Marzano tomatoes a type of plum tomato? Yes, they are but are distinguished by their elongated shape. They are prized in Italy and across the world for their thick flesh and lovely tomatoey sweet flavor.
Where are San Marzano tomatoes grown? These tomatoes are grown in San Marzano sul Sarno, Italy (near Naples). This area is known for its nutrient-packed soil and gorgeous sunshine.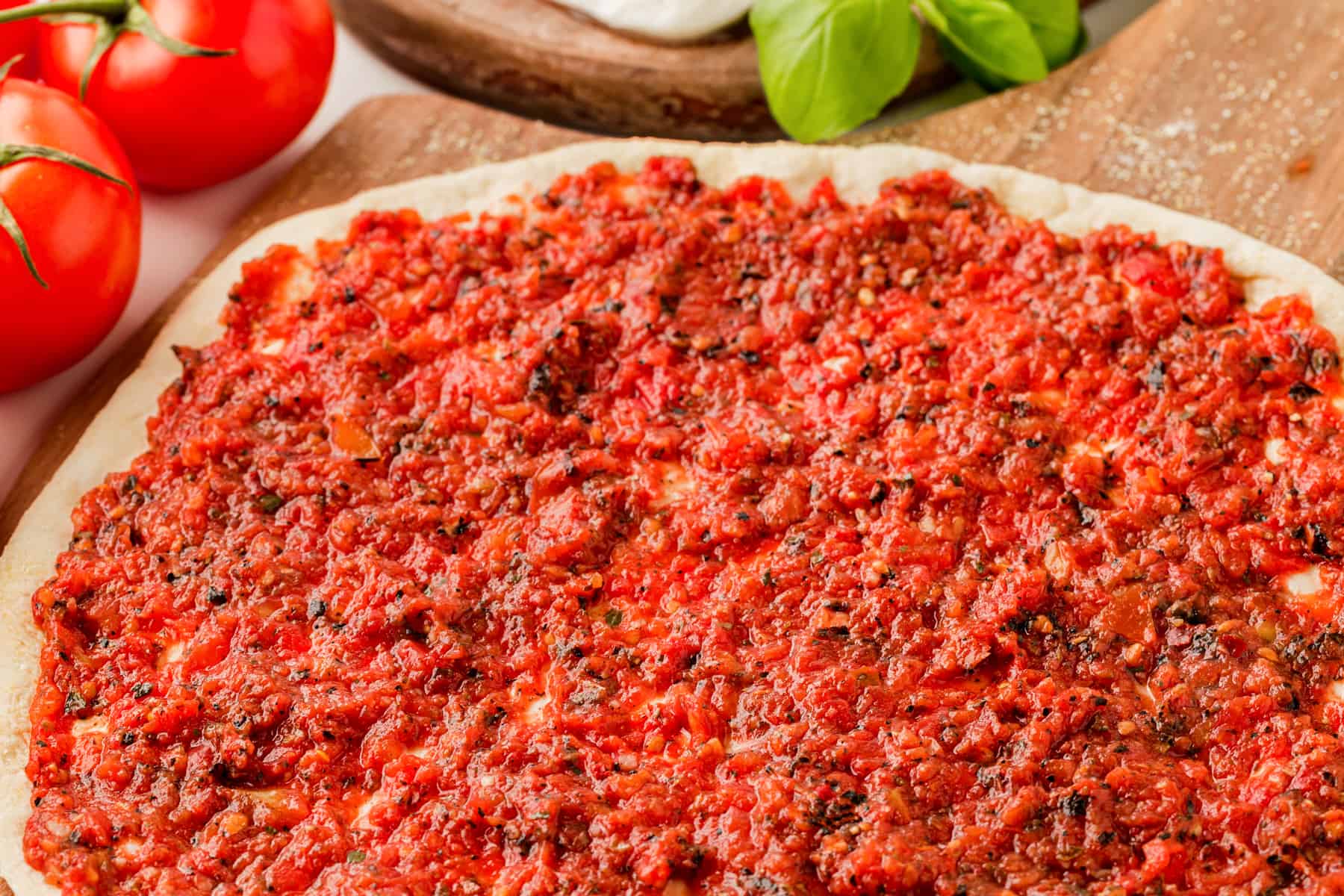 What are Fire Roasted Tomatoes?
Fire-roasted tomatoes are exactly that. They are tomatoes that have been roasted to a char over an open flame before they are then diced and canned. Some of these tomatoes are also offered up with herbs and onions.
Most of the time, you can actually see the blackened flecks on the tomatoes, like you can in our sauce. Fire-roasting tomatoes bring out the tomato's natural sweetness and add a distinct smokiness. If you are BBQing your pizza, then this just adds more to the pizza right from the start.
Recipe Pro Tips!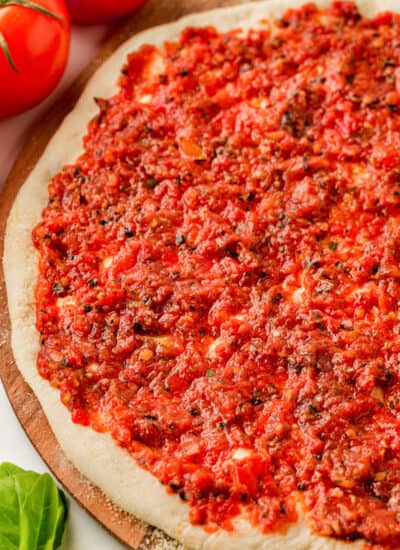 Use great quality tomatoes, as that will give you the best flavor. You can use a fresh tomato, but that will require cooking to get them broken down and the flavor brought out of the tomatoes. I like the shortcut we have in our recipe using fire-roasted or San Marzano tomatoes.
You can make up a few batches of this to have on hand in your freezer. The pizza sauce lasts up to 3 months in the freezer. You can also freeze pizza sauce in small batches for one pizza only. This makes it super simple to use.
Pizza sauce will keep in the refrigerator for up to 5 days.
I don't like to use tomato sauce, plain diced tomatoes, or crushed tomatoes for this sauce. Stick with the tomatoes suggested; trust me, you will get the best results.
You can use as much pizza sauce as shown or much less too; totally up to you.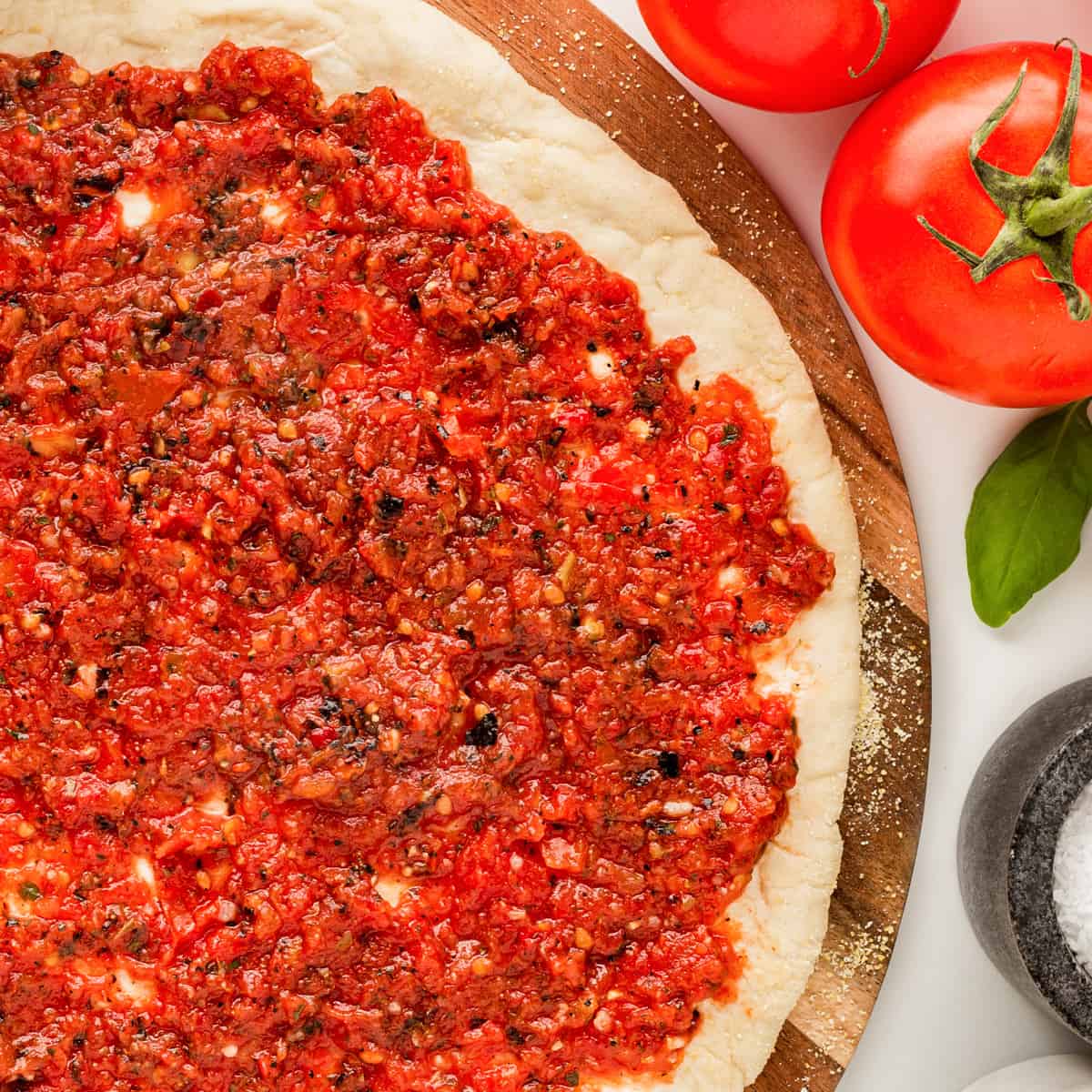 WANT MORE GREAT PIZZA IDEAS?
From homemade pizza dough to pizza dip and fast pita pizzas, we have a great variety to make any pizza lover happy. Pizza is a well-loved meal for so many.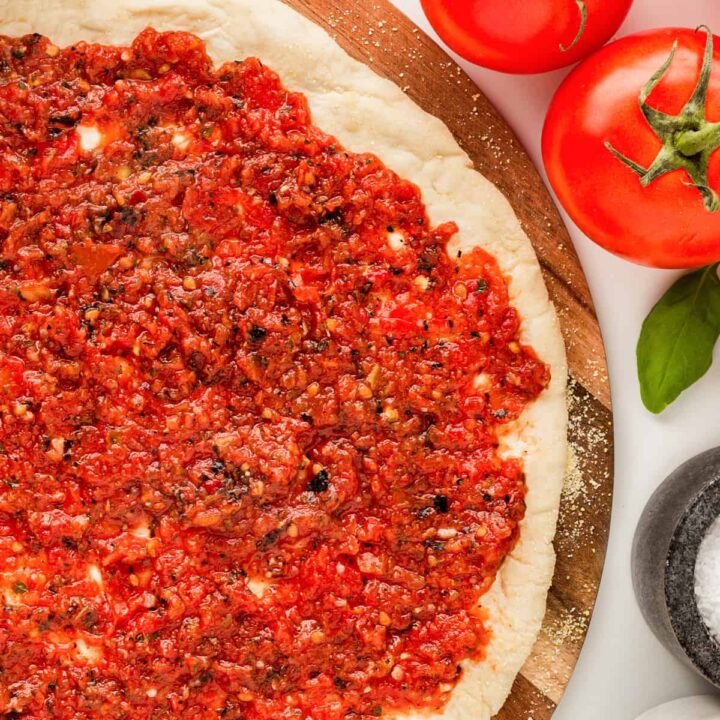 Homemade Pizza Sauce
Yield: 2 cups
Prep Time: 5 minutes
Total Time: 5 minutes
This Homemade Pizza Sauce is made up in 5 minutes with no need for cooking. It freezes great for future use and will be your go-to recipe. So much better than store-bought canned sauce.
Ingredients
1 - 14 ounce can of diced fire roasted tomatoes or San Marzanos
1 Tbsp extra virgin olive oil
1 tsp salt
1 tsp dried oregano
1 tsp finely minced garlic
¼ tsp crushed hot red pepper flakes (or to taste)
2-3 grinds of fresh ground pepper
Instructions
Place all the ingredients into a food processor.

Pulse the mixture until just combined; the tomatoes should still be slightly chunky.

Add the tomato mixture to a fine strainer or sieve and allow most of the liquid to drain.

Spread over your homemade pizza dough, add the toppings of your choice, bake, and enjoy!
Recommended Products
As an Amazon Associate and member of other affiliate programs, I earn from qualifying purchases.
Nutrition Information:
Yield: 8
Serving Size: 1
Amount Per Serving:
Calories: 25
Total Fat: 2g
Saturated Fat: 0g
Trans Fat: 0g
Unsaturated Fat: 1g
Cholesterol: 0mg
Sodium: 348mg
Carbohydrates: 2g
Fiber: 1g
Sugar: 1g
Protein: 0g
Recipe calculation was provided by Nutritionix and is an estimation only. If you need nutritional calculations for medical reasons, please use a source that you trust.