This Bread Machine Pizza Dough recipe is a go-to favorite in our house! We love making homemade pizza, and using a bread machine to make the dough is just so simple. The process is easy, and the dough comes out perfect every time with no fuss at all! The results are as good as any bread-maker pizza dough. Pair this with our Homemade Pizza Sauce and you will be amazed at how great your pizza is.
If your family loves pizza as much as my family does, you might want to check out these other family favorites. These Cheesy Pizza Wheels are a fantastic recipe for game day, snacking, or as part of a meal with the family! Another amazing dinner with a great pizza taste is this Copycat Olive Garden Pizza Bowl! I mean, what is not to like about this tasty entree?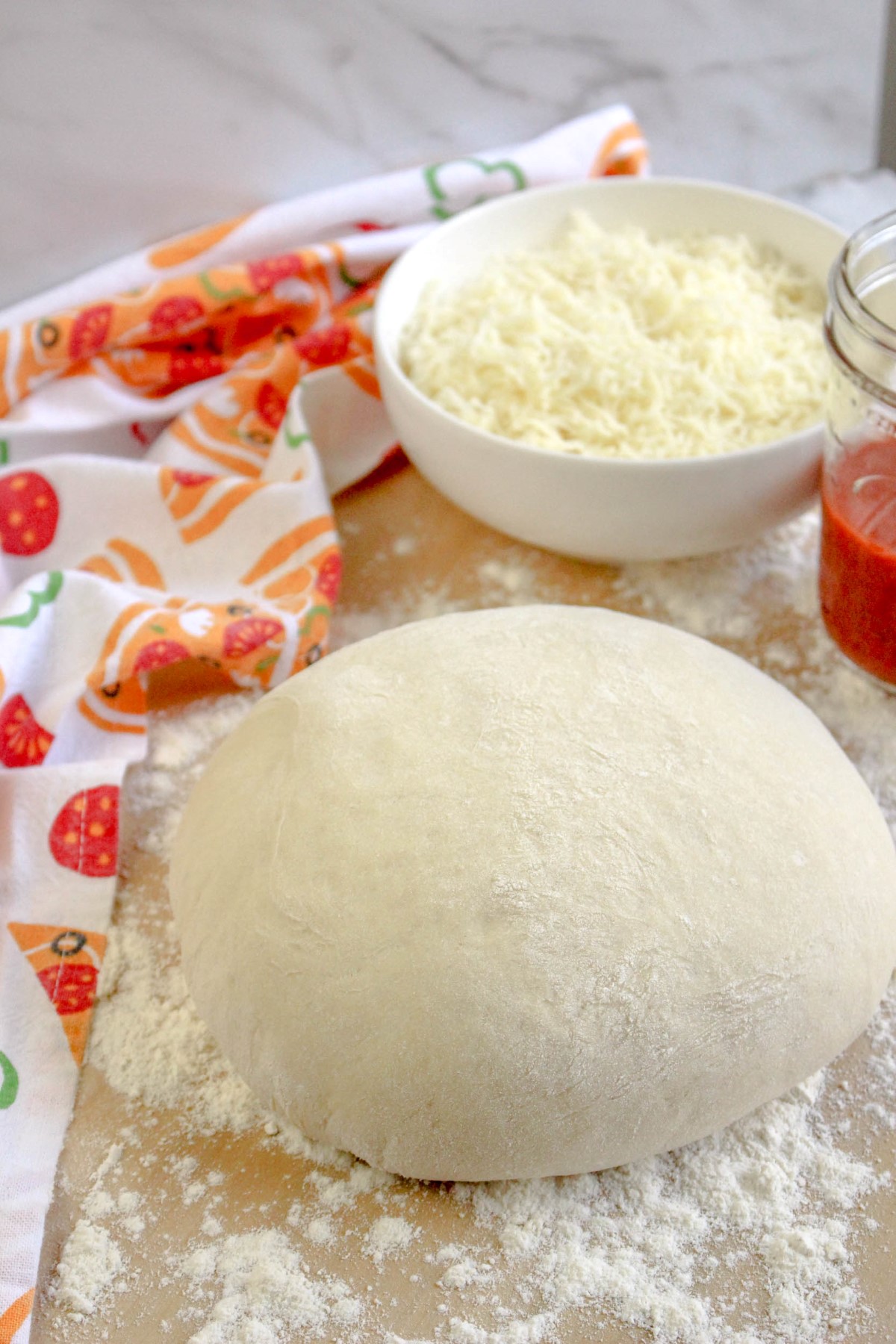 HELPFUL ITEMS FOR THIS RECIPE
This post contains affiliate links. As an Amazon Associate, I earn a small portion from qualifying purchases at no extra charge for you.
Hamilton Beach Bread Maker Machine
What Do You Need to Make Homemade Pizza Dough?
I would bet that if you bake even a little, you would have everything that you would need to make your own homemade pizza dough. There really is only a handful of basic ingredients that you require.
Ingredients
Water
Olive oil
White sugar
Kosher salt
Flour
Active dry yeast
Yup! That's it. That is all you need to make fantastic homemade pizza dough. Bread doughs are actually very simple to make. They usually only have a few basic ingredients, but you do "knead" some time to create the perfect dough. (pun intended, LOL). Plus, your all-purpose flour will do the trick; you don't need special bread flour.
Whether you like New York-style thin-crust pizza, thick crust pizza, or even Chicago-style deep-dish pizza, this simple pizza dough recipe is the one you need to use. You can even use this super versatile dough to make your pizza on your outdoor grill!
There are a great many different types of bread machines out there on the market. Each machine usually comes with its own recipe booklet. It will give you basic recipes for bread, rolls, and dough. Once you get used to the ingredients used, you can, if you want, start to play around a little bit.
For example, you might want to substitute a little whole wheat flour in your dough. The good thing about pizza dough is it is relatively forgiving. When making some doughs, you have to be quite precise with your measurements.
Using the bread machine to make your dough really is simple. Dump all the ingredients into the hopper, turn it on, and in less than 2 hours, you have your pizza dough. You do have to make sure that you put all your wet ingredients in first, then add the dry ingredients.
The bread machine does everything else. It will mix the dough, knead the dough and allow the dough to rise before kneading again.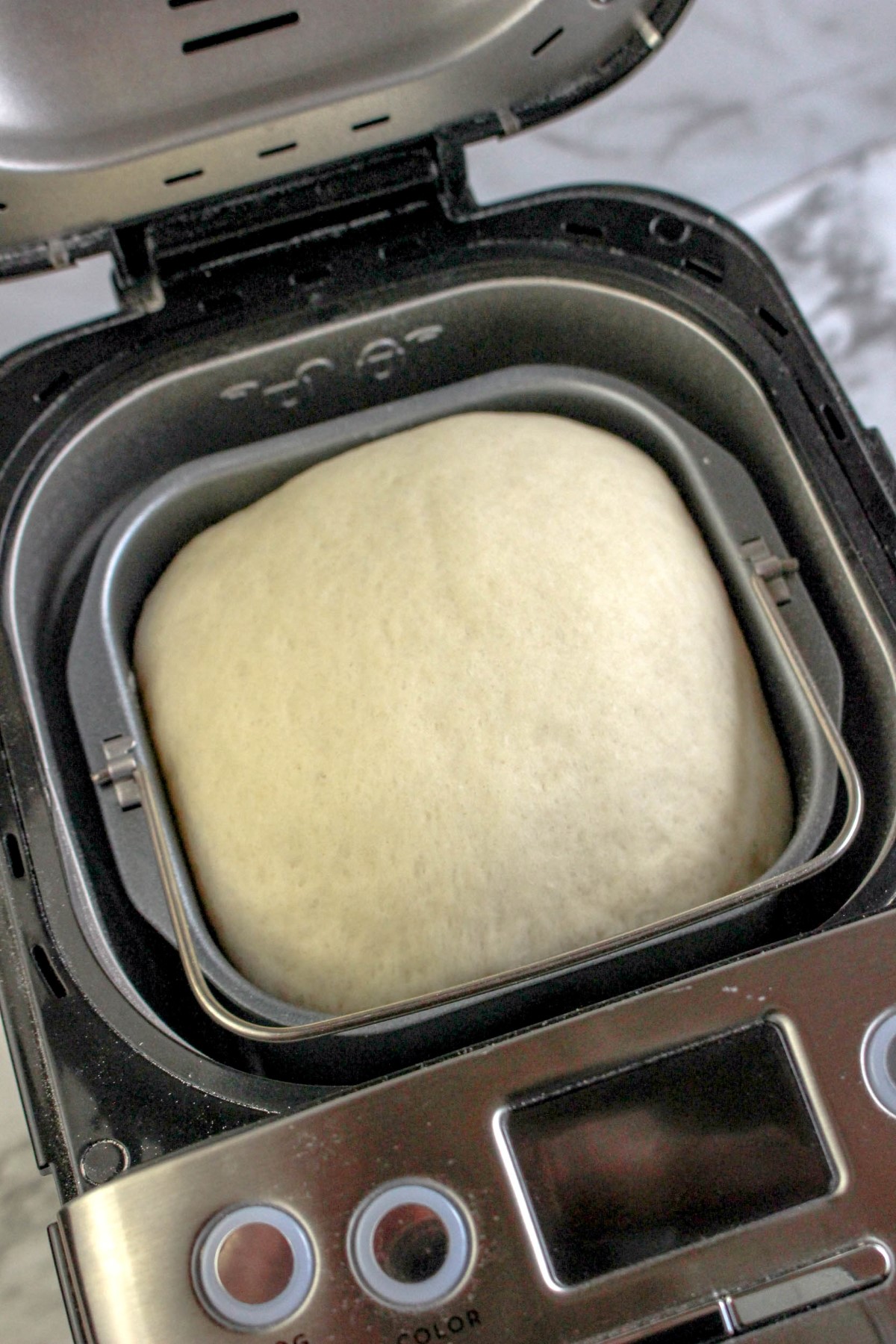 How to Make Bread Machine Pizza Dough
Like I mentioned earlier, it's so simple to make bread machine pizza dough. Place all the liquid in the bread machine first. Then add all the dry ingredients. You will want to add the ingredients in the order they are listed on the recipe card, making sure that you put the active dry yeast in last.
Following the instruction for your specific bread machine, use the dough cycle to set the machine, and away you go. The dough cycle on a regular bread machine usually takes between 1 1/2 and 2 hours to complete.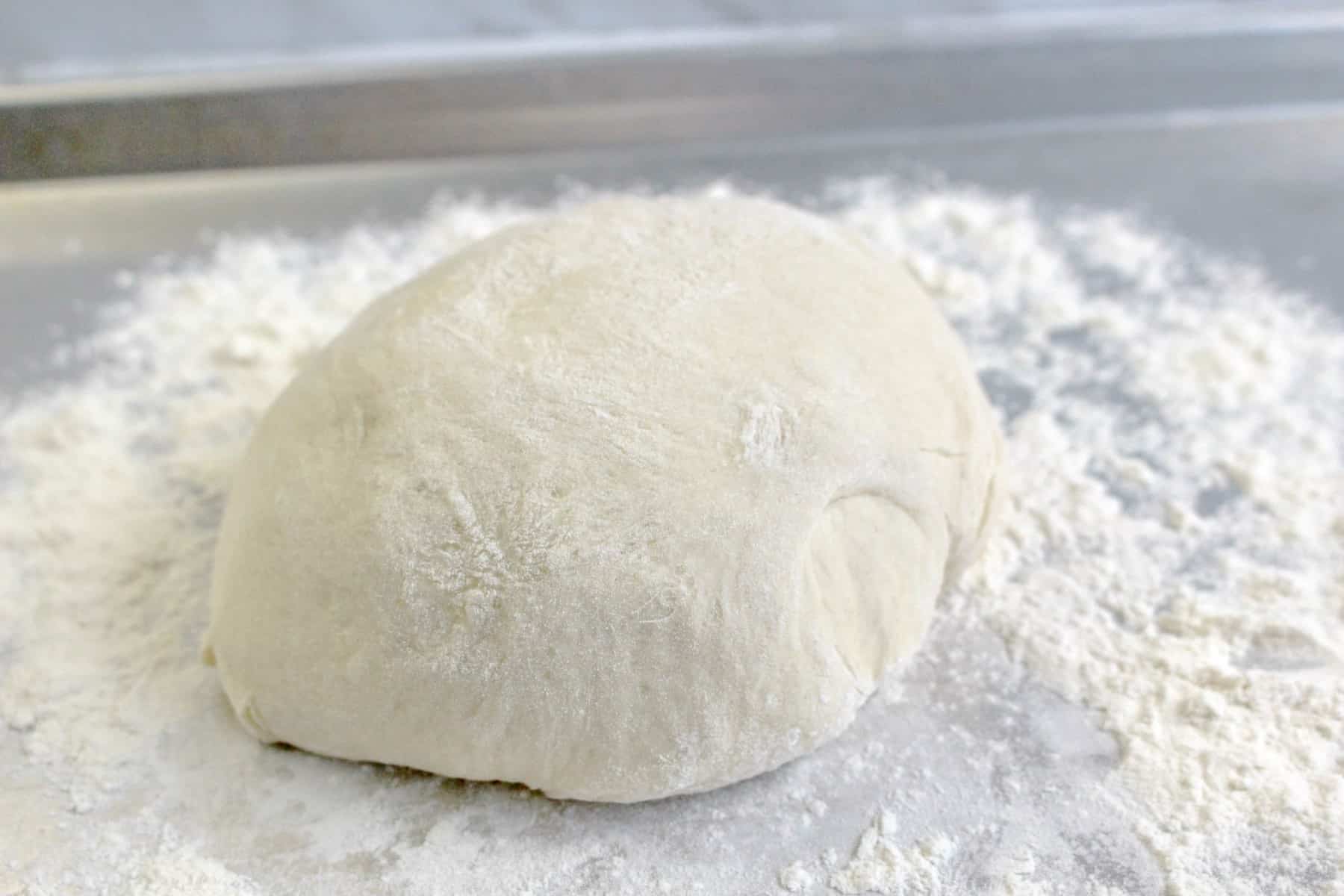 Once the dough cycle is completed, turn the dough ball out onto a lightly floured surface and "punch" the dough down slightly. Place it in a greased bowl, cover with a tea towel and let the dough rest at room temperature for 30 minutes.
Creating Your Pizza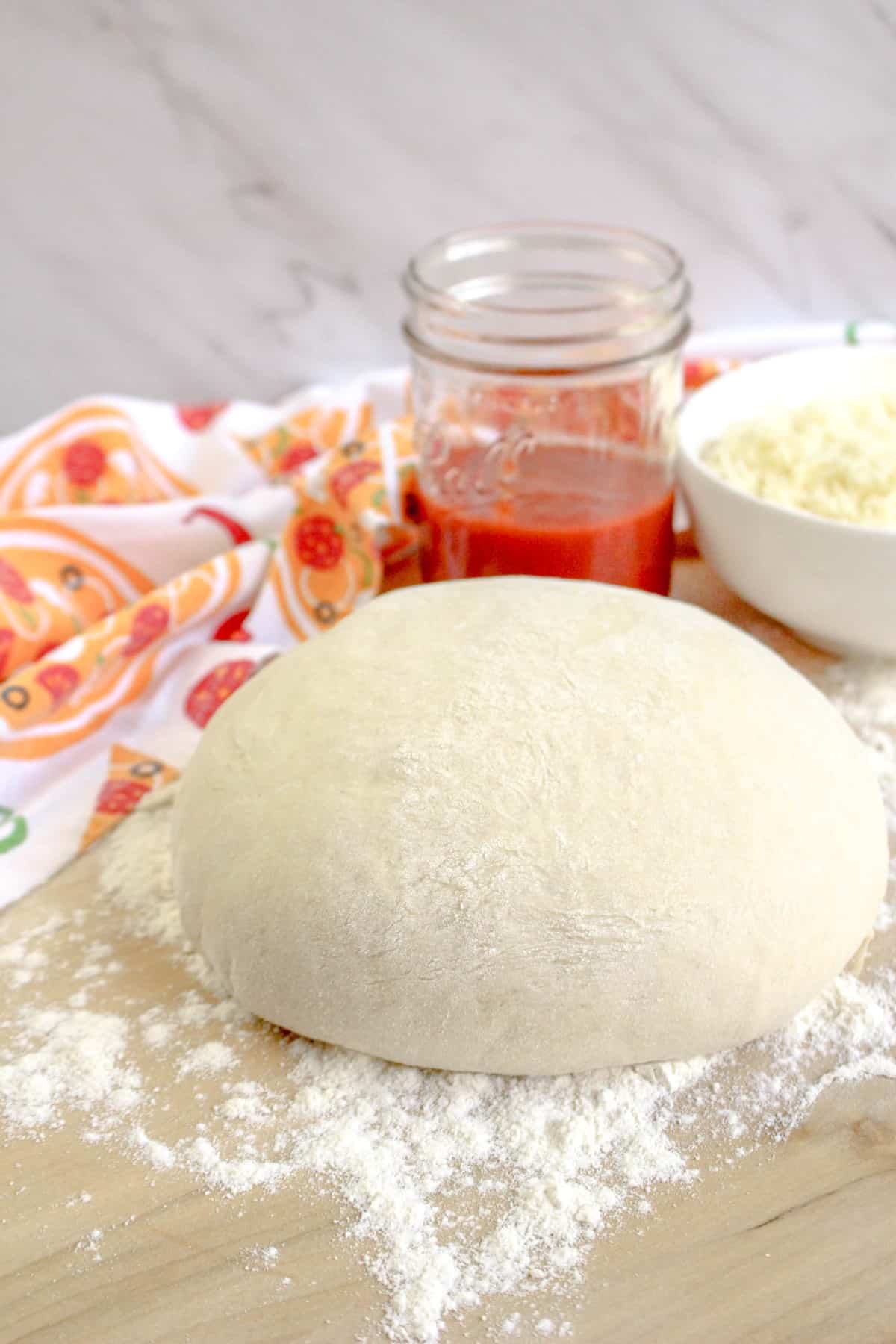 Now that you have your pizza dough, it's time to create your pizza. I usually divide the dough into two equal parts and make 2 totally different pizzas.
Start by rolling out the dough on a lightly floured surface. You can roll it out as thin as you like; just be aware that the thinner it is, the more susceptible to tearing it will be. You want all the sauce and pizza toppings on the top of your pizza. In addition, the thinner you roll out your crust, the more difficult it is to transfer it to your pizza pan.
Once you have your pizza dough rolled out, the easiest way to transfer your dough to your pizza is to fold it in half. Gently fold it into a half-moon, then slide the pan under the dough and unfold it. Make sure you also crimp the edges of the dough, so your sauce doesn't runoff. I like to season up my pizza sauce with a little garlic powder or Italian seasoning for extra flavor.
My husband likes lots of meat on his pizza, you know, pepperoni, salami, and even thinly sliced hot capicola. Along with mushrooms, green peppers, and lots and lots of mozzarella cheese!
Me on the other hand, I enjoy my pizza on the lighter side. A few veggies, maybe some artichoke hearts, bocconcini, or feta cheese. Some green peppers, mushrooms, and onions. I also like to add some slices of fresh tomato after it comes out of the oven!
Can I Freeze Pizza Dough That I Made in the Bread Maker?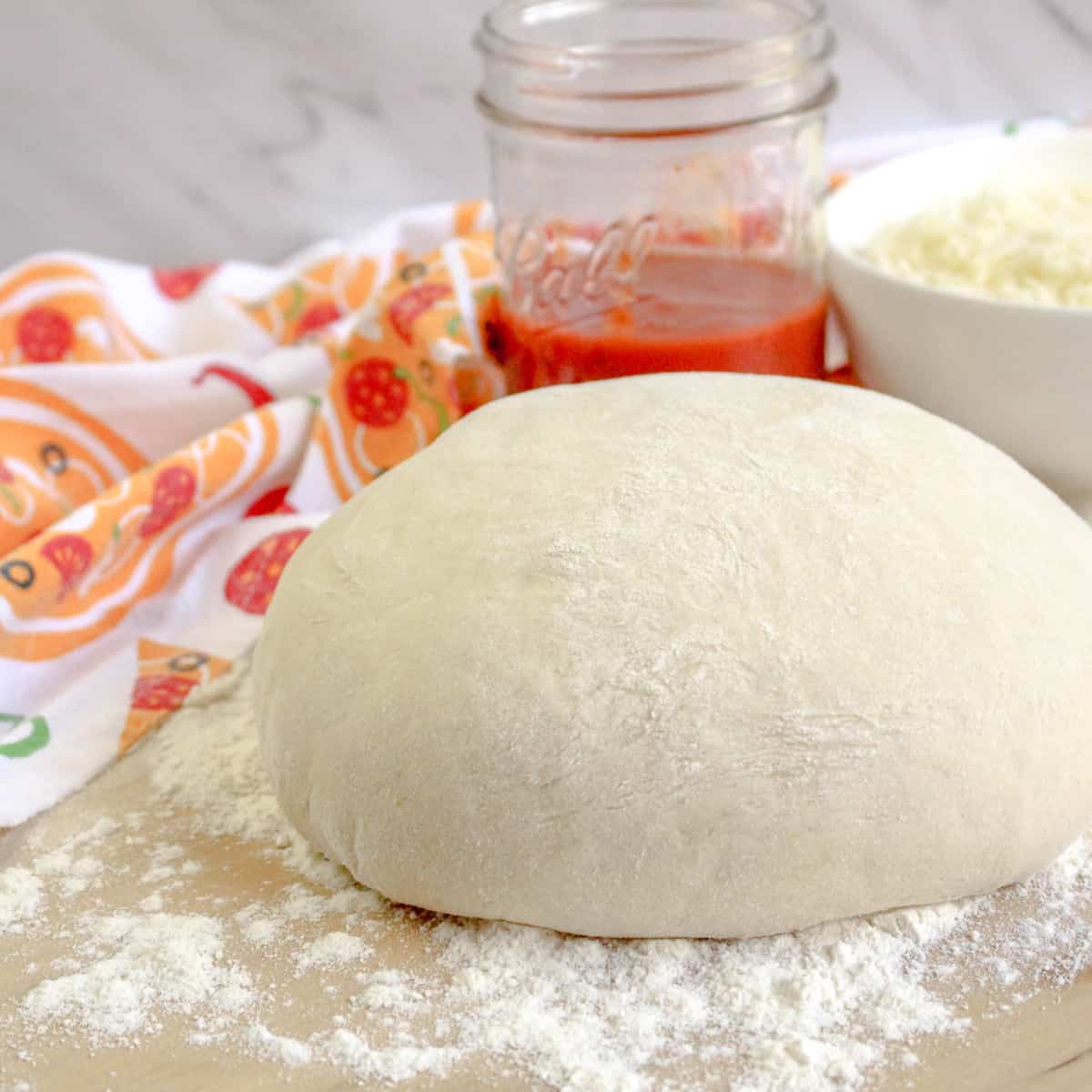 Yes, you can freeze the dough that you have made in your bread maker. It won't be as good as fresh or refrigerated dough though, so I recommend those first if possible.
Let the machine complete its cycle, then remove the dough and lightly rub it with olive oil. This will make sure that it doesn't stick to your bag when freezing. Seal the bag, squeezing out as much air as possible. Store the dough in the freezer for up to 3 months. Defrost and warm to room temperature before trying to use.
Can You Refrigerate Pizza Dough After it Rises?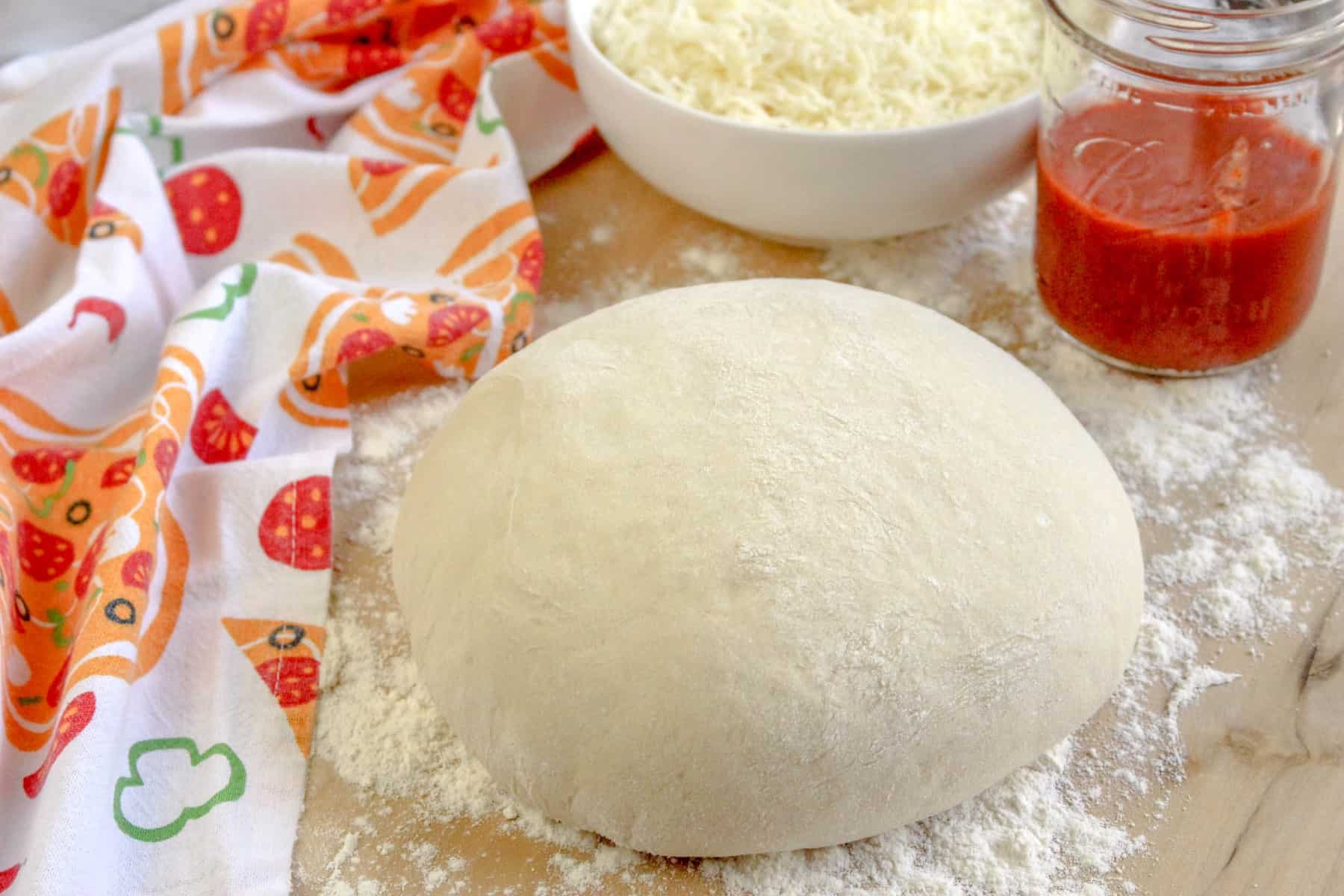 Can you refrigerate pizza dough after it rises? Yes, you can. You might have seen pizza dough fresh in a pizzeria or restaurant grocery store for sale like this. Pizza dough can be refrigerated at almost any step, so once it comes out of your bread machine, you can put it into a plastic bag and refrigerate it.
Store it covered in the refrigerator for 1-3 days. Allow room in the bag as it will continue to rise. Bring it to room temperature, and then make your pizza. The dough will be much more pliable and easy to work with at room temperature.
What else can be made from Pizza Dough?
Do you think pizza dough is only for pizza? You may be interested to note that this basic dough can be used in many recipes. Here are some of our favorite ways of using pizza dough. It is a pretty impressive lineup!
Crackers
Foccacia Bread
Dinner Rolls
Baguette
Garlic Knots
Pizza Pinwheels or many other flavored pinwheels too
Pita Bread
Italian Garlic Breadsticks or Cheese Sticks or Sesame Dipping Sticks
Pigs in a Blanket
Doughnuts
Korean Scallion Pancakes
Calzones or Stromboli
Cinnamon Rolls or Pumpkin Pie Cinnamon Rolls
Fruit and Cheese Bakes like a Galette
Topping for a Pot Pie
Pretzels and Pretzel Bites
Pull-Apart Pizza Rings or Pizza Monkey Bread
Pin it HERE!!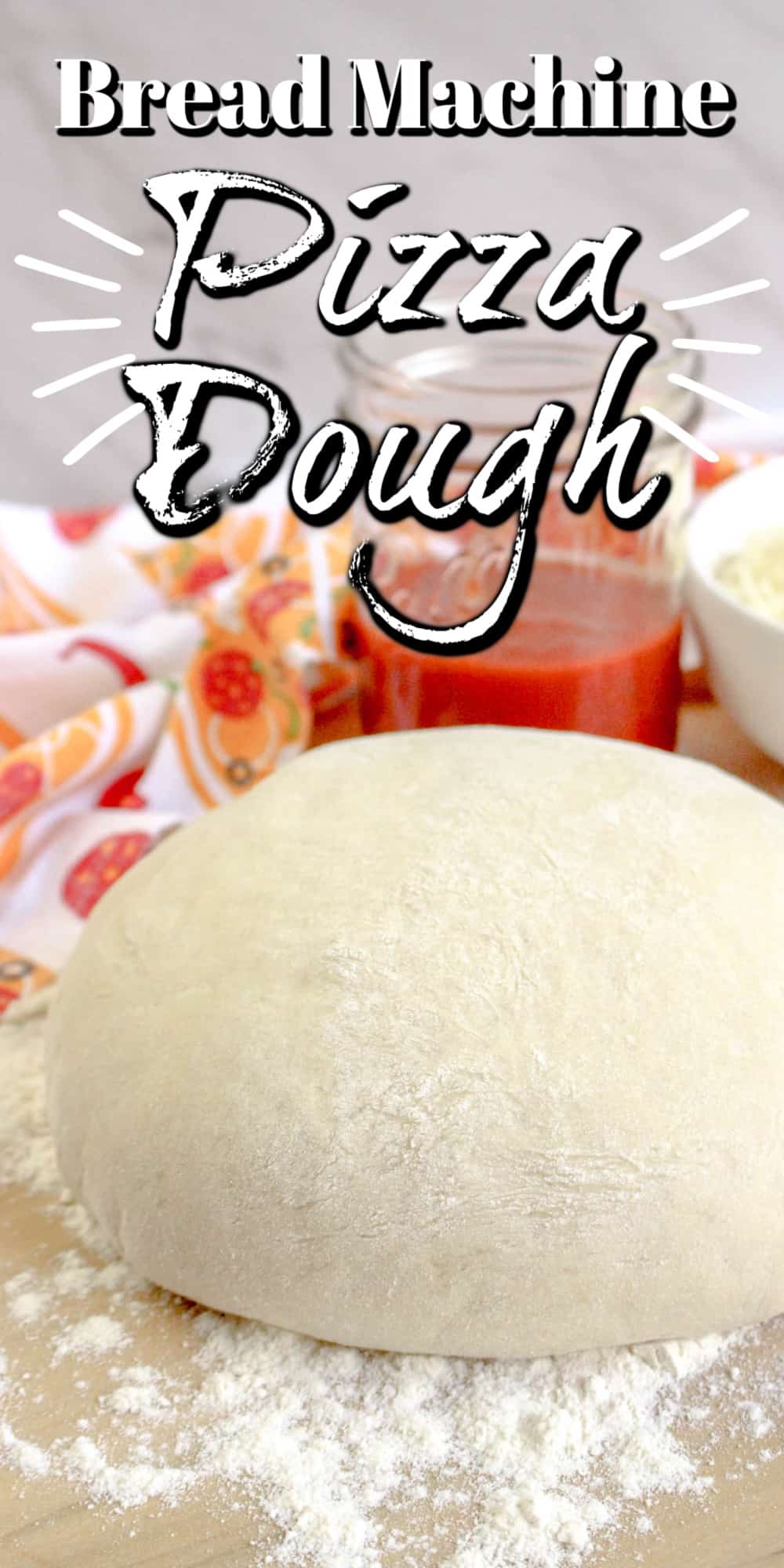 Pin it HERE!!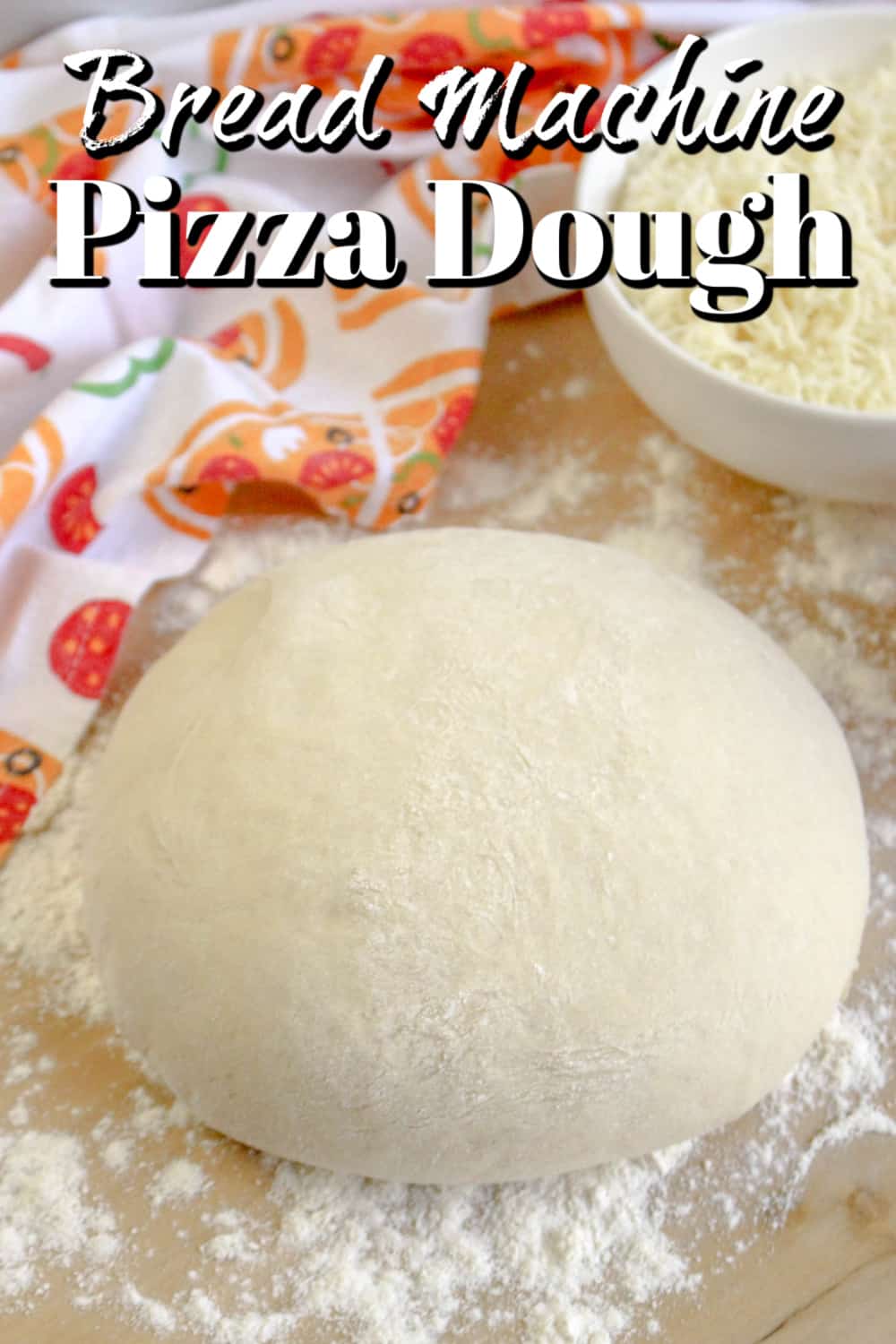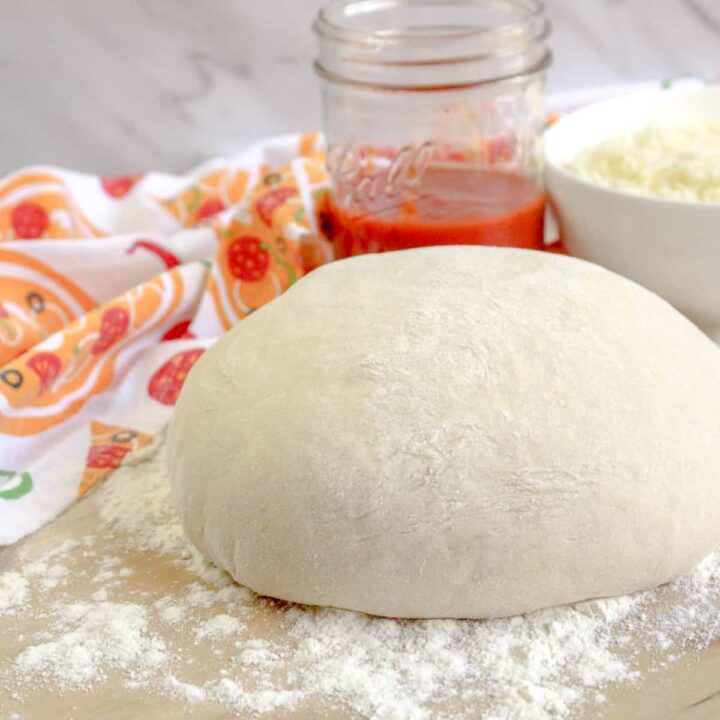 Bread Machine Pizza Dough
Yield: 2 pizza doughs
Prep Time: 5 minutes
Additional Time: 1 hour 30 minutes
Total Time: 1 hour 35 minutes
This Bread Machine Pizza Dough is a snap to make, and it is great in the oven or on the grill. It is the only way we make pizza dough, and we love it.
Ingredients
1 cup water, plus 2 tablespoons water reserved to use if needed
2 tablespoons olive oil
2 tablespoons sugar
1 teaspoon salt
3 cups bread flour
2 ¼ teaspoons active dry yeast
Instructions
Place the ingredients into the bread machine in the order listed. Program to use the dough cycle or follow the manufacturer's instructions for making dough.
Once the dough cycle is complete, punch the dough down and turn the dough out into a greased bowl. Cover the bowl and allow it to rest for 30 minutes.
Place the dough on a lightly floured surface and divide into two equal portions. Roll each portion into a circle and place on a parchment-lined baking sheet or pizza stone. Bake at 425 degrees for approximately 5 minutes.
Carefully remove the pizza crust from the oven and add toppings as desired. Return the pizza to the oven and continue baking until the cheese has melted and the bottom is lightly browned. Exact baking time will depend on the number of toppings but should take between 8 and 12 minutes.
Nutrition Information:
Yield: 2
Serving Size: 1 pizza
Amount Per Serving:
Calories: 924
Total Fat: 17g
Saturated Fat: 2g
Trans Fat: 0g
Unsaturated Fat: 13g
Cholesterol: 0mg
Sodium: 1070mg
Carbohydrates: 163g
Fiber: 6g
Sugar: 13g
Protein: 26g
Recipe calculation was provided by Nutritionix and is an estimation only. If you need nutritional calculations for medical reasons, please use a source that you trust.