Delicious and simple, this Summer Spinach Salad is easy to prepare and perfect as a light lunch or a side dish. This recipe gathers fresh ingredients such as baby spinach, juicy strawberries and blackberries, and feta cheese and is also accompanied by some sliced toasted almonds, some grilled chicken but also some homemade tortilla chips. This is the best healthy salad you need to make this summer!
I love how this is a nutritious and wholesome salad, topped with a sweet and tangy dressing; you will love it too! This Apple Pecan Chicken Salad, Fattoush Salad, Best Ever Wedge Salad or Mandarin chicken salad might be summer salads you would enjoy also. Or you will love our Everyday Garden Salad at any time.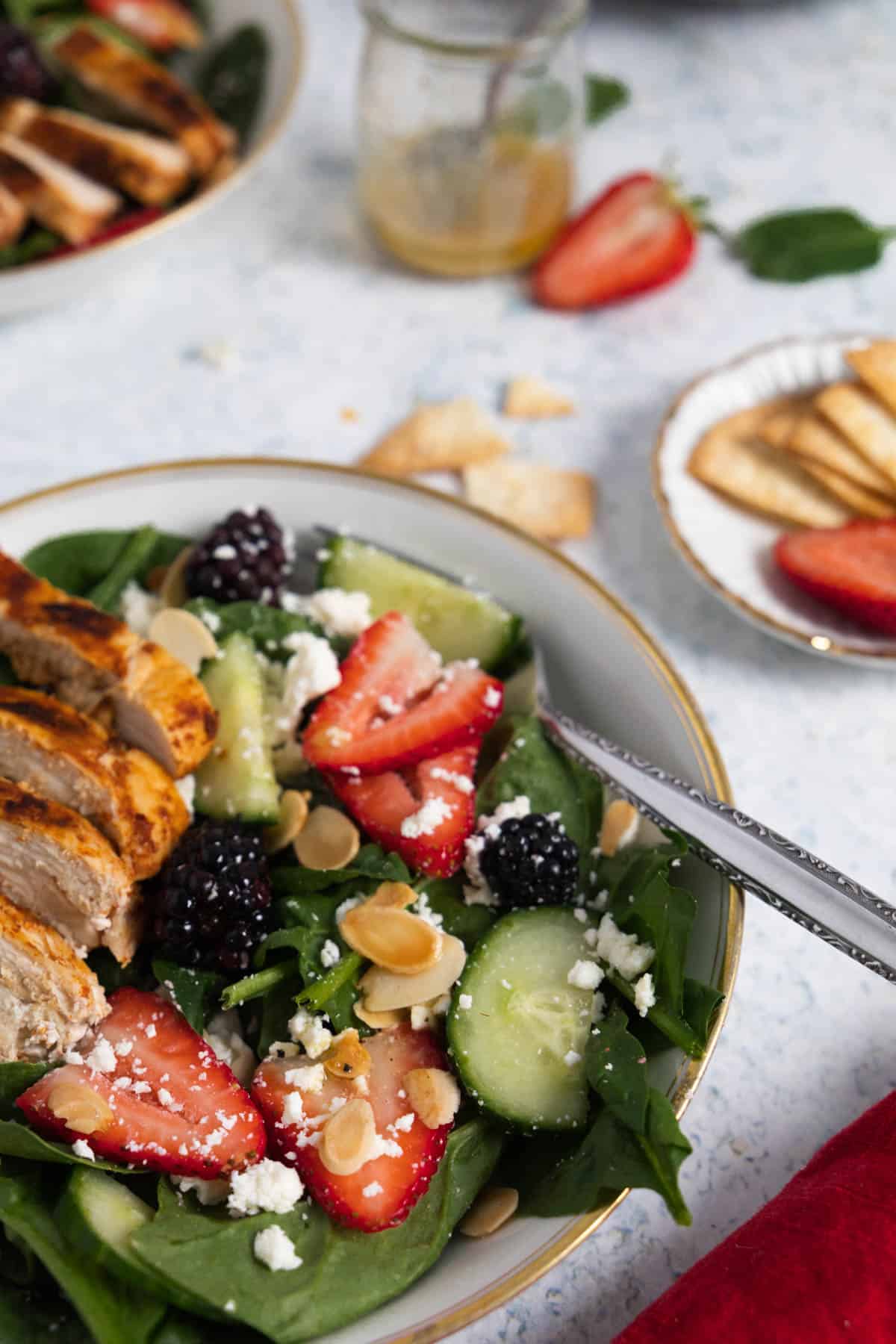 Subscribe To Our Weekly Newsletter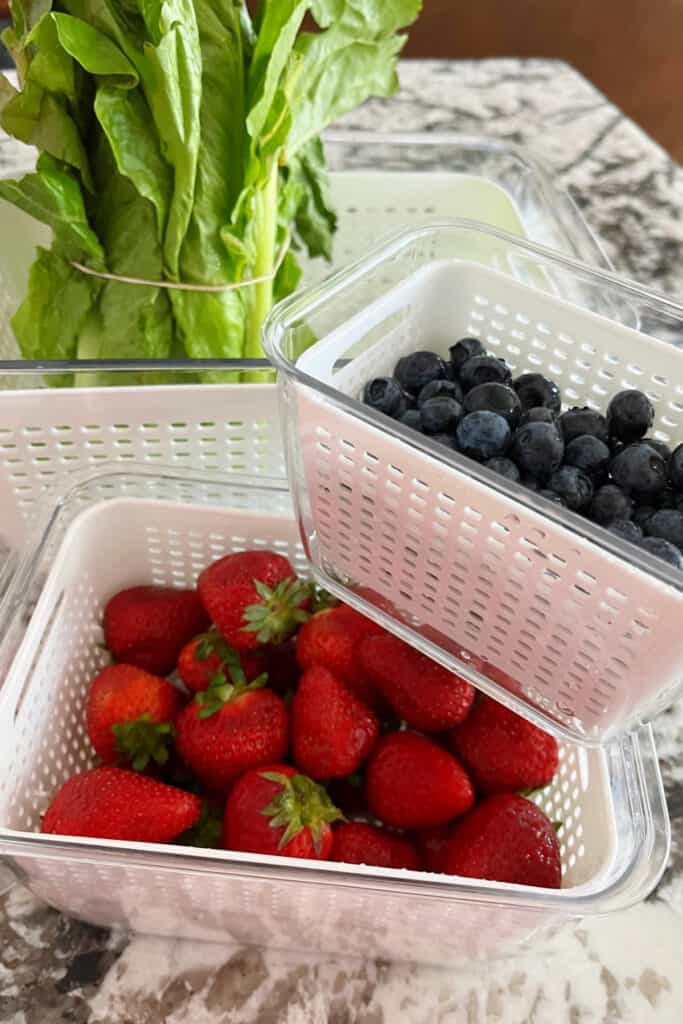 To keep berries and greens fresh, among other vegetables, I love using these Luxear Fresh Containers!
Luxear Fresh Containers, Stackable Vegetable Fruit Containers, set of 3 (use discount code: 5% 8CJHXM6B expiry date:2023-05-13)
What is in this Spinach Salad?
This salad recipe is pretty simple but also quite versatile. The sweetness from the fruits can be swapped by others, and so can the nuts and cheese. But let me give you my salad ingredients and guide you through my version.
There are a few categories to build a perfect salad: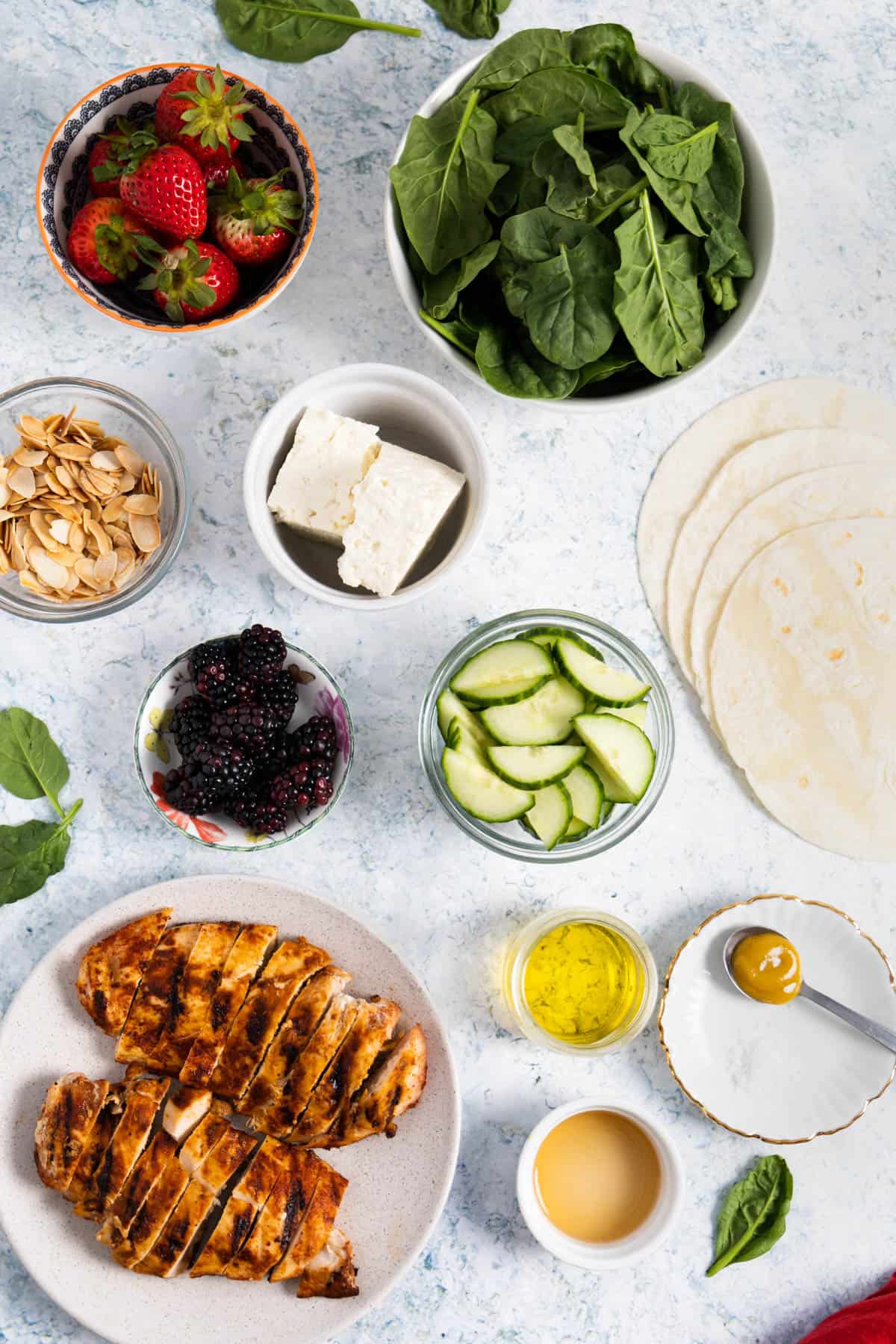 Greens: For this spinach salad, choose baby leaves; it will be more presentable and pleasant to eat. Also, if the stems are a little too long, feel free to shorten them.
Some color and something juicy: the ripe strawberries are giving a beautiful pop to the salad along with the blackberries.
Cheese: The sprinkles of feta are everywhere! Yum!
Protein: The simple grilled chicken is the perfect addition to a wholesome meal.
Crunch and add-ons: toasted almonds and homemade baked tortilla chips.
Salad dressing: A simple one to bring the strawberry spinach salad together: raspberry balsamic vinegar, olive oil, and honey dijon mustard.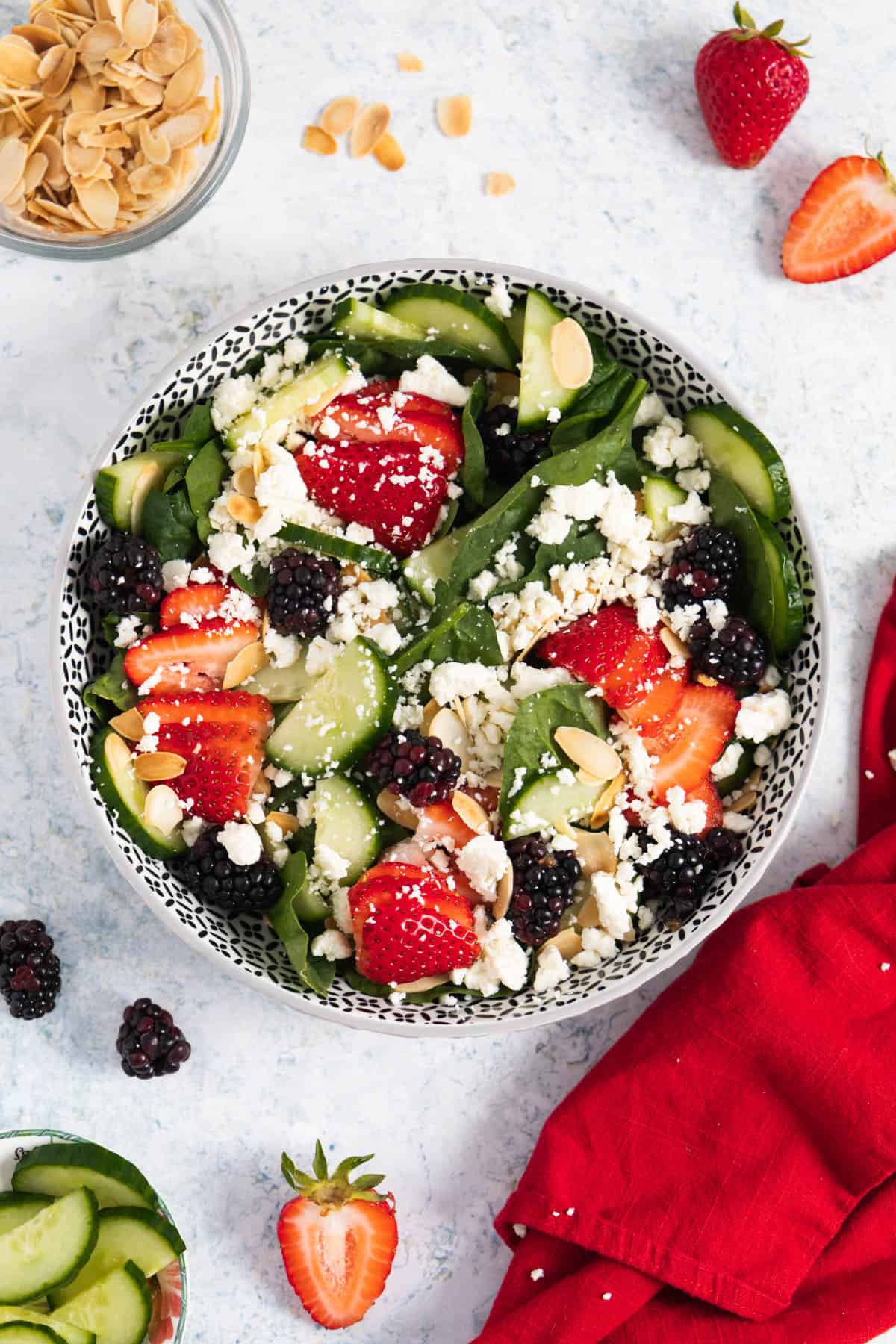 How to make Spinach Salad
Don't you love a super easy and straightforward recipe? This one is! Let's prepare it, it only takes a few minutes to assemble, and that's the beauty of it.
First, make sure all your fruits and vegetables are washed along with your spinach.
Then, slice the strawberries and cucumber. Set aside.
Now, you can choose to toast the sliced almonds: in a hot pan, on medium heat, just add the almonds, no oil, and toast for about 7 minutes or until your almonds are golden. Shake your pan often to avoid burning the nuts.
Also, we are going to make some baked tortillas chips to accompany your salad. Stack some tortillas and cut them into 6 slices which will give you triangles. Line them up on a baking sheet and brush them with some olive oil and sprinkle them with salt. Bake in the oven for 10 minutes.
Lastly, if you are choosing to add some grilled chicken, follow your favorite recipe to do so or buy a rotisserie chicken or precooked chicken breasts.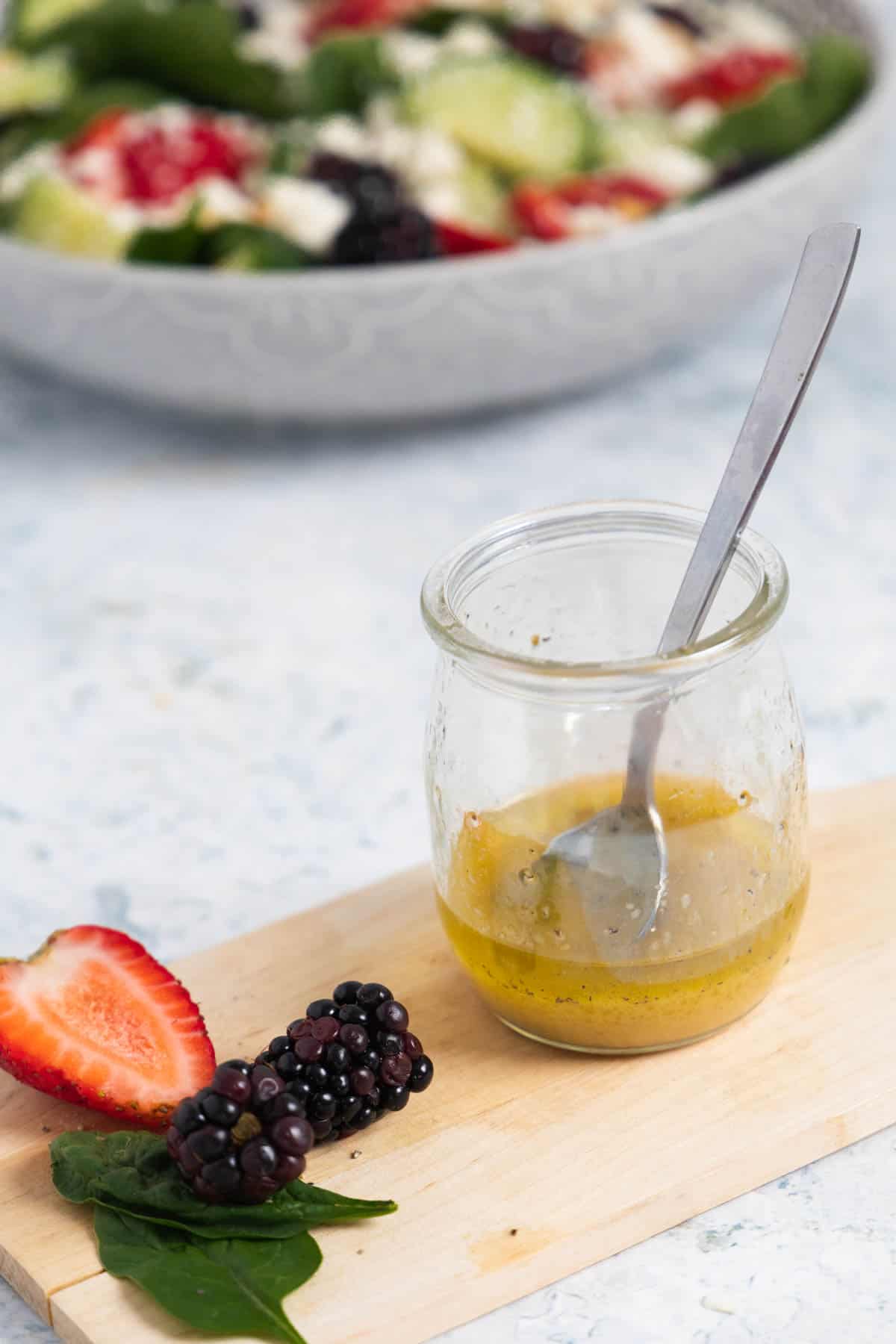 Now, let's assemble!
Take a serving bowl or large shallow plate that will fit all the ingredients.
Make a bed of spinach
Add the berries and cucumber
Sprinkle with feta and almond
Final step: In a ramekin, pour the dressing ingredients: olive oil, vinegar, honey mustard, salt, and pepper. Stir well. Pour it over your salad and toss well.
Chef kiss! Add your warm chicken before serving with a side of tortilla chips. Enjoy!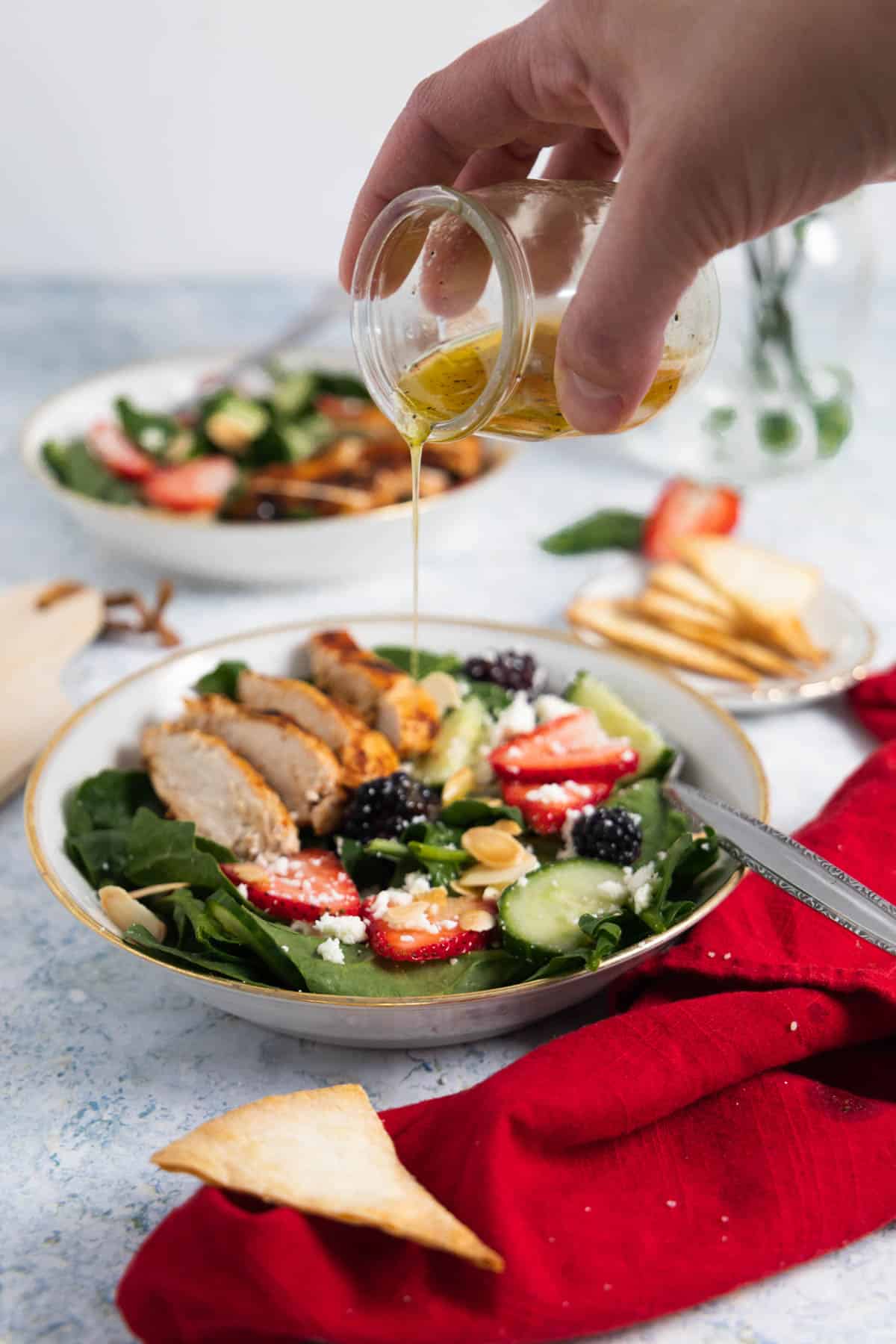 Variations & Topping Ideas
This delicious spinach salad is so versatile, and you can easily adapt depending on what you have on hand or your taste. Here are more suggestions:
Greens: You can do a mix of spinach with arugula to add some bitterness to your dish; it will balance well with the sweetness of the berries.
Berries: Other than strawberries and blackberries, you can also add some raspberries or blueberries.
Cheese and Creaminess: Goat cheese is a great alternative and adds some character to the dish. If you want it dairy-free, you can use avocado to get something creamy in the salad.
Nuts: Of course, almonds are just a suggestion; toasted pecans, walnuts or pine nuts would be delicious also.
Dressing: feel free to make the classic poppy seed dressing if you are not into this raspberry balsamic dressing. Also, to add a nutty flavor, you can switch the olive oil to walnut oil.
Some extra yummy toppings ideas: dried cranberries or raisins, sliced red onions, crispy fried onions, bread croutons, cherry tomatoes, and seeds.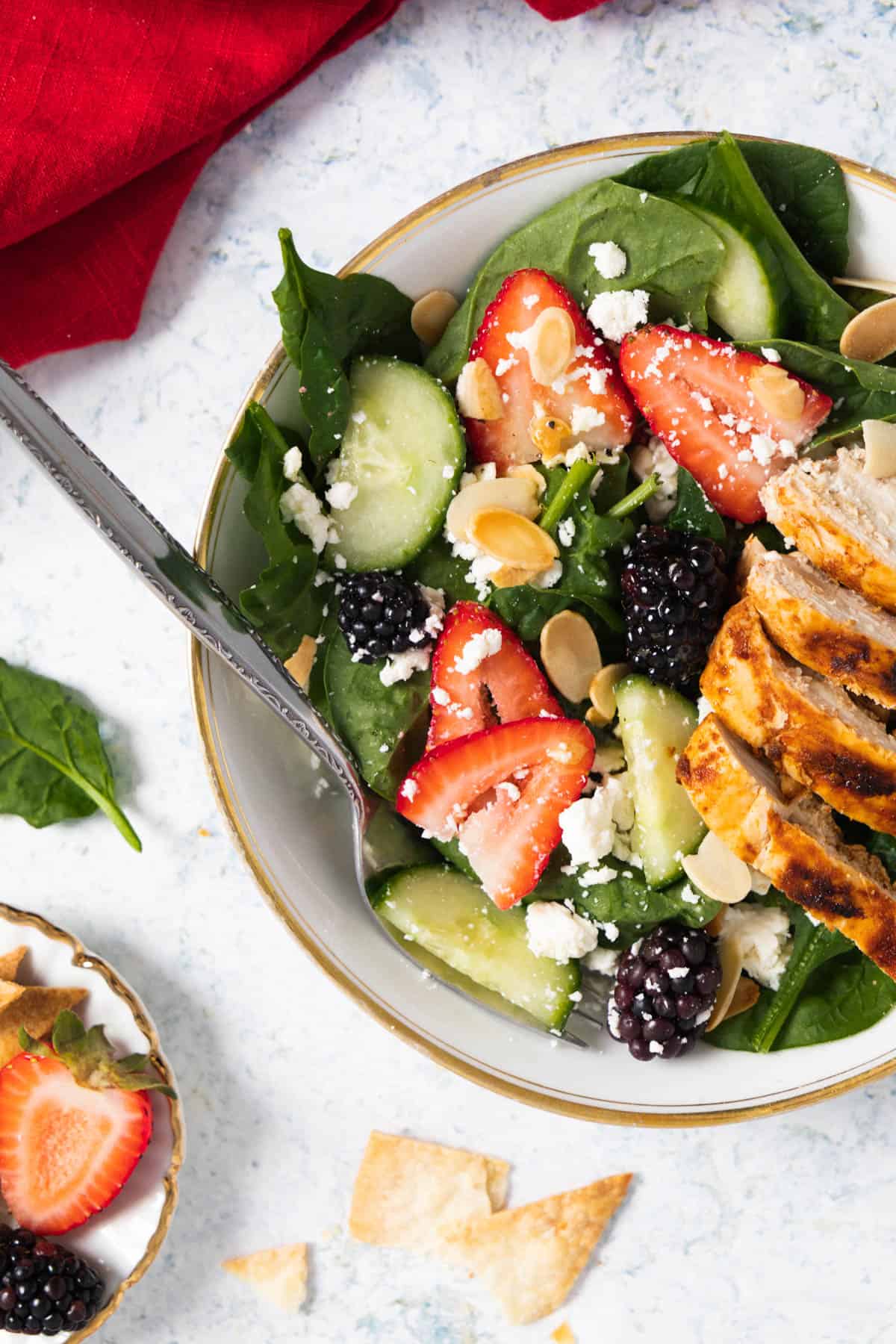 FAQs and Tips
How to eat this spinach salad? This recipe is great as:
– a perfect side dish to accompany barbecued meat
– a great lunch option if you are adding protein such as chicken, fish, or quinoa
– an addition to a potluck table
– a picnic meal
Can spinach be eaten as a salad? Absolutely, spinach is a great green option. You may want to choose baby spinach to avoid big stems. It is also good food, packed with vitamins and fiber.
What mixes well with spinach? Spinach goes well with cheese such as feta and goat cheese for their creaminess. Berries are delicious with spinach but so are citrus fruits.
Can I make this salad ahead? I would not recommend it as I would not want your greens to wilt. You can prepare the toppings and assemble last minute. Alternatively, you can prepare it in the evening for your lunch the next day, but do not dress it.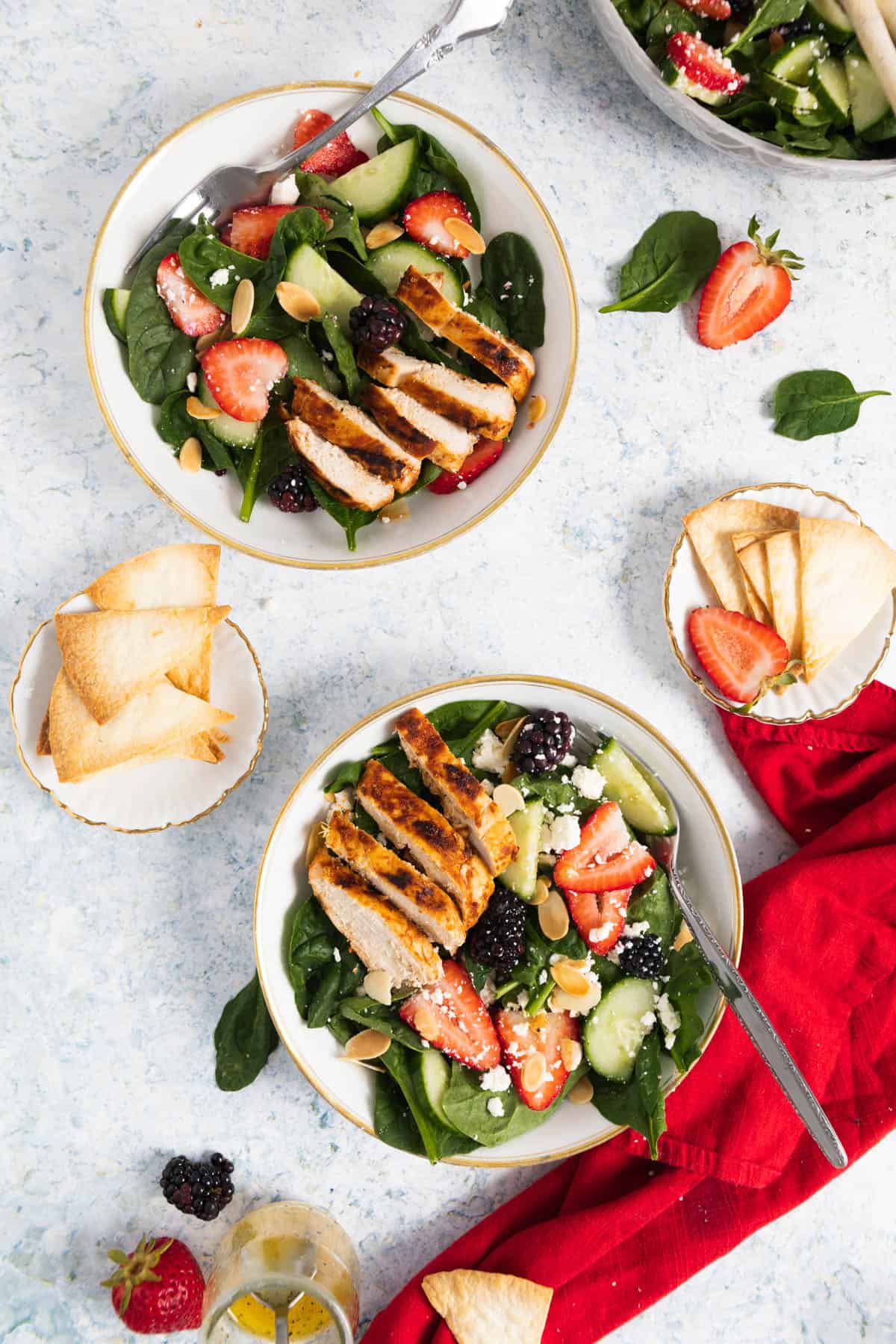 Other Delicious Summer Salads To Try
Do you want more delicious salads for summer or anytime? We love creative salads as a meal or as a side dish. Here are a few of our best picks for salads we love.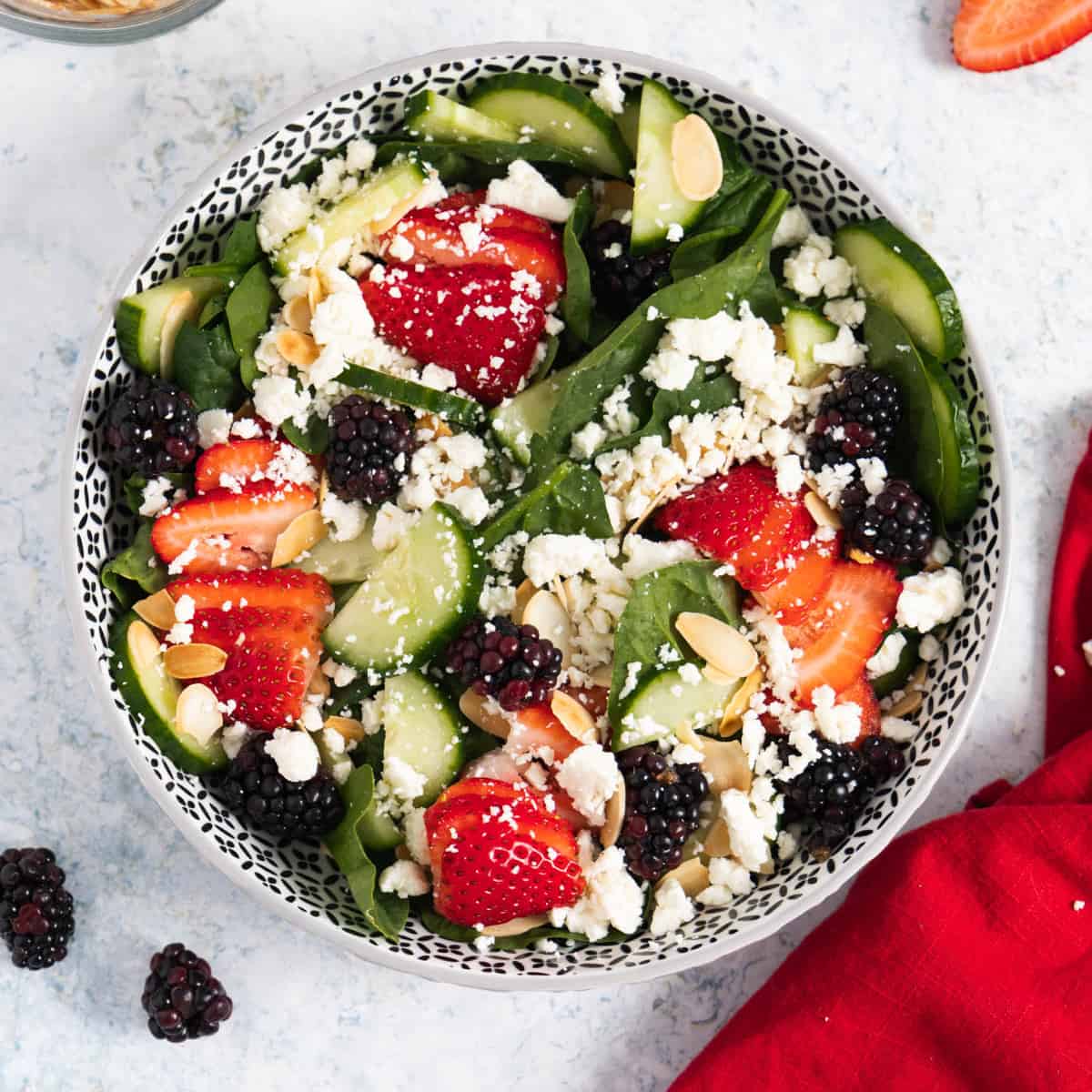 Pin it HERE!!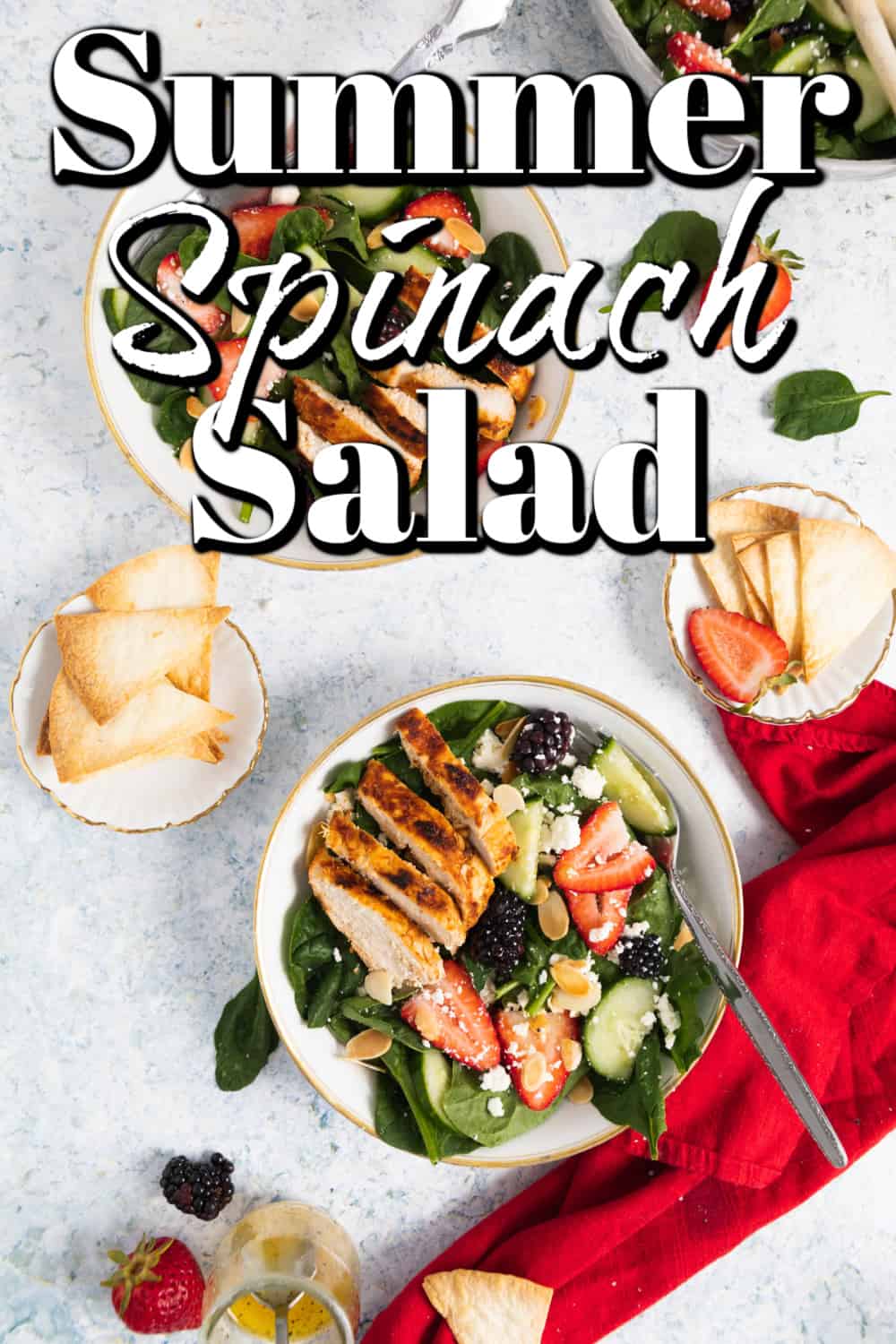 Pin it HERE!!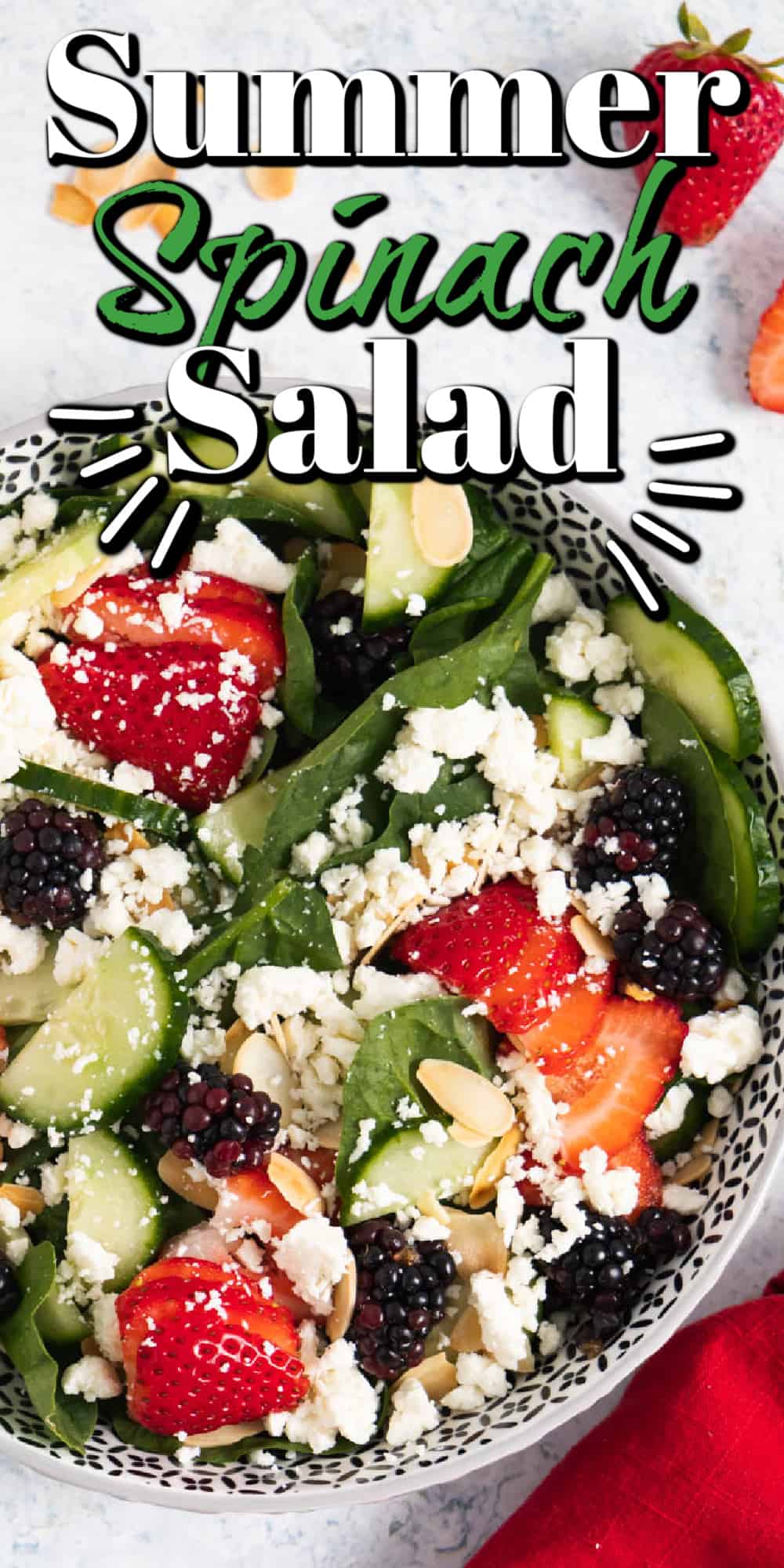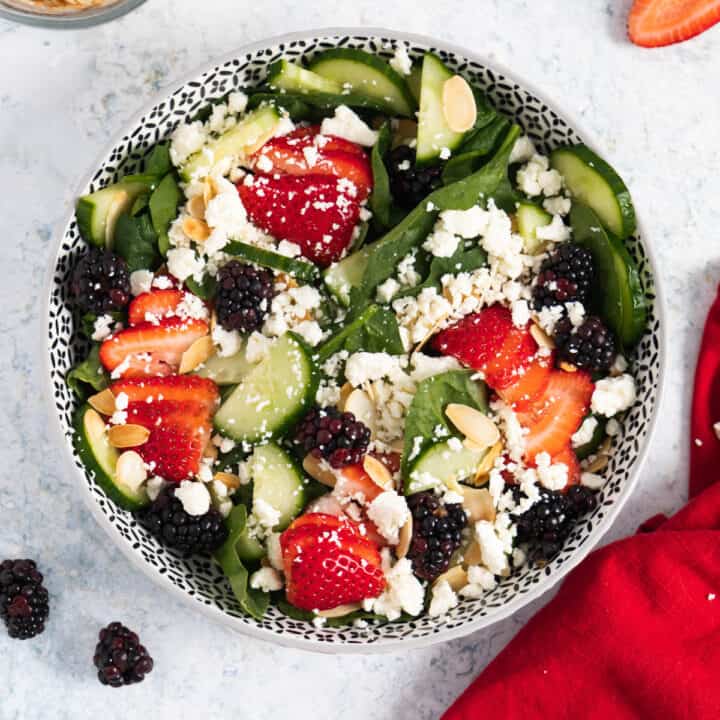 SUMMER SPINACH SALAD
Yield: 4 servings
Prep Time: 10 minutes
Cook Time: 15 minutes
Total Time: 25 minutes
Delicious & simple, the Summer Spinach Salad is an easy side salad for dinner or as a healthy lunch. It has spinach and berries and is topped with almonds & tortilla chips!
Ingredients
2 cups of baby spinach, packed
1/2 cup of strawberries (about 10)
1/3 cup of blackberries (about 12)
1/4 of a cucumber
1/4 cup of sliced almond
1/4 cup of feta, crumbled
2 tablespoons of olive oil
2 tsp of raspberry balsamic vinegar
1 teaspoon of honey garlic mustard
2 tbsp of olive oil
4 small tortillas
Salt
Instructions
Pre-heat the oven to 400F
In a hot pan, on medium heat, on the stove, add the almond, no oil, and toast for about 7 minutes or until almonds are golden. Shake your pan often to avoid burning the nuts. Set aside to allow to cool completely.
Stack tortillas and cut them into 6 slices which will give you triangles. Line them up on a baking sheet and brush them with 2 tablespoons of olive oil and sprinkle them with salt.
Bake in the oven for 10 minutes or until golden. Set aside to allow to cool completely.
Wash all fruits and vegetables.
Slice the strawberries and cucumber. Set aside.
In a large shallow dish, place the spinach, then add the berries and cucumber.
Sprinkle with feta and almonds.
In a ramekin, pour the olive oil, vinegar, mustard, salt, and pepper. Mix well and pour over the salad.
Serve with a grilled chicken or salmon and the crispy tortillas.
Recommended Products
As an Amazon Associate and member of other affiliate programs, I earn from qualifying purchases.
Nutrition Information:
Yield: 4
Serving Size: 1
Amount Per Serving:
Calories: 384
Total Fat: 24g
Saturated Fat: 4g
Trans Fat: 0g
Unsaturated Fat: 18g
Cholesterol: 8mg
Sodium: 536mg
Carbohydrates: 36g
Fiber: 4g
Sugar: 5g
Protein: 8g
Recipe calculation was provided by Nutritionix and is an estimation only. If you need nutritional calculations for medical reasons, please use a source that you trust.