Homemade Poppy Seed Dressing is exactly what you need to take your salad to the next level. It's the perfect blend of deliciously sweet and tangy, with poppy seeds to give it that extra zing. It's one of the most popular salad dressings for a spinach salad or a strawberry salad, and for good reason!
This Poppy Seed Dressing is actually super simple to make too. It's cheaper than picking up store-bought salad dressing and so much tastier when you make it from scratch. This is one of those back-pocket recipes that you'll reach for over and over again, so go and print this recipe out! Use this dressing to make our delicious Sweet Kale Salad.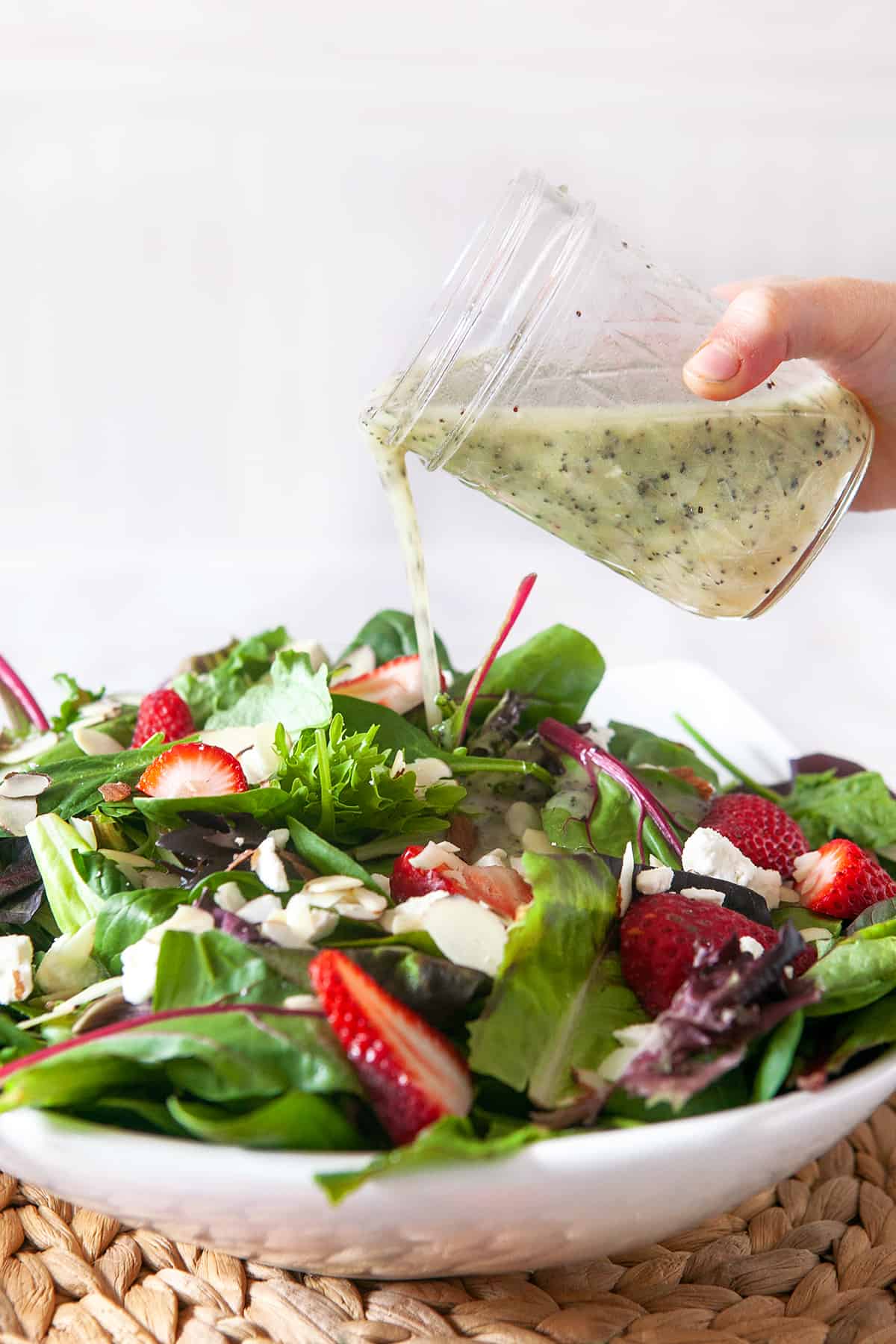 If you're craving more salads right now like I am, check out this Italian Salad with Creamy Italian Dressing. Also, this Basic Homemade Red Wine Vinaigrette is another must-try simple salad dressing recipe.
Hello again, it's Allison from Some the Wiser. I'm in the middle of a blizzard right now, but I'm dreaming of warmer days. But while the temperature outside may be below freezing, I've got my fridge stocked with everything I need to make fresh salads!
Right now, I'm craving ALL the salads, like this Garlic Shrimp Caesar Salad and my favorite salad, this Curried Chicken Salad with Mango Chutney.
Helpful Items for This Recipe
This post contains affiliate links. As an Amazon Associate, I earn a small portion from qualifying purchases at no extra charge for you.
Large Salad Bowl with Lid and Servers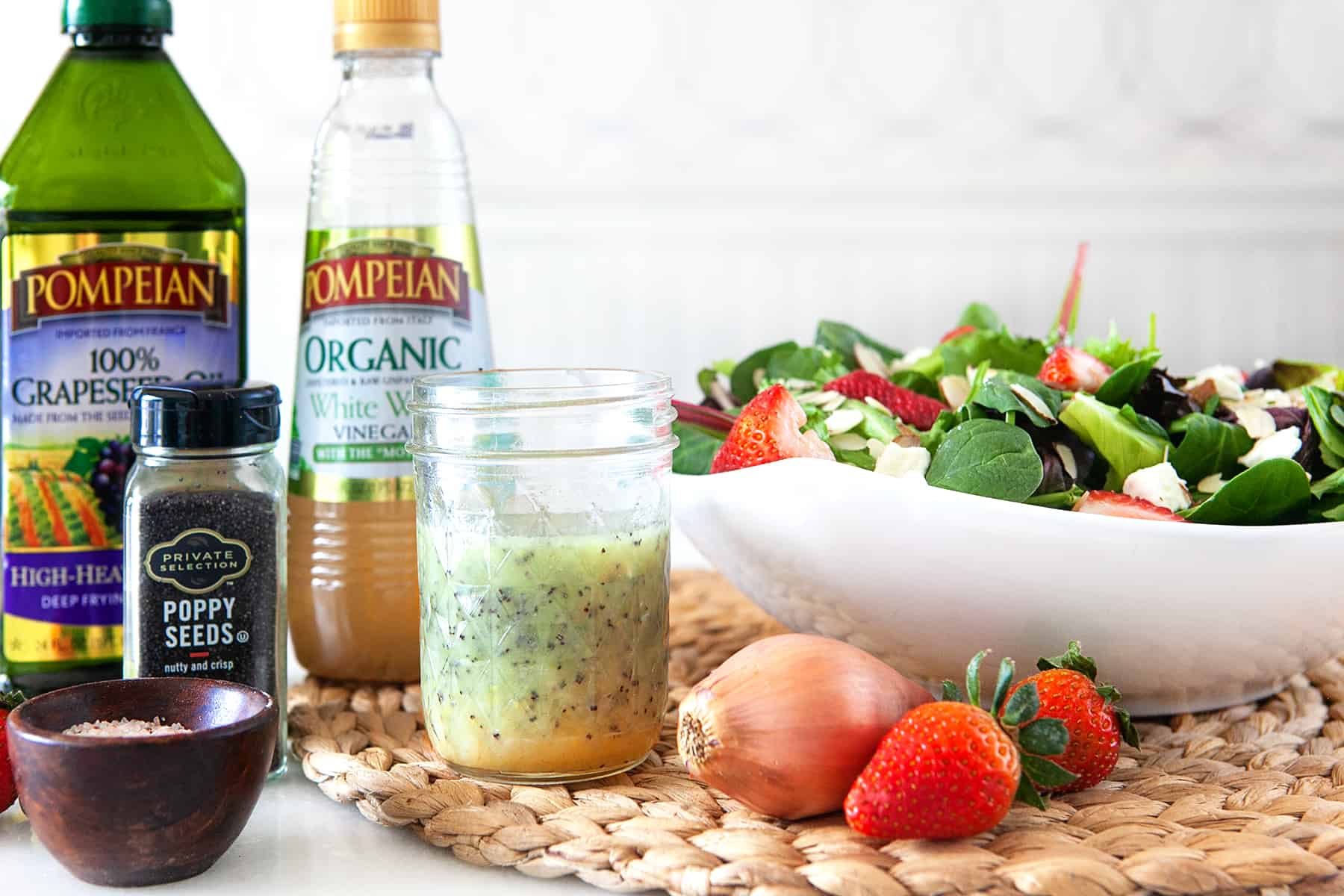 What is Poppy Seed Dressing Made Of?
This Poppy Seed Dressing recipe comes together with only a handful of ingredients, and it's absolutely delicious. The main ingredients are White Wine Vinegar (or Champagne Vinegar), White Sugar, and a finely grated Shallot. The balance of these three ingredients packs a big flavor punch!
Then, to make the dressing taste extra special, add in a little bit of Dijon Mustard, a pinch of salt, and the Poppy Seeds, of course. All of these ingredients are mixed into a base of neutral-flavored oil, like Grapeseed Oil. (You'll want to skip the Olive Oil this time because its strong flavor really changes the dressing.)
For an even creamier Poppy Seed Dressing, I like to add in a couple of teaspoons of Greek Yogurt. It tastes divine on a salad!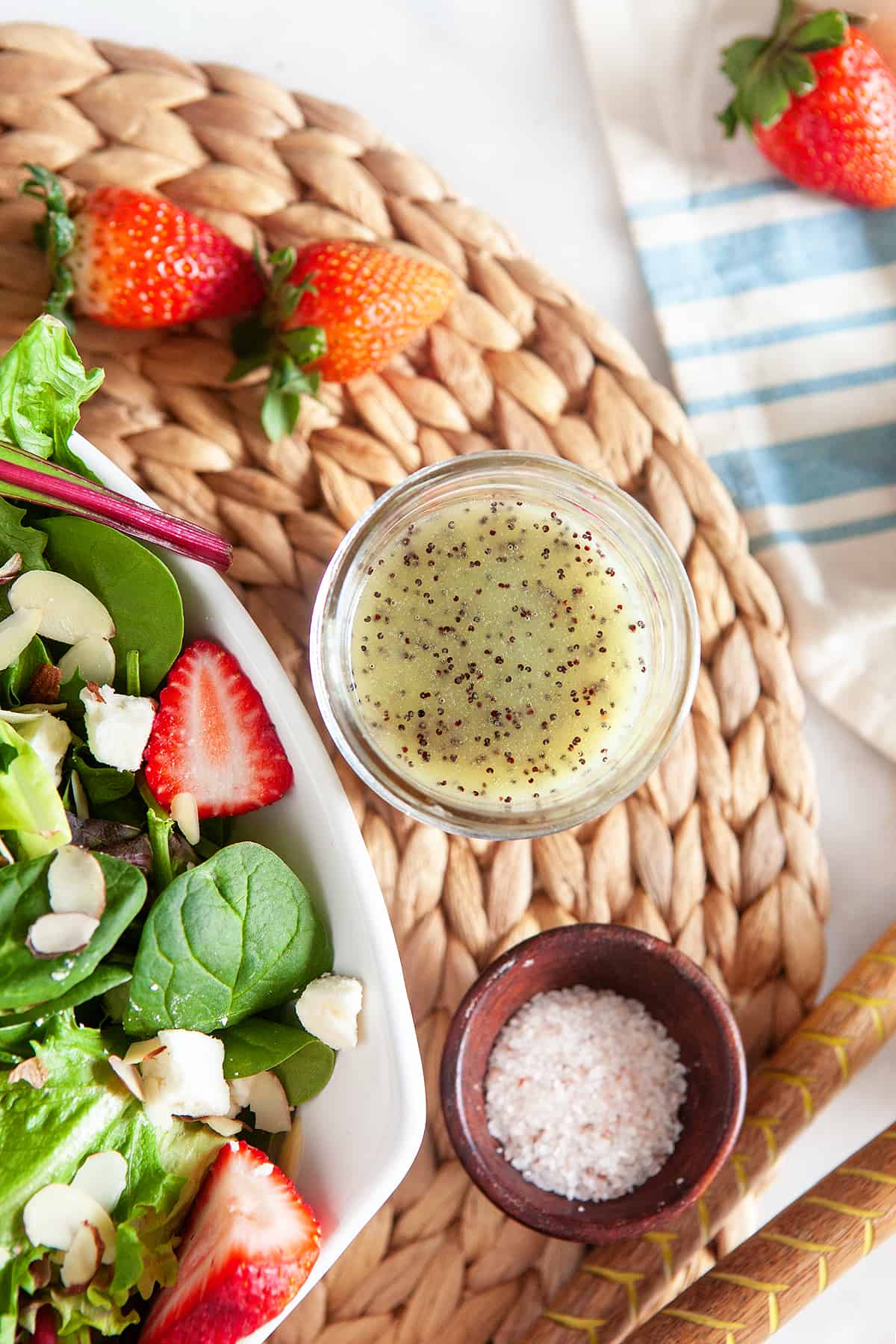 What Does Creamy Poppyseed Dressing Taste Like?
Creamy Poppyseed Dressing tastes like a perfect blend of sweet and tangy, with a light note of onion/shallot. It's a sweeter dressing than most, but the mustard and vinegar give it a bright, tangy flavor.
While you can make Poppy Seed Dressing more like a vinaigrette, the creamy version with yogurt or mayonnaise added in is delicious. It's thicker than a vinaigrette and tastes a little more succulent.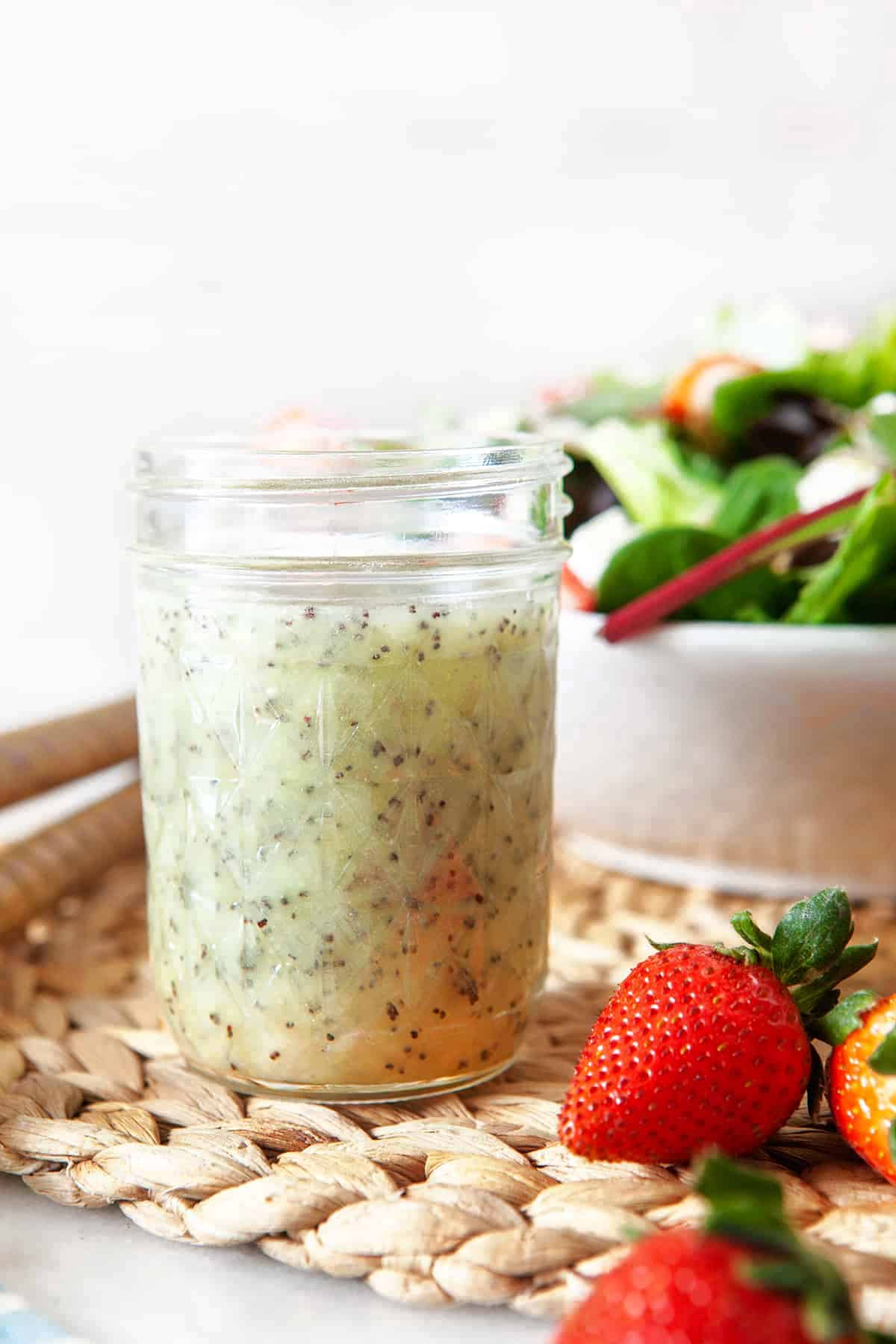 How to Make Poppy Seed Salad Dressing
This homemade Poppy Seed Dressing is a cinch to make! I like to make my salad dressings in a pint-sized mason jar. It's both easy to make, just screw on the lid and shake shake shake, and it's easy to store extras in the fridge.
To get started, gather your ingredients:
White Wine Vinegar (Apple Cider Vinegar or Champagne Vinegar)
White Sugar (or honey, but this will change the flavor slightly)
A small Shallot
Poppy Seeds
Salt
Dijon Mustard
Plain Greek Yogurt
Grapeseed Oil (or a similar neutral-flavored oil like vegetable oil)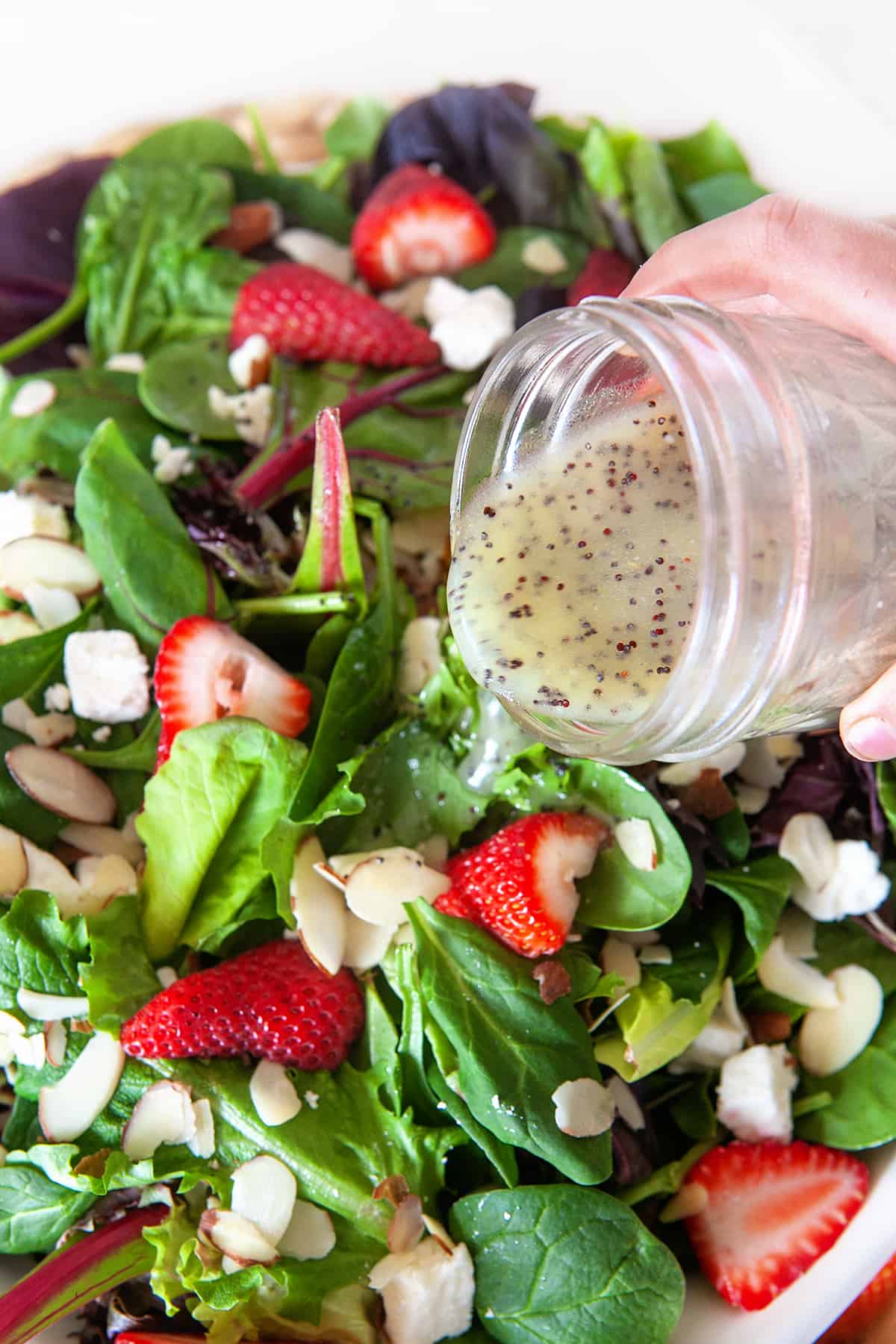 To begin, combine the vinegar and sugar in your mason jar. With the lid on, shake until the sugar is mostly dissolved in the vinegar. Then, peel the shallot and grate it with a microplane, or using the smallest holes on a box grater, directly into the vinegar and sugar mixture.
Next, add in the poppy seeds, salt, Dijon mustard (I like this better than dried mustard for this recipe), and yogurt (healthy tangy spin). Whisk or shake until well combined. Finally, pour in the grapeseed oil. Secure the lid on your jar and then shake shake shake until it's well combined.
At this point, you can use it on your salad and enjoy. You can also store it covered in the fridge for two to three weeks. Note: it will separate as it sits in the fridge, so be sure to give it a good shake before serving.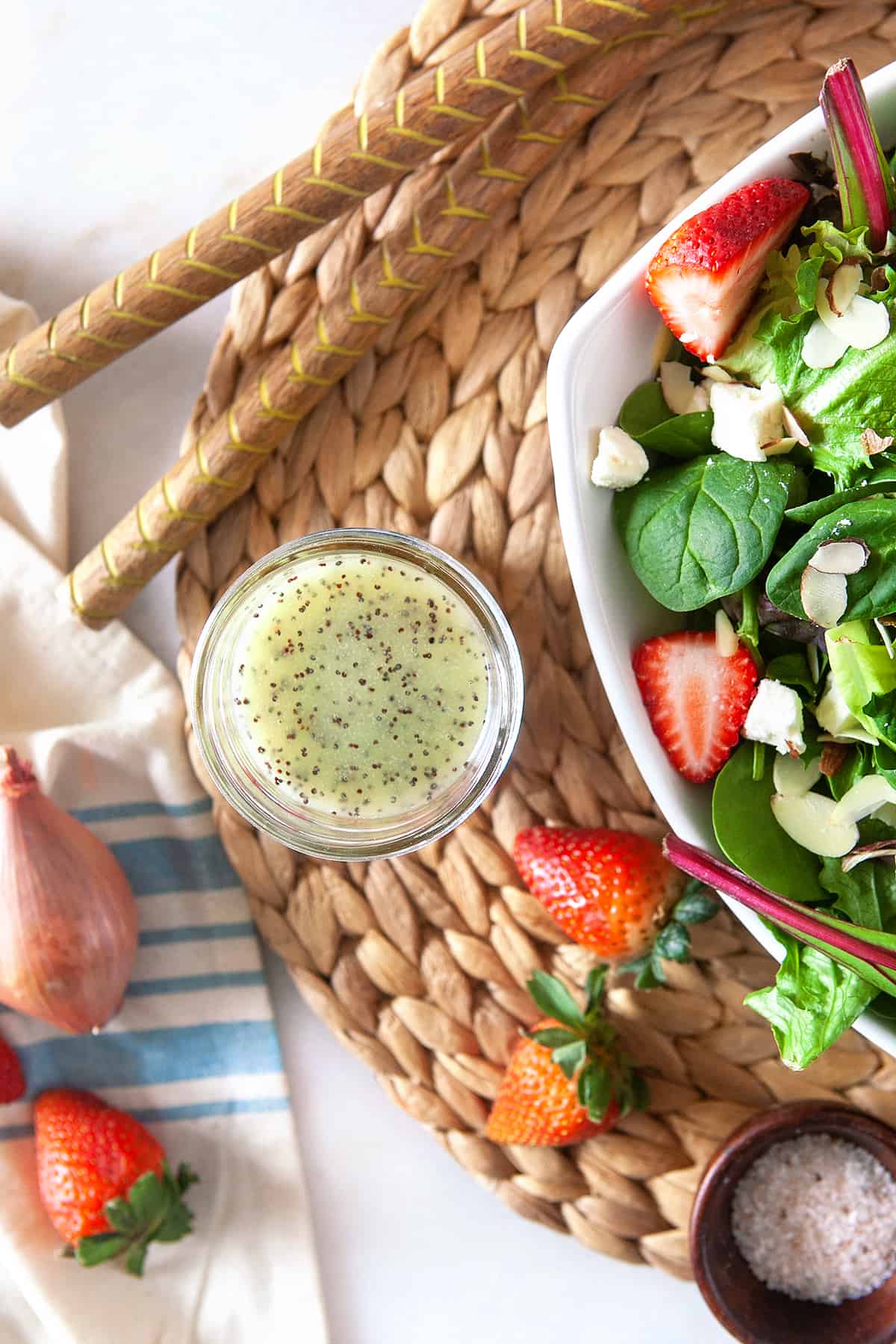 What to Eat With Poppy Seed Dressing
This sweet, delicious dressing is good with so many green salads. It even works great as a chicken marinade!
My favorite salad to eat with this poppy seed dressing is a simple Strawberry and Spinach Salad. It's also really good on a kale salad, with fruit like sliced apples or mandarin oranges. It's even delicious with this Winter Citrus Salad.
Its sweet and tangy flavor makes it a very versatile and beloved salad dressing.
Do Poppy Seeds Go Bad?
If you want to make poppy seed dressing, but you're worried about the jar of poppy seeds you've been storing in the spice cupboard for the past year, let me set your mind at ease.
As long as they've been stored in an airtight container and haven't been exposed to extreme temperatures, poppy seeds can last for 3 or 4 years. Even after they've exceeded their shelf life, they don't really go bad. They just begin to lose their potency and may taste a little more bitter.
Also, since most recipes just call for a tablespoon or two of poppy seeds, you only need a small jar of poppy seeds in the pantry. Chances are, if you make poppy seed muffins or poppy seed dressing even just two or three times a year, you'll use those poppy seeds up long before they expire.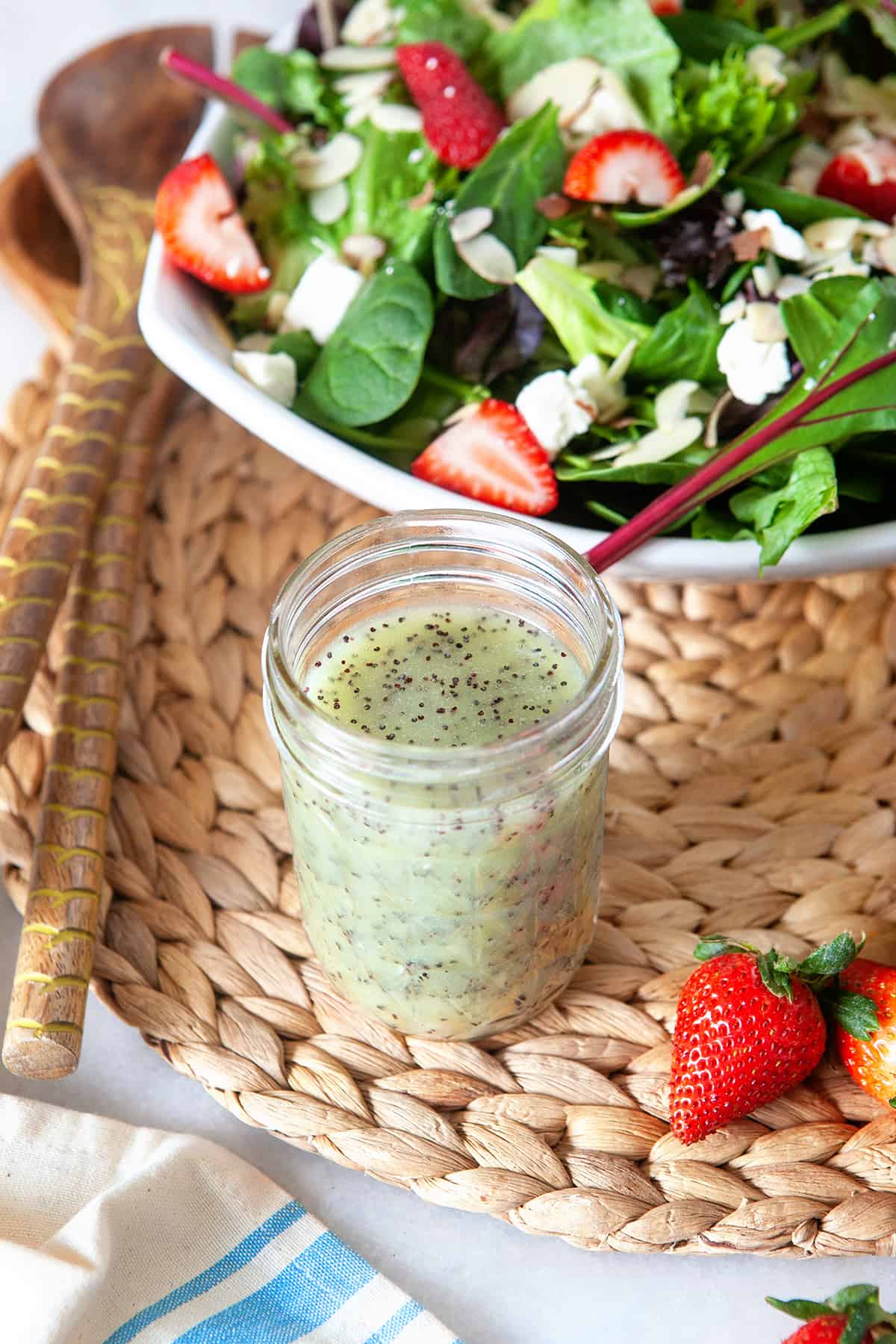 Pin it HERE!!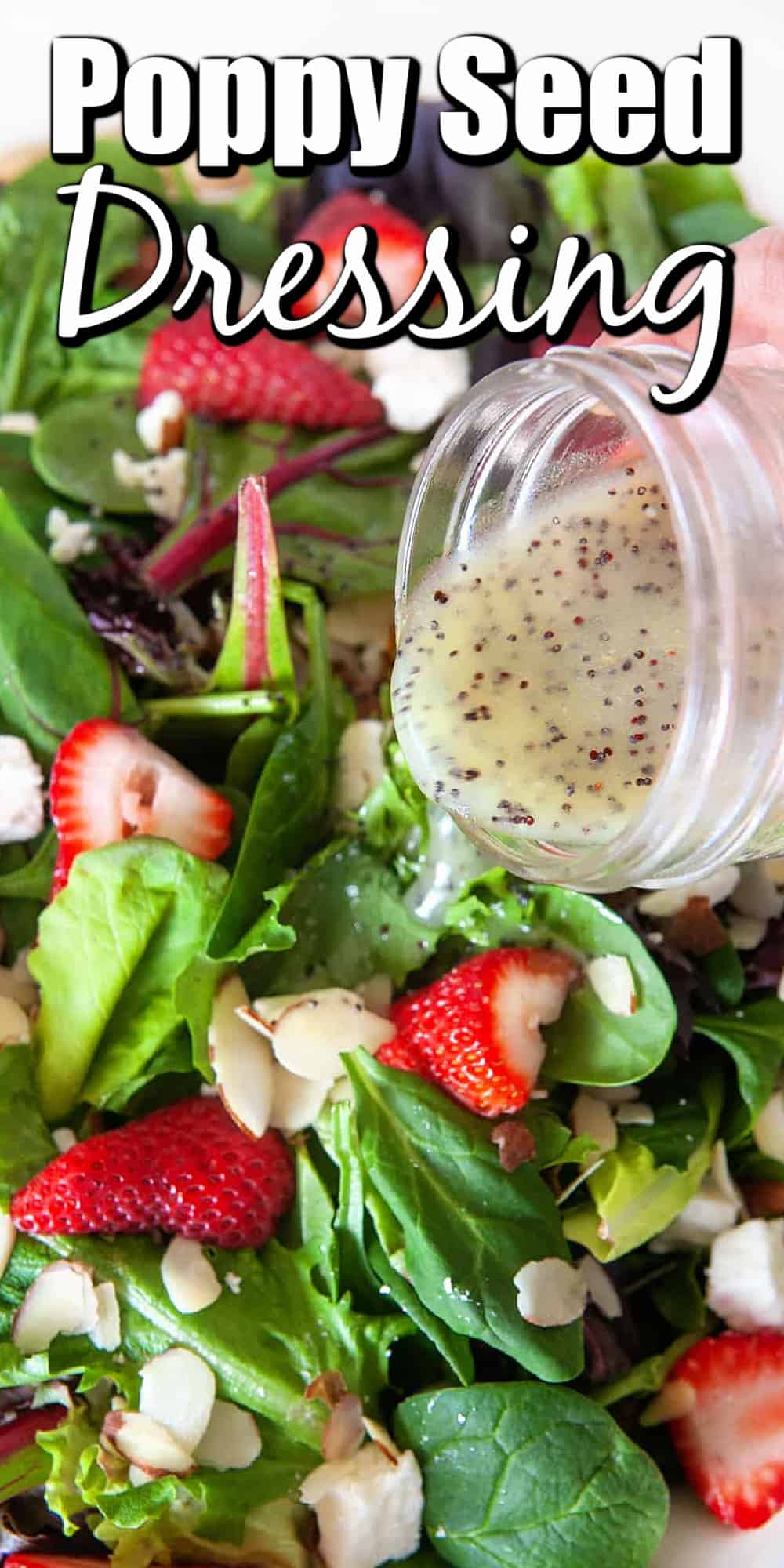 Pin it HERE!!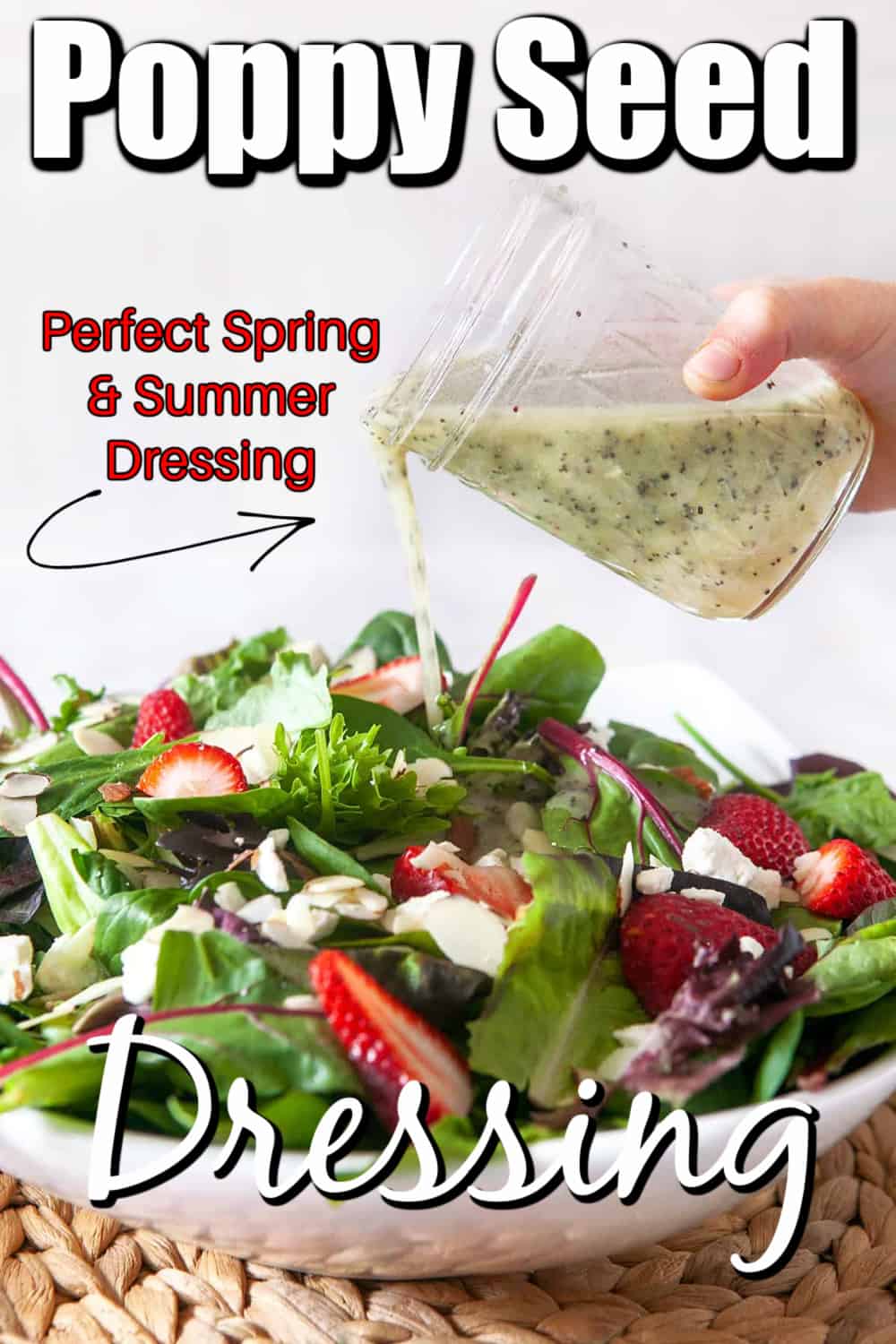 Poppy Seed Dressing
Yield: 1 cup
Prep Time: 10 minutes
Total Time: 10 minutes
This deliciously sweet and tangy homemade Poppy Seed Dressing goes just as well on a kale or spinach salad as it does with a strawberry salad. Perfect for spring and summer dining!
Ingredients
1/4 cup white wine vinegar (or champagne vinegar)
1/4 cup white sugar
1 small shallot
1 tablespoon poppy seeds
pinch of salt
2 teaspoons dijon mustard
2 teaspoons plain Greek yogurt or Mayonnaise
1/2 cup grapeseed oil
Instructions
In a small mason jar, combine the vinegar and sugar. Secure the lid and shake until the sugar is mostly dissolved.
Peel the shallot and then, using a microplane or the smallest holes on a box grater, grate the shallot directly into the vinegar and sugar mixture. Then, add the poppy seeds, salt, mustard, and yogurt. Secure the lid and shake until thoroughly mixed.
Pour in the grapeseed oil (or other neutral flavored oil), then secure the lid and shake until well combined.
Notes
You can store this dressing in the fridge for 2 to 3 weeks. It will separate as it sits in the fridge, so be sure to shake or whisk well before serving.
Recommended Products
As an Amazon Associate and member of other affiliate programs, I earn from qualifying purchases.
Nutrition Information:
Yield: 8
Serving Size: 1 (2 Tbsp)
Amount Per Serving:
Calories: 169
Total Fat: 15g
Saturated Fat: 2g
Trans Fat: 0g
Unsaturated Fat: 13g
Cholesterol: 1mg
Sodium: 63mg
Carbohydrates: 8g
Fiber: 0g
Sugar: 7g
Protein: 1g
Recipe calculation was provided by Nutritionix and is an estimation only. If you need nutritional calculations for medical reasons, please use a source that you trust.