Fresh and simple, this Mandarin Chicken Salad is easy to prepare and will be a crowd-pleaser at your next potluck or bbq party. Some lettuce, some red cabbage, some sliced or shredded chicken, and some mandarins, and you have a delicious summer salad recipe. Also, this is topped with an amazing dressing with an Asian flair, a perfect sweet and tangy addition to this colorful, crunchy salad.
I absolutely love this salad, and it is a great addition to your summer table when grilling these cute skewered potatoes, this yummy marinated spicy tofu, or even this grilled teriyaki pork tenderloin. Since it is a nutritious and wholesome salad, it is also amazing on its own!
Not only do you get your protein, but this salad is also a healthier option for your lunch or side dish! Also, try our Brazilian Chicken Salad (Salpicoa de Frango), Fattoush Salad, or a Summer Spinach Salad for other lovely summer salad options.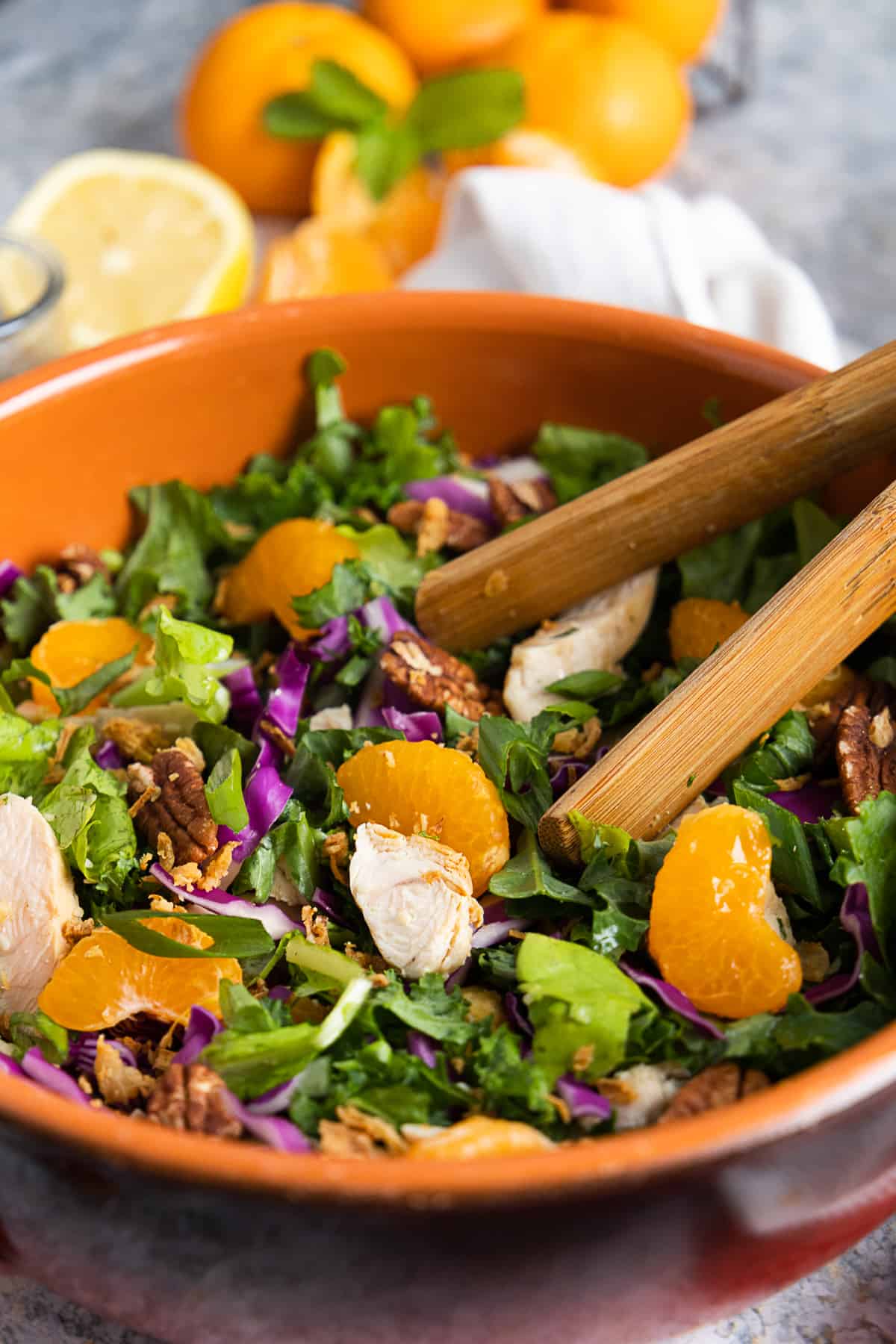 Subscribe To Our Weekly Newsletter
What is in Mandarin Orange Chicken Salad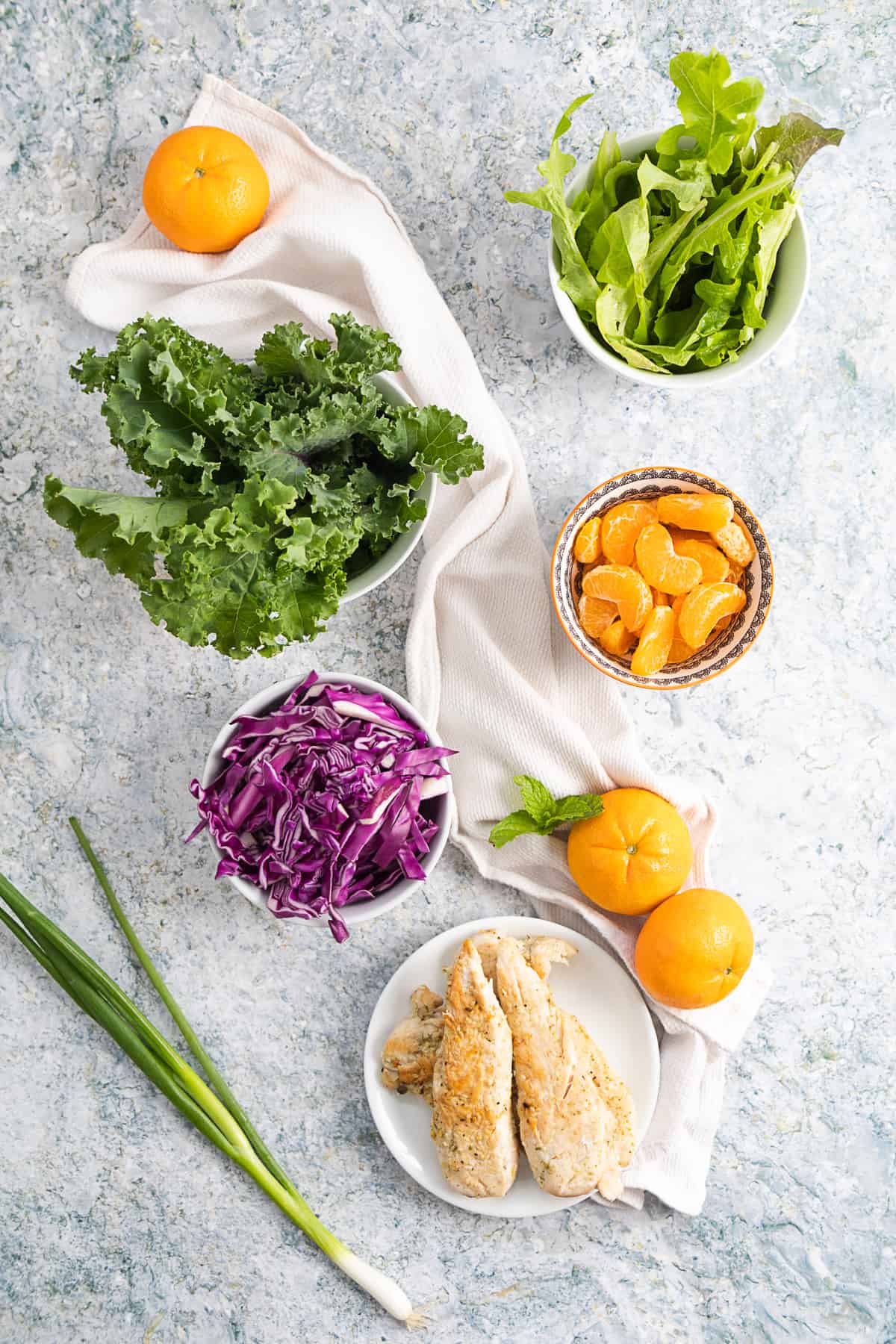 This Chicken Mandarin Orange salad recipe is pretty self-explanatory but also quite versatile. The Asian flair is all in the dressing and makes it quite irresistible once you had the first bite!
Let's review the main ingredients together and give some alternatives depending on your taste. These ingredients are the base, and then you can add some extra for a good crunch.
GREENS: The base of any salad is your green. Here I chose some kale and lettuce to mix the texture. You can use iceberg lettuce, spinach, or arugula too.
RED CABBAGE: This is the best addition for me: red cabbage adds some crunch and vibrant color.
CHICKEN: You can slice some chicken breasts or some leftovers from your rotisserie chicken. Feel free to either shred it or cut it into chunks.
MANDARIN: I used fresh mandarin oranges, but you can also use the canned ones if you wish. They will be sweeter, though. In a pinch, you can also use a whole orange, but the slices will, of course, be bigger.
ADD-ONS:
– Nuts: Sliced almonds or pecans are a yummy crunchy option.
– Crunch: You will love topping with some fried noodles, instant ramen, or fried onions before serving.
– Vegetables: Feel free to add some shredded carrots, white cabbage, or even some thinly sliced cucumber.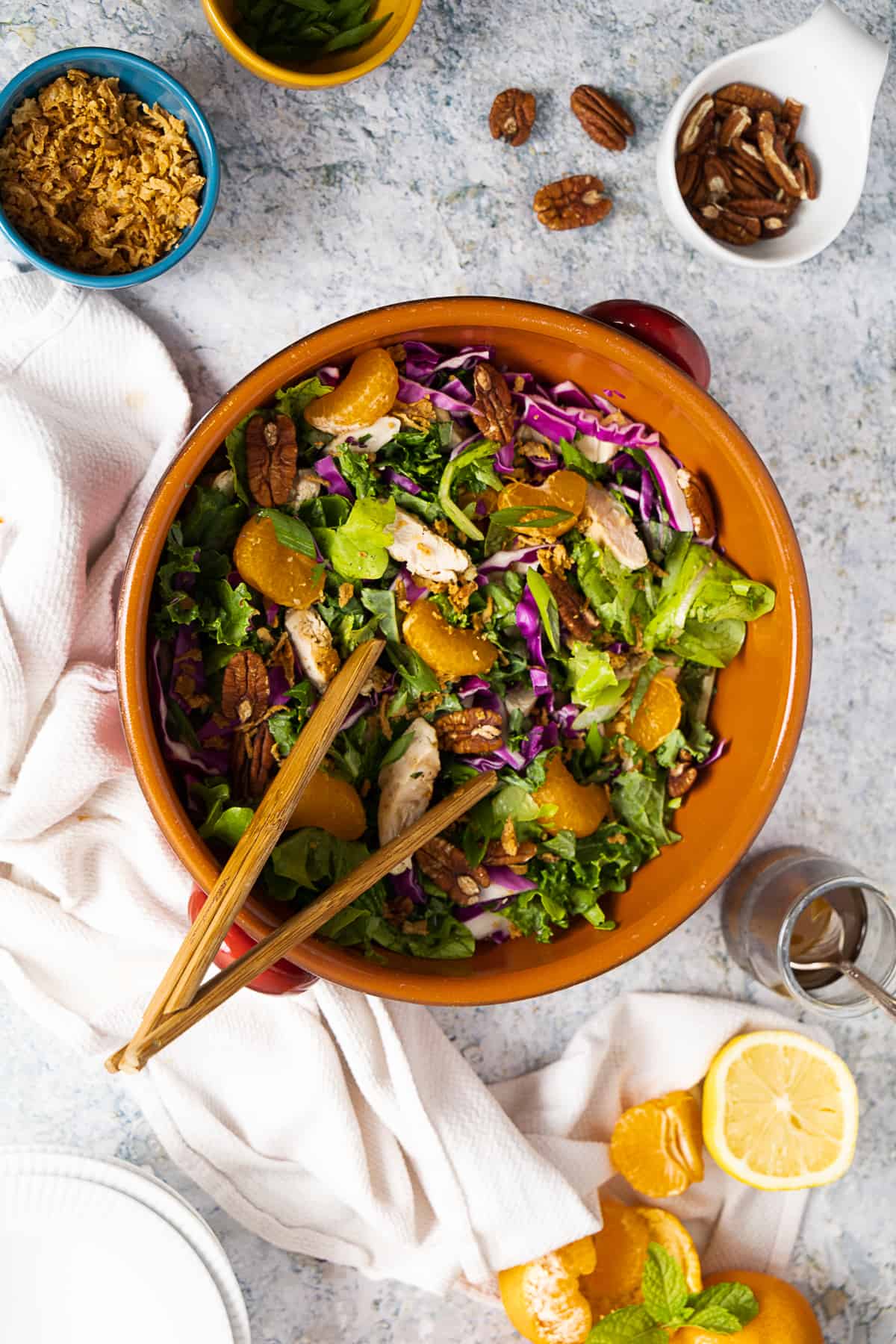 How to Make Mandarin Chicken Salad
Don't you love a super easy and straightforward recipe? This one is! Grab your knife and chopping board and let's prepare it.
First, make sure all your vegetables and salad greens are washed. Then, chop the kale, the red cabbage, and the chicken. Also, peel the sweet mandarins.
Now, in a large bowl, put all the ingredients in and toss. This part is done. Let's make the salad dressing now!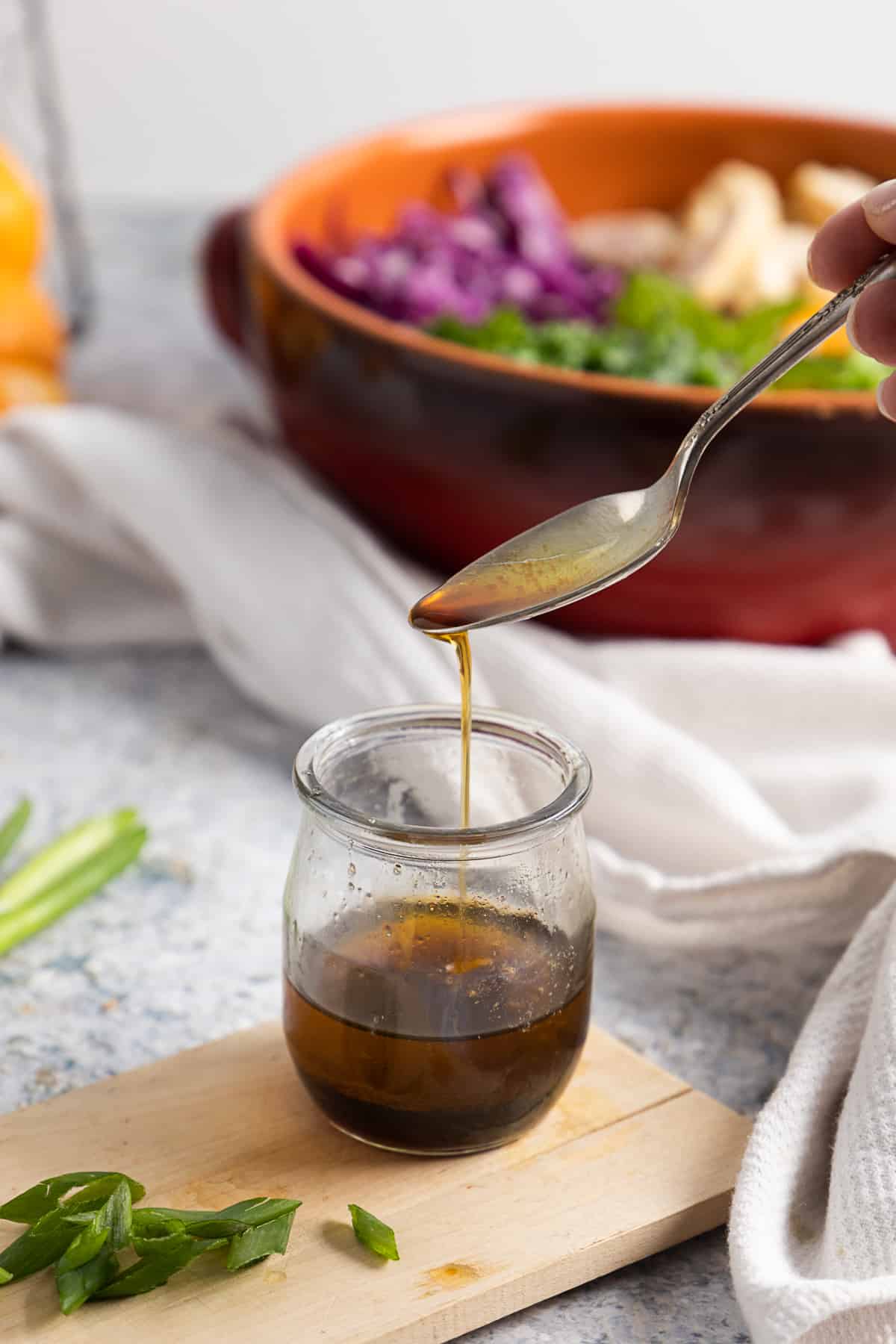 How to Make Mandarin Chicken Salad Dressing
The dressing ingredients might be in your pantry if you cook Chinese food or more general Asian foods. You will need:
– olive oil
– rice vinegar
– soy sauce
– sesame oil
– brown sugar
Simply whisk these ingredients and add some salt and pour it on your salad with chicken. Do another good bowl toss, and it is now ready to serve. How easy was it?
Optional: you can squeeze some lemon juice for a little citrus flavor which is a fantastic match with the mandarin.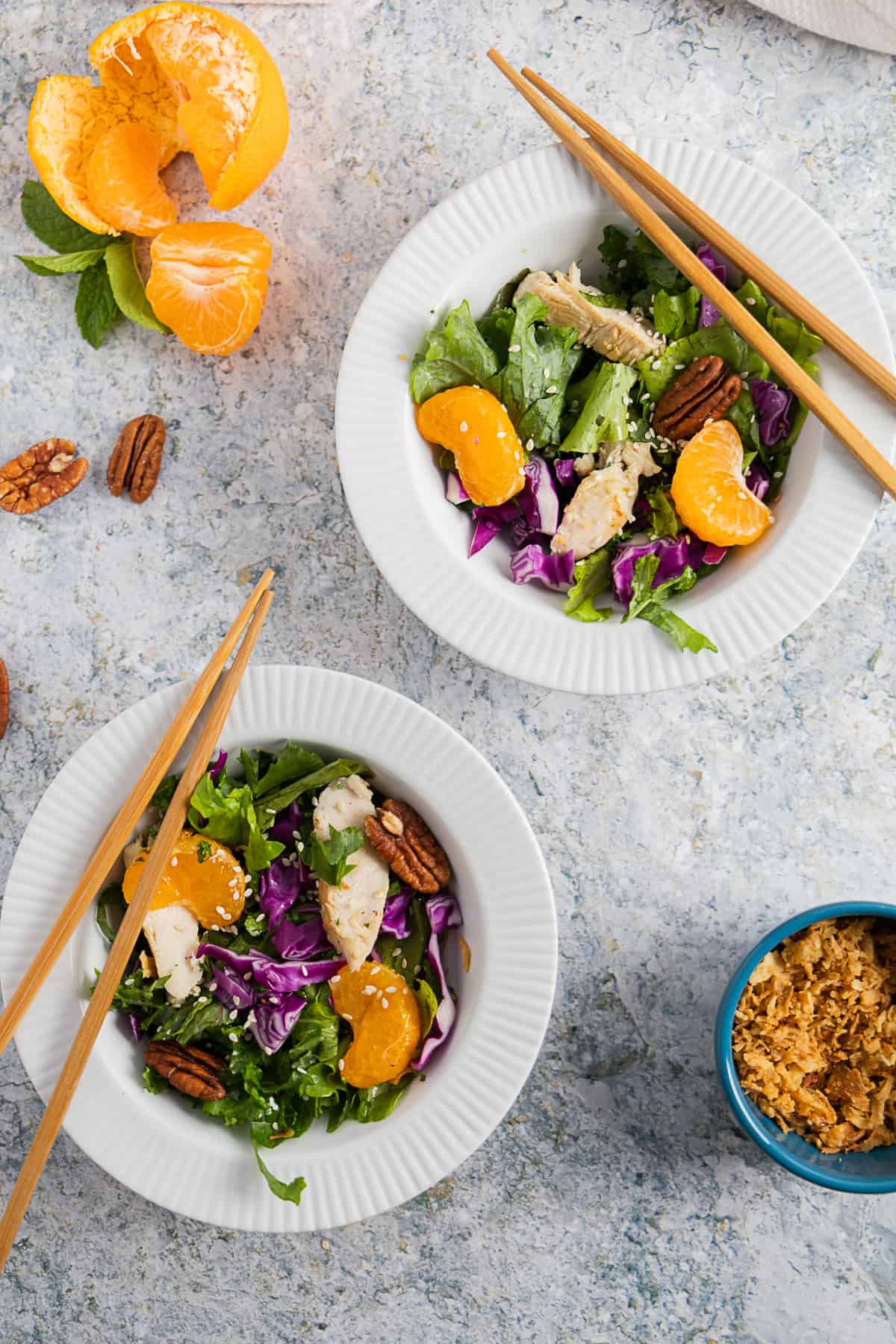 More Delicious Toppings
Although these topping ideas can apply to any salad recipe, here is more for this recipe:
More fruits: chunks of pineapple, strawberry, pieces of mango, or grapes.
Onions and such: I added green onions to mine, but thinly sliced purple onions are delicious. Moreover, chives or shallots are a great option.
Seeds: If you want to stay on the Asian theme, sprinkle some sesame seeds before serving. If you don't have any, pumpkin or sunflower seeds will do just fine on your salad bowl.
Nuts: Add your favorites, I'm partial to almond and pecan, but walnut or peanut would be great too!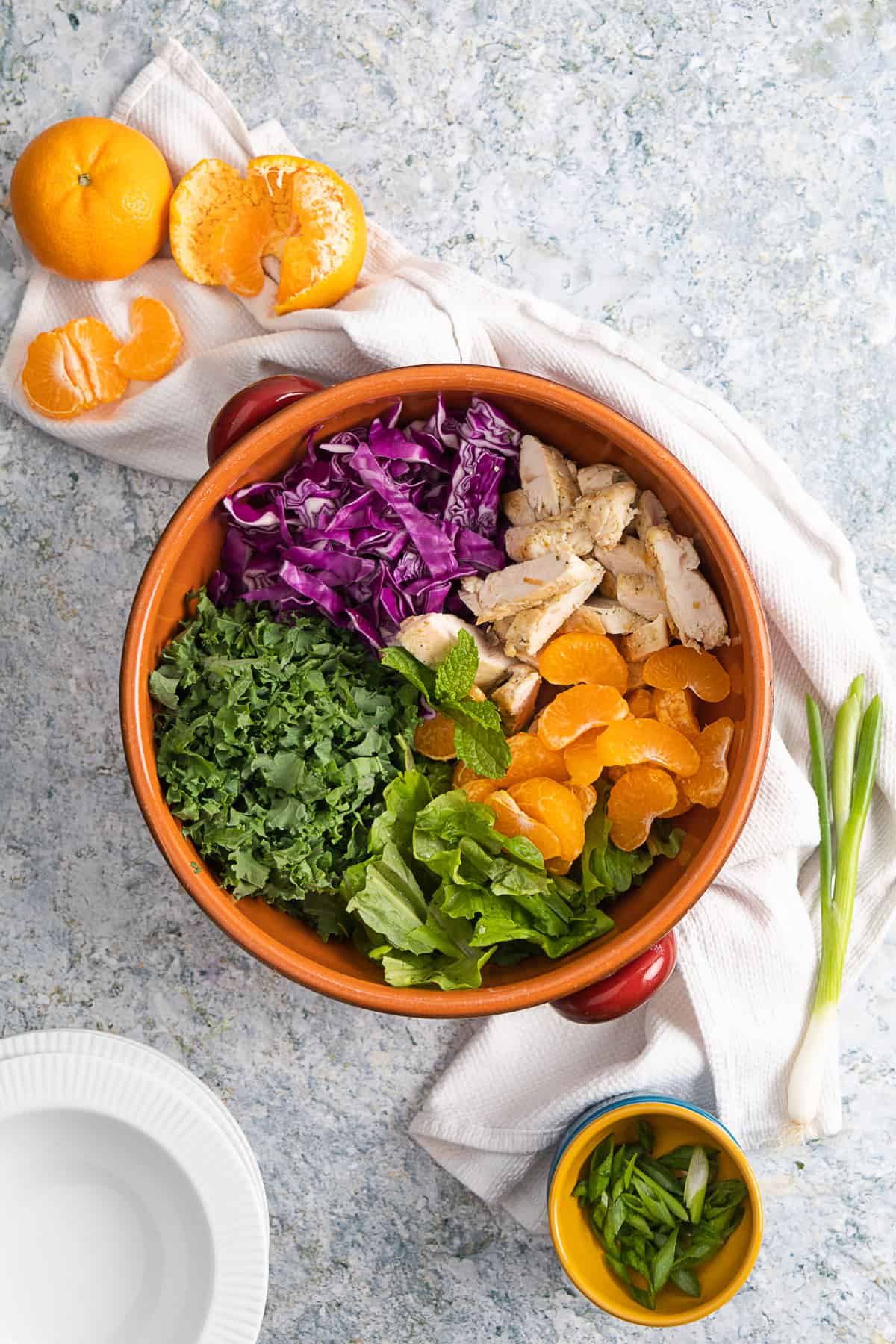 How To Eat This Mandarin Chicken Salad
This dish is so versatile and can be eaten in so many different ways:
– As a meal: it has everything from the meat to the vegetables
– As a side dish: perfect during the barbecue season
– For a potluck: this is a crowd-pleaser, and the beautiful colors make it irresistible.
– Picnic: Pack it for your next bike ride or hike. This is a delicious and nutritious salad.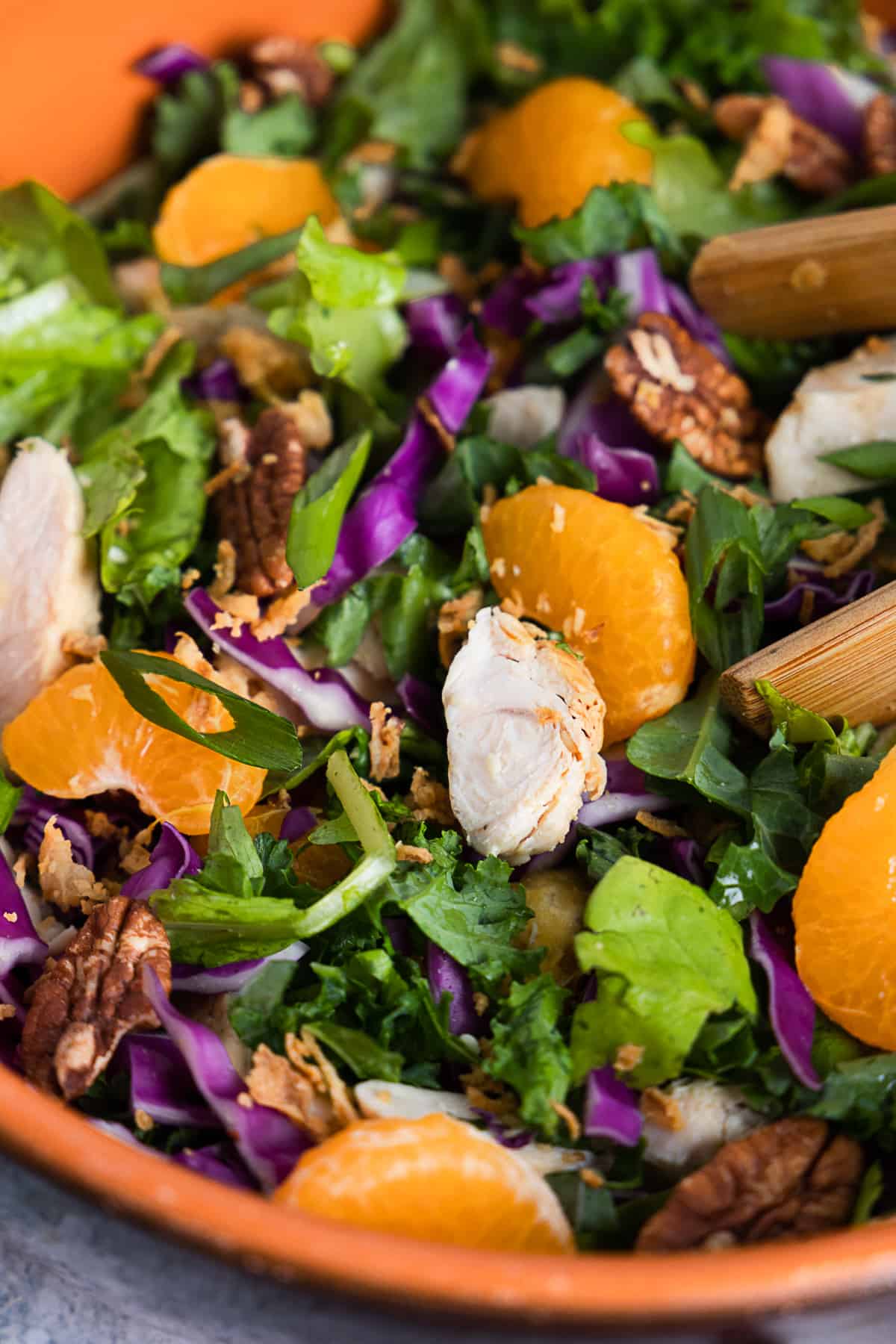 Tips For This Chicken Salad
Vegetarian option: If you are bringing this mandarin salad to a potluck, consider putting the chicken aside as a topping in case there are some vegetarians. You don't want them to miss this deliciousness! You can also have a grilled tofu option on the side.
No chicken? No problem. You can use leftover pork, turkey, or even glazed ham. You can adapt it with what you have on hand.
Storing: You can keep it refrigerated for 2-3 days in an air-tight container but without the dressing in it. If already seasoned, it would not keep longer than 24 hours to keep the crunchiness and freshness of the salad.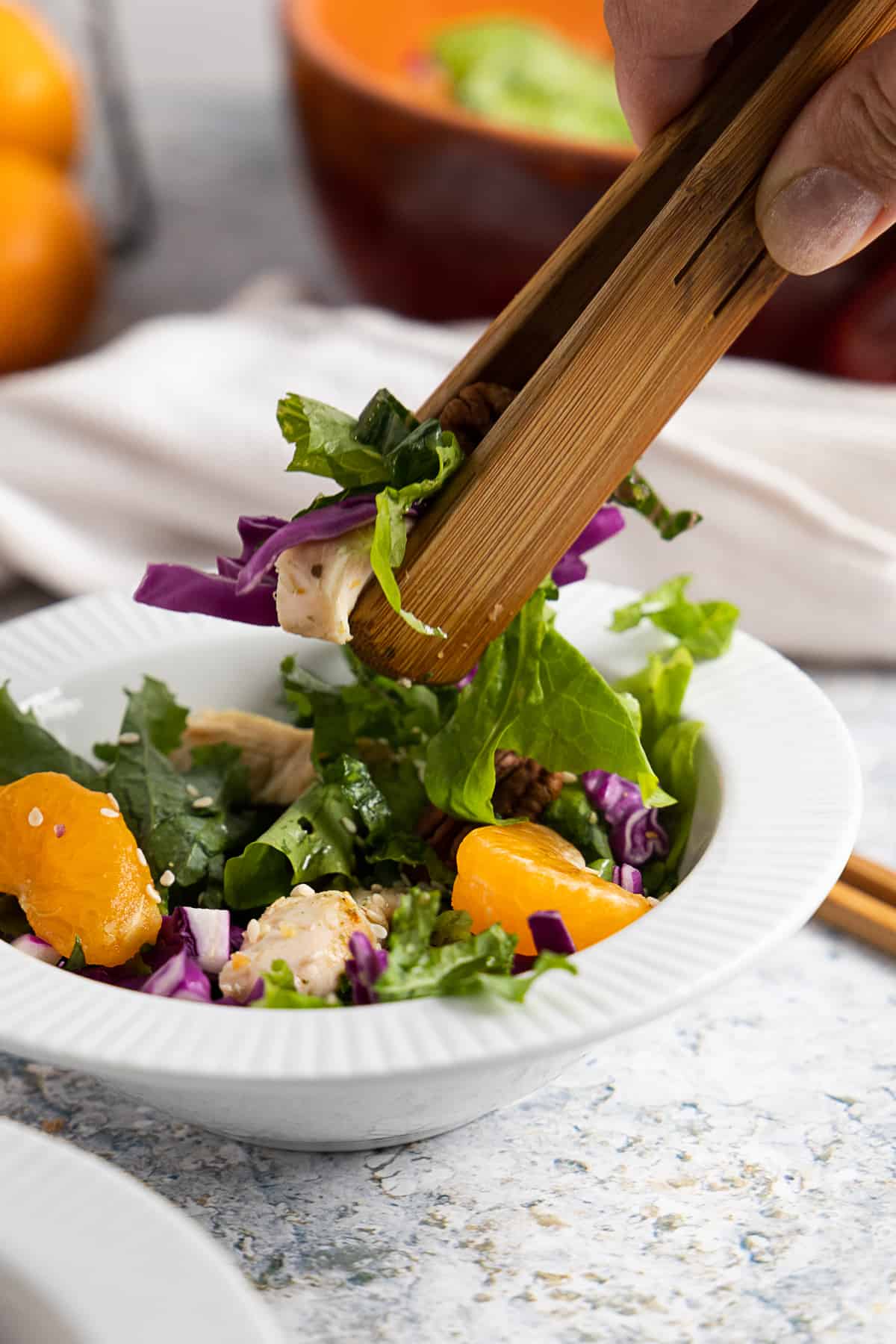 More Delicious Salads
Do you want more delicious salads for summer or anytime? We love creative salads as a meal or as a side dish. Here are a few of our best picks for salads we love.
Totally in the same theme, you would love this copycat Wendy pecan chicken salad or this Asian-inspired cucumber salad.
If you liked the mandarin in your salad, you will love this winter citrus salad. Also, have you tried this Asian noodle summertime salad?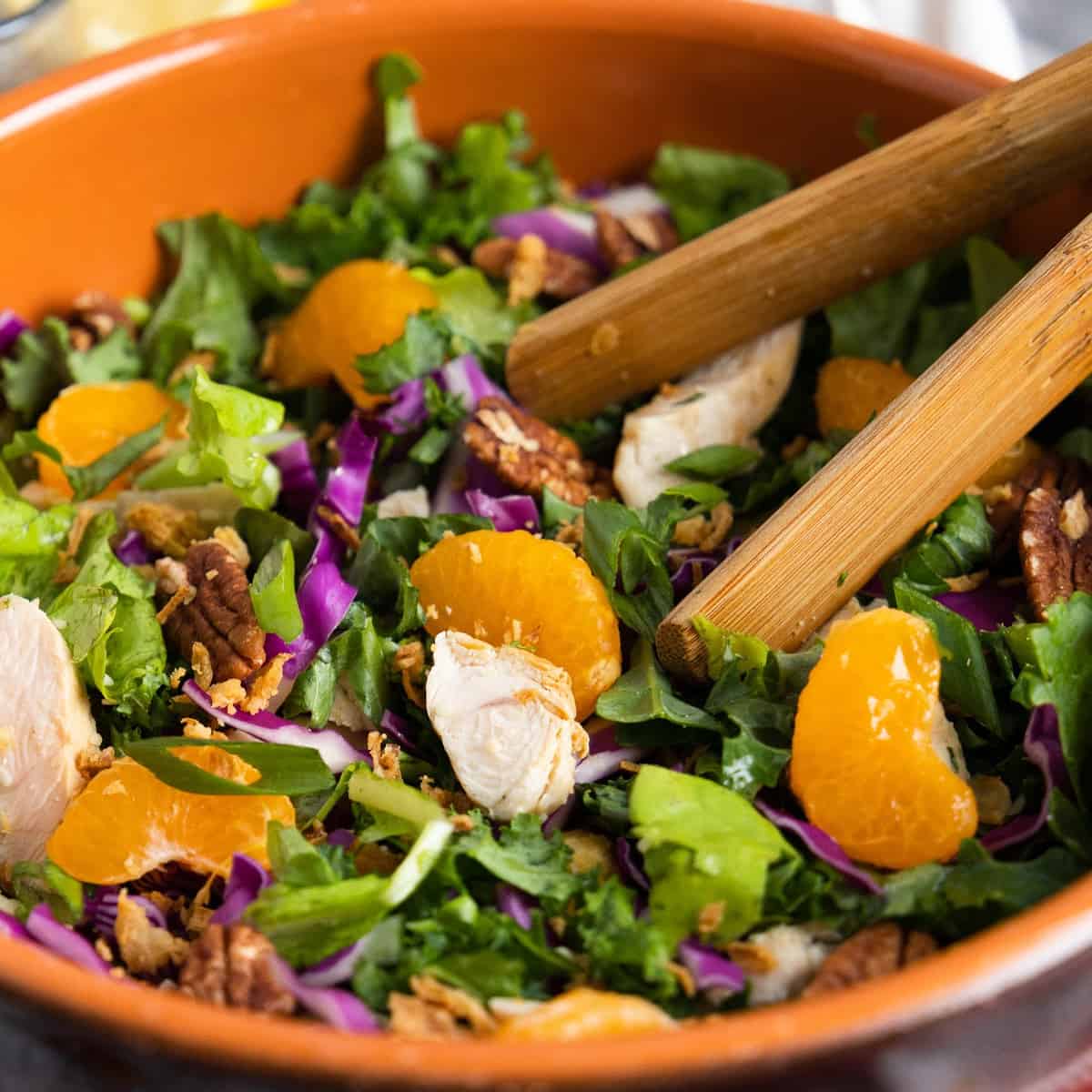 Pin it HERE!!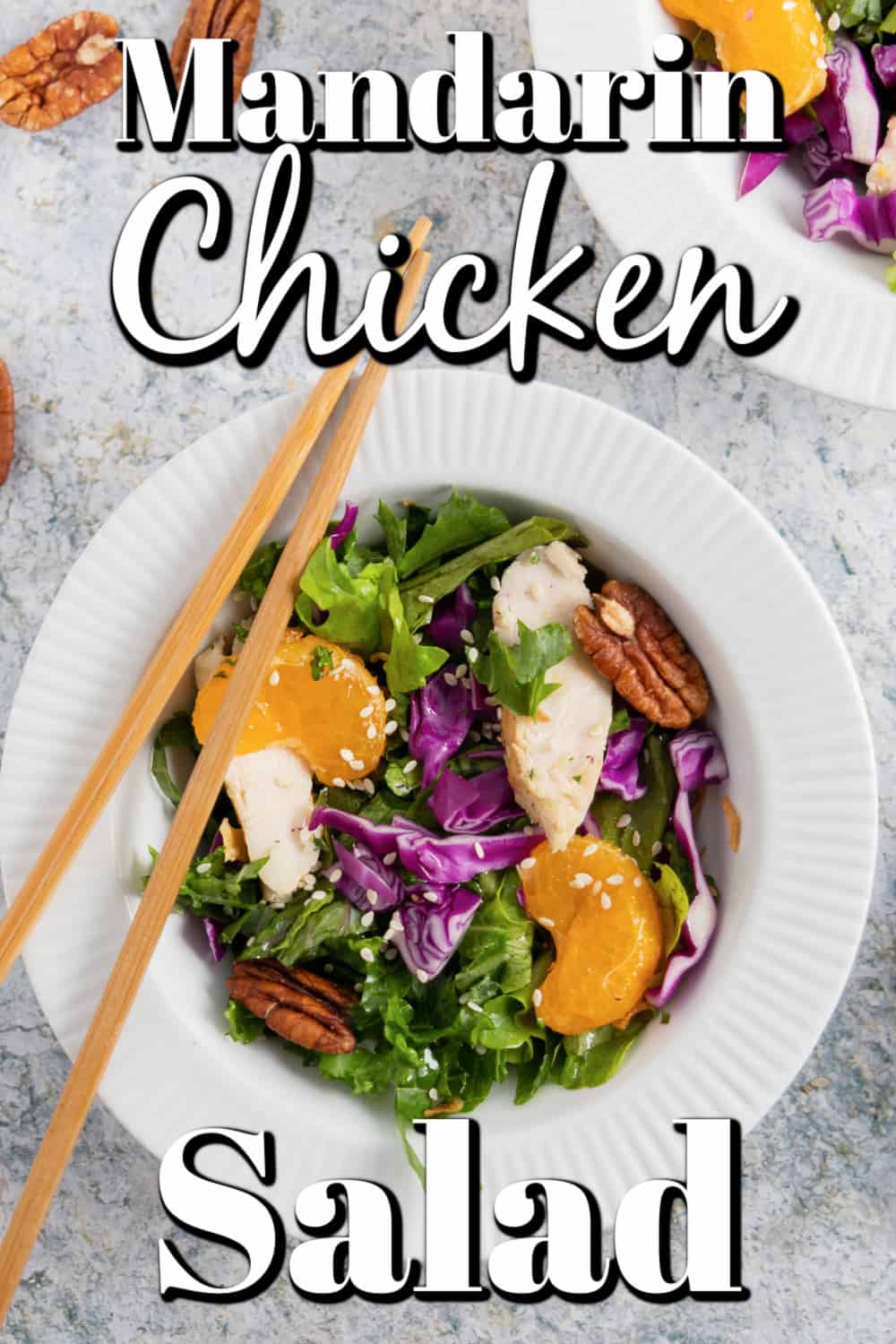 Pin it HERE!!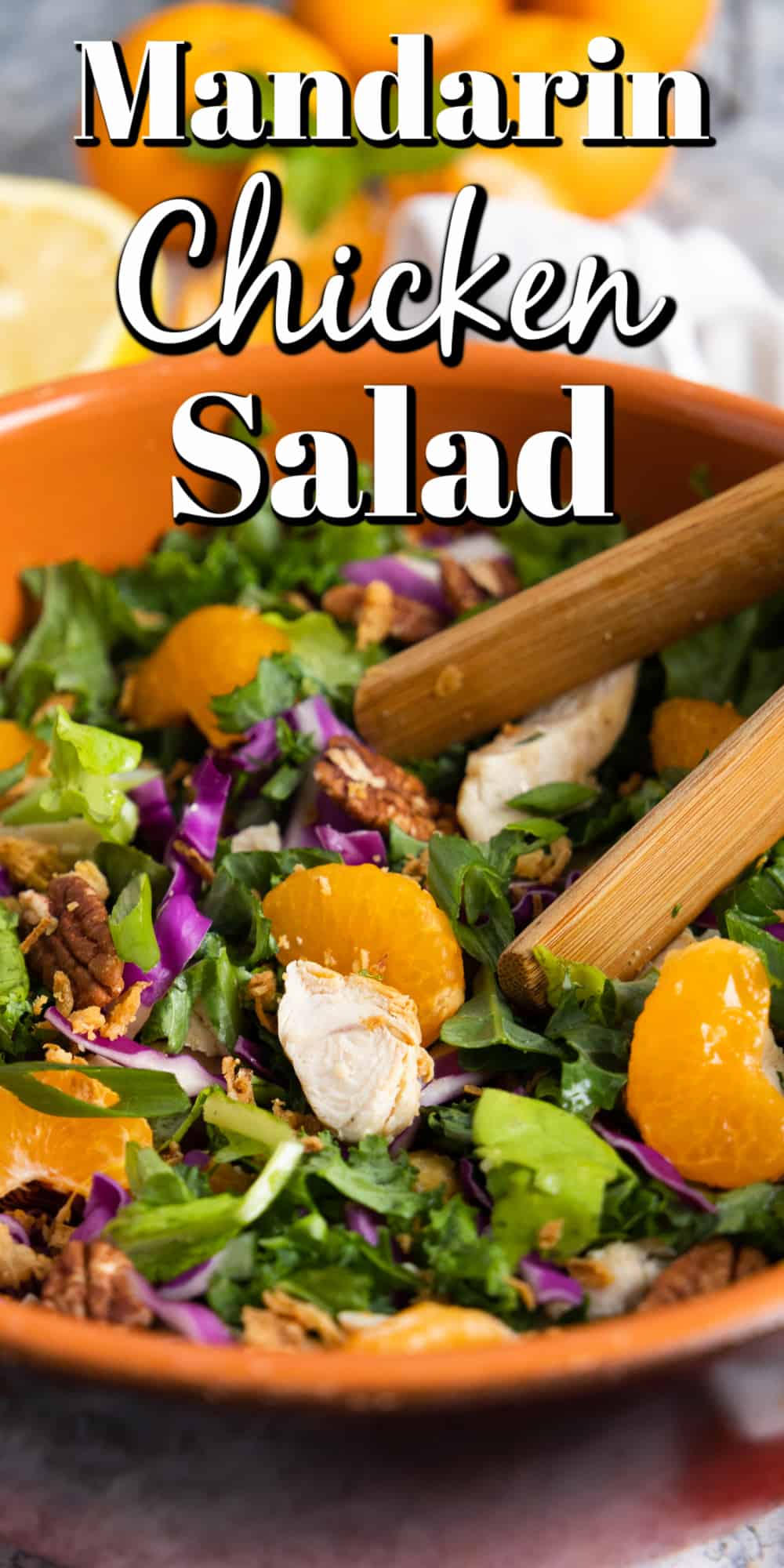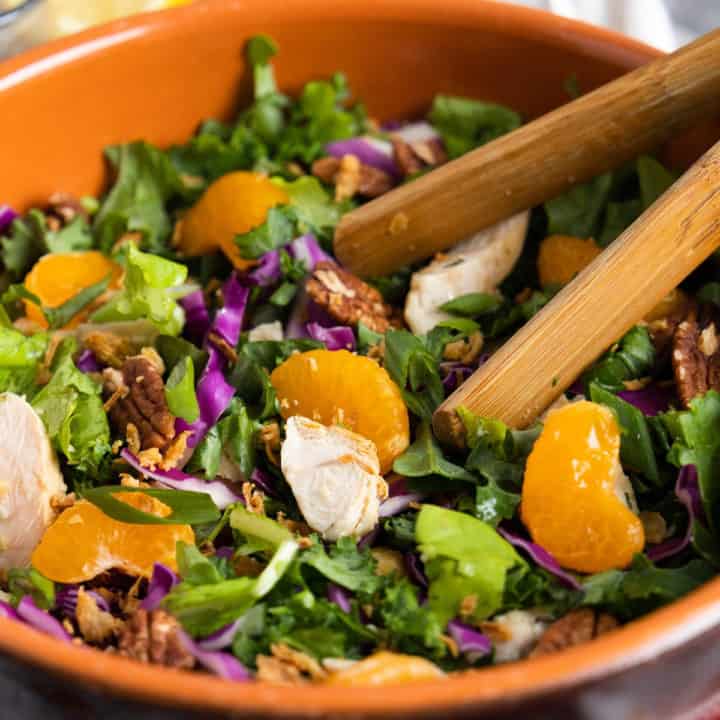 Mandarin Chicken Salad
Yield: 6 portions
Prep Time: 20 minutes
Total Time: 20 minutes
Fresh and simple, this Mandarin Chicken Salad is easy to prepare. Topped with a sweet and tangy dressing, this is a delicious summer salad.
Ingredients
Salad ingredients
1 cup of kale
1 cup of red cabbage
1 cup of lettuce
1 cup of chicken, cooked
2 mandarins or one small can of mandarins drained
Dressing Ingredients
4 tbsp olive oil
1 tsp rice vinegar
2 tsp soy sauce
1 tsp sesame oil
3 tsp brown sugar
Toppings
1/2 cup pecans
1/2 cup fried onions
Instructions
Wash all vegetables and salad greens
Using a knife and chopping board, chop the kale, the red cabbage, and the chicken.
Peel the sweet mandarins and set them aside.
In a large bowl, put all the ingredients and toss. Set aside.
In a small bowl, pour the dressing ingredients and whisk.
Pour the dressing on the salad, toss well and serve!
Recommended Products
As an Amazon Associate and member of other affiliate programs, I earn from qualifying purchases.
10-Pairs Wooden Chopsticks, Dishwasher Safe Chopstick,ReusableNatural Healthy, Chinese Classic Style for Kitchen, Dining Room, Gourmet, Noodles (9.8 Inch)

Large Wooden Bamboo Salad Bowl Set with Wooden Salad Spoon & Fork, Wooden Salad Bowl for Salad, BBQ's, Chips, Snacks & Popcorn - Salad Bowl
Nutrition Information:
Yield: 6
Serving Size: 1
Amount Per Serving:
Calories: 248
Total Fat: 21g
Saturated Fat: 3g
Trans Fat: 0g
Unsaturated Fat: 17g
Cholesterol: 21mg
Sodium: 184mg
Carbohydrates: 10g
Fiber: 2g
Sugar: 4g
Protein: 8g
Recipe calculation was provided by Nutritionix and is an estimation only. If you need nutritional calculations for medical reasons, please use a source that you trust.