This amazingly delicious Best Spinach Cheese Manicotti recipe is the comfort food you need in your life! A vegetarian pasta dish is always a great idea as long as it is cheesy!
Make these amazing stuffed manicotti shells with a mix of ricotta cheese and spinach topped and baked in your favorite marinara sauce and mozzarella cheese. So yummy!
This is a great option for a delicious Italian dish with friends during the weekend or a potluck, but it is also an easy recipe to make on a weekday. Above all, this is a great make-ahead or freezer meal. If you are a pasta lover then enjoy a delicious vegetarian lasagna, stuffed pasta shells, homemade hamburger helper, linguine alfredo, or ground beef stroganoff you surely will appreciate all this cheese manicotti dish has to offer.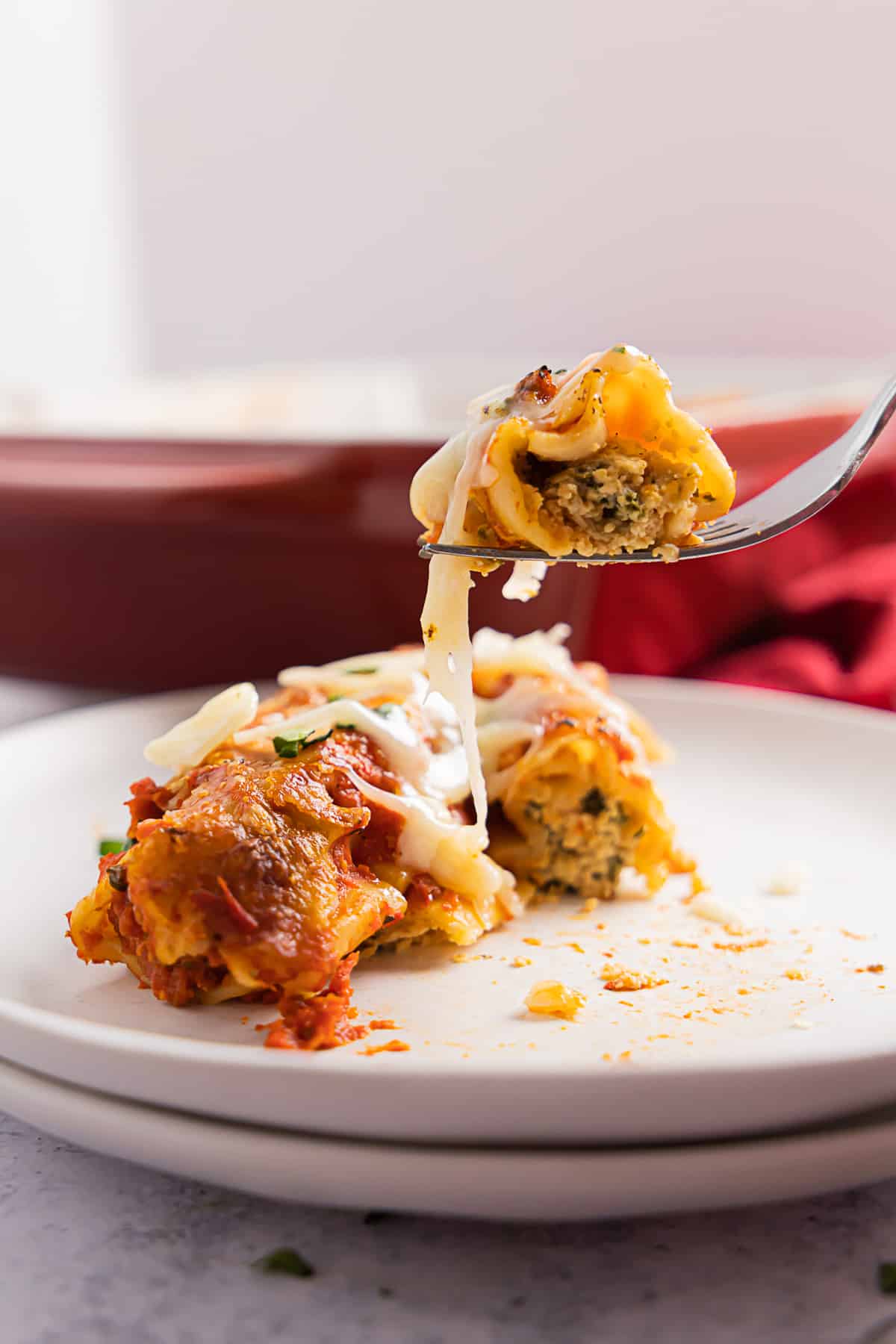 Helpful Items for This Recipe
This post contains affiliate links. As an Amazon Associate, I earn a small portion from qualifying purchases at no extra charge for you.
9×13″ Ceramic Baking Pan – Turquoise
What is Cheese Manicotti?
Manicotti is a kind of pasta. It looks like a tube, and it is meant to be stuffed while baked in the oven. Spinach and cheese manicotti is a classic version of this Italian dish, while the 3 cheese manicotti is also a very popular option. You can find ridged or smooth tubes. The results will be the same; the size might slightly change.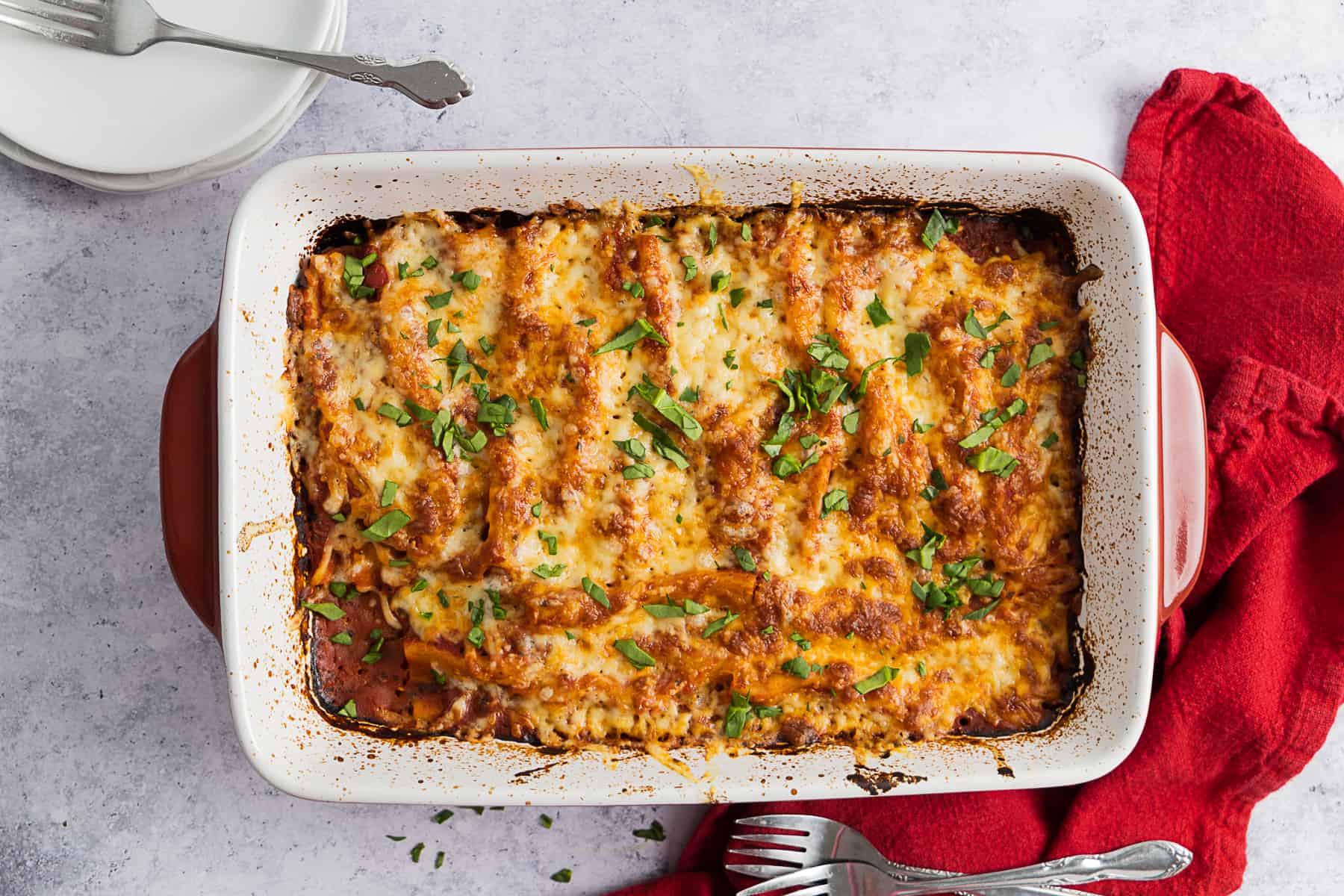 How To Prepare The Manicotti?
What you need
You don't need a lot of ingredients for this recipe, and you can adapt and switch things around as you wish:

The manicotti: You will find them in your regular pasta aisle, generally close to the lasagna sheets.
The stuffing requires an onion, some garlic, ricotta, spinach, and eggs.
Other ideas: Minced mushrooms, ground meat, or more cheeses such as a cup of mozzarella cheese or a cup of Parmesan!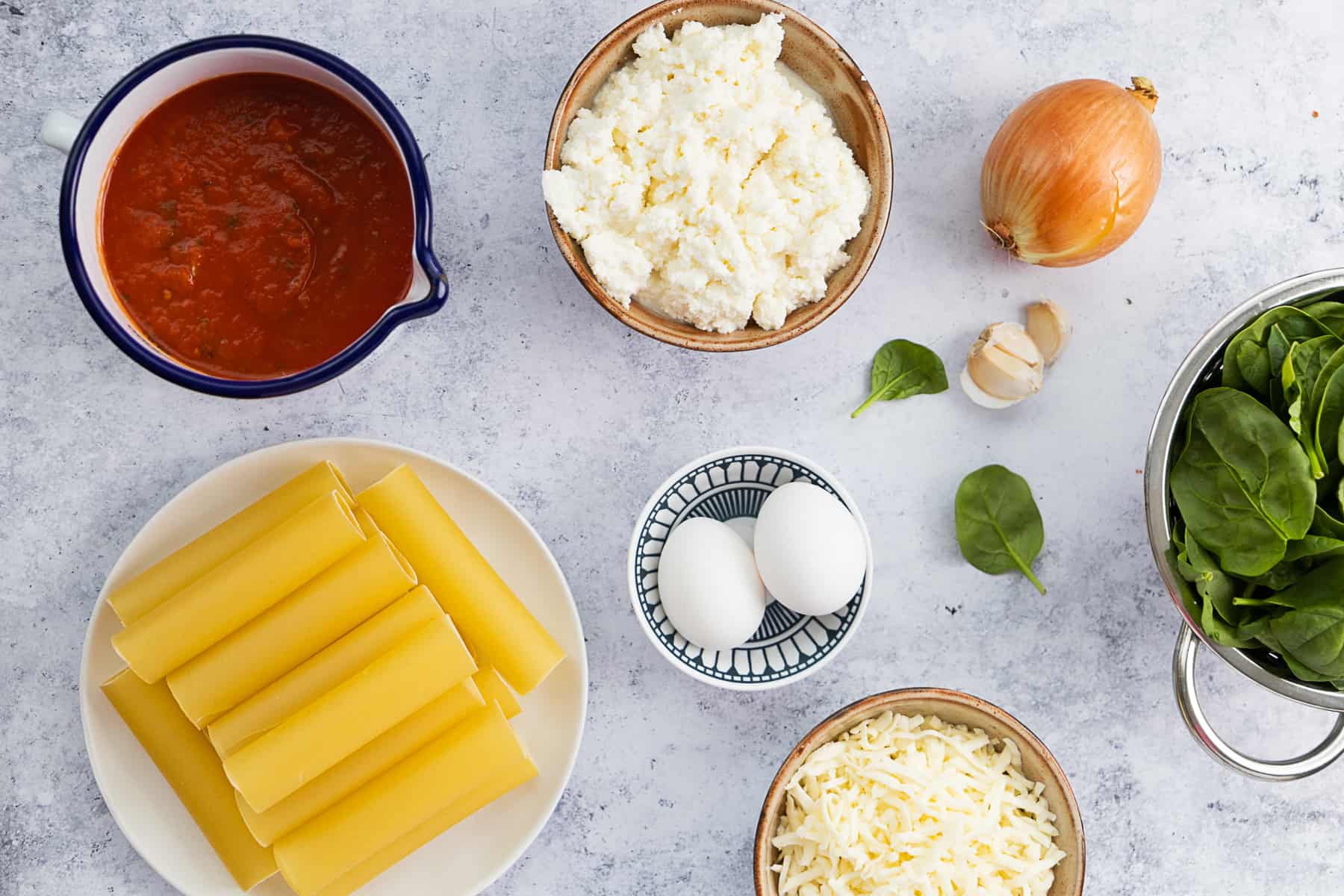 The sauce: Use your favorite marinara tomato sauce or make your own.
TIP: If you are in a rush and don't have marinara sauce, mix plain tomato sauce with some herbs and garlic salt.
Also, you will need a big baking dish, I used my 9 x 13 inches and it worked really well. If you use a bigger one to make 2 rows of manicotti shells, you might need to up a little the marinara sauce.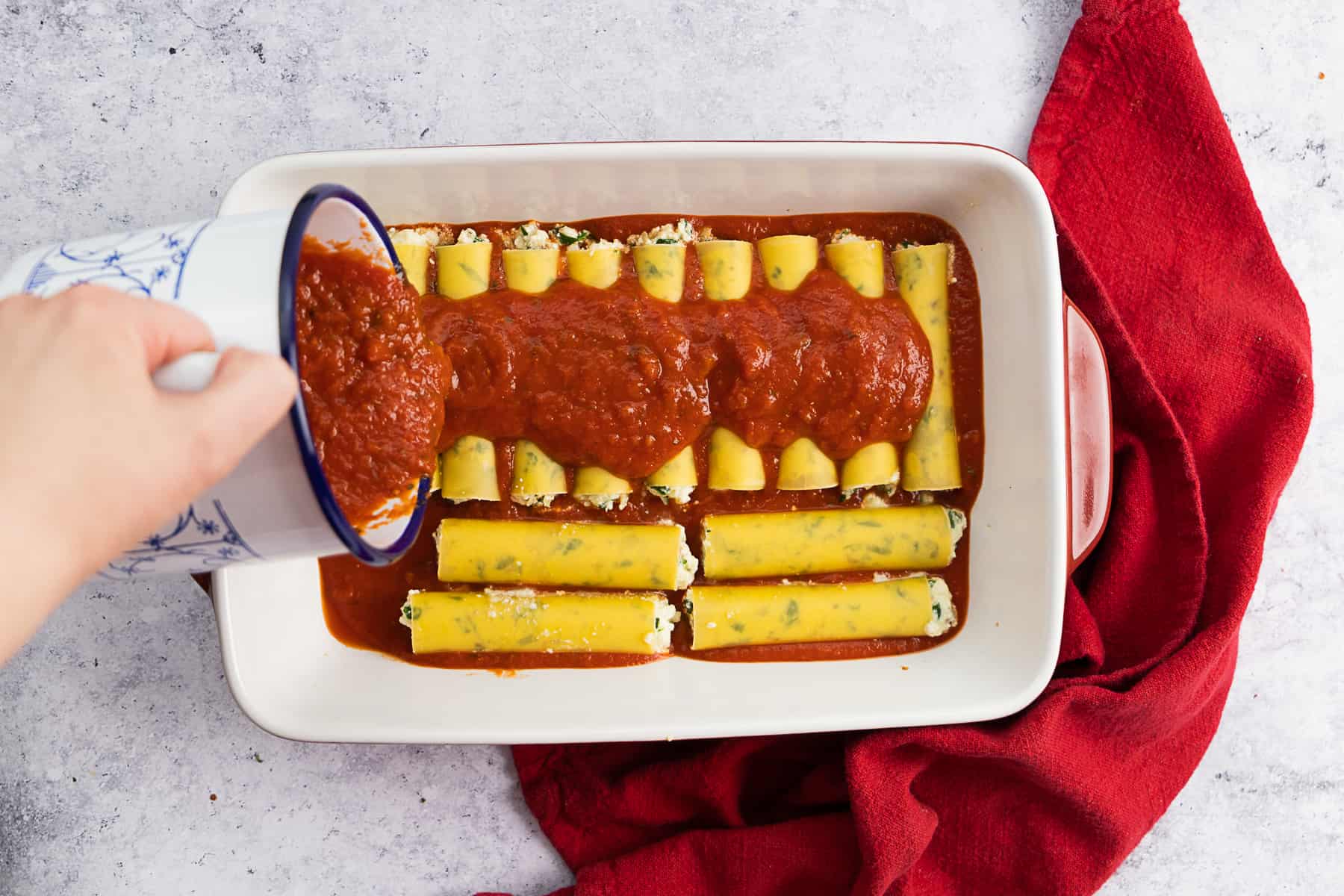 Get cooking
First, chop your onion, garlic cloves, and spinach. Sauté them in a hot pan with a drizzle of olive oil.
In a large pot, pour the sautéed ingredients, the ricotta, eggs, and 1 cup of the mozzarella cheese. Stir well until all the ingredients are incorporated.
Now, preheat the oven, get your baking dish out along with your manicotti noodles and marinara sauce. Spread some of the marinara sauce at the bottom of the baking dish. Next, using a baking or freezer bag with a corner cut, pipe the shell with the cheese mixture, and place them in the marinara sauce. Repeat until done.
Then, top with remaining sauce. You can sprinkle some oregano on the sauce. I love the combo!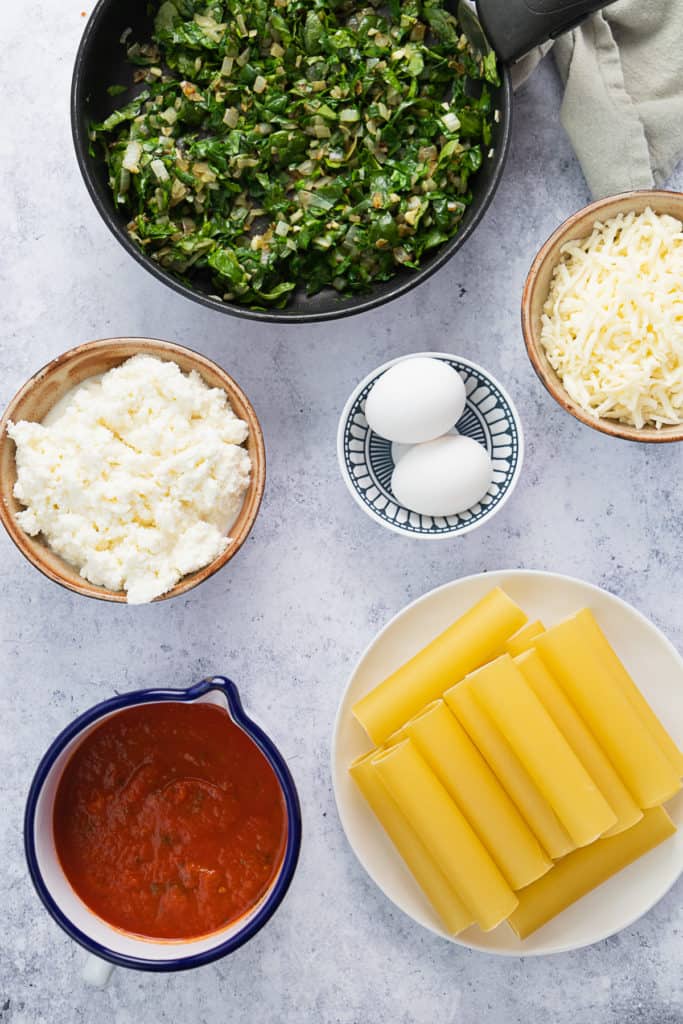 The baking part will happen in 2 steps: 30 minutes covered with aluminum foil, it will allow cooking the manicotti and another 15 minutes uncovered but topped with all the cheese left. Garnish with fresh basil and serve.
What's The Difference Between Manicotti and Stuffed Shells?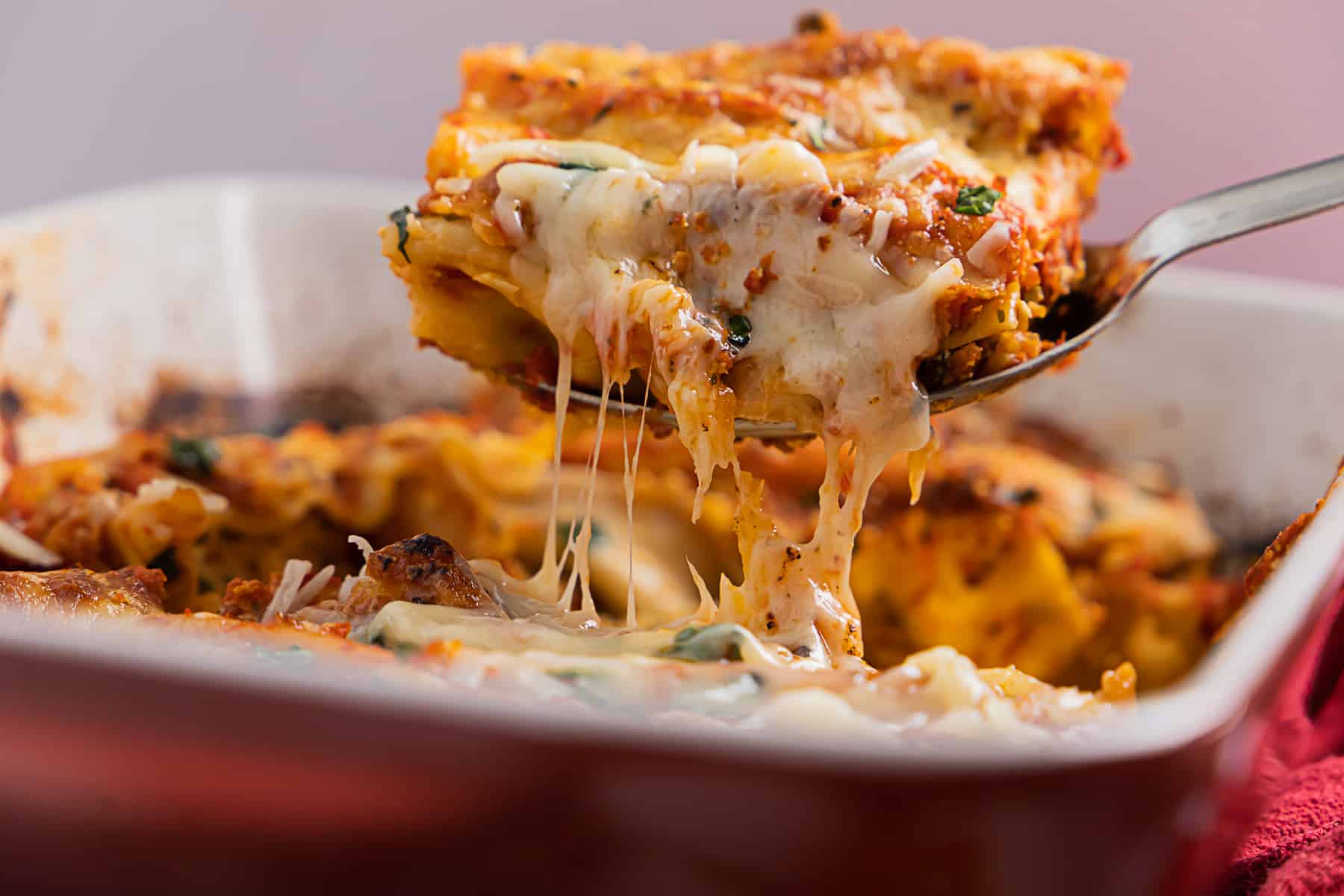 The difference between manicotti and any other stuffed shells is really just the shape. Above all, it remains pasta.
This recipe could be adapted with lasagna noodles or seashell pasta. The baking time might need to be adapted, but if in doubt, put the tip of a knife in a noodle, and if it feels hard, it needs more time.
What is the Difference Between Manicotti and Cannelloni?
These two kinds of pasta are very similar. Manicotti is an Americanized version of cannelloni. Manicotti is usually ridged on the outside, while cannelloni is smooth. Both can be confused for each other as the differences are minimal.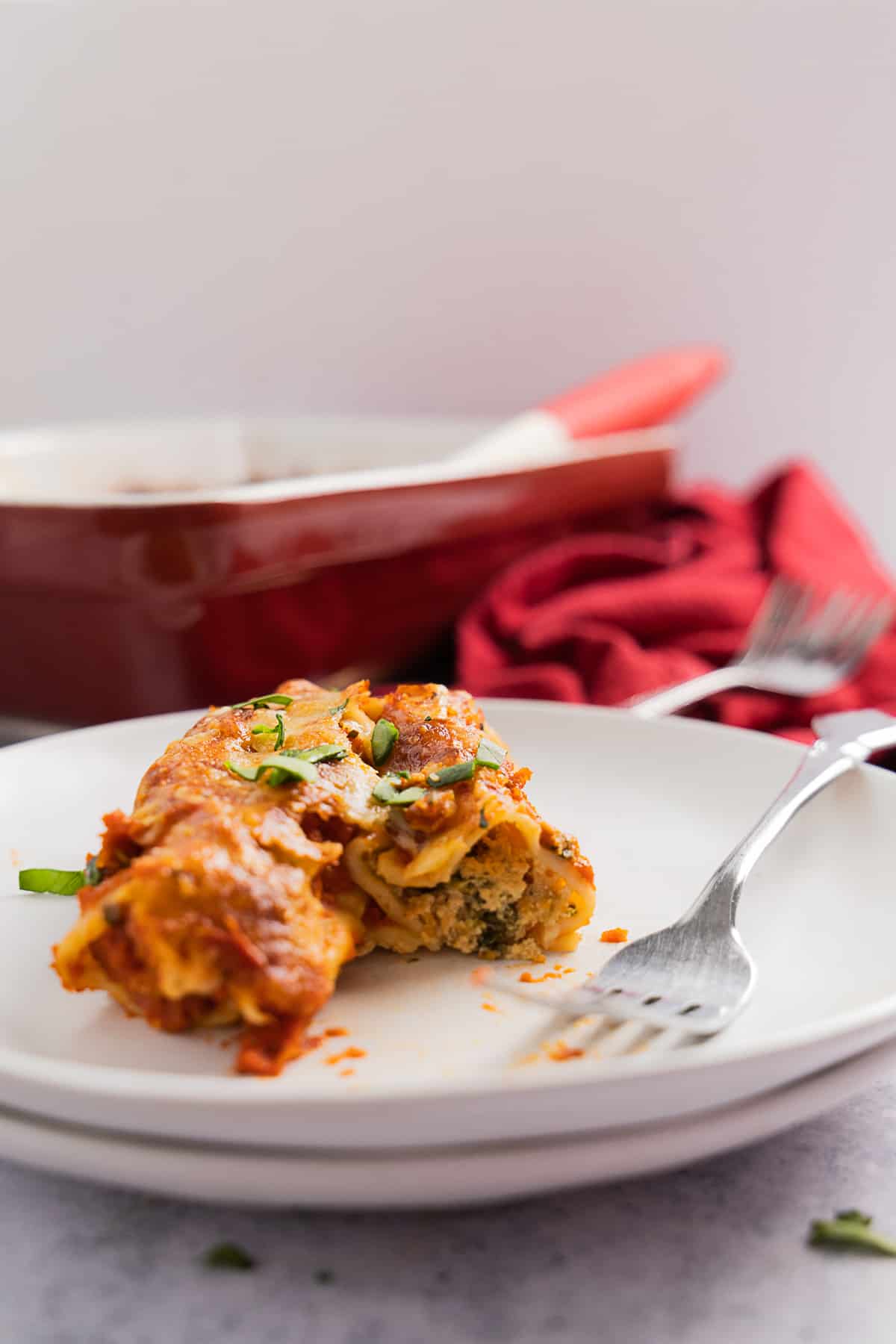 What goes well with manicotti?
A delicious green salad is the best combo to a pasta dish, and this one is no exception. Try to pair it with a classic caesar salad or a citrus salad.
Also, you can serve it with a side of roasted asparagus or some steamed vegetables of your choice. That would be a great option too.
Lastly, don't forget that you can't go wrong with bread on a table, and these sourdough dinner rolls would surely steal the fame at dinner time!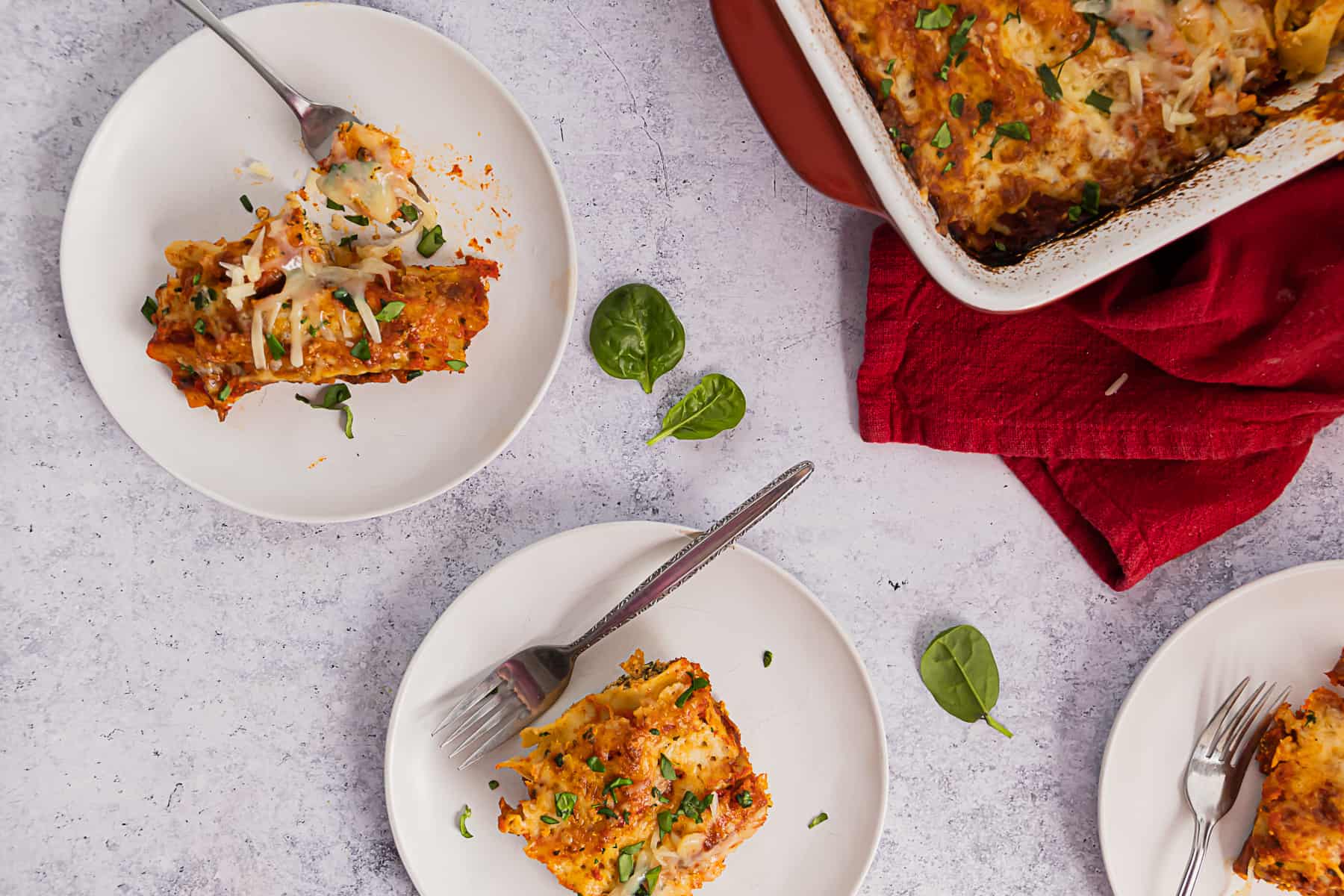 Cooking Manicotti FAQ
Can I Use Frozen Spinach? Absolutely, however, make sure to thaw and drain them well to get rid of the moisture.
What Can I Substitute For Ricotta Cheese In Manicotti? If you don't like it or can't find ricotta, you can change it for cottage cheese. The consistency is very similar. It is mostly a matter of taste!
Do You Have To Boil Manicotti Before Stuffing? No, you need to make sure to buy "oven-ready" pasta, and they will reach their al dente while cooking in the marinara sauce.
What Kind of Cheese Is In Manicotti? These manicotti have ricotta and mozzarella cheese. However, you can add some Parmesan cheese instead or as an addition. The cheesier, the better. I love using mozzarella to get the cheese pulls!
Can You Make It Ahead And Do You Cook Frozen Cheese Manicotti? The beauty of this dish is that you can easily make a double batch and freeze one for later. You can either freeze uncooked, and in that case, you would need to add an extra 30 minutes of covered baking. I would not recommend thawing first, as the ricotta might release some moisture.

Also, you can freeze the cheese manicotti already cooked (or the leftovers) and simply thaw them overnight in the fridge and warm it up in the microwave. Baking it again in the oven might dry out the shell of the pasta.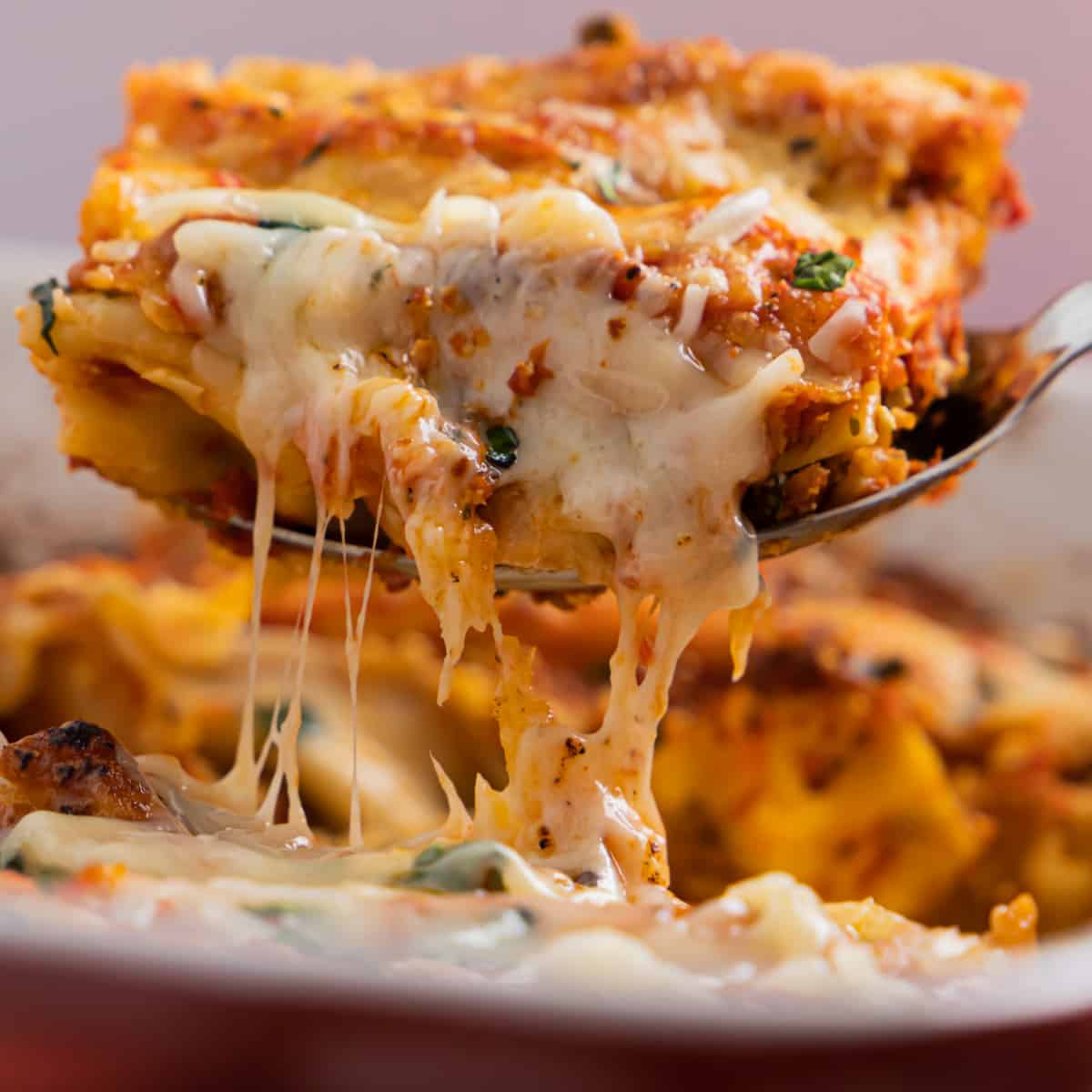 Pin it HERE!!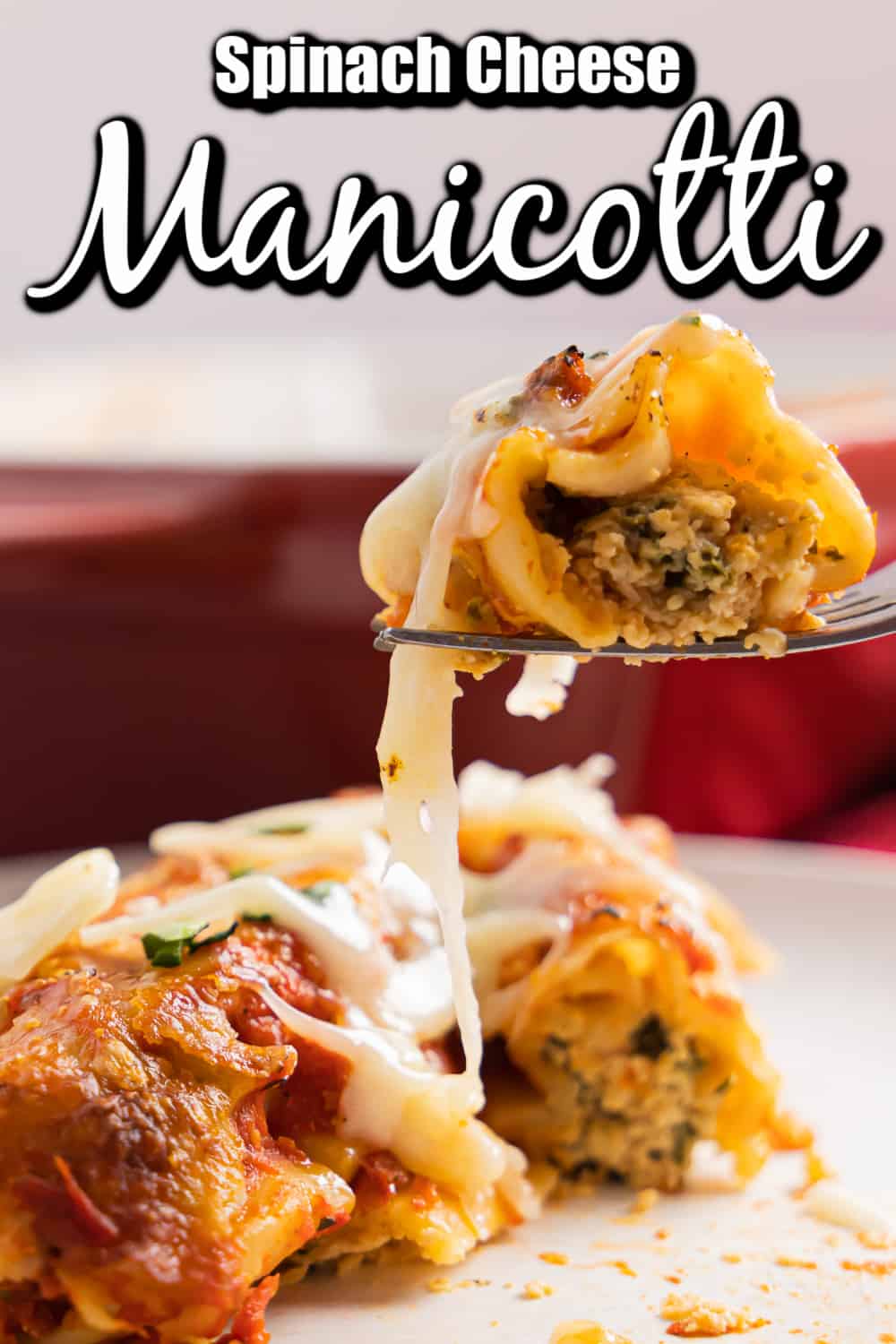 Pin it HERE!!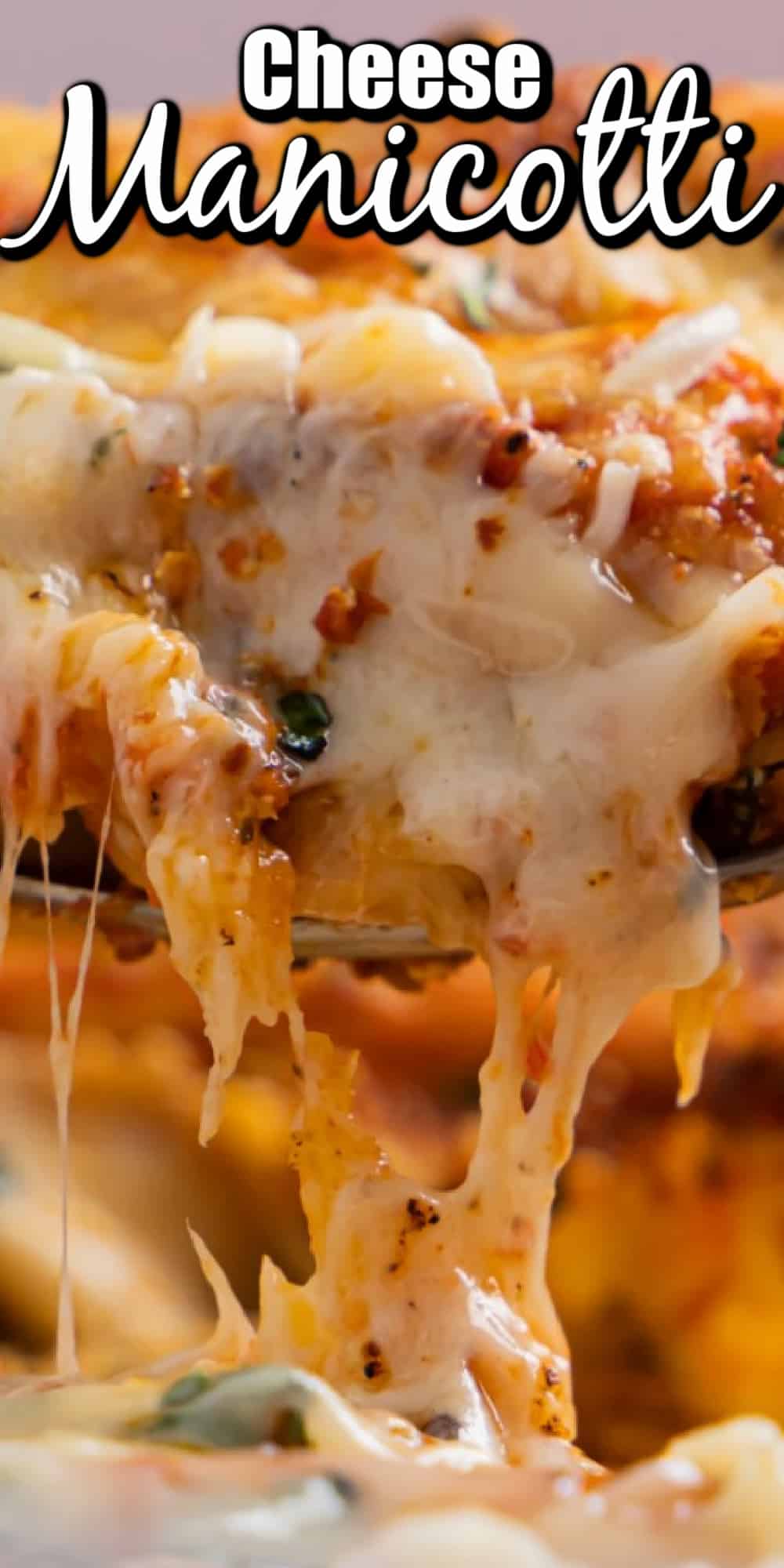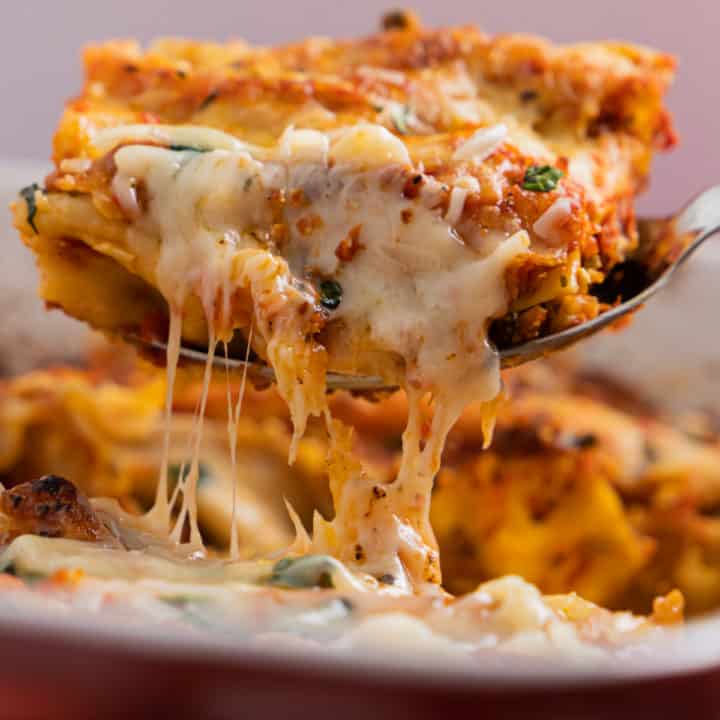 Best Spinach Cheese Manicotti
Yield: 6 servings
Prep Time: 30 minutes
Cook Time: 45 minutes
Total Time: 1 hour 15 minutes
This amazingly delicious Spinach Cheese Manicotti recipe is the best comfort food you need in your life! A vegetarian pasta dish is always a great idea as long as it is cheesy!
Ingredients
2 tbsp of olive oil
1 onion
3 garlic cloves
2 cups of spinach (packed)
18 manicotti, oven ready
2 cups of ricotta (454g container)
2 eggs
3 cups of marinara sauce
2 or 3 cups of shredded mozzarella
Instructions
Wash spinach.
Chop your onion, garlic cloves, and spinach.
In a hot pan, drizzle the olive oil and sauté the onion for 3-4 minutes, then add the garlic for 1 minute and lastly the spinach for another minute.
In a large bowl, pour the sauté ingredients, the ricotta, eggs, and 1 cup of the mozzarella cheese.
Stir well until all the ingredients are incorporated. Set aside.
Preheat oven to 375F.
In a 9x13" baking dish, spread 1 cup of the marinara sauce at the bottom. Set aside.
Fill a baking or freezer bag with a corner cut with the cheese mixture. Stuff the manicotti shells and place them in the marinara sauce. Repeat until done.
Pour the remaining marinara sauce and make sure to cover all the pasta shells.
Cover with aluminum foil and bake for 30 minutes.
Uncover and spread the rest of the cheese. Bake for another 15 minutes or until cheese is melted.
Notes
Make sure to read the post for some helpful tips!
Recommended Products
As an Amazon Associate and member of other affiliate programs, I earn from qualifying purchases.
Nutrition Information:
Yield: 6
Serving Size: 1
Amount Per Serving:
Calories: 1194
Total Fat: 65g
Saturated Fat: 33g
Trans Fat: 1g
Unsaturated Fat: 25g
Cholesterol: 341mg
Sodium: 2742mg
Carbohydrates: 75g
Fiber: 8g
Sugar: 18g
Protein: 78g
Recipe calculation was provided by Nutritionix and is an estimation only. If you need nutritional calculations for medical reasons, please use a source that you trust.