Traditional Cheesy Broccoli Casserole
Do you like to get naughty sometimes? Even when it is not the holidays? Maybe for a Sunday dinner if you are having someone over? We almost always opt for fresh steamed veggies or a salad but I was in the mood for some comfort food the other night when we were having salmon and rice. So we whipped up this Traditional Cheesy Broccoli Casserole. You know one of those old style ones with the soup, mayo, sour cream and lots of cheddar cheese. Oh my goodness was it good!!
I can gauge it is a real winner when everyone at the table has seconds!! Cheesy, creamy goodness with delicious broccoli and a buttery crunchy cracker topping. What is not to love?! This casserole goes great with any entree.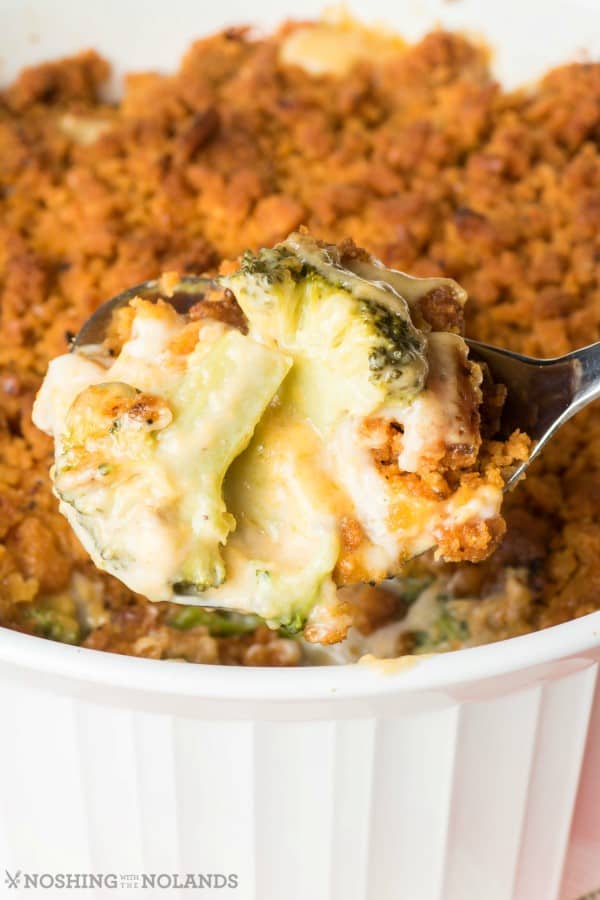 Instead of using bread crumbs or standard crackers we used roasted red pepper crackers for the topping. It just added even more flavor. So make a topping with your favorite cracker, you will be happy that you did!!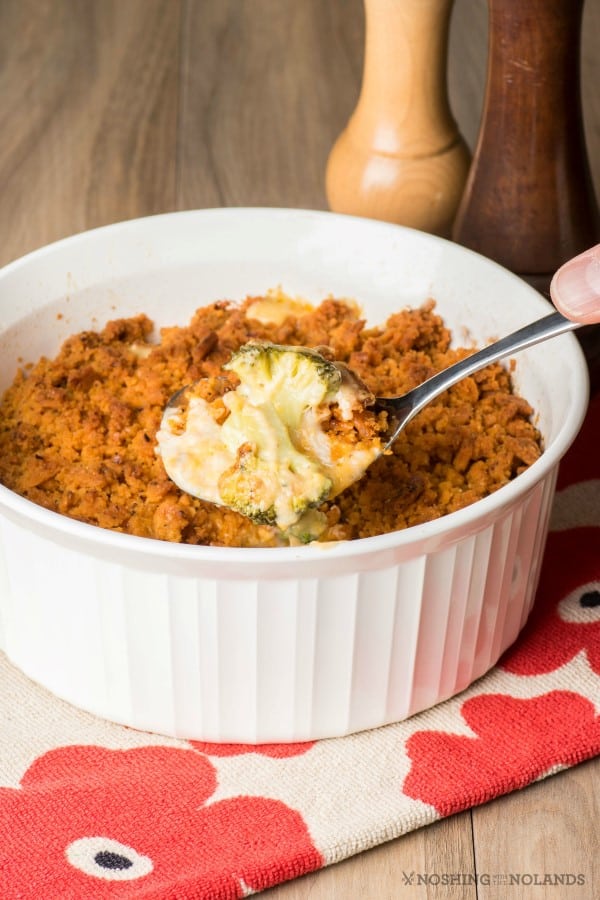 This is just too delicious, you will have to make it very soon. If you want it to be gluten free just change up the topping and you are set to go.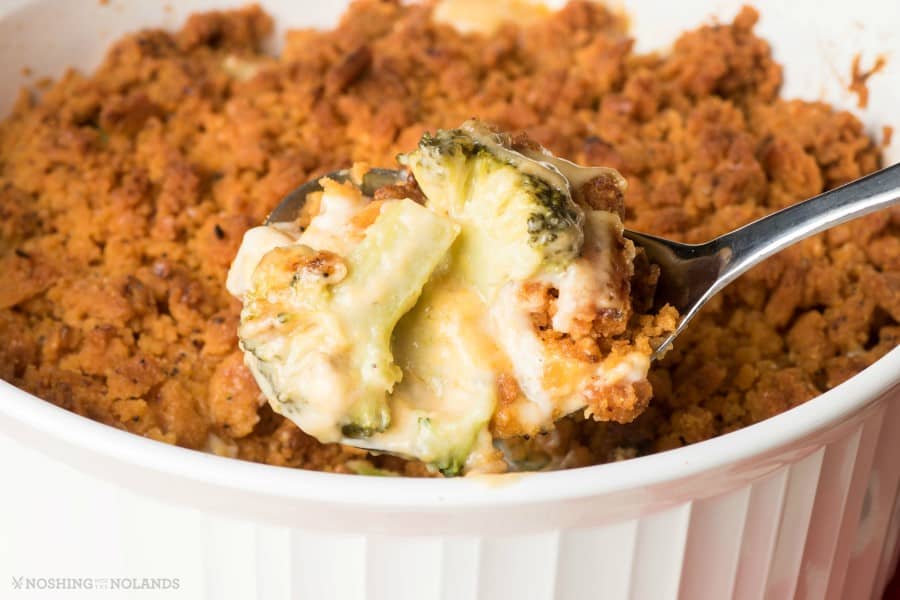 You can use fresh or frozen broccoli for this casserole, just give it a quick parboil for 3 min. as it also cooks in the casserole in the oven.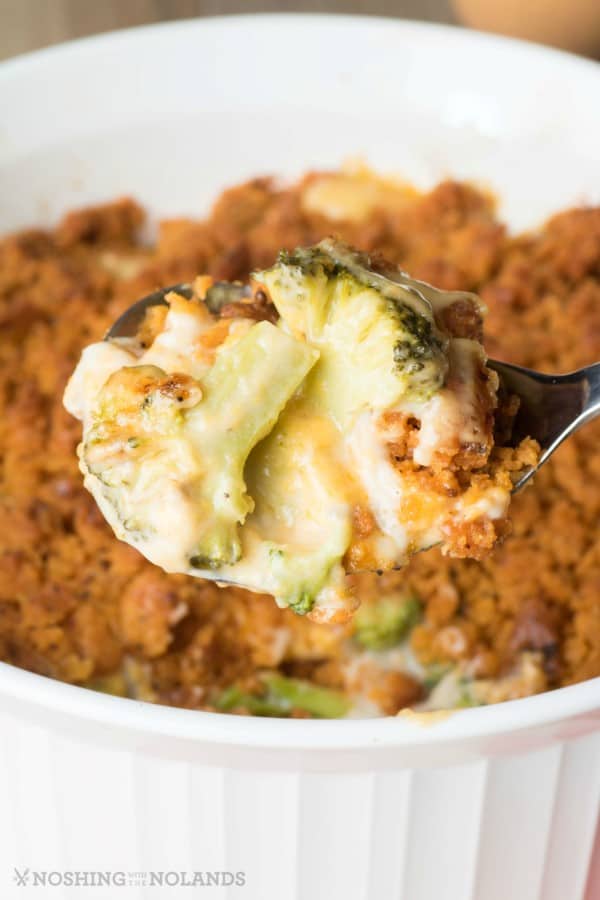 I am drooling thinking about this casserole again. People love a casserole like this at anytime so keep it in mind for BBQ's, potlucks and gatherings at anytime of the year!!
The Recipe
Yield: Serves 6
Traditional Cheesy Broccoli Casserole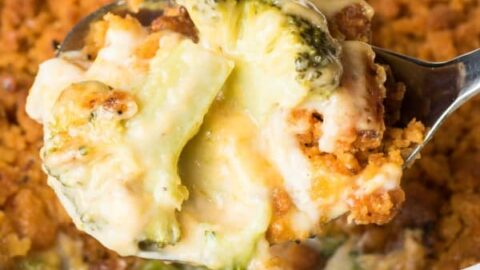 You don't have to wait for the holidays to have this delicious Tradtitional Cheesy Broccoli Casserole. Make it any night as a scrumptious side that everyone will love!!
Total Time
1 hour
5 minutes
Ingredients
1 1/2 lbs. fresh or frozen broccoli florets
1/4 cup sour cream
1/4 cup mayonnaise
1 (10 oz.) can cream of mushroom soup
1 tsp. garlic, minced
1 tsp. onion powder
Salt and pepper to taste
1 1/2 cups cheddar cheese, grated
Topping
1 1/2 cups roasted red pepper crackers, or crackers of your choice, crushed
1/2 cup butter
Instructions
In a large pot of boiling water add the broccoli and cook for 3 minutes or until tender crisp.
Preheat oven to 325 F. Spray a round or oblong 3 quart casserole and set aside.
Mix together the sour cream, mayonnaise, soup, garlic, onion powder and salt and pepper. Add the cheese and stir to combine.
Add the broccoli and mix well to coat. Pour into the prepared casserole. If making ahead cover and refrigerate at this point.
For the topping mix together the crackers and butter and spread onto of the casserole. Bake for 30 min. or if refrigerated for 45 min. Place foil on if starting to brown too much.