This irresistible Zesty Green Bean Casserole Recipe features fresh green beans in a creamy mushroom sauce made from scratch. It's crowned with a crispy layer of buttered panko crumbs and dotted with crispy fried onions. Oh, and it has bacon!
Imagine your family and friends, gathered around your table set with the ultimate turkey dinner. Finally, you set the last dish on the table beside the gravy and everyone audibly gasps because it is a stunner!
Green Bean Casseroles have been appearing on dinner tables for decades but you have just made the most delicious version of all. Fresh green beans, a sumptuous homemade Béchamel sauce seasoned with garlic, Worchestershire Sauce, seedy mustard, and tarragon.
You dip the serving spoon into the casserole, breaking through the golden crispy layer of Panko crumbs mixed with French Fried Onions and serve your first guest with a smile. Want more green bean dishes then try our easy Walnut Pesto Green Beans.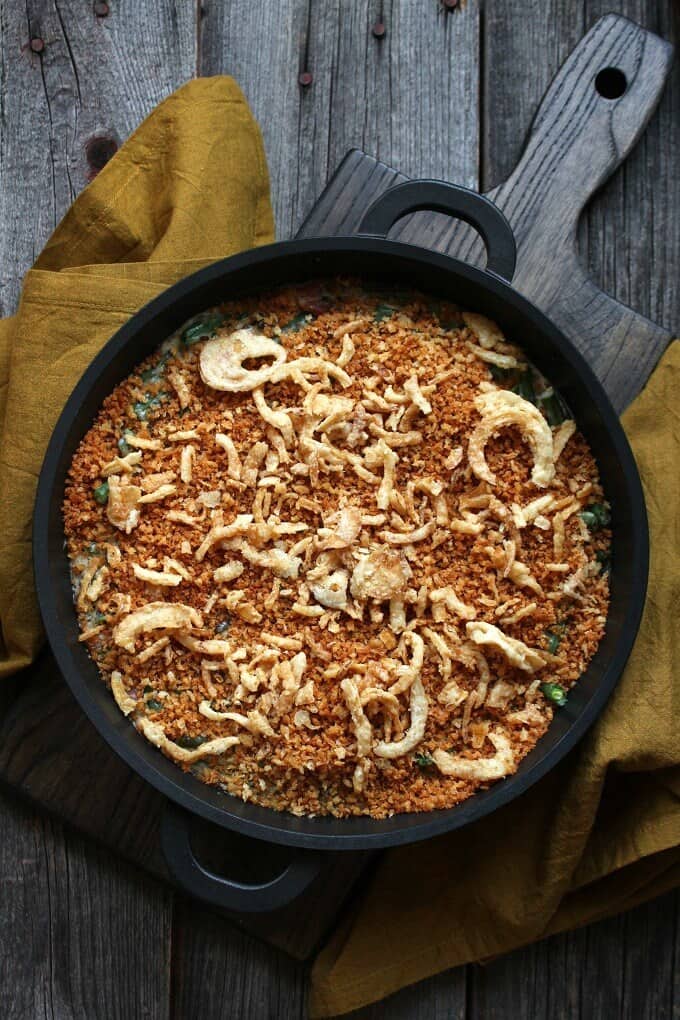 Hi everyone! My name is Bernice and I am so thankful to be a contributor here at Noshing With The Nolands. On my blog Dish 'n' the Kitchen, I love to create new recipes for old school classics, like today's Green Bean Casserole Recipe, as well as share my versions of delicious ways to feed a family. Sometimes…there's even cake!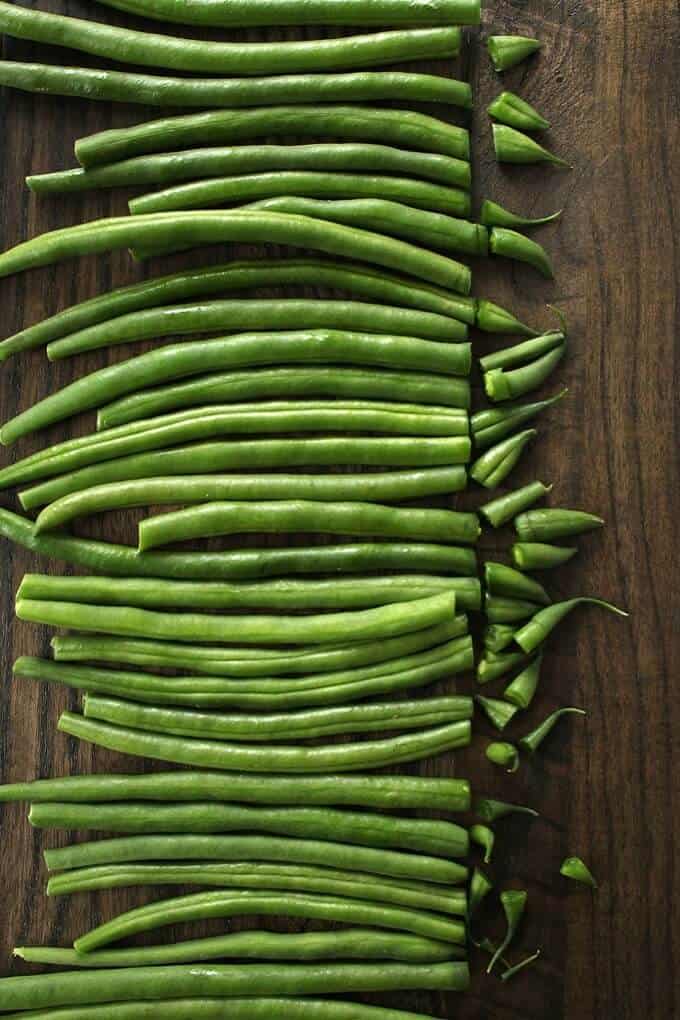 Who Wrote the First Green Bean Casserole Recipe?
During the days of early convenience cooking, when processed food was becoming vogue, Campbell's employed a team to develop recipes using their canned products.
The original Green Bean Casserole was invented in 1955 by Dorcas Reilly who simply mixed a can of Campbell's cream of mushroom soup (or cream of chicken soup) with canned green beans.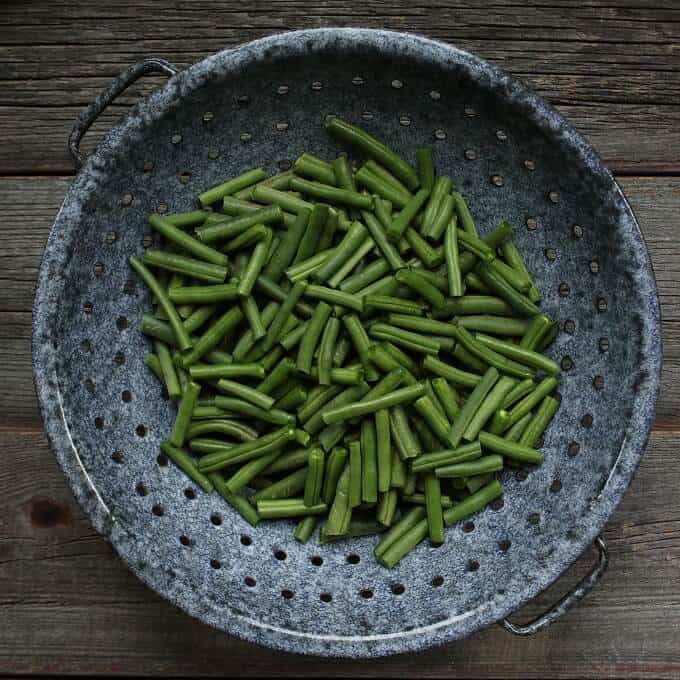 What resulted was an unappetizing grey-green mush that really held no appeal at all. As it turned out, the best thing to do was to top the casserole with French's fried onions.
The crispy onions added a textural component to the dish in addition to covering up the hideous casserole. Problem solved!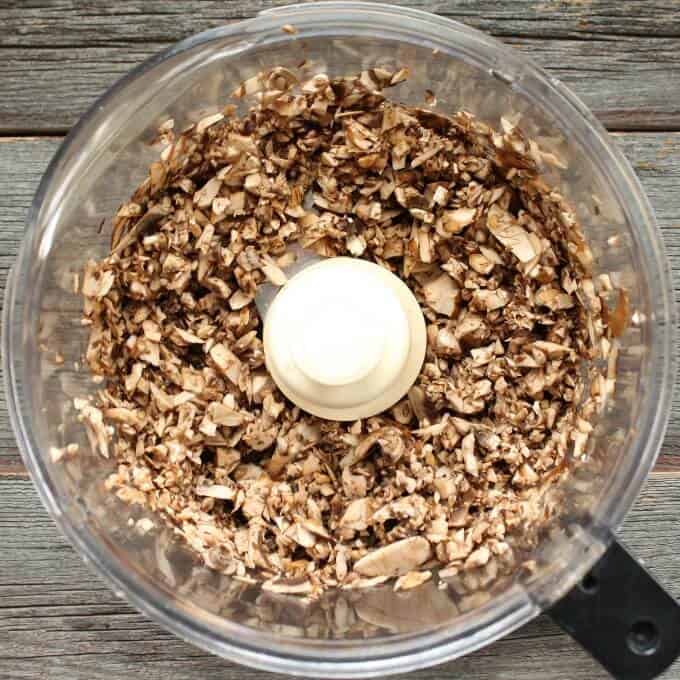 How to Make A Beautiful Green Bean Casserole
This green bean side dish is entirely made from scratch and it is a little more work than the original. However, that extra elbow grease pays off when you see and taste the final dish. I like using fresh green beans too as opposed to frozen green beans; much better flavor!
As the old saying goes; 'we eat with our eyes' and this casserole is very visually appealing. At first glance, you see the crispy golden top layer but where this casserole really shines is inside.
Here are a few recipe tips to help you create the very best green bean casserole: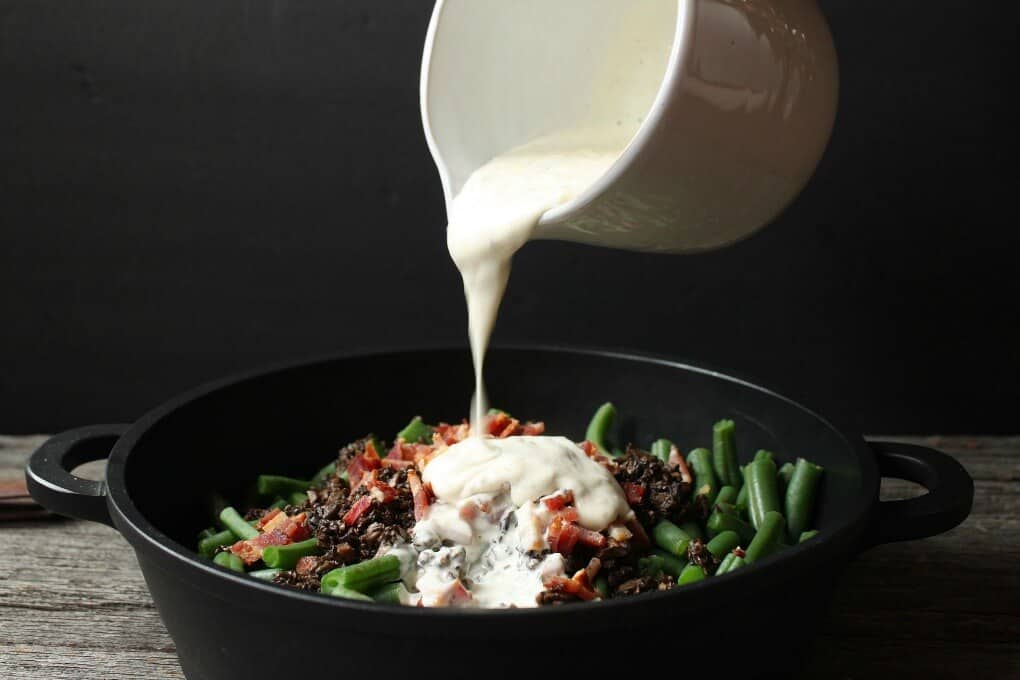 Blanch the beans. The second thing everyone notices in this dish is the vibrant green beans. Blanching vegetables is a very easy technique and can be used in so many applications.
The fresh beans take a quick 4-minute dip for cooking time in a pot of boiling water where they partially cook. Next, the green beans are removed from the boiling water and plunged into an ice water bath so that the cooking process stops immediately and preserves the color.
Voila…now you have beautiful green beans!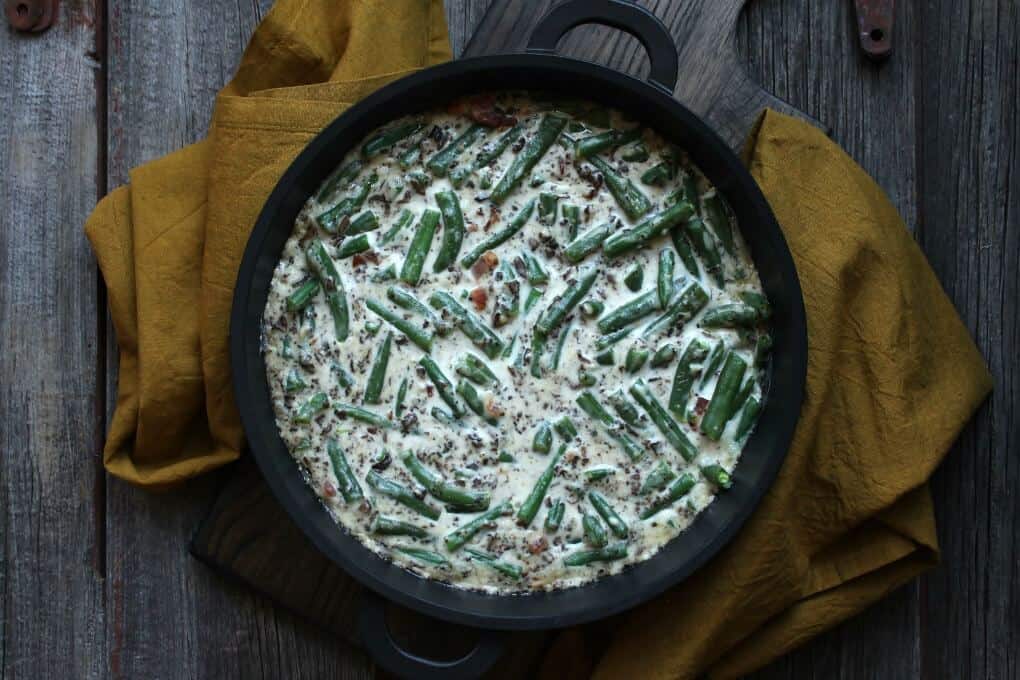 Green Bean Casserole Sauce
Making mushroom sauce from scratch may not be as easy as opening up a can of soup, but it adds so much more flavor to this casserole. Start with a basic Béchamel or 'white sauce', then build your own flavors.
The 'Zesty' in this recipe comes from the addition of Worchestershire Sauce, Grainy Mustard, Freshly Ground Black Pepper, and finely grated Parmesan Reggiano. This trio is a powerhouse flavor combination!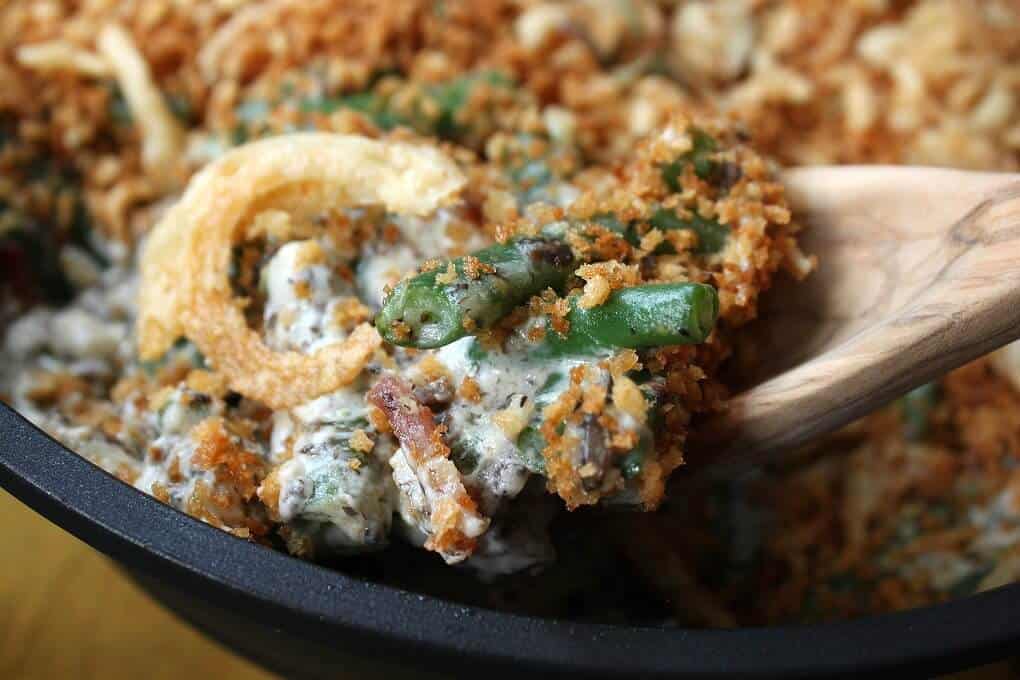 Let's not forget the mushrooms! By blitzing them in a food processor, their surface area for flavor release increases dramatically.
Next, frying them until their juices are released condenses their flavor even more. They add such an earthy, subtle flavor to this casserole that is not to be missed.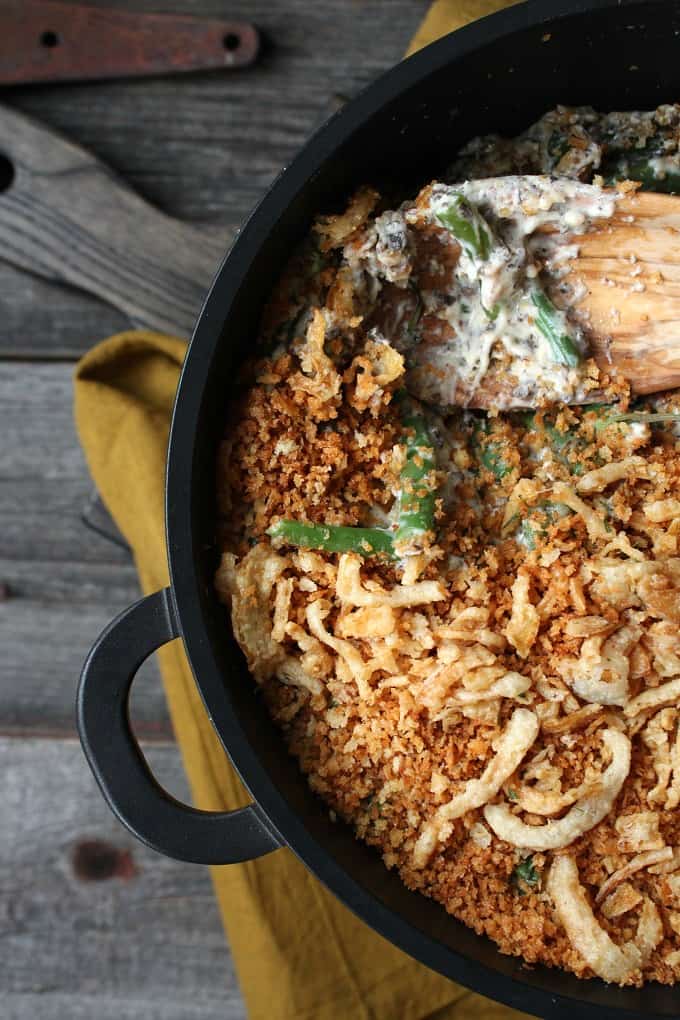 Can You Freeze Green Bean Casserole?
Green Bean Casserole is easy to freeze and re-heats well which makes it THE perfect make-ahead Thanksgiving dinner side dish.
To freeze, follow the recipe until you reach the baking step. Instead of baking the dish, wrap it well with plastic wrap and freeze for up to two weeks.
Finally, on the day of your dinner, just thaw and follow the remaining steps in the recipe to get it all nice and hot and bubbling before serving. It should only take about 25 minutes.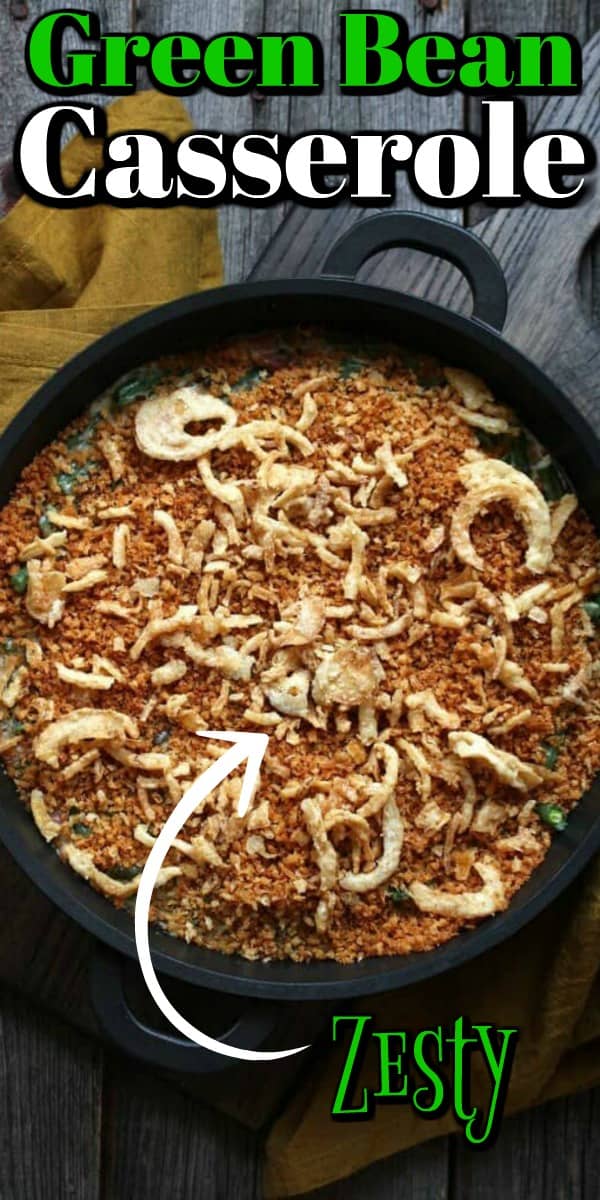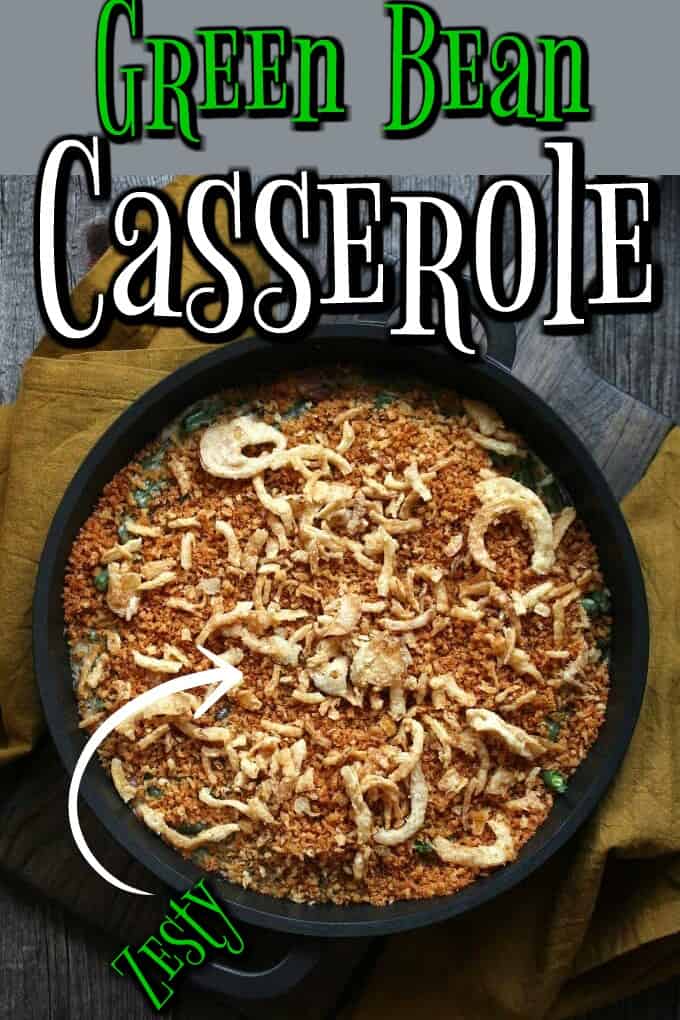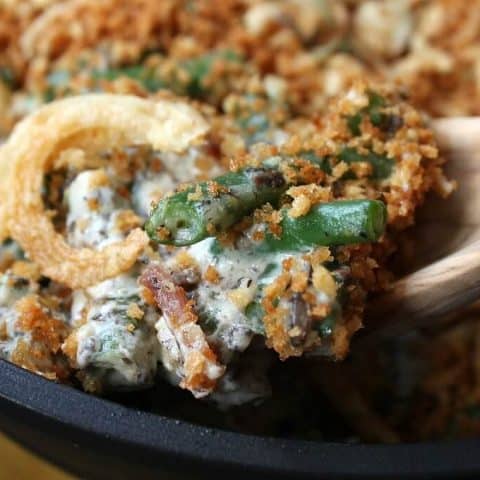 Zesty Green Bean Casserole Recipe
Yield: 6 servings
Prep Time: 30 minutes
Cook Time: 40 minutes
Total Time: 1 hour 10 minutes
This irresistible Zesty Green Bean Casserole features fresh green beans in a creamy mushroom sauce made from scratch. Top it all off with a crispy layer of buttered panko crumbs and French fried onions.
Ingredients
1 1/2 lbs fresh green beans
12 large cremini mushrooms or baby bellas
2-4 rashers of bacon
FOR THE CREAM SAUCE
4 tbsp butter
4 cloves garlic; minced
5 tbsp flour
1 tbsp dried tarragon
2 tbsp seedy mustard
2 tsp Worchestershire Sauce
1 tsp salt
1/2 - 1 tsp fresh ground black pepper
1 1/2 cups half and half or 18 % cream
1/2 cup Parmesan Reggiano
FOR THE TOPPING
2 tbsp butter
1 cup Panko crumbs
1 cup French fried onions
Instructions
Wash and trim the ends of the green beans. Trim into bite-sized pieces.
To Blanch the beans: Set a medium pot of water to boil. Add half of the bean pieces and boil for 4 minutes. Remove and immediately place in a bowl of ice water. Repeat with the second half of the beans.
Slice the bacon rashers into small bits and fry in a small frying pan. Remove from pan and set aside. Wipe the pan out.
Add cremini mushrooms to the bowl of a food processor and process until mushrooms are finely diced as they appear in the photo in the post. Fry the mushrooms in bacon pan until they no longer release moisture.
Place blanched beans, bacon, and mushrooms into a medium baking dish.
Preheat oven temperature to 350 F.
Melt butter in a medium saucepan. Add minced garlic and sauté for a few minutes on low. Add flour and stir into butter to make a roux.
Cook roux for a few minutes but do not allow it to turn color. Add cream and whisk until smooth. Add in the tarragon, mustard, Worchestershire, and salt.
Continue to whisk until thickened slightly. Add Parmesan Reggiano and whisk until cheese is incorporated into the sauce.
Pour sauce over casserole ingredients and mix well.
Bake for 25 minutes in a 350 F oven.
While the casserole is baking, melt the 2 tbsp butter in the frying pan. Add panko and fry until it becomes golden. Remove from heat.
When the casserole is hot and bubbling, remove it from the oven and top it with crispy panko crumbs and French fried onions.
Notes
MAKE AHEAD INSTRUCTIONS: Prepare the casserole as described and stop before the baking step. Place in refrigerator for a day or two. Remove and finish as directed.
*This recipe uses commercially available French fried onions.
Recommended Products
As an Amazon Associate and member of other affiliate programs, I earn from qualifying purchases.
Nutrition Information:
Yield: 8
Serving Size: 1
Amount Per Serving:
Calories: 611
Total Fat: 47g
Saturated Fat: 27g
Trans Fat: 1g
Unsaturated Fat: 17g
Cholesterol: 130mg
Sodium: 935mg
Carbohydrates: 36g
Fiber: 4g
Sugar: 10g
Protein: 17g
Recipe calculation was provided by Nutritionix and is an estimation only. If you need nutritional calculations for medical reasons, please use a source that you trust.