This is one of Amber's favorite ice creams, Mint Chocolate Chip Ice Cream. I make this for her every summer with fresh mint from the garden. Have you ever made homemade ice cream before?
I have an abundance of fresh mint that comes back every year now. It makes the best homemade ice cream and Amber adores it. Growing herbs can be very rewarding and so less expensive than purchasing them for all your recipes.
You can also dry your herbs to use them all winter long which is another cost-effective way to use herbs.
For another great ice cream try our new Homemade Fresh Peach Ice Cream, or Lemon Strawberry Cheesecake Ice Cream both are heavenly.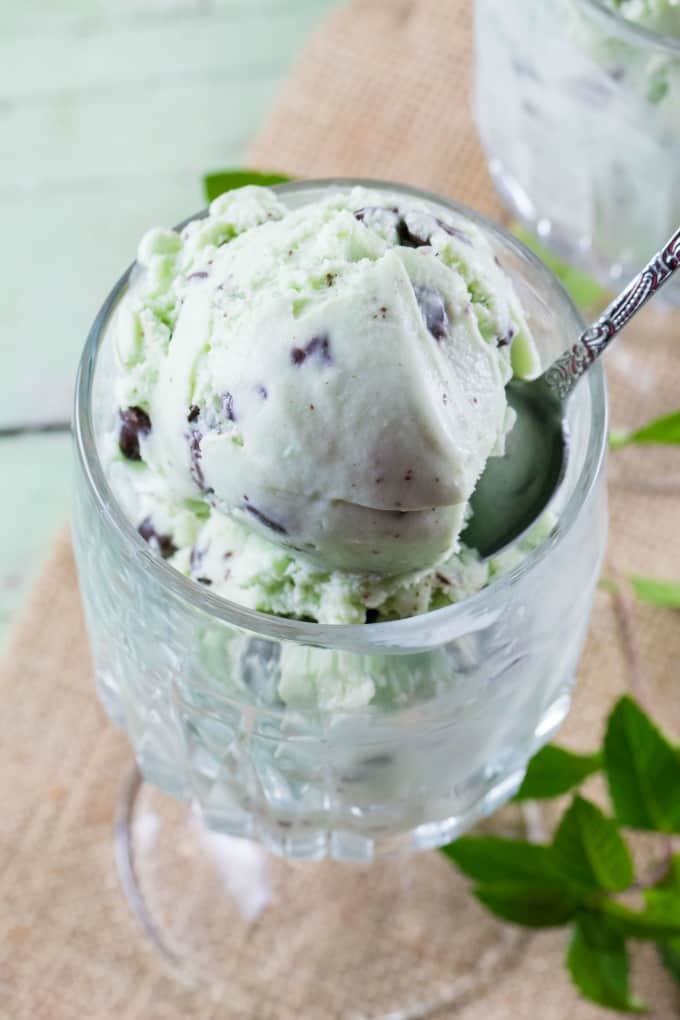 Helpful Items for This Recipe
I have a book from Williams and Sonoma that I use to adapt my ice cream recipes from. They always turn out rich and creamy and full of flavor. This ice cream has a real burst of fresh mint taste, so good!!
How to Make Mint Chocolate Chip Ice Cream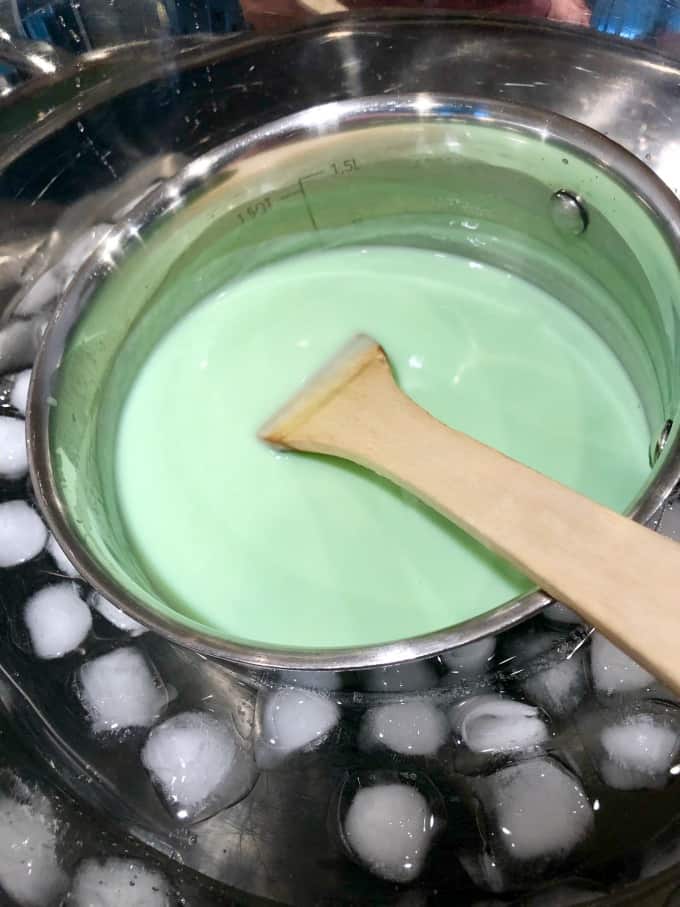 You can make ice cream a few ways but let's stick with the one we have today with a churn ice cream!! Ice cream is basically a frozen flavored custard. I have an electric ice cream churn that I have used for a number of years.
You take milk and cream and bring it to a simmer, remove from heat and steep the mint just like you would making tea but let it sit for 20 min. Strain the mint and set aside.
I have never used a peppermint extract or mint extract to get that mint flavoring when I can use fresh mint right from the garden.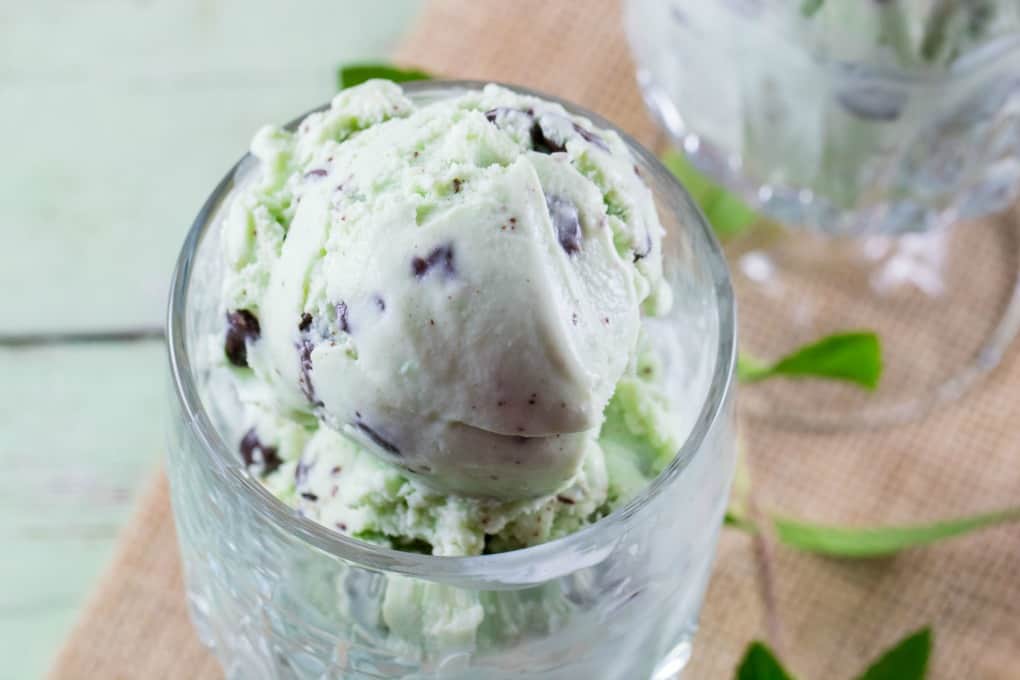 Meanwhile whip the egg yolks, sugar, salt, and more heavy cream. Add some of the warm milk to this mixture slowly and then combine them to cook.
Bring the mixture back up to a simmer, do not boil. Continue to stir and cook until the custard coats the back of a wooden spoon. To get the green color, it is with adding in both green food coloring and blue food coloring. If you want to omit this you surely can.
Now the mixture needs to cool in an ice bath, stirring occasionally. You finish off cooling the custard in the refrigerator for 3 hours to overnight.
You can transfer the custard to a large bowl or keep it in the pot but you need to put plastic wrap directly on top of the custard. This will prevent it from forming that yucky "skin". I do this with all my custards.
Once the custard is completely cool it is churned, and towards the end, the chopped chocolate chips are added!!
Thermoworks Ice Cream Scoop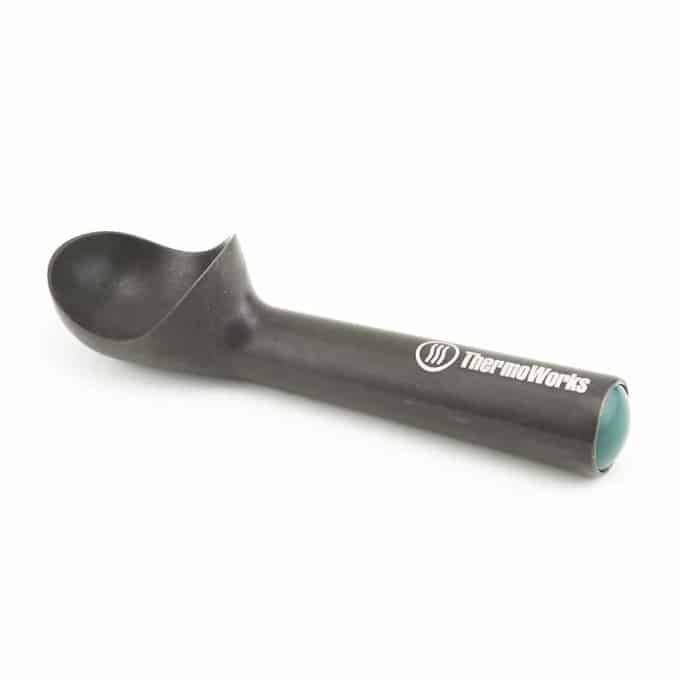 Do you need a great ice cream scoop? I can attest to Thermoworks having the best quality products out there. This strong scoop makes quick work of even the hardest of ice creams.
What Kind of Mint is in Mint Chocolate Chip Ice Cream?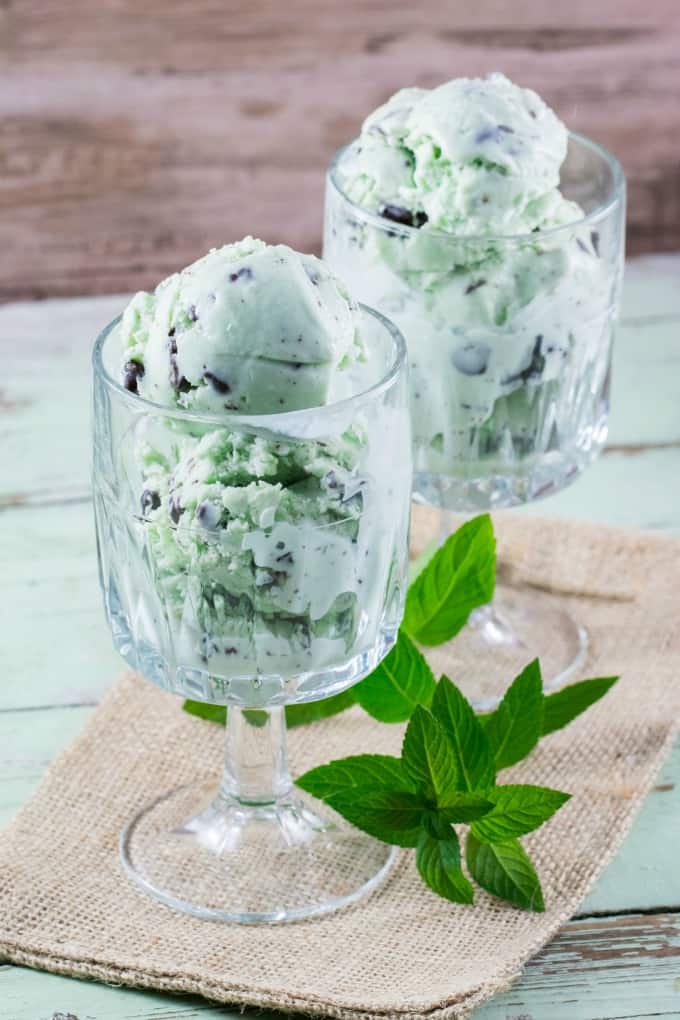 In most cases, peppermint or spearmint flavoring is used, but in the chocolate chips themselves, to make a mint chip ice cream. This ice cream is so much better because the ice cream is minty and the chocolate is well, chocolate.
I have used different kinds of mint, like peppermint, spearmint, chocolate mint with all great results. So, you can use whatever mint you can get your hands on. A lot of times I have seen in the grocery store mojito mint in a small bag, and that would work great too!!
When was Mint Chocolate Chip Ice Cream Invented?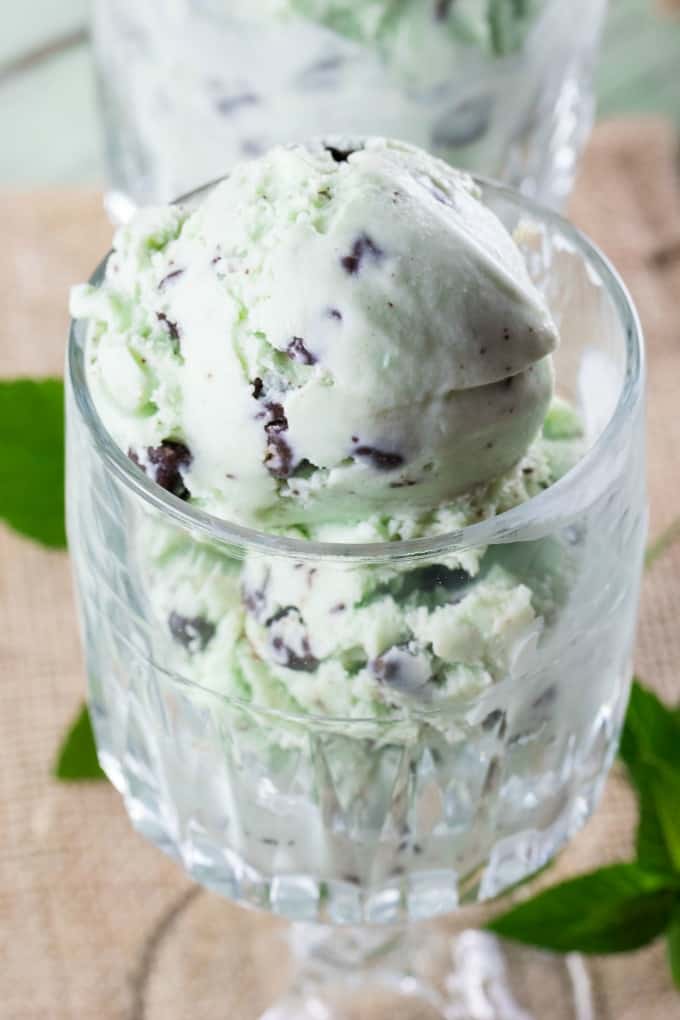 Mint chocolate chip ice cream waa invented back in 1973 by culinary student Marilyn Ricketts. Marilyn was studying at South Devon College in England.
While she attended school there she entered a competition that would provide an ice cream dessert for Princess Anne's wedding to Captain Mark Phillips at Westminster Abby.
The ice cream was first named Mint Royale and Marilyn won a silver for her efforts. The combination of mint and chocolate lived on after that and we have enjoyed mint chocolates, mint chocolate chip cookies, mint chocolate chip milkshakes, and more.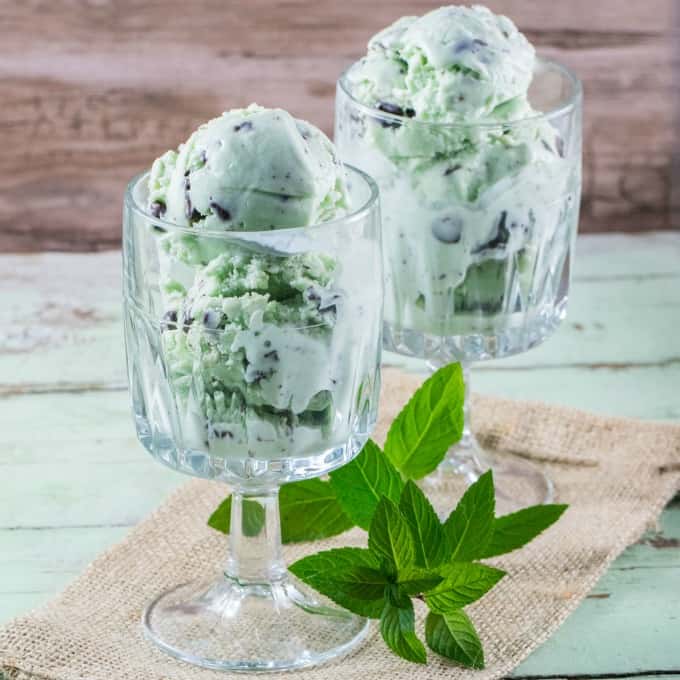 If you make ice cream using a churn ice cream maker either old fashioned or an electric machine can be used. The process of making ice cream can be very standard using an ice cream base and then a few alterations are only needed to add flavors in. The only way it is different is if you make ice cream using a no-churn method like in our No Churn Rhubarb Ice Cream.
The results, either way, are very good and you get a lovely creamy ice cream but the ingredients and process are completely different. However you want to make homemade ice cream just get busy; it is so worth it, and you will love your creations so much more than store-bought.
Tell me what is our favorite ice cream flavor? I am a tiger gal if I am going to an ice cream parlor, it brings me back to my childhood.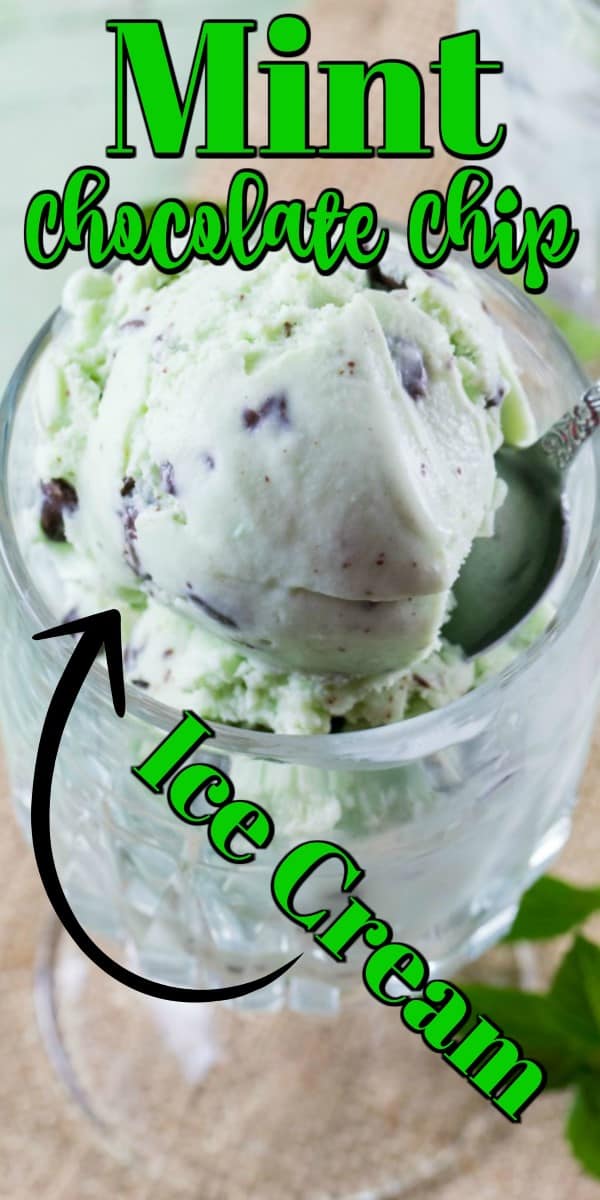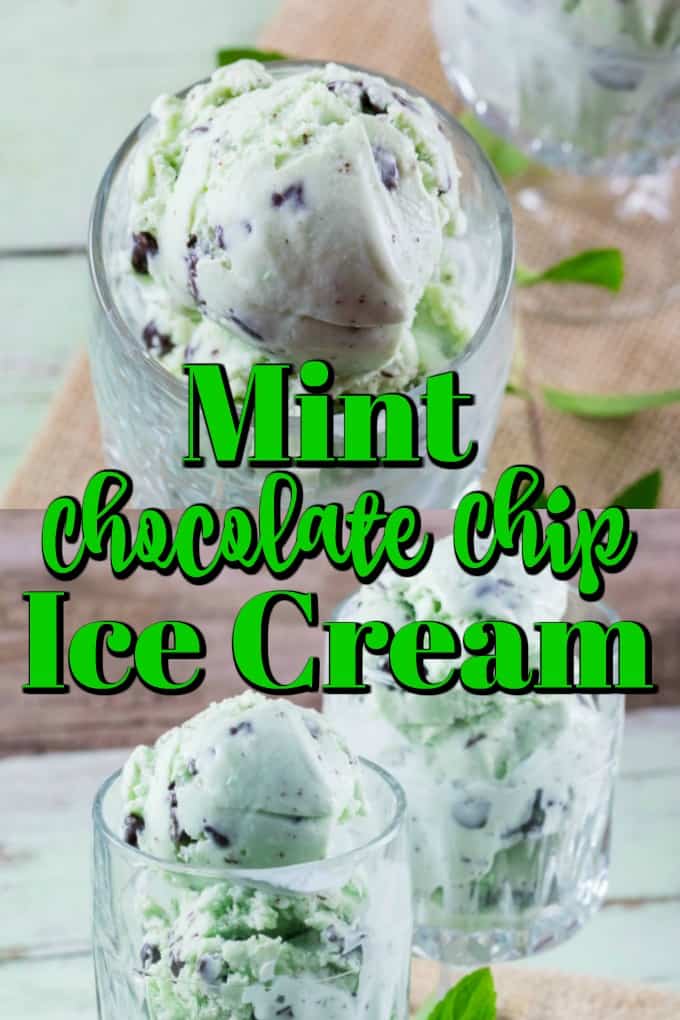 Mint Chocolate Chip Ice Cream Recipe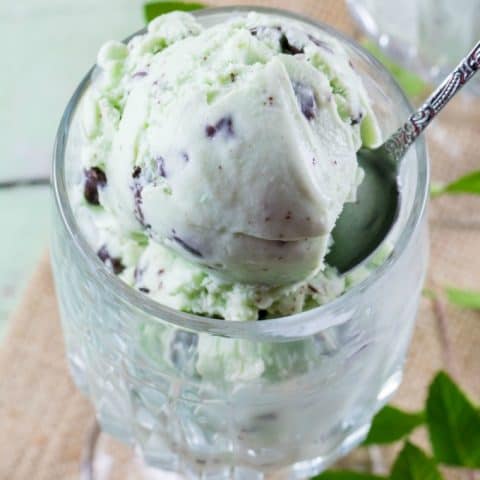 Mint Chocolate Chip Ice Cream
Yield: 8 servings
Prep Time: 25 minutes
Cook Time: 30 minutes
Additional Time: 3 hours
Total Time: 3 hours 55 minutes
This Mint Chocolate Chip Ice Cream we have made for years using the mint we grow in the backyard. This ice cream is our daughter's absolute favorite. It tastes nothing like store-bought and is creamy and delicious.
Ingredients
1 1/2 cups whole milk and 1 1/2 cups heavy cream
1 cup packed fresh chocolate mint leaves (or other variety)
4 large egg yolks
1/2 cup plus 2 Tbsp. sugar
pinch of salt
3-4 drops green food coloring, optional
2-3 drops blue food coloring, optional
1 cup chocolate chips, chopped
Instructions
Combine the milk and 1 cup of cream together with the mint leaves in a small saucepan. Cook for about 5 min. over medium heat until it just starts to simmer. Remove from heat and let it steep for 20 min. Strain to remove the mint leaves.
Meanwhile, whip the egg yolks, sugar, salt, and the 1/2 cup heavy cream together until smooth. Slowly add a 1/2 cup of the warm milk and then add all the egg mixture to the milk mixture. Return to the heat and cook over medium heat stirring constantly with a wooden spoon. Simmer the custard but do not let it boil. Continue cooking until the custard coats the back of a wooden spoon and leaves a clear trail when your finger is drawn on the back of the spoon, 4-6 min. Add the food coloring if using.
Now cool the custard by placing the saucepan into a larger bowl filled with ice and water. Stir until cooled. Cover with plastic wrap that is right on top of the custard so it won't form a skin. Cool completely in the refrigerator for 3 hours or overnight.
Pour the custard into the ice cream maker and follow manufacturer's instructions. When nearly frozen, like thick whipped cream, add the chopped chocolate while the machine is churning. Transfer to a freezer-safe container and freeze for 3 hours or a few days until serving. So good!!




Notes
Adapted from Williams-Sonoma Ice Cream book.
Recommended Products
As an Amazon Associate and member of other affiliate programs, I earn from qualifying purchases.
Nutrition Information:
Yield: 8
Serving Size: 1
Amount Per Serving:
Calories: 492
Total Fat: 36g
Saturated Fat: 21g
Trans Fat: 1g
Unsaturated Fat: 12g
Cholesterol: 177mg
Sodium: 113mg
Carbohydrates: 38g
Fiber: 1g
Sugar: 35g
Protein: 9g
Recipe calculation was provided by Nutritionix and is an estimation only. If you need nutritional calculations for medical reasons, please use a source that you trust.