These Candied Yams are glazed with orange juice, brown sugar, butter, and spices as they roast in the oven, turning them into irresistible sweet morsels. They are an easy side dish for any night of the week, and they're also a favorite for holiday meals like Thanksgiving dinner. They may be vegetables, but everyone will eat them like they're candy!
Want more easy side dishes? Then try our Potato Leek Gratin, Green Beans Almondine, Caramelized Carrots, or this perfect Pan-Fried Carrot and Parsnip Recipe.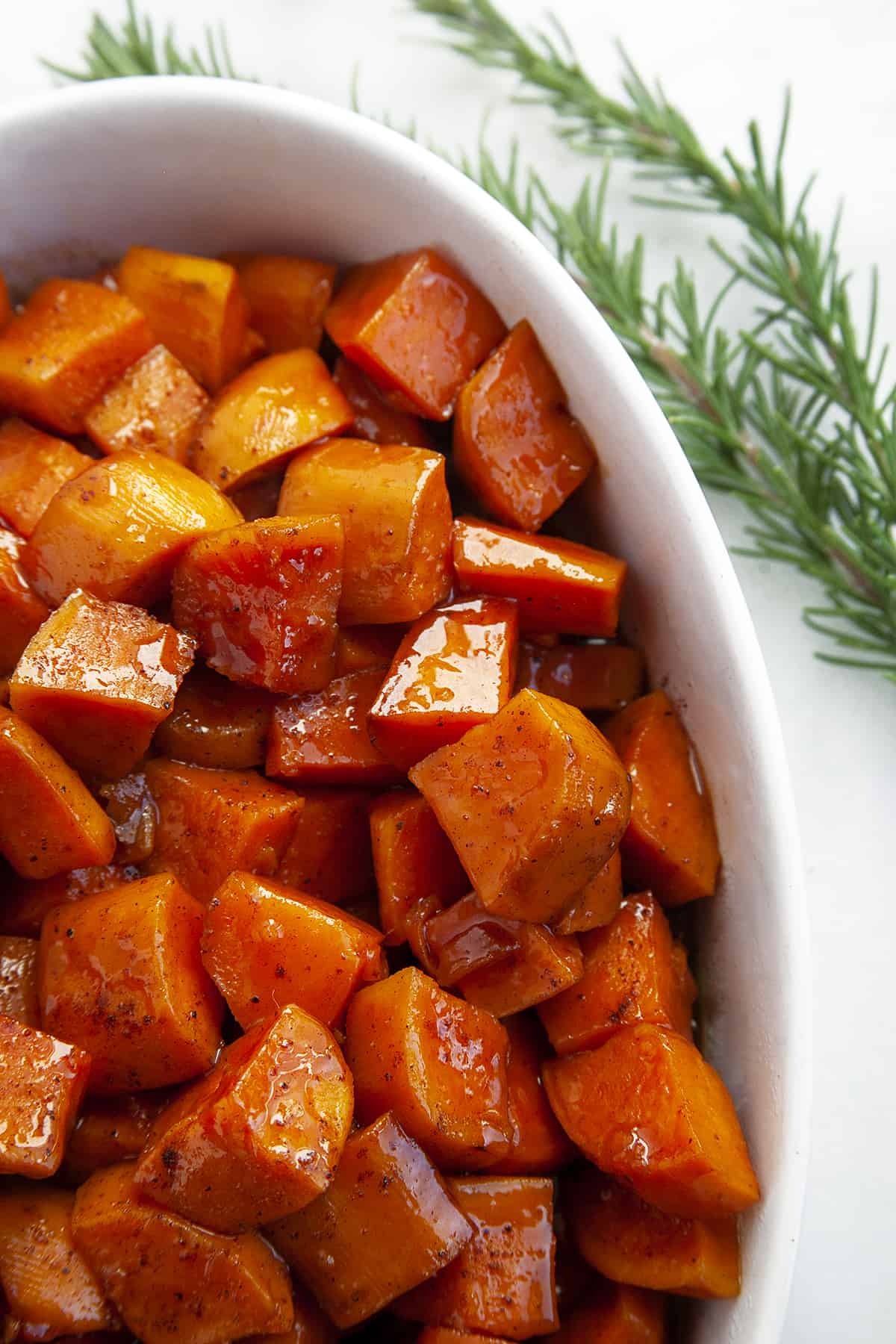 Are Sweet Potatoes and Candied Yams the Same?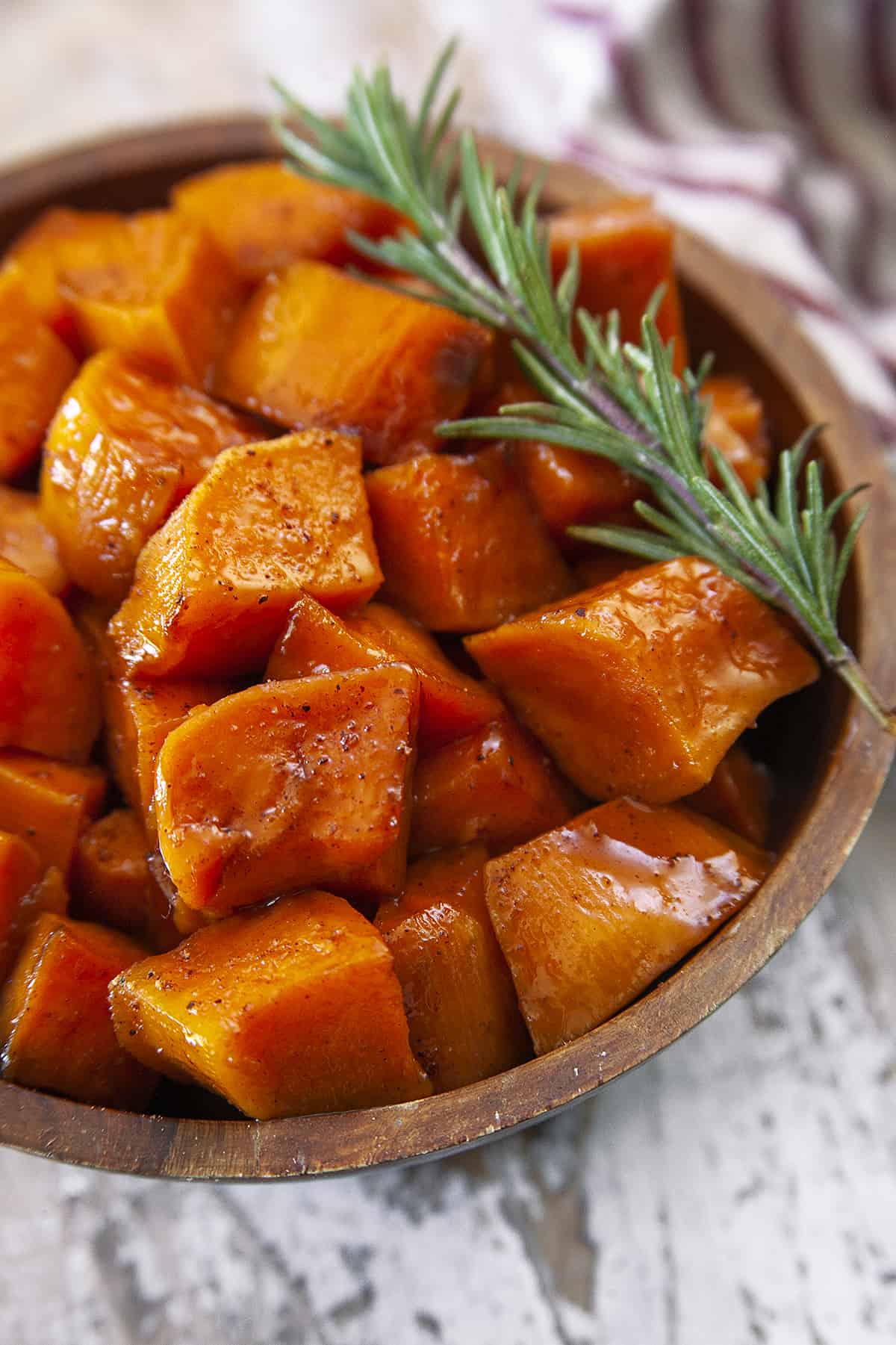 Yams, as they are sometimes called at the grocery store, are, in fact, just Sweet Potatoes. There are different varieties of sweet potatoes (like Jewel, Orange, or Red Garnet), but most people use the terms "yam" and "sweet potato" interchangeably.
There are actually yams that are different than sweet potatoes. They are more like yuca than like a potato, though, and are most commonly used in Caribbean and West African cuisine. But these true yams are rarely sold in American / Canadian grocery stores. Yams are more of a starchy root vegetable than the sweeter sweet potatoes. They are also more light brown on the inside and more rough and bumpy on the outside.
Most often in North America, when recipes call for yams, they just mean sweet potatoes. And, when you see yams at a North American grocery store, chances are they are also sweet potatoes. This recipe for Candied Yams is made with common Orange Sweet Potatoes.
Subscribe To Our Weekly Newsletter
What are Candied Yams Made of?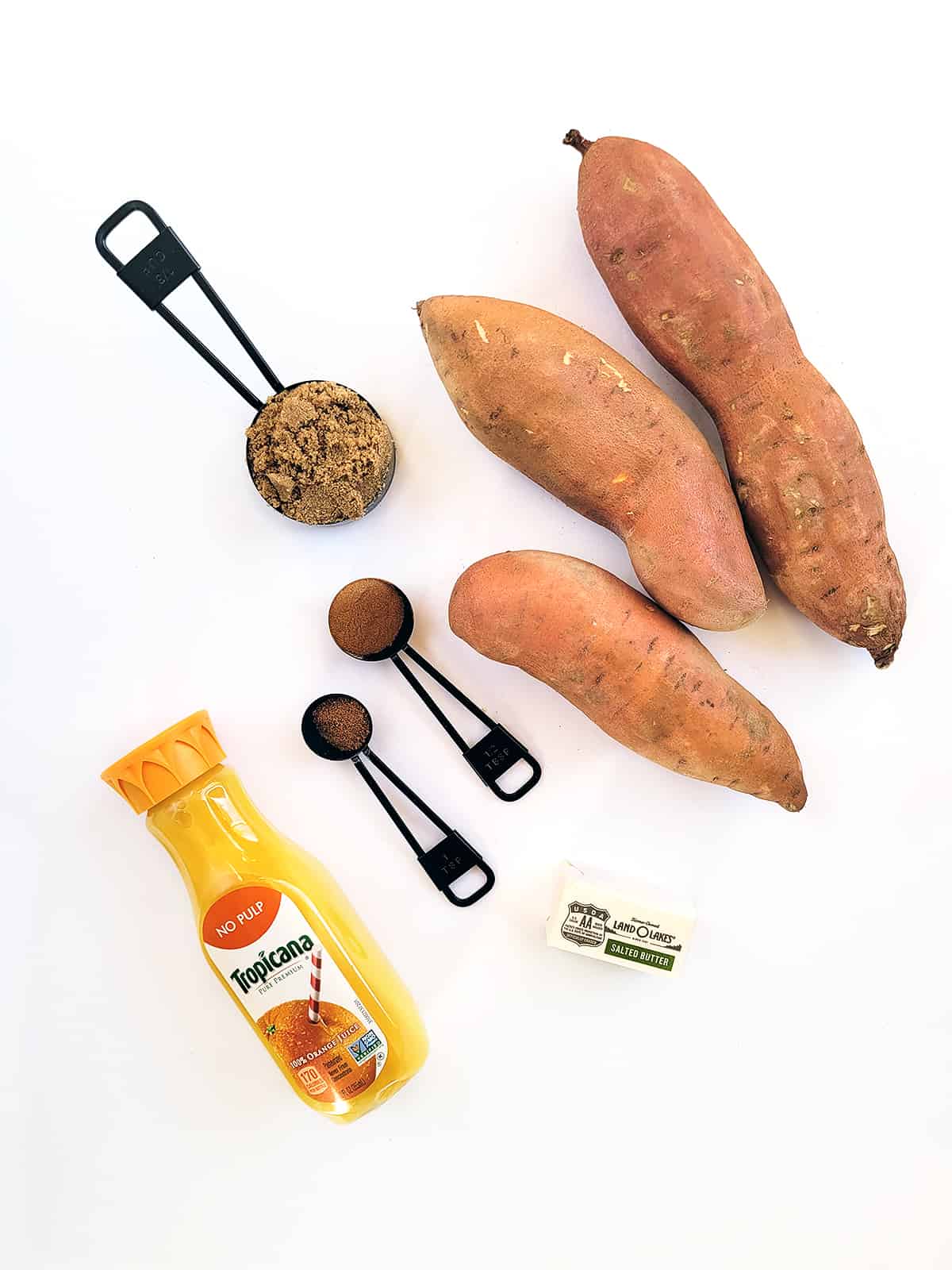 These Candied Sweet Potatoes or Yams are extra delicious because they are cooked in a flavor-bursting glaze using the simplest ingredients! Candied yams are a classic dish, and it's amazing how much extra flavor just a handful of ordinary ingredients can add, but these are the best-candied yams you've ever tasted.
For this recipe, you can use almost any type of yam/sweet potato. We used orange-fleshed sweet potatoes. Just make sure you cut the yams into pieces that are roughly the same size so that they cook evenly as they roast.
I like to use dark brown sugar as opposed to light brown sugar, as it will give a deeper color and flavor to the dish.
Ingredients
3 lbs yams (sweet potatoes)
4 tablespoons salted butter
1/2 cup dark brown sugar
1/2 cup orange juice
pinch of salt
pinch of nutmeg
generous pinch of cinnamon
2 tbsp bourbon (optional)
How to make Candied Yams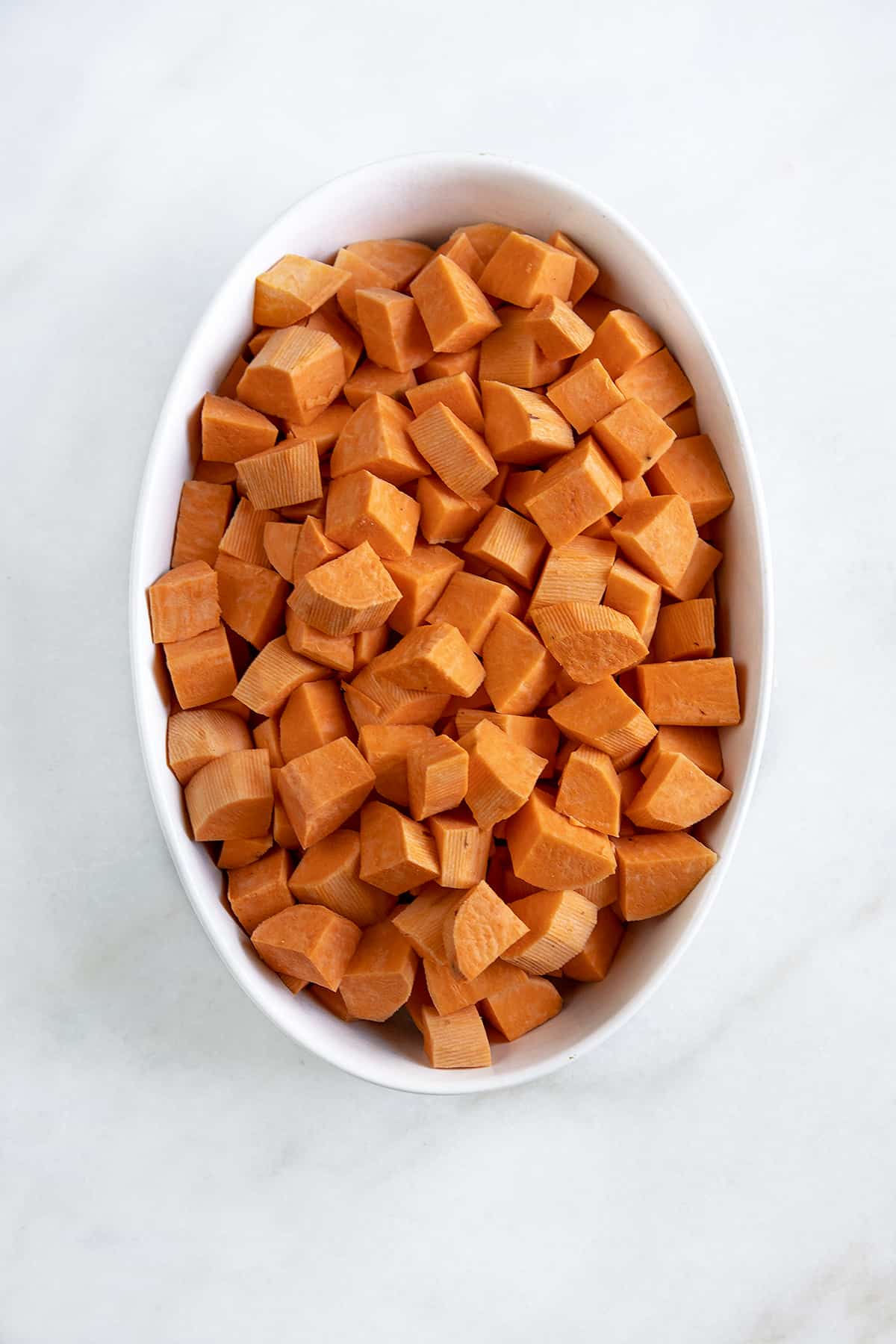 To make Candied Yams, begin by preheating the oven to 400 degrees Fahrenheit. Butter a medium-sized baking dish.
Peel the yams and then cut them into 1-inch chunks. Alternatively, you can make them into slices, but I do prefer the chunks better. They take longer to cook and get more caramelized this way. Place them in the prepared baking dish.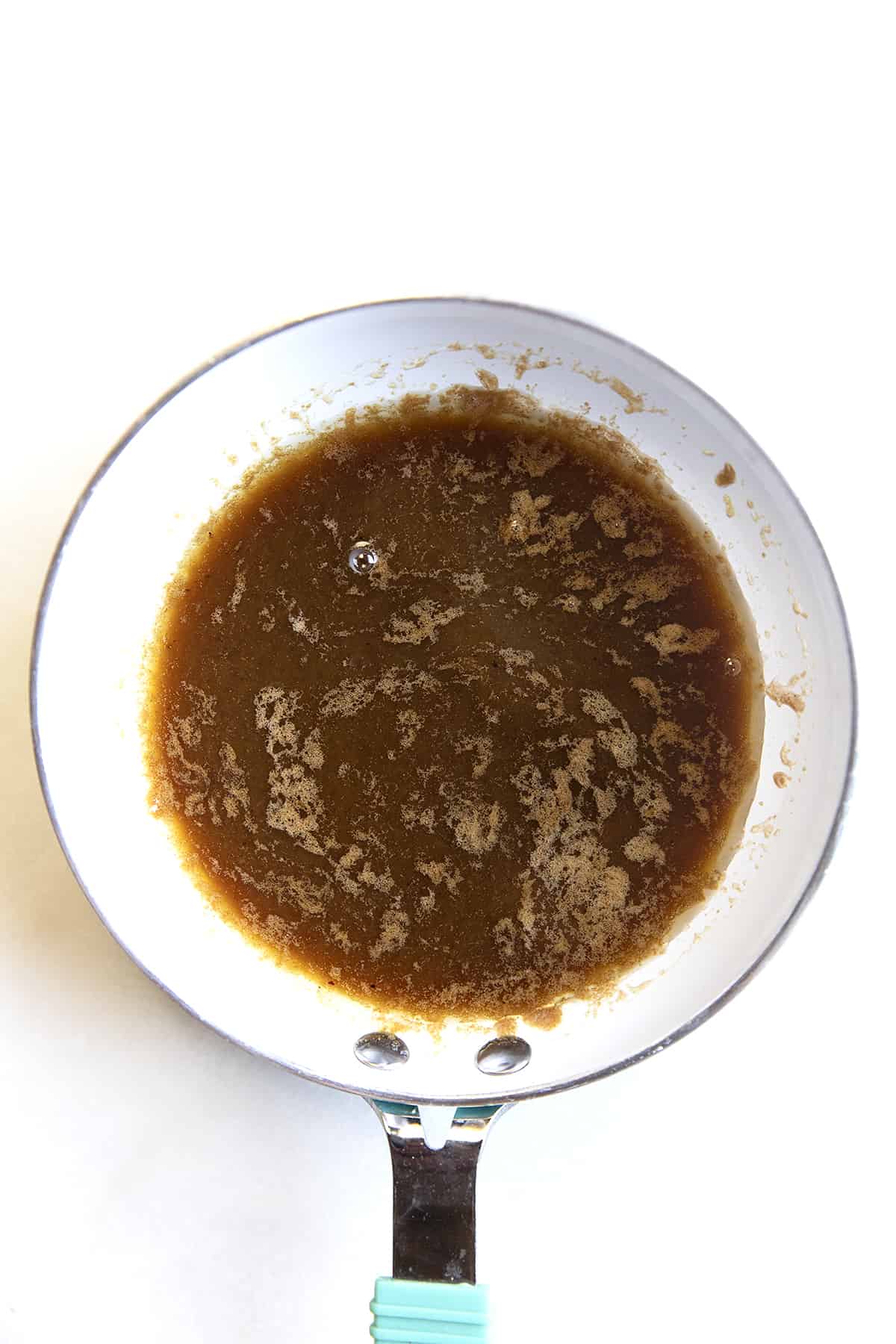 In a medium size saucepan on the stovetop, combine the butter, orange juice, brown sugar, spices and salt, and bourbon if using. Bring to a boil over medium-high heat, then reduce heat and simmer for about 10 minutes or until the mixture thickens.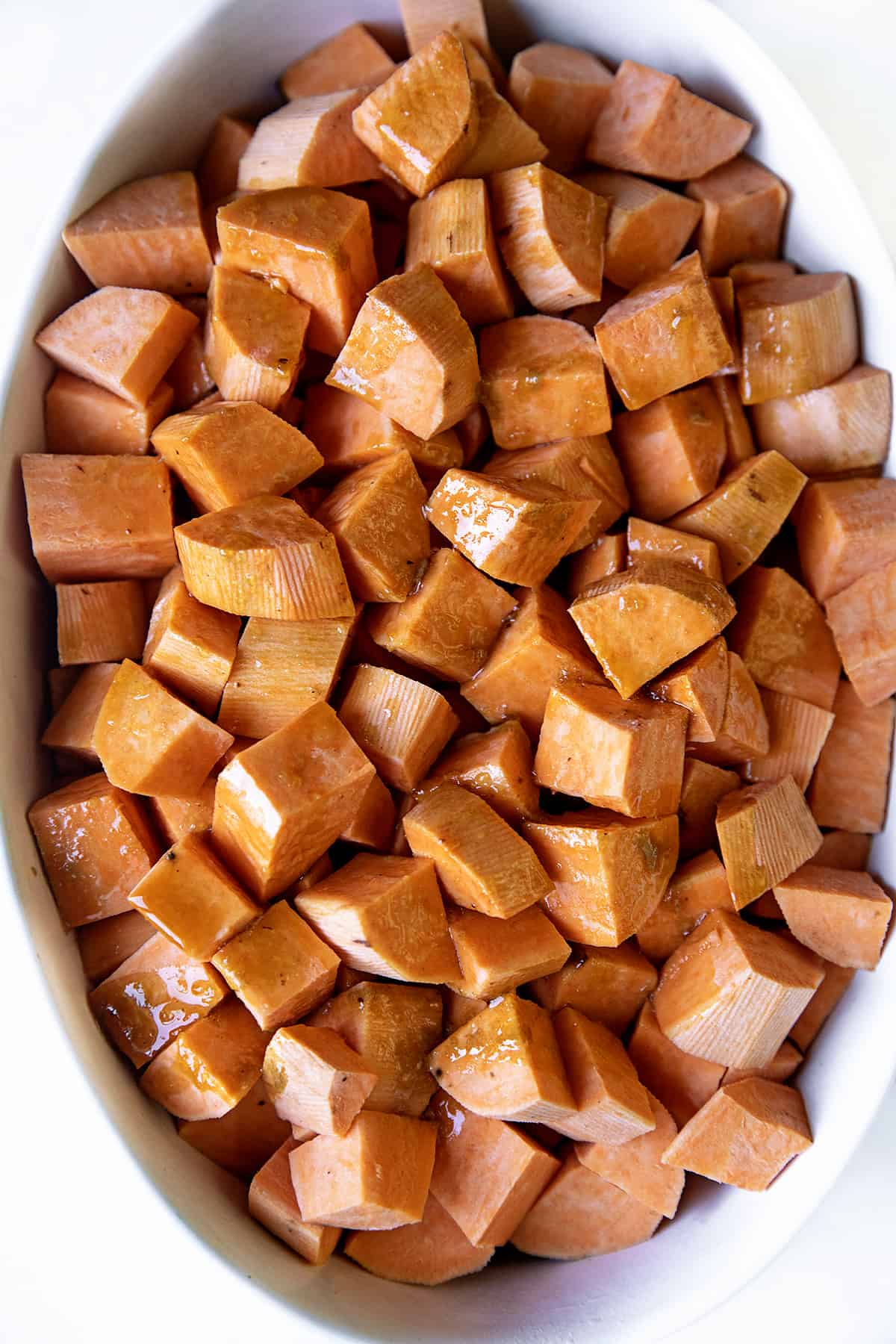 Pour the sugar mixture over the yams and stir to evenly coat the chunks of yam. Then cover with foil and bake for 30 minutes.
After 30 minutes, remove the foil and cook for an additional 30 minutes, basting with the glaze once or twice while it cooks. Remove from oven and let it cool slightly before eating.
These Candied Yams are such a treat! Vegetables have never tasted this delicious. With the orange juice, the glaze adds a bright burst of flavor. The warming spices paired with the soft roasted sweet potato/yam flavor make this dish such a Southern comfort food too.
It's an excellent side dish for any meat or fish main dish. The yams/sweet potatoes are packed with Vitamins A, B, and C, but even though you are eating a nutritious root vegetable, it's so incredibly delicious that you'll want seconds and even thirds!
FAQs About This Recipe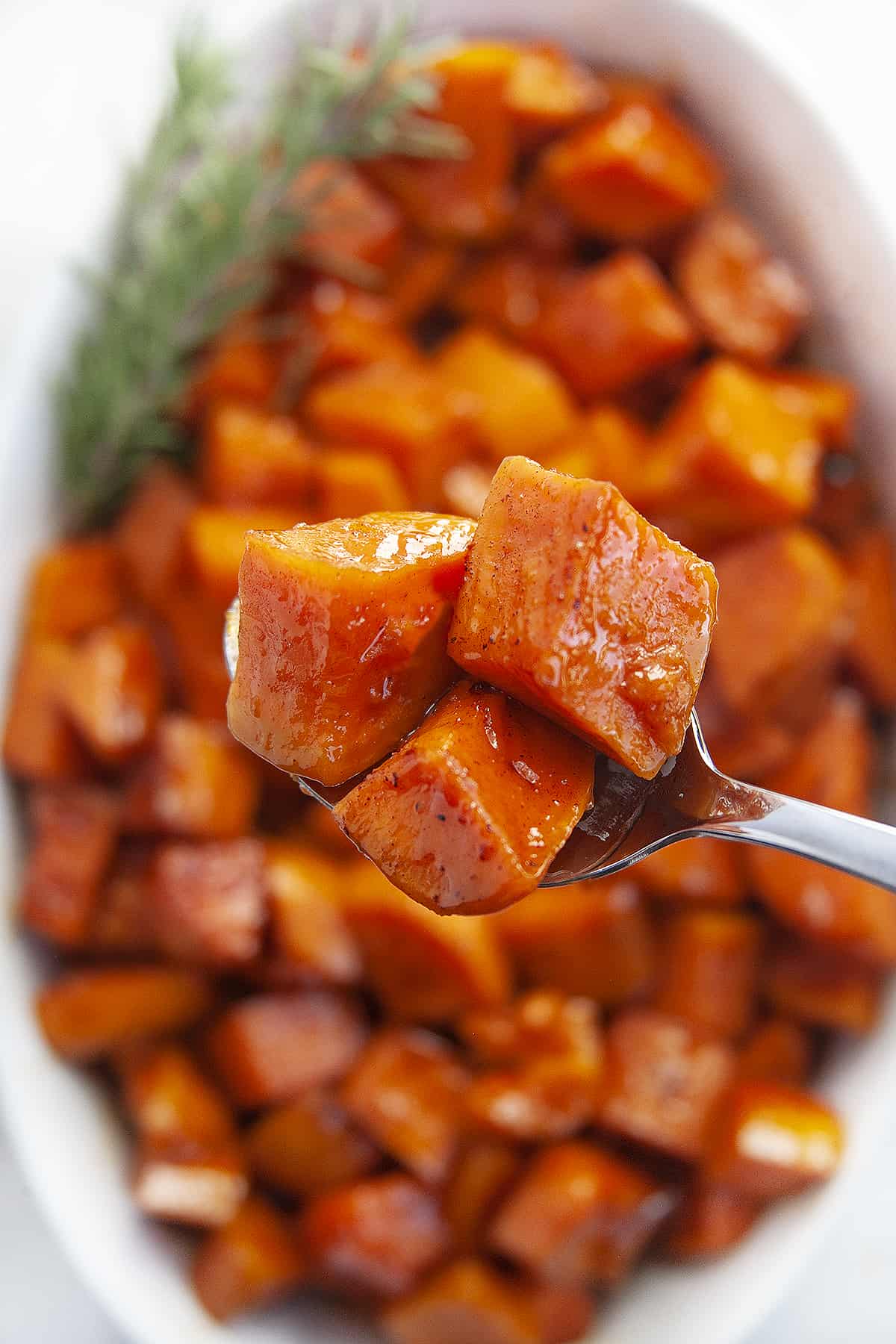 Do you boil your yams before baking? For this candied yam recipe, there is no need to boil the yams before baking. The oven cooks the yams until tender, and they simmer away in the sweet sauce to golden perfection.
Can I make the yams/sweet potatoes ahead of time? You can make this candied yam recipe a day or two in advance. Here is how:
Just cube up your peeled yams ahead of time, like the night before, and keep them in a bowl of water so they won't brown.
Alternatively, you can bake the entire dish the night before or up to two days before and then let cool completely, and wrap the dish well with plastic wrap and foil. When you are wanting to serve, then remove the plastic wrap and return the foil to the dish. Reheat in the oven for 20-30 minutes at 350F. Watch that they don't burn.
If you would like some variations to this recipe, you can add in pecans or serve it with browned marshmallows on top.
Other Great Side Dishes for the Holidays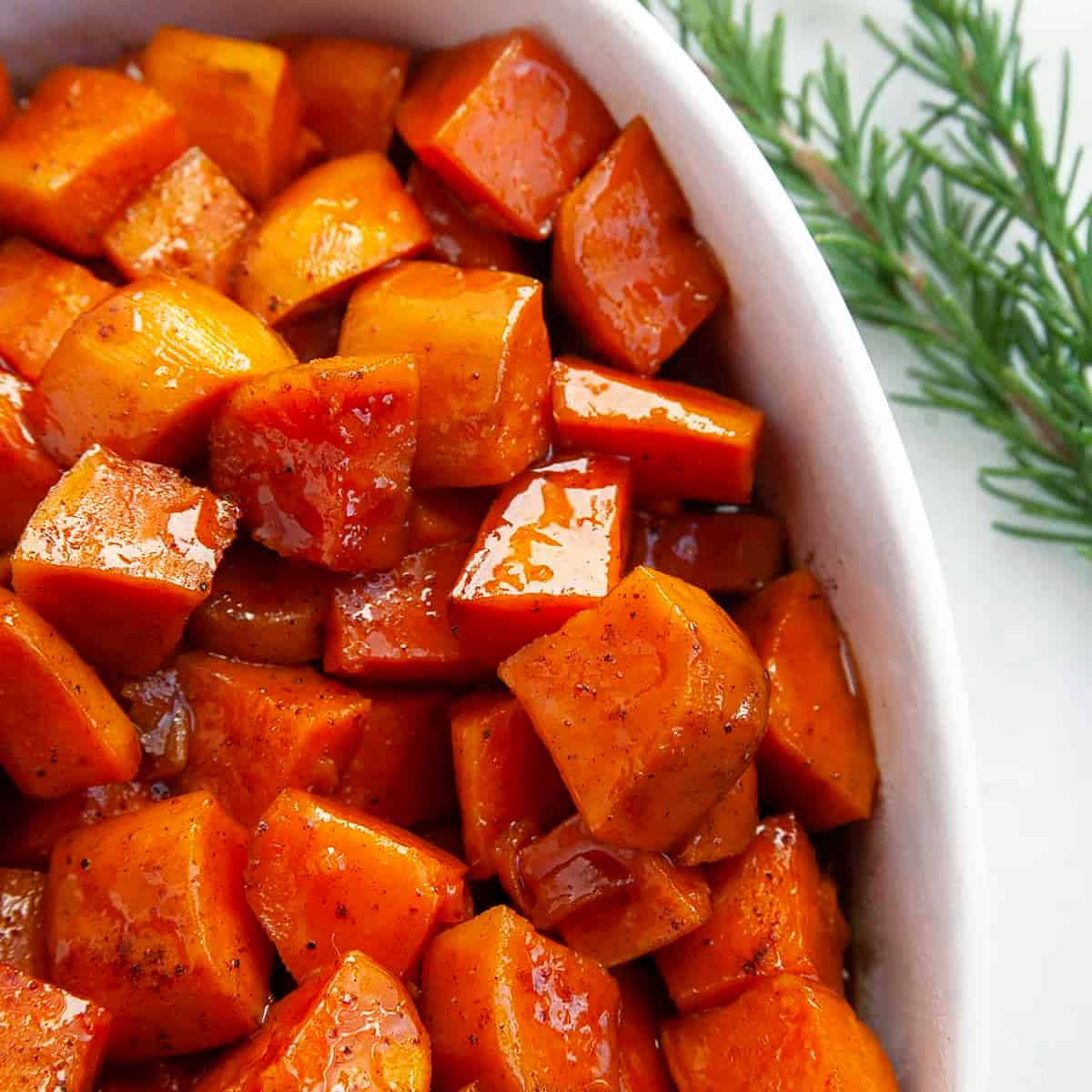 Ruth's Chris Copycat Sweet Potato Casserole – Prefer your sweet potatoes mashed? Try this amazing make-ahead casserole that everyone will rave over.
Caramelized Carrots – These carrots have a tender texture with an almost candy-like glaze. They are an easy dish for holidays or any night of the week. They are always gobbled down with enthusiasm as we love carrots in our home.
Old-Time Squash Casserole – One of my favorites is this cheesy delightful casserole that changes things up from the traditionally sweet ones you see in the fall.
Zesty Green Bean Casserole – This recipe is a bit of a change-up from the traditional one that you have seen for years. It is even more delicious.
Old-Fashioned Cornbread Dressing – This recipe is a mouthwatering delicious Southern side dish you need for the holidays. With a tender buttermilk cornbread base, this classic dressing is stuffed with apples, sausage, and fresh sage to make the most flavorful dressing you've ever tasted!
32 Amazing Thanksgiving/Holiday Sides – We have broken them down into Savory Sides, Sweet Sides, and Breads & Stuffing. Some are a little lighter, some a bit more decadent, but all will be delicious on your holiday table.
Pin it HERE!!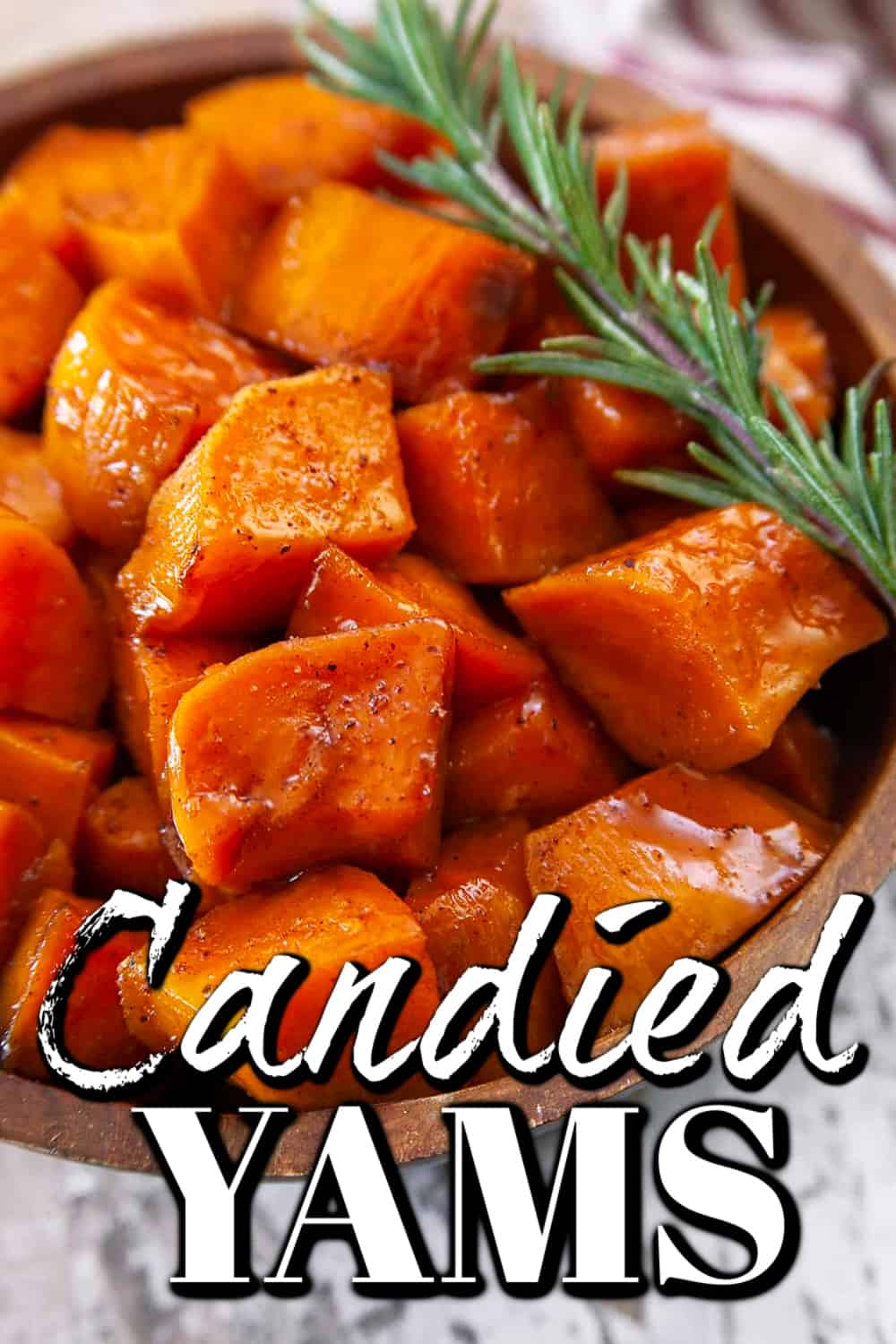 Pn it HERE!!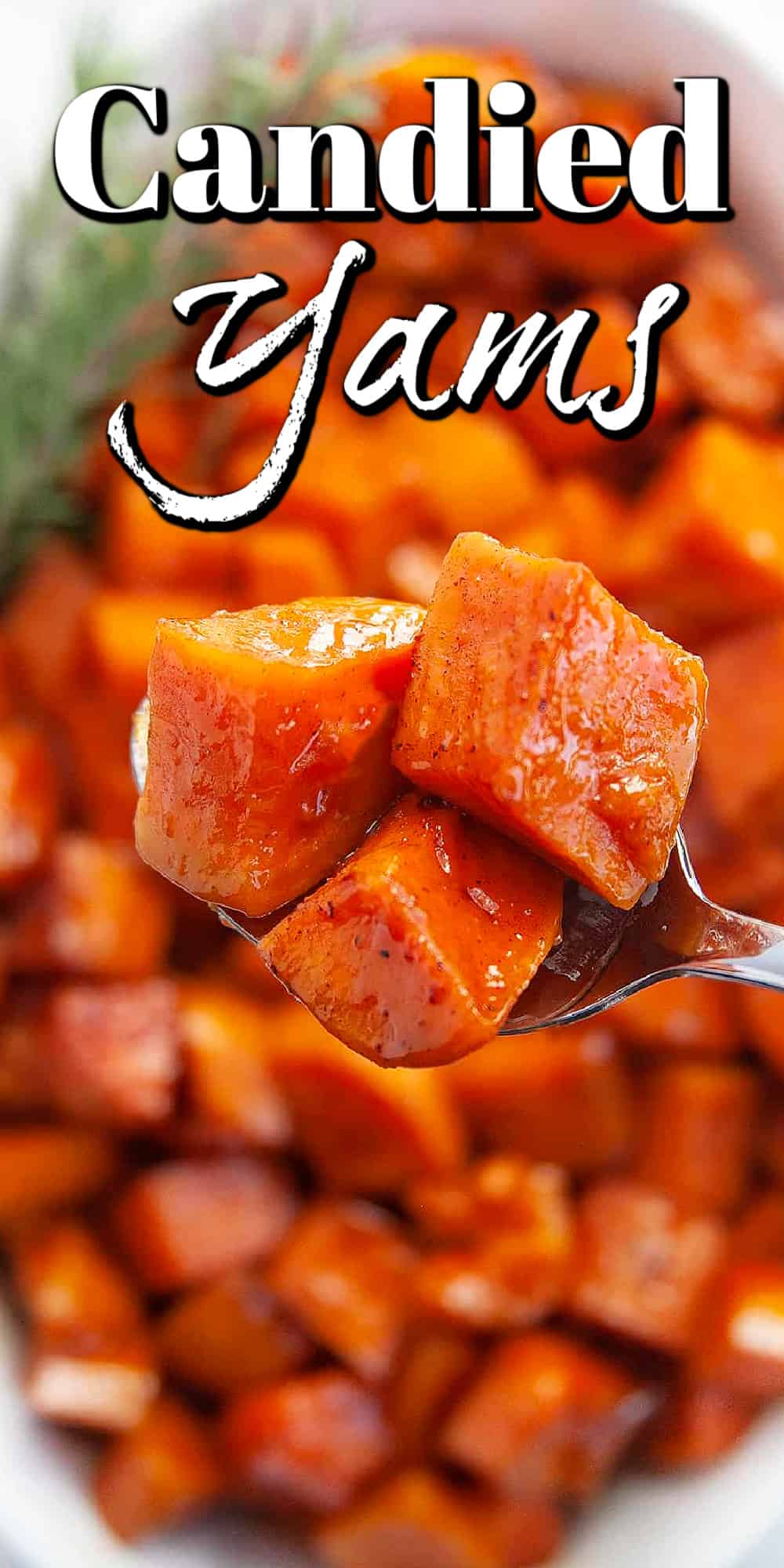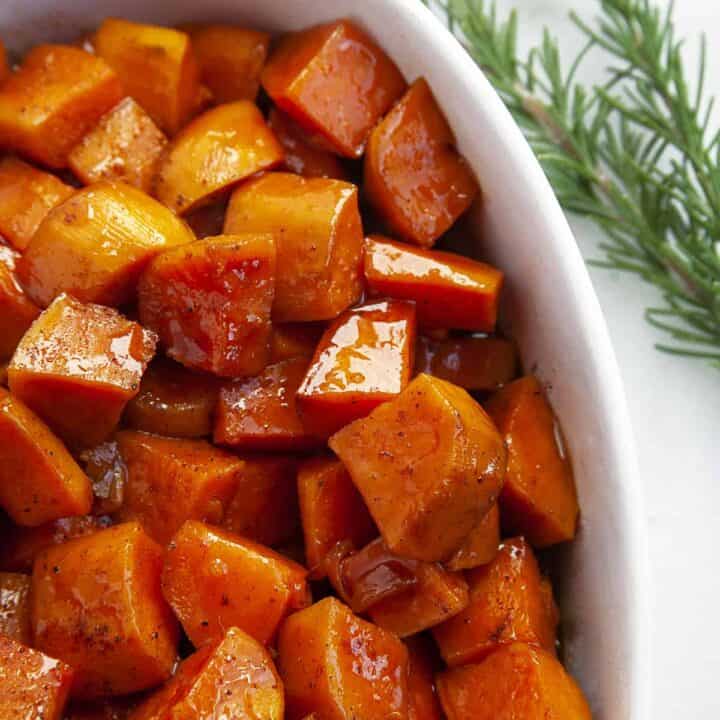 Best Candied Yams
Yield: 8 servings
Prep Time: 15 minutes
Cook Time: 30 minutes
Total Time: 45 minutes
This Best Candied Yam recipe will be one that everyone will love seeing on your holiday table. They go excellent with all your holiday mains and make a little sweet side to your savory dishes.
Ingredients
1/2 c. dark brown sugar
1/2 c. orange juice
4 tbsp. butter, plus more for pan
generous pinch cinnamon
Pinch nutmeg
Pinch salt
2 tbsp. bourbon (optional)
3 lbs medium yams
Instructions
Preheat oven to 400°. Butter a medium baking dish.
In a medium saucepan, combine sugar, orange juice, butter, cinnamon, nutmeg, bourbon if using, and salt. Stir to combine and bring to a boil over medium heat. Reduce heat to a simmer and cook until sugar mixture has thickened slightly, about 10 minutes.
Peel yams and slice into 1-inch chunks, then layer in prepared baking dish. Pour thickened glaze over yams and cover dish with aluminum foil.
Bake for 30 minutes, then remove foil and bake an additional 30, basting with sauce once or twice while cooking.
Let cool slightly before serving.
Recommended Products
As an Amazon Associate and member of other affiliate programs, I earn from qualifying purchases.
Nutrition Information:
Yield: 8
Serving Size: 1
Amount Per Serving:
Calories: 304
Total Fat: 6g
Saturated Fat: 4g
Trans Fat: 0g
Unsaturated Fat: 2g
Cholesterol: 15mg
Sodium: 79mg
Carbohydrates: 59g
Fiber: 7g
Sugar: 13g
Protein: 3g
Recipe calculation was provided by Nutritionix and is an estimation only. If you need nutritional calculations for medical reasons, please use a source that you trust.