Sugar cookies are fantastic for any season, so versatile of course. They are whatever you cut them out to be and I have done them for all seasons. Today we have Christmas Sugar Cookies and they have been all of Amber's efforts to cut out, bake and decorate. In my opinion, she has done an amazing job!! The key to success is having everything ready. The sugar cookies can be made ahead of time and placed in the freezer. So when you have an afternoon to decorate they are ready for you.
Children find this a fun and rewarding activity, as they get to eat the fruit of their labor. Having a bunch of decorating tips available helps to design the cookies and make it fun. Sprinkles, dragees, colored sugars, eyes, and decorations also add to the enjoyment. All of these can be found at your local craft store. As for the decorating techniques, you can go for as easy or as complicated as you wish. Simply icing the cookie with a spreader and adding embellishments works or piping in details intricately is also fun!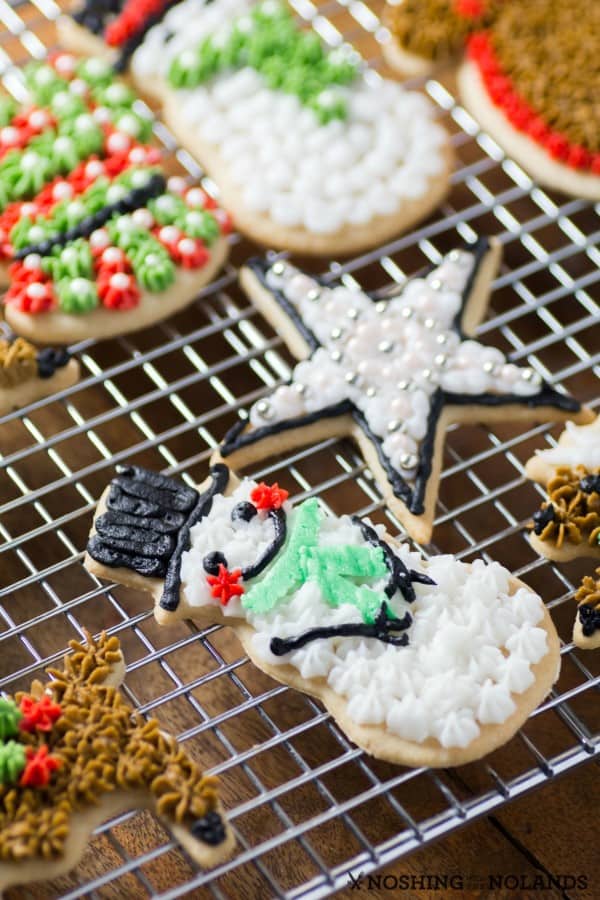 Cookies can be very individual, not one turns out the same. The number one thing is to have fun and be creative. The sky is the limit to what you can do. For these Christmas Sugar Cookies we used a buttercream icing. Dividing up the icing into bowls we created the colors we wanted, and then put the icing into piping bags fixed with a variety of tips. Smaller the tips the better for details. Besides the buttercream icing we also used store bought icing to get that white as white and black as black color which is very hard or impossible with buttercream icing made at home.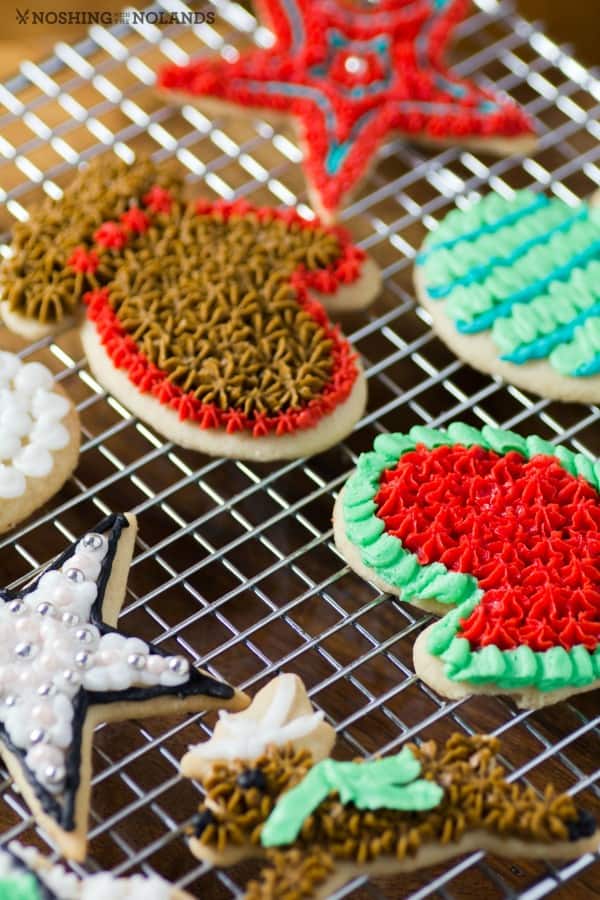 Set the kids up and let them have some Christmas fun! Doing this at a party can work too. The kids are entertained and the parents can enjoy themselves too.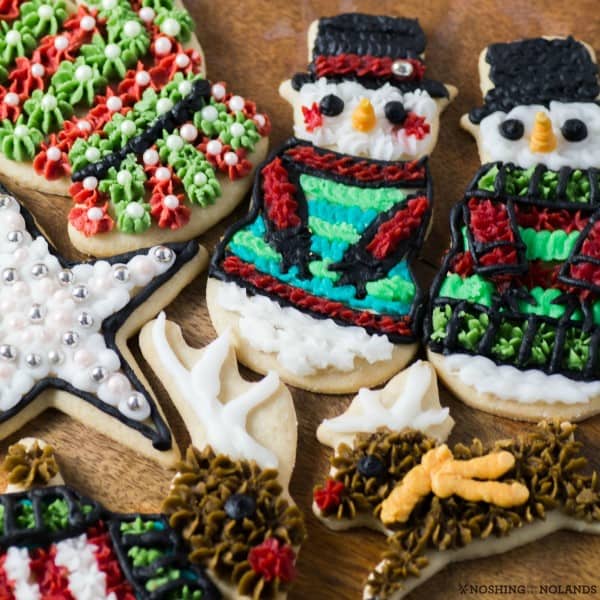 As time went on the decorating got to be more detailed. Amber so enjoyed this activity and when company came over her friend Megan also joined in.
Warning: This recipe makes a lot of sugar cookies, it is not for the faint of heart. Decorating sugar cookies is labor intensive and messy but oh so enjoyable too. For this recipe I also made Snowflake Cookies. You can easily cut this recipe in half. I am not sure how many it makes as it all depends on the size of cookie cut out.
The Recipe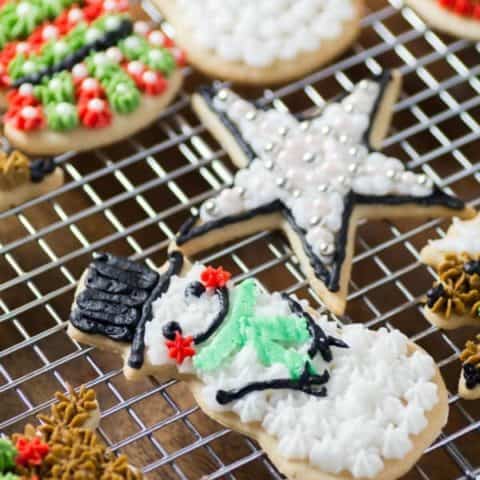 Christmas Sugar Cookies
Cook Time: 10 minutes
Total Time: 10 minutes
Ingredients
Sugar Cookies
½ cup brown sugar
½ cup white sugar
1 cup butter, softened
2 eggs
1 tsp. vanilla
½ cup white corn syrup
pinch of salt
2 tsp. baking powder
3¼ cups flour
Icing
Perfect Piping Buttercream Recipe
Store bought icing
Sprinkles, dragees, and other decorations if desired
Instructions
For the sugar cookies, in a stand up mixer cream butter and sugars together and then beat in eggs until well mixed. Add vanilla and syrup and mix well. Whisk together dry ingredients and add slowly, mixing well until all is incorporated. Chill the dough well, best if done overnight. Roll out dough onto a well floured surface and cut into various shapes. Bake at 325F for 8-10 min. on a lightly greased cookie sheet. Let cool 5 min. on the tray and then remove to further cool on a cooling rack.
For the icing I am going to direct you to The Creative Bite as she has an amazing Perfect Piping Buttercream Recipe that we used for this recipe.
Have fun decorating using additional items like sprinkles, dragees and other decorations if desired.