Don't you just love cookies and packing them up for a late summer picnic is not only fun but delicious! Today I am with #CreativeCookieExchange and our theme this month is Picnic Cookies, thank you Laura from The Spiced Life for this great theme and for hosting!! I decided to make an old standby but one of my all time favorites, Chewy Oatmeal Raisin Cookies. Grabbing a little picnic table or picnic blanket and sharing some wonderful food with family and friends is always a fun thing to do. We have over a dozen cookies that pack well in a picnic basket for you today.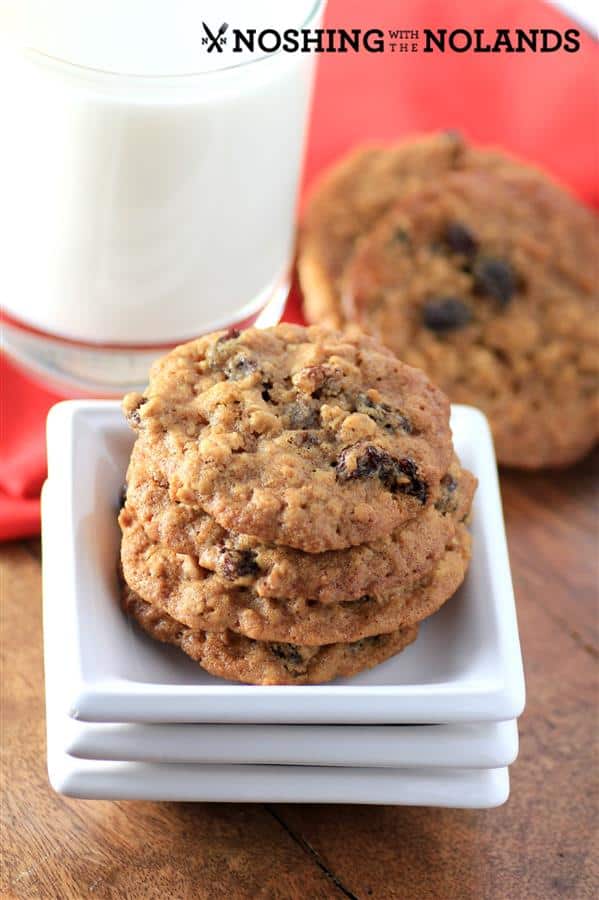 Gorgeous golden cookies that are chewy rather than crisp are the way I like my oatmeal cookies. They turned out scrumptious and I have to make another batch soon.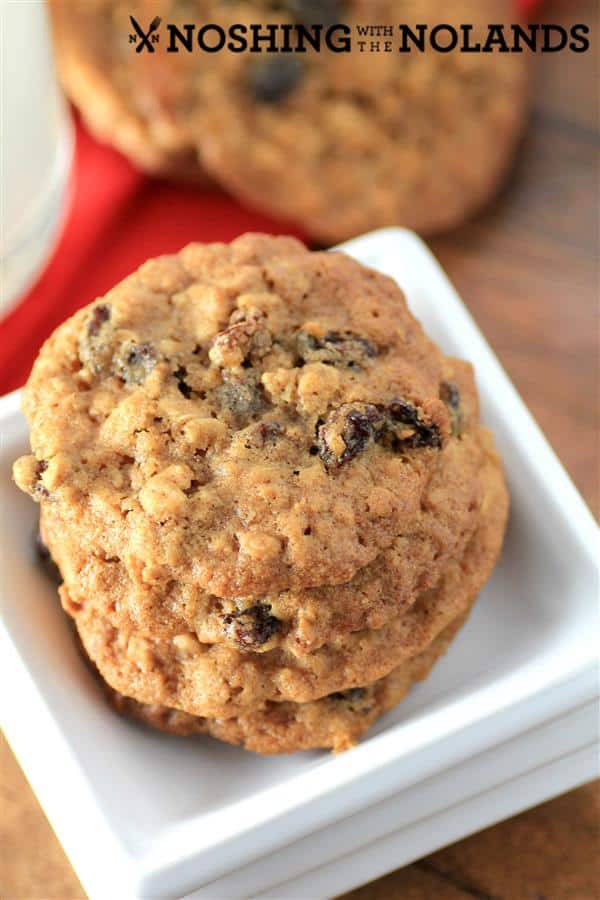 Plump raisins and a touch of cinnamon also make these cookies just perfect. I always soak my raisins in boiling water to plump them back up a bit, then dry them well and they are good to go!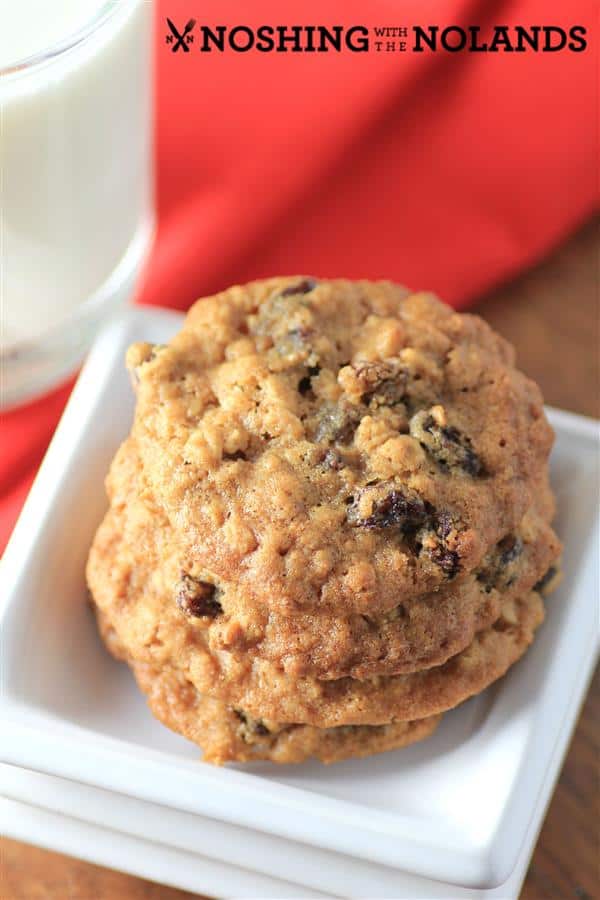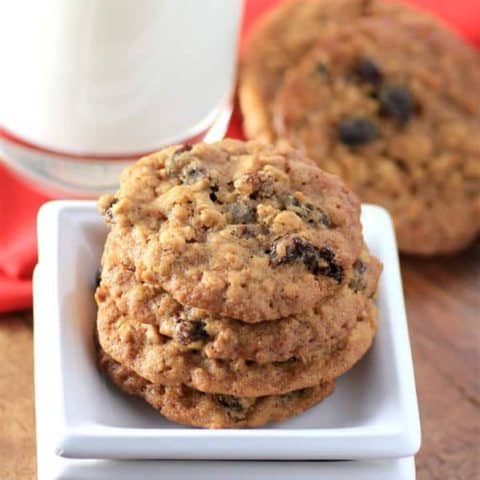 Chewy Oatmeal Raisin Cookies #CreativeCookieExchange
Yield: 2 dozen
Prep Time: 20 minutes
Cook Time: 15 minutes
Total Time: 35 minutes
A chewy raisin oatmeal cookie that packs perfectly in a picnic basket to share with others.
Ingredients
1 1/4 cup rolled oats
1 cup flour
1 tsp. ground cinnamon
1/2 tsp. baking powder
1/2 tsp. sea salt
1/2 cup butter
1 cup sugar
3 Tbsp. molasses
1 large egg
1 tsp. vanilla
1 cup raisins, plumped in boiling water and dried
Instructions
Preheat oven to 350F.
Combine the dry ingredients, oats, flour, cinnamon, baking powder and salt in a large bowl and set aside.
Cream together the butter, sugar and molasses in a bowl of a standup mixer and beat until fluffy for about 5 min. Add the egg and vanilla and beat until incorporated. Add the flour mixture in and stir until combined. Stir in the raisins by hand.
Drop dough by heaping tablespoons onto parchment lined cookie sheets. Leave about 2-3 inches apart. Flatten slightly with a fork. Bake until golden about 15 min. Let cool on the sheets for 5 min., then to a rack until completely cooled.
Recipe adapted from Food Network Kitchen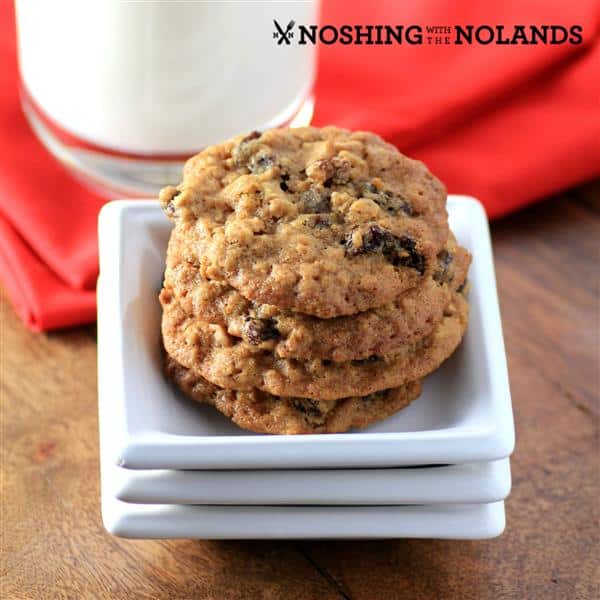 Now have a look at all the other wonderful cookies that can fill your picnic basket. Get on out there and enjoy what is left of the summer!!
The theme this month is Pack for a Picnic Cookies–any kind of cookie that sounds great for a picnic! If you are a blogger and want to join in the fun, contact Laura at thespicedlife AT gmail DOT com and she will get you added to our Facebook group, where we discuss our cookies and share links.
You can also just use us as a great resource for cookie recipes–be sure to check out our Pinterest Board and our monthly posts (you can find all of them at The Spiced Life). You will be able to find them the first Tuesday after the 15th of each month!
Also, if you are looking for inspiration to get in the kitchen and start baking, check out what all of the hosting bloggers have made:
a19a23a3bad3bdbc8d8a3da7ba7335d7501887d6d16bd3383d