I initially shared this post when I did, Enjoying a Family Dinner with Canadian Beef. So many people raved over the recipe but I didn't include it in that post. So, today I am sharing with you the recipe for Supreme Steak. For me, a beef dinner doesn't have to be a massive steak taking up most of my plate. I also really like a great topping and sharing two steaks between the three of us seems like the perfect amount for us. We all get enough and it is so enjoyed.
We have made this recipe a few times now and served it to company too. It is extremely simple but ups the usual steak dinner to a new level. The tomato topping is a gorgeous medley of flavors. The recipe I initially saw was from Sobey's but we always do a little tweaking. Serve it with our simple yet delicious Creamy Mushroom Orzo for a complete meal.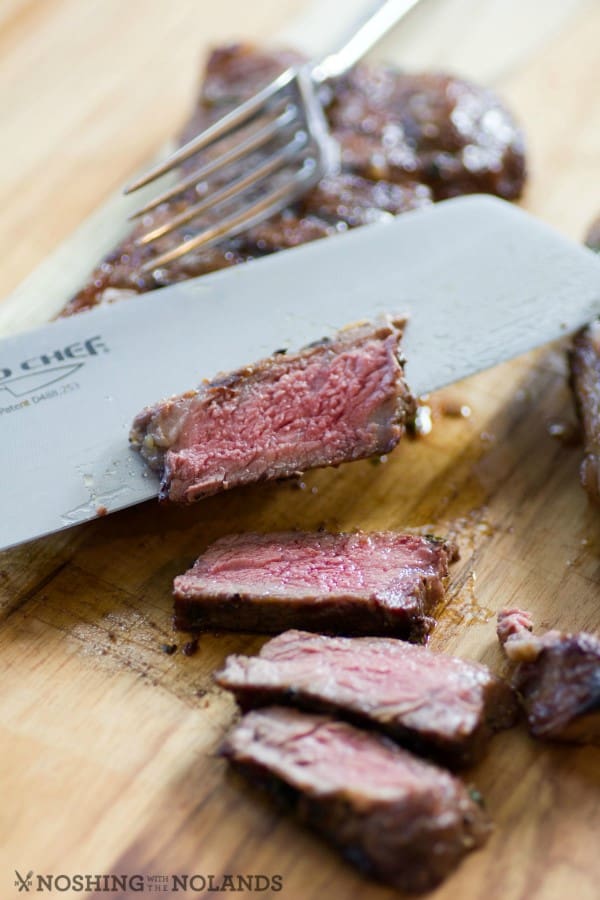 Steak is easy to cook on the BBQ and you get maximum flavor with just a few simple ingredients, like fresh herbs. For us, we grow fresh herbs all summer long. They are easy to take care of and save us a bunch of money as we love using them in so many dishes. You then can get creative with mixing and matching herbs and really use them to their full potential.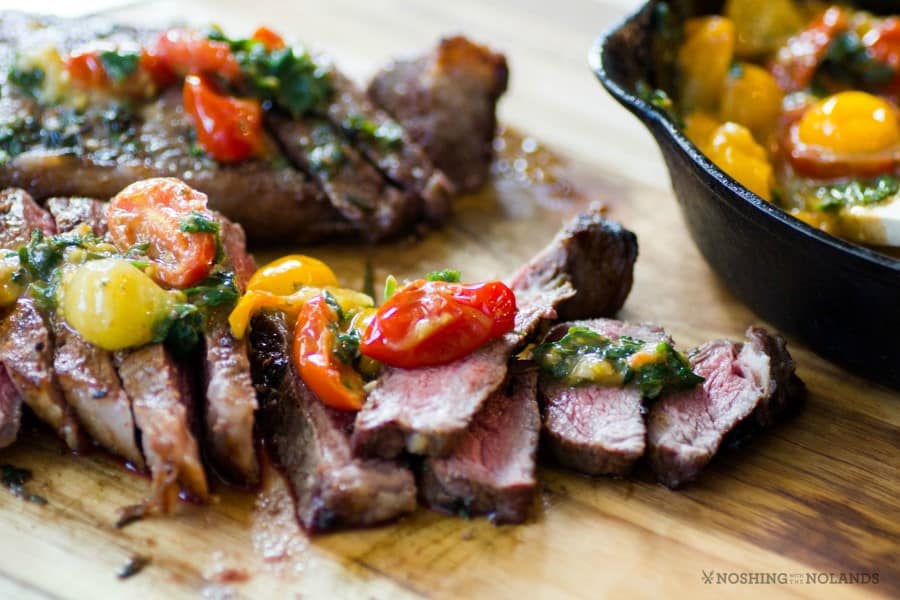 The blistered tomato topping adds so much to the already magnificent beef. So simple to make and you can whip this up while the steak is resting. Plus for kids it is another way to sneak in some more veggies.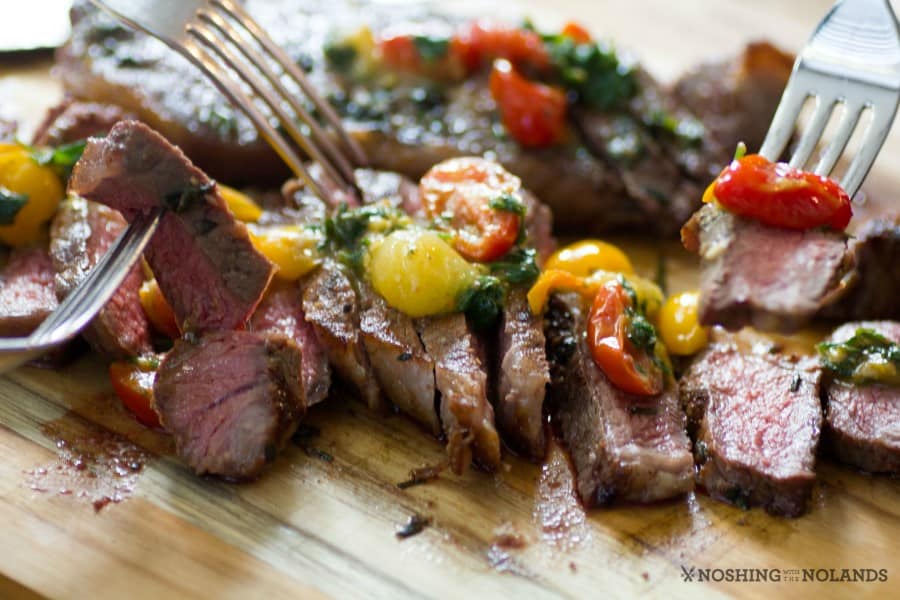 Everyone will be diving into this dinner. In addition to the deliciousness, it also looks like a celebration!! Most of all, get some Canadian Beef on your table, your family will be loving you for it!!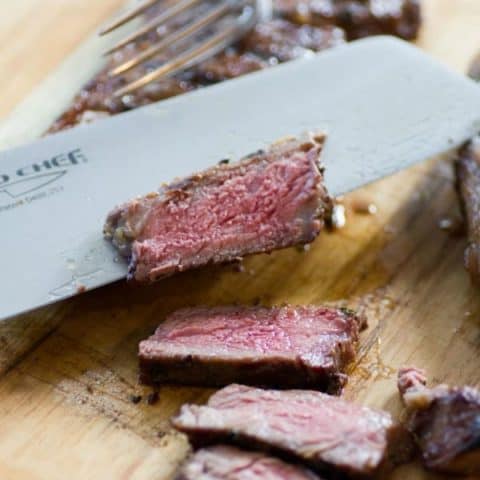 Supreme Steak
Yield: Serves 2-3 people
Prep Time: 5 minutes
Cook Time: 15 minutes
Total Time: 20 minutes
A Supreme Steak dinner is served up simply with the freshness of summer herbs and tomatoes.
Ingredients
2 (8-10oz) Canadian Beef strip loin steaks or steak of your preference
1 clove garlic, minced
1/4 cup finely chopped herbs (rosemary, thyme, parsley)
1-2 Tbsp. olive oil
Salt and pepper to taste
Blistered Tomatoes
1 Tbsp. olive oil
1 1/2 cups different coloured tomatoes
1 clove garlic, crushed
1/4 cup torn basil leaves
1 1/2 tsp. pesto
Instructions
In a small bowl add in the garlic, herbs, olive oil and salt and pepper, mix well. Rub this mixture onto the steaks and set aside.
Preheat the BBQ to high. Grill the beef on medium high heat for 5 min. per side or until desired doneness. Depending on the thickness of the steak, it should be medium rare at this point. Remove the steaks to a plate to rest.
Meanwhile heat a medium sized cast iron pan over medium high heat. Add the tomatoes and stir and toss for 2 min. Add in the garlic and the pesto and continue cooking for 2-3 min. Add the basil and serve the pan on the board with the sliced steak for everyone to enjoy!