Apple Fritter Bread is an insanely delicious quick bread recipe. It's filled with all the flavors of a fried apple fritter donut, but the quick bread version is so simple you'll be making it every week during apple season!
It's filled with tart fresh apples, swirled with brown sugar and cinnamon mixture, and topped with a mouthwatering cream cheese glaze. Go ahead and preheat the oven, because you won't be able to resist this recipe. It fills the house with wonderful aromas like your Crock Pot Apple Cider. Love making bread, then try our Best Chocolate Babka too.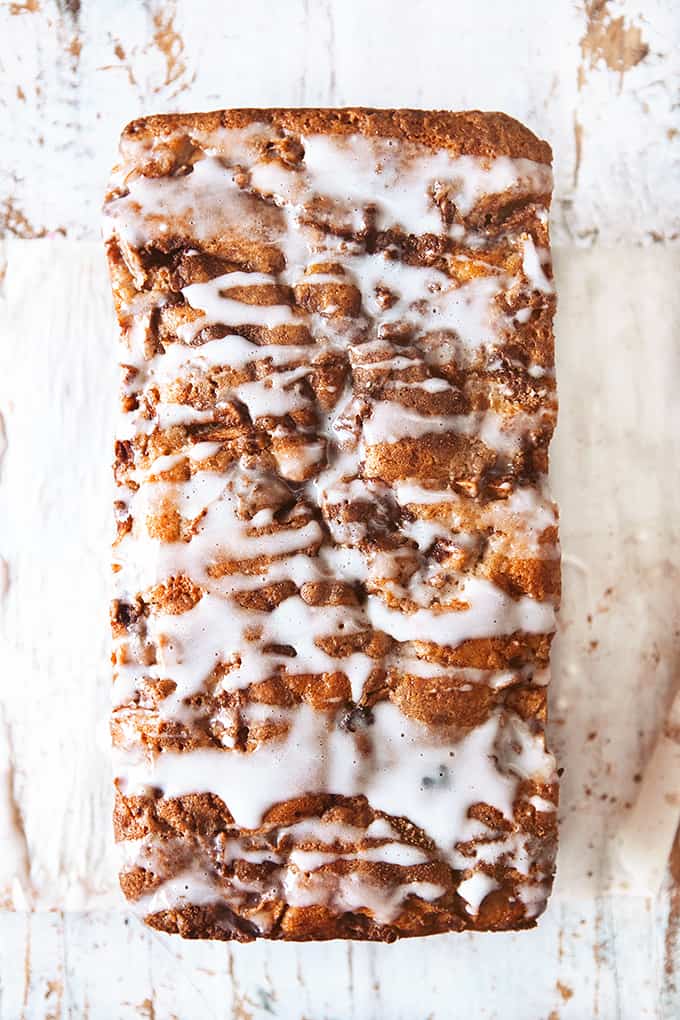 Hi there, it's Allison again from Some the Wiser. It's still unseasonably hot here in my little corner of the world, but that hasn't stopped me from wanting to get out all of my favorite apple recipes as the calendar marches into Autumn.
Already on the menu here is my favorite Apple Scones with a Cider Glaze and I can't ever turn down a Caramel Apple Muffin. Oh, how I love Apple season! I look forward to it all year long.
Helpful Items for This Recipe
This post contains affiliate links. As an Amazon Associate, I earn a small portion from qualifying purchases at no extra charge for you.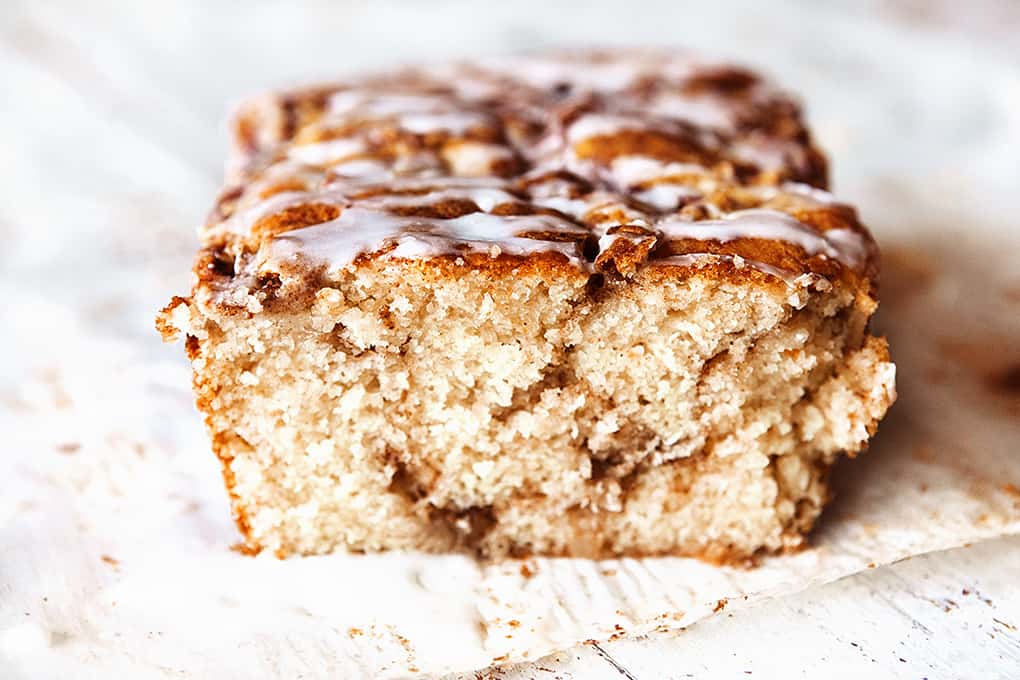 What is Apple Fritter Bread?
Apple Fritter Bread is a simple, old fashioned country quick bread. Quick breads are leavened with baking powder or baking soda instead of yeast.
Unlike a yeasted bread dough, which takes hours to rise and requires kneading, quick breads are made from a more simple batter and are actually quick.
This Apple Fritter Bread has all the delicious flavors of a fried apple fritter baked into an easy loaf. It's stuffed with fresh apples, a delicious streusel inside and on top, and a cream cheese glaze to finish it off.
It's a tender, moist Apple Bread and the chunky apple mixture adds so much flavor. Is there anything better than cinnamon apple recipes in the fall?
This is certainly the best way I can think of to eat an apple! It can double as a breakfast bread or a dessert. A slice of this bread also makes a wonderful afternoon snack with a warm cup of tea or cider.
Choosing Your Apples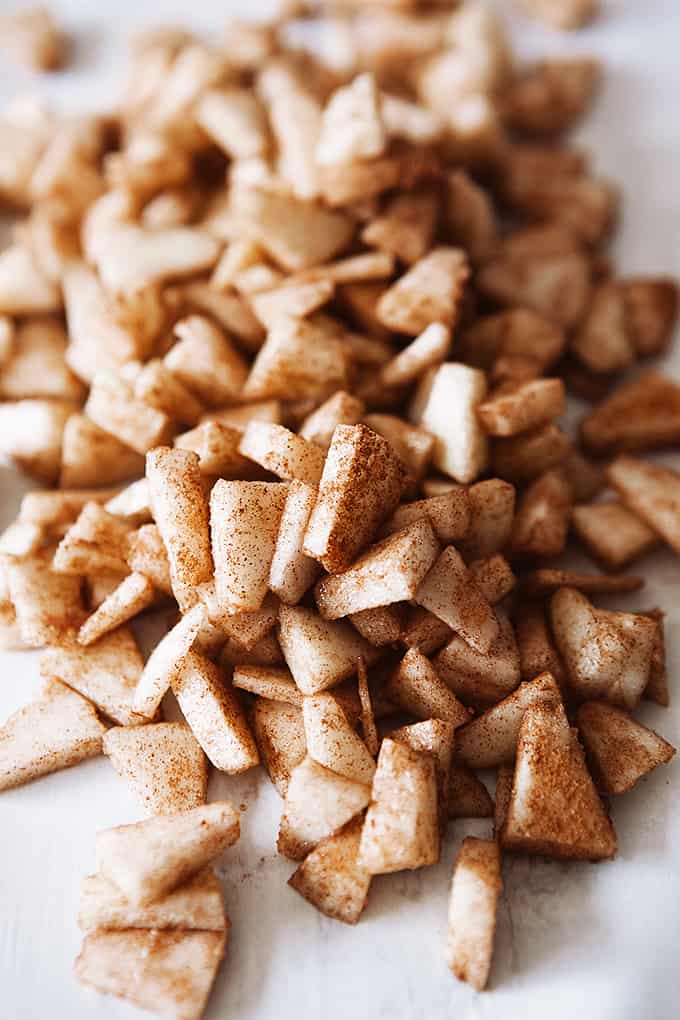 The key to a delicious Apple Bread is to choose really delicious apples. I like to use a blend of tart and sweet apples. When I bake with apples I try to use two different types of apples for the best flavor experience. Good apple varieties for baking are:
Granny Smith
Gala
Honeycrisp
Pink Lady
Fuji
Once you have chosen your apples, you're ready to make a really awesome Apple Fritter Bread. Let me tell you how easy it is!
What is in Apple Fritter Bread?
For the apple bread here are all the wonderful ingredients. They are simple ingredients and more you will have in your pantry already. To make the apple quick bread recipe you will need the following:
Apple Mixture Apples (like Honeycrisp or Granny Smith)
Granulated sugar
Cinnamon
Cardamom
Nutmeg
Brown Sugar Mixture
Light brown sugar
Cinnamon
Bread Batter
All-purpose flour
Baking powder
Salted butter
Granulated sugar
Eggs
Vanilla
Plain Greek yogurt
Glaze
Cream cheese
Salted butter
Vanilla
Cinnamon
Powdered sugar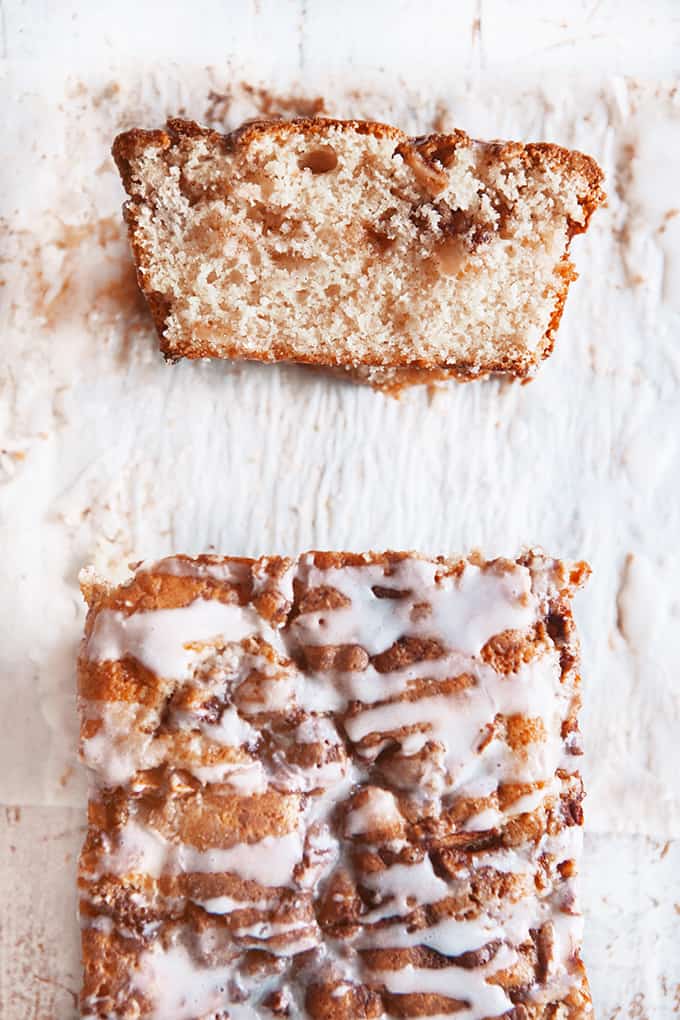 How to Make Apple Fritter Bread
Apple Fritter Bread is made in four parts. After you preheat the oven to 350 degrees, then peel and chop the apples into bite-size pieces.
Then, toss the apples with sugar and spices. You'll also whisk together some brown sugar and cinnamon in a small bowl for the swirl and topping.
Next, you'll whip up the batter. It's a simple quick bread batter with basic ingredients: flour, sugar, egg, oil, plain yogurt, and baking powder.
To assemble the bread, you'll pour half of the batter into the prepared 9 x 5 loaf pan, then top it with half of the chopped apples and half of the brown sugar mixture.
Swirl this just a little bit with a butter knife, then pour the remaining batter over the top. Press the remaining apples and brown sugar mixture into the top, swirling it just a little bit again with a butter knife.
While it's baking, mix up the cream cheese glaze, which you'll drizzle over the top when you're ready to serve it. The glaze consists of cream cheese, butter, vanilla, and powdered sugar. A delightful combination of ingredients making an irresistible glaze.
Make sure your loaf is done when a toothpick inserted in the center comes out cleanly. You can start to check your loaf before the 60 minutes mark if you like. Then adjust the bake time accordingly.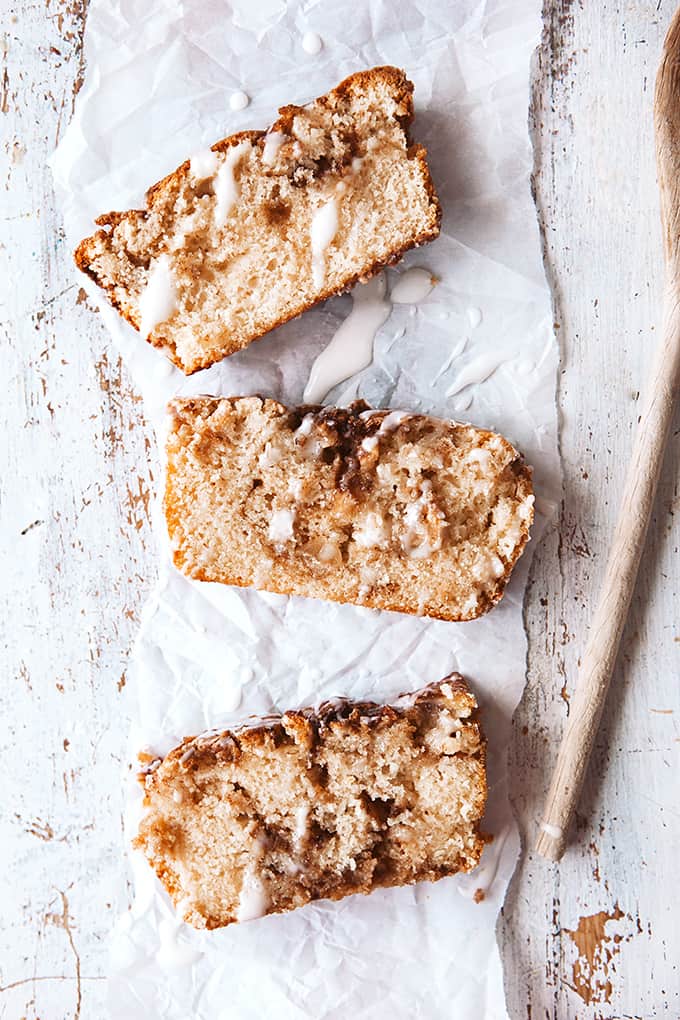 A Simply Incredible Apple Fritter Loaf
The result is incredible. Apples, sugar, and spices swirled all through the bread. It's divine!
Every slice of this Apple Fritter Bread is irresistible. Every bite is bursting with cinnamon and juicy, tart apples. It's the best treat for Fall.
The loaf can be eaten warm out of the oven once you drizzle on the lovely glaze. Do let it cool a bit though from it being piping hot as it will slice better.
To store the loaf, let it cool completely. You can store Apple Fritter Bread on the counter, wrapped in foil, for a day or two. You can also keep it in an airtight container in the fridge for up to a week; it will stay moister in the fridge.
If you don't have a container to fit then wrap it first in plastic wrap and then foil and again refrigerate.
Can I Freeze Apple Fritter Bread?
While this is best warm from the oven, you can freeze Apple Fritter Bread. After you let it cool completely, wrap it in foil and then seal it in an airtight container or zipper plastic bag.
It's best to freeze it before you glaze it. Just bring it to room temperature and then glaze it just before you serve it.
Your frozen loaf should last for up to 6 months. It is nice to freeze some and give them as last minute gifts too.
Honestly though, this bread hardly ever lasts that long at my house. It's normally gone in a flash. It's easy to see why!
What Size Pan Do I Use?
I have seen this bread being made in a Bundt pan, but I much prefer it made as a loaf or bread and sliced and served this way.
The pan that is preferred is a 9×5″ pan and that is also a very easy pan to find.
Other great Fall breads to make:
30 Loaves To Enjoy or Give as Gifts
Super Easy Bread Machine Banana Bread
Bread Machine Pumpkin Pie Spice Loaf
Mini Pumpkin Bread Recipe with Salted Caramel Buttercream
Apple Pecan Buttermilk Quick Bread
Copycat Starbucks Gingerbread Loaf
Pin it HERE!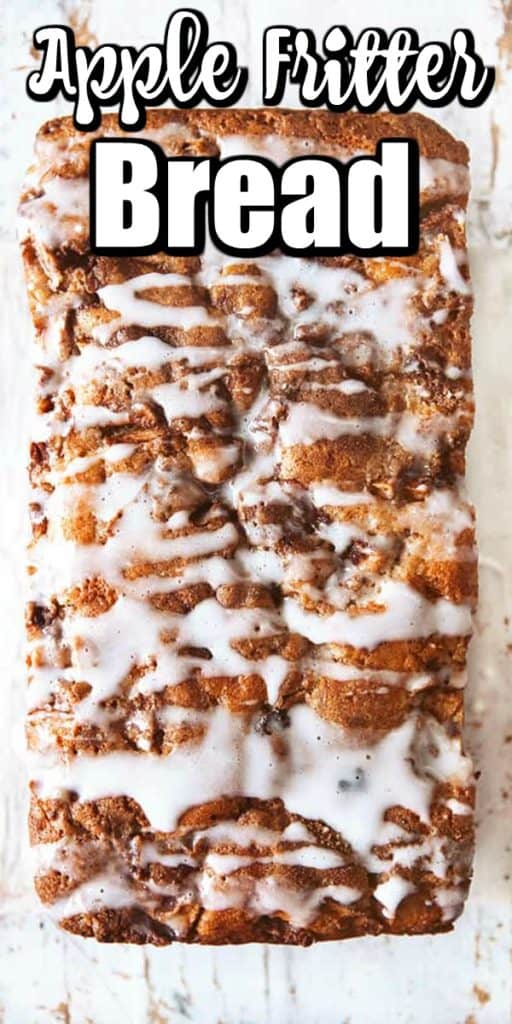 Pin it HERE!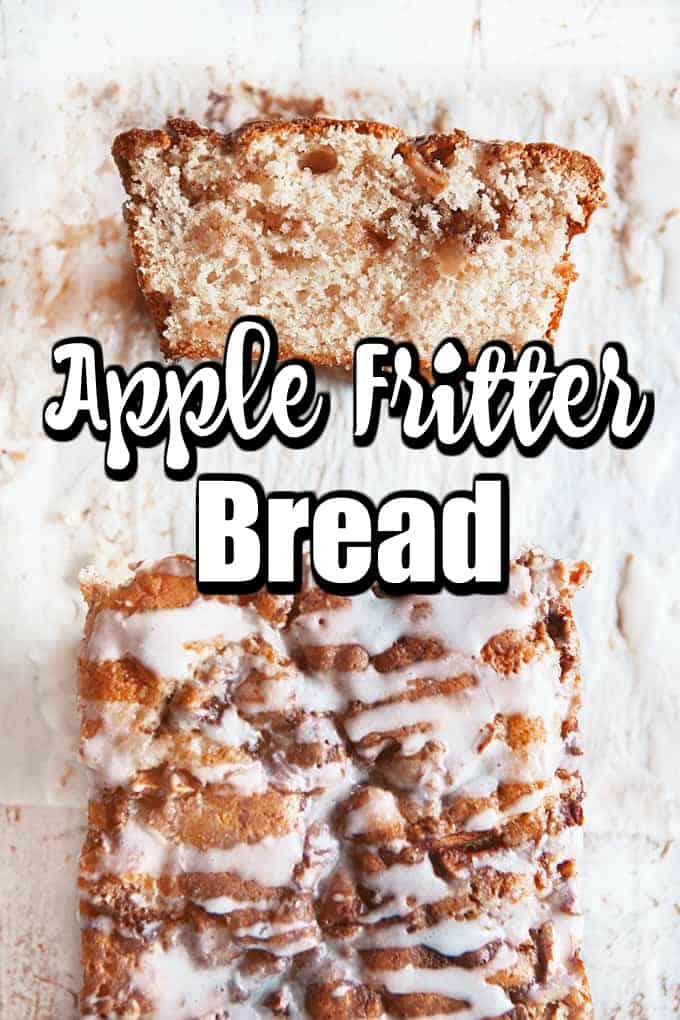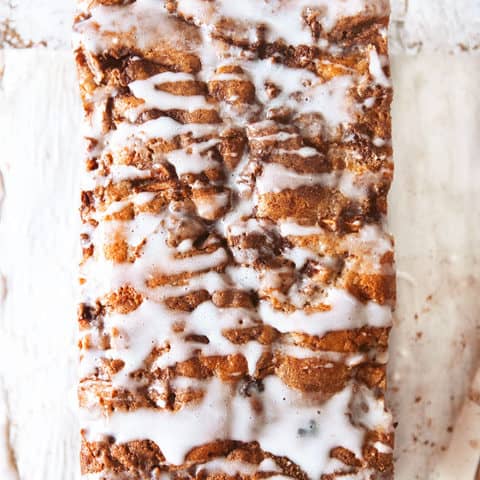 Apple Fritter Bread
Yield: 1 loaf - 8 servings
Prep Time: 20 minutes
Cook Time: 1 hour
Total Time: 1 hour 20 minutes
Apple Fritter Bread is a delicious country quick bread, stuffed with fresh apples and topped with a cream cheese glaze. It's perfect as a sweet breakfast bread or a dessert loaf.
Ingredients
Apple Mixture
2 medium apples (like Honeycrisp or Granny Smith) peeled and chopped (about 1 1/2 cups)
2 tablespoons sugar
1 teaspoon cinnamon
pinch of cardamom
pinch of nutmeg
Brown Sugar Mixture
1/3 cup light brown sugar, packed
1 teaspoon ground cinnamon
Bread Batter
1 1/2 cups all purpose flour
2 teaspoons baking powder
1/2 cup salted butter, room temperature
2/3 cup granulated sugar
2 eggs, room temperature
1 teaspoon vanilla
1/2 cup plain Greek yogurt, room temperature
Glaze
2 ounces cream cheese, softened
2 tablespoons butter, melted
1 teaspoon vanilla
pinch of cinnamon
1/2 cup powdered sugar
Instructions
Preheat oven to 350 degrees. Spray a 9x5 loaf pan with non-stick spray, or line with parchment paper and set aside.
Prepare apple mixture. Toss chopped apples with spices and sugar until evenly coated.
Prepare brown sugar mixture in a small bowl. Whisk together sugar and cinnamon.
Prepare the bread batter. In a medium bowl, whisk together the flour and baking powder.
In a large bowl, use an electric mixer and beat together the softened butter and sugar until smooth. Beat in the eggs one at a time, then mix in the vanilla. Add in the flour mixture and mix until blended. Add the yogurt and mix until smooth.
Pour half the batter into the prepared loaf pan. Spread half of the apple mixture and half of the brown sugar mixture over the top. Gently swirl, just a little bit, with a butter knife. Pour the remaining batter over the top. Spread the remaining apple mixture and brown sugar mixture over the batter, gently pressing it in to the batter, or swirl it just a little with a butter knife again.
Bake in preheated oven for approximately 55 to 60 minutes, or until a toothpick inserted in the center comes out clean. After removing from oven, let it rest for at least 15 minutes before removing it from loaf pan. Cool on wire rack for at least another 20 to 30 minutes.
To make the glaze, whisk together all of the ingredients until smooth. You can make it thicker by adding a little more sugar, or thinner by adding a little milk. When you're ready to serve the bread, just drizzle the glaze all over the loaf.
Notes
You can also bake this bread in a bundt pan, but you will need to adjust the bake time. Start checking it, by inserting a toothpick, at approximately 35 to 40 minutes.
Recommended Products
As an Amazon Associate and member of other affiliate programs, I earn from qualifying purchases.
Nutrition Information:
Yield: 8
Serving Size: 1
Amount Per Serving:
Calories: 401
Total Fat: 18g
Saturated Fat: 11g
Trans Fat: 1g
Unsaturated Fat: 6g
Cholesterol: 93mg
Sodium: 284mg
Carbohydrates: 54g
Fiber: 1g
Sugar: 35g
Protein: 6g
Recipe calculation was provided by Nutritionix and is an estimation only. If you need nutritional calculations for medical reasons, please use a source that you trust.