Bread Machine Pumpkin Pie Spice Loaf
Disclosure: I was compensated for this post. All opinions and experiences are my own.
I have made this Bread Machine Pumpkin Pie Spice Loaf, three times since I created the recipe. Yup, that good!! What I love even more is that it is so easily made in the Hamilton Beach HomeBaker™ 2 lb Breadmaker. Just add all the ingredients and the machine does the rest! Check out our video of how easy this is to make!
I have used a bread machine many, many times over the years but my last one died a few years ago. I was so happy to be able to take this Hamilton Beach Breadmaker for a spin! It will be in constant motion in this house. We used to use ours at least once a week for Friday night pizza night! Can't wait to get that going again. Never mind the amazing loaves of bread that fill your home with aromas of comfort and deliciousness!!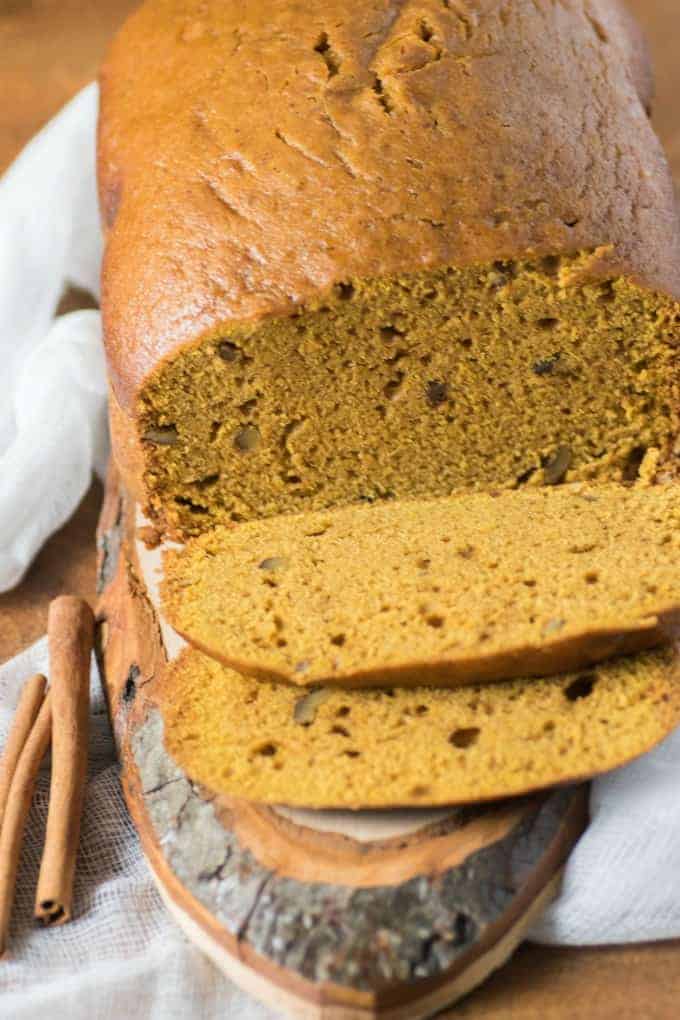 This loaf slices up gorgeously and is lovely and moist. A quick addition of a small amount of butter just finishes it off perfectly. Did you even know you can make a loaf like this in a bread machine? Sure can and it is super simple. You will be making these for your family and friends too. They make a lovely gift and then you can whip up another one for yourself!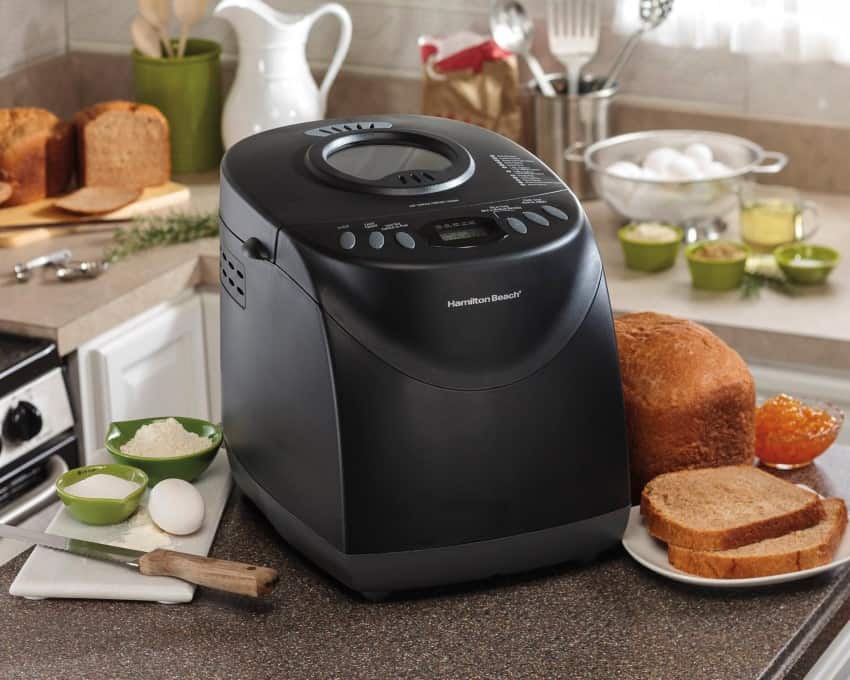 Look at how handsome that machine is!! This Hamilton Beach HomeBaker™ 2 lb Breadmaker has many fabulous features like:
12 cycles including jam and cake
Great for dough prep
Loaf size – Choose 1.5 or 2.0 lb.
3 crust settings – Light, medium, or dark
Large digital display
Delay timer
Viewing window
Nonstick bread pan
2 kneading paddles
Recipes included: Gluten-free to French bread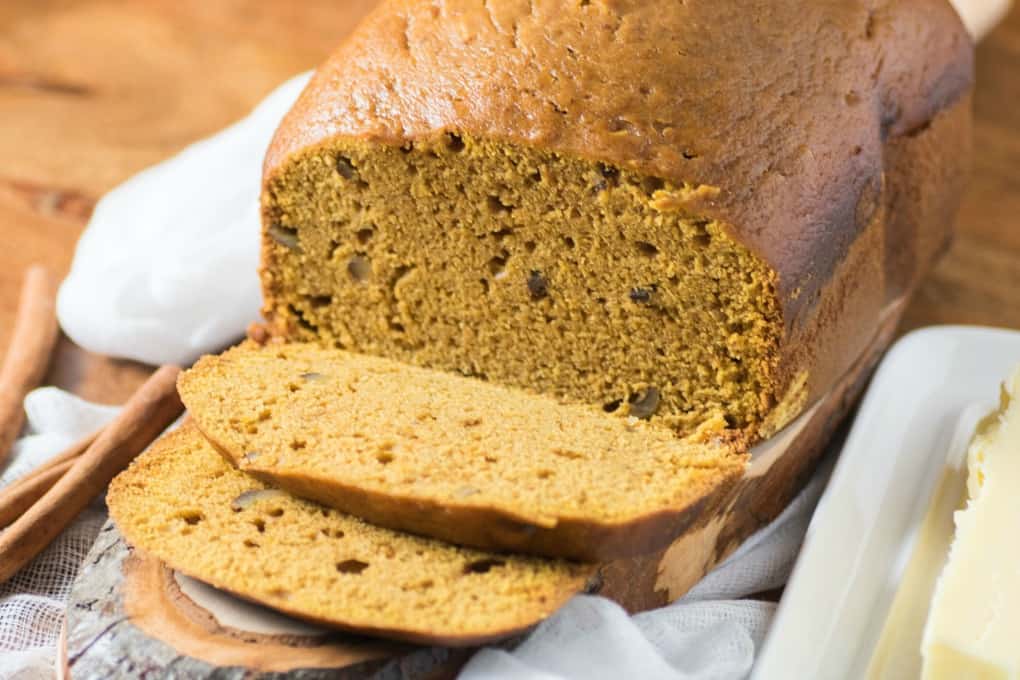 Run and grab a new machine today, you will be so happy you did. With fall and then winter here you can have a great many recipes under your belt in no time. 
The Recipe
Bread Machine Pumpkin Pie Spice Loaf
Bread Machine Pumpkin Pie Spice Loaf is the perfect fall and winter bread that family and friends will all love. Made incredibly easy in the Hamilton Beach HomeBaker™ 2 lb Breadmaker.
Ingredients
½ cup brown sugar
½ cup white sugar
1 cup canned pumpkin (not pumpkin pie filling)
⅓ cup canola oil
1 tsp. vanilla
2 eggs
1½ cups all purpose flour
2 tsp. baking powder
¼ tsp. salt
1½ tsp. pumpkin pie spice
½ cup chopped walnuts, optional
Instructions
Spray pan with kneading blade in place lightly with cooking spray.
Pour ingredients as shown in the video or basically wet and then dry.
Select Quick Bread cycle and the crust setting. I used a medium crust setting when making this bread.
After 3 min. of blending, scrape down sides with a spatula. Close lid and let the machine do the rest.
Cool the loaf for 10 min. in the pan and then remove to cool on a rack.
Recipe adapted from
Betty Crocker
.