Disclosure: I was compensated for this post by Little Potato Company. All opinions and experiences are my own.
Are you getting ready for the haunting time of year? I love a little ghoulish treat and kids go nuts for anything googly eyed. That is why I came up with Little Potato Halloween Monster Eyeballs using Creamer potatoes from Little Potato Company. This fun snack is easy to make and deliciously scrumptious too! So many recipes use olives for eyeballs at Halloween but not many kids like olives so I came up with a pepperoni/cheese eyeball that kids will love!!
Little potatoes come all ready washed, all you have to do is pop them into a pot with water and some salt and let them boil for 15 min. Then lay them out on a cookie tray and give them a squish, kids will love to do this part too, helping in the kitchen. Just let the potatoes cool down so they are easily handled. Then a roast in a hot oven makes them crispy and yummy.
Making the eyeballs couldn't be simpler using a soft cheddar cheese slice and a pepperoni. A dollop of sour cream adds the whites for the eyes! Kids will have these gobbled down in minutes.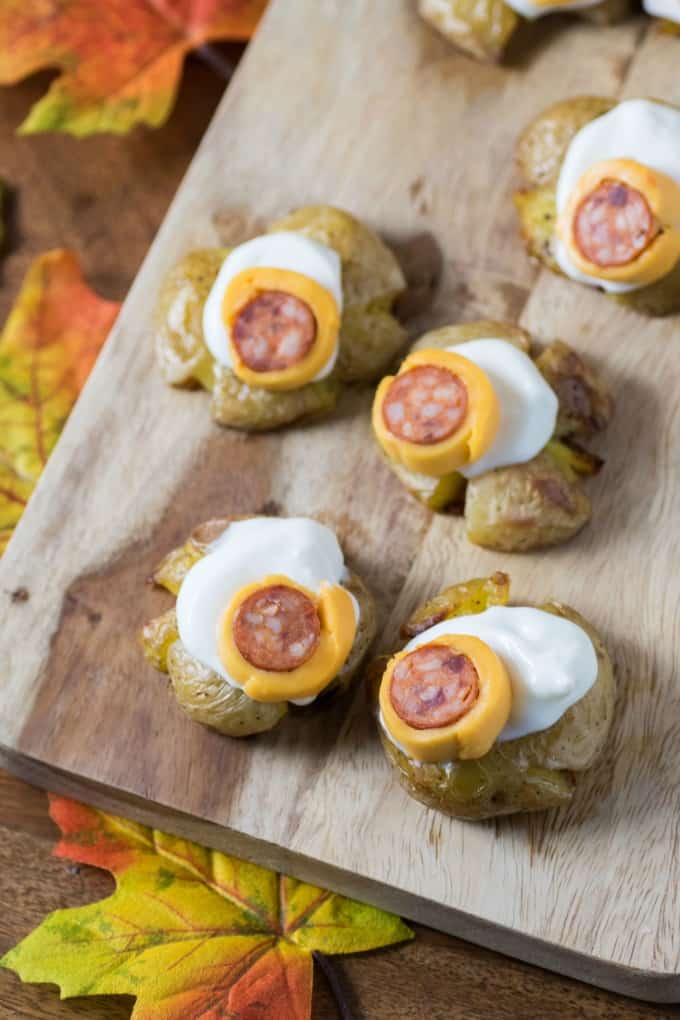 Creamer potatoes also deliver big on nutrition. They are naturally fat-free, sodium-free, cholesterol-free, gluten-free and only 120 calories per serving. Plus they are full of potassium, iron, fiber and vitamin C. Kids will just know they taste great!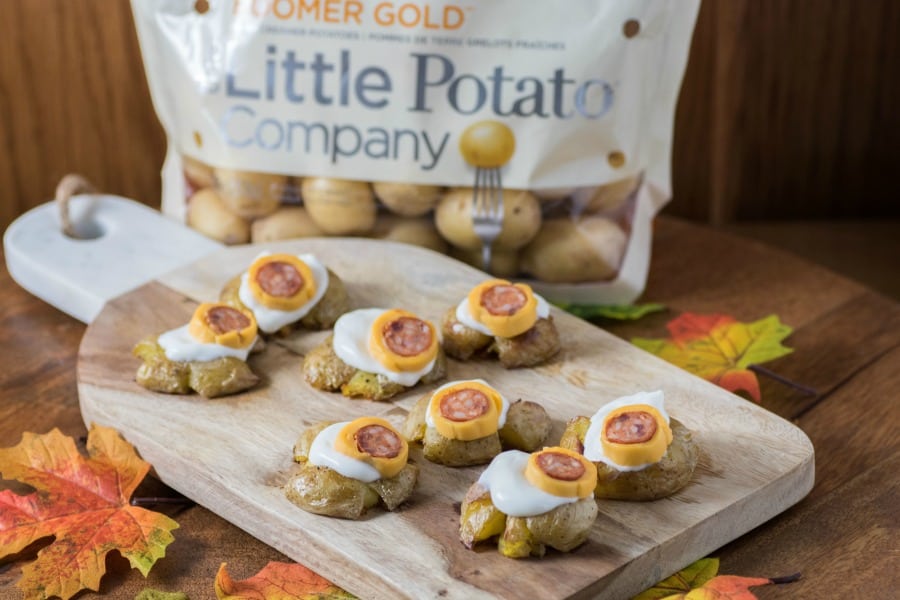 I used a new potato from The Little Potato Company called Boomer Gold for this recipe. They have gorgeous yellow interiors and oh so kid friendly!!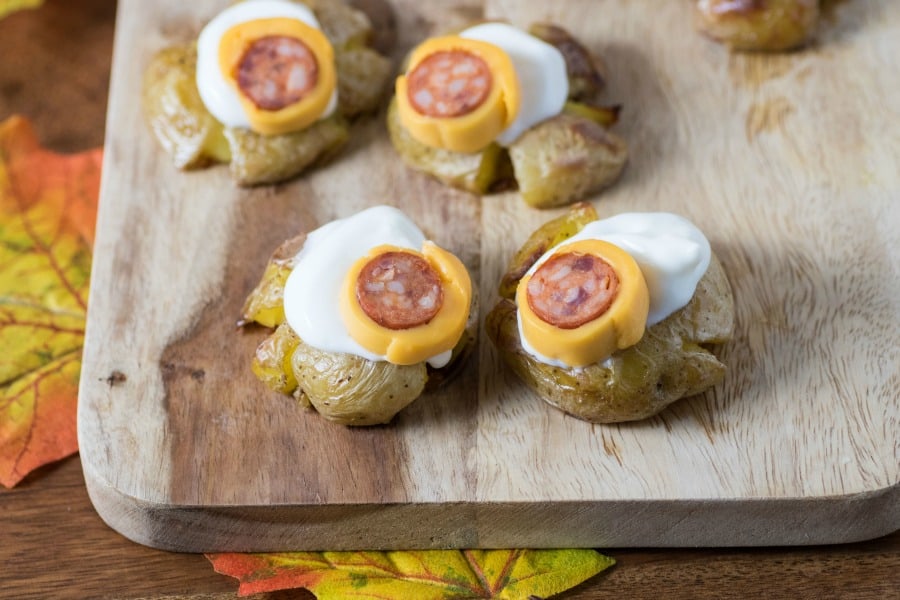 Whip some of these up today for your little ghouls, they will love you for it. Coming home to a treat like this is fun at this time of year!! Getting your kids in the kitchen to help is also a great bonding time.

The Recipe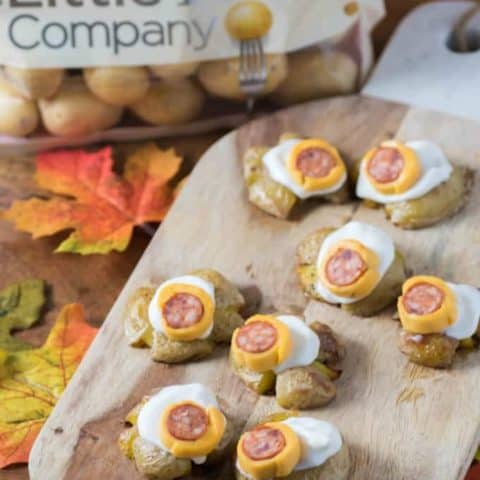 Little Potato Halloween Monster Eyeballs
Prep Time: 5 minutes
Cook Time: 30 minutes
Total Time: 35 minutes
These Little Potato Halloween Monster Eyeballs will be a hit with your little ghouls for a snack after school or anytime!!
Ingredients
1 1/2 lbs. Boomer Gold or your favorite Little Potato Creamers
Cooking spray
Cooking Oil
Salt and pepper
Pepperoni sticks
Sliced cheddar cheese singles
Sour cream
Instructions
Place potatoes in a pot of salted boiling water, and simmer for 15 min. Preheat oven to 450F. Drain potatoes and place on a baking tray sprayed with cooking spray. Let the potatoes cool enough to handle and then squish them down with the heel of your hand using a clean dish towel if you like. Drizzle with olive oil and season with salt and pepper. Bake for 15 min. or until crispy.
Meanwhile take a pepperoni stick and roll a cheddar cheese slice around the pepperoni. Slice in 1/2" slices.
Top each potato with sour cream and a pepperoni/cheese slice. Serve warm.