While we're always sad to see summer leave, the cooler days of autumn bring with them a bunch of Fall Fruits and Vegetables, so let's see What's in Season?
Farmers' markets and grocery stores are bursting with fresh, local produce, and depending on how you planned your garden, you may have a great harvest in store too!
Comfort food comes to mind now that we are starting to harvest the remaining fruits and veggies. Let's explore what you should be looking out for in the coming months.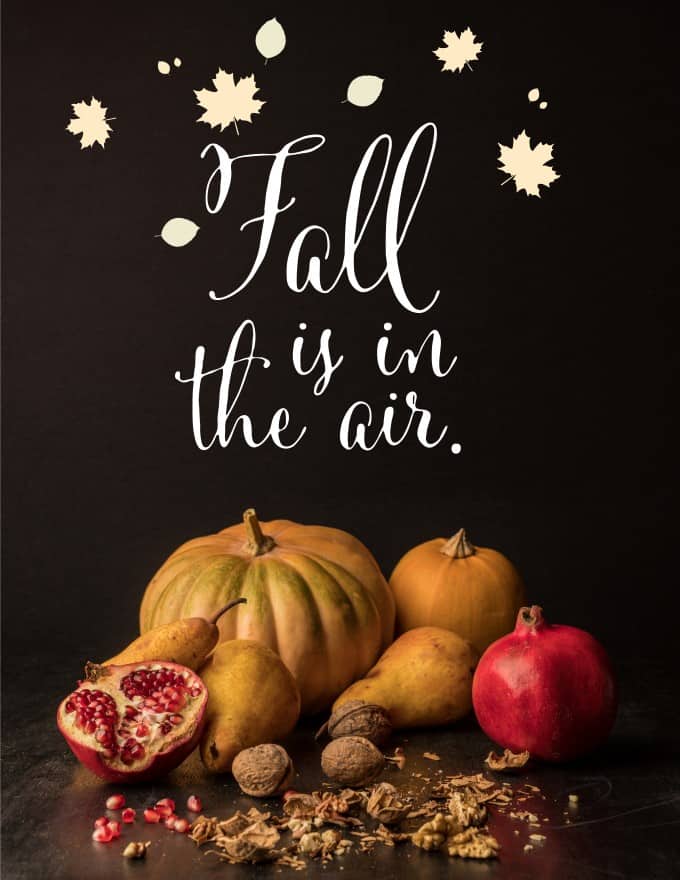 Everyone loves the farmers' market in the summer, but I prefer it in the fall. It's less crowded, and there are so many great fall fruits and vegetables to bring home with me.
Do you love to grow squash? Not just zucchini (which starts producing in the summer and continue well into the fall), but spaghetti squash, butternut squash, acorn squash, and all the other winter squashes.
It takes winter squash an average of 90 days to mature – so those squash seeds planted in June and July will mature in September and October.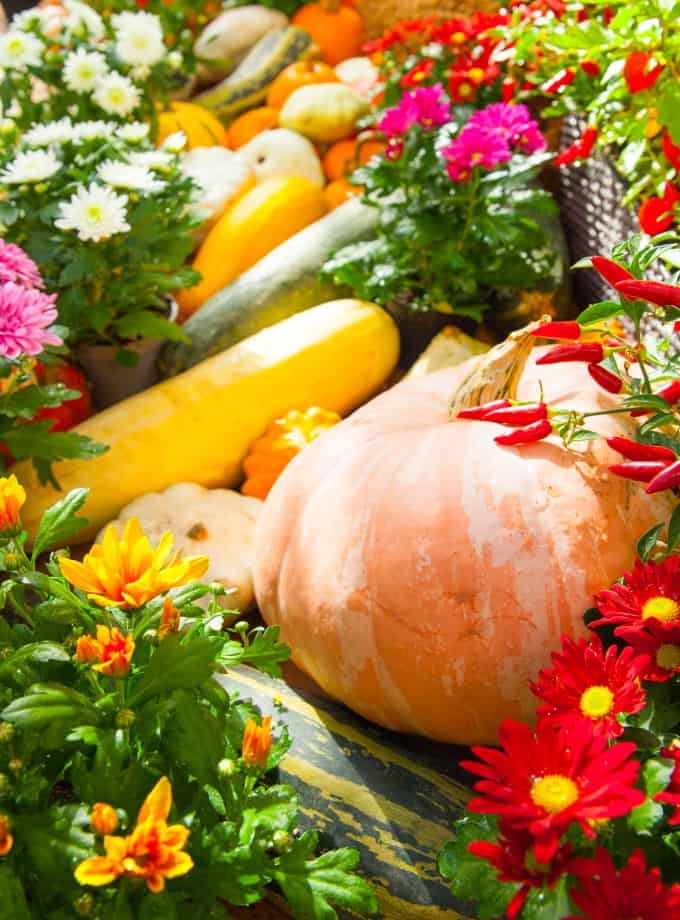 What are Some Fall Vegetables?
Potatoes, turnips, onions, rutabagas, parsnips, carrots, sweet potatoes, and beets, and other root vegetables have all been growing underground all summer with only the leaves sticking up, but fall is the time to harvest them all.
One trick I learned for growing your own potatoes and sweet potatoes is to take an old garbage can, fill it with soil, put the seed potatoes in, and leave it for the summer – watering as needed if there isn't much rain.
Then, in early fall, spread out a tarp, and get a friend (trust me that can is heavy!) and turn the can upside down over the tarp for the easiest potato harvest ever – no more digging in the dirt trying to remember where you planted the potatoes!
As much as I love a good treasure hunt, this was the easiest way to grow potatoes I've ever tried!
Some other vegetables that are in peak season as the cool weather hits include broccoli, Brussels sprouts, cabbage (red and green), cauliflower, celery, Swiss chard, eggplant, kale, spinach, garlic, and of course, the poster child for fall vegetables, pumpkins.
In early fall you will find corn, cucumbers, and peppers still going strong, but these plants are sensitive to cold, so an early frost can spell trouble for the home gardener.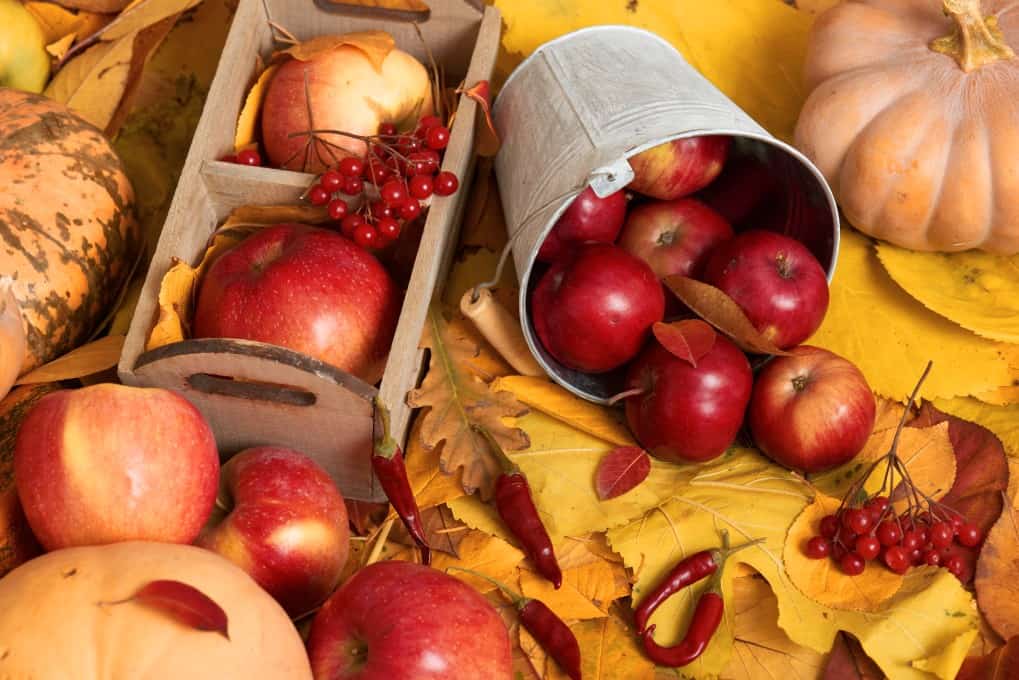 What Fruits are Available in Autumn?
While pumpkins steal the spotlight in October, September belongs to the fall fruits – especially apples. There are so many varieties of apples to choose from now and most are in season during the fall.
Of course, there's the classic McIntosh apple, but other varieties have become popular as well including Spartan, Jonagold, Honeycrisp, Cortland, Granny Smith, Empire, and Fuji.
Some are best for baking, I like Granny Smith and Honey Crisp, some for cooking into a sauce like McIntosh, and others are best for eating; again Honey Crisps are my favorite.
If you live near an orchard, you may be able to pick your own apples – it's a great fall family activity.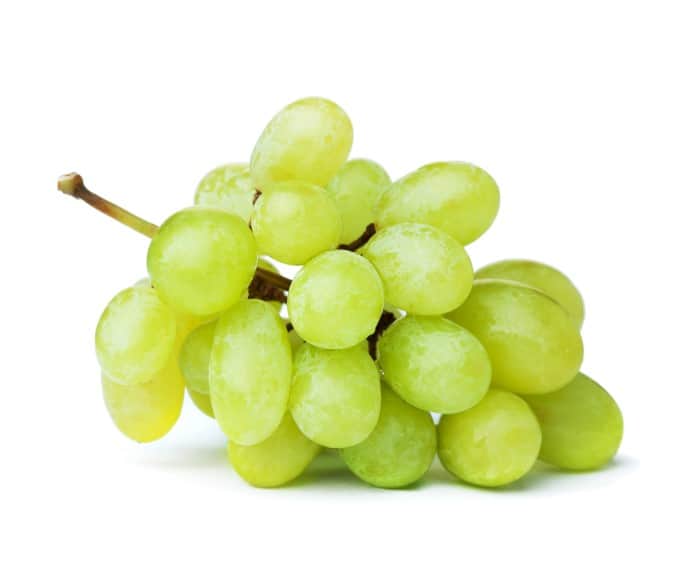 Other fruits that are in season during the fall include pears, figs, prunes, pomegranates, cranberries, and GRAPES.
I only see this certain kind of grapes come out in late September and October; I wish I knew the variety to share with you, but they are only labeled green grapes. They are big, oblong, juicy, crunchy grapes, and I could eat an entire bag full on my own. Keep an eye out for them.
When you buy produce that's in season, you spend less and get fresher produce because it doesn't have to be shipped to you.
You get great quality fruits and vegetables at a great price – talk about a win-win. What's your favorite fall flavor? Let me know in the comments.
Pin it HERE!!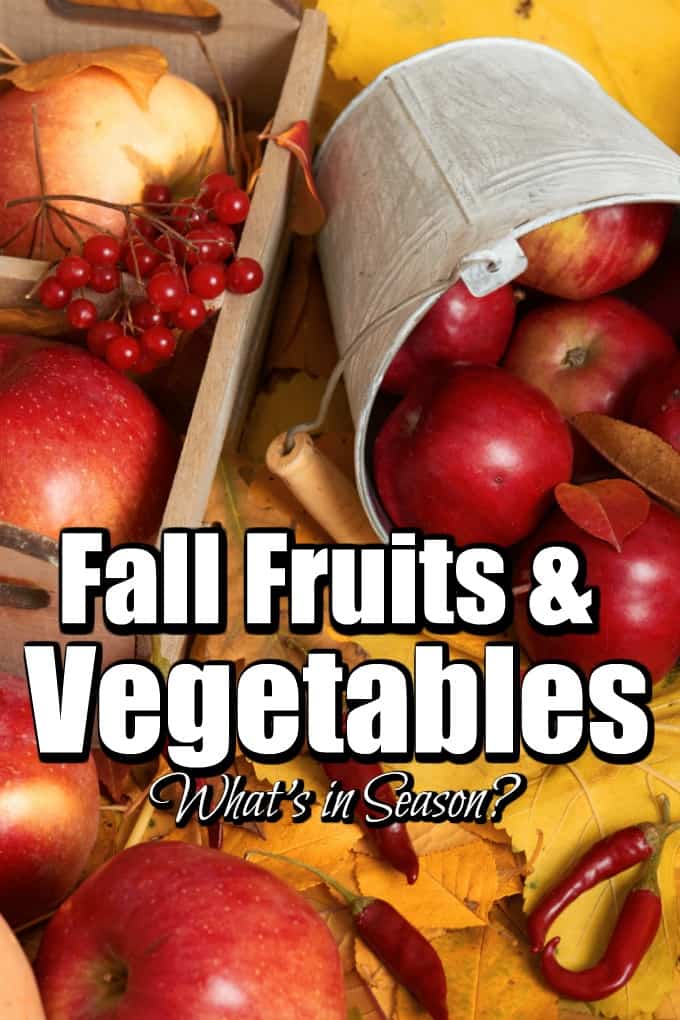 Pin it HERE!!