Pear Streusel Crunch Cake #BundtBakers
It has been way too long since I have been with this lovely group of people and baking a bundt for you all. Today I am back with a Pear Streusel Crunch Cake #BundtBakers. This event is hosted by the lovely Lauren Everson from Sew You Think You Can Cook.
I wanted this cake to be special, to have a little interest besides just the wonderful pear, as that is our theme for this month. So I upped it with a gorgeous streusel not only on top but through the middle too. It gave the cake the perfect crunch!! This would have been something that my mom or grandmother would make as we had loads of pear trees on our property. They were always putting pears into cakes, pies, crisps, and more.
Don't forget to scroll all the way down to see what everyone else has done with the theme of pears!! You will love all these bundts!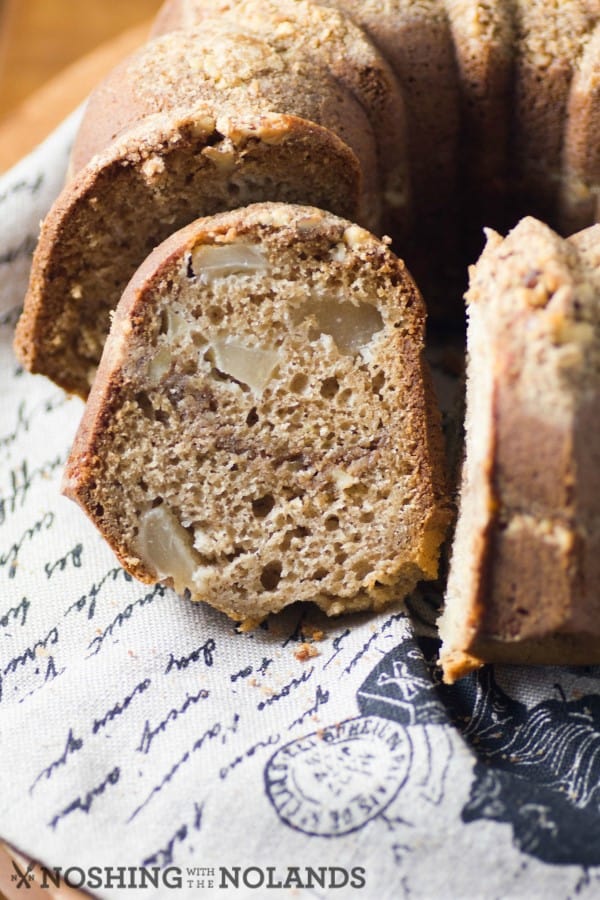 Besides the wonderful streusel to give the added crunch, I put in lots of pears as you can see. I pureed some to keep the cake moist without having to add in too much oil. I also did a large dice to the pears to give you a lovely bite of pear every now and again.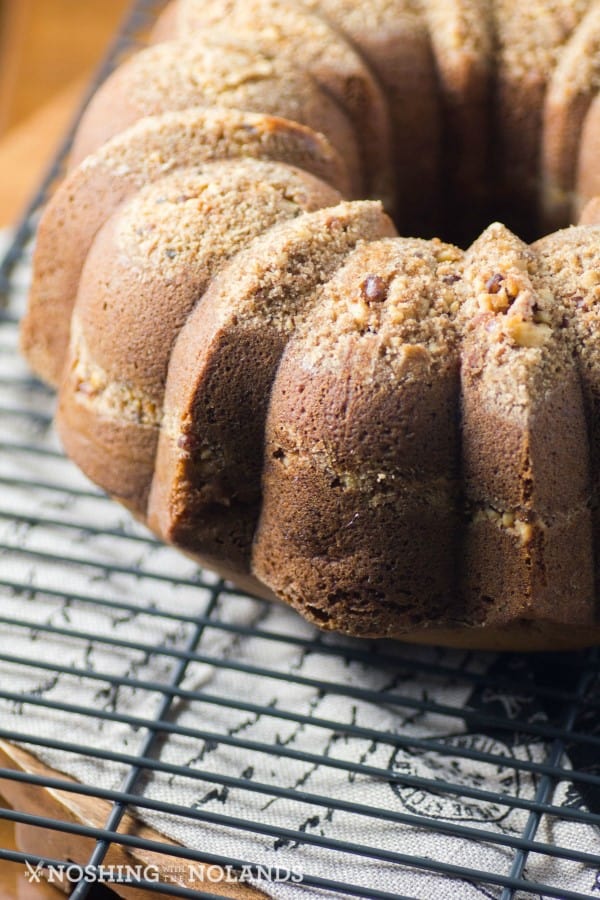 In this shot, you can see the scrumptious layer of streusel running around the middle of the cake!!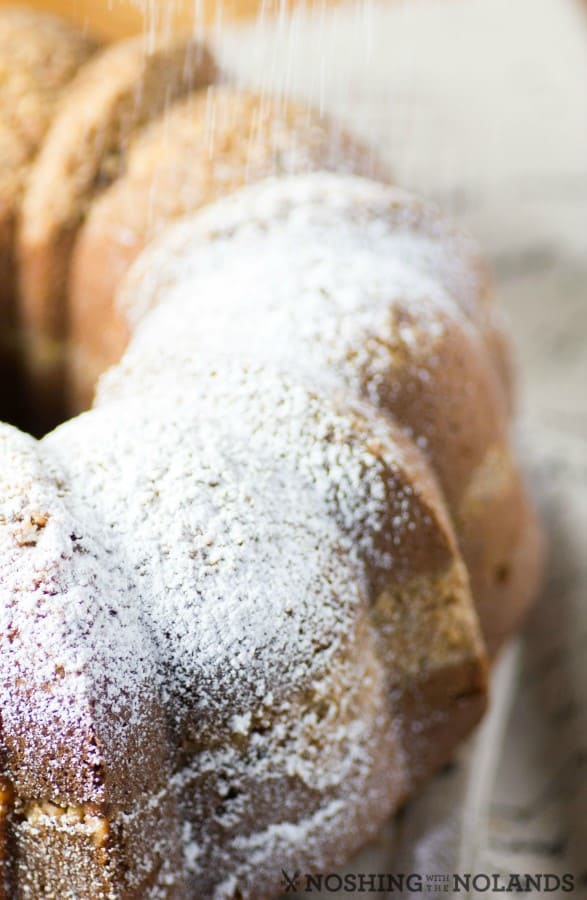 You can also sprinkle on icing sugar to give it that wintery feel. This is such a pretty bundt to serve for the holidays and everyone wil think you slaved away making this cake.
#BundtBakers is a group of bundt loving bakers who get together once a month to bake bundts with a common ingredient or theme. We take turns hosting each month and choosing the theme or ingredient. You can see all our of lovely Bundts by following our Pinterest board. Updated links for all of our past events and more information about #BundtBakers, can be found on our home page.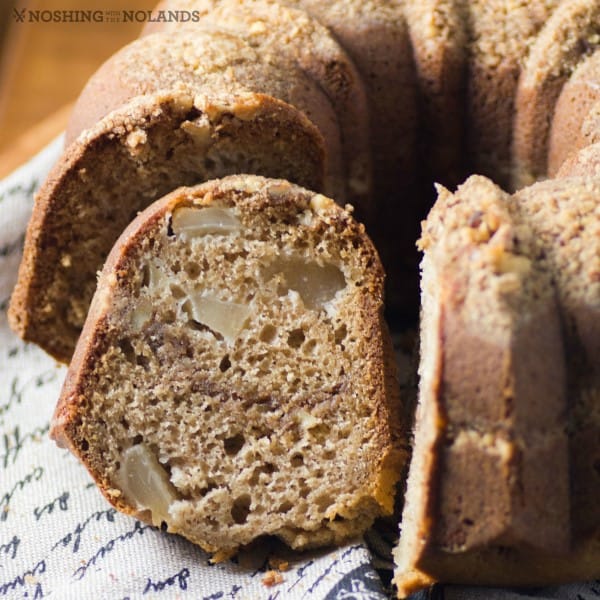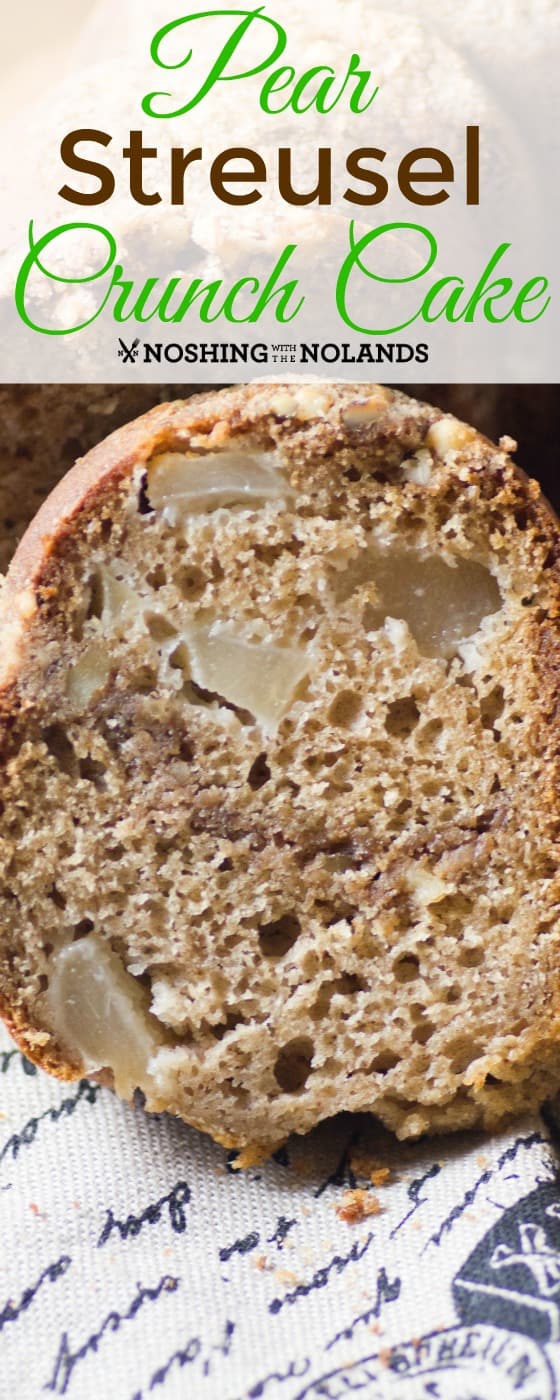 The Recipe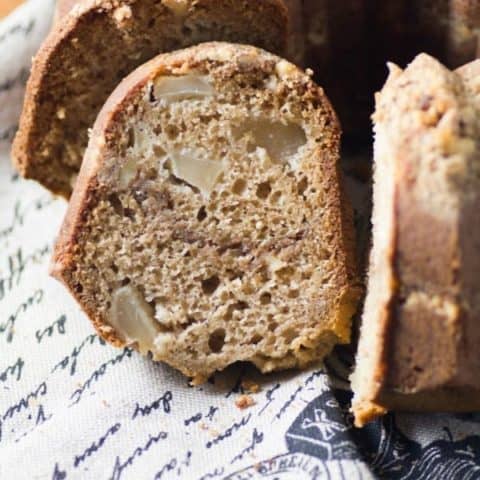 Pear Streusel Crunch Cake #BundtBakers
Yield: 12-16 servings
Prep Time: 25 minutes
Cook Time: 1 hour 10 minutes
Total Time: 1 hour 35 minutes
This gorgeous pear bundt has the added pleasure of a crunchy streusel on the top and throughout the middle of the cake.
Ingredients
Streusel Topping
1/4 cup brown sugar
1/2 cup flour
1 tsp. pumpkin pie spice
pinch of salt
3 Tbsp. cold butter
100 gms. of walnuts, chopped
Cake
3 cups flour
1 1/2 tsp. pumpkin pie spice
1 tsp. baking powder
1 tsp. baking soda
1/2 tsp. salt
3 large eggs
1/2 cup canola oil
I cup white sugar
1/2 cup brown sugar
1/2 cup pear syrup, from canned pears
1 tsp. vanilla
1/2 sour cream
1 cup chopped canned pears
Icing sugar, optional
Instructions
To make the streusel, combine all the ingredients except the butter with a fork. Then working quickly add the butter in tablespoons and working with your fingers crumble it into the streusel until well combined. Set aside.
Butter and flour a bundt pan and preheat oven to 350F.
In a medium bowl, whisk together the flour, pumpkin pie spice, baking powder, baking soda and salt. Set aside.
In a large bowl of a standup mixer with a paddle attachment add the oil and sugars, mix well. Add in the eggs, mix again. Add in the pear puree and the vanilla, mix. Add in half the flour mixture followed by the sour cream and the remaining flour mixture. Mix well with each addition. Fold in the chopped pears. Pour the batter into the prepared bundt pan. Bake for 60 -70 min. or until done and a cake tester comes out clean. Let rest for 15 min. and then invert onto a cooling rack to cool completely. Serve sprinkled with icing sugar if desired.
And don't forget to take a peek at what other talented bakers have baked this month: