The Delmonico Potatoes recipe is a classic American dish featuring cubed potatoes in a creamy and cheesy sauce topped with crumbs. This family favorite is the perfect side dish: whether you need comfort food, going to a potluck or a party.
Potatoes are so versatile and a crowd-pleaser, we always come back for more. From a creamy mashed potatoes recipe or a perfect Fluffly Crock Pot Baked Potato to some fancier mouthwatering steak and potato appetizers, you can't go wrong. There are often perfect budget-friendly side dishes you want to know how to prepare.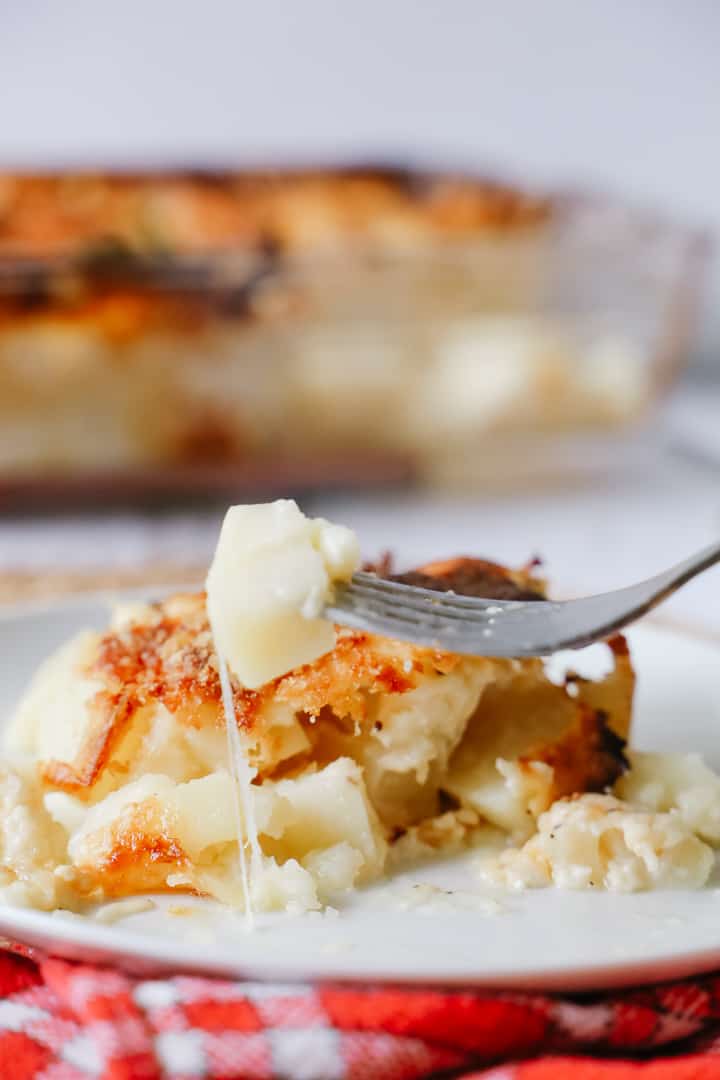 Hi there, it's Melanie from Bon Appét'Eat. It's been a lot of fun to be part of the Noshing with the Nolands team. You should pop by my blog if you have a chance! I do love a good potato recipe such as scalloped potatoes with some caramelized onions and ham, quite mouth-watering, right?
Helpful Items for This Recipe
This post contains affiliate links. As an Amazon Associate, I earn a small portion from qualifying purchases at no extra charge for you.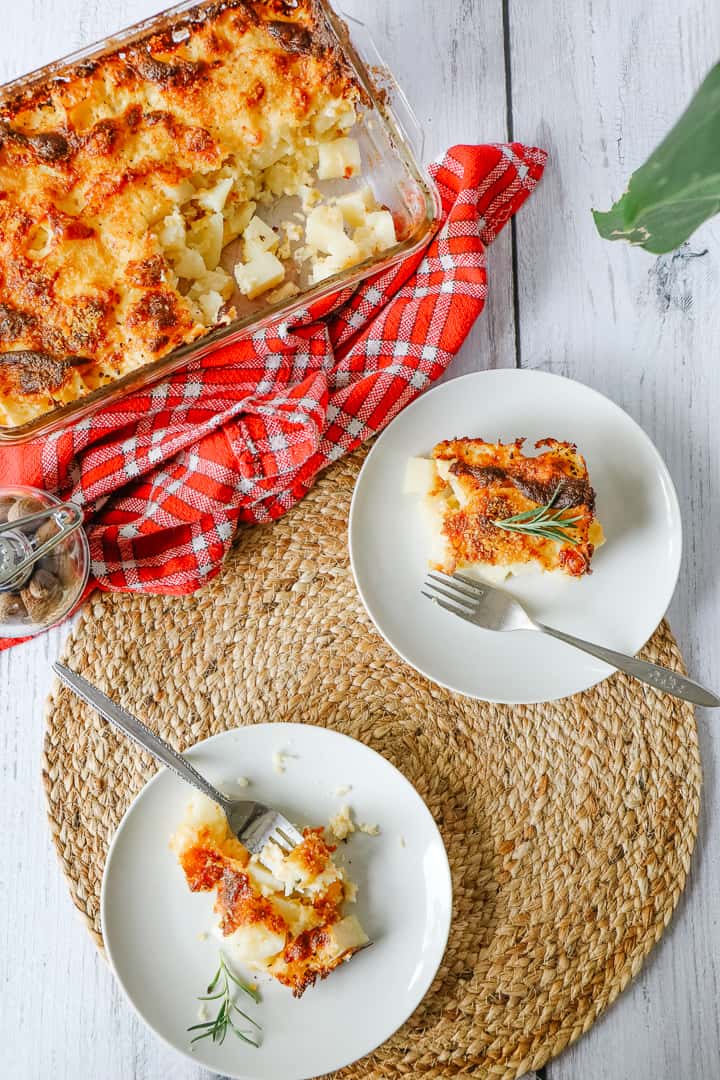 What Are Delmonico Potatoes?
Created by a chef in the 19th century, Delmonico potatoes take the name after his New York restaurant. Although there are various versions of the dish, the original recipe has never been declared.
What will you get from our recipe?
An easy recipe to make
Potatoes cooked in cream and milk
A cheesy side dish!
These Delmonico potatoes are the cousin, if I may say, of the scalloped potatoes. However, some choose to prepare it more like the cousin of macaroni and cheese. It is a little heavier as it is way creamier. Test the options and see what is your favorite. I'll give you some more directions below.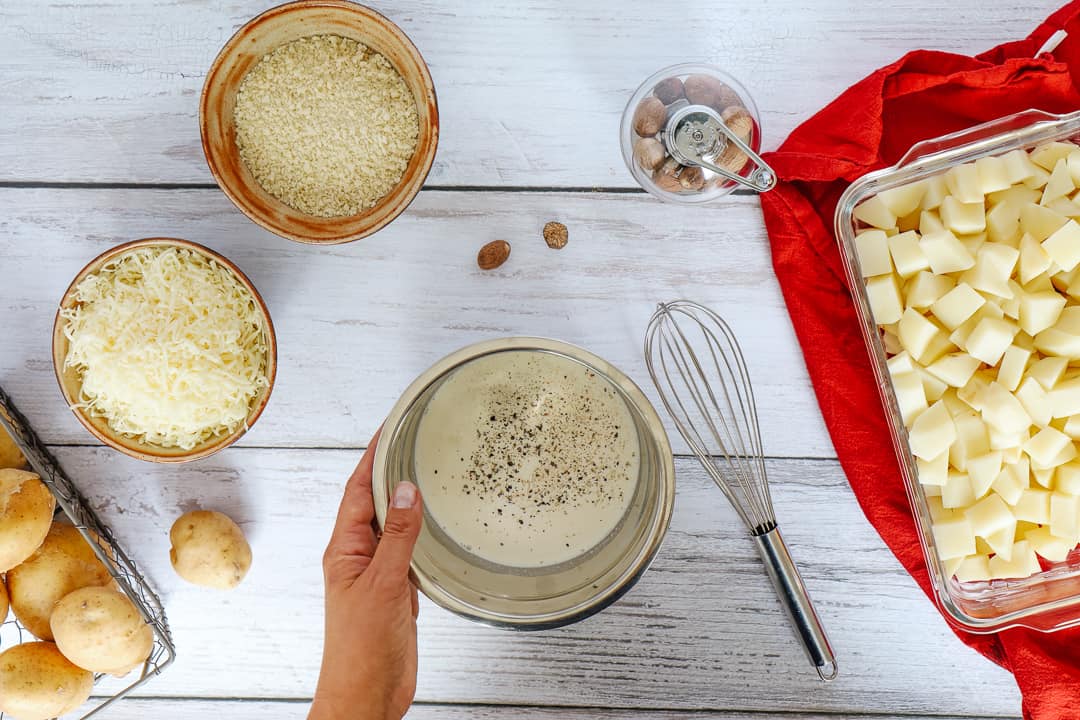 How Do I Make Delmonico Potatoes?
Preparing this recipe in your own kitchen is super easy. The steps to cook the best cheesy and creamy potatoes au gratin are very simple. It is very similar to a casserole.
Bring some water to a boil. Peel and cut your potatoes into cubes. Cook them but not fully; they will finish to do so in the oven. Drain them and place them in a buttered baking dish. I used a 5 x 10 inch one, but any is fine. Use what you have but make sure it is deep enough, though.
Mix the milk, heavy cream, half of the grated cheese, nutmeg and season with salt and pepper. Pour it over the potatoes.
Spread the rest of the cheese and sprinkle with the bread crumbs.
You are almost there: Bake for almost an hour and you are done.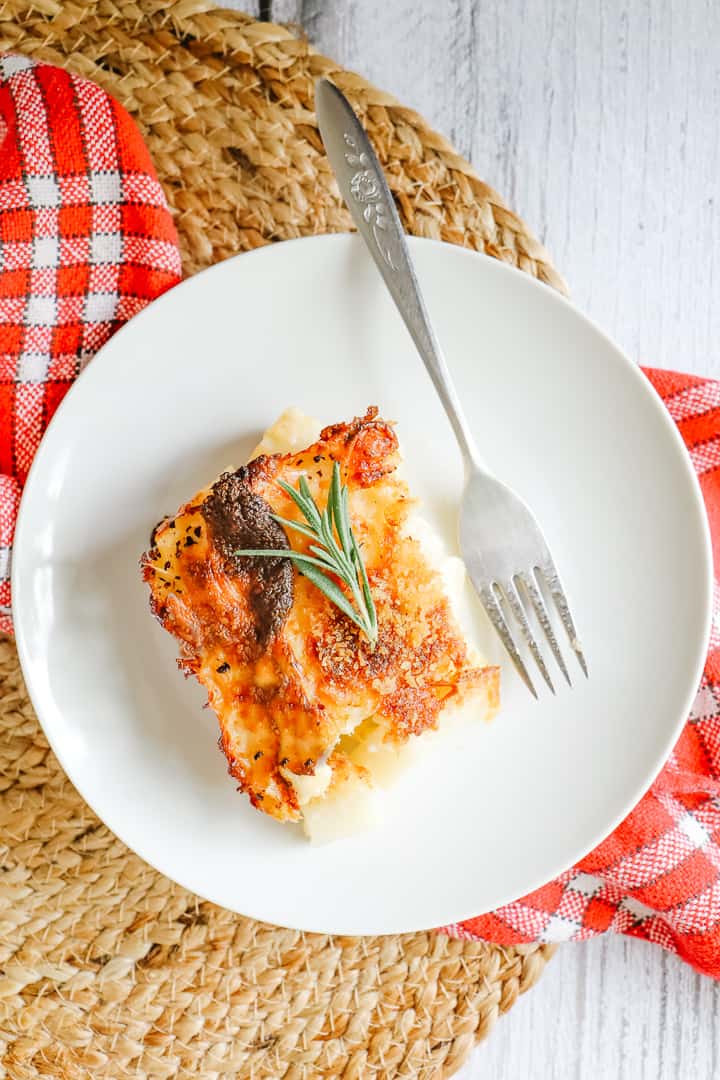 POTATOES: Use any type of potatoes, I choose the Yukon one, but any other would be fine. Use a fairly good size, though.
Alternative: If you are using frozen hash browns for this recipe, you won't need to bake the dish for an hour. The frozen cubed potatoes are smaller so 30 to 45 minutes might suffice.
CREAMY SAUCE: It consists of a mix of milk and heavy cream, seasoned with salt, pepper, and nutmeg. It is the perfect combo to pour on the potatoes. Add cheese for extra creamy texture and gratiné.
Alternative: If you are familiar with it, you can make a bechamel sauce. If you add cheese to it, it is then called a mornay sauce. To make a bechamel, you mix some melted butter with flour to make a roux. Stir in the milk to make a velvety white sauce. If you wish to learn, I have a whole post dedicated to it.
CHEESE: I used some mozzarella because I like the 'white' cheesy look. But the sky is the limit…
Alternative: Any shredded cheese! Take your pick! Stay classic and use cheddar cheese since this is a very common cheese to have in the fridge.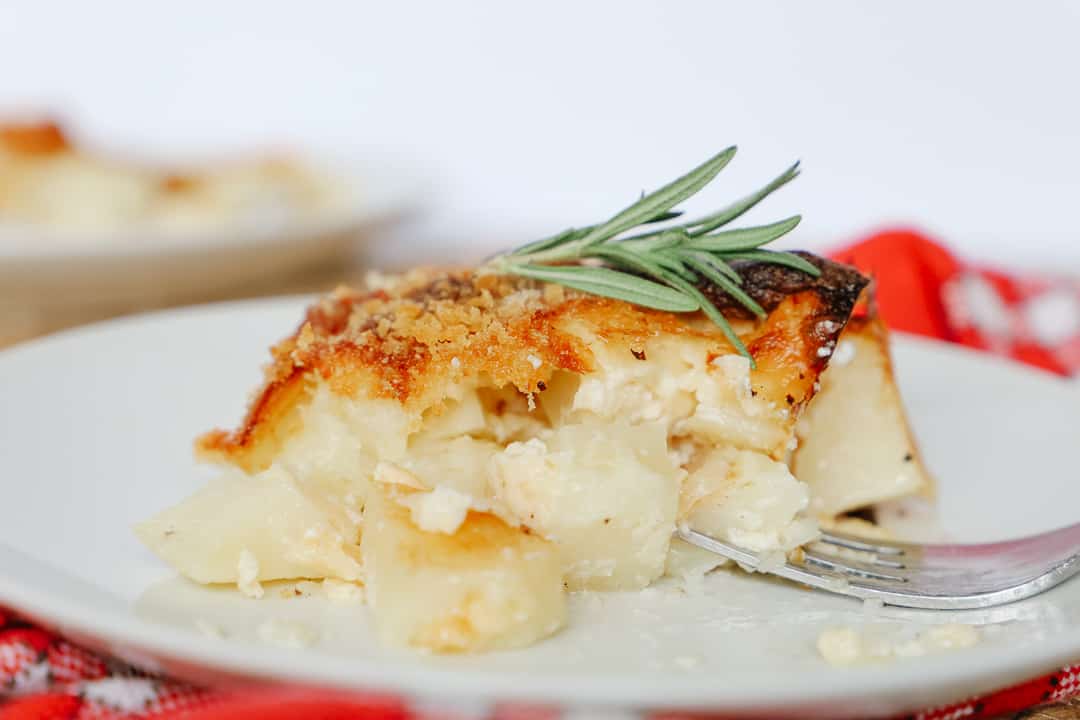 Can You Make Delmonico Potatoes Ahead of Time?
Preparing a recipe ahead can be really helpful but it is not always possible.
If you plan to make the dish in advance, for example, the previous day, you will have to make sure your cubed potatoes are fully immersed in the cream otherwise your potatoes will start to blacken. It won't alter the taste but rather look less presentable.
As an alternative you can make it, bake it, let it cool, refrigerate and then reheat the next day.
Can I also freeze Delmonico potatoes? You will place your frozen dish directly in a hot oven. Also, you will have to adjust the cooking time since your dish is frozen.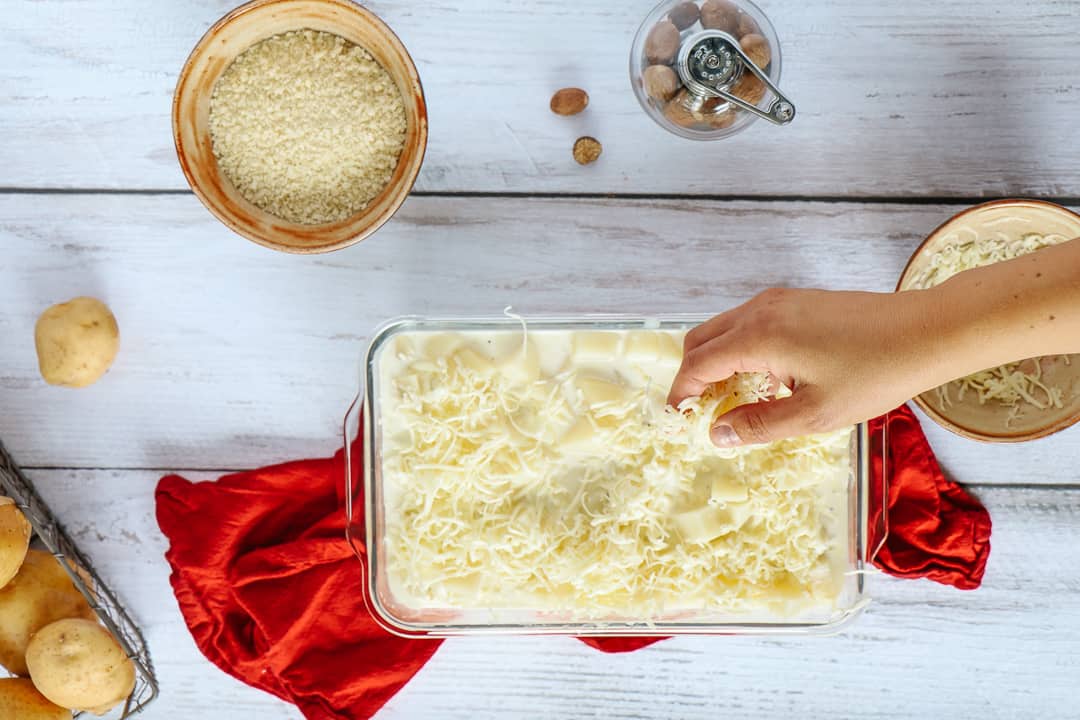 What Can You Serve with Delmonico Potatoes?
Delmonico potatoes can accompany any meat or fish. This is also a great dish to serve for Thanksgiving, a Christmas potluck, or even an Easter celebration. This side dish brings comfort to any season.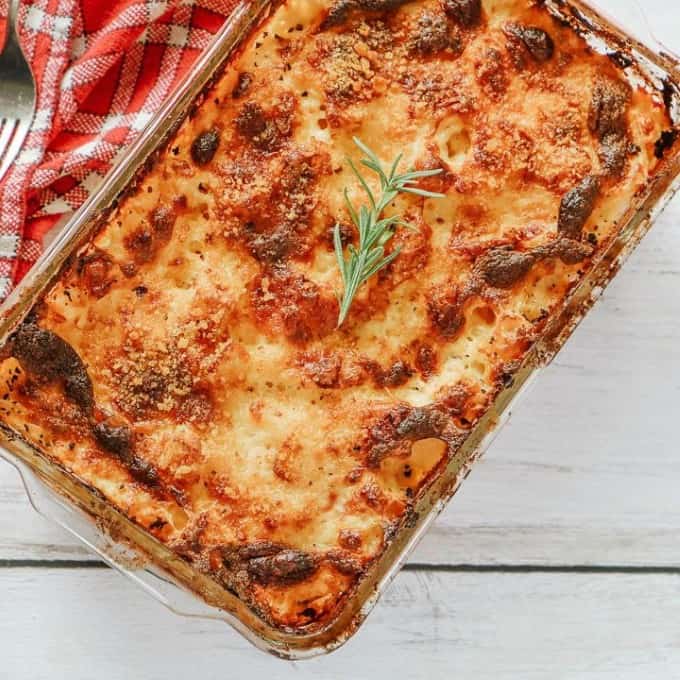 Pin it HERE!!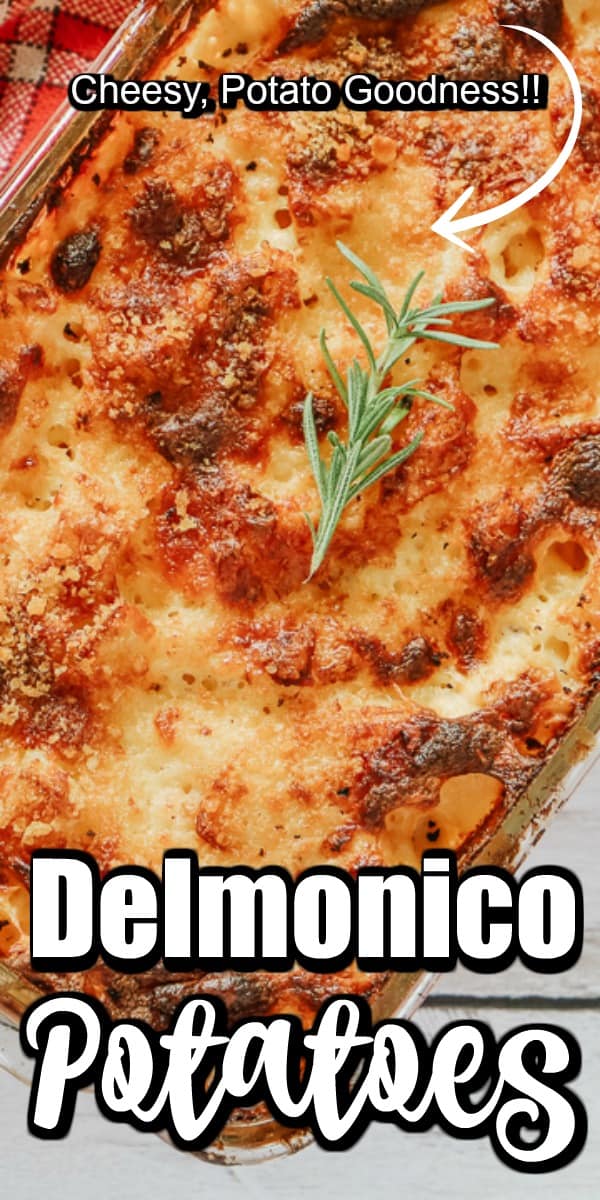 Pin it HERE!!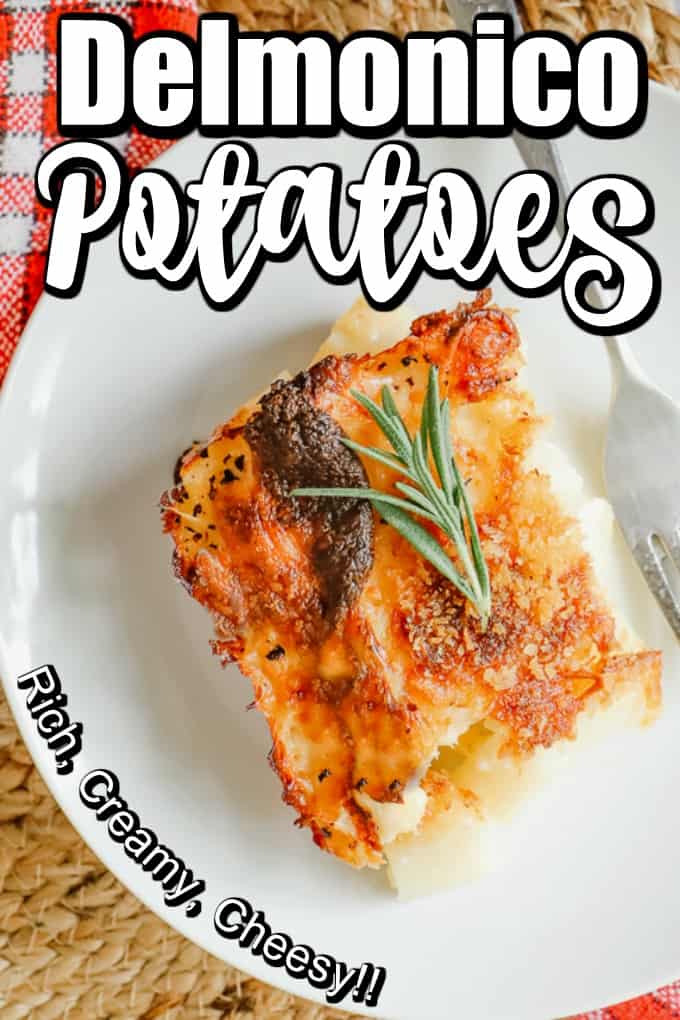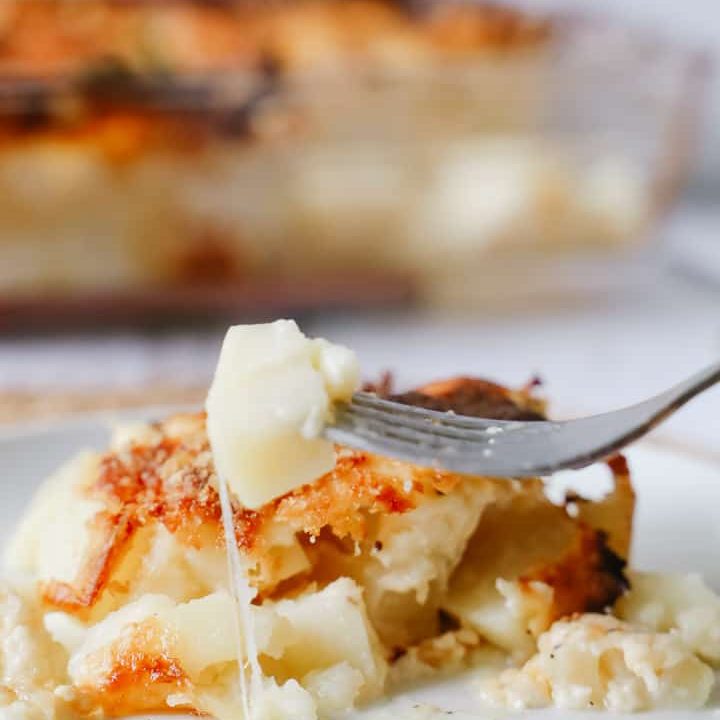 Delmonico Potatoes
Yield: 6 Servings
Prep Time: 15 minutes
Cook Time: 1 hour
Total Time: 1 hour 15 minutes
The Delmonico potatoes recipe is a classic American dish featuring cubed potatoes in a creamy and cheesy sauce topped with crumbs.
Ingredients
8 big potatoes
300 ml. of heavy cream
300 ml. milk
1 cup and a half of grated cheese
1/2 cup of bread crumbs
1/2 tsp of grated nutmeg
Salt and pepper to taste
1 tbsp of butter (for the baking dish)
Instructions
Pre-heat the oven at 425F.
Bring a big pot of water to a boil.
Peel your potatoes cut them in one-inch cube.
Cook them in the water for 7 minutes, they won't be fully cooked. It is normal. Drain them.
In a bowl, pour the milk, heavy cream, and half of the grated cheese. Add the nutmeg and salt and pepper to taste.
In a buttered baking dish, place all your potatoes.
Pour the milk and cream mix over the potatoes.
Cover with the rest of the cheese and sprinkle with the bread crumbs.
Bake for 50 to 60 minutes or until the top is golden and the potatoes are cooked.
Serve while it is hot!
Notes
Read the post for helpful tips and alternatives.
Recommended Products
As an Amazon Associate and member of other affiliate programs, I earn from qualifying purchases.
Nutrition Information:
Yield: 6
Serving Size: 1
Amount Per Serving:
Calories: 476
Total Fat: 23g
Saturated Fat: 14g
Trans Fat: 1g
Unsaturated Fat: 7g
Cholesterol: 69mg
Sodium: 209mg
Carbohydrates: 59g
Fiber: 6g
Sugar: 5g
Protein: 11g
Recipe calculation was provided by Nutritionix and is an estimation only. If you need nutritional calculations for medical reasons, please use a source that you trust.