Disclosure: I was compensated for this post by Woodbridge By Robert Mondavi Wines. All opinions and experiences are my own. Please enjoy wine responsibly.
I believe spring has finally made it to our area! Finally!! And with that I love dishes like this Lemon Garlic Sauvignon Blanc Braised Chicken. This is a dish that will leave lasting memories when shared with family and friends.
How do you love to make everyday moments that are worth sharing? Do you love to do it over food, wine and great company? Who do you share great moments with? Does it have to be a special occasion or does a Monday night work for you?
Woodbridge by Robert Mondavi Wines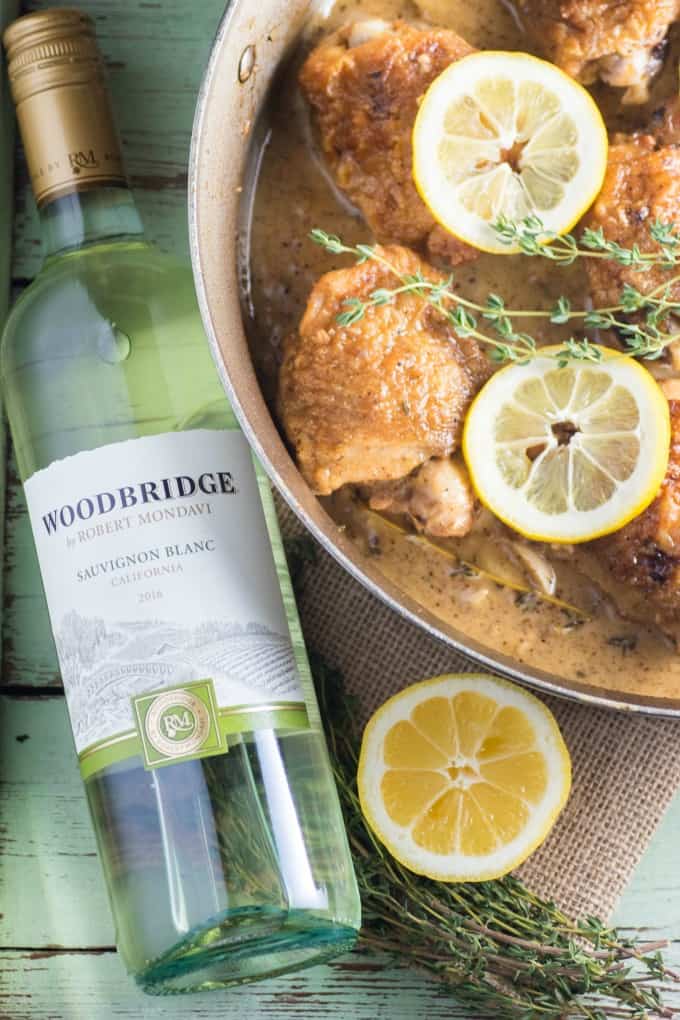 We have made this dish a couple of times already and it is one that I get rave reviews on. Making this dish is easy using Woodbridge by Robert Mondavi Wines and in particular the Sauvignon Blanc for this recipe.
This recipe is bright and sunny with luscious lemon, lots of garlic and fresh thyme which marries gorgeously with the bright fruit flavours and smooth finishes of this great wine. It particularly is made to complement food.
This Sauvignon Blanc is crisp, bright, with refreshing citrus and is very enjoyable on its own also.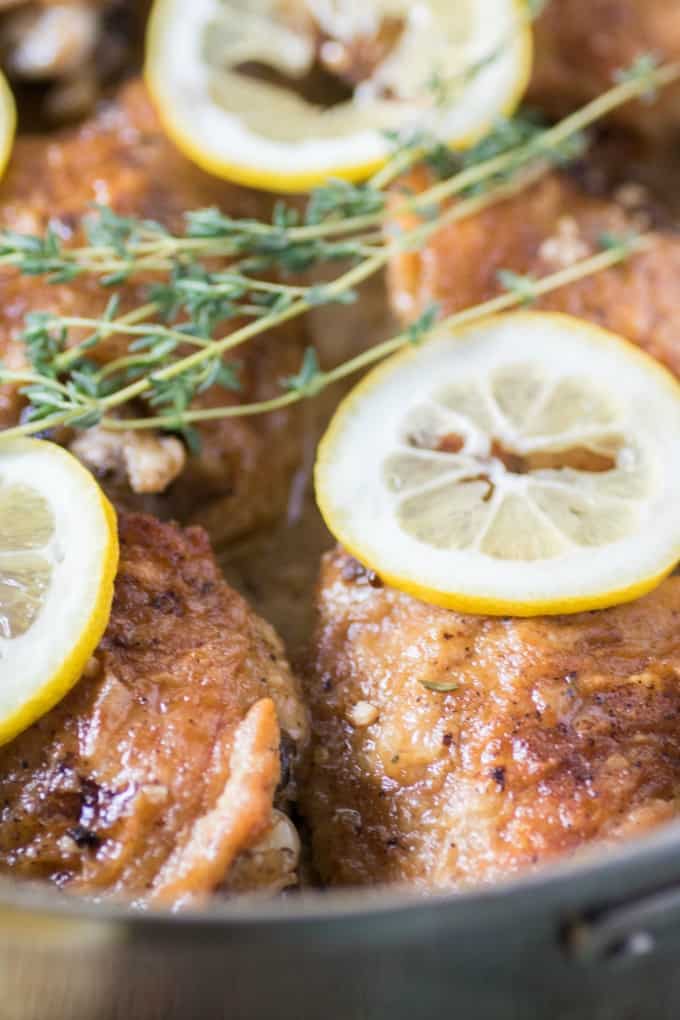 Braising the chicken thighs in Woodbridge by Robert Mondavi Sauvignon Blanc Wine gives you the most flavorful and juicy chicken, it does all the work for you.
I love dinners like this that braise away slowly while you put your feet up and enjoy a glass of wine! Where do you find this wine? Look for Woodbridge Wines by Robert Mondavi in the California section of your local liquor store.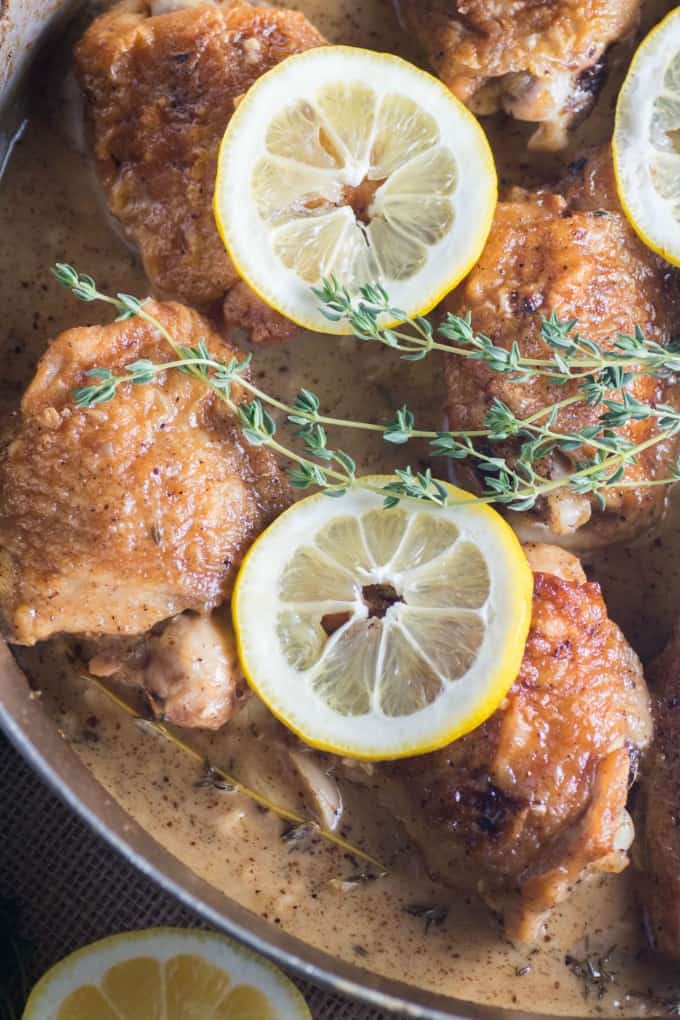 Enjoy any of the Woodbridge by Robert Mondavi Wines on their own or pair them with simple spring/summer fare or try a wine cocktail recipe. I adore a great wine cocktail like this Citrus Sangria, also perfect for spring/summer entertaining.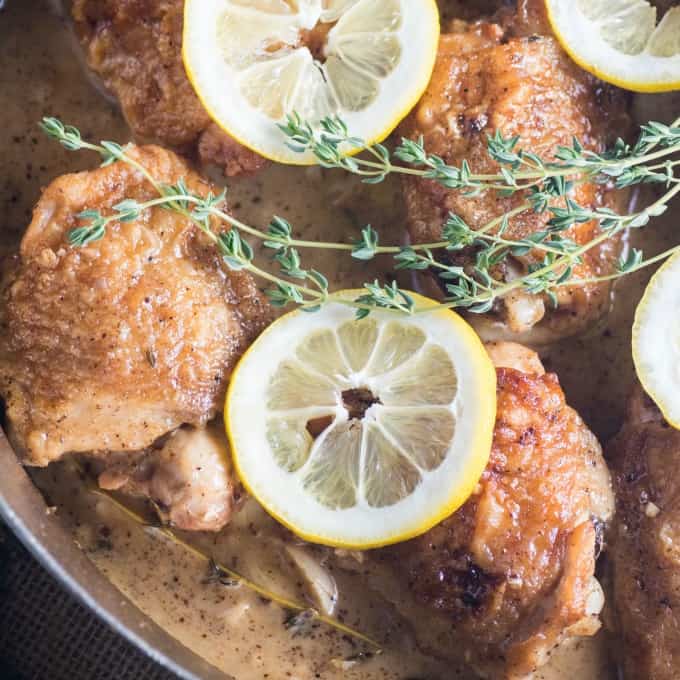 Want to find more recipes and wonderful ideas then follow Woodbridge by Robert Mondavi Wines on Twitter, Facebook and on Pinterest.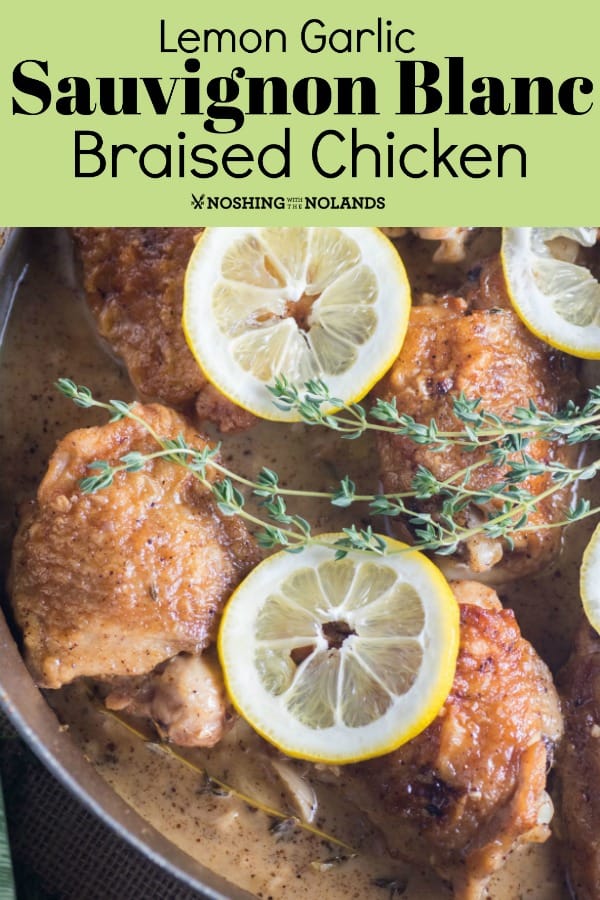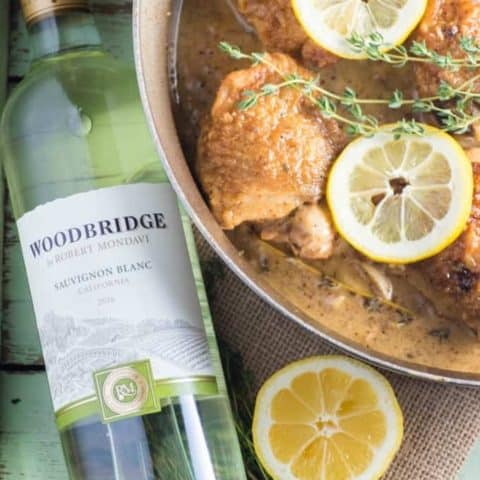 Lemon Garlic Sauvignon Blanc Braised Chicken
Yield: 4 servings
Prep Time: 20 minutes
Cook Time: 1 hour 5 minutes
Total Time: 1 hour 25 minutes
Garlic Sauvignon Blanc Braised Chicken is slowly braised in the oven letting the wine make the chicken tender and juice while it infuses with lemon and garlic flavors.
Ingredients
8 bone-in, skin-on chicken thighs
Salt and freshly ground pepper
Flour for dusting
3 Tbsp. olive oil
4 whole garlic gloves plus 3 rounded tsp. minced garlic
1 1/2 cups Woodbridge by Robert Mondavi Wines Sauvignon Blanc
1 1/2 cups chicken stock
4-1" strips of lemon zest
Juice of 1/2 lemon
4 sprigs thyme
1 bay leaf
1 Tbsp. butter
Lemon slices and fresh thyme to garnish
Instructions
In a small bowl add flour and season with salt and pepper. Lightly roll each chicken thigh in the flour.
In a large skillet add the olive oil over medium-high heat. Add the chicken skin side down to brown. Once browned turn the chicken over and brown the other side. Remove chicken from pan and drain all but 1 Tbsp. oil.
Preheat oven to 350F.
Add the whole cloves of garlic and cook over low heat for 1 min. Add the minced garlic and continue to cook for 1-2 min. more. Do not brown but just soften. Add the wine and bring it up to a boil. Reduce the wine by half, cooking for about 5 min.
Add the stock, lemon zest, lemon juice, thyme sprigs, and bay leaf. Bring to a boil and add the chicken, skin side up. Place the skillet in the oven and braise for 45 min. with the lid on.
Place the skillet back on the stove and bring it to a boil. Reduce the sauce, cooking for 5 min. longer. Discard the thyme, bay leaf, and lemon zest. Add in the Tbsp. butter and stir.
Garnish with lemon slices and fresh time if desired. Serve tableside right in the skillet.
Nutrition Information:
Yield: 4
Serving Size: 1
Amount Per Serving:
Calories: 460
Total Fat: 19g
Saturated Fat: 5g
Trans Fat: 0g
Unsaturated Fat: 13g
Cholesterol: 52mg
Sodium: 321mg
Carbohydrates: 42g
Fiber: 2g
Sugar: 10g
Protein: 14g
Recipe calculation was provided by Nutritionix and is estimation only. If you need nutritional calculations for medical reasons, please use a source that you trust.