A roast beef dinner can be so comforting but if you overcook it, it is the biggest disappointment ever. That is why I have for you today Roast Beef 101.
My number one tip for you would be to always cook by temperature not by time. Ovens vary so your outcome is difficult to gauge by time only.
To Know Your Cuts of Canadian Beef is my number two tip and this great guide will be very helpful in knowing how to cook each cut of beef.
For today's post, we are primarily focusing on roasting a prime rib cut. And I can help you with the leftover too in this Best Prime Rib Sandwich, it is amazing!!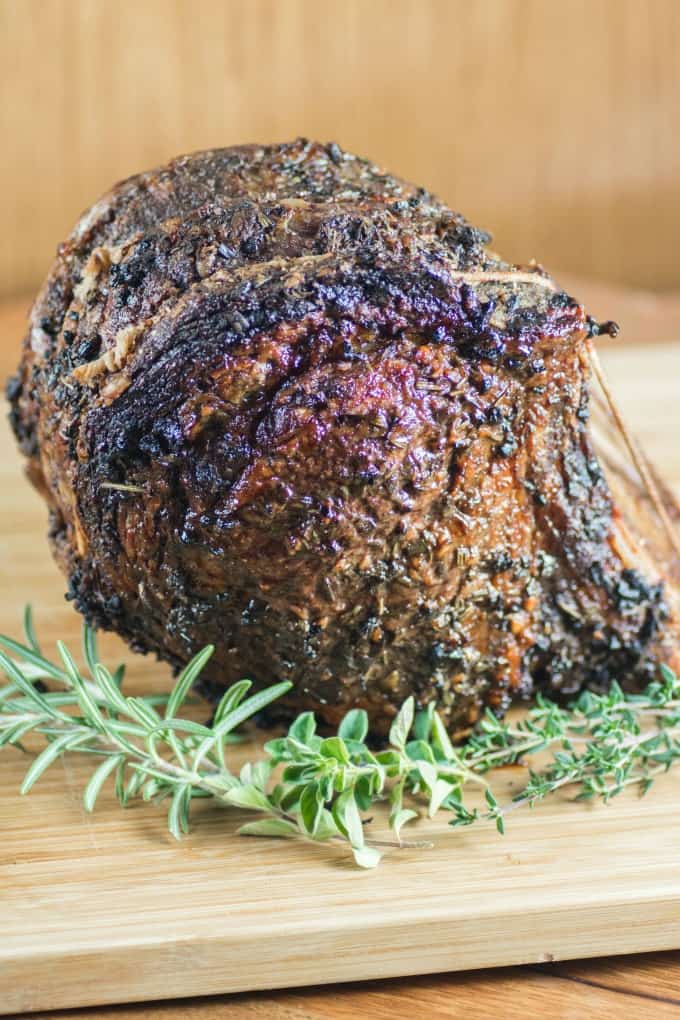 How to Make Roast Beef 101
Roast beef makes for an easy weekend dinner but can also serve as a fantastic holiday feast. Incredibly versatile and suitable for any occasion, a roast beef dinner is a fantastic meal to know how to make.
A prime rib is not a cheap option so you will want to make sure you have all the knowledge you can get before jumping into this meal.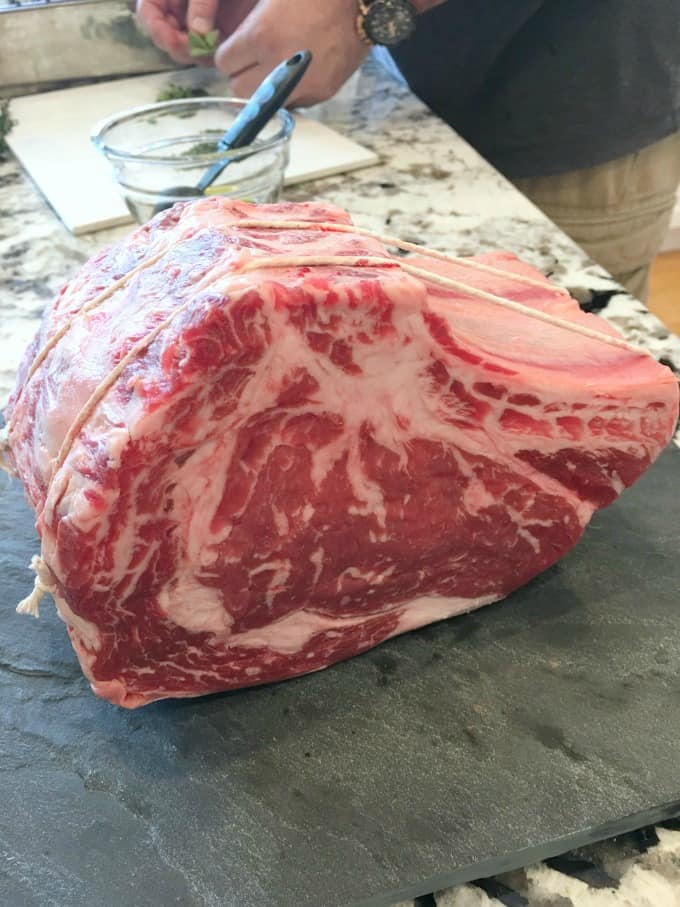 Not only can a roast provide lots of leftovers for the next day but with very little preparation required, it is also a fantastic no fuss meal that you will want to add to your cooking repertoire.
In order to transform a large piece of beef into succulent, tender slices, it takes some careful cooking and some easy to follow tips.
What Cut to Pick
Beef comes in several different cuts to suit every budget and occasion. If you are looking for a cost-effective choice for a weeknight meal, a blade roast may be your best bet.
For a family gathering, choose an outside or inside round, sirloin tip or cross rib. These are well suited to low and slow cooking methods and produce a juicy and flavourful finished product.
Special occasions usually call for special cuts. Choose a premium oven roast like tenderloin or standing rib which is also called a prime rib, will always produce amazing meals with our easy tips.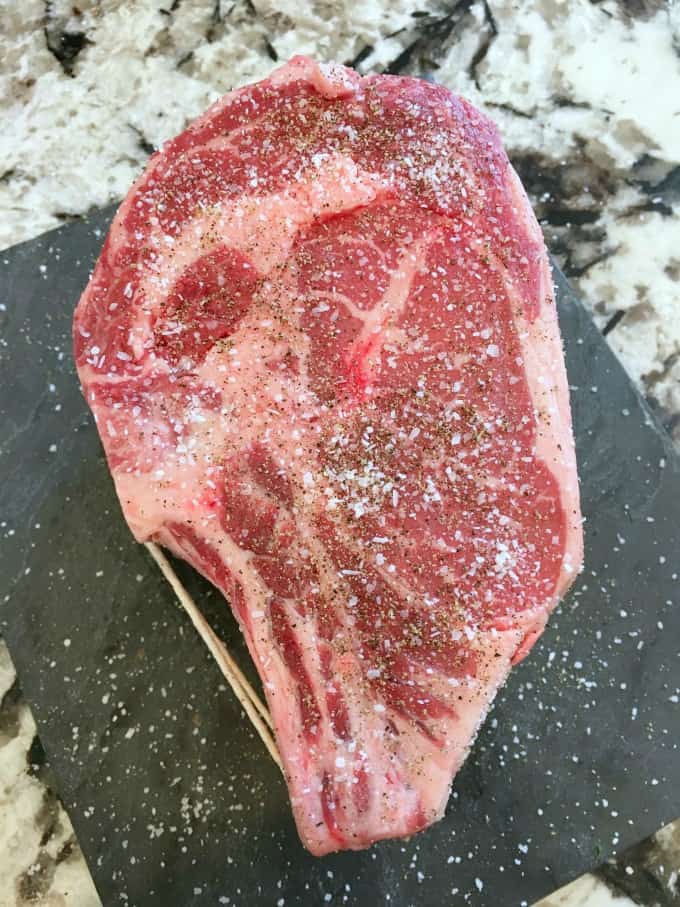 Tie, Season & Allow to Stand
There are several cuts of meat that thoroughly benefit from trussing prior to being cooked. Trussing forces the roast beef to stay in a more even shape helping to ensure that it cooks evenly. Not only that, but it also makes a presentation and slicing much easier to navigate.
Once trussed, pat the roast dry with a paper towel, sprinkle with kosher salt and pepper and allow to stand at room temp for a half hour. Always make sure you season all sides generously.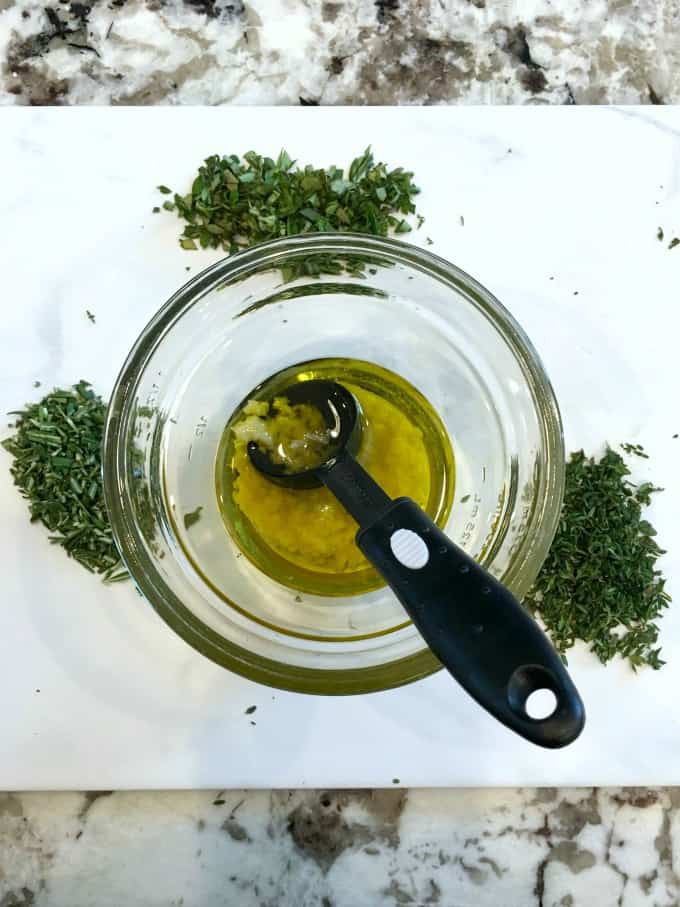 For our prime rib we went a step further and made up a rub to add additional flavor.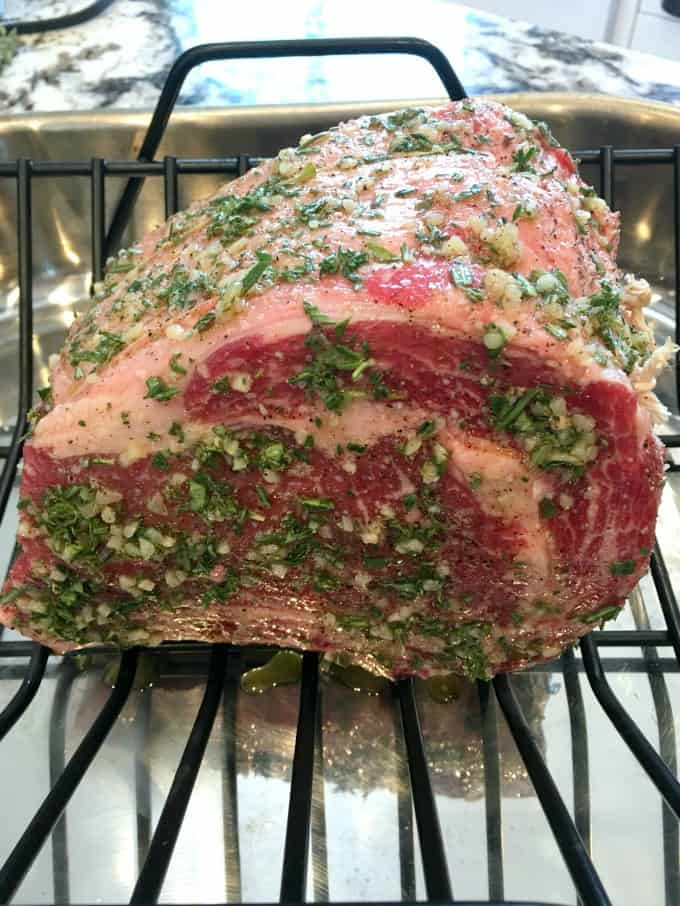 Isn't that stunning?! Now you are looking so forward to the final roast and diving in aren't you?
How do you cook a roast in the oven?
We are talking a standing rib or prime rib at the moment. To get that outside perfect crust you don't need to sear it first in a pan but to start at a really high heat and then drop to a low and slow heat to finish.
I am blessed with a new Wolf oven and have the perfect setting to achieve this without lifting a finger as the oven does the magic for you.
But in saying this you can achieve the same setting just by doing it manually and changing if from convection to bake yourself.
For an idea of timing give the roast 15 min. per pound but always cook to the right temperature not the exact time.
Alternate Prime Rib Recipe
If you have an older oven that doesn't have a convection setting, I have had great success with a recipe that my mom used to make.
You coat the entire outside of the roast with flour, salt and pepper. Place the prime rib in a shallow dish. Preheat the oven to 500F and cook as follows:
4 1/2 – 5 lbs for 25-30 min.
8 to 9 lbs. for 40-45 min.
11 to 12 lbs. for 55-60 min.
Then turn the oven off. Leave the meat in for at least three hours. Never open the door during cooking time. For this you need a temperature gauge that sits outside of the oven.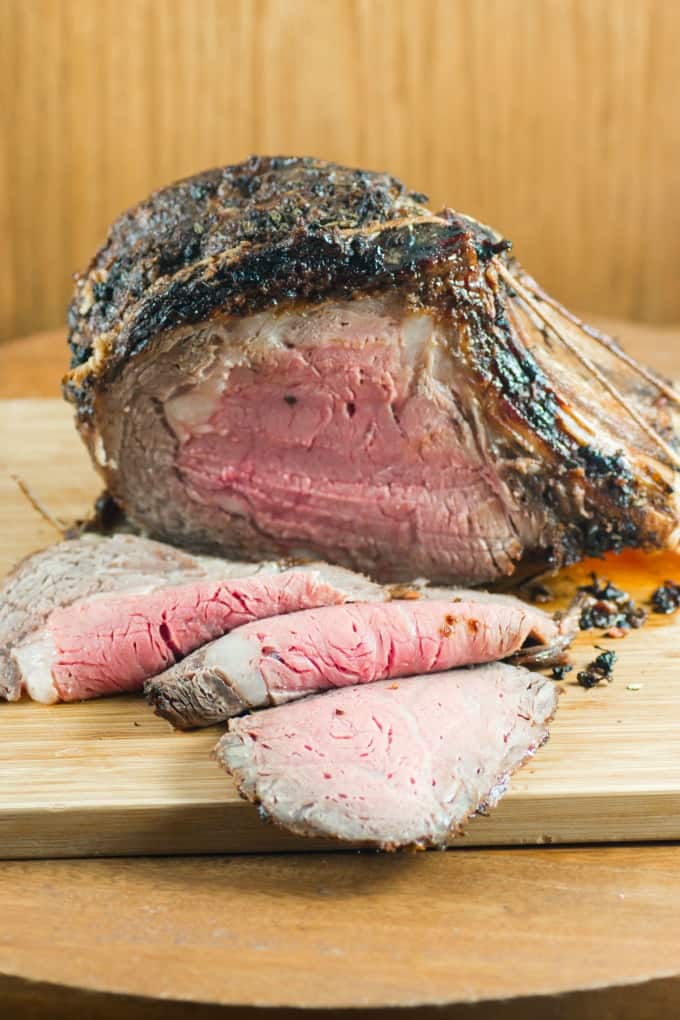 Choose the Right Method
As I said above I have a great post entitled How to Know Your Cuts of Beef. So if you have purchased a cut of beef that will not give you the right outcome don't try and make it work. You will be sadly disappointed with the results!
Instead get a great roast like this Perfect Pot Roast using a chuck roast or try a Pressure Cooker Pot Roast with a boneless sirloin. There are tons of recipes to choose from to make the perfect dinner.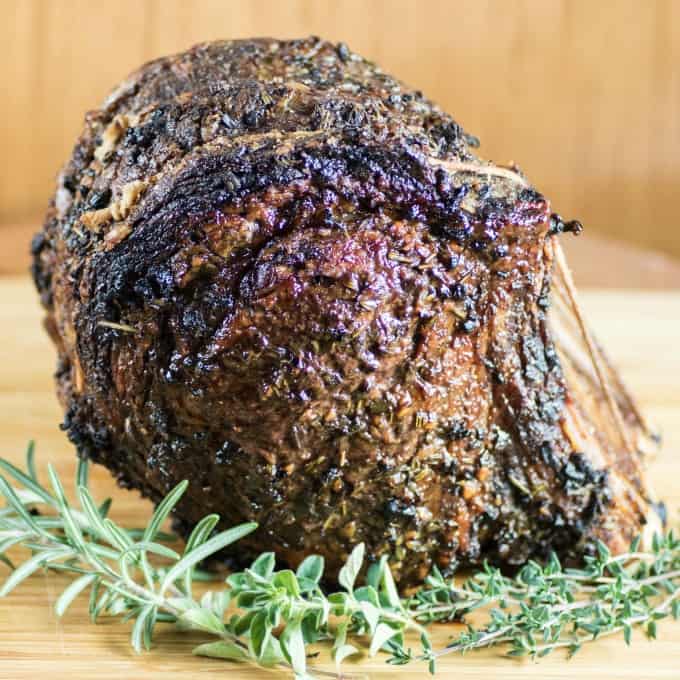 Allow to Rest
Allow your roast to rest under tented foil for 10-20 minutes. This will help to ensure that your roast beef remains juicy. Roasts should always be removed from the oven prior to reaching its finished state. This is because it will continue to cook while it rests, raising the internal temperature another 10-15 degrees.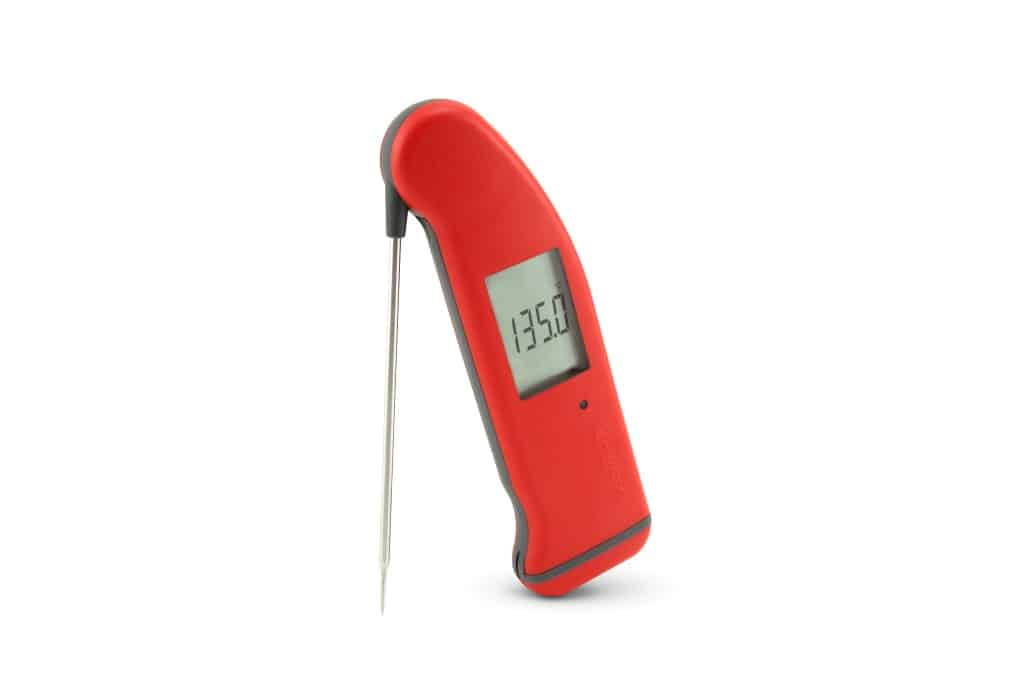 Again always check your roast to make sure it is at the correct temperature. An instant read thermometer like this one is handy or you can use ChefAlarm that has a probe that goes into the meat and then a device that sits outside of the oven.
To give you an approximate time you can cook the roast for 15 min. per pound.
We have both of these to make sure our cooking temperatures are accurate.
Finishing temperatures are as follows:
Medium rare – 145F (63C)
Medium – 160F (71C)
Well Done – 170F (77C)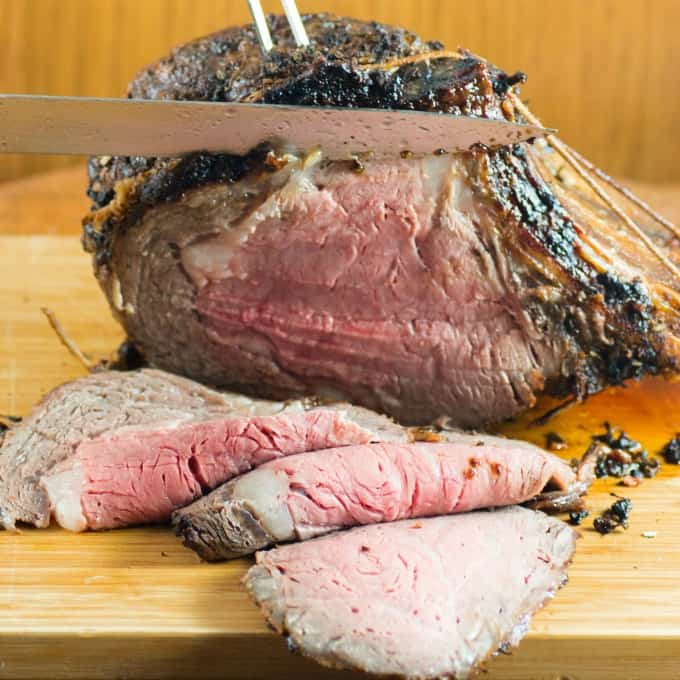 Cooking a roast beef doesn't have to be complicated. Just make sure that you choose the right cut and prepare it properly. A roast is certainly a delicious meal for any occasion.
Any leftovers? Sliced homemade roast beef makes an excellent sandwich. Add some gorgeous aioli and fresh bread and you don't need much more than that!!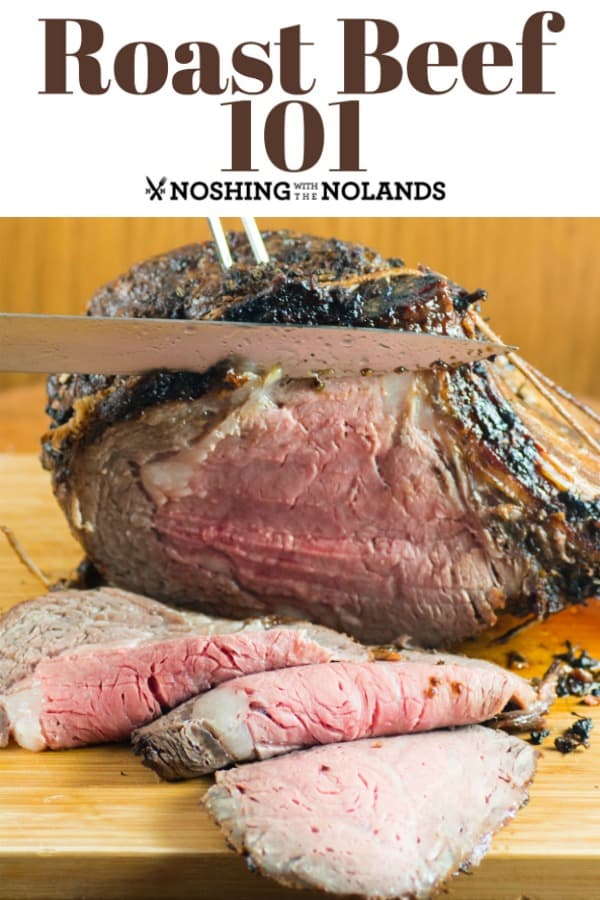 Roast Beef Recipe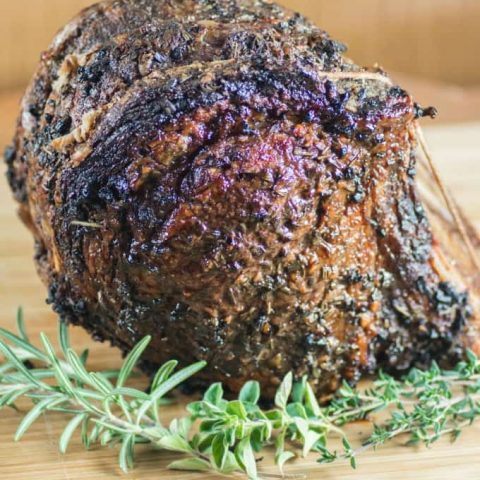 Roast Beef 101
Roast Beef 101 will help guide you to get the perfect roast everytime.
Ingredients
4-6 lbs. prime rib roast, bone-in and tied
3 Tbsp. olive oil
1 Tbsp. garlic, minced
1 Tbsp. each thyme, oregano, and rosemary, finely chopped
1 tsp. freshly ground pepper
1 Tbsp. Kosher salt
Instructions
Cook time will be approx. 15 min. per pound.
Take the prime rib out of the refrigerator about 30 min. prior to roasting to come to room temperature.
Salt and pepper the outside of the roast generously.
In a small bowl mix together the olive oil, garlic and herbs. Rub over the entire roast.
Place in a shallow roasting pan preferably with a rack and place into a cold oven.
Insert your temperature probe and put oven on convection at 450F. Use the alternative directions in the post if you don't have convection.
Roast for 30 min. after preheating and then switch to baking mode and reduce heat to 225F.
Roast until the internal temperature reaches 135F.
Remove the roast and tent with foil and let rest for 20 min. or until temperature reaches 145F. for medium rare.
Nutrition Information:
Serving Size: 3 oz.
Amount Per Serving:
Calories: 298