Disclosure: I was compensated for this post. All opinions and experiences are my own.
Nothing better than a delicious beef pot roast with all the best vegetables that the whole family can dig into!
But to make things easier on the cook I have a recipe for a Pressure Cooker Pot Roast that will blow you away! Plus, made in little time at all with Cosori's electric premium pressure cooker. So much faster than a slow cooker.
I have to be honest here I am a complete pressure cooker novice. This is not an appliance that I have owned nor one that I even grew up with.
So when I was asked by Cosori to test drive one of their pressure cookers I was very excited and intrigued to try this appliance out.
I wanted to make something that usually takes hours and to cut it down to a simple meal that could be enjoyed any night of the week. The first step is only 30 minutes and then you add the carrots and potatoes for an addtional 20 minutes.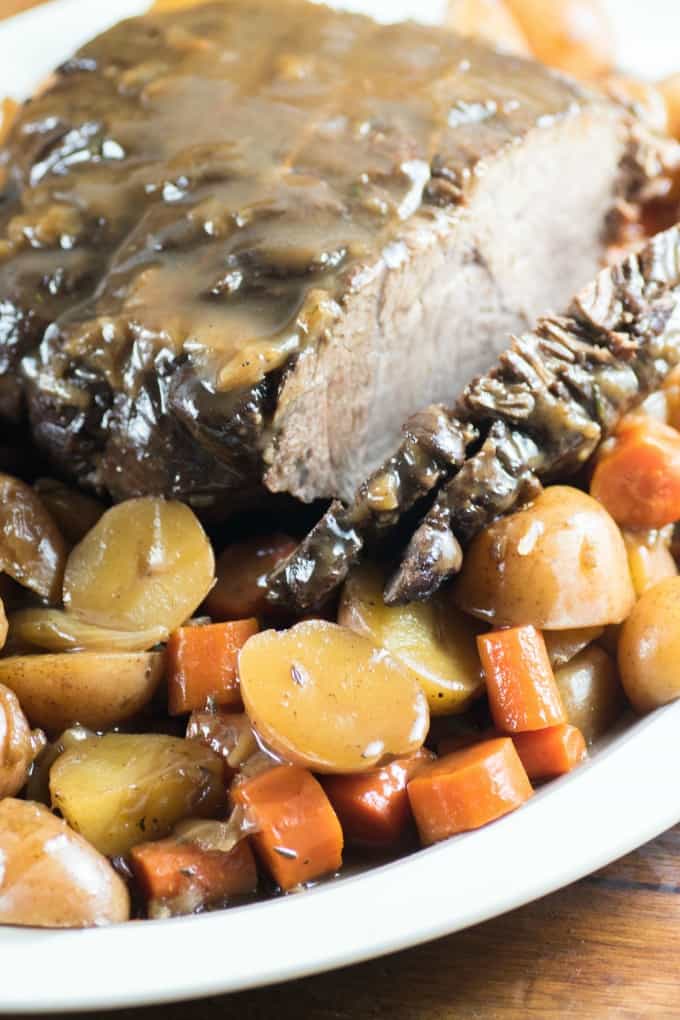 When the chill is in the air there is nothing better than comfort food but who wants to be slaving away after a hard day at work.
This meal can be made in about an hour, with most of the time and work being done by the pressure cooker. Nothing can be easier than that.
Tender vegetables, succulent beef all with a homemade gravy, just doesn't get more comforting than that! Instead of the usual worchestireshire sauce I added in red wine for an extra deep flavor .
Pressure Cooker Hard Boiled Eggs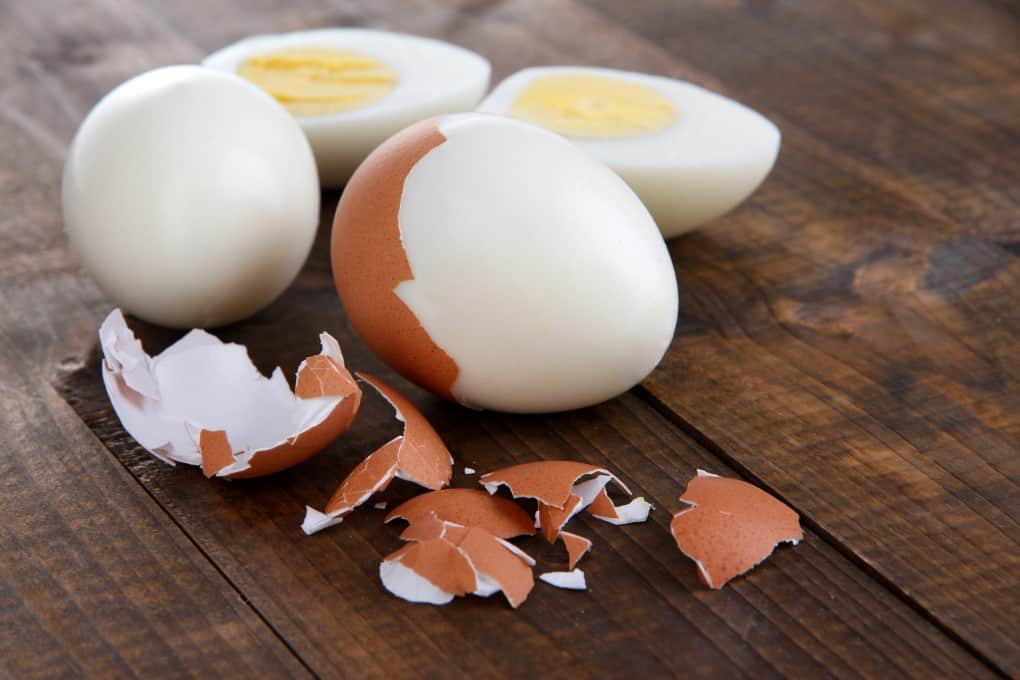 To give the pressure cooker a test run before I made the pressure cooker pot roast I decided to try hard boiled eggs. I had heard that they turn out great in a pressure cooker and the instructions came with pressure cooker recipes and one for eggs.
They were super easy to make as hard boiled eggs are but the true test came in the peeling! Like a miracle the eggs shells just slid right off, rendering me with gorgeous perfectly peeled hard boiled eggs. Never again will I do them any other way!!
How To Cook a Pot Roast in a Pressure Cooker
There are some simple easy steps that anyone can follow to make a gorgeous pressure cooker pot roast. Even a non-experienced cook can pull this meal off easily. Like I said the pressure cooker does all the work for you.
The key to any great meal is to start with great ingredients like this gorgeous sirloin roast. A lovely chuck roast or rump roast would work too as an alternative cut of meat.
The beauty of the Cosori pressure cooker is that you can sear the roast right in the pressure cooker on the saute/brown setting.
Then add some more of your ingredients like the beef broth, red wine, shallots, onions and thyme. This is when you then seal it up and start the cooking process. The first round of cooking is about 30 min. This is when you can put your feet up and rest a bit.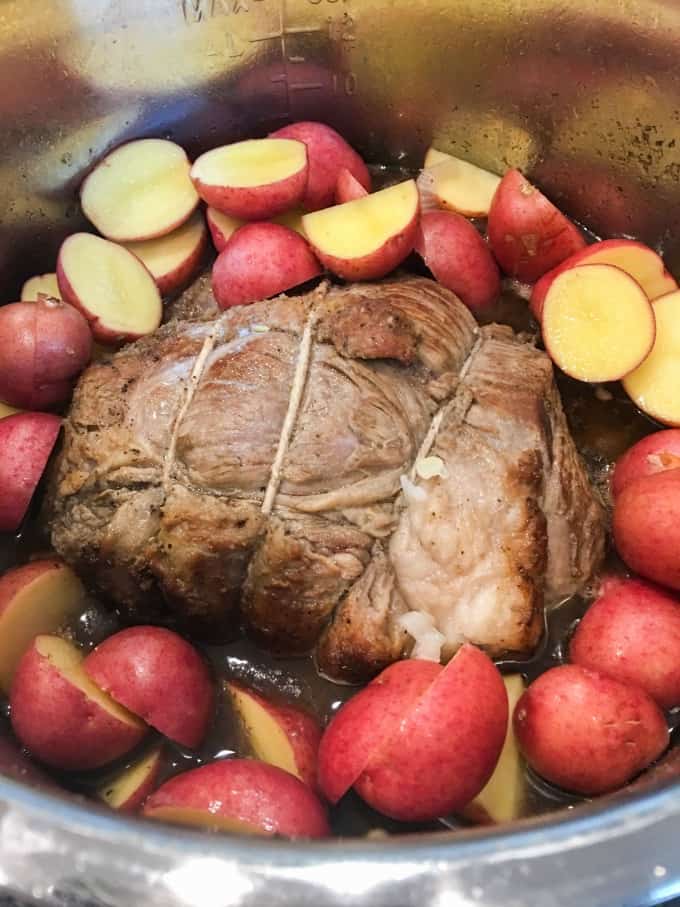 Use the quick release method to unlock the pressure cooker and then the carrots and potatoes are added in. A further 20 min. and you have a wonderful meal.
If you like the gravy more of an au jus you are ready to go. If you like a thicker gravy it can be thickened up quickly with some water and cornstarch and placed back on the saute setting to thicken.
It is really as easy as that. One, two, three steps and you are done and dinner is on the table!
Electric Pressure Cooker Pot Roast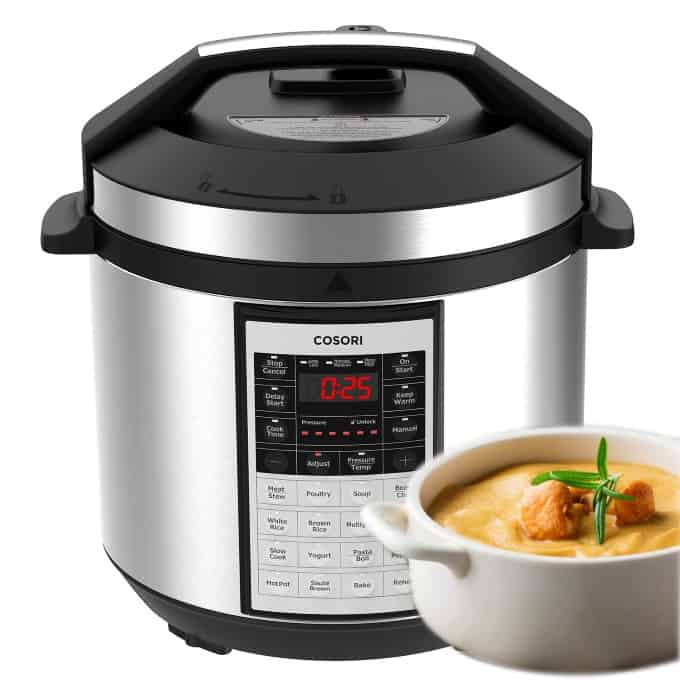 Cosori says:
This cutting-edge culinary appliance is designed to help you prepare delicious and nutritious meals with greater convenience, safety, and efficiency than traditional cooking methods. Now, you can cut down on meal preparation and clean-up time while still enjoying delectable dishes in your own kitchen.
Perfect for 4-6 people.
Replaces 8 kitchen tools in 1, use it as pressure cooker, slow cooker, rice cooker, yogurt maker etc. Even could cook eggs.
Combines 17 smart cooking programs: Meat/Stew, Poultry, Soup, Beans/Chili, White Rice, Brown Rice, Bake, etc. Cooking is never complicated.
Adjust cooking time for slow cook, 2 manual cooking modes and 6 pressure cooking levels to cutomize cooking with the best taste.
9 safety mechanisms and ETL, FCC and FDA certified, keep safe in mind.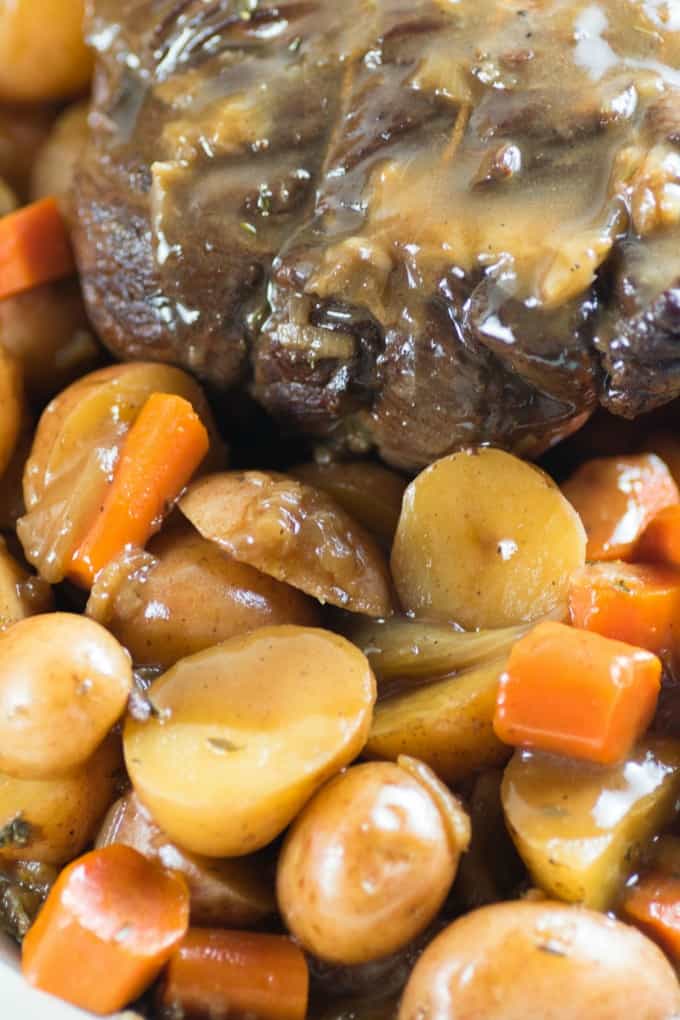 The meat in this time is perfectly cooked, the vegetables tender but not falling apart!! The flavor profile is spot on with the added red wine to deepen the gravy. The fresh thyme gives it the right herbaceousness.
Pressure Cooking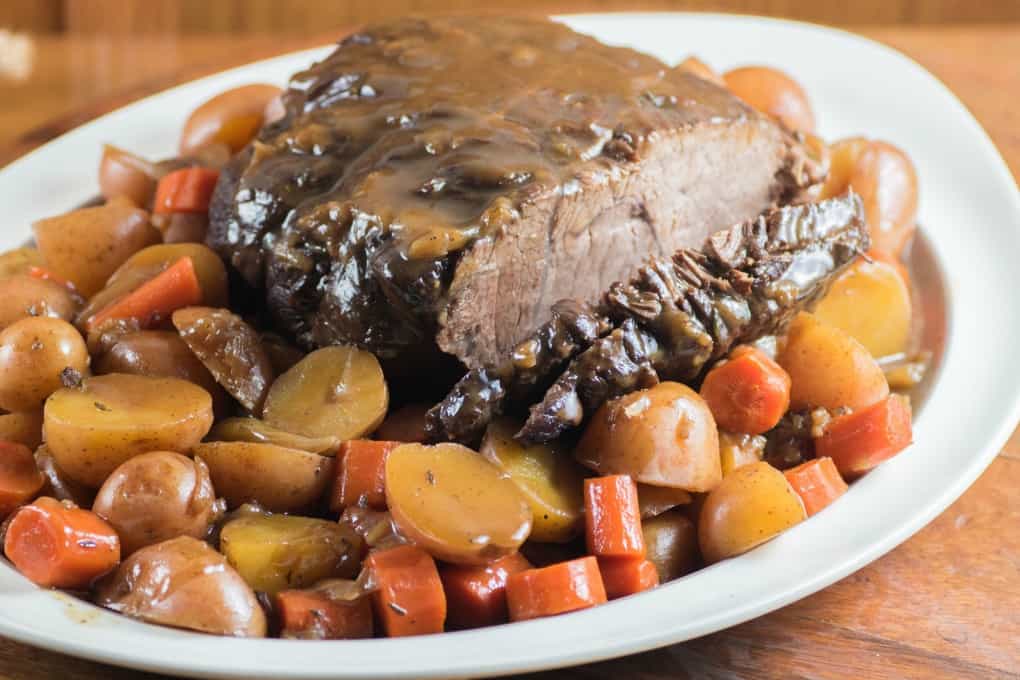 The key to a great pot roast in my mind is that it still slices but yet is melt in your mouth tender. I don't like when it has been cooked to death and all stringy but I still want it to be fork tender. Having it really well done is fine for a pulled beef sandwich but not for my roast beef dinner.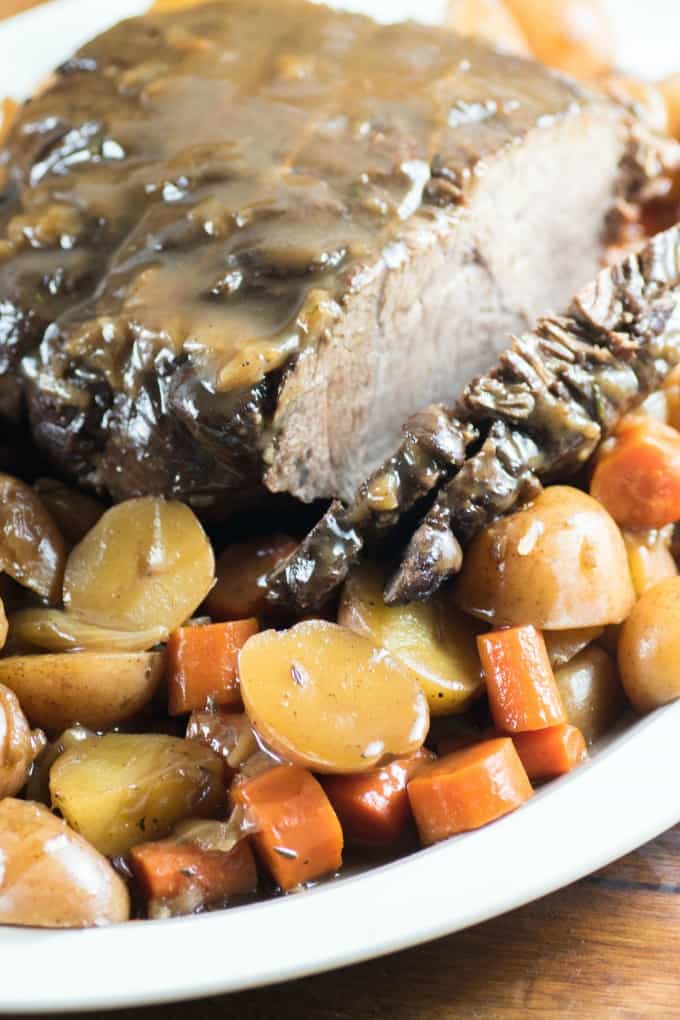 The Cosori Pressure Cooker comes with full instructions. The pressure cooker can also be used as a slow cooker, rice cooker, yogurt maker, steamer, saute pan, stock pan, hot pot or fondue and warmer.
I have got to try all of these settings. I really could use another fondue pot for a big crowd, this will be perfect! Plus think of soups, chilis, stews for all the cold winter months ahead. I love all of those and they will be done so much faster in this wonderful appliance.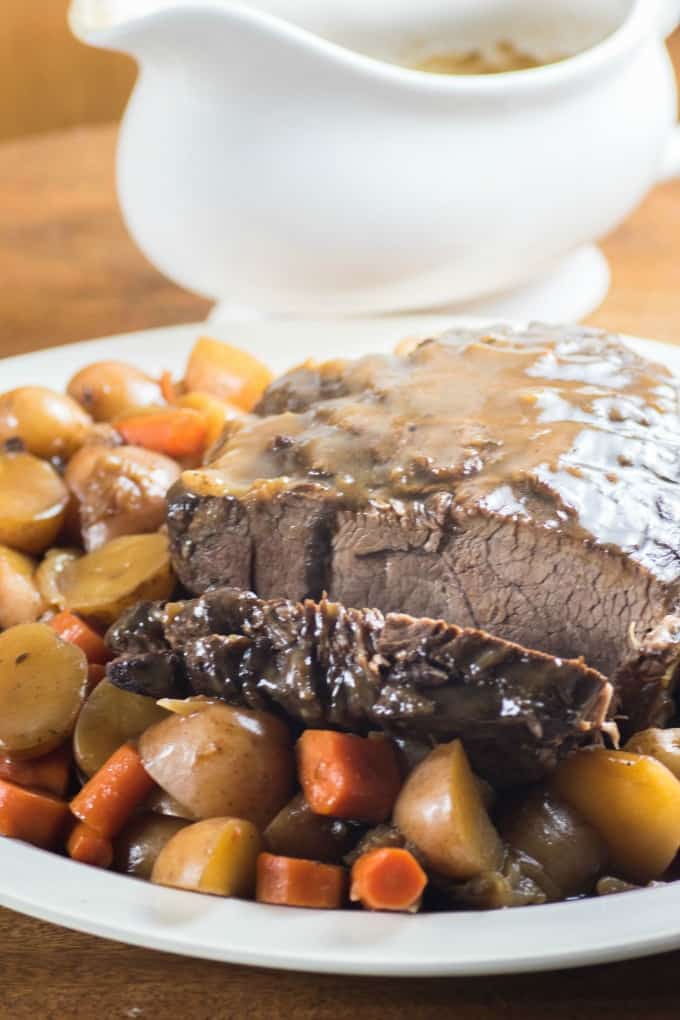 See how lovely it slices? I can't wait to make this meal again as it was so easy to make and fun in the pressure cooker. The entire meal is cooked in the one appliance which lends to little dishes and an easy clean up!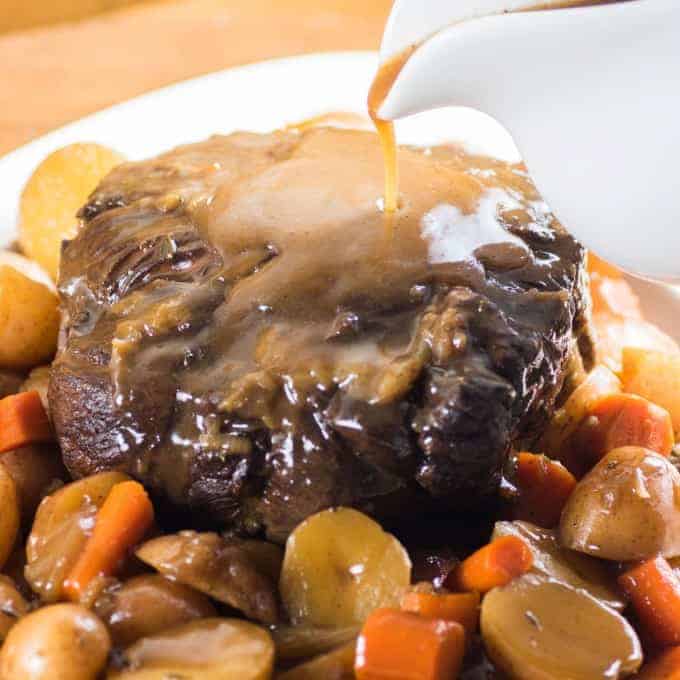 Cosori also has a great line of products besides multiple pressure cookers. They have multicookers, blenders, vacuum sealer, stainless steal french press and a gorgeous electric glass kettle. Follow along for recipe ideas on Twitter, Facebook, Instagram and Pinterest.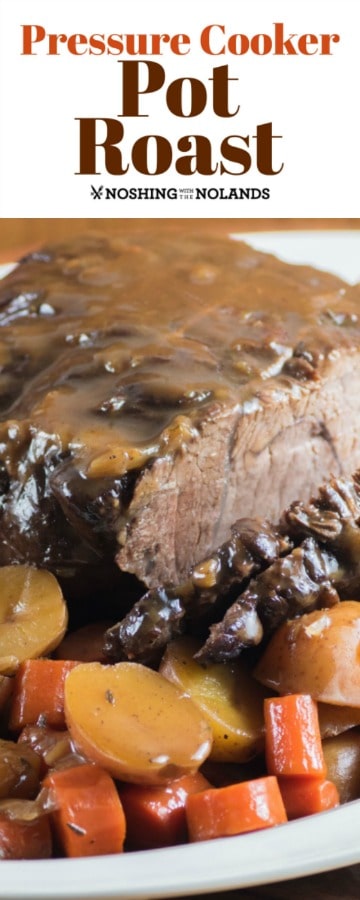 Pressure Cooker Pot Roast Recipe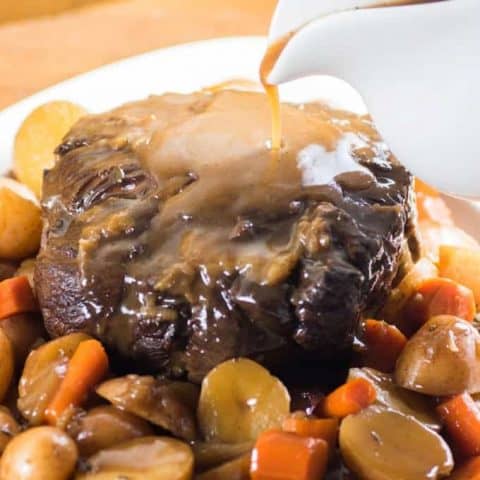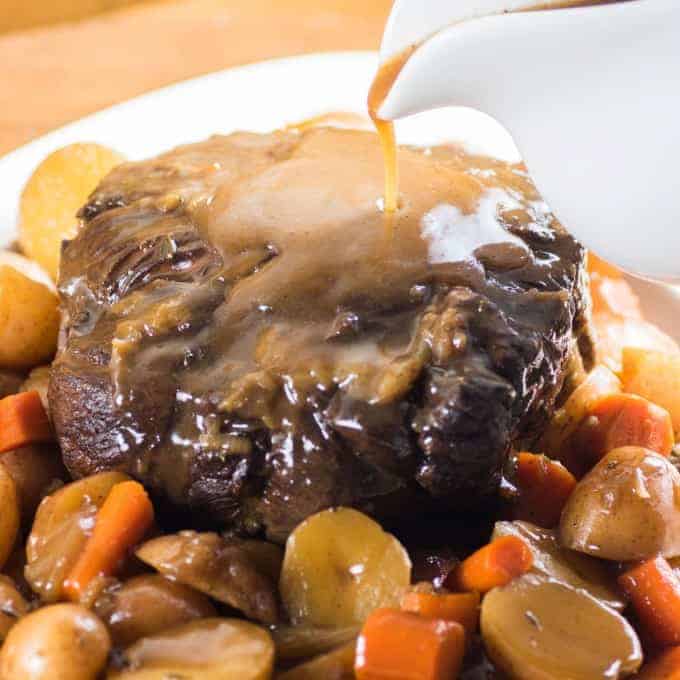 Pressure Cooker Pot Roast
Yield: 4-6 servings
Prep Time: 15 minutes
Cook Time: 50 minutes
Total Time: 1 hour 5 minutes
Pressure Cooker Pot Roast is simple to make and the perfect comfort food for any night of the week.
Ingredients
2 Tbsp. canola oil
3-4 lb. boneless chuck or sirloin
Kosher salt and freshly ground pepper
Garlic powder
Onion powder
10 oz. can beef broth
1/2 cup red wine
3 sprigs thyme
2 shallots, sliced
1 onion, cut into 6 pieces
4 carrots, peeled and cut into 1 1/2" pieces
1 lb. little potatoes, cut in half
2 Tbsp. cornstarch and 2 Tbsp. water
Instructions
Add salt, pepper, garlic and onion powder generously to all sides of the roast. Heat oil in the pressure cooker and brown all sides of the roast.
Add the beef broth, red wine, onion, shallots and thyme. Seal the lid and bring the pressure cooker up to full pressure, reduce heat to low and cook for 30 minutes.
Use the quick-release method as per the pressure cooker instructions and add in the carrots and potatoes. Seal the lid again and bring the pressure up again to full pressure and heat to low and cook for additional 20 min. Use the quick-release method again and transfer the roast and vegetables to a serving platter. Discard the thyme.
Mix the cornstarch and water together and turn the pressure cooker to saute and bring up the heat to boiling. Whisk in the cornstarch and cook until thickened.