Banff Sunday Brunch – Vermillion Room
Do you love a great brunch? I sure do!! Brunch has evolved over the years to what we see today and I love that. It isn't trough after trough of unknown foods that you mound on your plate to see how much you can get in you. At least that is not how I want it and the Banff Sunday Brunch – Vermillion Room is first class with spectacular dish after dish presented gorgeously and exquisitely portioned.
The Vermillion Room is located in the Fairmont Banff Springs Hotel, which is about 1 1/2 hours from Calgary and 30 minutes from Lake Louise.
Brunch is also all weekend long not just on Sundays at it is traditionally known. We went out on a Saturday to enjoy our sunny day in the heart of Banff National Park!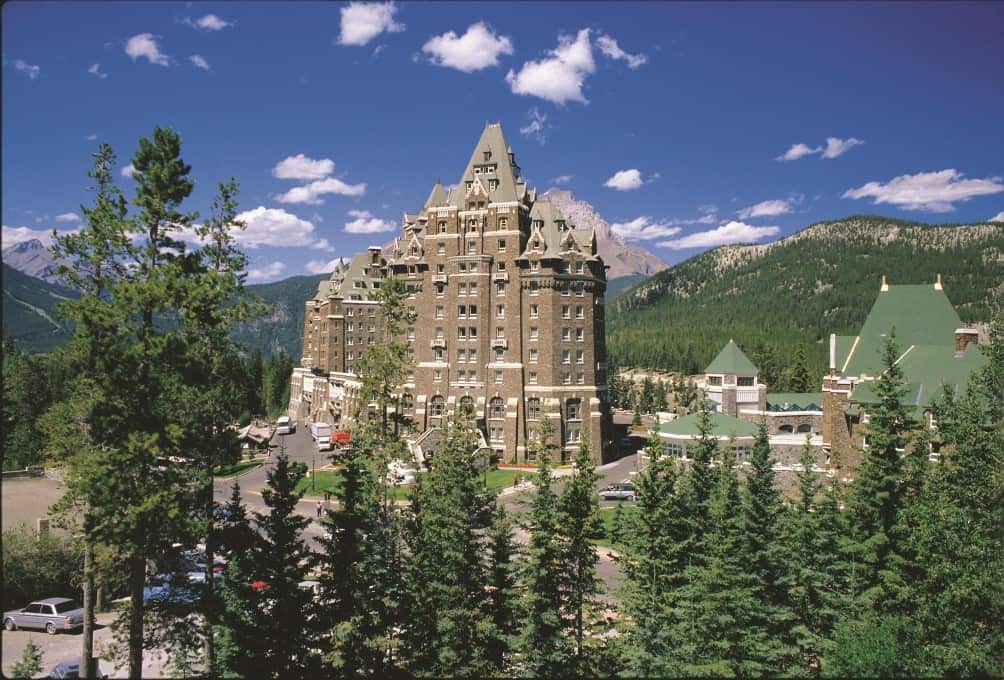 The Castle in the Rockies as it has become known is styled after a Scottish Baronial Castle and is located in the heart of the town of Banff. This hotel is a National Historic site done with a European style.
The transformation of the once Bow Valley Grill was the last of Chef JW Foster's endeavors before moving on to tackle the Toronto's Fairmont Royal York. The new Vermillion Room is a masterpiece designed by Calgary's Frank Design Strategy.
The Castle has taken on many makeovers with Chef JW Foster at the helm including Castello, Stanley's Smokehouse (golf course), Grapes, and Stock that is in the lobby for a quick grab-and-go option. Chef de Cuisine Ryan Watson will now head up the team for the Vermillion Room. Plus, don't forget the 1888 Chop House.
Best Brunch in Banff
The seating is posh and ultra comfortable with blue velvet or leather chairs. The French brasserie styled restaurant is large in capacity and can hold up to 250 people comfortably.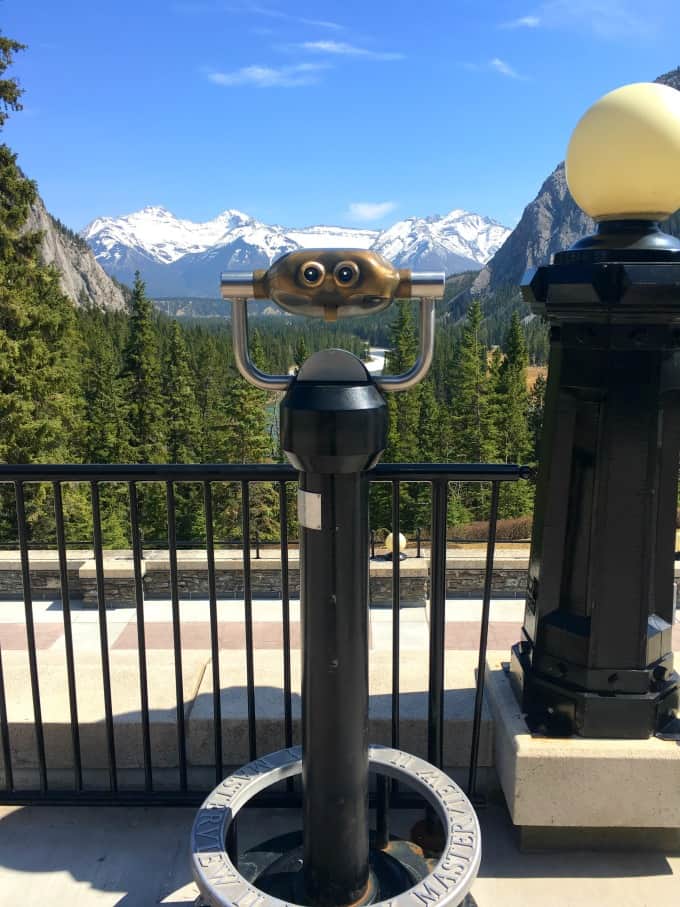 The view is spectacular looking out onto the lawn and then the magnificent mountains. This lookout is just a few steps from the restaurant.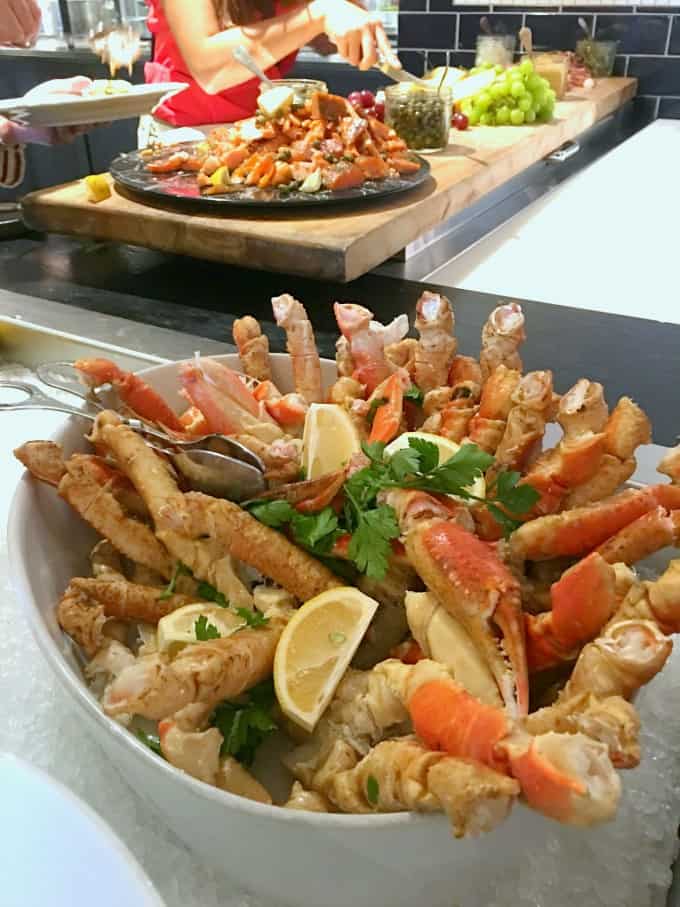 There are stations for this breakfast buffet with seafood, like mussels, shrimp, seafood salad that also include items like these completely amazing crab legs.
Seriously, I have not had a crab that has tasted this good before. I also love that they give you a little head start by cracking through the shell so you can gain easy access to the delectable crab inside.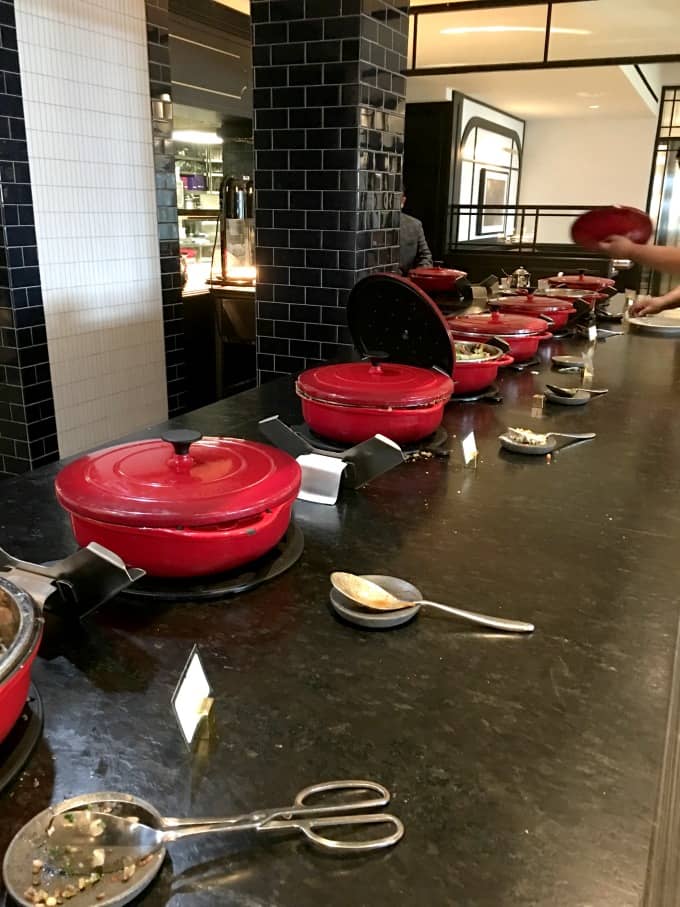 Mains are served up in stunning red French Ovens on burners that are built right into the counters to keep dishes at the exact temperature for serving.
The drink menu is very impressive. From cocktails to coffees and delicious non-alcoholic beverages there are lots to choose from. Ken was very pleased with his French press coffee and we both loved the cocktails and beverages.
If you drive out from Calgary it is nice that they offer adult non-alcoholic beverages that are very interesting. You will have to check these out.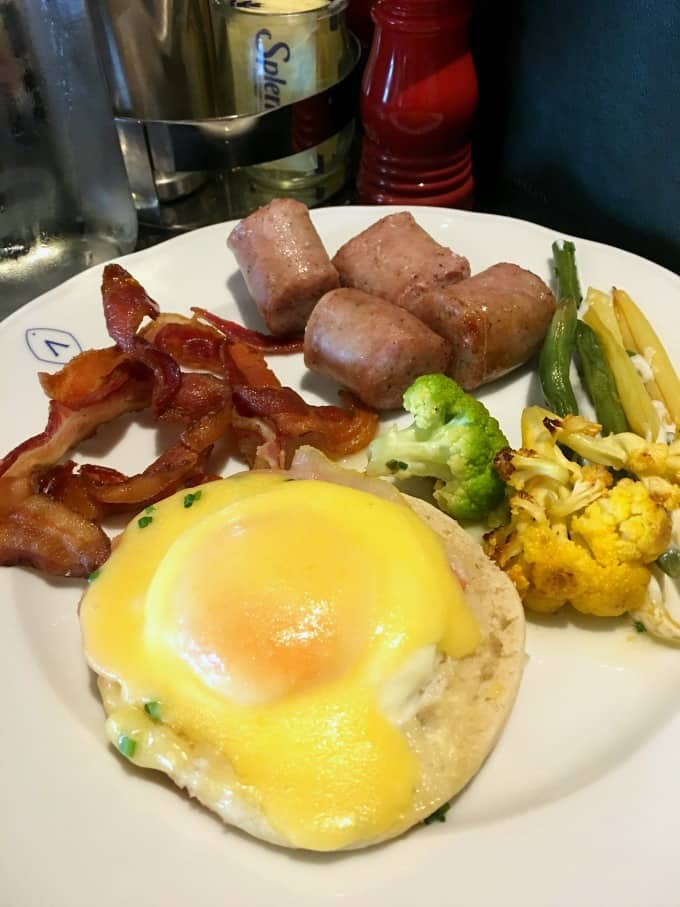 There is your traditional fare, I always have to have an eggs benny. That is tradition for me but they have so much more to offer too. This is what Ken enjoyed for one of his rounds at the buffet.
I adore a buffet anytime, most people love one at Easter, Mother's Day or Christmas but taking time out of your busy life to enjoy a great meal and the mountains doesn't need a special occasion.
The Carvery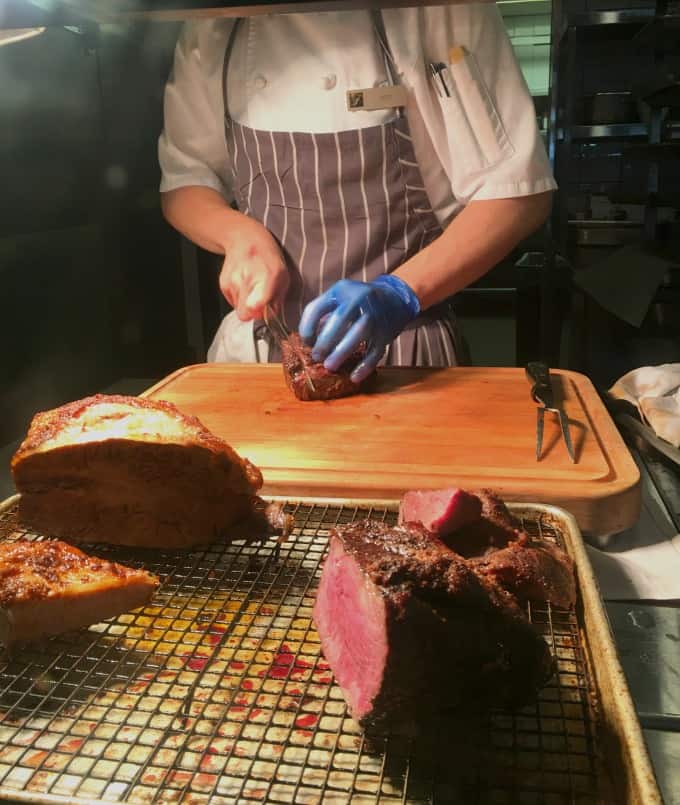 The Carvery has meats, sauces, and braised cabbage all served up how you like! My mouth is watering looking at that gorgeous beef.
If you are unavailable for brunch you can dine in the Vermillion Room any day for breakfast, lunch or dinner.
Eggs Your Way
At the station Eggs Your Way you can order up what you like and how you like them. Not only are omelets served but whatever you wish.
The staff at the Vermillion Room were quite astounding. It was a perfect service from the hostess to the chefs to the waitress. They ticked all the boxes of being helpful, friendly and giving spot-on service.
There are other stations of meats, cheeses and fresh fruits. I got a small plate of fresh fruit to enjoy. That is one of my favorites as there is so much more of a choice than we would have at home.
Vermillion Room Desserts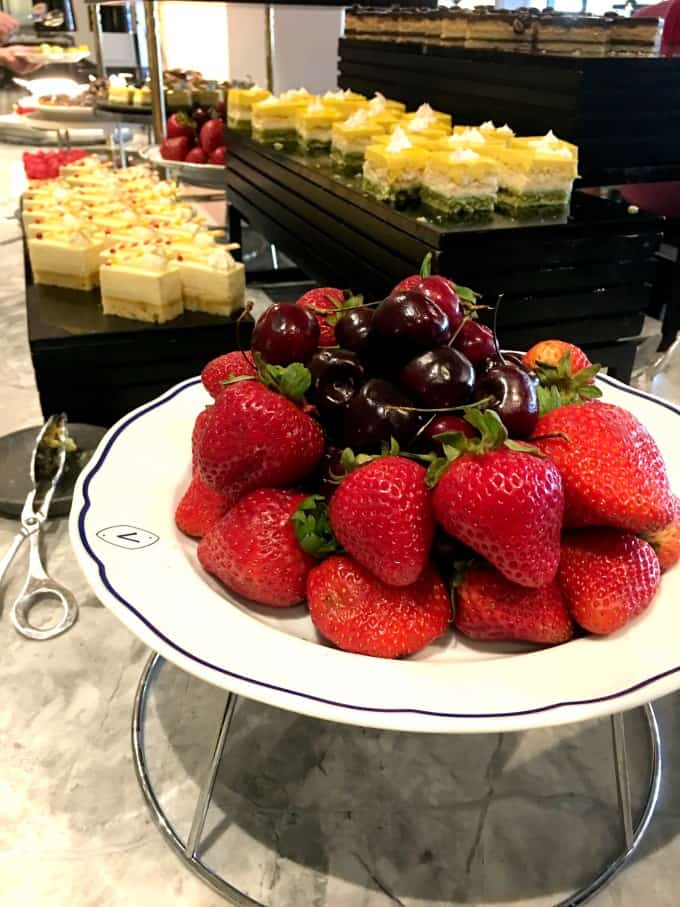 And then there is dessert! I ogled over these wonderful cherries and strawberries, aren't they stunning, nothing subpar will ever be on their buffets.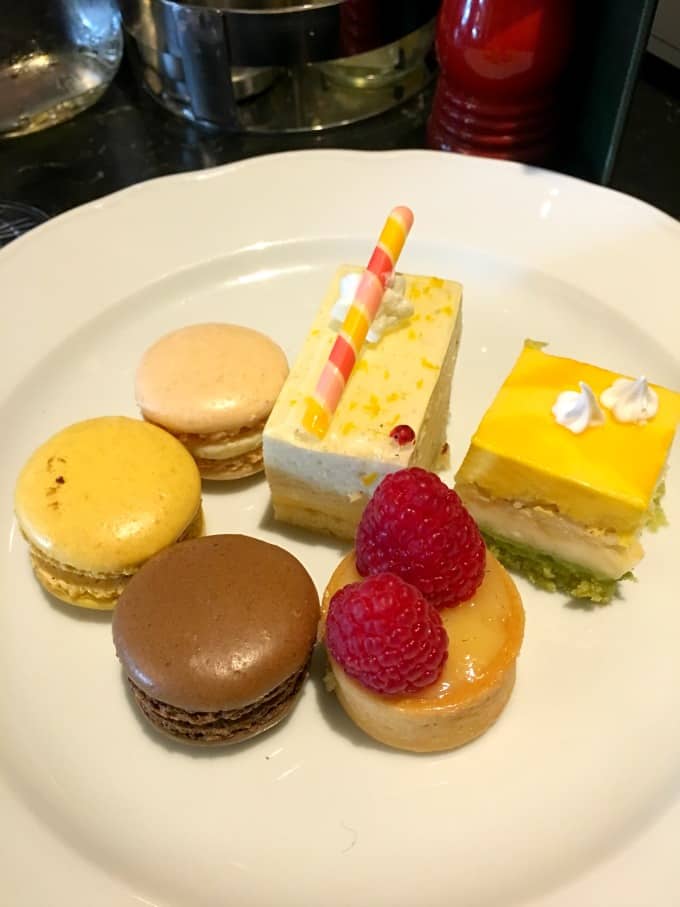 This is our little dessert plate to share. You know when you stand at a dessert bar and everything looks so good but you take it back to your table and the desserts are so bland and tasteless they are not worth the calories.
All of these wonderful creations were so full of flavor. The one with the raspberries on top exploded with lemon flavor, the little one with the green bottom was macha tea and then the whole thing melted in your mouth like you wouldn't believe.
The one with the colored straw on top was a honey cake where the true flavor of honey shined through. Plus the macarons were all perfectly delicious.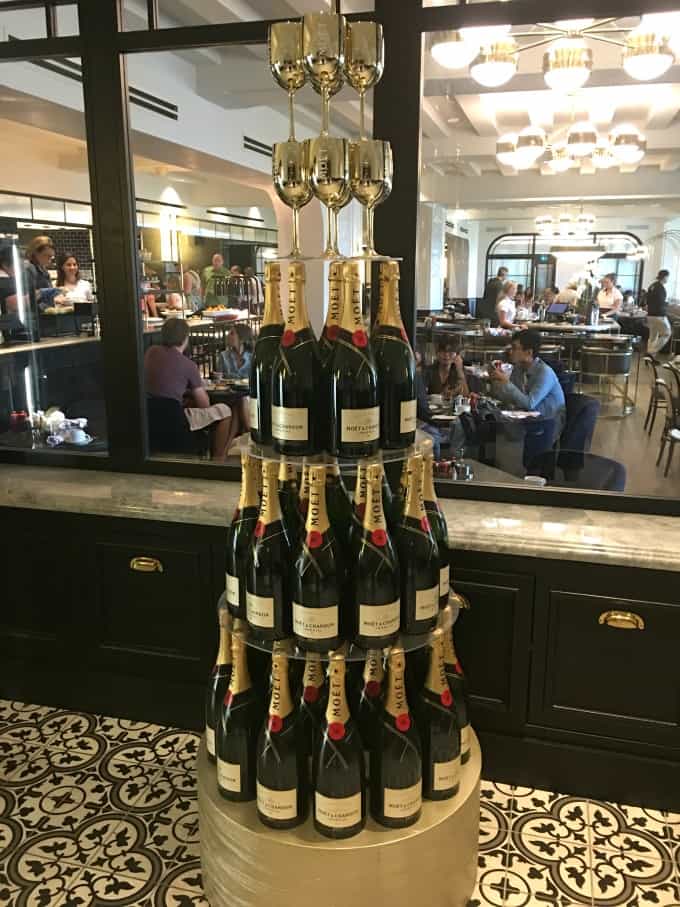 Are you celebrating a special occasion or a vacation in Banff? Then a stay in one of Banff Springs's gorgeous guest rooms is a must along with a scrumptious brunch in the new Vermillion Room. It is a short and beautiful drive from Calgary.
The cost for the brunch is $54 for adults and $27 for children. Follow along with all the deliciousness on Instagram.