Disclosure: I was compensated for this post by Egg Farmers of Canada. All opinions and experiences are my own.
With the holidays firmly in our grasp now we are always short on time. Making a healthy yet delicious meal for lunch or dinner like these Cheesy Scrambled Eggs with Spinach can still be easy though.
This recipe packs a lot of flavor in just a few minutes of time. It will give you back the needed time to get all the other tasks completed in our busy Canadian lives and hopefully leave you some time to do something meaningful in your local community also.
What are the time-saving egg recipes that you can share? Show us using the #RecipesThatGive hashtag so everyone can benefit. Here is another winner that keeps you on budget, our Chilaquiles with Scrambled Eggs.
Egg Farmers of Canada and Food Banks of Canada are getting together to make a difference and you can too by donating food, funds or time to your local food bank.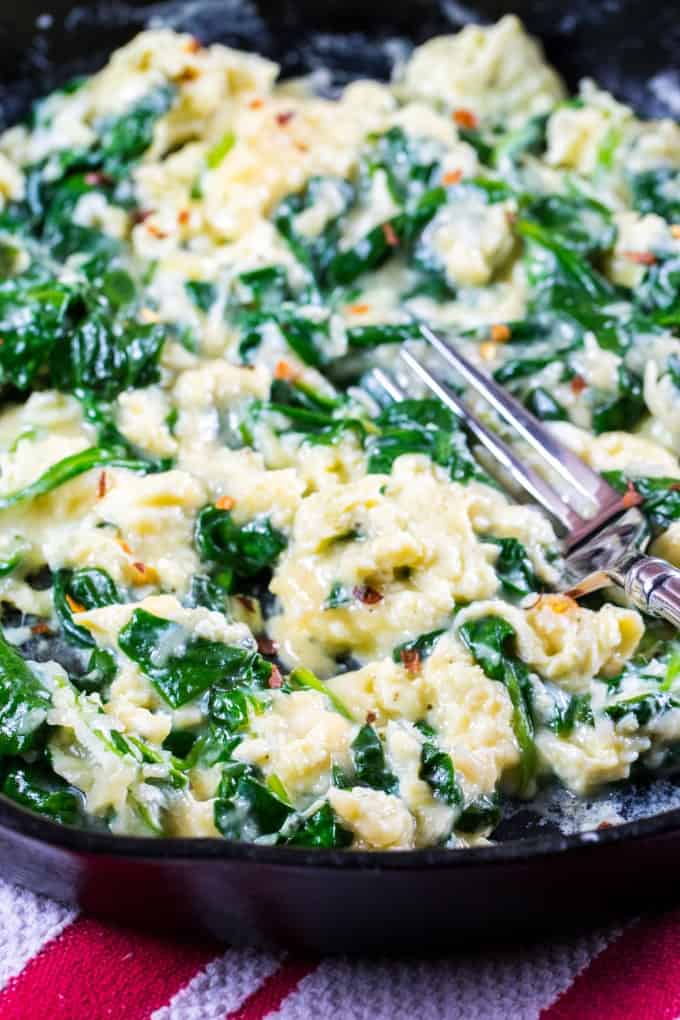 Eggs are a fast, easy and nutritious way to feed your family for not only breakfast but for lunch and dinner too. Eggs give you that extra time and energy to get all you need to get done and more.
This very easy and extremely satisfying and scrumptious egg recipe will be loved by the whole family. It is a great way to also add in a veggie too to get your kids eating right in a hurry.
Sadly, 1 in 3 people helped by food banks are children and youth. Plus more than a million visits are made to a food bank in Canada every MONTH!! And the number is climbing in single-person households still.
So giving at this time of year is essential to help others in need.
How to Make Scrambled Eggs With Spinach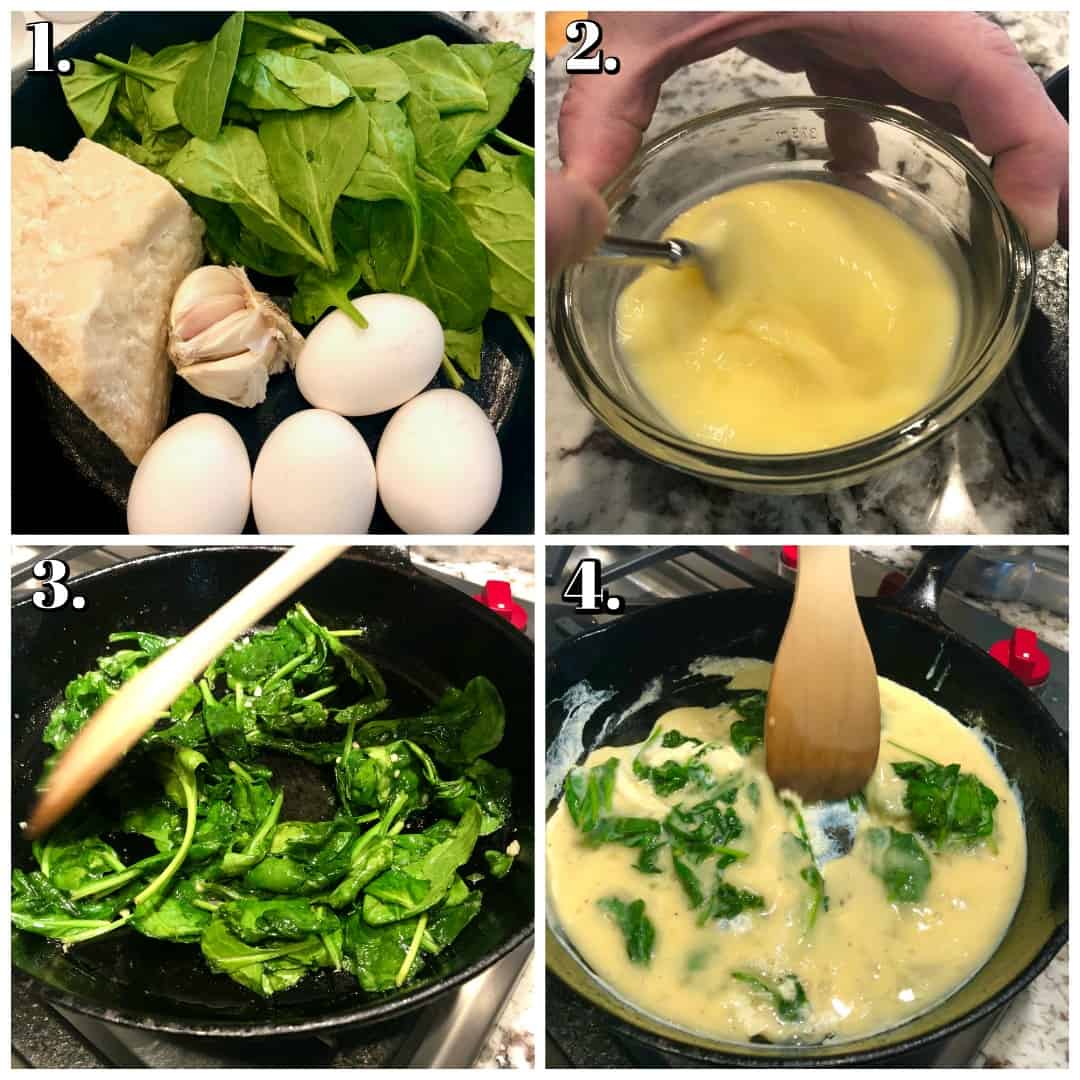 Simple ingredients, minutes to make but tons of flavor is what this recipe is all about. Besides salt and pepper and olive oil, this recipe has only 5 simple ingredients. Eggs, spinach, garlic, Parmesan cheese, and red pepper flakes.
There is no need to be chopping the spinach if you use fresh baby spinach, plus it comes pre-washed and ready to go.
Firstly, pull your ingredients together. Then whisk your eggs in a small bowl and season with salt and pepper and set aside. Add oil to a cast iron pan or nonstick skillet over medium heat. Saute the garlic for 30 seconds and add in your baby spinach leaves, season with Kosher salt and black pepper and saute until wilted about 1 minute.
Add in your eggs and cook the eggs while stirring occasionally until just about set approximately 1 min. Add in the Parmesan cheese, stir and sprinkle with red pepper flakes. Serve immediately. Serves 2. Double or triple for more.
The key to creamy eggs is to cook stirring occasionally but not constantly.
Canadian Egg Farmers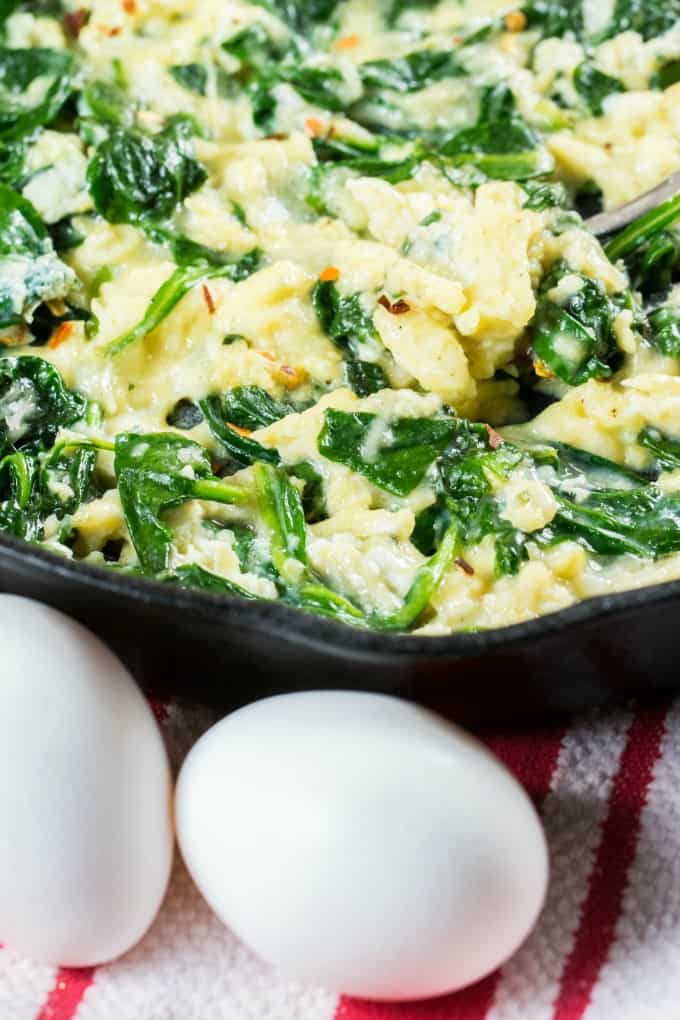 Canadian Egg Farmers believe in giving back to the community and have been supporters of Food Banks of Canada on a long term basis. They do this by donating 1.4 million eggs to their local food banks every year.
In fact, they have been partners for more than two decades. Community is deeply rooted in egg farmers across our nation and they are happy to support other families in need.
Is Scrambled Egg Healthy?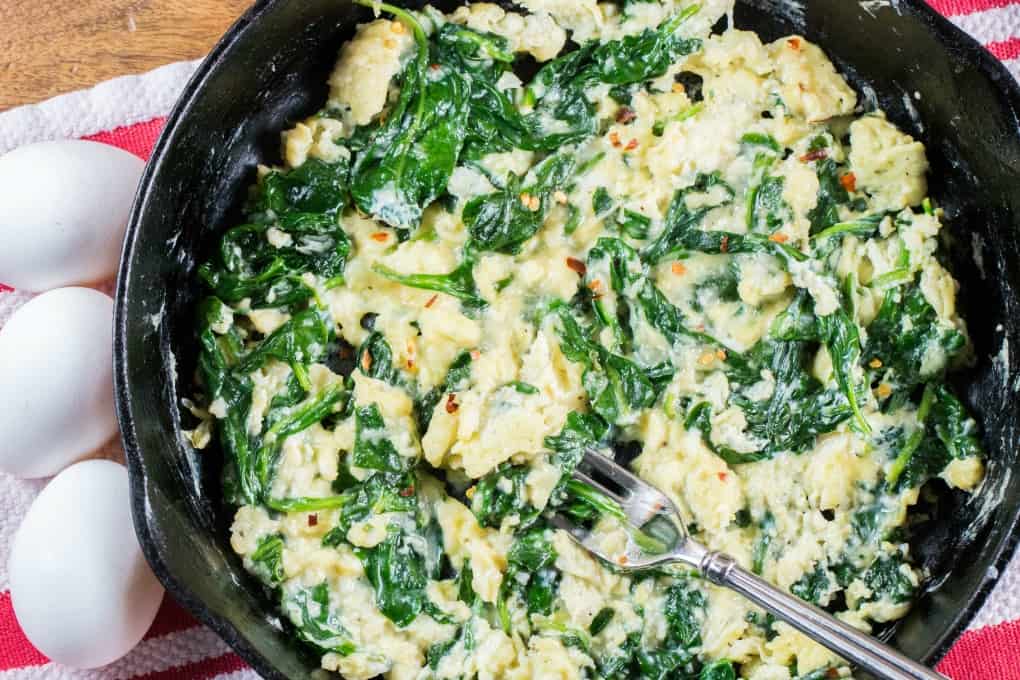 You bet they are. This recipe only has about 200 calories per serving. Eggs are not only delicious but also nutritious packing in a lot of protein and essential nutrients into that little shell.
For this recipe, you want to pull the eggs off the heat before they are completely cooked. While you grab plates and serve they will continue to set up and therefore not be overcooked.
They will stay deliciously creamy and with the addition of the Parmesan cheese, you will think they are way more decadent than they are.
The addition of the garlic takes these eggs from a breakfast dish to lunch and dinner for sure. The crushed red pepper flakes give that little tang that is so delightful on your tongue too. They really don't make them spicy but just add an additional layer of flavor. If you are a hot sauce fan you can add that too.
Can We Eat Spinach and Eggs Together?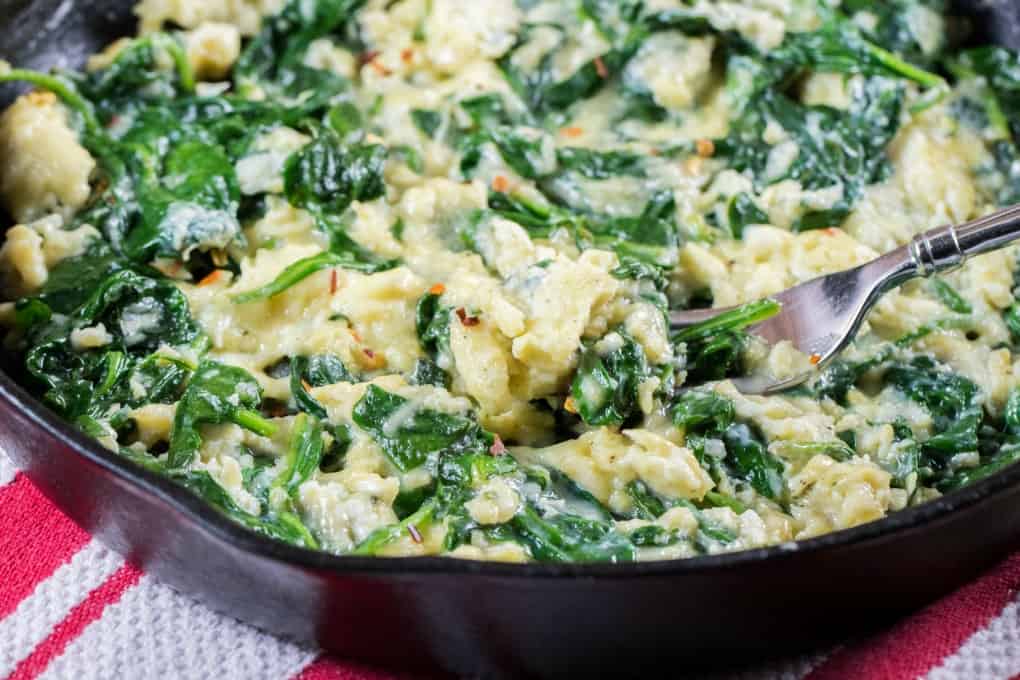 For sure, if you have never paired spinach and eggs it is a must-try recipe that will blow you away as to how fast it comes together with so little effort but how wonderfully healthy, satisfying and delicious it really is. And it's loaded with protein and iron.
Creamy wonderful eggs with just wilted spinach pair and cook up so gorgeously together. You have got to admit that these are pretty photogenic eggs!!
Also eggs and spinach together actually have a name, it is called Eggs Florentine but usually means the eggs are poached and then served over a layer of spinach on an English muffin and topped with Hollandaise sauce.
You can also serve them cooked together like this over toast, a new twist on Eggs Florentine!
You might want to just forgo the plate and just dive right into that pan. It does make a great meal for one too with very little cleanup!!
As I mentioned the recipe can be doubled and tripled but it can be also halved easily too. Grab a crunchy slice of toast and you have an entire meal. Skip the bread and this is an amazing keto-friendly recipe.
For more great recipe ideas visit Eggs.ca. Enjoy and Happy Holidays!! #RecipesThatGive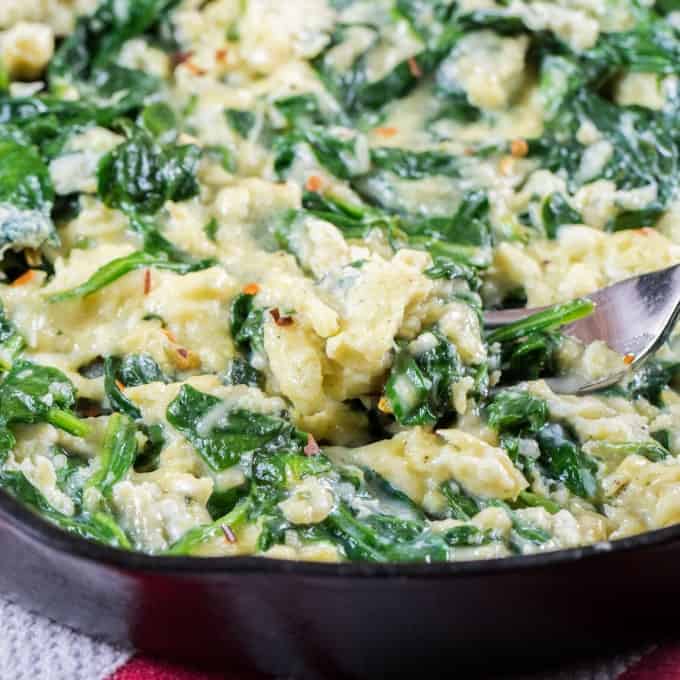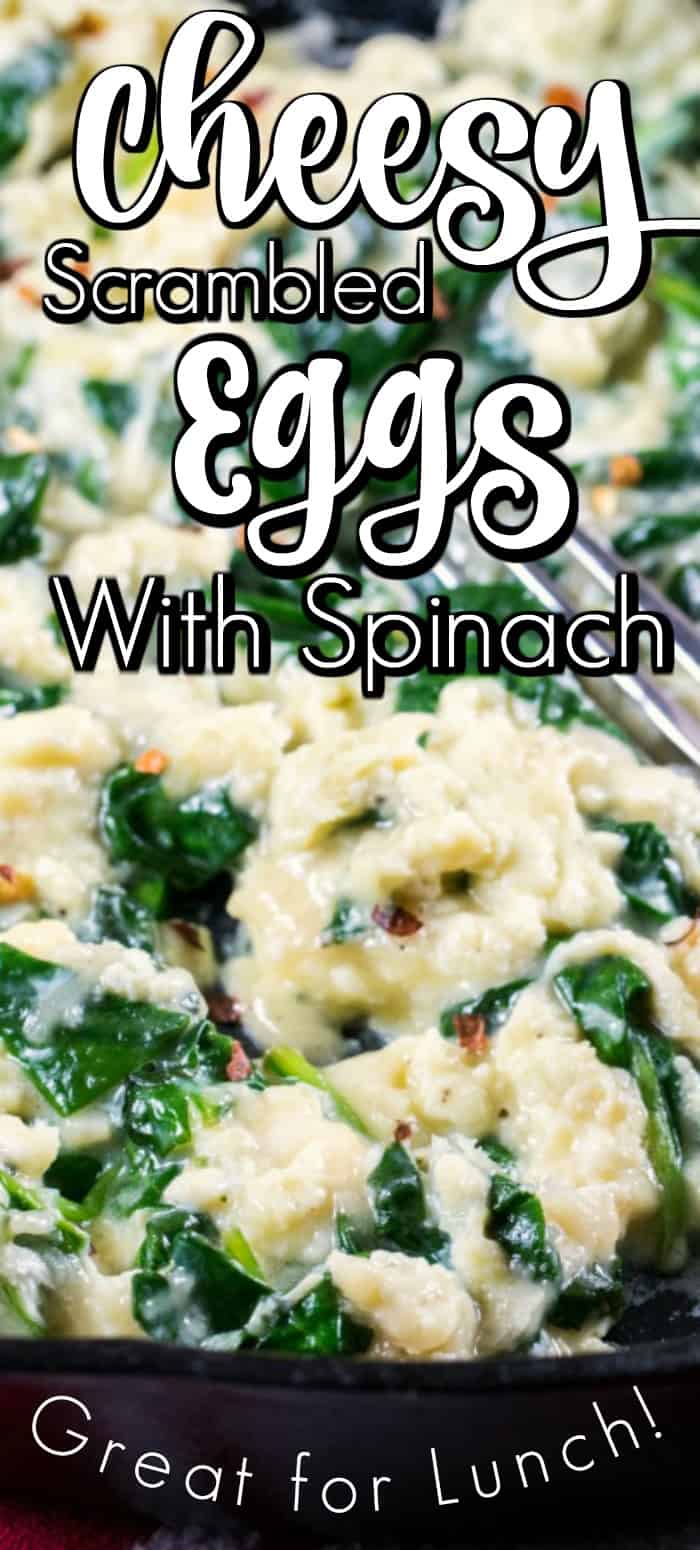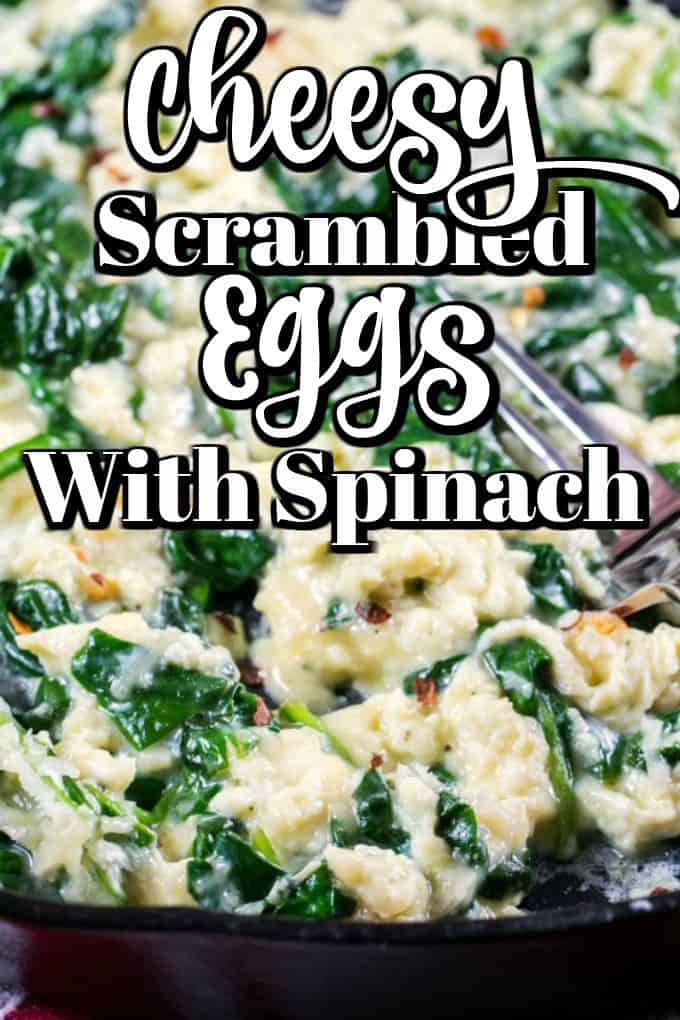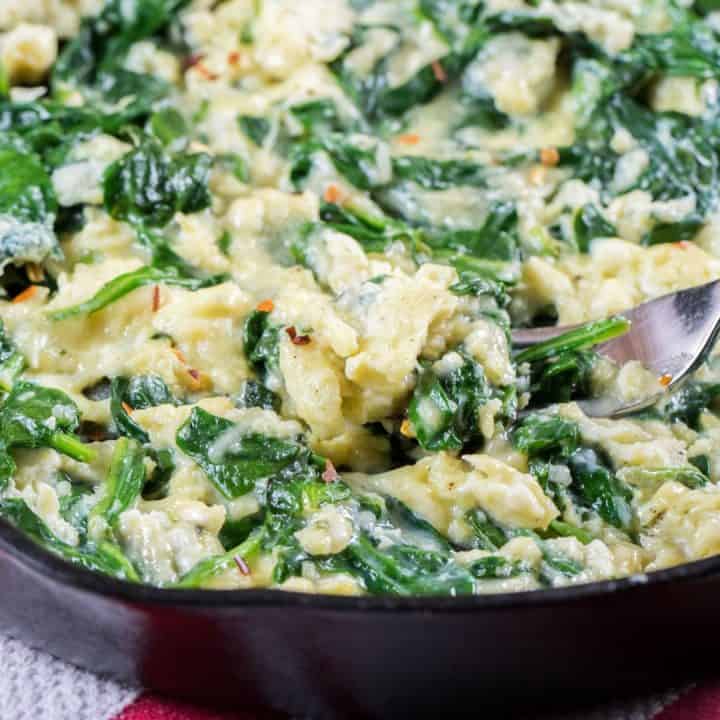 Cheesy Scrambled Eggs with Spinach
Yield: 2 servings
Prep Time: 2 minutes
Cook Time: 3 minutes
Total Time: 5 minutes
This easy meal is perfect to save you time for lunch or dinner when you are on the run. Over the holidays we are all time-crunched and this recipe will help you through it nutritionally and deliciously.
Ingredients
4 large eggs
Kosher salt and freshly ground pepper
1/2 Tbsp. olive oil
1 tsp. garlic, minced
3 cups baby spinach
2 Tbsp. Parmesan cheese, grated
Crushed red pepper flakes
Instructions
Whisk the eggs in a small bowl and season with the Kosher salt and freshly ground pepper and set aside.
Add the olive oil to a cast-iron pan or non-stick skillet and place over medium heat. Saute the garlic for 30 seconds until fragrant and then add in the spinach. Stir and cook for 1 min. to wilt.
Add in the eggs and cook stirring occasionally until just cooked but still slightly wet. Remove from the heat and the eggs will continue to set-up.
Add the Parmesan cheese and stir. Sprinkle on the red pepper flakes and serve immediately.
Nutrition Information:
Yield: 2
Serving Size: 1
Amount Per Serving:
Calories: 210
Total Fat: 15g
Saturated Fat: 4g
Trans Fat: 0g
Unsaturated Fat: 9g
Cholesterol: 376mg
Sodium: 416mg
Carbohydrates: 4g
Fiber: 1g
Sugar: 1g
Protein: 15g
Recipe calculation was provided by Nutritionix and is an estimation only. If you need nutritional calculations for medical reasons, please use a source that you trust.