Disclosure: I was compensated for this post by Egg Farmers of Canada. All opinions and experiences are my own.
Today we are celebrating World Egg Day which is on October 11, 2019, with this amazing recipe for Sheet Pan Sweet Potato Hash with Eggs and Sausage. Eggs are so versatile and can easily be switched up to lunch and dinner!!
This scrumptious recipe will feed a crowd and takes no time at all to pull together. The eggs can be cooked to your liking just by leaving the hash in the oven for a shorter or longer time. At 5 min. they are not quite cooked, at 7 min. they have a deliciously runny yolk and at 9 min. they are cooked through.
Just pull out the sheet pan meal when your eggs are ready to the desired doneness, the rest is all cooked and ready to roll. How do you like your eggs?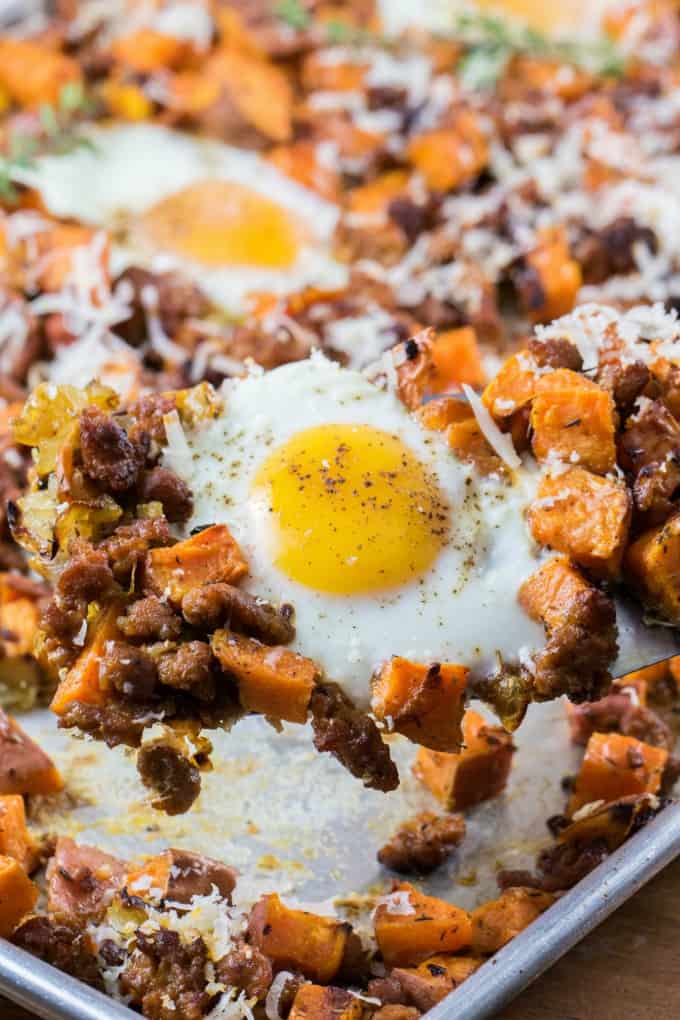 World Egg Day is a global celebration of the humble egg and the egg farmers that produce them. Egg demand is growing every year; this is the 12the consecutive year of growth in egg sales in Canada.
Eggs are not just for breakfast but can be enjoyed at any time of the day. One of my favorite things is to have breakfast for dinner!! But hash can be eaten at any time of the day for sure.
In 2018 alone, Canadian farmers produced 752 million dozen eggs. In Canada, we sure do love our eggs!!
How to Make Sweet Potato Hash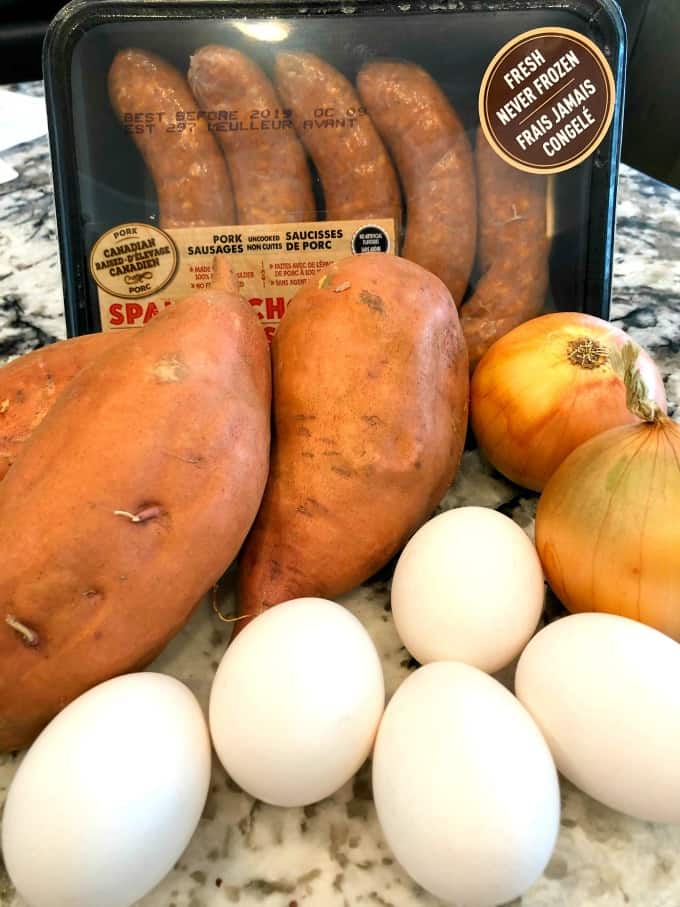 The gorgeous eggs are the star of the show in this very easy meal. The chorizo adds some spicy notes and the sweet potato some sweetness. I did ponder bacon in this recipe, but glad I went for the chorizo. You could also add in some smoked paprika to up that smoky flavor with the chorizo.
It is also perfectly balanced with garlic, onions and Parmesan cheese. Then we added thyme and I think it is the perfect herb for this paleo gluten-free meal.
Starting out with easy healthy ingredients just leads to an unbelievable meal. Canadian farmers work hard year-round to provide Canadians with access to fresh, local, high-quality eggs!!!
There are over 1,000 egg farming families from coast to coast. These farmers follow world-class standards for food safety and animal care.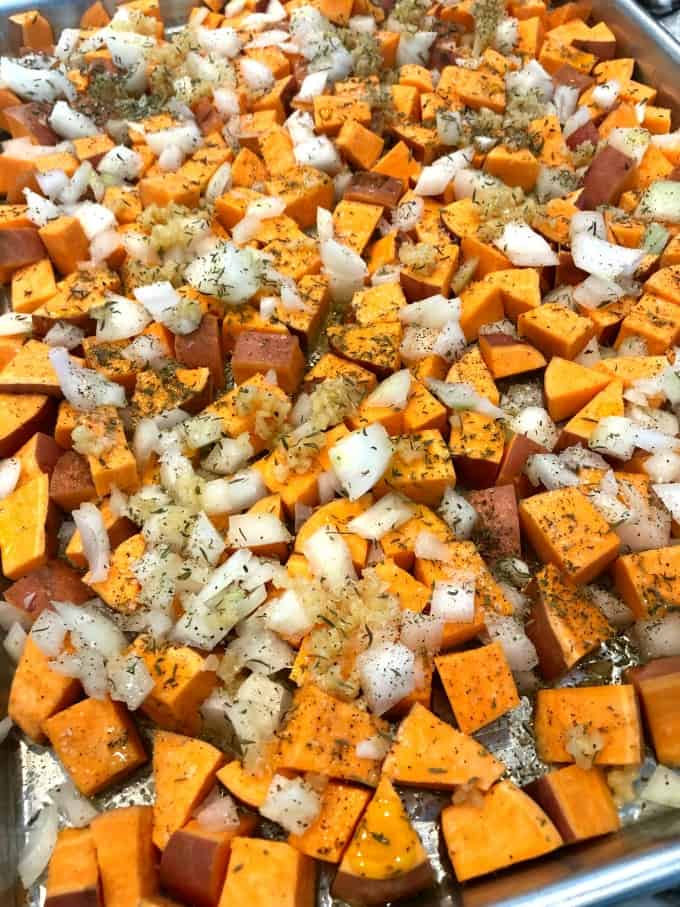 Eggs fit into many diverse cuisines from all over the world. They can be used from a simple snack to an amazing culinary creation. Think of how many recipes use eggs when you are baking alone!!
This recipe we have for you today is such an easy meal prep; sheet pan meals are one of my favorites not only for ease but the roasting of the vegetables is awesome.
Cook up the chorizo in a large skillet over medium heat to medium-high heat. You want to get this just a bit crispy and well browned.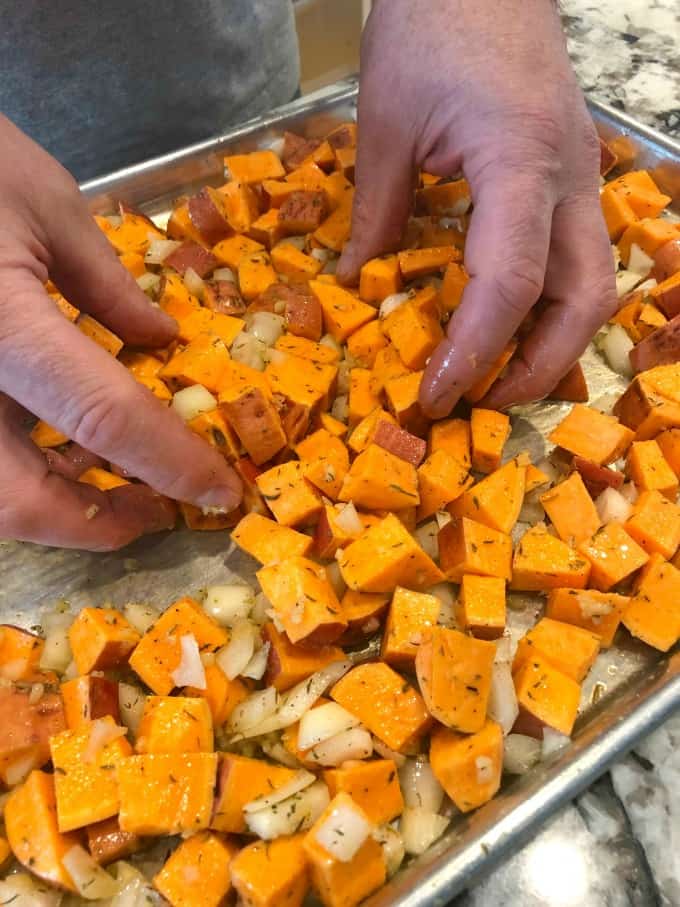 Once all your veggies are on the tray you can then stir to combine or toss. I like to get my hands right in and get it mixed well. No need for a bowl first jut toss right on the sheet pan. This saves in cleanup also.
Roasting the vegetables with olive oil will bring out even more sweetness and I love how these balance with the heat from the chorizo.
Can We Eat Sweet Potato and Egg Together?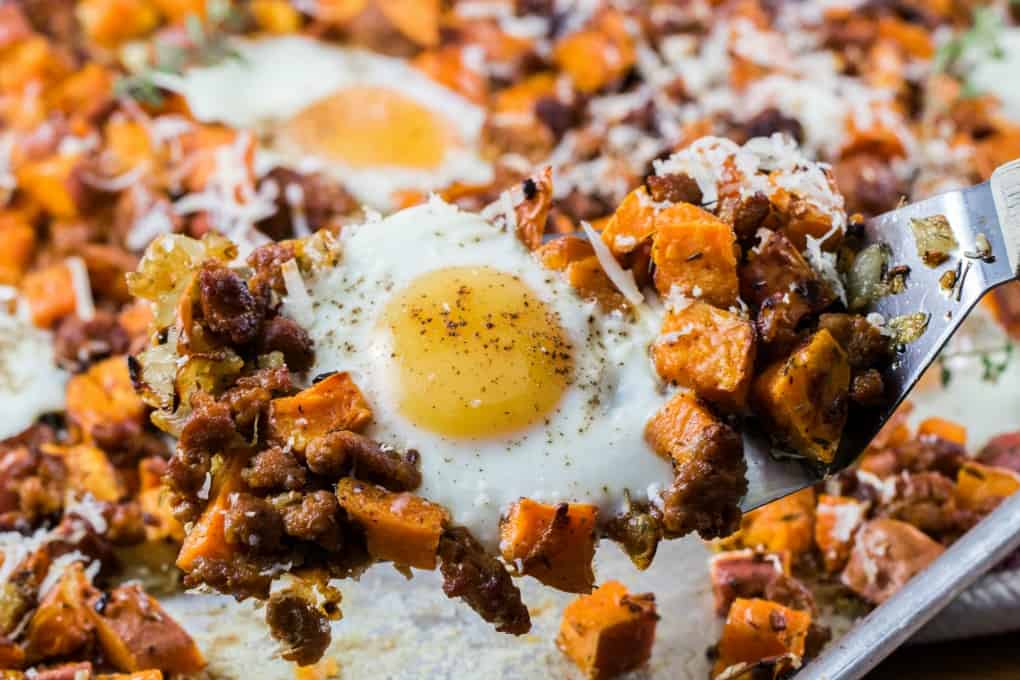 Can we eat sweet potato and egg together? You sure can; they make an unbelievably good pairing!! I love sweet potatoes, and I love eggs. They are a perfect marriage!!
Preheat oven to 450F and after the vegetables have roasted for approximately 45 minutes the crispy cooked sausage is added and then the little wells are made for the eggs. Season the tops of the eggs with salt and pepper.
Doesn't that look amazing? I can tell you it really is! Such a simple supper but the flavors will be what blows you away!!
Happy World Egg Day!!
Come and celebrate World Egg Day with Lynn Crawford while she introduces you to some of the farmers that produce the eggs that Canadians know and love!!
From coast to coast we have farmers working hard for you every day giving us farm fresh eggs!!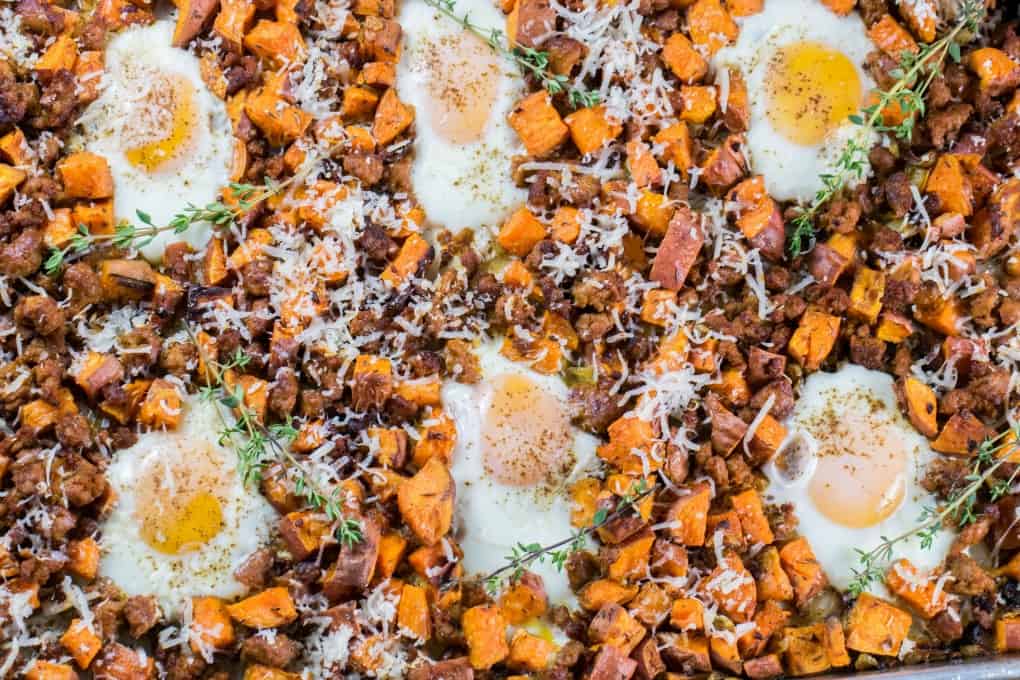 A big sheet pan full of awesome ingredients. This dish is perfect for fall but can also be enjoyed year-round. The chorizo can be changed up to a breakfast sausage or an Italian sausage too if you like. I also love sausage and cheese together, yummy!!
Enjoy eggs for lunch and dinner and tell me how you enjoyed your egg today!! Do you like scrambled eggs, poached eggs, fried eggs, hard-boiled eggs? This list can go on and just in the ways to prepare them.
Nutritional Benefits and Versatility of Eggs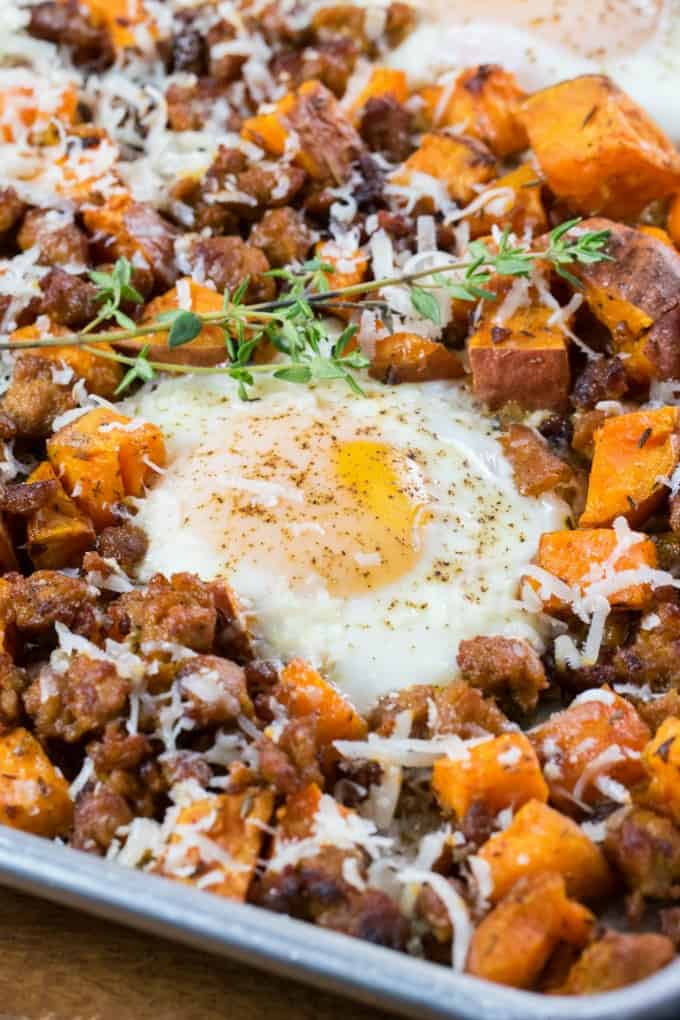 Pretty amazing that one egg can contain that much nutrition!! Eating eggs is good for your bones, teeth, skin, and eyes. They also provide 6 grams of high-quality protein and half that protein is in the yolk so don't skip it! They are a complete protein because they contain all nine of the essential amino acids.
Brown and white eggs contain the same amount of nutrition.
Eggs just don't have to be for breakfast, of course, they are a very versatile ingredient in many dishes. Some of our favorite dishes are Deviled Eggs, Enchilada Frittata, Italian Arancini Proscuitto Eggs, and at this time of year, a scrumptious Egg Nog Cheesecake.
All of us all love a simple Hard-Boiled Egg too plus they are great in a Cobb Salad or Potato Salad also.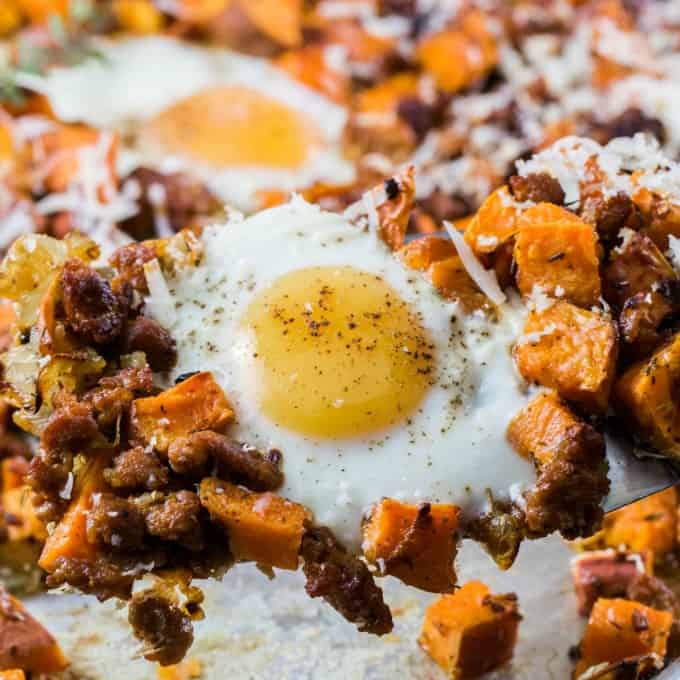 How will you be eating eggs to celebrate World Egg Day today? Share your favorite egg dishes on all social channels using the hashtag #WorldEggDay!! Follow along on Twitter, Instagram and like their Facebook page Get Cracking!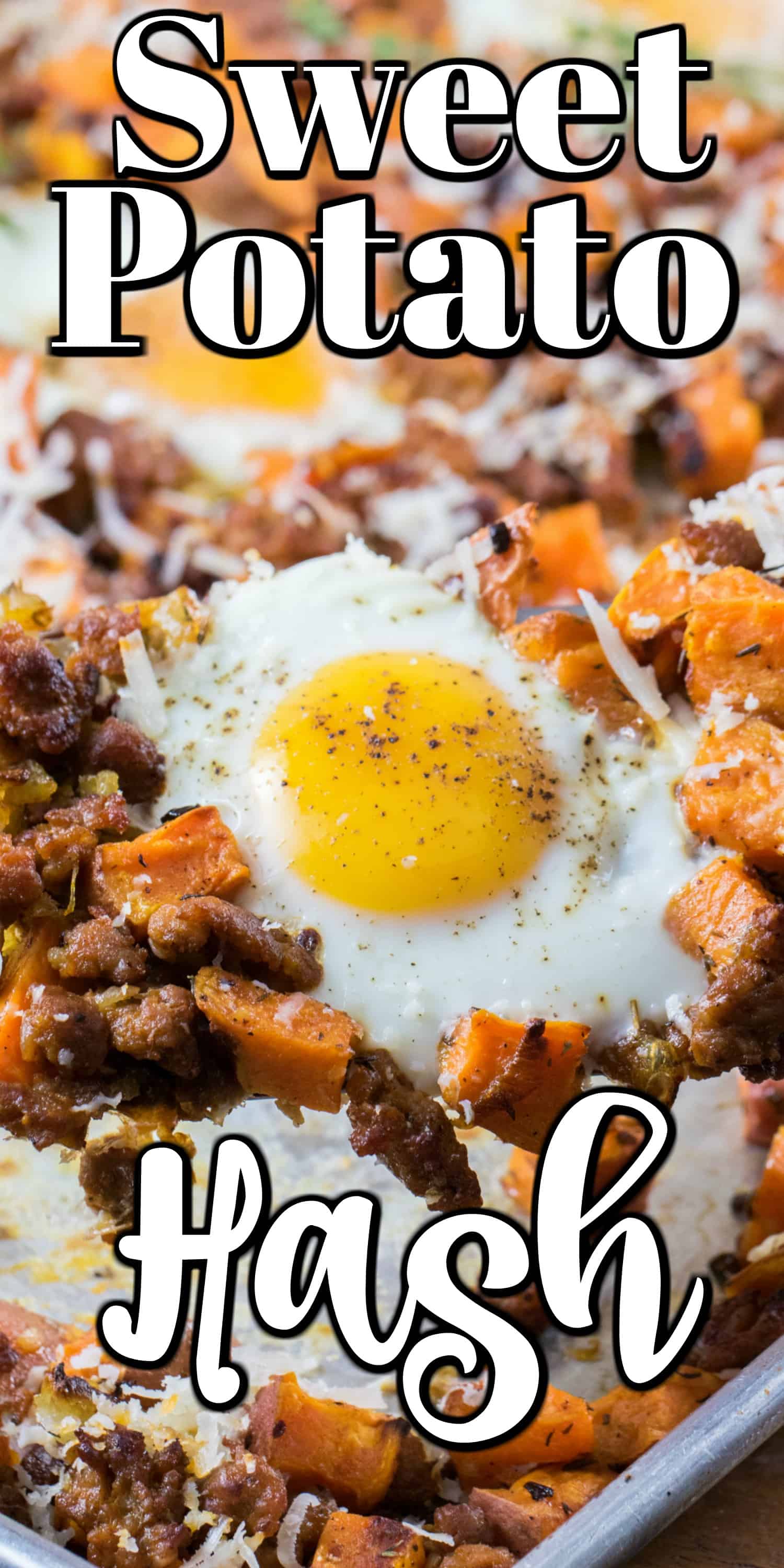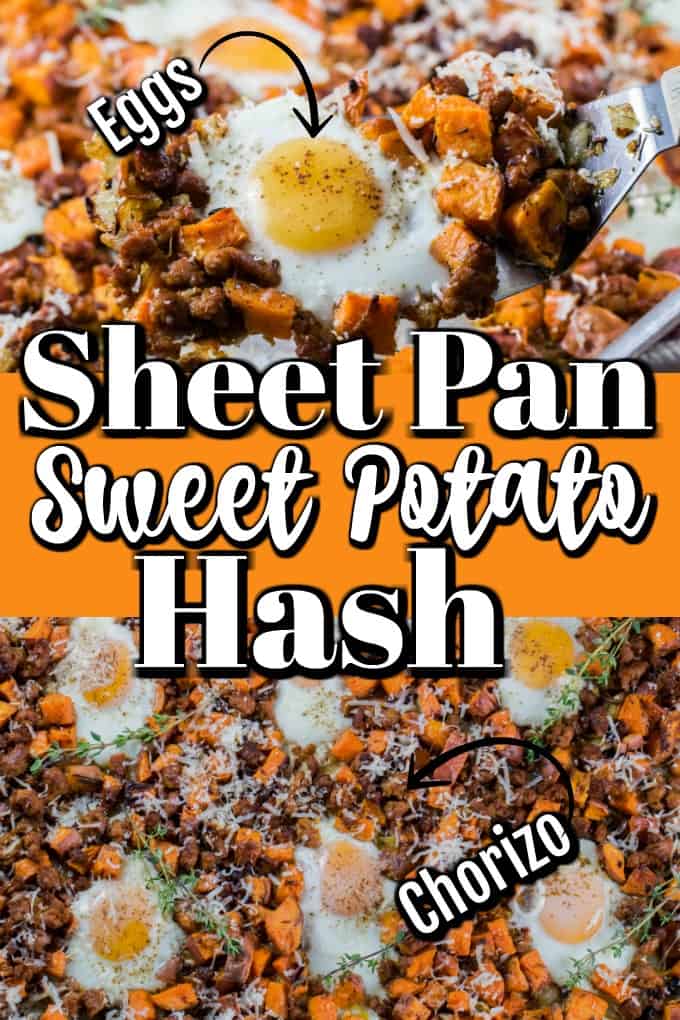 Sweet Potato Hash Recipe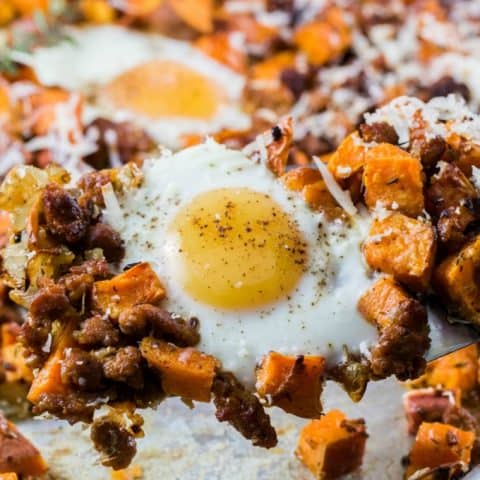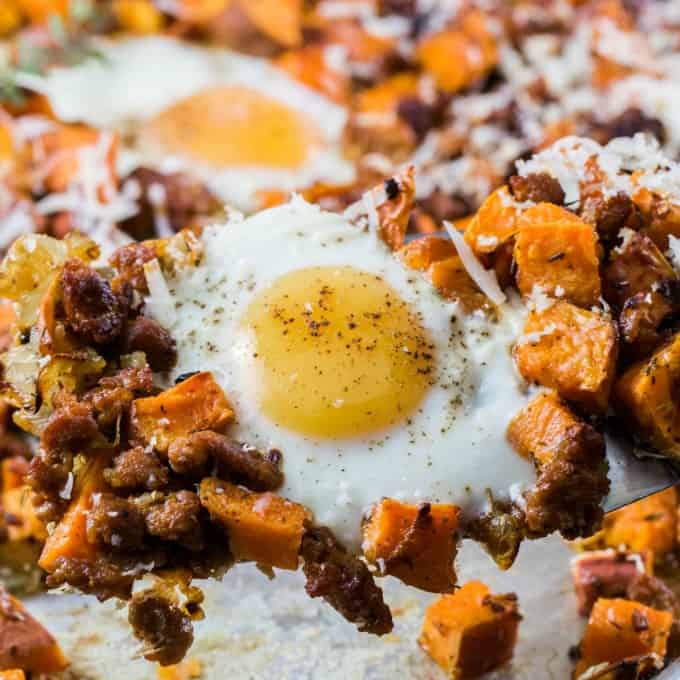 Sheet Pan Sweet Potato Hash with Eggs and Sausage
Yield: 6 servings
Prep Time: 25 minutes
Cook Time: 55 minutes
Total Time: 1 hour 20 minutes
This Sheet Pan Sweet Potato Hash with Eggs and Sausage is a dream to prep and cleanup is so easy too!! We loved the sweet heat this dish has.
Ingredients
1 lb. Mexican chorizo, removed from casings
2 1/2 lb. sweet potato, cut in 3/4 inch dice
2 medium-sized yellow onions, diced
5 cloves garlic, minced
1 1/2 tsp. dried thyme
Kosher Salt
Freshly ground pepper
3 Tbsp. olive oil
6-8 eggs
Cooking spray
1/3 cup Parmesan cheese, grated
Instructions
Preheat oven to 450F. In a frying pan cook the chorizo sausage until nicely browned, crumbly and slightly crispy. Set aside on a paper towel-lined plate.
On a large rimmed sheet pan spread out the diced sweet potatoes, onion, garlic and top with salt, pepper, and thyme. Sprinkle on the olive oil and toss well.
Roast the potatoes in the oven for 40-45 min. Toss after about 25 min and towards the end. Roast until browned and crispy in spots. Remove from the oven. Reduce oven temperature to 425F.
Add the crumbled chorizo and make wells for 6-8 eggs. Spray the wells with cooking spray. Crack the eggs, one to each well. Season the eggs with salt and pepper. Bake the eggs for 6-7 min. for soft and 9 min for hard eggs. Watch carefully at this point.
Remove pan from oven and top with Parmesan cheese, serve immediately.
Nutrition Information:
Yield: 6
Serving Size: 1
Amount Per Serving:
Calories: 712
Total Fat: 44g
Saturated Fat: 15g
Trans Fat: 0g
Unsaturated Fat: 27g
Cholesterol: 319mg
Sodium: 1294mg
Carbohydrates: 46g
Fiber: 7g
Sugar: 14g
Protein: 33g
Recipe calculation was provided by Nutritionix and is an estimation only. If you need nutritional calculations for medical reasons, please use a source that you trust.