As the cold weather rolls in, don't you just want to curl up with a hot bowl of comfort soup? Well, this Slow Cooker French Onion Soup is simple and sure to warm you right up.
Maybe you've tried our Slow Cooker Cauliflower Corn Chowder, Slow Cooker Italian Wedding Soup, Leftover Party Tray Vegetable Soup, or our Slow Cooker Tomato Basil Soup. Today we have another soup recipe that is so simple to make, yet perfectly rich in flavor.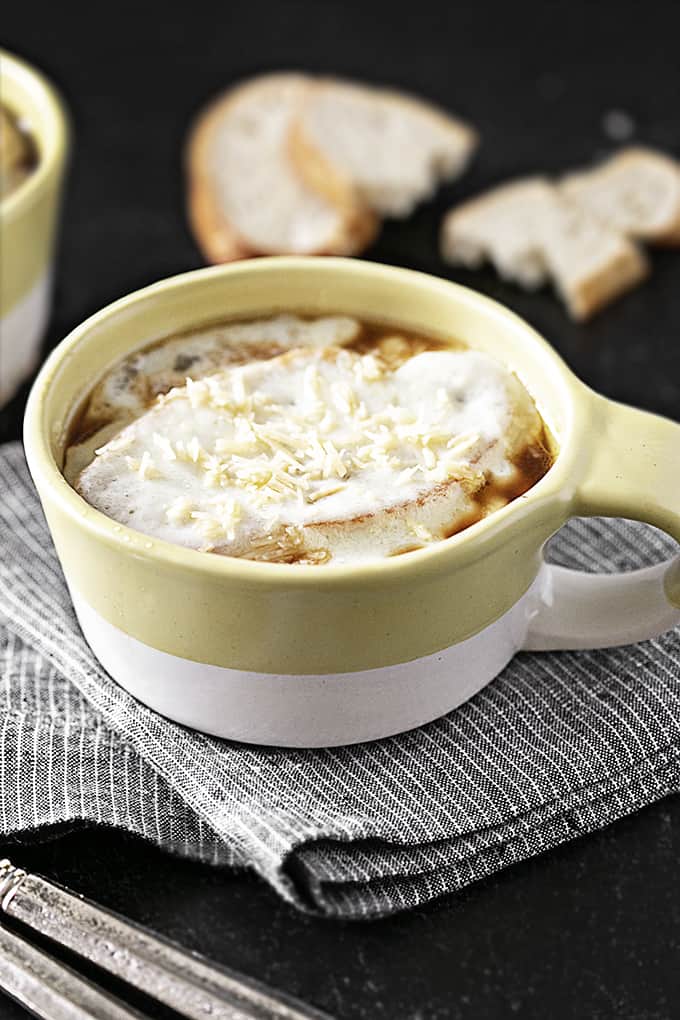 Hey friends. It's me, Kelly, and I'm super excited to be back with another recipe to inspire you and make you a wee-bit hungry. Just in case we haven't met yet, I'm the creator and writer behind the blog, Live Laugh Rowe.
I'm not a chef or extravagant cook — I like to keep things simple. For me, life is too short to stress in the kitchen. If you swing by my blog, you'll also see that I like to share some creative holiday ideas, printables, and more. It truly is a celebration of life, creativity, and food.
A Spoonful of Comfort Soup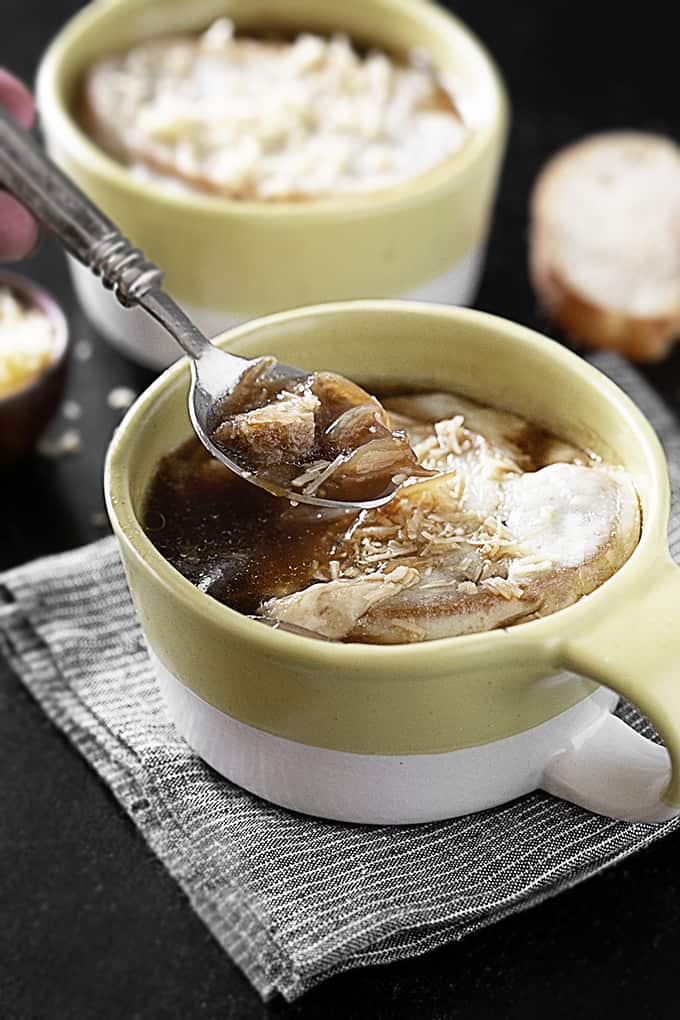 I'm an east coast girl at heart, even though I live in the Midwest. I was born in Philadelphia and lived in Upstate New York for many years, where I graduated from high school.
While in college, my parents moved to Wayne, New Jersey — home of the 24-hour diners (wink-wink). A popular treat at those diners during the cold season was French Onion Soup. A bowl that was covered with cheese, hiding a slice of French bread and that delicious bowl of oniony goodness.
Another favorite? Matzo Ball Soup. Oh my goodness, don't even get me started.
I remember my parents ordering both the French Onion Soup and Matzo Ball Soup a lot when we were home for the holidays — that and a plate full of fries covered in gravy. Good thing you can't see me typing this because my mouth is watering as I keep licking my lips. Ha.
While this walk down memory lane is making me hungry, it's also one I will always treasure. Especially since my parents no longer live in New Jersey. We were just reminiscing about the diners the other night. Sigh.
I'm not sure what it is about food and memories, but they do seem to go hand in hand. As a matter of fact, I gave some of my crockpot french onion soup leftovers to my parents for them to enjoy.
Here's to memories, New Jersey diners, and a recipe that is sure to warm you up this winter season. Enjoy.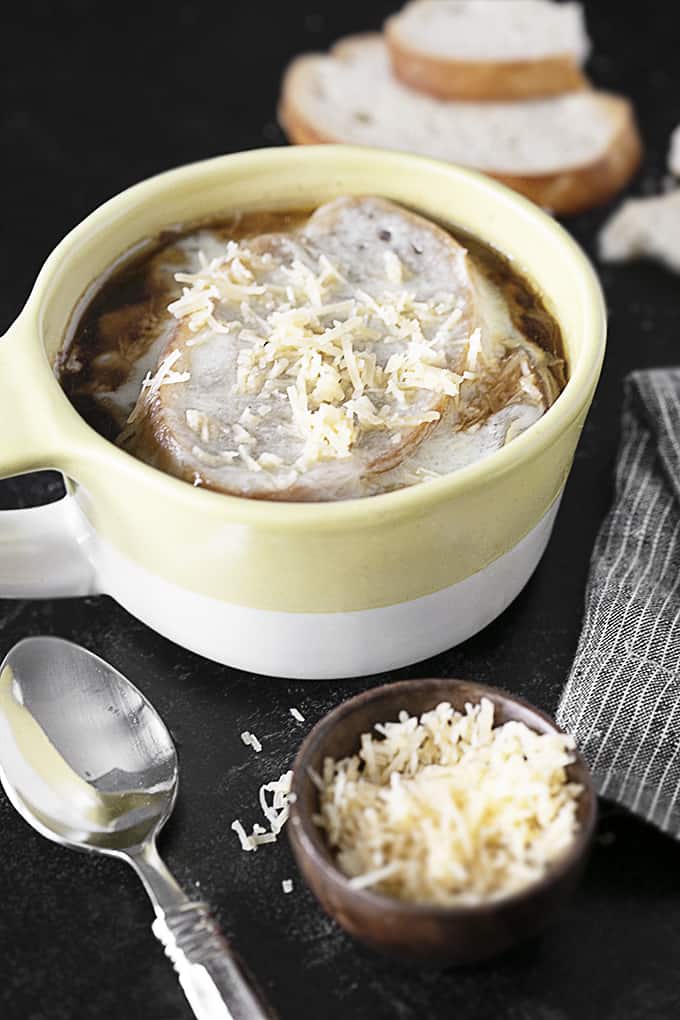 How to Make French Onion Soup in a Slow Cooker
To get started, let's grab a slow cooker, a frying pan, 8-10 large onions, a cutting board, and a knife.
Slice or chop your onions and place them in a frying pan with butter and then cooking the sliced onions until they are crisp-tender (or you can carmelize them if that's your preference). Caramelized onions will give you a sweeter soup.
Once the onions are cooked, transfer them to the slow cooker and add beef broth, Worcestershire sauce, beef bouillon, and bay leaves. Slow cooking allows all the flavors to enrich and meld and gives you an amazing soup.
I like using beef stock compared to chicken stock for French onion soup as it gives the soup a deeper flavor.
Cover and cook on low for 5-7 hours (or until onions are tender). Discard bay leaves.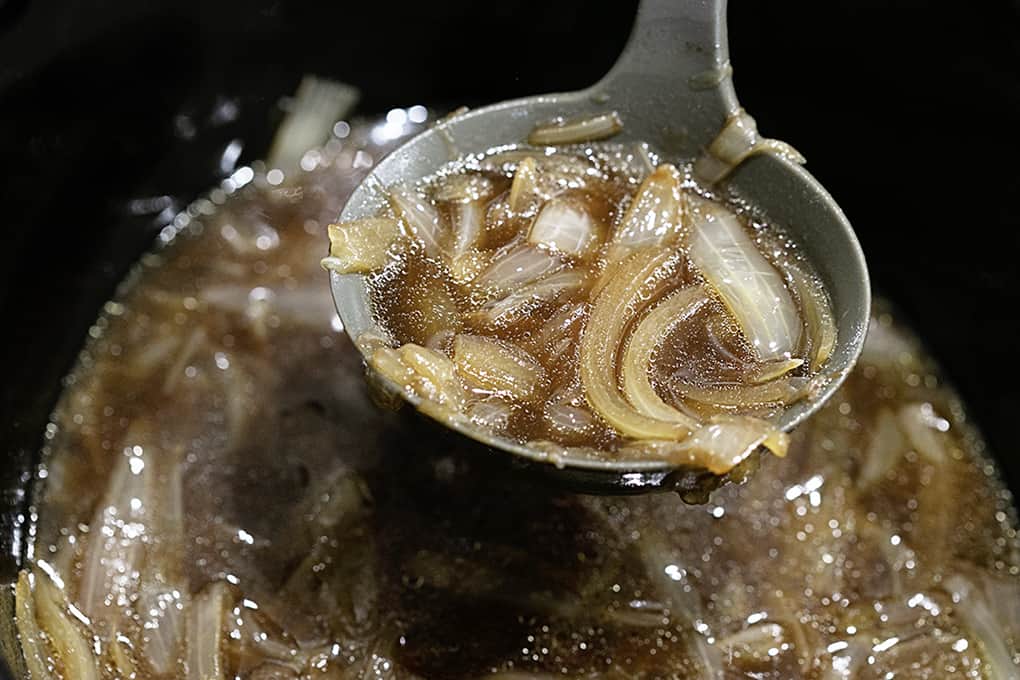 Ladle into bowls, top with toasted French bread slices and cheese of choice. Many people use gruyere cheese or swiss cheese on top of their soup; however, I preferred using the provolone cheese I had on-hand, and it was a lovely addition.
Feel free to use a cheese you like and feel would compliment the soup. Sprinkling on parmesan cheese as a garnish or for additional flavor is acceptable too.
You can just wait until the cheese is melted or place the soup bowls on a baking sheet and broil until the cheese is golden brown and bubbly. Make sure you use proper french onion soup bowls that can withstand the heat of a broiler.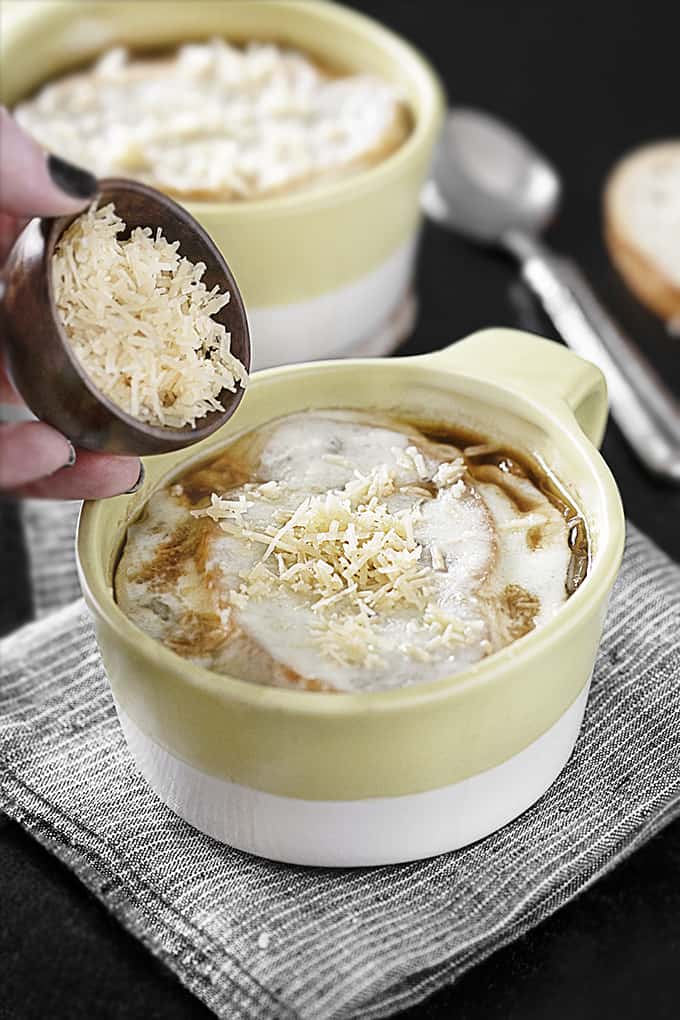 What are the Best Onions to use for French Onion Soup?
Technically, any onion can be used to make French onion soup, even a shallot. Each onion (red onion, sweet onion or yellow onion) will all produce a different flavor — some more bright and others a little bitter.
Consider mixing it up and using a medley of different onions to find a nice balance. However, if you're looking for one particular onion, the yellow onion is probably your best bet.
For this recipe, I used yellow onion and it was delicious.
Can you freeze French Onion Soup?
Yes, you can freeze French Onion Soup. Be sure to place the soup in covered airtight containers or heavy-duty freezer bags before placing it in the freezer.
Freeze until needed, then just thaw, heat, and serve as you would with French bread and cheese. It is so nice having a soup like this made ahead of time and waiting for a busy night for it to be pulled out.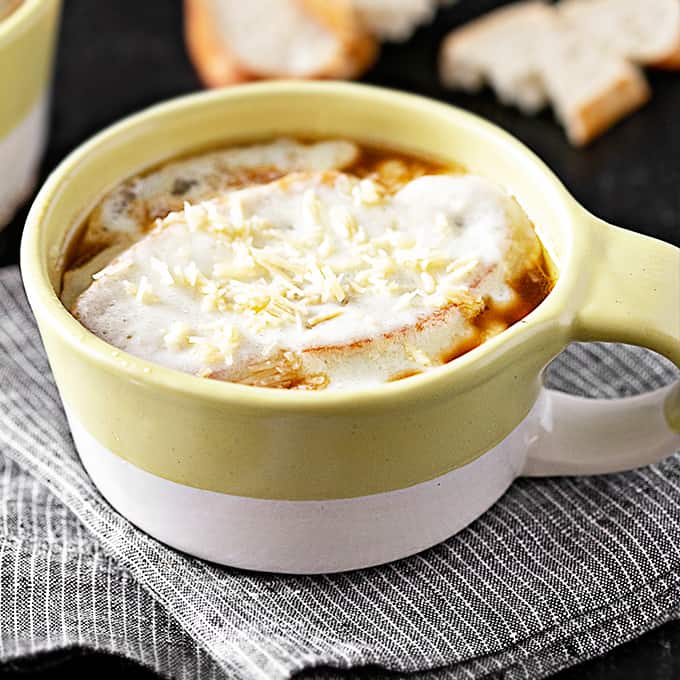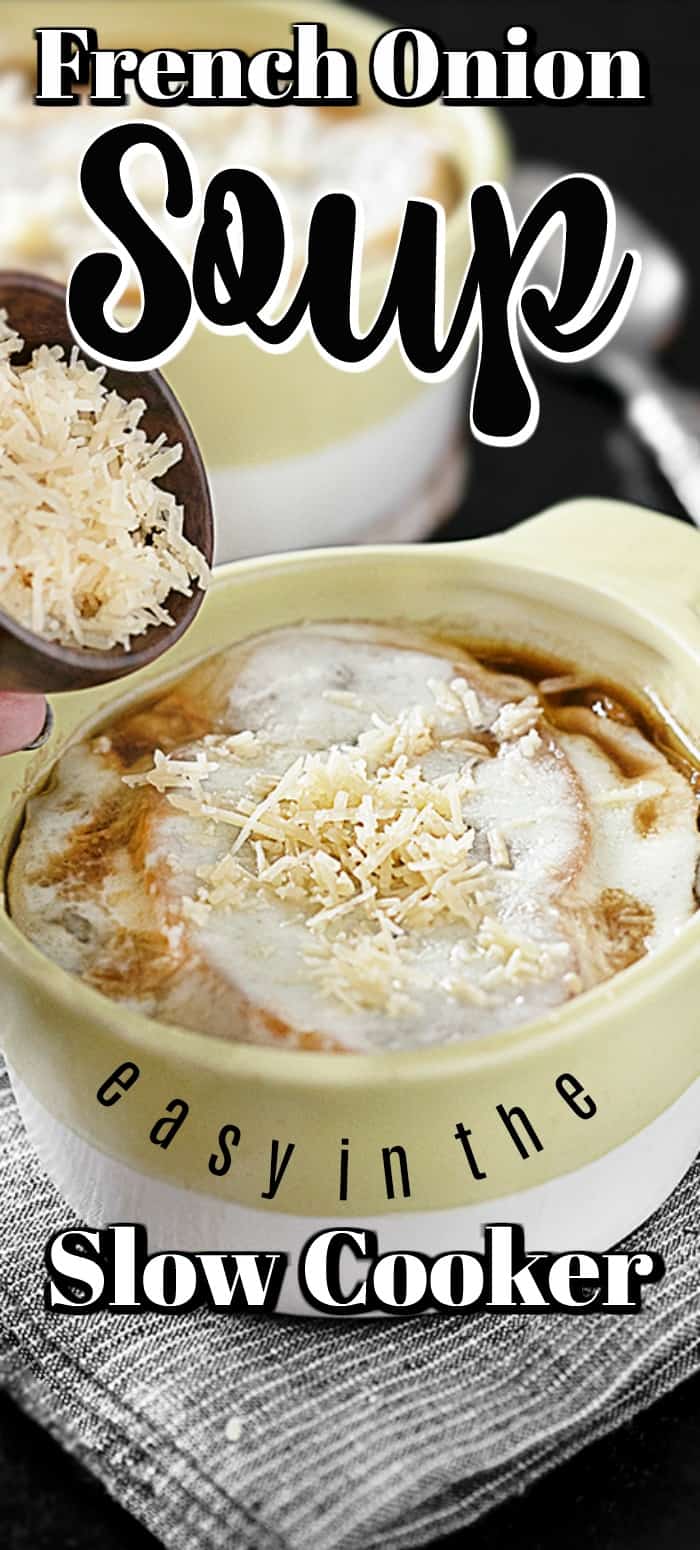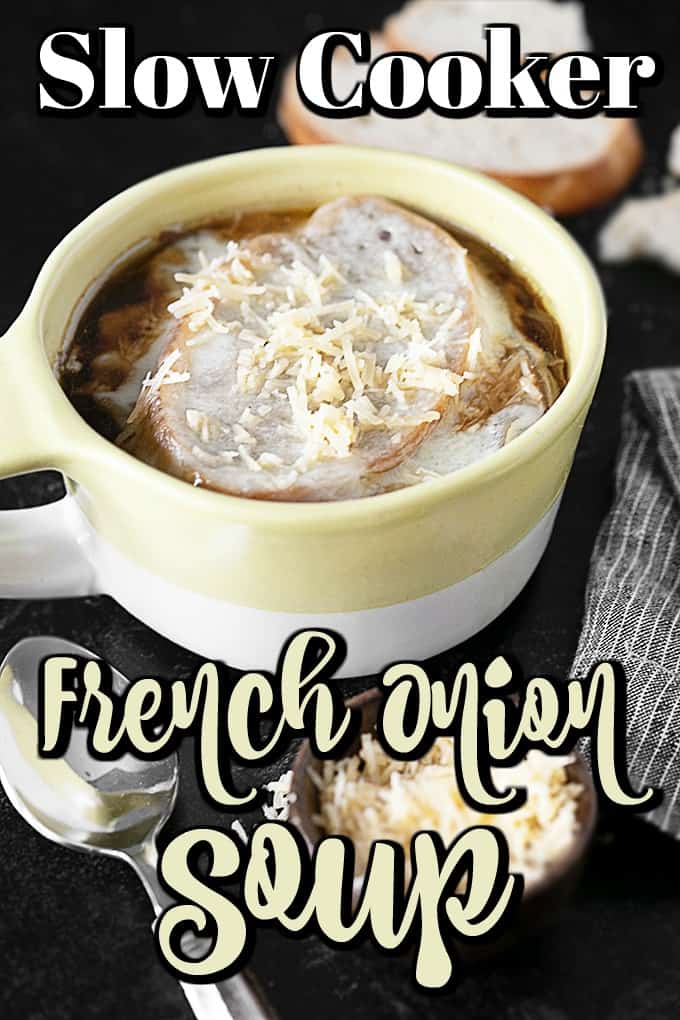 Slow Cooker French Onion Soup Recipe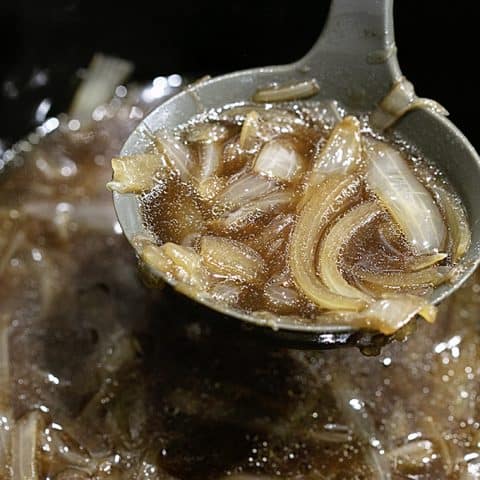 Slow Cooker French Onion Soup
Yield: 10 servings
Prep Time: 10 minutes
Cook Time: 7 hours 5 seconds
Total Time: 7 hours 10 minutes 5 seconds
Slow Cooker French Onion Soup is pure comfort food made easily in a crockpot. Beautifully sliced onions that are caramelized and then added with beef broth, bay leaves, Worcestershire, and more is then topped with sliced bread and cheese for the ultimate warming soup that so many love.
Ingredients
8-10 large onions, sliced
1/2 cup butter or margarine
Six 10-1/2 oz. cans condensed beef broth
1-1/2 teaspoons Worcestershire sauce
1 beef bouillon cube
3 bay leaves
10 slices French bread, toasted
10 slices provolone cheese
Grated Parmesan cheese, for garnish
Instructions
Peel and slice onions. Sauté onion in butter until crisp-tender. Transfer to a slow cooker.
Add condensed broth, Worcestershire sauce, beef bouillon cube, and bay leaves.
Cover. Cook on low 5-7 hours, or until the onions are tender.
Discard bay leaves.
Ladle soup into bowls.
Top each with a slice of toasted French bread and a slice of provolone cheese.
Optional: Place the bowls under the broiler for a few minutes to melt and brown cheese a small bit.
Sprinkle parmesan cheese over provolone cheese and serve.
Notes
Place the soup in covered airtight containers or heavy-duty freezer bags and freeze until needed.
Recommended Products
As an Amazon Associate and member of other affiliate programs, I earn from qualifying purchases.
Nutrition Information:
Yield: 10
Serving Size: 1
Amount Per Serving:
Calories: 240
Total Fat: 17g
Saturated Fat: 11g
Trans Fat: 0g
Unsaturated Fat: 5g
Cholesterol: 44mg
Sodium: 457mg
Carbohydrates: 14g
Fiber: 2g
Sugar: 6g
Protein: 9g
Recipe calculation was provided by Nutritionix and is an estimation only. If you need nutritional calculations for medical reasons, please use a source that you trust.