How to Make Perfectly Poached Eggs
You may think that perfectly poached eggs are the sole domain of restaurants and expensive hotels, but they're not. With a little practice and some great tips, you too can learn How to Make Perfectly Poached Eggs. Think of enjoying the art of breakfast with poached eggs.
There are lots of different recipes out there for perfectly poached eggs; you can do it in the microwave in special silicone egg poachers, you can get a sous vide system going, or you can make them on the stovetop.
The stovetop method is easy, doesn't require extra equipment you need to purchase, and is quick. It's my preferred method of poaching eggs and it's the one I'm going to share with you today.
How to Make Poached Eggs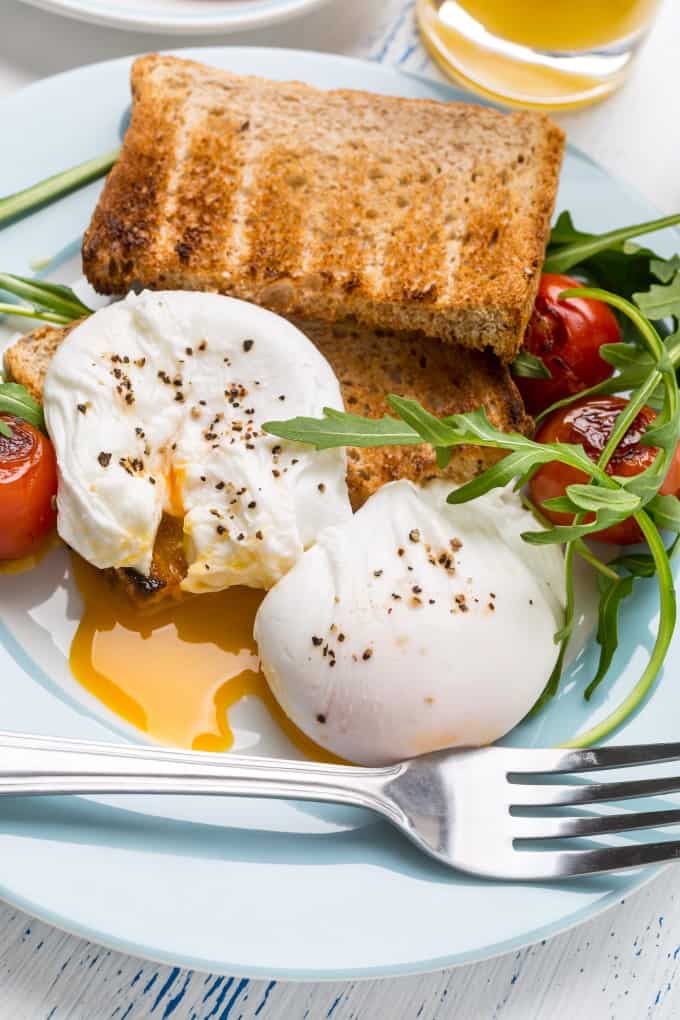 Start with fresh eggs. An easy way to test eggs for freshness is to put them in a bowl of water (preferably one with clear sides but it doesn't really matter). If the egg lays on the bottom of the bowl on its side, it's fresh. Less fresh but still okay to eat eggs (though not ideal for poaching) will be upright on the bottom of the bowl. If an egg floats to the surface, it is past its prime and no longer safe to eat.
Fill a saucepan with between 5 and 8 cm (2 – 3 inches) of water. Do not add salt as this will break up the egg white.
Heat the saucepan until the water begins to simmer gently.
Crack the egg into a small bowl, custard cup or ramekin. Not only will this allow you to ensure there are no pieces of shell in the egg, but it will also help you see if there are any really runny bits to the egg white and tip them out before you put the egg into cook.
Holding the bowl slightly above the water, slide the egg into the water. (Repeat steps for additional eggs).
How Long to Poach an Egg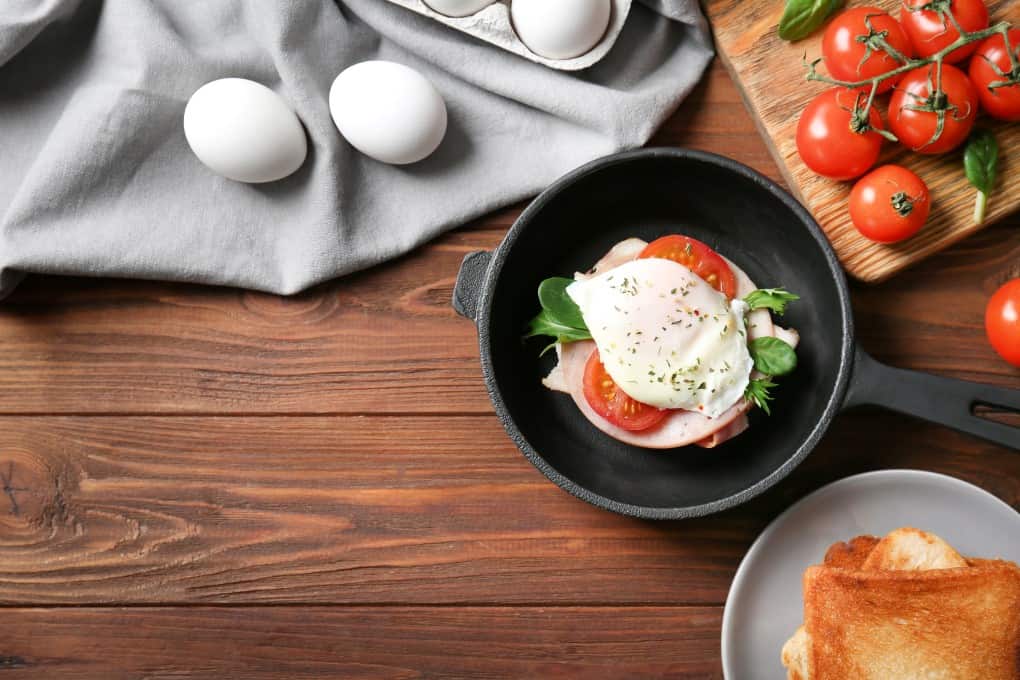 Cook the egg in the barely simmering water (it shouldn't be at a rolling boil), or you can even turn off the heat for 3-5 minutes. In gently simmering water you won't disturb the egg too much.
The white of the egg should be set, and after a few practice runs, you'll know how long you need to cook the egg for the yolk to be at the preferred doneness.
Using a slotted spoon, remove the egg(s) from the pan and drain well. You may need to wipe the egg off with a clean kitchen towel or a paper towel, or simply hold the slotted spoon and drain over the sink for a minute.
Place egg on a plate. Add salt and pepper to taste.
There are a lot of side dishes that work well with poached eggs. Toast is the first one many people think of, and it's a favorite of those who like slightly runny yolks. You can also garnish with asparagus spears, avocado, spinach, bacon, or even smoked salmon. The options are truly limitless.
Some chefs swear by putting the egg through a fine-mesh sieve before it goes in the small glass bowl – this helps eliminate the thinnest part of the egg white that causes wispy bits. However, you can also skip this step if you tip the small bowl over the sink to let out the runny bits of white.
Another trick is to add 1-2 tablespoons of white vinegar to the water before you bring it to a simmer. Using this small amount won't make the eggs taste like vinegar but can help them hold their shape. You can also drop your eggs into a whirling pot of water by first stirring rapidly to swirl the water.
Now you can be making perfect Eggs Benedict anytime. To make an easy blender Hollandaise Sauce, an original or make one traditionally.
You don't need to do either of these steps though. Simply by following the instructions above, you'll be making your own perfectly poached eggs in no time!
Pin It For Later