Sex In A Pan
Have you heard of this dessert before, Sex in a Pan? It has been around for a long time. It has a yummy nutty cookie bottom followed by layers of cream cheese and puddings and topped with Cool Whip. Pretty much can't go wrong with that!!!
I made this for the kids mainly, as it keeps well in the fridge for many days. They thought the name was so funny!! I should have maybe called it something else because that is all I heard about for days, along with giggles!! The kids staying with us were Zack 11 and Halen 12. Something they will remember from the summer of 2013!!
Try this very easy and delicious recipe next time you have a house full, they will love it!! ENJOY!!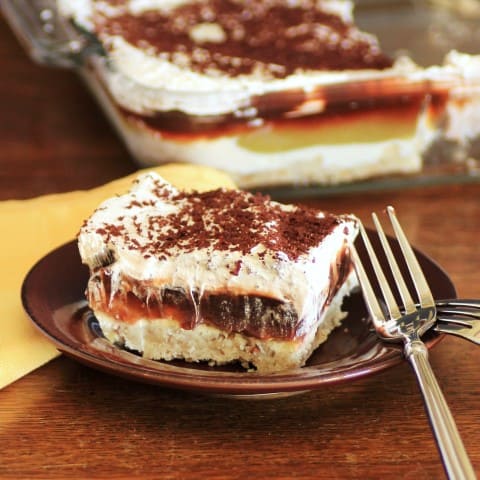 Sex In A Pan
A wonderfully easy dessert to have at the ready in your refrigerator!!
Ingredients
¾ cup butter
1½ cup flour
½ cup chopped pecans
1-8 oz. light cream cheese
1 cup icing sugar
1 large package, 144 gm instant chocolate pudding
1 large package, 144 gm instant vanilla pudding
5 cups milk, divided
4 cups cool whip, divided
1 oz. semi-sweet chocolate square, grated
Instructions
Preheat oven to 350F. Mix together the butter, flour and chopped pecans. Press into a 9 x 13" pan and bake for 15-20 min. Set aside and cool.
In the bowl of a stand up mixer, beat together cream cheese, sugar and 1 cup of Cool Whip. Spread onto top of cooled cookie layer.
Next beat your puddings with 2½ cups milk each, until stiff. Layer on vanilla, then chocolate pudding onto the cream cheese filling. Place the last 3 cups of Cool Whip on next and top with grated chocolate.
Refrigerate for at least 2 hours.