I am back with #SundaySupper after taking time off for vacation and what a lovely time that was. I came back just in time to join in on this wonderful theme, movie-inspired dishes. Well, there are lots to choose from. I went directly in my head to Julie and Julia.
I have had a lifetime love affair with Julia Child's recipes but I have done so many of them on my site already I thought I would try going somewhere else instead.
What About Remy?
Then my mind wandered to Ratatouille the movie. A delightfully funny and entertaining movie that we all enjoyed. Remy (a rat) has a dream to become a chef and with the help of Linguini, a garbage boy, at the restaurant Gusteau's he embarks on cooking.
This is one dish that I felt I had not succeeded at yet. I have tried so many and Ken has even smoked a ratatouille. What's not to like about it, you say?
Well for us it is the eggplant. It seems to always be bitter and not cooked right along with the other veggies. It turns out spongy and is a veggie that we all don't like. Why not just omit it then? Well, good question but that is not how I roll.
Try, Try Again!
I want to like it, I want to add it, I love the looks of the veggie with its deep aubergine color. So off I went to think about how to do this and try to make the best Ratatouille I have ever made. For us, I came up with the perfect combination.
Ken adored it!! Amber with new braces on that day had to have some and loved it too. The secret was to peel the eggplant and then saute it with garlic and Herbs de Provence which gave it so much flavor and took the sponginess away. If you like Ratatouille you will love this one.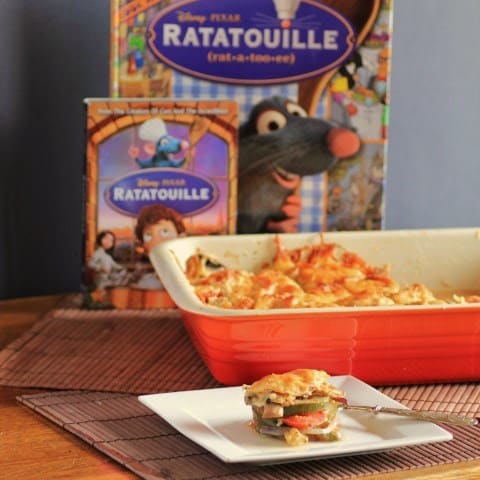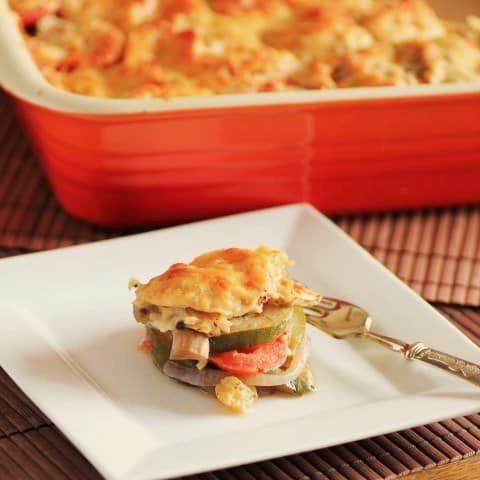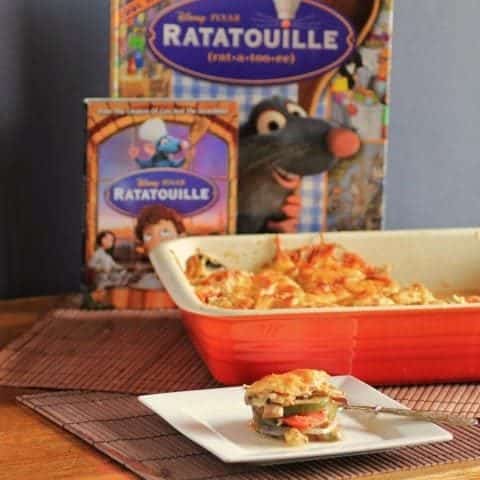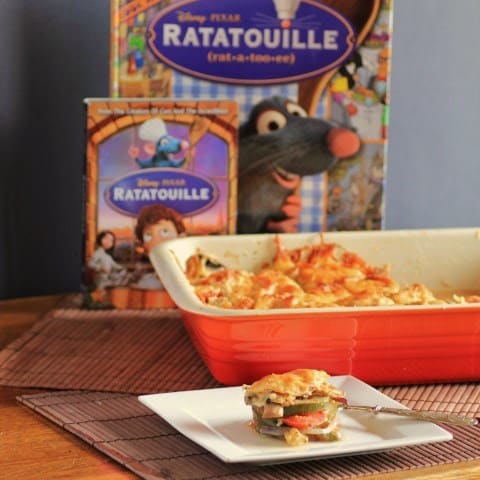 Ratatouille Inspired By Ratatouille the movie for #SundaySupper
Yield: 10 Servings
Prep Time: 30 minutes
Cook Time: 55 minutes
Total Time: 1 hour 25 minutes
Ratatouille Inspired By Ratatouille the movie for #SundaySupper. Ratatouille Inspired By Ratatouille the movie for #SundaySupper. A wonderfully balanced ratatouille
Ingredients
1 large eggplant
1 Tbsp. olive oil plus more for the ceramic dish
3 tsp. Herbs de Provence
2 tsp. garlic, minced
8 tomatoes, sliced
1 large zucchini, red onion & green pepper all sliced
10 large mushrooms, sliced
2 cups Mozarella, grated
Parmesan, freshly grated
Salt and Pepper
Instructions
Peel the eggplant and dice. In a medium fry pan, add the olive oil and heat over medium heat.
Add the eggplant, 2 tsp. Herbs de Provence and the garlic and stir fry until the eggplant is lightly browned.
Preheat oven to 350F. Oil a 12x16" ceramic dish, add the eggplant scattered across the bottom.
Add 4 of the sliced tomatoes with the eggplant. Salt and pepper to taste and then grate the desired amount of Parmesan cheese on.
Continue to layer veggies and salt and pepper and sprinkle Parmesan with each layer.
Finish with the remaining 4 sliced tomatoes, salt, and pepper to taste and sprinkle with the remaining 1 tsp. of Herbs de Provence.
Sprinkle with the 2 cups mozzarella and desired amount of Parmesan.
Bake in the oven for 45-55 min. until veggies are tender and the cheese has browned.
Nutrition Information:
Yield: 10
Serving Size: 1
Amount Per Serving:
Calories: 137
Total Fat: 7g
Saturated Fat: 3g
Trans Fat: 0g
Unsaturated Fat: 3g
Cholesterol: 18mg
Sodium: 186mg
Carbohydrates: 13g
Fiber: 4g
Sugar: 6g
Protein: 7g
Recipe calculation was provided by Nutritionix and is estimation only. If you need nutritional calculations for medical reasons, please use a source that you trust.
Here are all the fabulous recipes that were inspired by movies. What movie would you have picked? Check them out and then leave your comment.
Toast (bready things)
No Reservations (soups and salads)
Today's Special (fish, chicken, beef, and pork)
Forks Over Knives (veggie-heavy dishes and sides)
Udon (pasta and noodles)
Just Desserts (sweet treats)
Bottle Shock (beverages)