I have shown you this vinaigrette before but it is so easy and better than the store brands by far. With spring here a light and refreshing salad can only be upped with a light and refreshing vinaigrette like this one.
Add this to simple green, or tossed salads with the addition of something sweet like raspberries, mandarins or strawberries. Garnish with nuts, goat cheese or crispy noodles and you have a fun spring salad at the ready. Pairing this salad with a simple fish or chicken dish you have a lovely meal in no time. ENJOY!!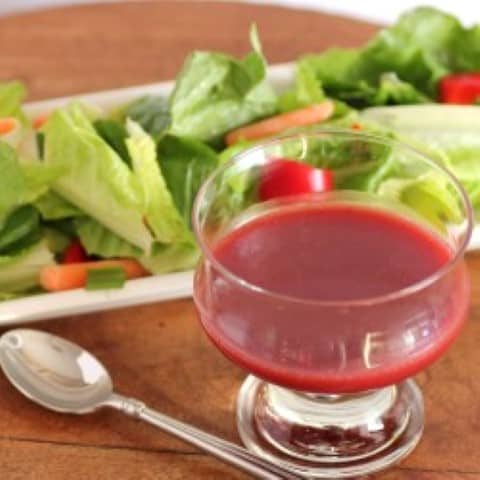 Raspberry Vinaigrette
A delicious salad dressing that lightens things up for spring.
Ingredients
3 Tbsp. seedless raspberry jam
2 Tbsp. white wine vinegar
1 tsp. creamy Dijon mustard
4 Tbsp. olive oil
1 Tbsp. honey
Salt and pepper to taste
Instructions
Whisk the jam, vinegar and mustard together. Slowly whisk in the oil and then the honey. Season to taste with salt and pepper. Refrigerate until ready to use.