These tasty Pudding Pops are the super simple treat you need to cool off on a hot summer day. Not only are they melt-in-your-mouth delicious ice pop, but they also bring back all the nostalgia of childhood summers. It's a fun and easy recipe to get the kids involved with too!
The Jell O Pudding Pops of my childhood were discontinued in the 1990s. Luckily, it's an easy recipe to duplicate in the home kitchen. Best of all, when you make pudding pops at home, you can make them exactly how you like them. You can try our Cherry Cheesecake Popsicles too for another cooling treat on a hot day!!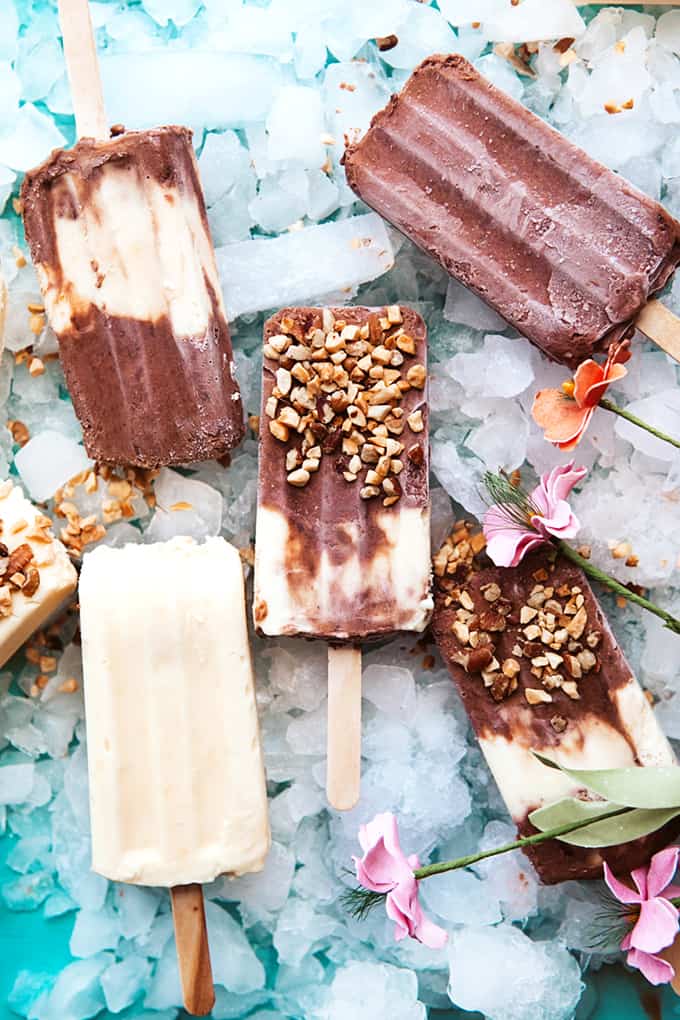 Hello again! I'm Allison from Some the Wiser. In my little corner of the world right now it's nearly as hot as the face of the sun. It's so hot I'm prone to extreme exaggeration.
We're only surviving right now with frozen treats like Strawberry Lemonade Ice Cream Pie and Tara's Orange Creamsicle Floats. Thank heavens for all the frozen treats!
Helpful Items for This Recipe
Jell-O Instant Chocolate Pudding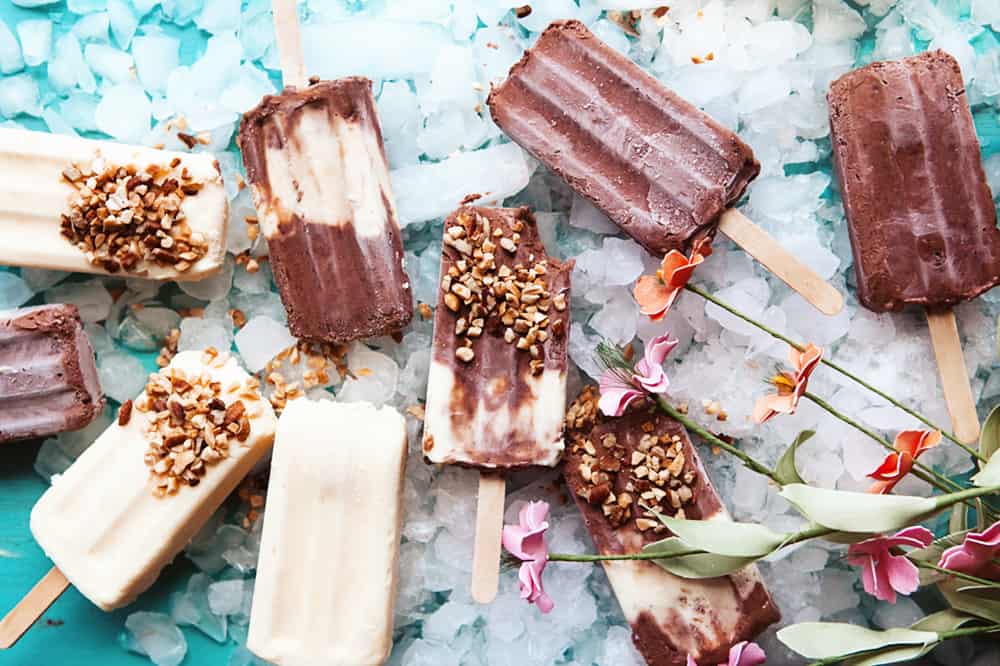 How to Make Jello Pudding Pops
While you can make pudding pops entirely from scratch (I'll talk more about that below), there are a couple of really easy shortcuts. The first is to buy boxes of Jell O Instant Pudding. Just add milk and whisk and voila! Using instant pudding also makes the flavor of the pudding pops more like the original popsicle brand.
To make the homemade pops even more like the old favorites, you can use another an easy shortcut and add in a couple of scoops of room temperature Cool Whip. This makes them extra creamy so they really do melt in your mouth in the most delicious way possible.
Once you have these basic ingredients, all you need are popsicle molds and pop sticks. I used this mold, and the silicone has really stood up well even after many batches of popsicles. However, you can also just use small paper cups if you don't want to invest in a pop mold.
If you have problems getting the popsicle out of the mold place the molds under warm running water for 15 sec to release the pops.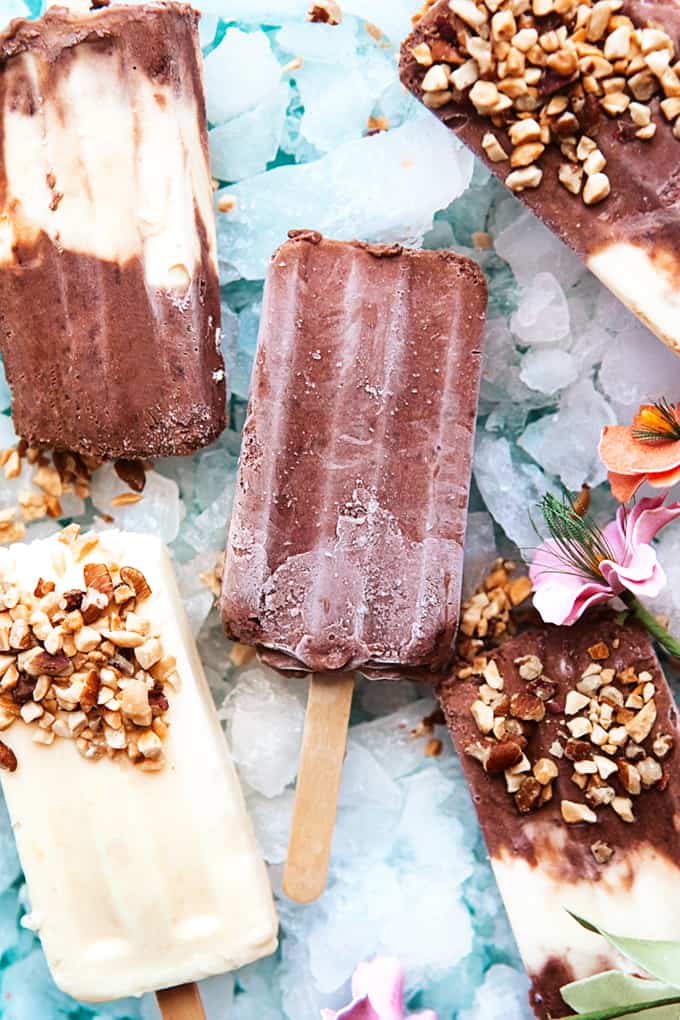 Can you Freeze Pudding?
You can freeze pudding! In fact, with just a few extra tweaks, that's basically all a pudding pop is – frozen pudding!
To make it easier to get the pudding into the popsicle molds, it's best to pour the pudding in before it has completely set and while it is still runny.
Tips and Tricks
You can use any instant pudding flavors you like, but the most popular are definitely Chocolate Pudding and Vanilla Pudding. When I make pudding pops, I like to make a batch of both types of pudding and then mix some of them for a marbled chocolate vanilla effect. I do this by alternately pouring in a little chocolate pudding and then a little vanilla pudding until the mold is full.
I also like to dress them up a little bit – this makes them an extra fun treat when entertaining too. Some good toppings are:
Nut Pieces
Cacao Nibs
Chopped Chocolate
Dried Fruit
Coconut
Melted Dark Chocolate (drizzled)
To add toppings to your popsicles, remove them from the molds and let them sit at room temperature for 3 to 5 minutes, or until they just barely begin to soften. Press the toppings onto them, then place them on a parchment-lined pan and return them to the freezer for another 20 or 30 minutes until they are completely hardened.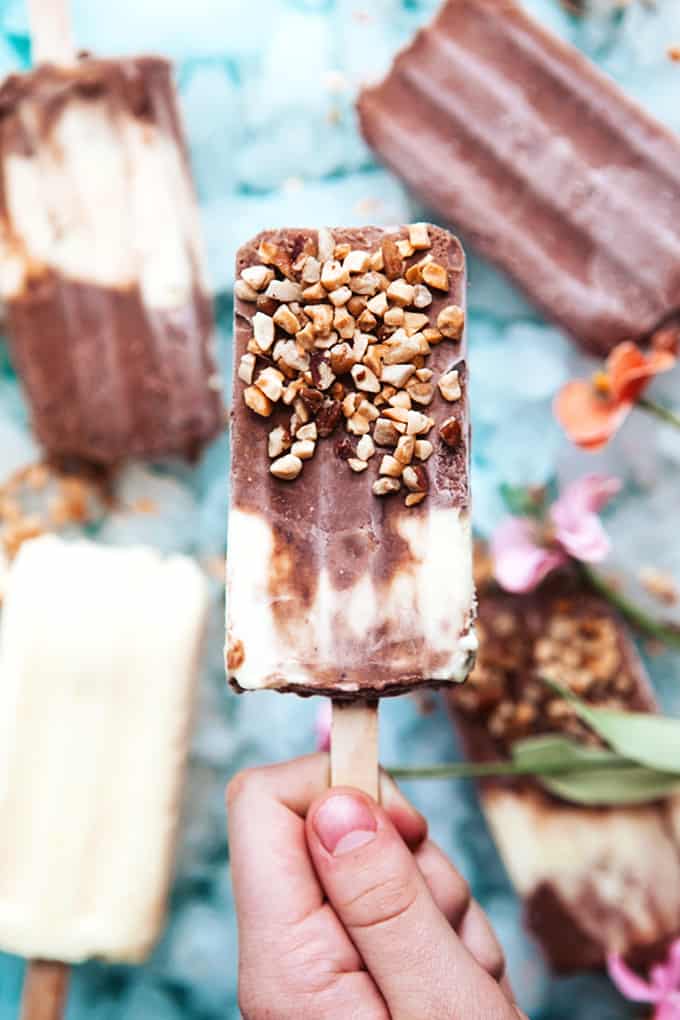 How Do You Make Pudding Pops From Scratch?
While it's perfectly fine to take the easy shortcut and use instant pudding, sometimes you're in the mood for a treat made from scratch. When that's the case, you can whip up a batch of your favorite stovetop pudding to start with.
When I make pudding pops from scratch, I like to use this recipe for Dark Chocolate Pudding. Once you've made the pudding, you can proceed with the recipe below, just skip the milk, and replace the Cool Whip with Whipped Cream instead. They'll taste a little richer than the instant pudding pops, but they have a nice, grown-up flavor to them.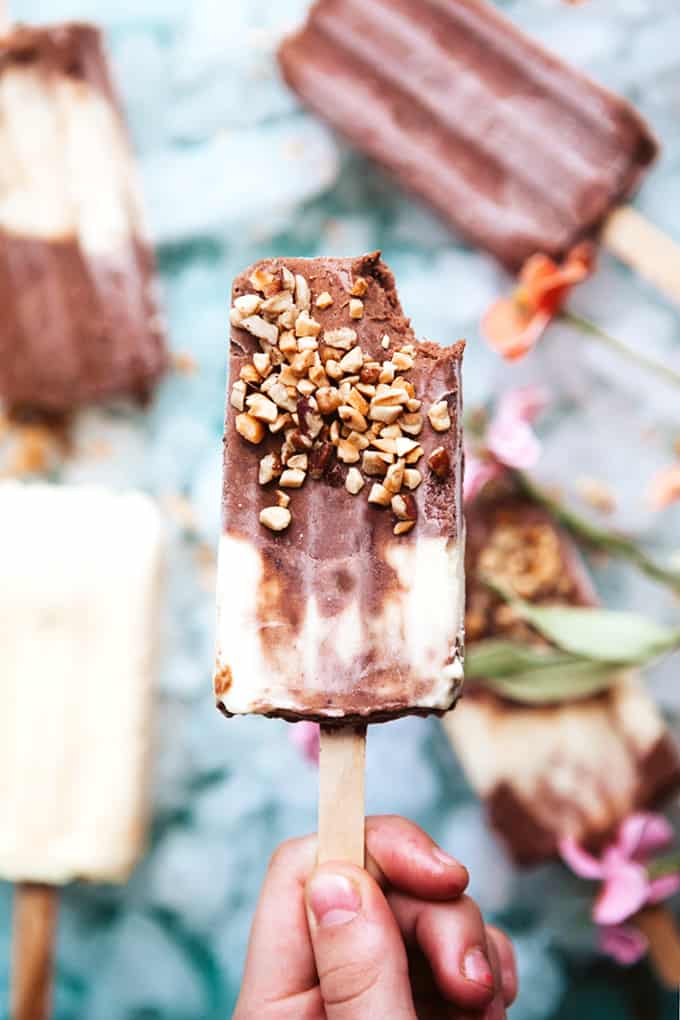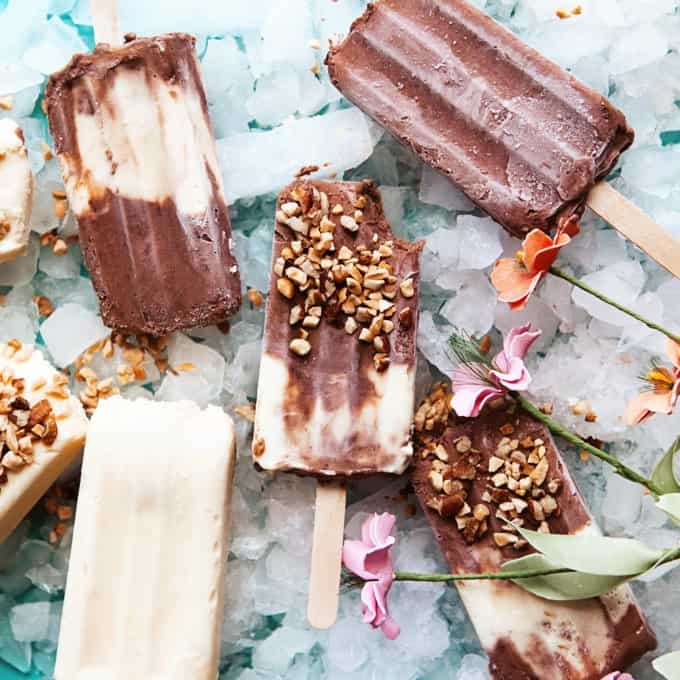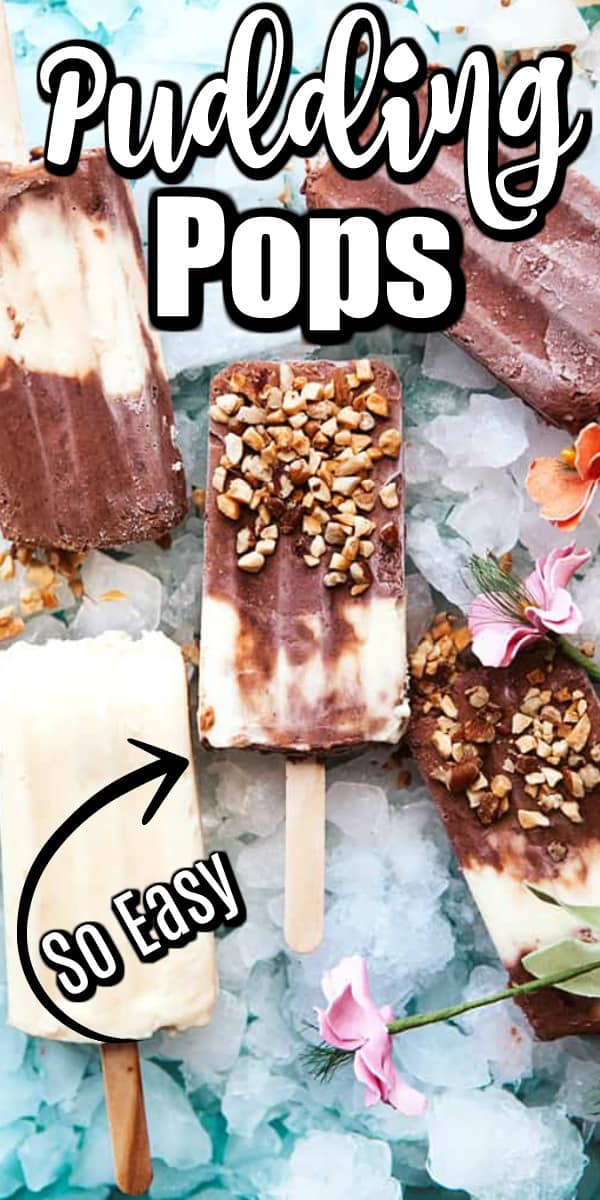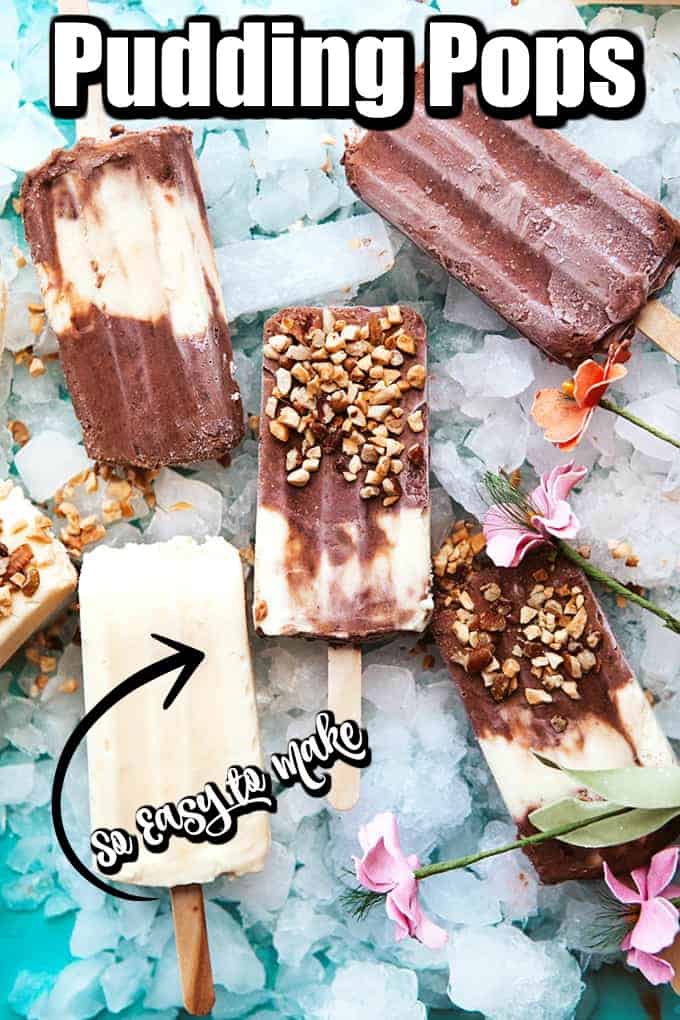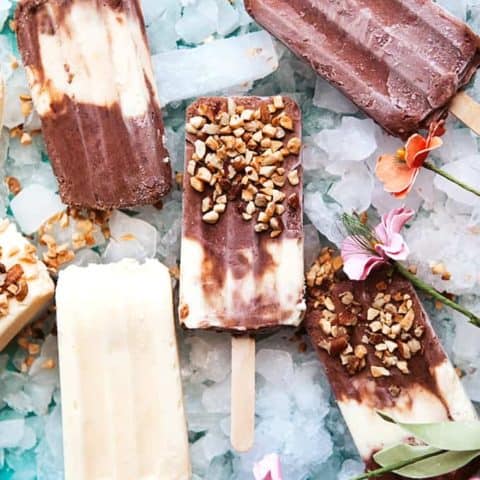 Pudding Pops
Yield: 16
Prep Time: 10 minutes
Additional Time: 4 hours
Total Time: 4 hours 10 minutes
Easy to make Pudding Pops! The number of pops vary based on the type of popsicle mold you use.
Ingredients
1 (5.1 oz) box of Instant Chocolate Pudding
1 (5.1 oz) box of Instant Vanilla Pudding
4 cups milk, divided
2 cups Cool Whip, room temperature, divided
Optional Toppings
Crushed Nuts
Cacao Nibs
Coconut
Dried Fruit
Melted Dark Chocolate
Instructions
In a medium mixing bowl, whisk together 2 cups of milk and 1 cup of room temperature cool whip until smooth. Repeat in a second mixing bowl.
Add the chocolate pudding into one bowl of milk and the vanilla into the other bowl. Whisk until just combined.
Working quickly, pour the pudding into the molds. If you want striped or marbled flavors, alternate chocolate and vanilla in the molds. The pudding will thicken quickly, so work fast. If it thickens before you finish, just spoon in the pudding, gently tapping your molds against the counter so the pudding evens out in the molds and fills the bottom. Be careful not to fill the molds all the way to the top so the mixture has room to expand as it freezes.
Insert the sticks and freeze for at least 4 hours.
When you're ready to consume, just run the mold under running water for 15 seconds or so to loosen the pops from the mold.
If you want to add toppings, remove the pops from the molds and let them sit at room temperature for 3 to 5 minutes or until they just begin to soften. Press your toppings into them then place them on a parchment lined sheet pan and freeze for an additional 20 or 30 minutes before serving.
Notes
The number of pudding pops you get will vary based on the size of your mold and will also alter the nutritional information. We did base ours on making 16 for the recipe.
Recommended Products
As an Amazon Associate and member of other affiliate programs, I earn from qualifying purchases.
Nutrition Information:
Yield: 16
Serving Size: 1
Amount Per Serving:
Calories: 132
Total Fat: 7g
Saturated Fat: 5g
Trans Fat: 0g
Unsaturated Fat: 2g
Cholesterol: 6mg
Sodium: 90mg
Carbohydrates: 15g
Fiber: 1g
Sugar: 8g
Protein: 3g
Recipe calculation was provided by Nutritionix and is an estimation only. If you need nutritional calculations for medical reasons, please use a source that you trust.