Chili Cheese Fries
It is summer but we still want fun comfort food. These Chili Cheese Fries are just that. They would make a great Friday night feast for your family or fun for any night of the week.
Made with a quick homemade chili and store-bought frozen french fries you will have dinner on the table in no time. Just load it all up on a baking sheet and serve.
Other great meals we have using chili in quick fashion are Turkey Chili Nachos or Easy Chili Mac Skillet Dinner. For chili fans, these recipes can't be beaten.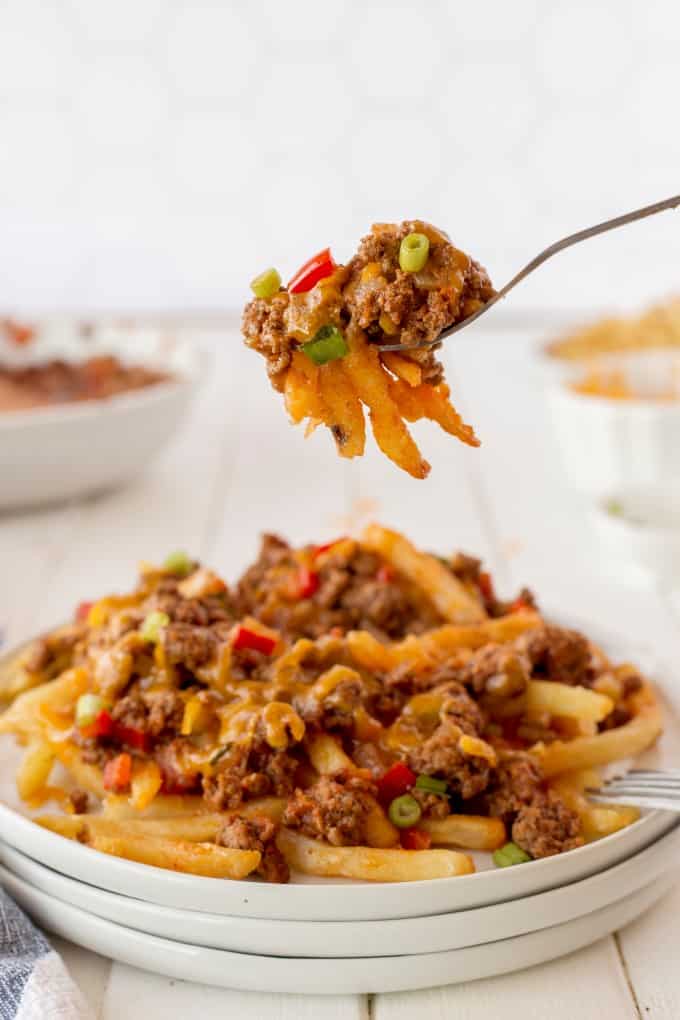 Helpful Items For This Recipe
This post contains affiliate links. As an Amazon Associate, I earn a small portion from qualifying purchases at no extra charge for you.
Farmhouse Cast Iron Pre Seasoned Fry Pan
How to Make Chili Cheese Fries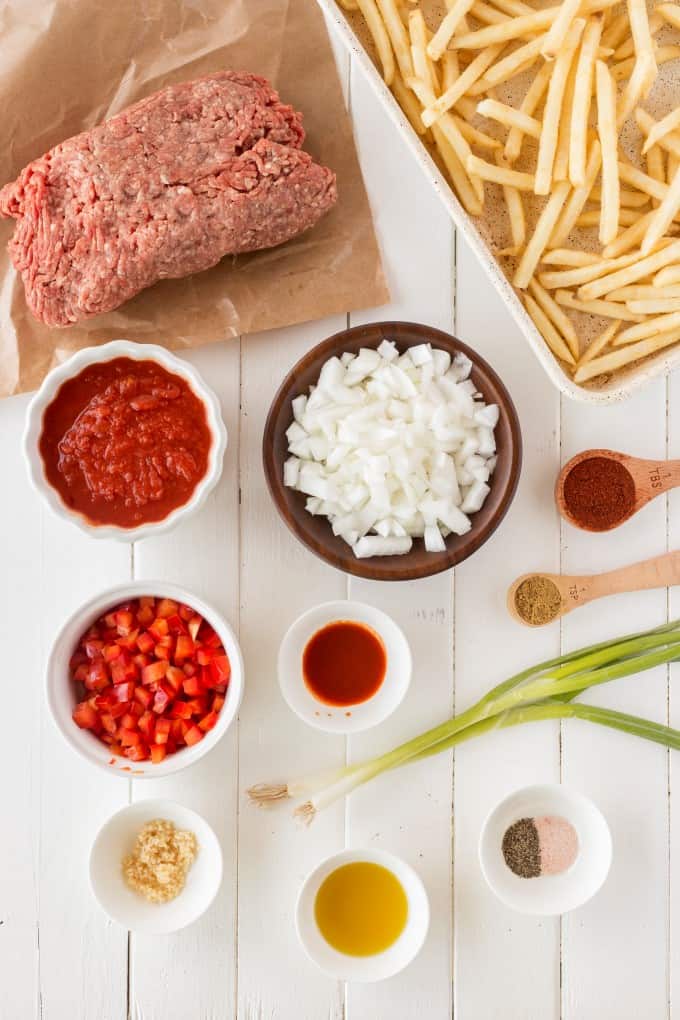 Simple ingredients, but when combined, are a fantastic meal. You will probably have most of them in your house right now, but all are easy to find at your local grocery store.
Ingredients
Olive oil
Onion
Garlic
Chili powder
Cumin
Hot sauce
Salt and pepper
Lean ground beef
Crushed tomatoes
Sweet red pepper
Green onions
Frozen fries
Grated Cheddar Cheese
Toppings of your choice: fresh cut tomatoes, jalapenos, sour cream, guacamole
Let us get started on making this delicious meal that your family is going to rave about. Here are the easy steps.
In a large pot over medium heat add in the olive oil, and cook the onion until soft and slightly golden. Stir in garlic and chili powder.
Now add in the cumin, hot sauce, and salt and pepper, and cook for 30 seconds. This is a very easy and fast chili to make any time. It doesn't need all-day simmering to make it great.
Easiest Fastest Chili Ever
Stir in the lean ground beef and cook for about 5 min. until it is no longer pink. Add in the crushed tomatoes and stir well.
Add half the green onions and all the red pepper, adjust seasoning with salt and pepper. Bring to a boil then reduce the heat and cook for about 5 min. until thickened. That is it; the chili is ready.
Meanwhile, bake the frozen fries in a preheated oven according to the package.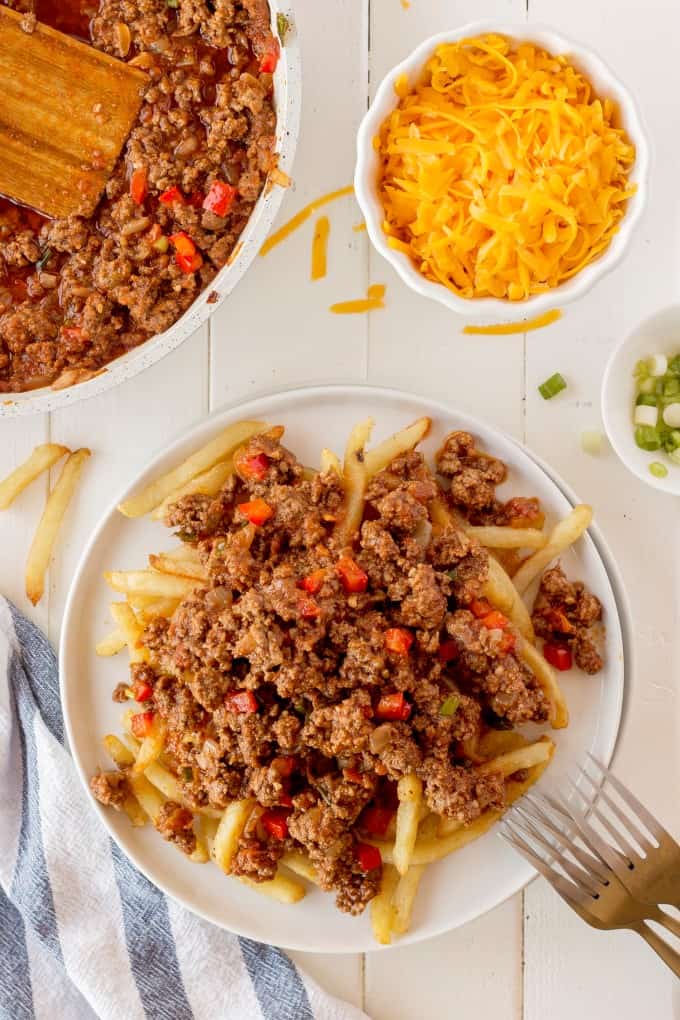 Serve the chili over the top of your favorite fries on a platter or right on the baking sheet. You can use potato wedges but my favorite is crispy delicious french fries with this recipe.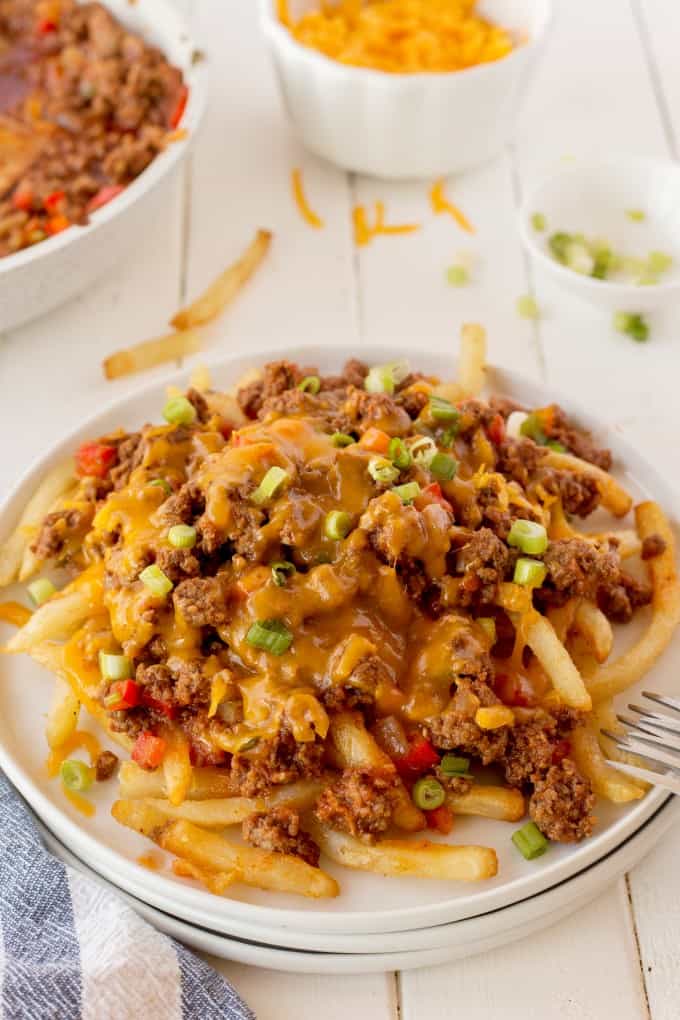 Add the shredded cheese and the toppings of choice plus the remainder of the green onions, serve immediately. You can make your own cheese sauce, but I say grated cheese works great, melts fast, and is no bother at all.
Plus you can find it already shredded in a package at your grocery store, what could be easier? Put on as little or as much as you like. Serve with the additional toppings and enjoy!!
Who Invented Chili Cheese Fries?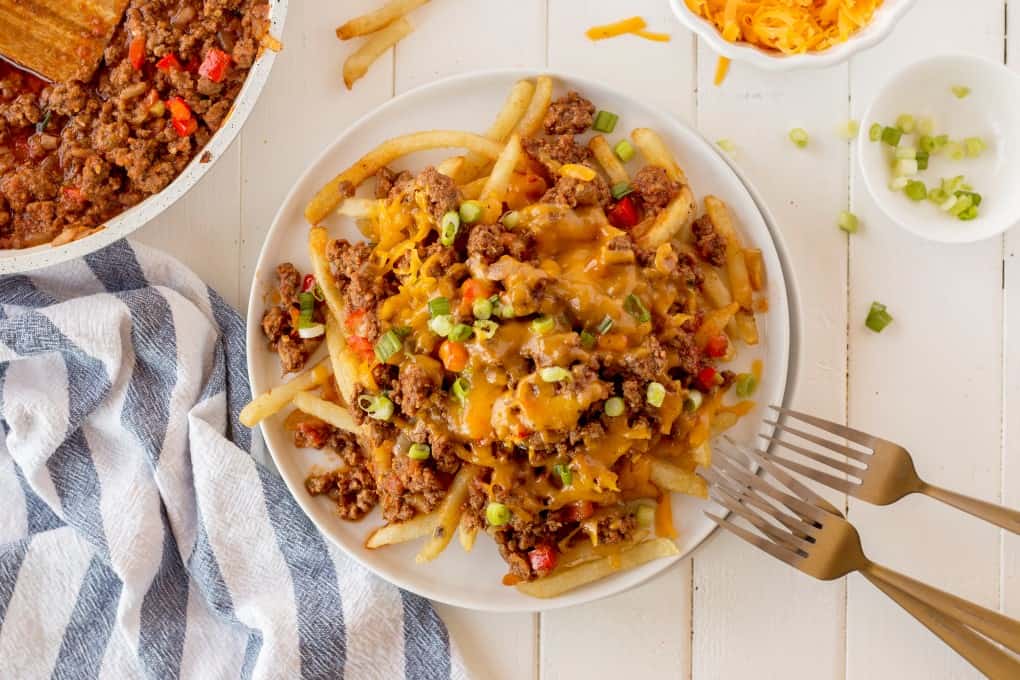 As with most recipes, there are always a couple of claims to fame. As per Wikipedia, the dish originated in the United States. Don A. Jenkins is said to have invented a variation of the cheese fry (the chili cheese fry), at the age of 16, in Tomball, Texas. Another report claims that a young fry cook named Austin Ruse was the first to serve this dish while working at Dairy Queen.
Besides being still popular to this day at Dairy Queen they are also a pub grub staple for the late-night crowd but I see them as a family-friendly meal that will get the kids gathering around the table.
What Goes With Chili Cheese Fries?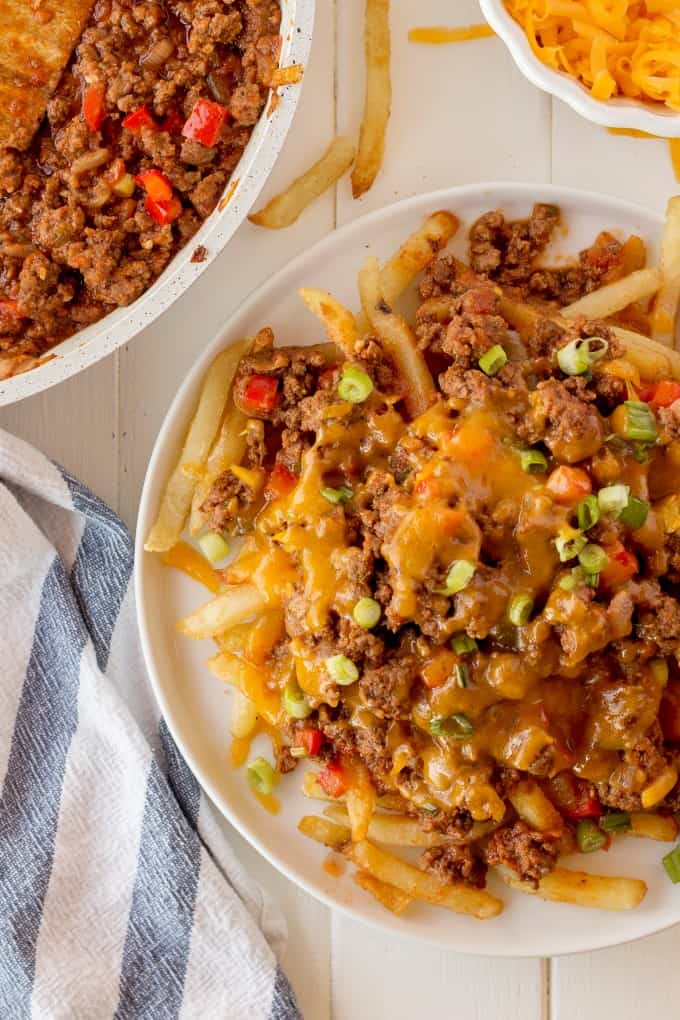 To continue with an easy meal I would add in some veggies and dip. It also completes the pub grub feel too. You could serve it with a big salad or go all out and have wings too! You can make this a feast to remember.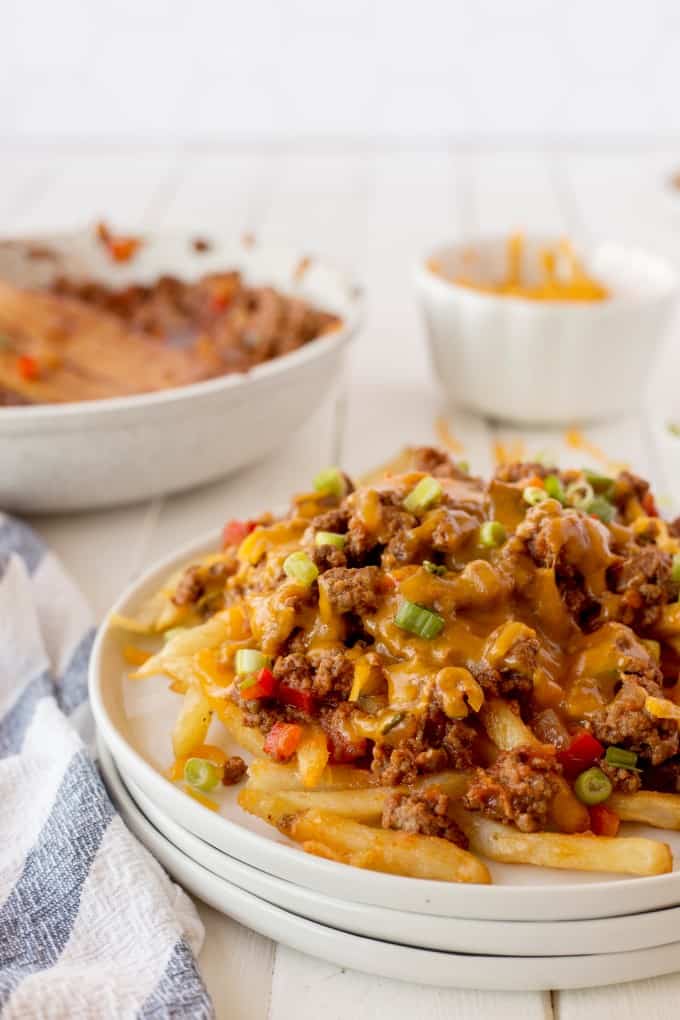 Pin it HERE!!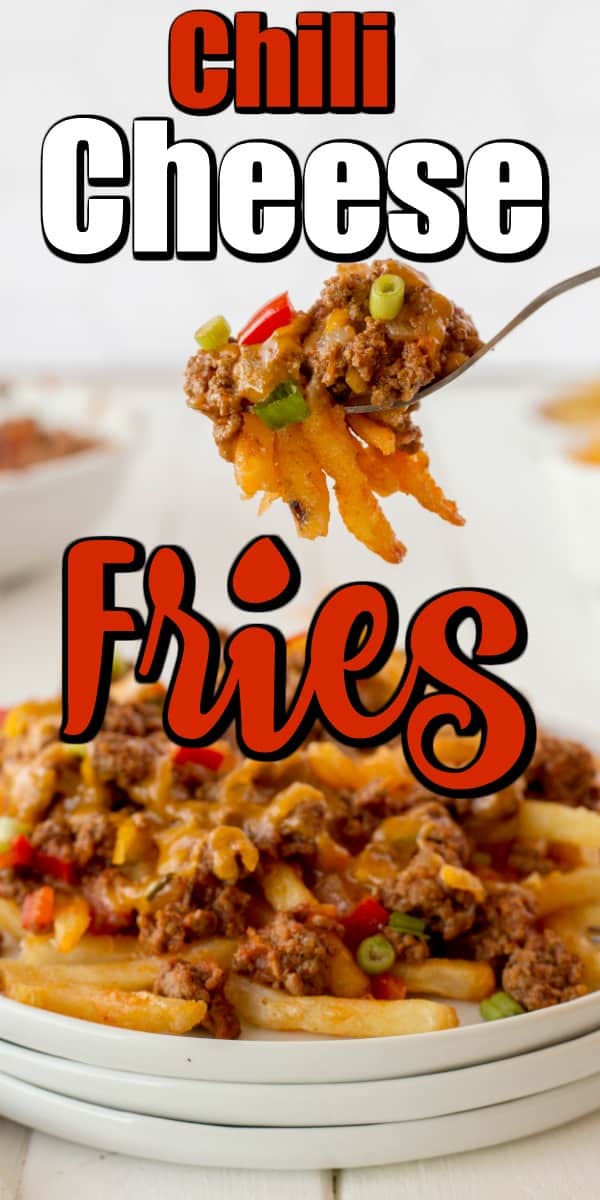 Pin it HERE!!