Chicken Chili
One of my favorite series of cookbooks of all time is The Best of Bridge. Today's review is The Complete Best of Bridge Cookbook Volume 3, All 350 Recipes from That's Trump and Aces. This is the fifth and six cookbooks in the series.
First off I love that it is a hard cover and that it is ring bond, it lies nice and flat. These recipes have been enjoyed by Canadians a generation ago but now compiled into one cookbook they can be enjoyed again.
Their recipes are simple to follow and fool proof, I have never had one that hasn't turned out. There are gorgeous photos scattered throughout the cookbook!! They have great recipes like Pasadena Pinwheels (just made these for an appetizer for Thanksgiving and they were excellent), Strawberry and Chevre Salad, Crunchy Oven Baked Fish, Pork Tenderloin with Honey-Glazed Apples to delicious desserts and cookies like Skor Bar Cookies.
They also have little witty anecdotes that bring even more enjoyment to this wonderful series of cookbooks. I love having a little grin while paging through a cookbook.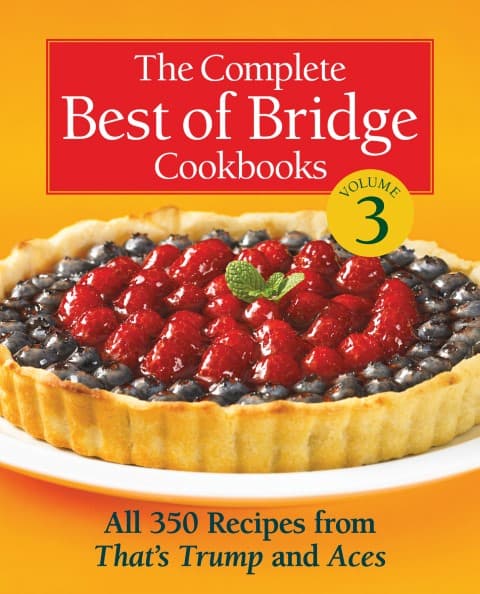 Now this brings me to their Chicken Chili, this recipe was fantastic and such a nice change from your usual beef chili. Filled with loads of healthy and flavorful ingredients, your whole family will love this one, I know we sure did. ENJOY!!!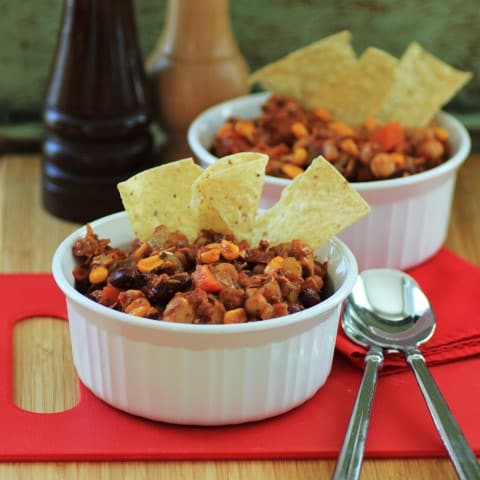 Chicken Chili
A full and hearty chili that is lightened up with chicken.
Ingredients
21⁄2 lbs chicken breasts
2 tbsp vegetable oil
2 onions, chopped
2 cloves garlic, minced
3 tbsp chili powder (use all of it!)
2 tsp ground cumin
1 tsp dried oregano
3 tbsp ground coriander
Salt and black pepper to taste
4 carrots, sliced
3 stalks celery, chopped
1 28-oz (796 mL) can tomatoes
3 tbsp tomato paste
2 tbsp lime juice
1 tsp granulated sugar
1 12-oz (341 mL) can corn kernels,
drained
1 14-oz (398 mL) can kidney beans,
drained and rinsed
1 14-oz (398 mL) can chickpeas,
drained and rinsed
1 green bell pepper, seeded and chopped
Instructions
Skin and bone chicken. Cut into bite-sized pieces. In a Dutch oven, brown chicken in oil. Add onions and garlic and sauté until onions are soft. Add chili, cumin, oregano, coriander, salt and pepper.
Cook and stir for 3 minutes. Add carrots, celery, tomatoes, tomato paste, lime juice and sugar to chicken mixture. Bring to boil, reduce to simmer, cover and cook for 1 hour. Add corn, kidney and garbanzo beans and green pepper. Simmer 30 minutes more.
Excerpted from The Complete Best of Bridge Cookbooks, Volume 3 by The Best of Bridge Ladies © 2013 www.robertrose.ca Reprinted with publisher permission.
I would highly recommend any of their cookbooks, you will never be disappointed!!