We recently, for March break, flew to San Diego for vacation. Our family has now been there 4 times and we all love the area. We are lucky enough to have a timeshare in Escondido. I love going there for many reasons but one is to shop at Trader Joe's, I am in heaven in that store!! That is where I shopped for these scrumptious Turkey Chili Nachos. They have such great products, produce, and wine, for incredibly inexpensive prices.
So on the plane, I take all of my recent magazines and create a menu and shopping list. After checking in at the resort we are off to Trader Joe's!! Woohoo, vacation has started. One of the recipes I wanted to try was Turkey Chili Nachos, and man that sounded good!!
It was from a Canadian Living Magazine but I adapted it slightly to what I found available.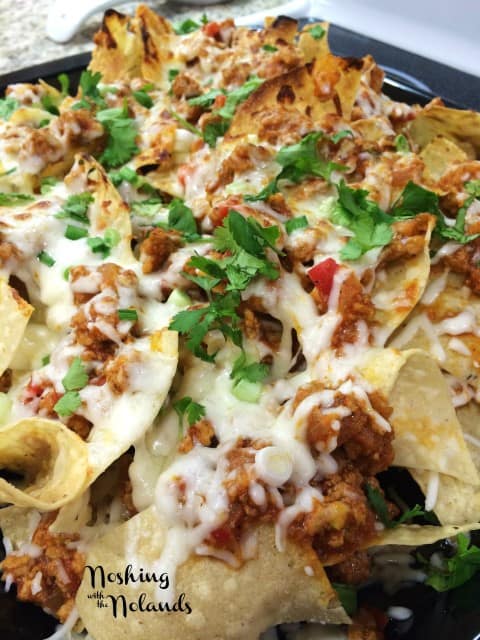 Now the photos are not the best as I just had my phone for pictures, but you get the idea of how delicious these are!! Honestly, one of the best if not the best nachos I have ever had or made. They were scrumptious!!
The Recipe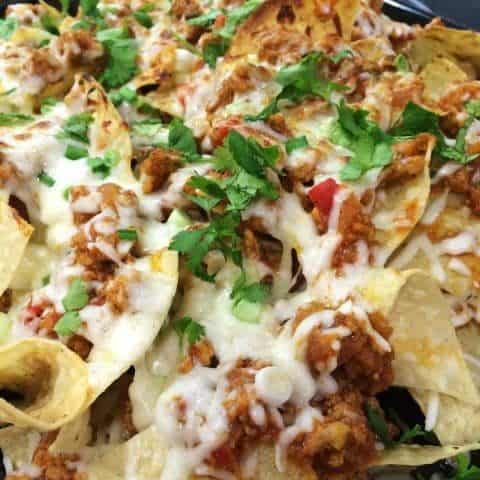 Turkey Chili Nachos
Yield: 4
Prep Time: 10 minutes
Cook Time: 25 minutes
Total Time: 35 minutes
Amazing turkey chili nachos, great for game day, or any time of the year!!
Ingredients
2 tsp. olive oil
1 onion, chopped
2 cloves garlic, minced
1 1/2 tsp. ground cumin
Salt and pepper to taste
1 1/2 lb. lean ground turkey
1 1/2 cups Pomodoro sauce or your favorite tomato sauce
1/2 sweet red pepper, diced
2 green onions, sliced
1 1/2 Tbsp. salsa picante
1 large bag tortilla chips, baked or fried
1 1/2 cups part skim mozzarella
2 Tbsp. chopped fresh cilantro
2 tsp. lime juice
Instructions
Cook the onion until soft and slightly golden, in the olive oil, in a skillet over medium heat. Stir in garlic, cumin, salt, and pepper, and cook for 30 seconds.
Stir in the turkey and cook for about 5 min. until it is no longer pink. Stir in the tomato sauce. Add half the green onions, red pepper, and salsa, and adjust the seasoning with salt and pepper. Cook for about 5 min. until thickened.
Layer the chips and turkey chili in a large 9 x 13" pan or broiler pan. Top with cheese.
Broil until the cheese is bubbling and starting to turn golden. Top with the remaining green onions, cilantro, and lime juice. Serve immediately!!
Recipe adapted from Canadian Living Magazine
Nutrition Information:
Yield: 4
Serving Size: 1
Amount Per Serving:
Calories: 605
Total Fat: 33g
Saturated Fat: 11g
Trans Fat: 1g
Unsaturated Fat: 19g
Cholesterol: 208mg
Sodium: 1228mg
Carbohydrates: 18g
Fiber: 4g
Sugar: 10g
Protein: 60g
Recipe calculation was provided by Nutritionix and is estimation only. If you need nutritional calculations for medical reasons, please use a source that you trust