Do you love chicken wings? Hot wing? Then you will love these Wings with Angry Sauce!! Oooooh, the fire!! I think they are delicious and I know that a lot of you out there agree with me.
I really like the name of these chicken wings, the "Angry Sauce" wording in the title adds something. It makes you stop and think for a second, like hmmm, should I try one of these or not? How angry are they, really? But that's the great part about this recipe!
Cause, I am not talking five-alarm, blow your head off heat but a nice fiery sweet sauce does it for me!! As you are making these Wings with Angry Sauce, taste the sauce and adjust it to your liking. Adding more sweetness from sugar or honey will tone down the heat.
Although if you really want to ramp up the heat you certainly can! I always gear the spiciness of my wings to the crowd I am feeding. If it's for a super bowl party with a wide variety of people I will tone down the heat level.
On the other hand, if I know my guests love the heat I will take the heat up to full throttle. It is entirely up to you! One thing I can guarantee is that these chicken wings are going to be very popular with all your guests!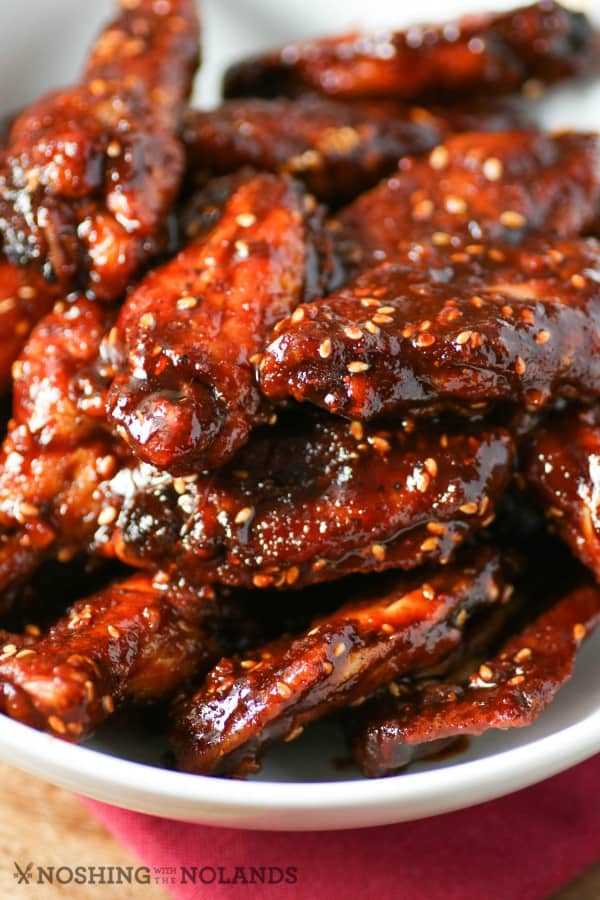 Helpful Items for This Recipe
This post contains affiliate links.
These spicy babies will be awesome at your next game day and people will be screaming for more!! We have made tons of wings in the past and for the most part, we have deep-fried them. Then shaken them in a big paper bag to remove the excess oil. Finally in a large bowl toss them up in our favorite hot sauce, which happens to rhyme with Cranks!!
Now, with this recipe, we baked them. Cover the wings with the canola oil so they are coated all over, and preheat your oven to 450 degrees F. Place them on prepared baking sheets and roast They still will out as crisp as ever. Gone are the days of frying!
In a large bowl whisk the chile sauce, toss to coat the wings
You will want to make a second batch of these as they will disappear quickly.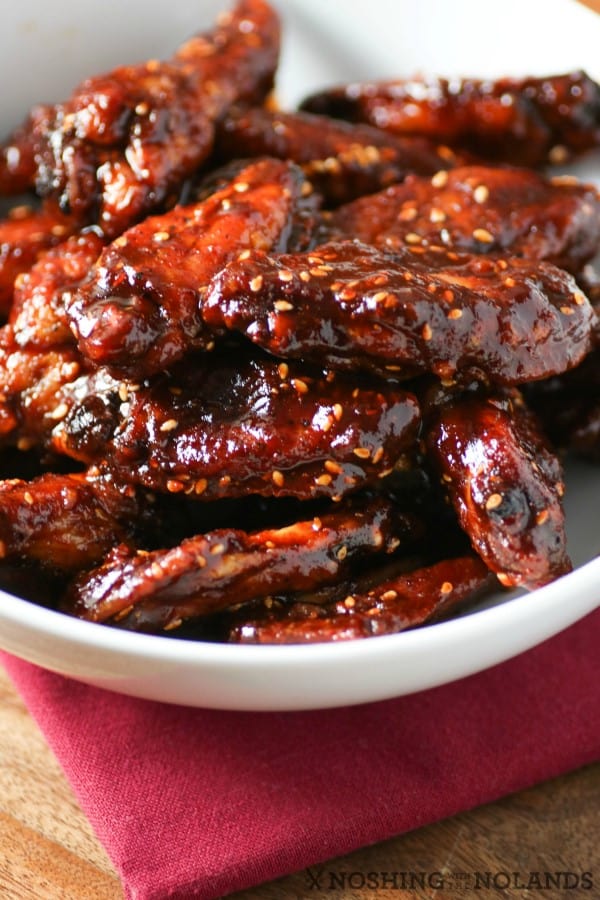 This recipe I initially saw in Food & Wine and was made with a Korean chili paste called gochujang, which I have no idea where to locate except for probably China town which I wasn't going to.
I had harissa on hand which is a North African hot chili pepper paste, which is much easier to find. Also having made harissa in the past, I was more familiar with this chili paste. Don't you love taking an ingredient that you normally wouldn't use like harissa and using it?
Add Some Zing to Your Wings!
I mean really everyone makes chicken wings, whether they come from your kitchen, your local pub or sports bar or your grocery store. So why just make the same old same old wings, why not add some zing to your wings!
I garnished these with sesame seeds, but you do sesame seeds and scallions, along with some freshly ground pepper. Serve hot, which shouldn't be a problem cause they are so darn yummy!! As soon as I pulled them out of the oven there was a line up at the kitchen counter for a taste!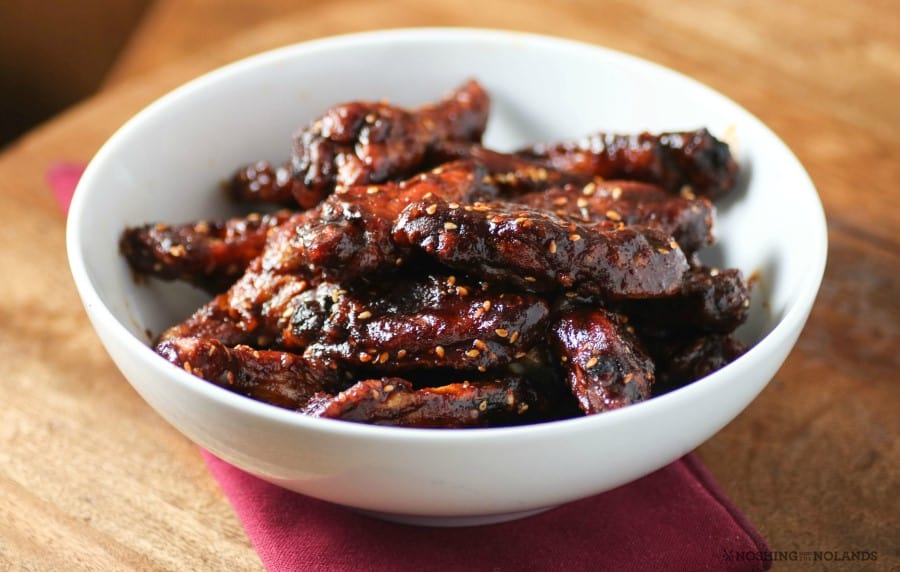 Do they taste as good as they look? You betcha! Fiery, sweet and full of flavor! Ken gobbled them down and we will be making them again very soon.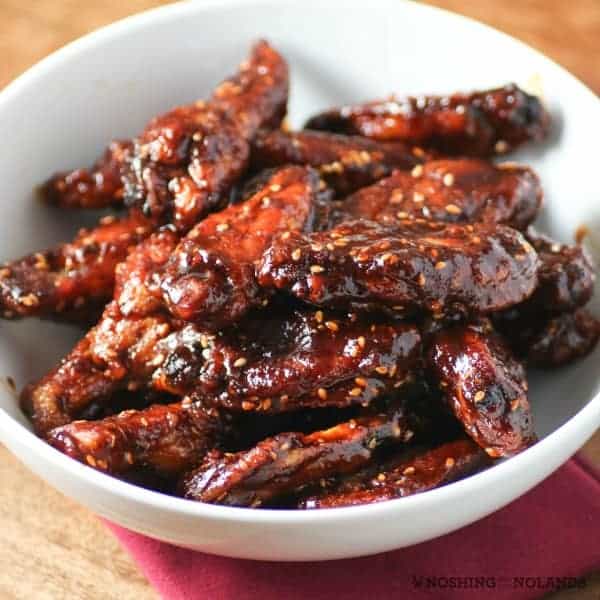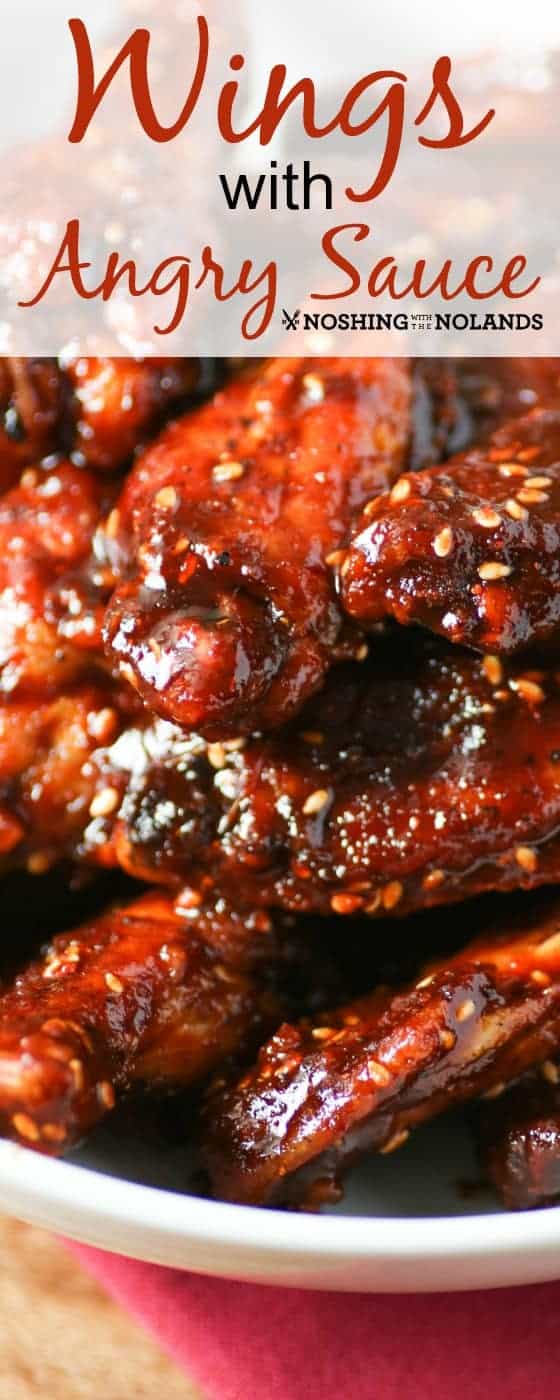 Wings with Angry Sauce Recipe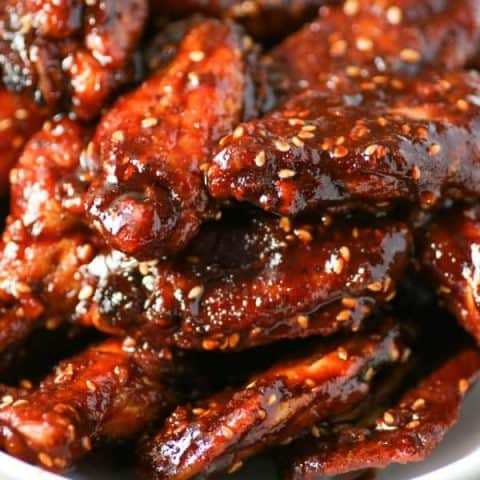 Wings with Angry Sauce
Yield: 2-3 lbs.
Prep Time: 15 minutes
Cook Time: 45 minutes
Total Time: 1 hour
Using harissa with sugar and honey give these Wings with Angry Sauce the perfect heat! Great appetizer for game day or anytime!
Ingredients
2-3 lbs. chicken wings
Cooking spray
2 Tbsp. canola oil
Kosher salt and freshly ground pepper
2 1/2 Tbsp. harissa paste or to taste
1 Tbsp. chili powder
2 Tbsp. sugar
1 Tbsp. honey
1/2 Tbsp. sesame oil
1 Tbsp. each sesame seeds and water
1 tsp. each rice wine vinegar, soy sauce (gluten free if needed), and minced jarred ginger
1/2 tsp. minced jarred garlic
Instructions
Preheat oven to 450F. Line a large rimmed baking sheet with foil and spray with cooking spray. Lay the wings out on the baking sheet. Drizzle with the canola oil and season with salt and pepper and toss. Roast the wings for 45 min. or until cooked and crisp. Turn half way through cooking time to cook evenly.
In a large bowl add the remaining ingredients and mix together well. Taste and adjust the heat with more sugar or honey if you like.
Once the wings are done toss them in the sauce and serve.
Tips: Make the sauce ahead of time and refrigerate over night. Bring up to room temperature before tossing with the wings. Serve with your favorite beer to offset the heat!
Recommended Products
As an Amazon Associate and member of other affiliate programs, I earn from qualifying purchases.
Nutrition Information:
Yield: 30
Serving Size: 1
Amount Per Serving:
Calories: 253
Total Fat: 17g
Saturated Fat: 5g
Trans Fat: 0g
Unsaturated Fat: 12g
Cholesterol: 128mg
Sodium: 135mg
Carbohydrates: 2g
Fiber: 0g
Sugar: 1g
Protein: 22g