This post was brought to you by the makers of French's Dijon Mustard. I received compensation to write this post through the French's Easter Program … all opinions expressed are my own.
Easter is just around the corner and spring has sprung as of yesterday. Our thoughts then turn to spring recipes, asparagus, lemon, ham, and of course lamb are all thought of as spring ingredients. I wanted to change a traditional lamb dish from the usual rosemary and garlic to a whole new level of taste. Mustard Harissa Lambsicles have a big punch of delicious flavor, not only from all the chiles but from scrumptious French's Dijon Mustard. The lamb makes an amazing appetizer or a main course. Can you imagine greeting your company with a tray of these gorgeous Lambsicles to start off an Easter meal? They would go crazy for them!!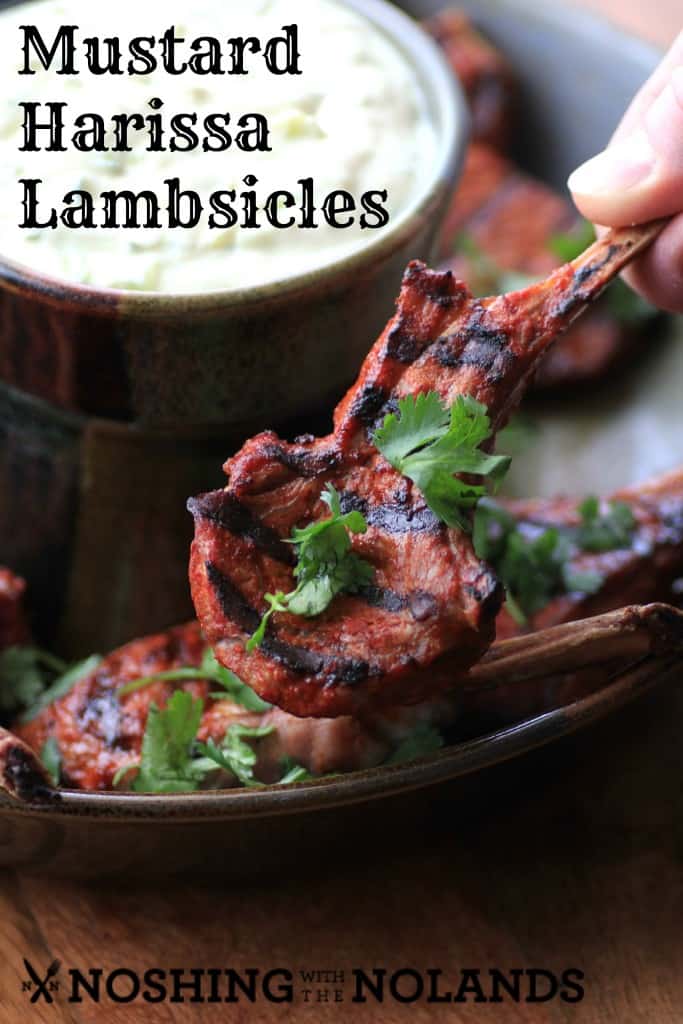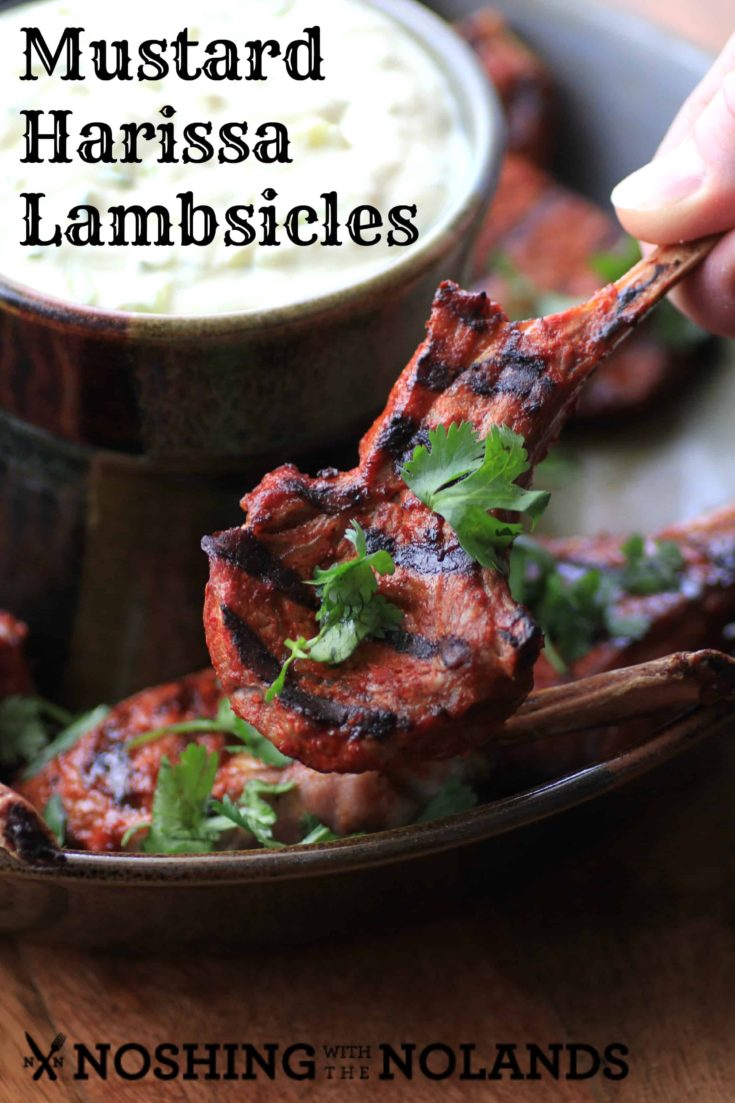 Harissa is actually very easy to make, it just takes some time but it can be made ahead of time and used for so many dishes or as the most fantastic of condiments. I added mustard not only to the harissa but also to a lively dipping sauce. The lamb and the sauce were out of this world together. Let's first talk about the mustard harissa though.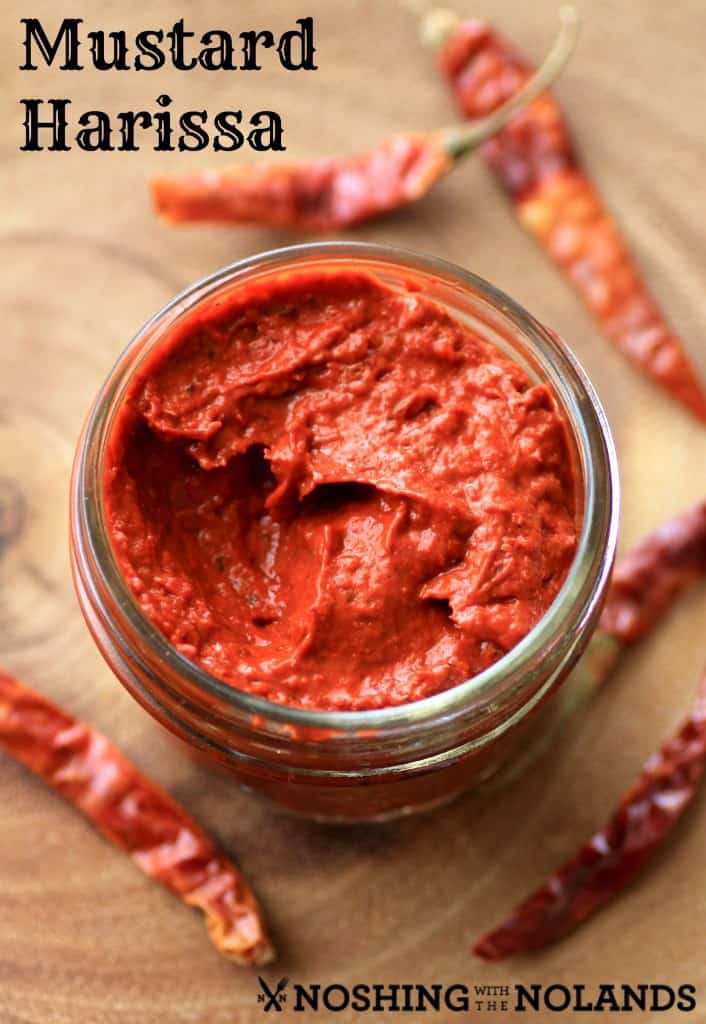 The color alone gets me excited, never mind the flavor. You can make this as spicy as you like by just leaving in some of the seeds and veins from the chilies or by using hotter chilies. We made a very mild version. The Kitchn has a great write up about harissa. This is where we followed along to make ours. Adding in French's Dijon Mustard puts in the perfect added dimension.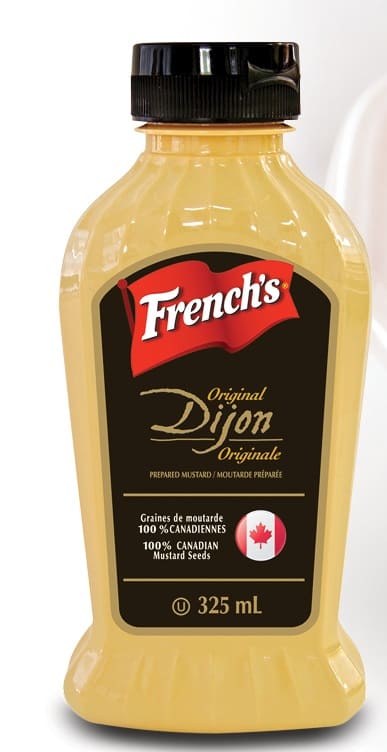 French's Dijon Mustard is the quintessential condiment to go with all your Easter meals. It sure worked wonderfully in the recipes I am showing you today!! French's has been producing mustard for well over 100 years. They sure have got it right! It is also made with 100% Canadian mustard seeds, special seasonings and white wine. I adore a great Dijon mustard with so many dishes. We are always using Dijon mustard in this household, just straight onto a sandwich, mixed up in a sauce or dip. We go through a lot of Dijon which I would say is our favorite mustard we have.
There is nothing like a gorgeous Dijon mustard glazed ham for the Easter or try it on pork tenderloin, chicken breasts and more. French's Dijon mustard with it's robust, peppery flavor gives a little extra kick and adds variety to your favorite Easter dishes.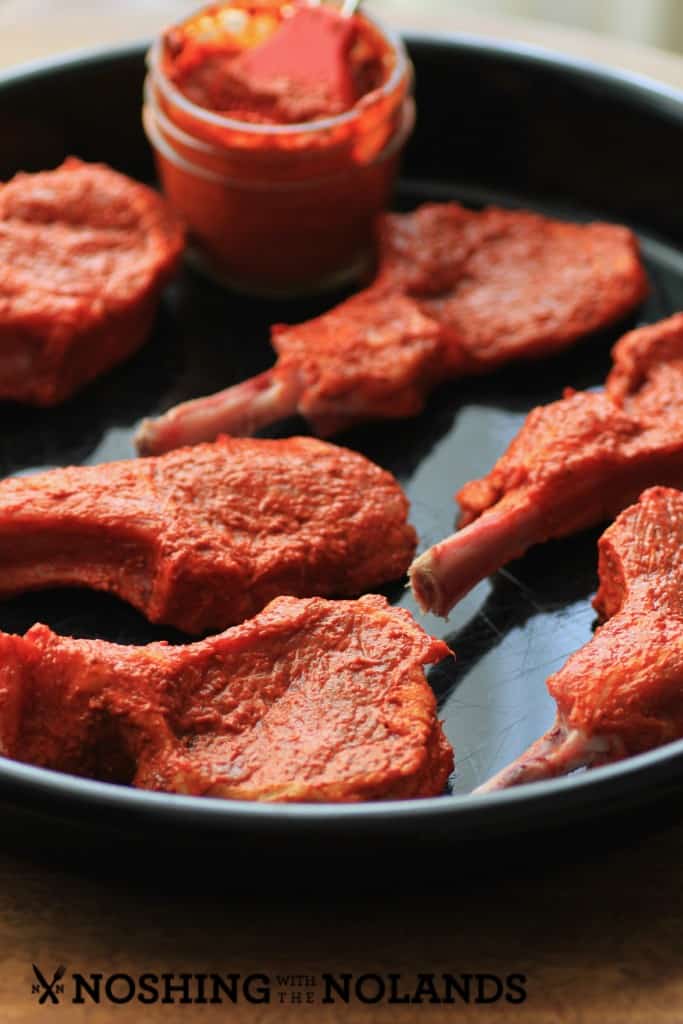 Look at those gorgeous Mustard Harissa Lambsicles, all ready for the grill. Don't be shy, paint a lot of the harissa on!!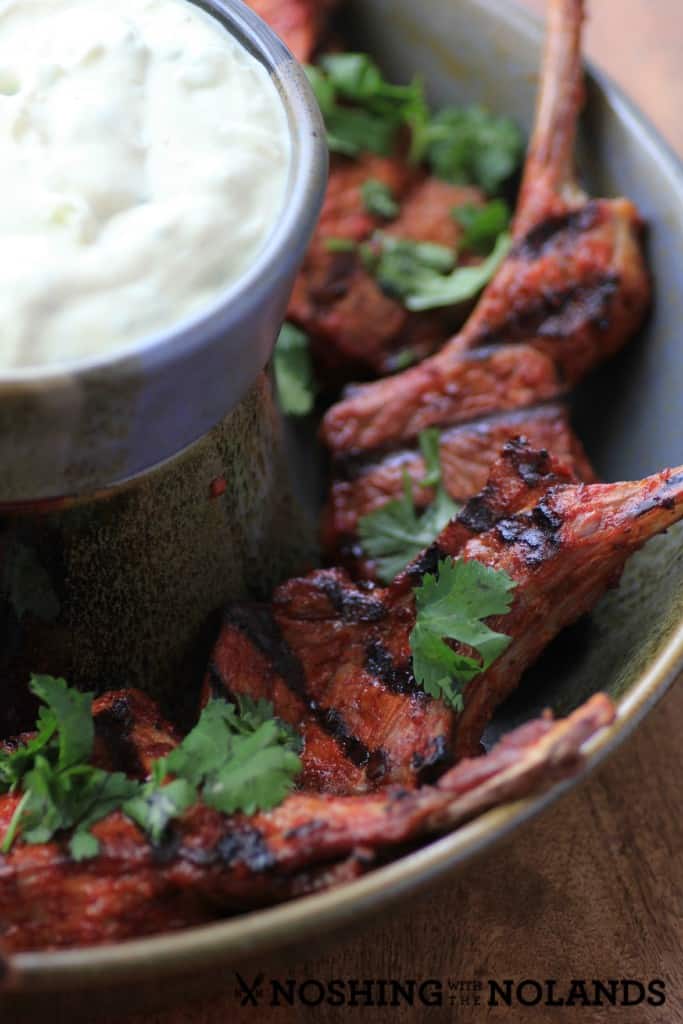 You can sneak one, I am not watching, go ahead. The harissa aids to beautiful grill marks on the lamb. So delicious looking!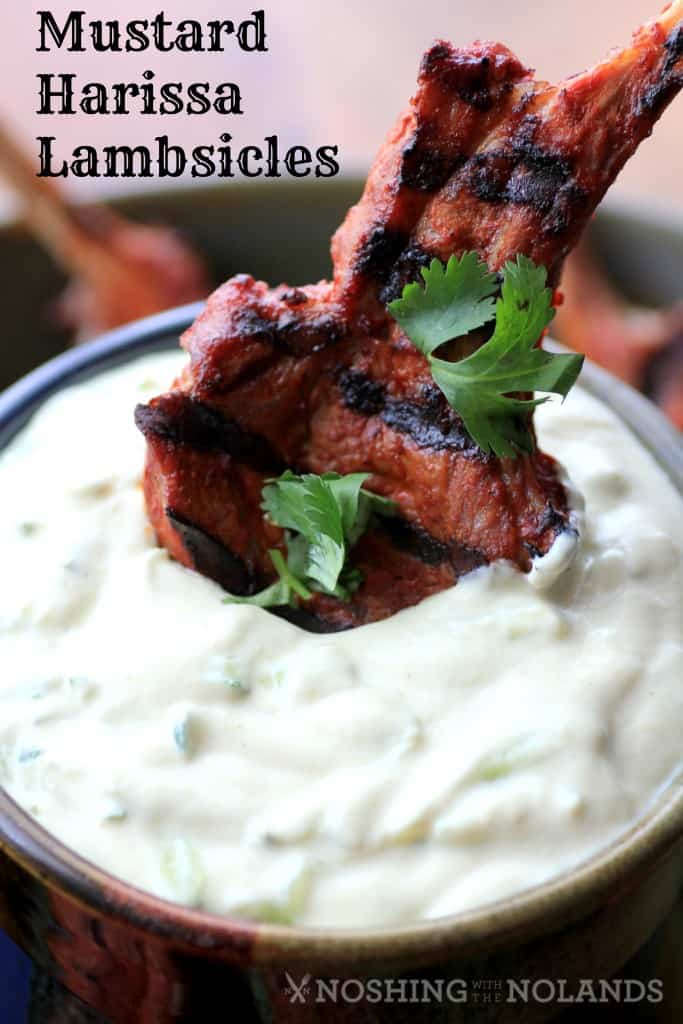 The Mustard Yogurt Dipping Sauce is cooling yet it has a lot of wonderful flavor on it's own from the French's Dijon Mustard.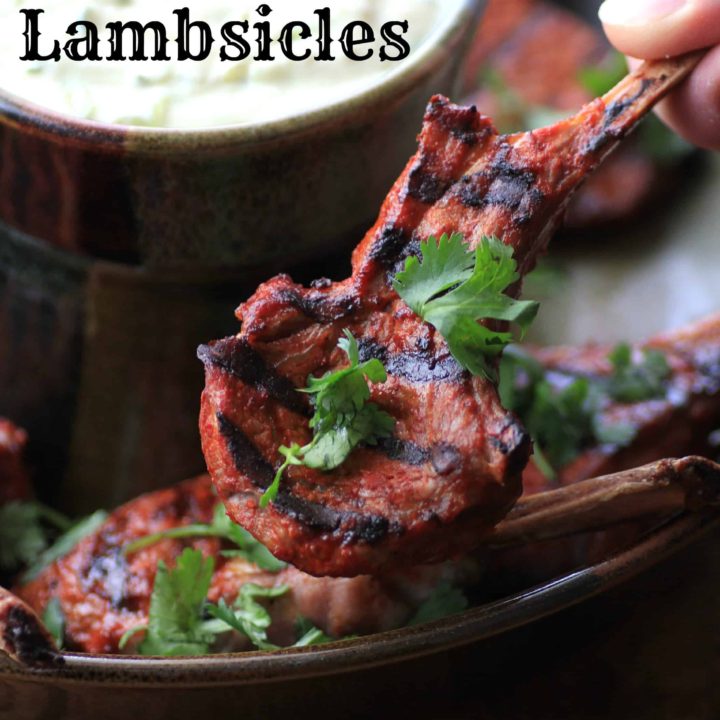 Mustard Harissa Lambsicles #FrenchsEaster
Yield: 10 lambsicles
Prep Time: 40 minutes
Cook Time: 12 minutes
Total Time: 52 minutes
A mustard harissa crusted lambsicle with a punchy mustard yogurt dipping sauce.
Ingredients
Mustard Harissa
4 oz. dried chiles, we used 2 oz. each or Guajillo and California (dried Anaheim chili) plus 2 Chipolte and 2 Arbol, with the seeds/veins removed it makes a mild harissa
1 tsp. fennel seeds
1 tsp. corriander seeds
1 tsp. cumin
1 tsp. dried mint
4 cloves garlic, peeled
2 tsp. Kosher salt, or to taste
2 Tbsp. olive oil
1 Tbsp. fresh lemon juice
1 Tbsp. French's mustard
1.5 lbs. lambsicles
Mustard Yogurt Dipping Sauce
1 cup plain yogurt
1/4 cup French's Dijon Mustard
1/3 cup grated cucumber
1-2 garlic cloves, minced
Salt and pepper to taste
Cliantro for garnish
Instructions
To make the harissa, soak the chiles in a glass or metal bowl in boiling water for 30 min.
Toast the fennel and coriander in a small dry skillet until the spices are fragrant. Grind them in a spice grinder, coffee grinder or with a mortar and pestle. Set aside.
Salt and pepper lamb and let is sit at room temperature while you make the harissa.
Drain the chiles. Stem, devein and remove the seeds. Wear gloves for this step.
Add the chiles to a food processor along with the garlic and salt and whirl to chop. Slowly drizzle in the olive oil and process to make a paste. You want to really process this so that the chilies are completely fine. Adding more ingredients and scraping down the sides also helps.
Add the fennel, corrander, cumin, mint, lemon juice and French's Dijon Mustard. Process until smooth. The flavor will deepen after a day or two. Put the harissa in a small jars and top with olive oil to store or use right away.
To make the mustard yogurt dipping sauce mix all the ingredients together and refrigerate.
When ready to serve, paint the lamb with the mustard harissa, be generous. Grill on a hot BBQ for 4-6 min. aside until desired doneness. Lamb should be served medium rare.
Place on a platter with the dipping sauce and serve.