Ube Ice Cream
Ube Ice Cream is a sweet treat that is bursting with flavor and a fun light purple color. It is a homemade dessert recipe that you just have to try.
Have you heard of Ube purple yam before? I did a whole post on What is Ube? What Can I Make With It? So the next step logically would be to show you our Ube Ice Cream recipe.
We love playing with new recipes and coming up with great treats using unusual ingredients. It brings the family together to experiment and try new things. With this ice cream, we also made the best blueberry milkshake ever!! Try also our new Homemade Fresh Peach Ice Cream, or Lemon Strawberry Cheesecake Ice Cream, both are heavenly.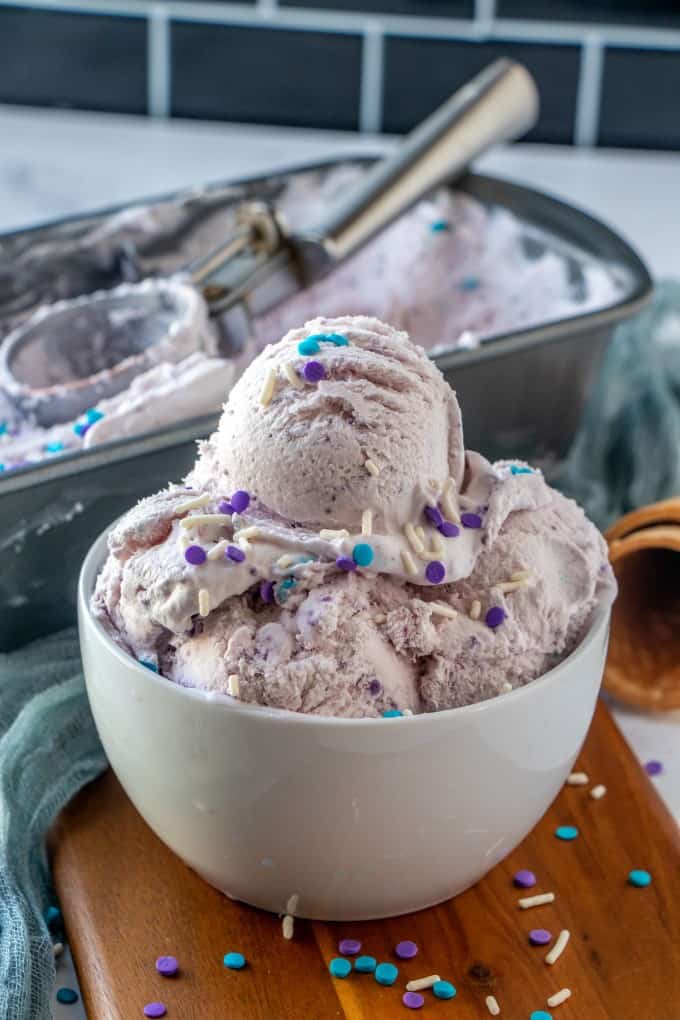 Helpful Items for This Post
This post contains affiliate links. As an Amazon Associate, I earn a small portion from qualifying purchases at no extra charge for you.
Purple Yam Flavoring Paste Extract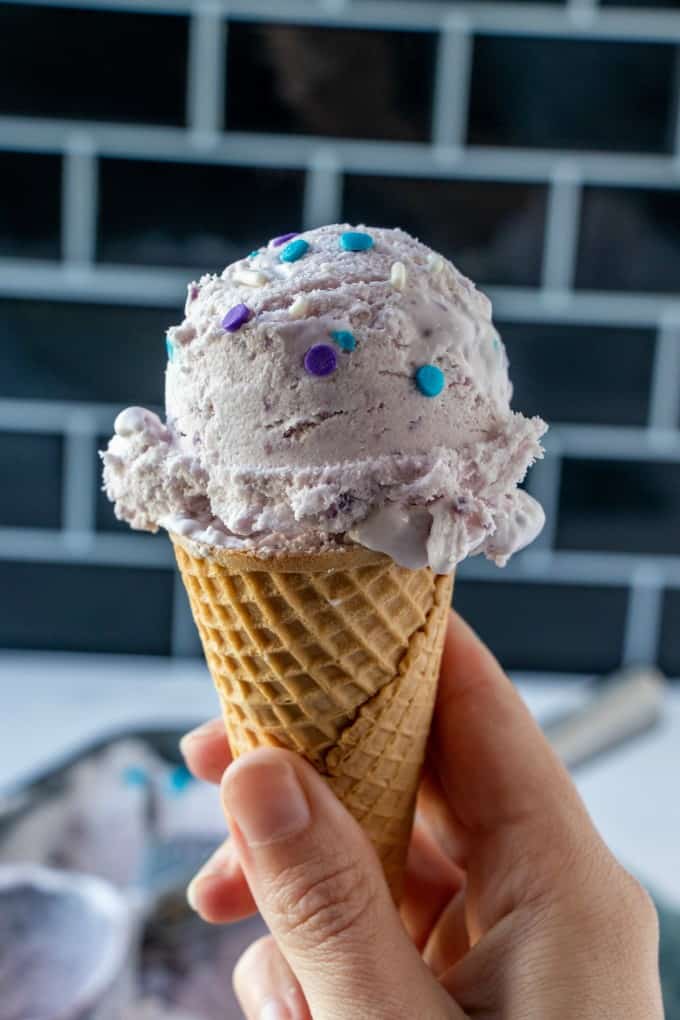 What is Ube?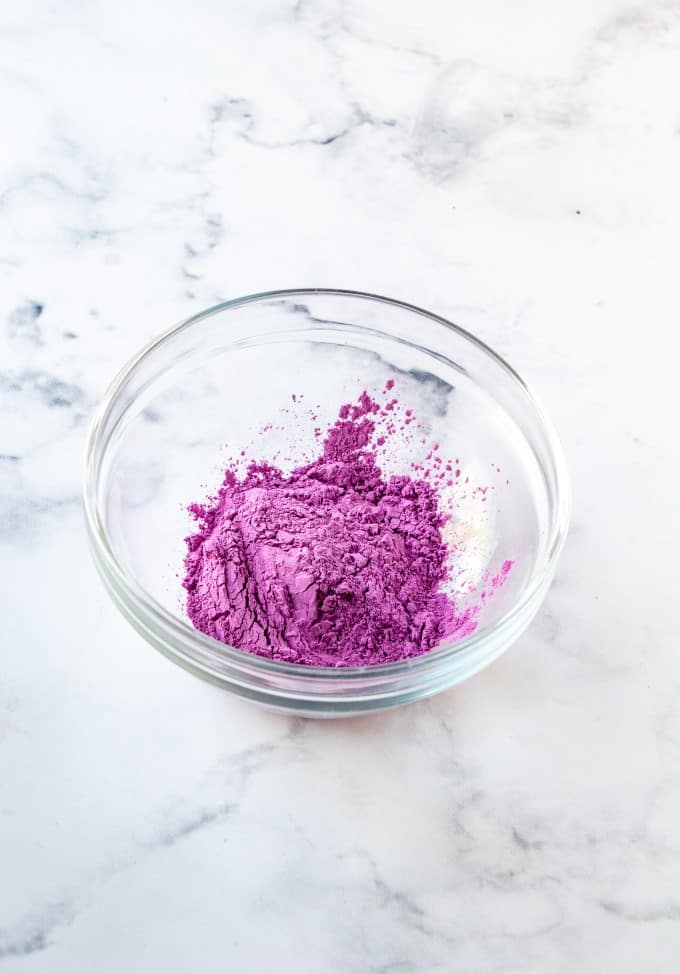 Ube is a root vegetable that is indigenous to the Philippines. However, it is hardy and can be grown in southern North America as well. The purple root has become popular for a couple of reasons.
First, more and more people are exploring their family's traditional cuisine – including those of Filipino descent. Second, the "unicorn" food craze that started a few years ago is still going strong and people like their food to have funky colors.
Here Ube is in a powder form and that is what we used for our ice cream. You can make many Ube desserts, have a look around for even more ideas.
What is Ube Ice Cream Made Of?
Our Ube Ice Cream is a no-churn ice cream that is simple to make. Because it is no-churn you don't need to use an ice cream maker to make this.
In a medium bowl add in sweetened condensed milk and whisk in 2 tsp. vanilla extract (clear if possible) and a pinch of salt. Set aside.
In a small bowl mix the Ube powder with hot water and form a paste.
Now mix this paste into the sweetened condensed milk and set aside. Whip the cream using chilled equipment on high speed until stiff peaks form. Fold in one cup of the whipped cream into the sweetened condensed milk mixture.
Lastly, fold in the rest of the whipped cream. Place the ice cream in a 9x5x3″ pan. Sprinkle on your favorite sprinkles and cover and freeze. Once frozen let sit at room temperature for a few minutes to soften.
Scoop and enjoy!! It is as easy as that to make no-churn ice cream.
What Does Ube Ice Cream Taste Like?
Because you use a smaller amount of Ube in the ice cream we make it really tastes mainly like vanilla. It makes for a good ice cream flavor and a pretty light mauve color too.
Ube is described as tasting quite similar to taro. It's not similar to much in the typical North American diet – though some people say it has a distinctly nutty flavor with hints of chestnuts.
Other fans say that the taste is earthy – almost like vanilla and pistachio mixed together. It is a very popular ingredient in Filipino cuisine.
Halo-Halo is another popular Filipino cold dessert. It is a mixture of crushed ice, evaporated milk, and other possible ingredients like Ube.
Is Ube Ice Cream Healthy?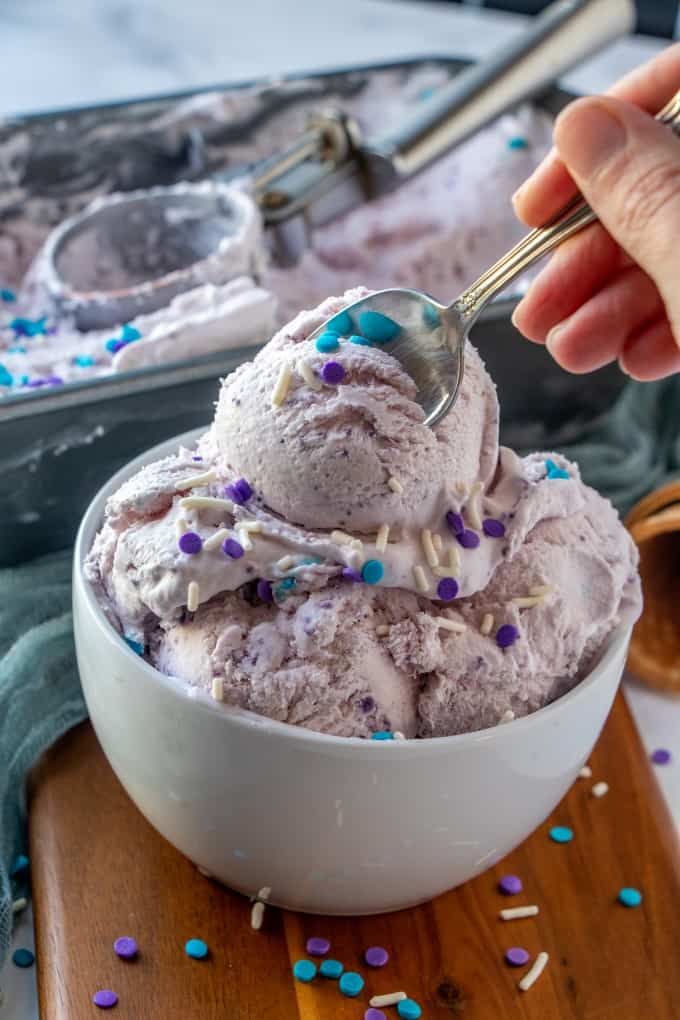 I wouldn't go all out and say Ube Ice Cream is healthy. You do have a lot of sugar and cream in this dessert but for the color and flavor, it is natural. We love using natural dyes in other recipes too like our Rainbow Easter Deviled Eggs.
Using Ube and other natural dyes are a much healthier choice than artificial dyes and flavors. Have you ever tried using natural dyes?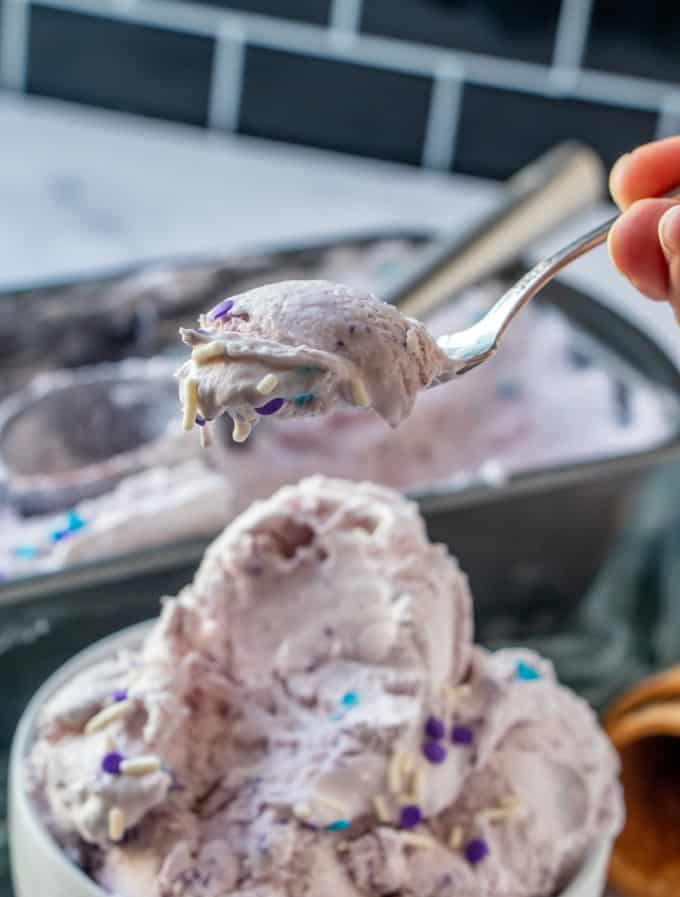 This Ube ice cream is wonderful and creamy. It is so easy to make, no heating, no churning, you can get the kids to help make this ice cream. They would love to put the sprinkles on in the end, but of course, the most fun of all is eating it!
Ice cream is a great summer treat and we have made many. One of my daughter's all-time favorites is Mint Chocolate Chip Ice Cream.
I always use fresh mint from our garden and it tastes nothing like store-bought. I have had people that hate mint ice cream become huge fans. The flavor is quite simply amazing.
Another natural ice cream is the Coconut Ice Cream we make; it is dairy-free and only has three ingredients needed. The perfect treat after an Asian meal too when some other desserts just don't seem to fit.
Ube – The Purple Yam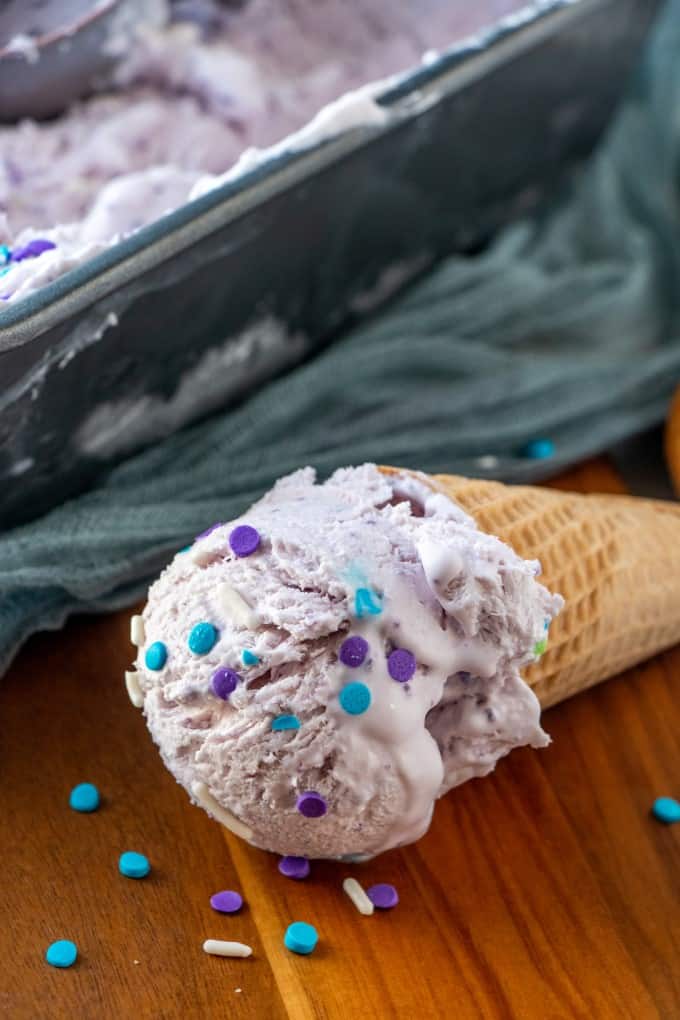 Who knew you could be making desserts from purple yam. I have also seen Ube Lattes served and they were becoming a real craze at the beginning of this year. Ube is a new and upcoming ingredient that you will be seeing more and more of.
Pin it HERE!!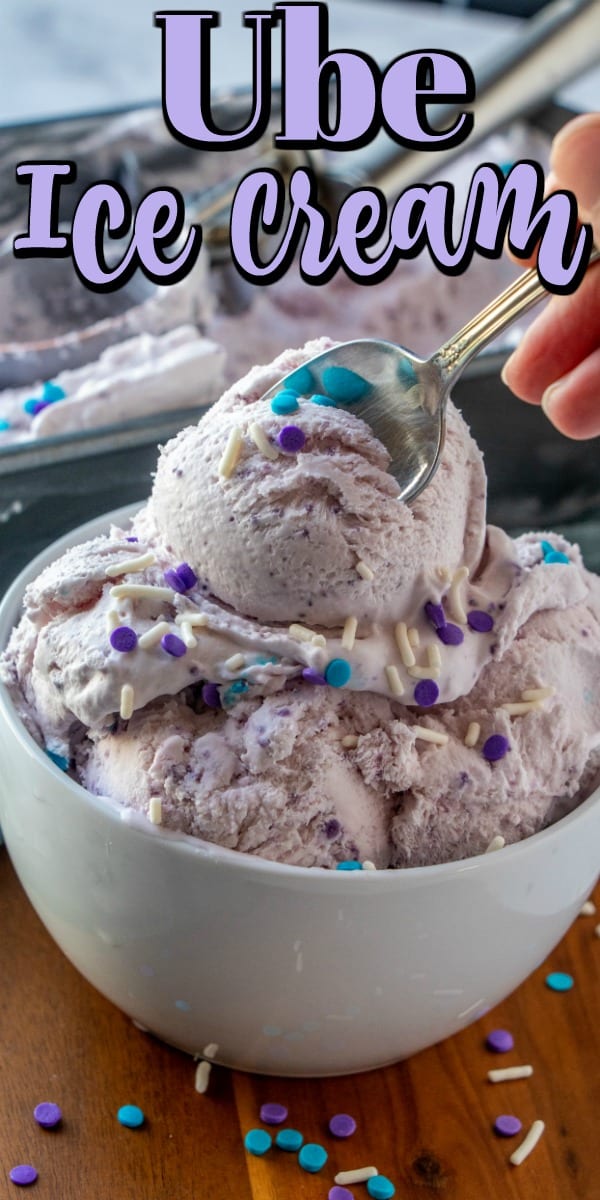 Pin it HERE!!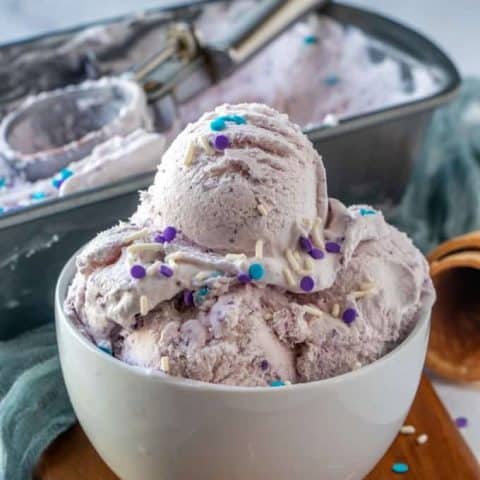 Ube Ice Cream
Yield: 12-16 servings
Prep Time: 10 minutes
Total Time: 10 minutes
Our Ube Ice Cream is a fun no-churn ice cream to make with the whole family. It has a mild vanilla-like flavor that everyone will love!!
Ingredients
10 oz. can sweetened condensed milk
2 tsp. vanilla, clear if possible
pinch of salt
1 Tbsp. Ube powder
1-2 Tbsp. hot water
3 cups heavy cream, cold
Instructions
In a medium bowl, mix the condensed milk with the vanilla and a pinch of salt and set aside.
In a small bowl make a paste with the Ube powder and hot water to form a loose paste. Mix this into the sweetened condensed milk mixture.
Whip the cream using chilled equipment (bowl and whisk in the freezer for 10 min.). Whip on high speed until stiff peaks form. Fold one cup of the whipped cream into the sweetened condensed milk. Fold in the rest until well combined.
Place the mixture into a 9x5x3" pan, cover lightly and freeze.
Let the ice cream soften before trying to scoop it.
Recommended Products
As an Amazon Associate and member of other affiliate programs, I earn from qualifying purchases.
Nutrition Information:
Yield: 16
Serving Size: 1
Amount Per Serving:
Calories: 230
Total Fat: 18g
Saturated Fat: 12g
Trans Fat: 1g
Unsaturated Fat: 5g
Cholesterol: 59mg
Sodium: 51mg
Carbohydrates: 14g
Fiber: 0g
Sugar: 14g
Protein: 3g
Recipe calculation was provided by Nutritionix and is an estimation only. If you need nutritional calculations for medical reasons, please use a source that you trust.