What is Ube? What Can I Make With It?
Have you seen the plethora of purple desserts on Instagram and Facebook of late? It seems like violet is the new hot color for desserts. I can't scroll through Instagram without seeing pictures of purple brownies, purple ice cream, purple cake, or even purple chips.
No, it's not food coloring – what all of these foods have in common is that they're made with purple yams, otherwise known as ube.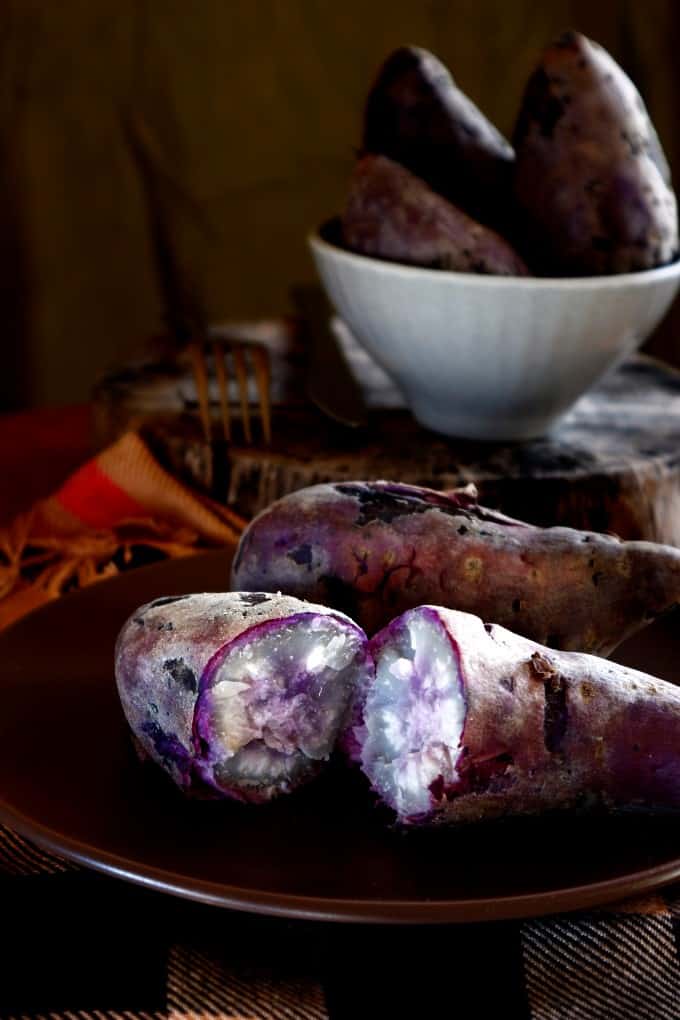 Helpful Items for This Post
This post contains affiliate links. As an Amazon Associate, I earn a small portion from qualifying purchases at no extra charge for you.
Purple Yam Flavoring Paste Extract
How to Cook Section
I love doing a How To Cook section on the site now with different and unusual vegetables. Some of my favorites have been Romanesco Broccoli, Celery Root, Chayote Squash, and in our Kitchen How To section the Pomelo.
What is Ube?
Ube is a root vegetable that is indigenous to the Philippines. However, it is hardy and can be grown in southern North America as well. The purple root has become popular for a couple of reasons.
First, more and more people are exploring their family's traditional cuisine – including those of Filipino descent. Second, the "unicorn" food craze that started a few years ago is still going strong and people like their food to have funky colors.
The bright purple hue of the sweet purple yam definitely fits the bill.
What is Ube Flavor?
Ube is described as tasting quite similar to taro. It's not similar to much in the typical North American diet – though some people say it has a distinctly nutty flavor with hints of chestnuts.
Other fans say that the taste is earthy – almost like vanilla and pistachio mixed together.
Taro is also a root vegetable indigenous to Southeast Asia – its primary use is in savory dishes. Ube, on the other hand, is most often used in sweet dishes such as dessert although you can use it in savory recipes if you wish.
Its sweeter flavor profile makes it an ideal candidate for use in desserts. How is ube pronounced? It is pronounced "ooh-beh" or "oo-bae."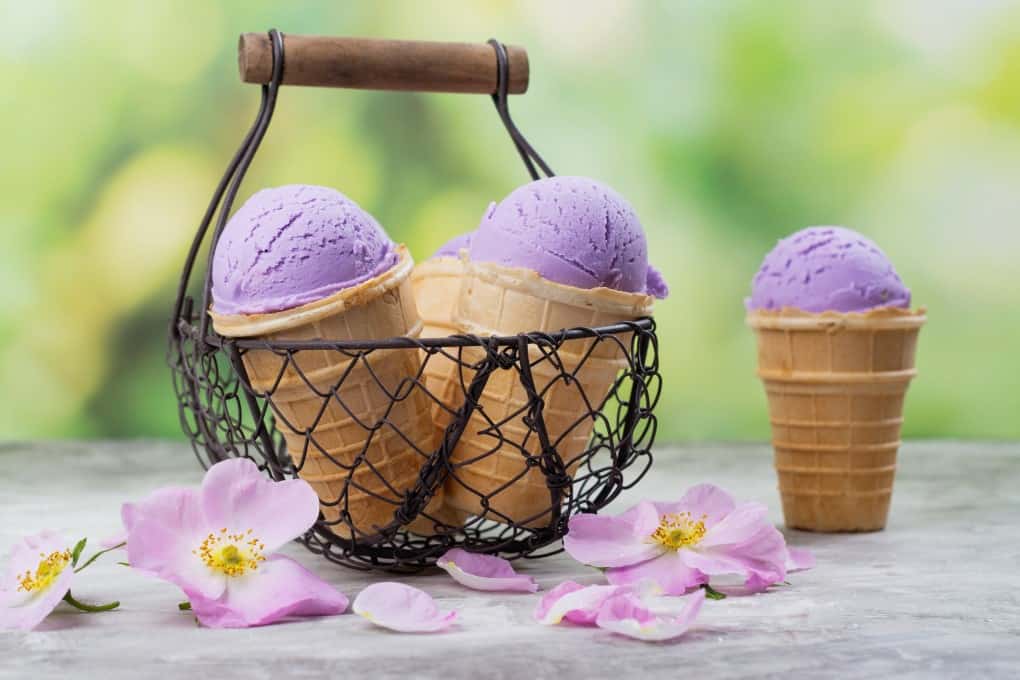 What Can You Make with This Purple Sweet Potato?
Ube is great for desserts and sweet treats – one of the favorite things to make with it is halo-halo. Halo-halo is a Filipino dessert whose name roughly translates to "mix-mix". It's a sweet flavored shaved ice sundae and it's delicious.
Therefore picture a layered dessert with shaved ice, evaporated milk (or condensed milk), ube ice cream, and assorted fruits.
Every Filipino restaurant has its own take on it but they're all delicious. If you're a fan of sweet potato pie, you should try substituting this purple sweet potato for the orange sweet potato. The purple sweet potato is even sweeter and has a smoother flavor profile – plus it will look awesome.
In traditional Filipino cuisine, it is often turned into a jam or a paste called ube halaya. Then the ube jam is put in the center of an ube donut or breads, cakes, or other pastries.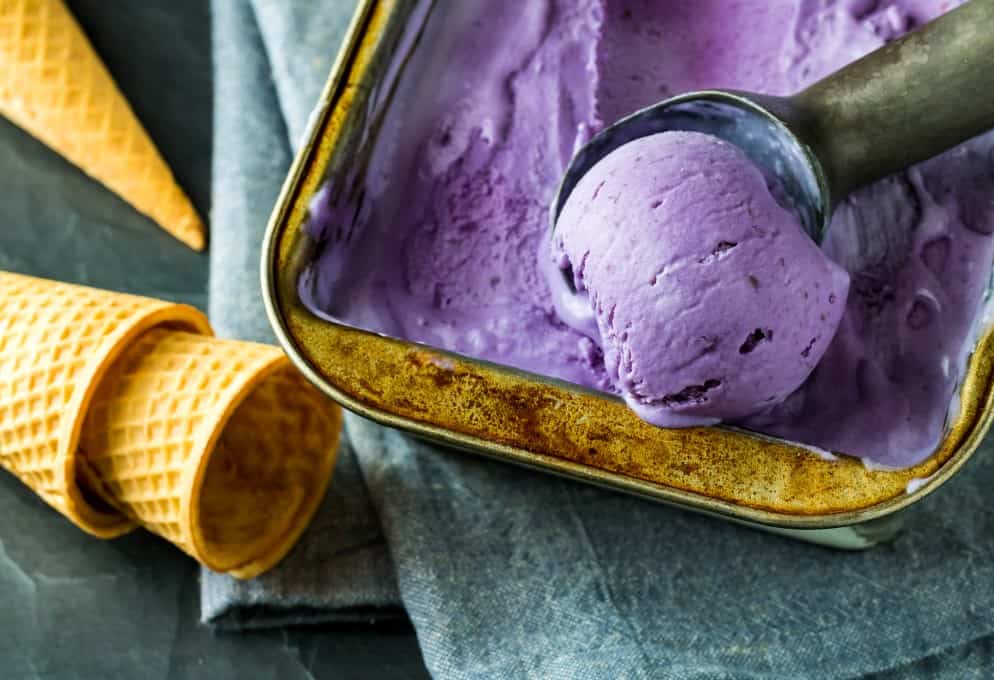 Ube doughnuts and cupcakes are also popular – at least in part because the root vegetable gives it a vibrant purple color. Ice cream is also a wonderful treat.
Due to the fact that ube flavored desserts that add in lots of sugar, it can get a bad reputation that is actually undeserved. On its own, it is fairly healthy – though like the sweet potato it is high in healthy carbohydrates.
It also has a lot of fiber, vitamins, and is very high in anti-oxidants. Like anything, it is best when eaten in moderation and as part of a balanced diet.
Have you tried ube? What's your favorite recipe to make?
Pin it HERE!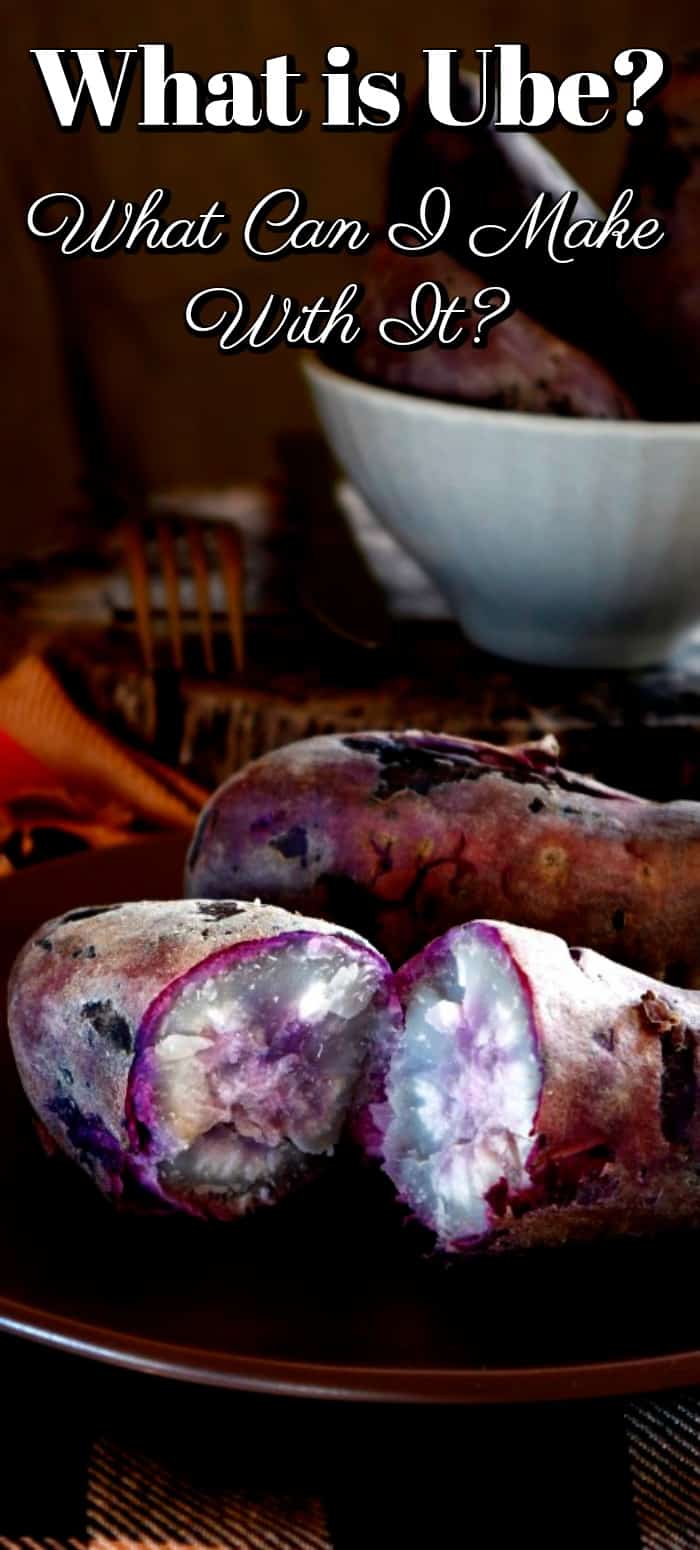 Pin it HERE!