Slow Cooker Pork Chops and Gravy
Looking for a simple slow cooker recipe? One that defines pure comfort food? Look no further. These Slow Cooker Pork Chops and Gravy are a classic American recipe. Smothered in gravy, they're tender and flavorful. The creamy, onion gravy recipe is definitely worthy of a Sunday dinner — and is sure to impress your family and friends.
Pair these delicious smothered pork chops with our Cranberry Apple Slow Cooker Carrots or Slow Cooker Creamed Corn. Mmmmm. Did I mention comfort food? Yes, please, and thank you.
Want another pork chop recipe? Try these amazing 4 Ingredient Oven Baked Pork Chops!

Helpful Items For This Recipe
This post contains affiliate links. As an Amazon Associate, I earn a small portion from qualifying purchases at no extra charge for you.
Hey friends. It's me again, Kelly from Live Laugh Rowe. Have we met? If not, I'm the creator and writer behind the blog, Live Laugh Rowe. We like to do a little bit of celebrating over there — celebrating life, creativity, and food. Feel free to swing by sometime to say hello.
Happy New Year! I'm excited to be back today sharing a fork-tender pork chop recipe with you. Prepare to leave a little hungry (wink wink).
I'd like to say I've been busy working on some delicious recipes, printables and more. However, that isn't the case. I got so sick over the holidays. This is actually the first bit of work for me in a couple of weeks. It started with the flu and ended with a terrible head cold. I'm so thankful to finally be on the mend.
I'll tell ya what, the older you get, the harder it is to jump back. One day at a time is all you can do. Right?
Easy Crock Pot Pork Chops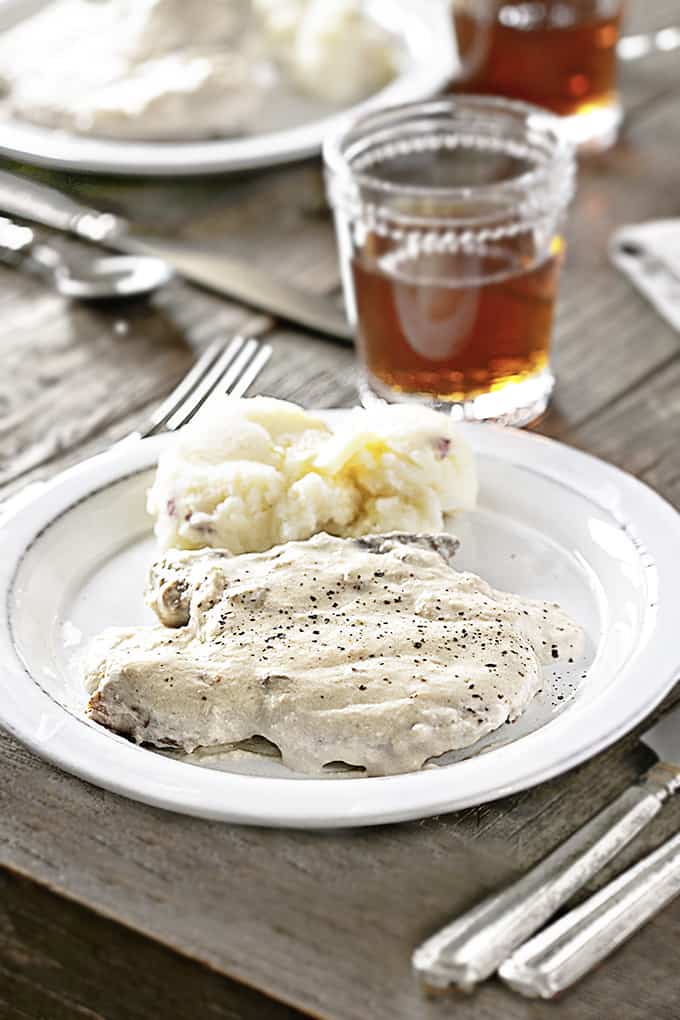 I have a very important question to ask you. What did we do before the slow cooker existed? (hee-hee). Seriously, between slow cooking and the instant pot, we really have it made now.
We can speed up a recipe or slow it down to enjoy ourselves outside the kitchen. Either way, you have a delicious meal in no time or with little effort on your behalf. It's pretty amazing.
With only seven ingredients and a slow cooker, this pork chop recipe will come together quickly — and it will not disappoint.
There is nothing homier or more comforting than pork chops and gravy. This is a time-honored recipe that has brought families together around the supper table for years and years.
Simple ingredients with excellent results every time!
Ingredients for Pork Chops and Gravy
Pork Chops
Salt and Pepper
Oil
Cream of Mushroom soup or Cream of Chicken soup
sliced onion
evaporated milk
sour cream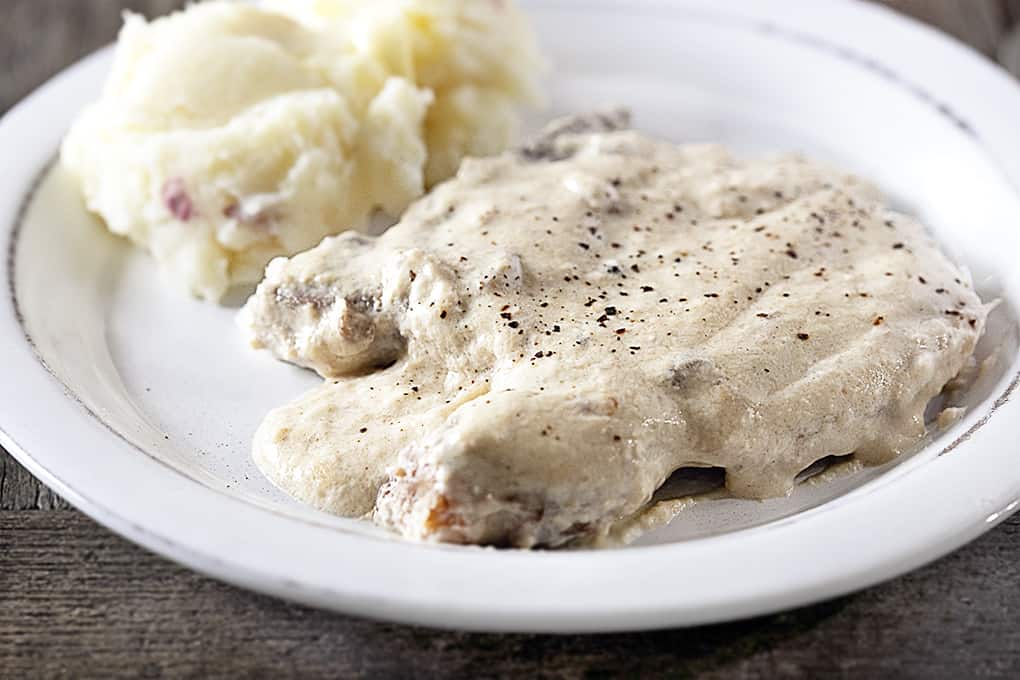 How to Make Smothered Pork Chops in a Slow Cooker
One of the benefits of a slow cooker is that you can go for a shorter cook time on high or a longer cook time on low. The minimal amount of time for this recipe is 3 hours; however, if you're headed to work — it can cook up to 8 hours.
Helpful Recipe Notes
1. Start by seasoning your pork chops with the salt and pepper. Brown each of them in the oil, drain and transfer to the slow cooker.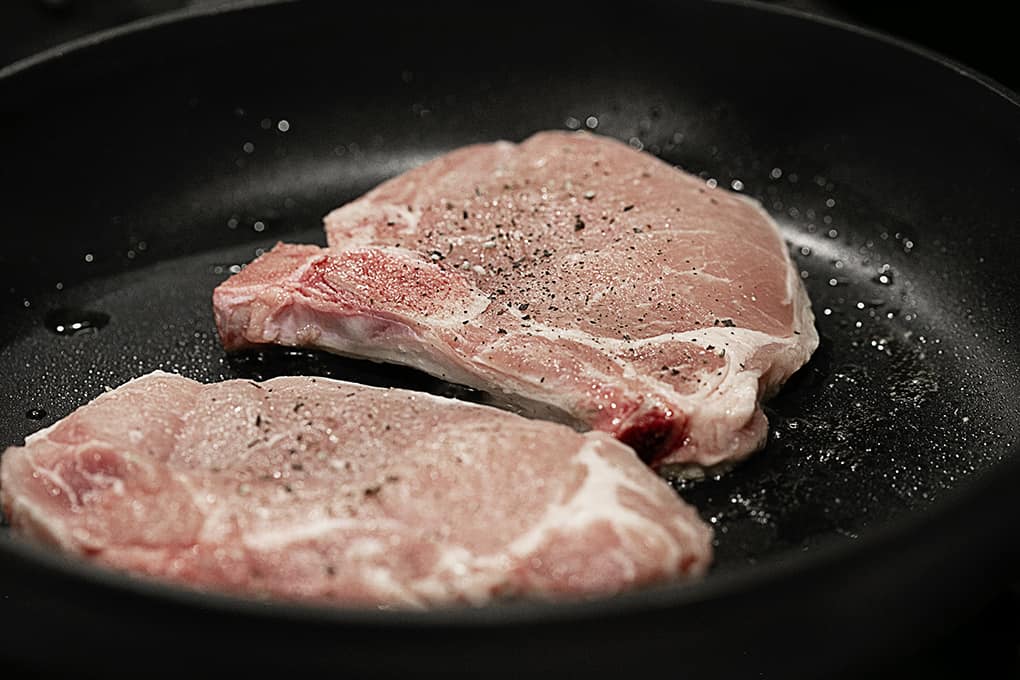 2. Grab a separate bowl and mix the cream of mushroom soup and evaporated milk until smooth. Stir in sliced onion and pour over the pork chops.
3. Cover and Cook. Stir sour cream into the mixture during the last minutes of cooking. Cooking times vary on your preference (see recipe).
4. Serve with mashed potatoes and your favorite side dish.
How Long Does it Take to Cook Pork Chops in a Slow Cooker?
Most recipes that include pork will take 3-4 hours on high or 6-8 hours on low. Most importantly, be sure the meat reaches an internal temperature of 160ºF.
Overcooking pork chops can cause them to become tough, so checking on them at the earlier time frame of the cooking window is something to consider.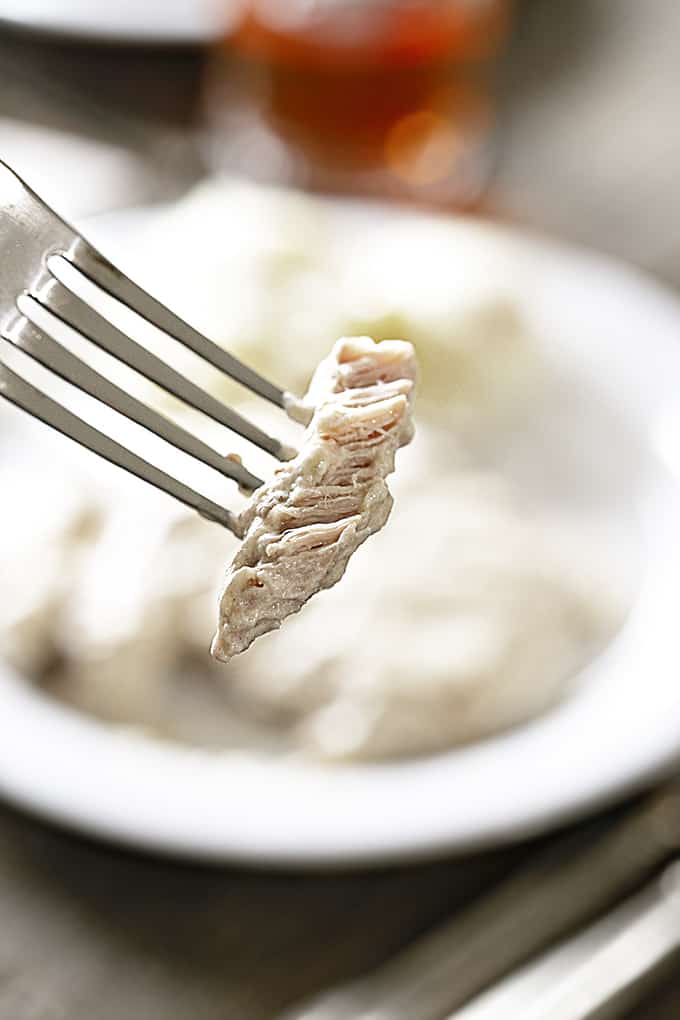 Can You Put Frozen Pork Chops in the Slow Cooker?
Cooking frozen pork chops in a slow cooker is not recommended. The meat can possibly sit at an unsafe temperature for too long, so always use thawed pork chops before cooking in a slow cooker.
So what are the best practices to thaw pork chops? Certainly, the easiest way is in the refrigerator overnight but what happens if you forgot to take them out? Your microwave can come in very handy. Set on defrost and cook and then turn at 30-second intervals.
Another method is to thaw in cold water. You need to have your pork chops in a plastic bag and submerge them in cold water. Change the water frequently to make sure it stays cold.
Never use warm or hot water as you will encourage bacteria growth at higher temperatures.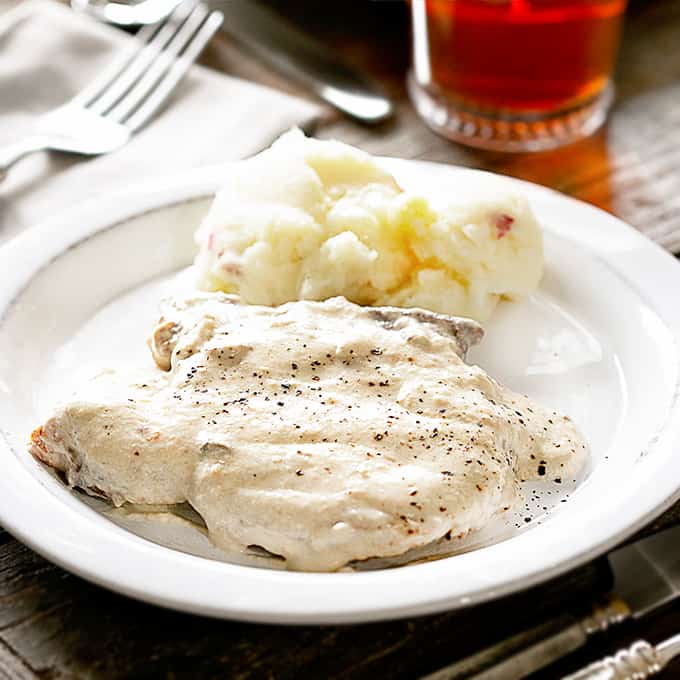 A slow cooker is an invaluable tool in our kitchens. Make sure you are pulling it out and using it as much as possible. It frees time in your day and can give you a delicious meal waiting for you when you come home!!
More Slow Cooker Recipes:
Slow Cooker Cauliflower Corn Chowder
Slow Cooker Asian Cashew Chicken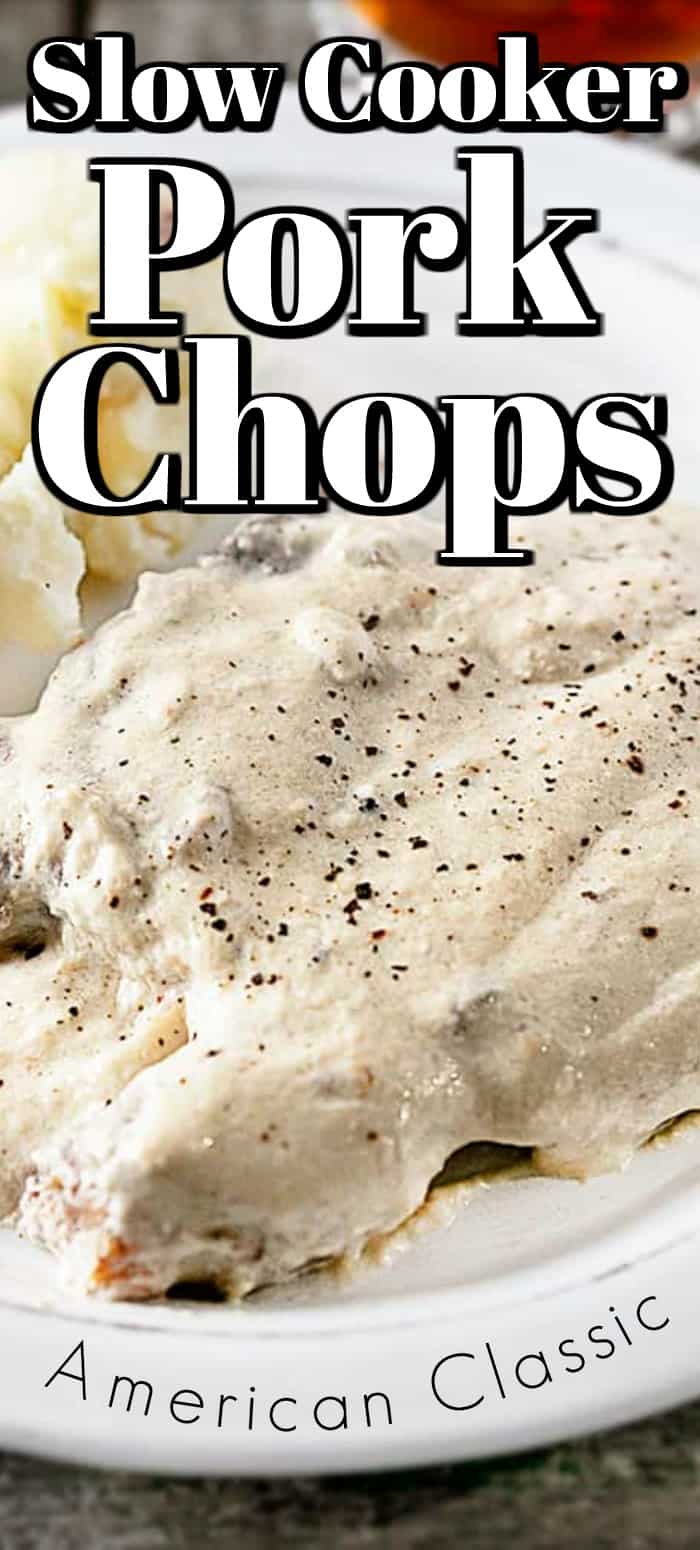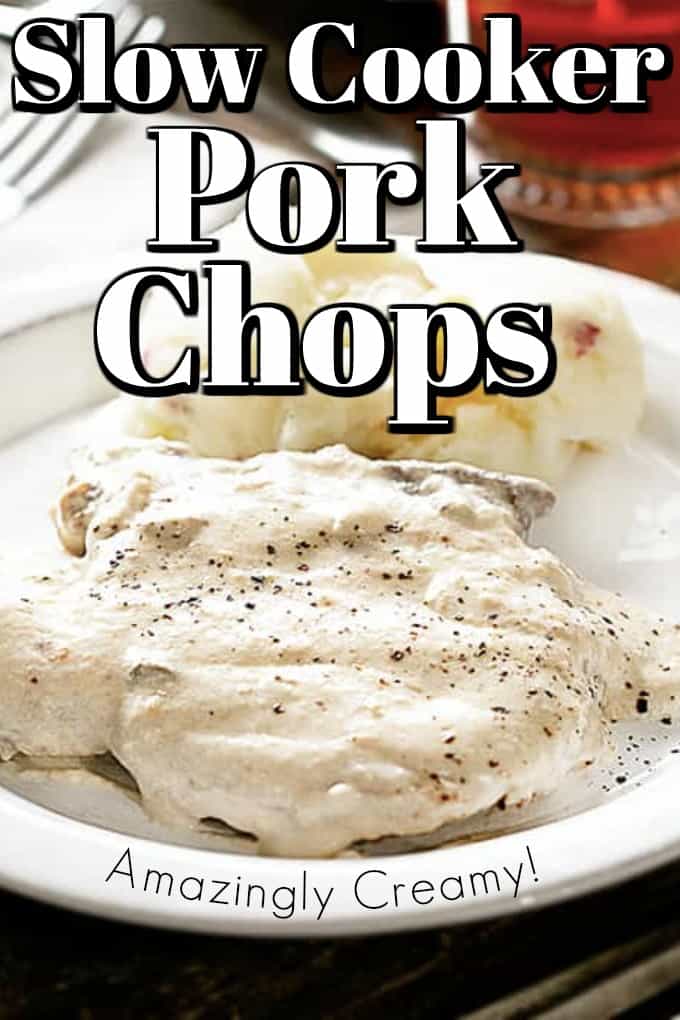 Slow Cooker Pork Chops and Gravy Recipe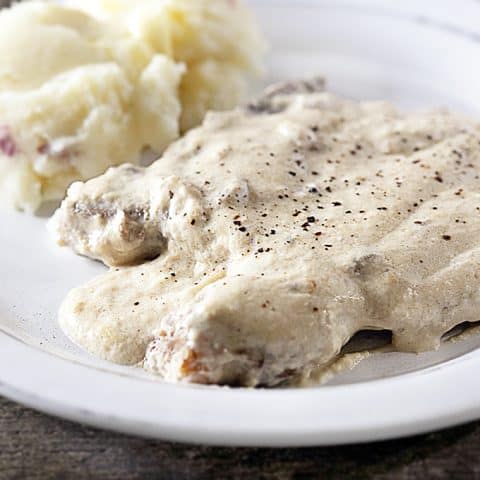 Slow Cooker Pork Chops and Gravy
Yield: 8 servings
Prep Time: 15 minutes
Cook Time: 8 hours 6 seconds
Total Time: 8 hours 15 minutes 6 seconds
These Slow Cooker Pork Chops are a classic American recipe. Smothered in gravy, they're tender and flavorful. The creamy, onion gravy recipe is definitely worthy of a Sunday dinner and is sure to impress.
Ingredients
8 pork chops
salt, to taste
pepper, to taste
2 tablespoons oil
2 10-1/2 oz. cans cream of mushroom soup
1 large onion, sliced
12 oz. can evaporated milk
1 cup sour cream
Instructions
Lightly grease crockpot before adding any ingredients.
Season pork chops with salt and pepper. Brown in oil and drain. Transfer to the slow cooker.
In a separate bowl, whisk together the cream of mushroom soup, sliced onion and evaporated milk, until smooth.
Pour over pork chops. Cover and Cook.
Cook on Low for 6-8 hours or High 3 to 4 hours.
During the last 30 minutes of cooking, stir in 1 cup of sour cream.
Serve.
Recommended Products
As an Amazon Associate and member of other affiliate programs, I earn from qualifying purchases.
Nutrition Information:
Yield: 8
Serving Size: 1
Amount Per Serving:
Calories: 493
Total Fat: 30g
Saturated Fat: 11g
Trans Fat: 0g
Unsaturated Fat: 15g
Cholesterol: 163mg
Sodium: 268mg
Carbohydrates: 8g
Fiber: 0g
Sugar: 7g
Protein: 44g
Recipe calculation was provided by Nutritionix and is an estimation only. If you need nutritional calculations for medical reasons, please use a source that you trust.