Wheat Berry Salad with Cranberries, Pecans and Goat Cheese
Disclosure: I was compensated for this post. All opinions and experiences are my own.


Wheat is used in many forms and I loved working with the little wheat berry for this recipe. Wheat Berry Salad with Cranberries, Pecans and Goat Cheese is not only super healthy but deliciously addictive too! You will want to dive into more and more of this salad.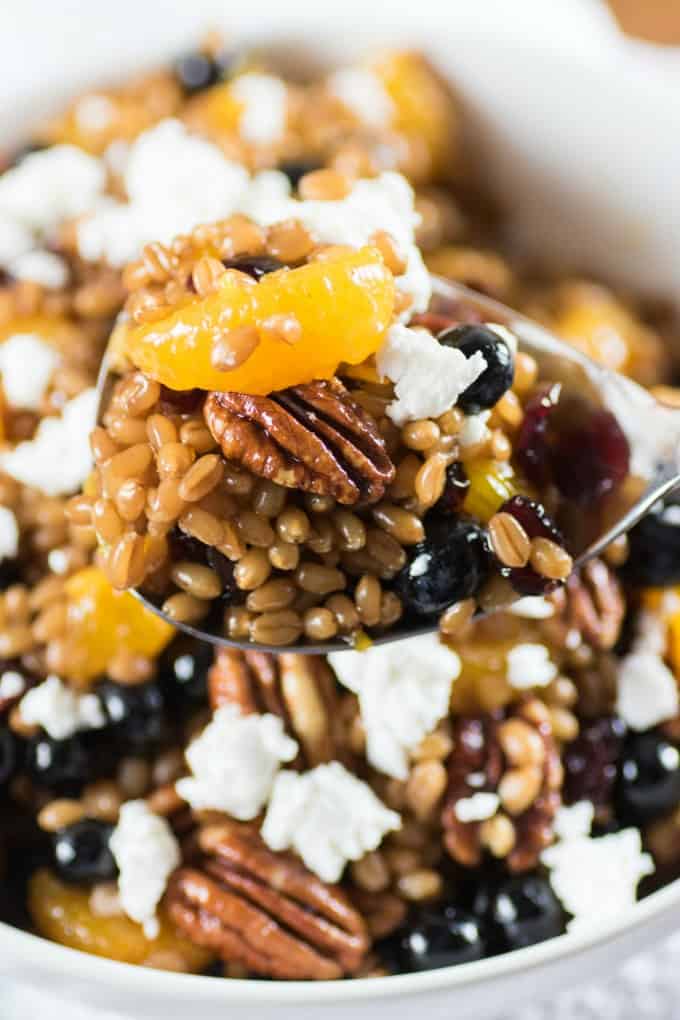 Not only are there wheat berries, cranberries, pecans and goat cheese in this salad but I also added in blueberries and mandarin oranges for color, flavor and another punch of healthy ingredients.
Are you familiar with wheat berries? They are essentially the whole kernel of the wheat plant minus the hull or husk. If wheat berries are ground you have whole wheat flour, Life's Simple Ingredient. 
Wheat Berries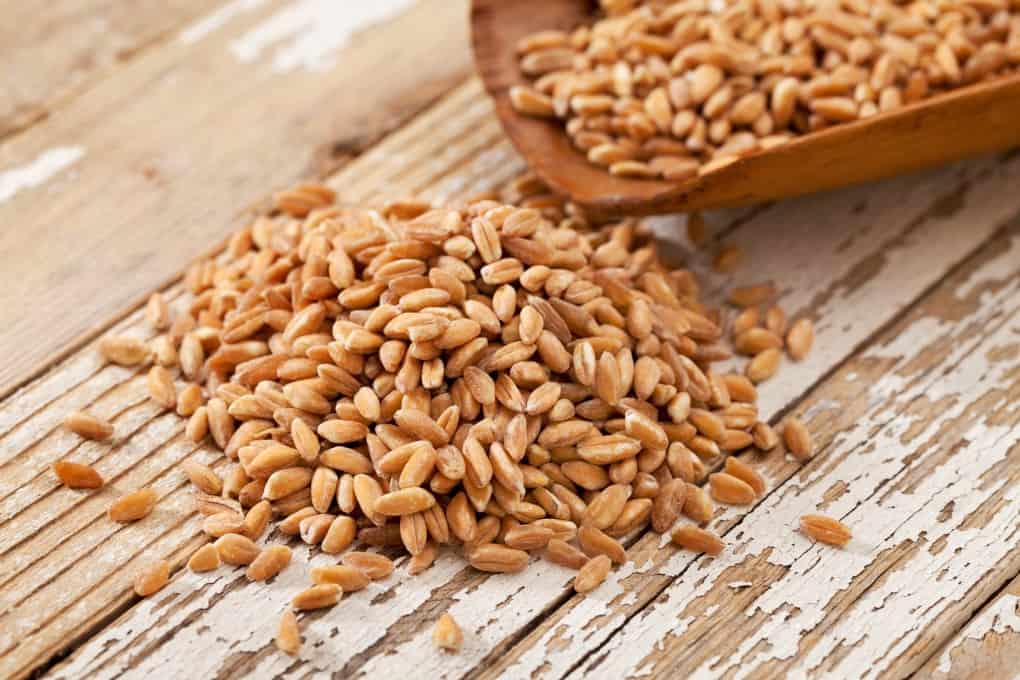 The little wheat berry has only 300 calories per cup when they are cooked and is packed with fiber, protein and iron. These super tasty sprouts are loaded with vitamin E, which is a cell-protecting antioxidant. Plus, a good source of magnesium. Both of these are excellent for healthy bones and muscles.
Wheat berries are also known as hard red wheat grain kernels or variations of that.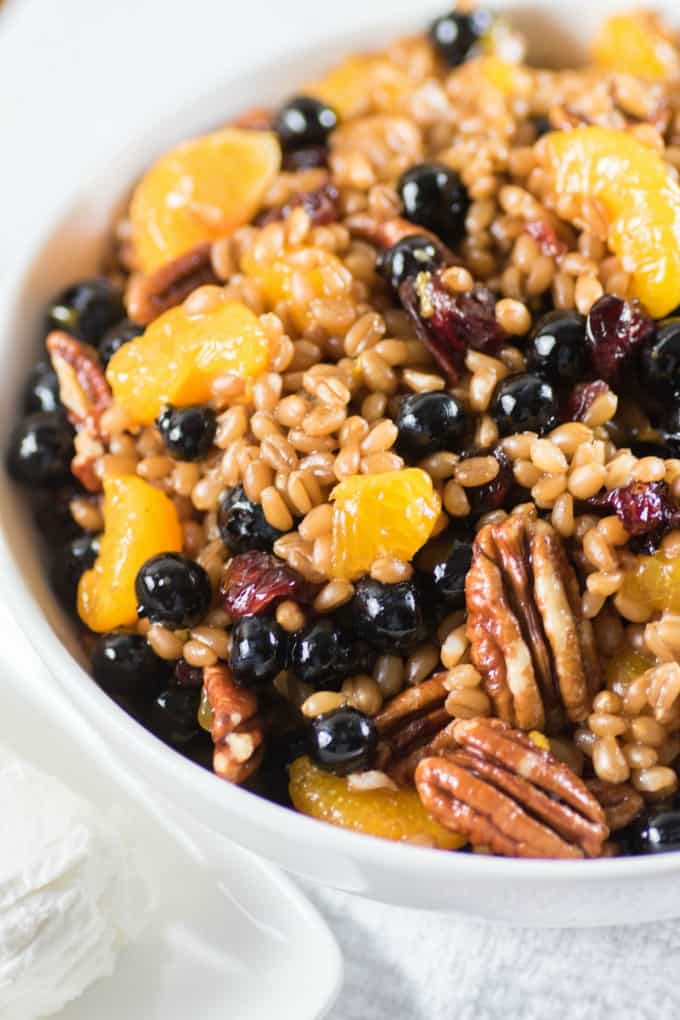 These little wheat berries are used a lot in European cooking. They have them as a side dish instead of rice or corn. The side dish is called ebly and even is served in an upscale McDonald's in Switzerland. 
You can enjoy this salad with or without the goat cheese. I liked adding it in at the end as it added a little creaminess and tang to the recipe.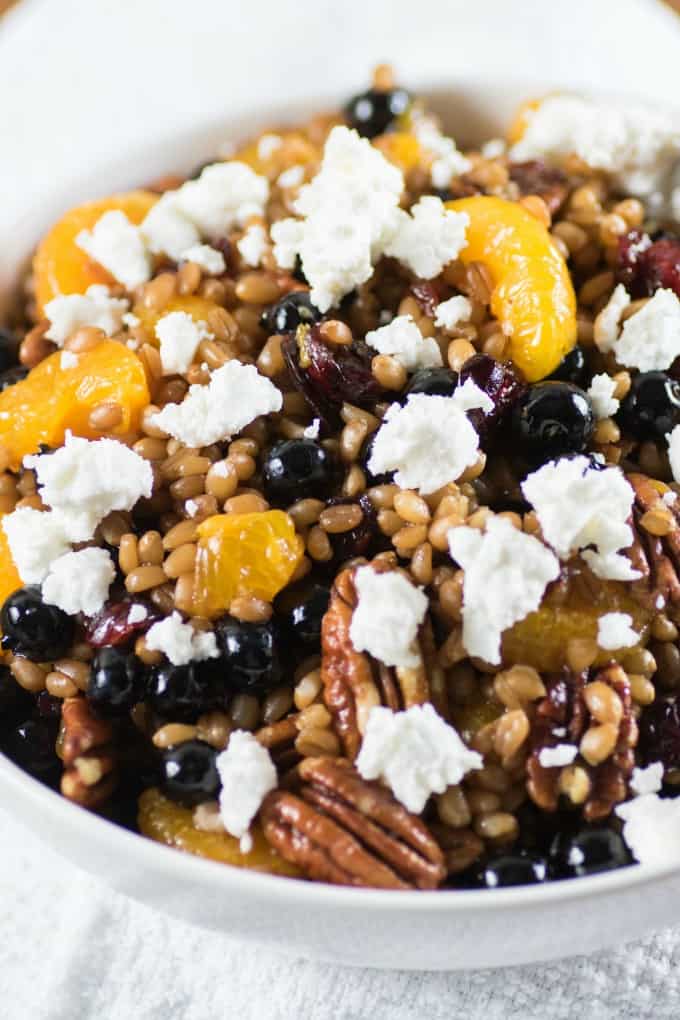 Where can you find wheat berries? We found them in our local health food store in the bulk section. Life's Simple Ingredient has so much potential for enjoying salads like this all summer long or all year round.
This gorgeous salad would work beautifully not only for any BBQ dinner but would carry right through to the fall with a pork roast, chicken or turkey. Serving this up on a Thanksgiving or Christmas table will obtain you rave reviews!!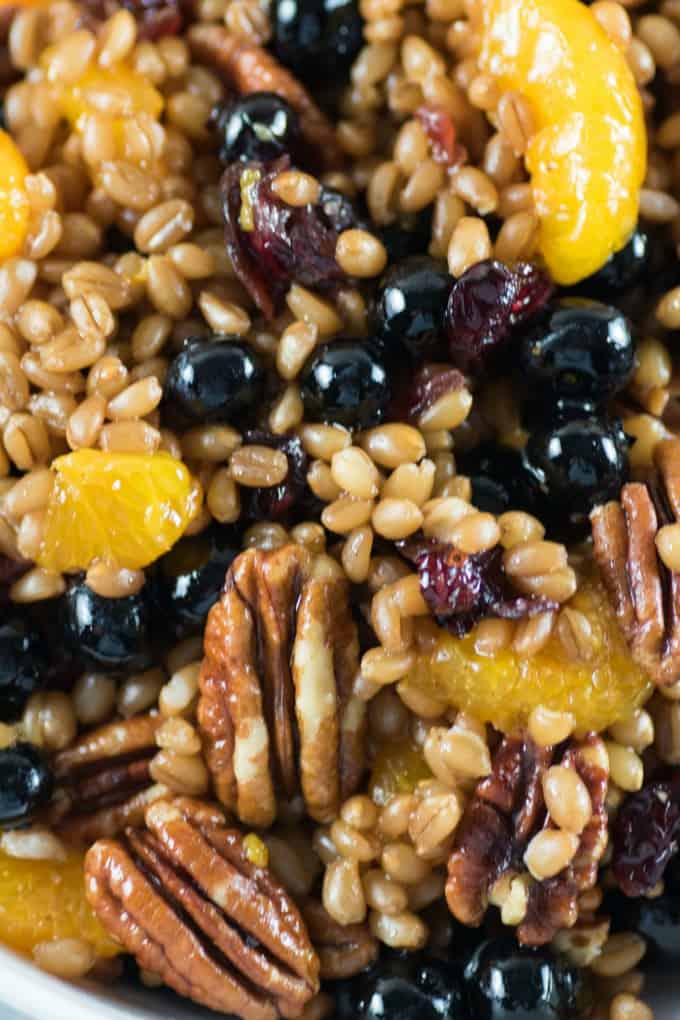 I loved the crunchy texture of the wheat berries with the chewy cranberries and the burst from the blueberries and mandarins. The toasted pecans and tangy goat cheese add on even more inviting elements to this salad.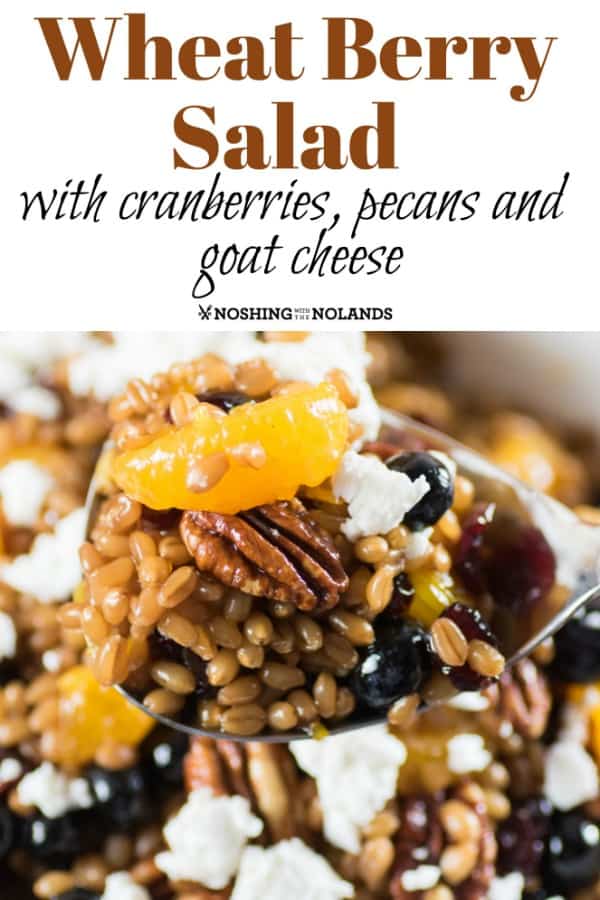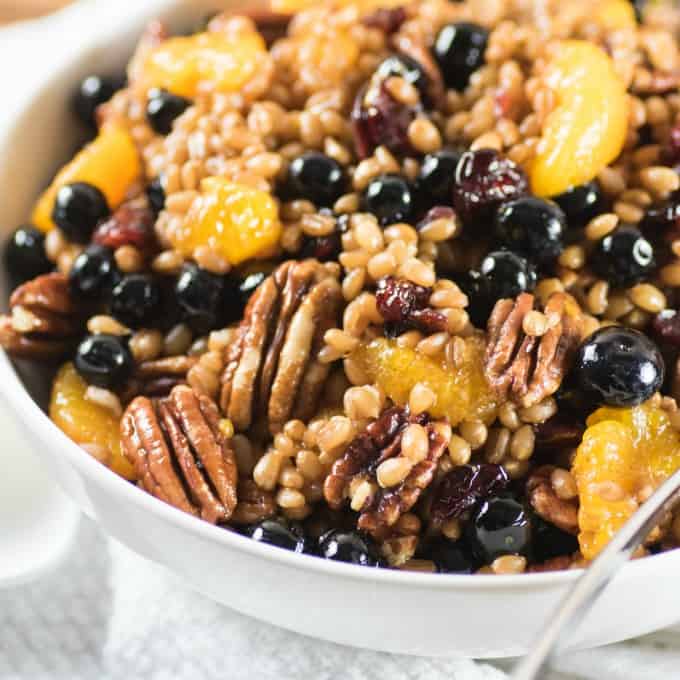 Omitting the goat cheese will give you a gorgeous vegan alternative too! This salad has many many pluses to it!
The Recipe 
Wheat Berry Salad with Cranberries, Pecans and Goat Cheese
This Wheat Berry Salad with Cranberries, Pecans and Goat Cheese also has blueberries and mandarins. The healthy wheat berry adds a wonderful crunchy texture to this salad that is great with a BBQ but can be carried right through to Thanksgiving and Christmas.
Ingredients
2 cups wheat berries
7 cups cold water
1 tsp. salt
⅓ cup orange juice
½ cup dried cranberries
100 gms (3.5 oz.) pecan halves
1 clam shell 170 gm (6 oz) of blueberries
1 can (284 ml. or 9.6 oz) mandarin, drained
3 Tbsp. white vinegar
3 Tbsp. extra-virgin olive oil
Salt and pepper to taste
Goat cheese, crumbled for garnish
Instructions
Rinse wheat berries well and pick through for any stones or unedibles. Fill a large pot with 7 cups of cold water. Add the wheat berries and salt. Bring to a boil and reduce to a simmer for 60 min. Drain and let cool completely.
Meanwhile toast the pecan halves in a 325F oven for about 5 min. or until fragrant, watching carefully.
Mix cranberries with the orange juice and let sit for 15 min.
Combine the cooled wheat berries with the pecans and blueberries.
Drain the orange juice from the cranberries but reserve the juice for the dressing.
Add the cranberries to the salad and toss well.
In a small bowl whisk together the reserved orange juice with the vinegar, olive oil and salt and pepper to taste.
Pour over the salad and add the mandarins. Toss gently.
Garnish with goat cheese if desired before serving.
To make ahead: Wheat berries can be cooked and refrigerated for up to 2 days or freeze well for a month. Make the salad just before serving for best results.
Recipe adapted from
Eating Well
.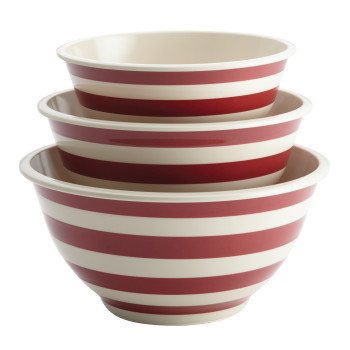 Paula Deen Pantryware Melamine Mixing Bowl Set, 3Pc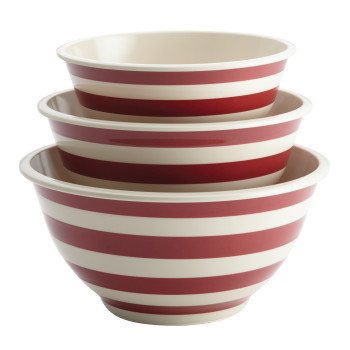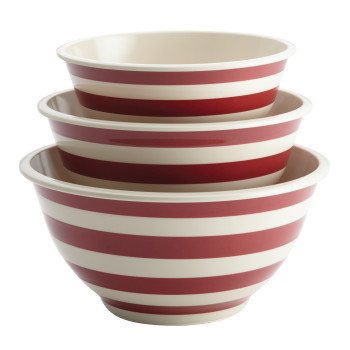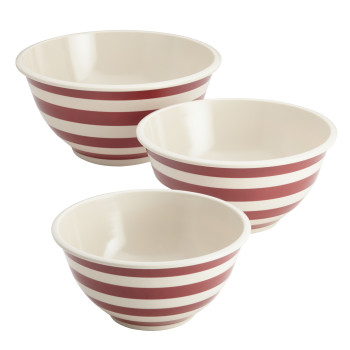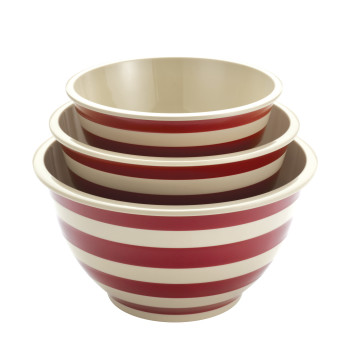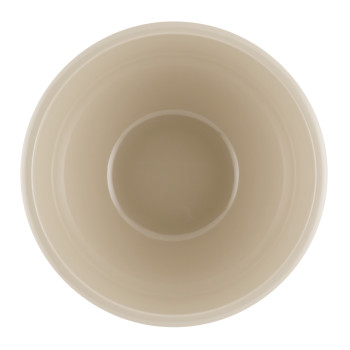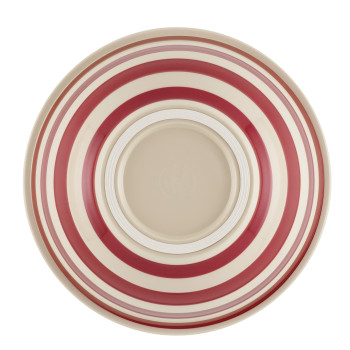 Paula Deen Pantryware Melamine Mixing Bowl Set, 3Pc
$32.99
Free Shipping on orders over $100
Mix it up in the kitchen with the joyful combo of bold color provided by the Paula Deen Pantryware 3-Piece Melamine Mixing Bowl Set.
Trust Paula Deen to give kitchen mixing and prepping that special touch of down-home style with modern convenience. This sturdy set of melamine bowls includes three small, medium and large bowls that nest for handy storage. They're perfect for mixing and blending ingredients and cooking mixtures, and even countertop display and table serving. Use the sturdy melamine bowls to beat the ingredients for The Lady's Perfect Scramble Eggs, or to hold healthy fruits and vegetables out on the counter for a healthy between-meal snack.
Paula Deen puts a contemporary twist on these kitchenware essentials with striped melamine exteriors that provide a welcome touch of color. The bowls are durable and top-rack dishwasher safe to ensure less time spent in the kitchen and more with friends and family. Rubberized base rings help assure countertop stability and placement. A generous lip around each bowl provides extra support moving the filled bowls around the kitchen.
A triple-play in the kitchen is easy, with three handy sizes and the bright kitchen color of the Paula Deen Pantryware 3-Piece Melamine Mixing Bowl Set.
Includes three essential sizes for everyday basic mixing, blending, and prepping tasks
Top-rack dishwasher safe for convenience, with rubberized bases to help secure them against slips and skids
Generous lips around the outside rim provide extra support for carrying the bowls when filled
Bowls nest for handy storage
Quality Assurance Guarantee