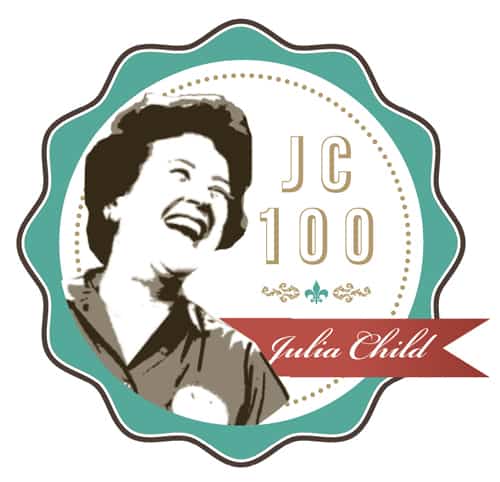 Julia Child's Celery Root Remoulade
Here we are with our second installment of this week's assignment from JC100. Today we have Julia Child's Celery Root Remoulade. I have cooked with celery root quite a few times, mainly making a salad that my mom used to make which is delicious and I will share it with you one day.
It is an ugly vegetable that I bet not many have tackled because of its appearance and not quite knowing what to do with it.
Julia writes, "Underneath the brown, wrinkled exterior of celery root there is white flesh with a bright celery flavor and crisp texture that, when finely shredded, makes a delicious slaw like salad." Julia also goes on to say that you will need a good shredding device, like a mandolin, food processor with a grater attachment of a sharp box grater.
Celery root is quite easy to work with and makes a pleasant salad that you may not have ever tried before. Julia suggests making your own homemade mayonnaise for this recipe but when using only 2 Tbsp. I was honestly not going to go there.
She did have two recipes, one with cooked egg and one using the food processor. I will try them at another time. My added extra touch was the tomato rose that she had suggested going with the salad as an optional garnish.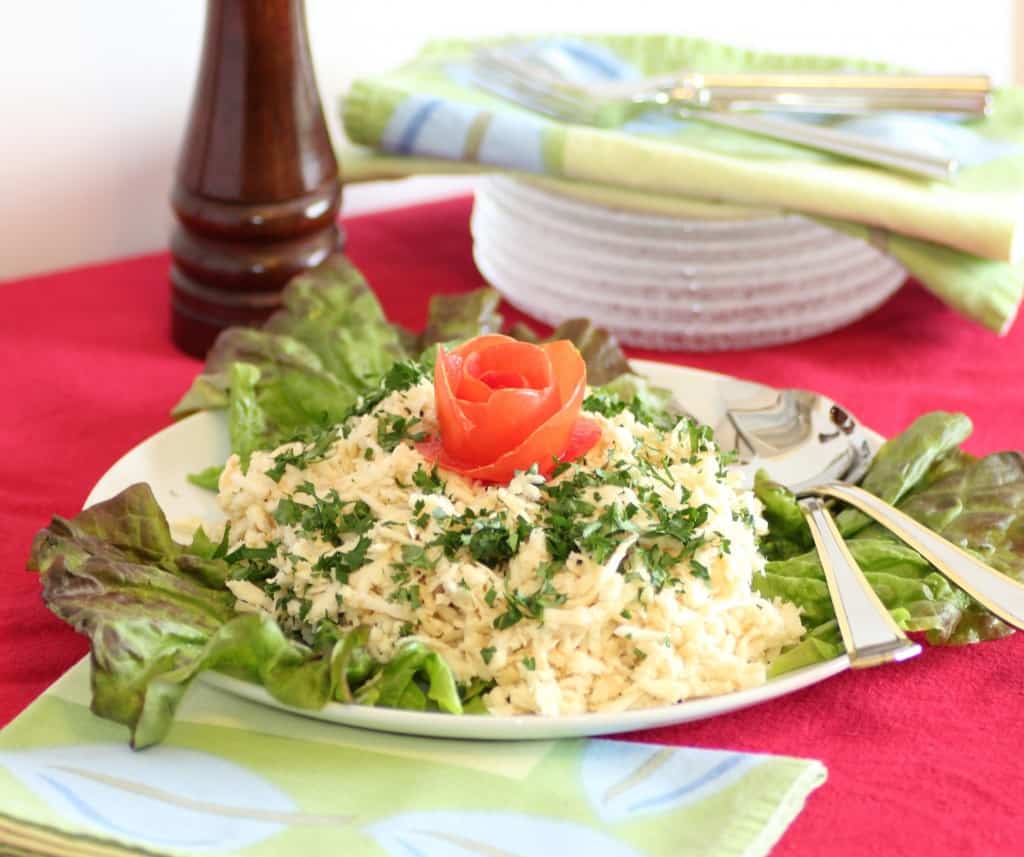 Julia Child's Celery Root Remoulade
Yield: 4 Servings
Prep Time: 15 minutes
Additional Time: 2 hours 3 seconds
Total Time: 2 hours 15 minutes 3 seconds
Julia Child's Celery Root Remoulade, Julia writes, "Underneath the brown, wrinkled exterior of celery root there is white flesh with a bright celery flavor and crisp texture.
Ingredients
1 1/4 lb. celery root
1/2 lemon for rubbing and for juice
1/2 tsp. salt
1 Tbsp. Dijon mustard
3 Tbsp. sour cream
2 Tbsp. mayonnaise, preferably homemade
1/4 tsp. freshly ground pepper
Optional garnishes
Boston lettuce leaves (I had red leaf lettuce on hand)
Chopped fresh parsley
Tomato rose (instructions to follow)
Instructions
With a sharp knife slice off the ends of the celery root and then most of the brown peel. Trim the bits of brown remaining and slice the root in half.
Remove the spongy area in the middle by cutting it out. Rub the pieces with half lemon to prevent them from browning. Cut again in half for easier grating. I used a food processor with a grater attachment.
Shred the root now in the machine. Transfer to a bowl and toss with 1 tsp. salt and juice squeezed from half the lemon. Let marinate for 30 min. but no longer than one hour.
For the dressing mix together the sour cream, mayonnaise, mustard, and pepper. You may want to loosen it up with a little more lemon juice.
Fold the dressing into the celery root. Cover with plastic wrap and refrigerate for one to two hours.
To make the tomato flower it may be helpful to watch one of many youtube instructional videos on how to make a flower but it is pretty easy. Take a small clean tomato and starting at the bottom make a large slice, now continue carefully working around the tomato turning it as you go, just like peeling an apple. Keep close to the skin not making it very thick until you come up to the stem. Slice it from the tomato and now curl the peel starting at the small core end and eventually ending with the large end and fold that onto itself. Turn the rose over and you are done.
Place the lettuce leaves on a plate and mound the salad up in the middle garnishing with the tomato rose and the chopped parsley.
Nutrition Information:
Yield: 4
Serving Size: 1
Amount Per Serving:
Calories: 178
Total Fat: 7g
Saturated Fat: 2g
Trans Fat: 0g
Unsaturated Fat: 5g
Cholesterol: 8mg
Sodium: 566mg
Carbohydrates: 21g
Fiber: 3g
Sugar: 10g
Protein: 2g
Recipe calculation was provided by Nutritionix and is estimation only. If you need nutritional calculations for medical reasons, please use a source that you trust.
Excerpted from Mastering the Art of French Cooking by Julia Child. Copyright © 1961 by Alfred A. Knopf. Reprinted with permission from the publisher Alfred A. Knopf, a division of Random House, Inc.