Roasted Potato Appetizer with Green Goddess Dip
We are lovers of little potatoes, always have a stock pile in our fridge so that I can whip up an easy side, salad, main or in this case appetizer. Little Potato Company has the ultimate in Creamer potatoes with lots of varietals to choose from. For this Roasted Potato Appetizer with Green Goddess Dip, I chose the yellow-skinned Baby Boomer. They have a gorgeous yellow-white flesh inside that melts into your mouth. A few dunks in the Green Goddess Dressing and you have an amazing appetizer.
Disclosure: I was compensated for this post. All opinions and experiences are my own.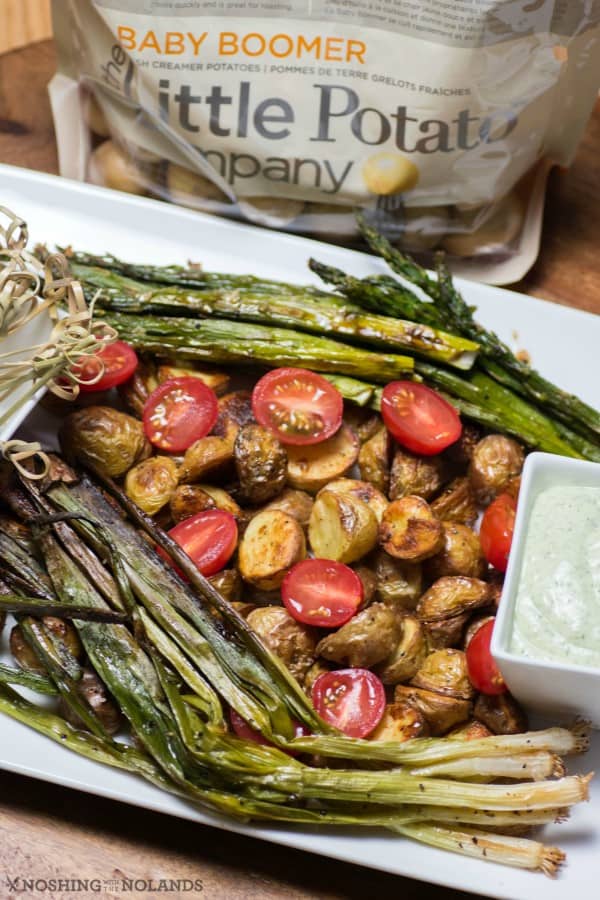 This appetizer has it all!! Wonderfully crispy roasted potatoes go gorgeously with the fresh tomatoes! The noted spring flavors of asparagus and scallions also work so well here. And then the creamy delicious green goddess dip is just waiting to be dunkened into. The scallion tops are crunchy crisp and scrumptious. I have never tried those before but will be making again for sure.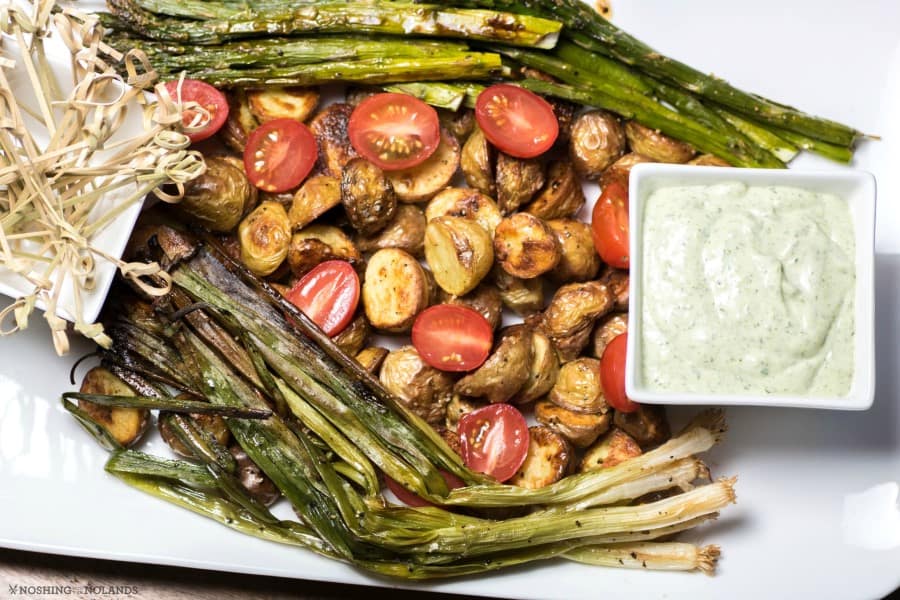 While the little potatoes had a quick toss in olive oil, I decided to use avocado oil for the asparagus and scallions just to change things up a bit. I pulled these out of the oven at the same time and plated. We had to stop ourselves from eating it all before photos were taken. Truly it is that good!!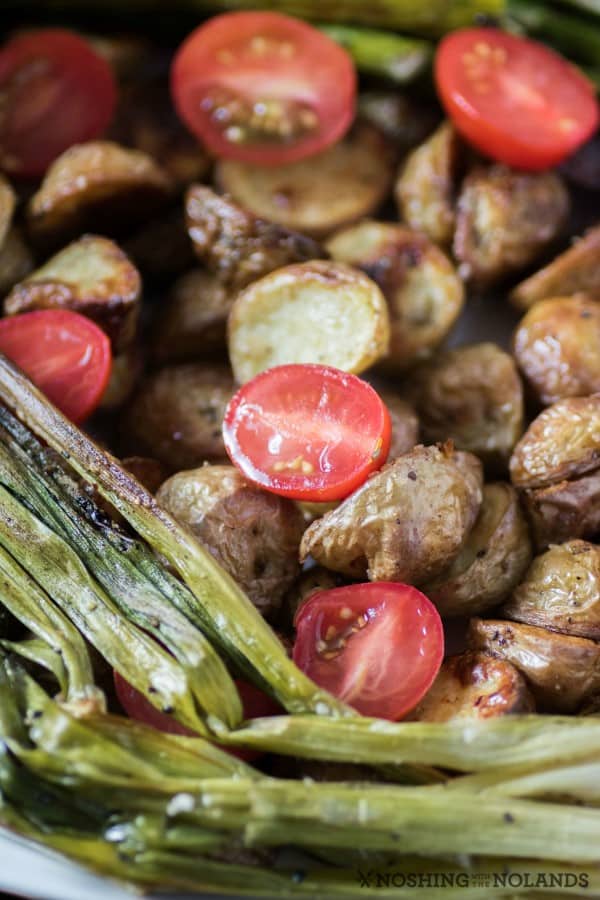 I love the spring freshness of this appetizer. This could work easily into a side dish too. We later had the rest of what was left with a stunning filet of salmon that also went so yummy with the green goddess dip!!
Little potatoes are so easy to use. They come prewashed and no peeling is required. For this recipe we just sliced them in half and put them on the baking sheet. Gorgeous roast potatoes can be yours any night of the week as they are that easy.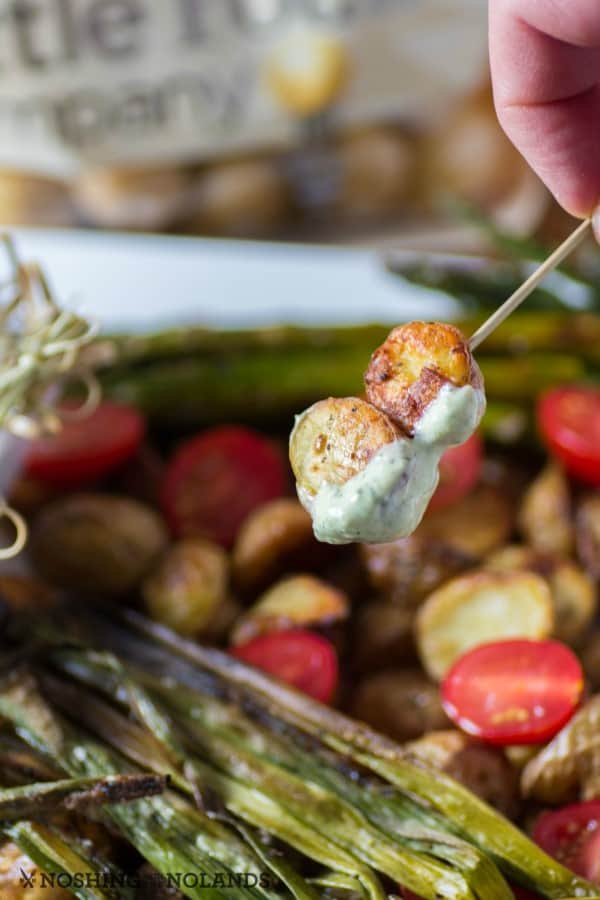 I know you want to jump right through the screen on that shot. Those perfectly roasted potatoes are hard to resist!!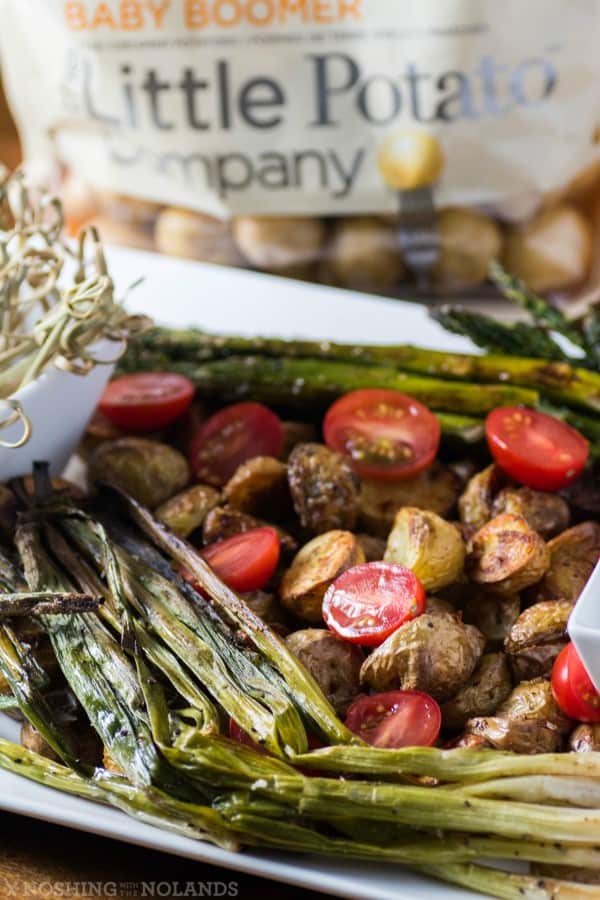 The Recipe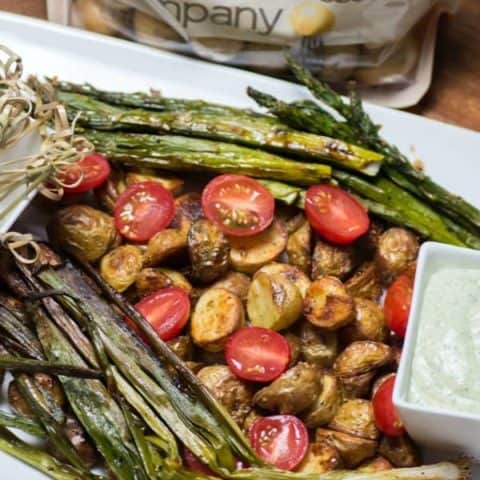 Roasted Potato Appetizer with Green Goddess Dip
Yield: 4-6 servings
Prep Time: 20 minutes
Cook Time: 30 minutes
Total Time: 50 minutes
A gorgeous appetizer that is full on flavor! Perfectly roasted potatoes, crispy green onions and caramelized asparagus go perfectly dipped in the green goddess dressing.
Ingredients
1 (1.5 lb.) bag of Little Potato Company Baby Boomers, larger potatoes halved
One bunch of asparagus
One bunch of scallions
Olive oil
Avocado oil
Kosher salt and freshly ground pepper
Grape tomatoes for garnish
Green Goddess Dip
1/2 cup parsley, rough chopped
2 anchovy fillets
2 tsp. garlic, minced
2 Tbsp. taragon, minced
1/2 cup sour cream
1/2 cup mayonnaise
2 Tbsp. fresh lemon juice
3-4 Tbsp. half and half (10%) cream
Salt and pepper to taste
Instructions
Mix the green goddess ingredients together in a blender adding in 3-4 Tbsp. of cream at the end to desired thickness. Place in a serving bowl and refrigerate until ready to serve.
Preheat oven to 425F.
Toss potatoes onto a rimmed baking sheet and toss with olive oil and salt and pepper to taste. Place in the oven and bake for 10 min.
Place scallions and asparagus on another rimmed baking sheet and toss with avocado oil (or olive oil) and salt and pepper to taste. After the potatoes have cooked for 10 min. add the asparagus and scallions. Let bake for 20 min. or until crispy and caramelized. Toss potatoes after 20 min. of baking time to evenly roast.
Serve the vegetables hot or room temperature with the green goddess dip. Garnish with cherry tomato halves if desired.