One of the best things any aspiring baker can do is to learn How to Make a Perfect Pie Crust Recipe. Once you've mastered the crust, you can do a lot with the filling.
From a traditional apple or pumpkin pie to a fancier custard, pecan, or chocolate pie, to a savory chicken pot pie or quiche, they all need a good crust.
There are some pies, such as coconut cream or key lime that taste better with a graham cracker crust and we have already shared that recipe with you.
Instead, I present my perfect pie crust recipe. There are people out there who swear that a ready-made pie crust from the store is the way to go, but unless you're really pressed for time, I disagree.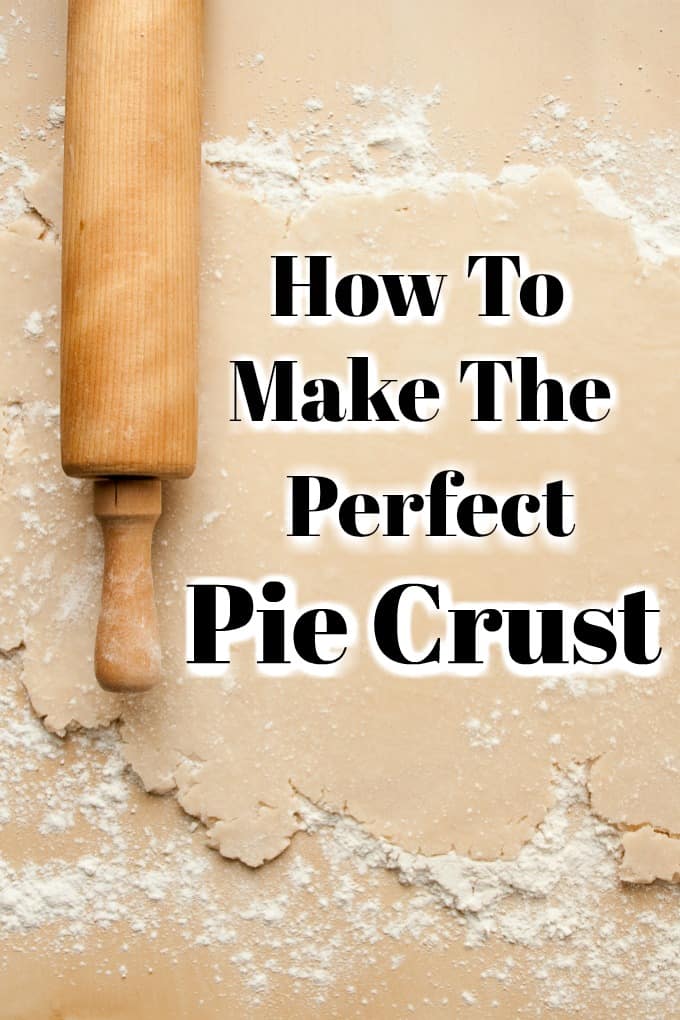 Homemade pie crusts are easy to bake, and once you know how to do them well, they're pretty quick.
There are a lot of pie crust recipes out there. Some use lard or Crisco, and some use butter. What makes this the perfect pie crust recipe is that it uses both!
Using both butter and shortening makes the pie crust basically melt in your mouth. It's perfectly flaky and so tasty nobody will leave the crust edge behind.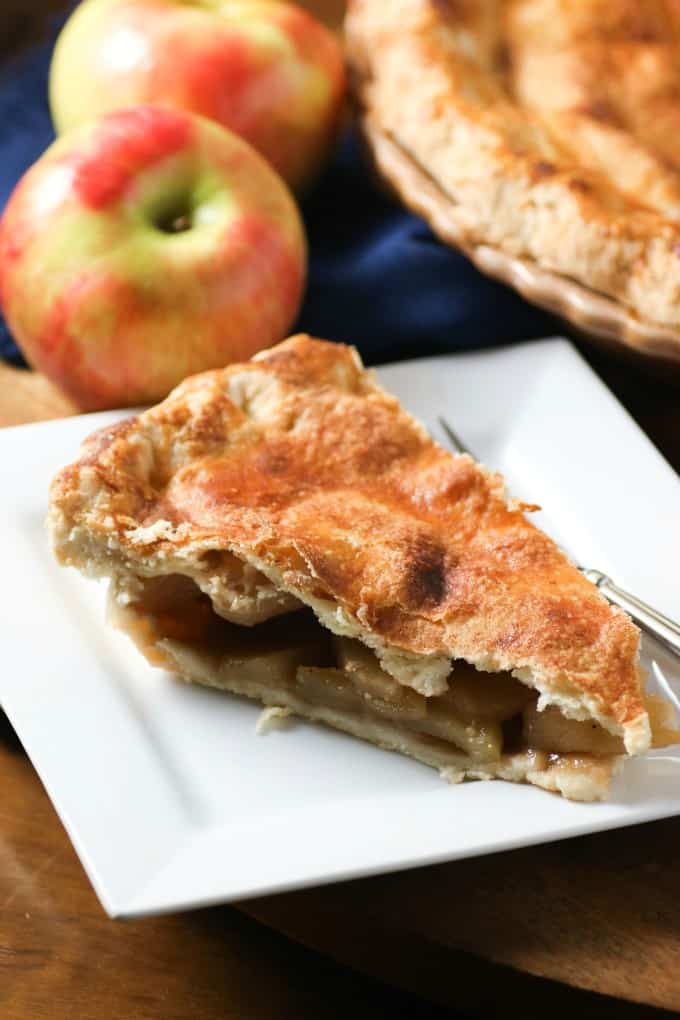 Why Use Vinegar in Pie Crust Recipe
Aside from the butter/shortening debate, there's one other divisive question when it comes to pie dough. Some bakers swear by replacing a tablespoon of the water in a recipe with vinegar.
Why use vinegar in a pie crust recipe? Well, vinegar is an acid. Acids impede the growth of gluten in the dough. Too much gluten and the crust isn't tender and flaky anymore and is dense.
However, you can also impede the growth of gluten by not over handling the dough and by not adding too much water. I don't personally use vinegar in my pie crust recipe but I know many who do so successfully.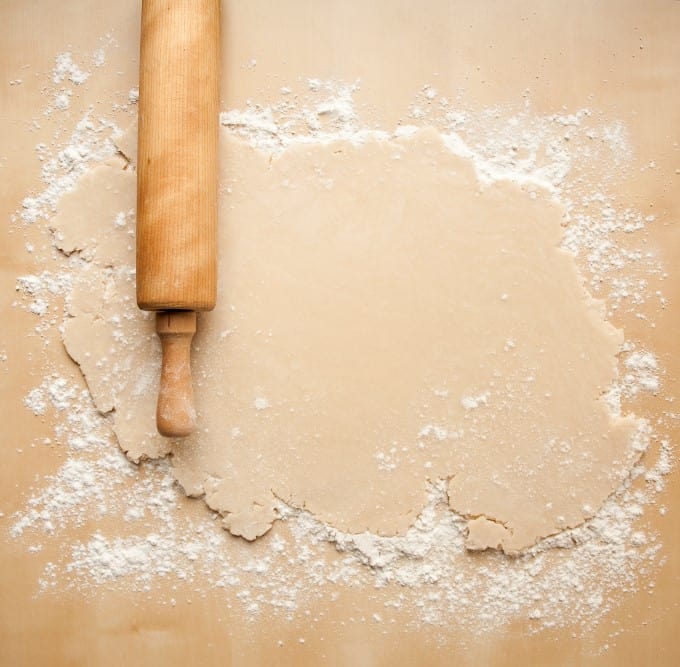 Tips for Making any Pie Crust
Cold is your friend. The butter should be very cold to the touch. Some people freeze and grate it but you don't have to go that far, just don't leave it on the counter. The lard needs to be very cold as well. You don't want it all to blend down like it would if it was room temperature; you want tiny bits of unmelted fat (butter or lard) in the dough that will melt as you bake. These create small steam pockets and that makes the crust light and flaky. Your dough should be a coarse meal.
Don't over-handle the dough. The heat from your hands and friction from rolling heat up the dough, melting the butter and lard.
Well flour your surface and move the dough. Use a well-floured surface and rolling pin along with flipping your dough and moving it from time to time so that it won't stick to the counter or surface while you are rolling it out.
The dough needs to chill. Chilling the dough in the fridge for at least 30 minutes before you roll it out is perfect. This will make the dough easier to work with.
Use of Technology. While you can make the dough by hand, it's much easier to use a food processor to blend the ingredients. You want to pulse it rather than just letting it go on high.
Perfect surface. For many chefs marble is the perfect surface to use but not all of us have a marble slab handy. A granite surface also works well but you use what you have as long as it is flat and large enough to roll on. For a very delicate crust or a cookie dough crust, you can put parchment underneath also.
Folding the dough. Folding the dough in half or into quarters allows you to easily move the dough from your work surface to a pie plate without breaking it. Just simply unfold when you have it placed correctly in your dish. Another technique is to roll the dough around the rolling pin and transport it that way.
Larger than your pie plate. Make sure the dough is rolled out larger than your container so you can easily slide the dough down the sides and trim to the correct size.
Protect the crust. Often the crust and fillings cook at different rates. To protect the crust from burning, you can use a ring of aluminum foil or a pie shield. That way the filling is cooked through and the crust isn't overcooked.
If you follow these tips and use my perfect pie crust recipe, you'll find that it's not as hard as you thought to make pie crust from scratch.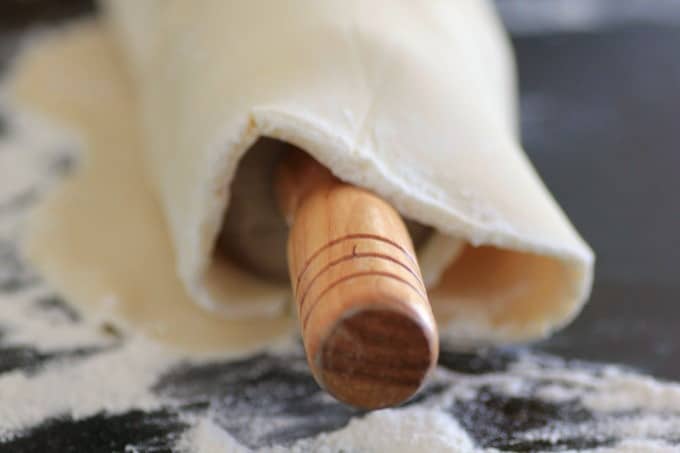 How Long to Bake Pie Crust Recipe
How long to bake a pie crust varies too if you are blind baking it, without filling or with a filling, also if the top is a lattice or a full top or simply just a bottom crust.
Blind baking is done when a pie crust will be filled with a filling that doesn't require baking. Like in a cream-filled pie. Or when the filling won't take as long baking as the pie pastry will as in a Lemon Meringue Pie.
Blind baking ahead of time also avoids you getting a soggy crust. It is also used to make tarts as well as pies.
Each recipe will vary and if the pie does have a filling that needs to be cooked then that can vary the time too. It also depends on the filling inside to make sure it is cooked also.
As mentioned above if the filling needs to bake longer than the crust it can be shielded with aluminum foil for the top or just the edges.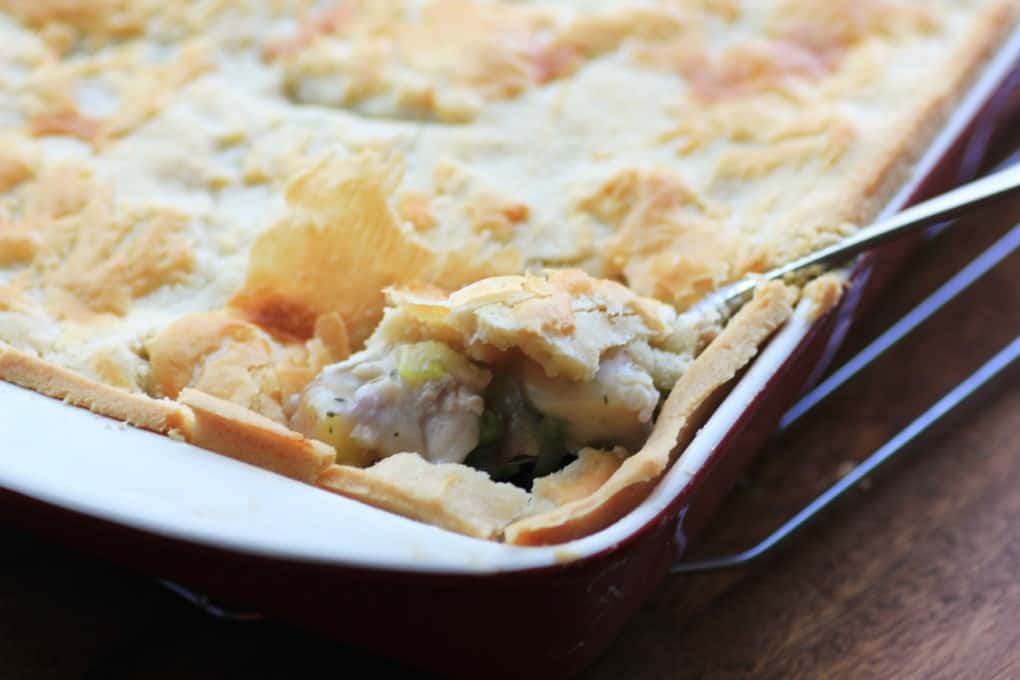 How to Make Pot Pie Crust Recipe
In my opinion, a Pot Pie Crust is a bit different, as I like the addition of baking powder to give it that slightly different taste and feel. It makes for a crumblier pie crust.
The recipe I am including I have made many times but have yet to share it with you. I have made it for kids every summer that loved pot pie.
I make just the top crust and it is perfect for a 9×13″ pie or would work for a standard double crust pie too.
Enjoy your pie-making and come back and tell me how you did. Feel free to ask questions if you have any too, always happy to help if I can.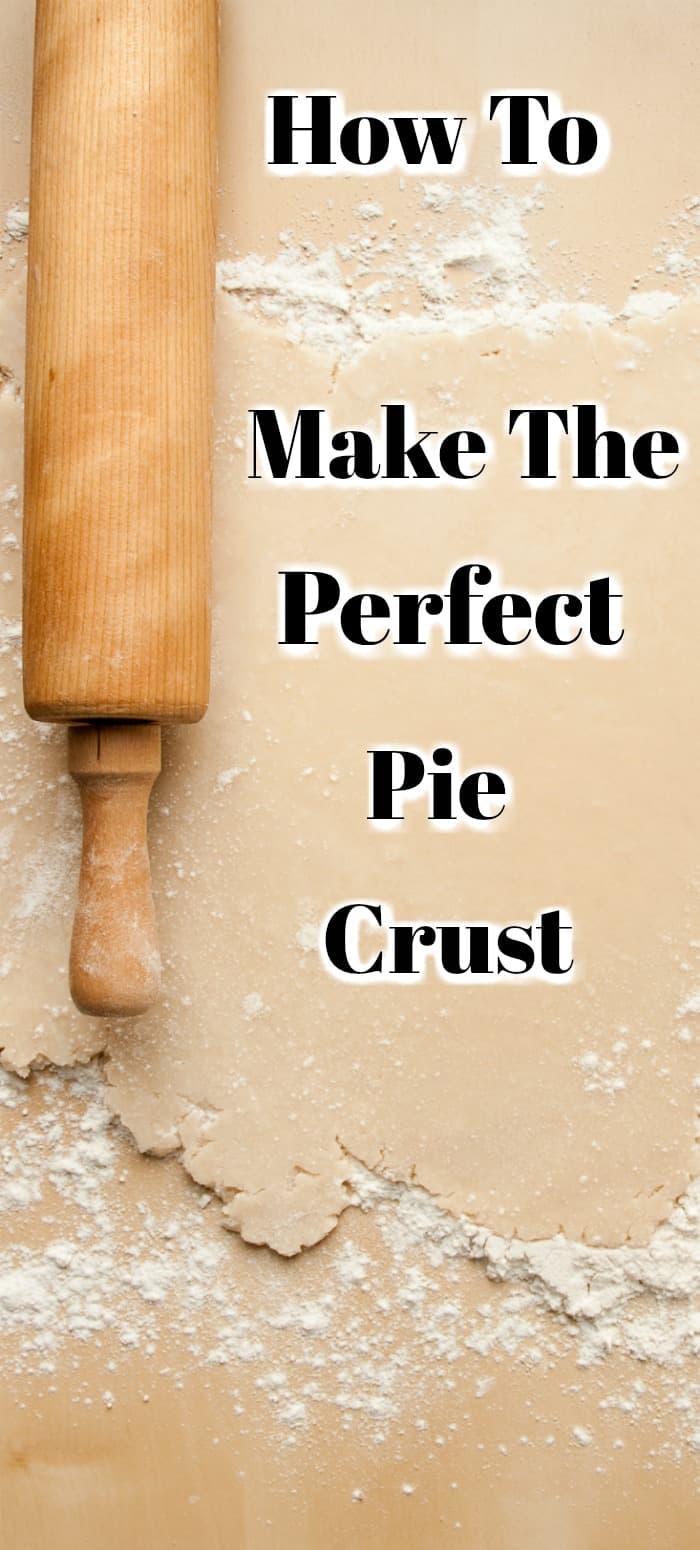 Pie Crust Recipes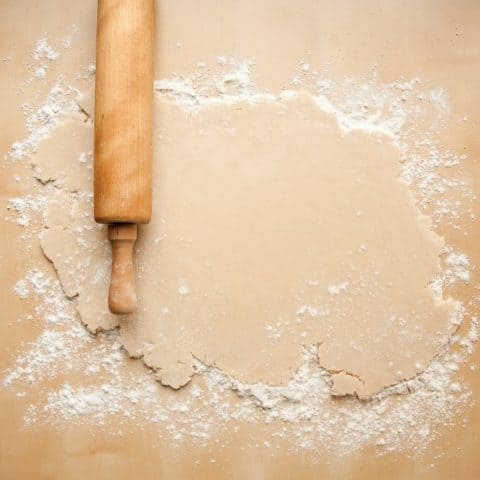 How to Make the Perfect Pie Crust Recipe
Prep Time: 20 minutes
Additional Time: 2 hours
Total Time: 2 hours 20 minutes
Ingredients
Pie Dough
⅓ cup very cold lard
¾ cup cubed very cold butter
3 cups all-purpose flour plus more for rolling out
½ tsp. salt
1 Tbsp. sugar
6-8 Tbsp. ice water
Pot Pie Dough
1/2 cup vegetable shortening
3/4 cup chilled unsalted butter, cut into 1/2" cubes
3 cups flour plus more for rolling out
1 tsp. Kosher salt
1 tsp. baking powder
1/4 cup ice water
Egg Wash (optional)
1 egg beaten
1 tsp. water, cream, or milk
Instructions
For either dough, use a food processor, add the flour, sugar, and salt and pulse a few times. Add the butter and lard and continue to pulse until the dough is in pea-sized shapes. Don't over mix, maybe 8-12 times.
Now with the machine running pour the water down the tube and continue to pulse until it forms a ball adding in more water if necessary up to the 8 Tbsp. mark. Remove dough and place on a floured surface and form it into one or two discs. Wrap with plastic wrap and refrigerate for 30 min. For the Pot Pie Dough, I refrigerate for 2 hours.
Use either dough with your favorite fillings.

Keep in mind all the tips shared in the post.

Using a floured rolling pin, roll out ½ the dough on a floured surface to fit a 9" or 10" pie plate. Place into the pie plate and trim if needed. Roll out the second half of dough.

Add your filling. Run a bead of water around the edge of the first dough and place the second on top Make a crimped or fluted edge by first folding the top pie crust under the bottom pie crust.

This video will have you perfect this technique and you can choose how you will like to seal your pie.

As an option, you can mix the egg wash together and brush it on top of the pie. For the pot pie, you can sprinkle the top with sea salt or Kosher salt. For a sweet pie, you can sprinkle with sugar or a cinnamon-sugar mixture.

Make 3 slits (also called vents) in the top of the pie to let steam escape.
Recommended Products
As an Amazon Associate and member of other affiliate programs, I earn from qualifying purchases.
Nutrition Information:
Yield: 8
Serving Size: 1
Amount Per Serving:
Calories: 456
Total Fat: 32g
Saturated Fat: 18g
Trans Fat: 1g
Unsaturated Fat: 12g
Cholesterol: 69mg
Sodium: 332mg
Carbohydrates: 37g
Fiber: 1g
Sugar: 2g
Protein: 5g
Nutritional information is for the first sweet crust only.Recipe calculation was provided by Nutritionix and is an estimation only. If you need nutritional calculations for medical reasons, please use a source that you trust.